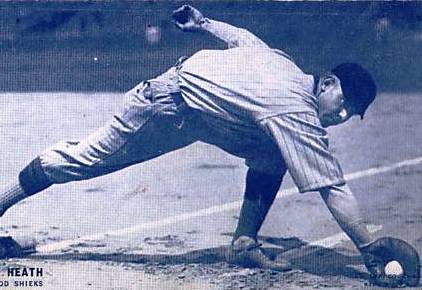 ---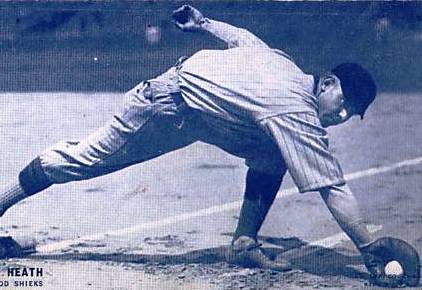 Early in the 1931 season, rookie Mickey Heath was the Cincinnati Reds' starting first baseman. Heath had arrived from the Hollywood Stars of the Pacific Coast League, where his fielding ability had drawn comparisons to Hal Chase's. Heath was also coming off two stellar seasons at the plate. In 1929 he hit .349 with 38 home runs and 156 runs batted in, and followed up in 1930 by batting .324 with 37 home runs and 136 RBIs. In September 1930, Heath set a PCL record by collecting 12 consecutive hits. His sale to the Reds in the fall of 1930 in exchange for outfielder Marty Callaghan, infielder Pat Crawford, and cash provided the opportunity for a reunion with the Reds manager, Dapper Dan Howley, who had made good use of Heath with the International League Toronto Maple Leafs in 1925 and 1926. By the end of spring training, Heath had shown enough to justify Howley's faith in him and was named the starting first baseman.
He was born Minor Wilson Heath in Toledo, Ohio, on October 30, 1903. Few players were more deserving of good fortune than Heath. As a 12-year-old boy growing up in Toledo, he was badly burned in a campfire accident, so severely that he was not expected to walk again. The tendons in his legs were drawn up to the point that he could not straighten out the legs. Though he carried the scars of his accident for the rest of his life, he did walk again, and through hard work and determination developed into a fine sandlot player.
After several years playing semipro ball, Heath signed with Ottumwa of the Class D Mississippi Valley League. He wrote in an unpublished autobiography of batting for Ottumwa against the legendary Iron Man McGinnity, who was then 52 years old. Hall of Famer McGinnity, whose major-league career was 15 years behind him, was pitching for the Dubuque Climbers. Leading off the second inning, Heath hit a shot directly at McGinnity, and with a grunt that could be heard around the park, Joe collapsed on the mound. Heath "ran to the pitching mound thinking I had killed him and gently turned him over. With a grin, he reached up and tagged me out. I had a lot to learn."
Heath batted .297 for Ottumwa in 1923 and .353 in 1924. Near the end of the 1924 season, he was sold to the Detroit Tigers for $3,000 and played for the Birmingham Barons of the Southern Association (Class A) for the rest of the season. In 1925 he was promoted to Toronto of the International League and hit .225 as the Leafs finished in second place behind Jack Dunn's powerhouse Baltimore Orioles. Heath's road-trip roommate that season was future Hall of Famer Charlie Gehringer.
Spring training of 1926 with Toronto provided Heath with the chance to play against the Tigers and their player-manager, Ty Cobb. Despite losing Gehringer to the Tigers, the 1926 Maple Leafs were a powerhouse team, winning the International League pennant by eight games over the Orioles and sweeping Louisville in the Junior World Series. Manager Dan Howley led the team to a 109-57 record. The team featured both strong hitting and pitching. Heath's hitting improved dramatically (.335, 10 home runs, 115 RBIs), and he belted three home runs in one of the Junior World Series games against Louisville. It was also a good year for Mickey on the matrimonial front. He met his wife, Mona, a Canadian, while playing for the Maple Leafs, and they were married in 1926.
Unfortunately for Heath, the Tigers sent future American League batting champion Dale Alexander to Toronto in 1927, and while Mickey was far superior in the field, Alexander was the more talented batsman. After 40 games with Toronto, Heath was "loaned" to the Hollywood Stars of the Pacific Coast League, where he hit .282. He played three more seasons for the Stars and hit well, but was not called up to Detroit and was not eligible for the draft because the Tigers held his contract.
Heath batted .282 in 1927 and .307 in 1928, showing some power in the latter season with 19 home runs and 109 RBIs. The Oscar Vitt-led Stars finished in sixth place in 1927 and improved to third place in 1928. In 1928 the Stars became the first professional baseball team to travel by air. The team played a doubleheader in Seattle and in order to catch a train from Portland to make it back home in time for a series against the Los Angeles Angels, they flew from Seattle to Portland.
Heath had his best season for Hollywood in 1929 (.349, 38 home runs, 156 RBIs) as the Stars won the second-half championship and the league playoff by defeating the first-half champion Missions team, 4 games to 2. Heath was named the Stars' most valuable player by the Helms Athletic Foundation Hall of Fame. Still, no call to the big leagues came for him.
Mickey made the most of being "stuck" in Hollywood with another strong season in 1930 (.324, 37 home runs, 136 RBIs). He set a PCL record with 12 consecutive hits (tied by Ted Beard in 1953). The Stars finished with a 118-91 record, the best in the league, and defeated the Los Angeles Angels 4 games to 1 for a second straight PCL championship.
With no major-league contract in sight, Heath took matters into his own hands. He maintained that if he still belonged to Detroit, he could be optioned out for only three years, so he was now eligible to become a free agent. He complained to Commissioner Kenesaw M. Landis, and struck pay dirt. He was immediately sold to Cincinnati and signed to a $6,000 contract. Heath would get his chance in the major leagues and would be joining former Toronto manager Dan Howley.
Heath made his major-league debut in the Reds' fourth game of the season, on April 18. He was 1-for-4 against the Pittsburgh Pirates' Larry French with two strikeouts. He remained in the lineup, but broke his arm in his seventh game, on April 30 at Forbes Field in Pittsburgh. In his autobiography, Heath told what happened:
"Tommy Thevenow, the Pittsburgh shortstop, was at bat and hit a slow roller between first and second base to our second baseman, Tony Cuccinello. Tony charged the ball, caught it in his bare hand and flipped it to me at first. The throw was low and into the runner, and I reached in and tried to catch the ball with my gloved hand. I caught the ball all right, but my arm had gone between Thevenow's legs. There was a loud snap and everyone in the ballpark knew I had broken my arm."
While being treated for the break, Heath developed rheumatic fever. His weight fell from 180 pounds to 130 pounds. Season over. If things weren't bad enough, in the offseason he was badly burned for the second time in his life, this time in a house fire. He reported to spring training in 1932 underweight and in poor health. He had hit .269 in his seven games in 1931, and in '32, after 39 games, he was hitting .201. It was clear that he was not making the grade. He was sold to the St. Louis Cardinals and sent to Rochester of the International League, never to see the big leagues again.
It took two years for Heath to return to form. In 1932 at Rochester, he hit .267 with seven home runs and 18 RBIs in 36 games. In 1933 he hit just .252 with Rochester (62 games) and Columbus (American Association, 92 games), but his power returned, as he smacked 17 home runs and had 103 RBIs. Heath was with Columbus as the Red Birds won the Junior World Series over the Buffalo Bisons, 5 games to 3. In 1934 at Columbus, Mickey hit .280 and led the team with 29 home runs. The Red Birds again won the Junior World Series, this time over his former team the Toronto Maple Leafs, 5 games to 4.
By 1935 Heath was 31 years old and seemed to have settled into a career at the highest level of the minors. That season, he was with Indianapolis (American Association), and batted .301 with 20 home runs and 98 RBIs. In 1936 he played for both Indianapolis and Montreal (International League), hitting a composite .280 with 10 home runs and 80 RBIs.
The last stop in Heath's baseball odyssey, Milwaukee, was his home for many years. He made an immediate impact with the Brewers in 1937, hitting .296 with 25 home runs and 113 RBIs. Sensing that he was nearing the end of his playing career, he began producing and hosting Sports School of the Air for Coca-Cola on radio station WISN. (He was paid $10 per program.) In 1938 he hit .294 and led the Brewers with 32 home runs. In 1939 he became the Brewers' player-manager and led them to a 70-83 season, hitting .259 with 16 home runs. In 1940 he played in just four games and was replaced as manager by Ray Schalk as the Brewers struggled to a last-place finish. His playing career was over. He had played in 2,283 minor-league games with a career batting average of .299.
In 1941 Heath was hired to broadcast the Brewers' games on WISN. Early in the season, he tried to put a deal together to buy the club but failed. Bill Veeck and Charlie Grimm succeeded and they hired Heath to add coaching and promotional work to his broadcasting duties. Mickey often spoke of his time with Veeck and Grimm as being the most fun he had in baseball. While the Brewers' owner, Veeck tried out many of the stunts he would later use as a big-league owner.
In 1942 Mickey continued to do the play-by-play as the game broadcasts moved to WEMP. Charlie Grimm managed the team to a first-place finish, though the Brewers lost in the playoffs. After the season Veeck joined the US Marines was sent to the South Pacific. He asked Heath to take charge of all player deals, while continuing to broadcast the games. Early in the 1944 season, Grimm was named the manager of the Chicago Cubs, and he hired Casey Stengel to manage the Brewers. Veeck, serving with the Marines in the South Pacific at the time, objected to the hiring of Stengel and ordered Heath by letter to fire Stengel. But since the team was leading the league by 15 games, Stengel remained and the team finished atop the American Association.
When Veeck sold the Brewers after the 1945 season, Heath's employment with the club ended, although he continued as the broadcaster. Heath hoped to work again with Veeck, especially after Veeck purchased the Cleveland Indians in 1946. It was not to be. Heath continued to broadcast the Brewers' games until 1950, when he left baseball behind.
Mickey and his wife, Mona, raised their family in Milwaukee, and later moved to California. They had two children, Stanley Heath, who was an All-American quarterback at Nevada and played briefly for the Green Bay Packers, and Dona Bigelow, an artist.
They had six grandchildren, three by Stan (Mike, Heather, and Holly), and three by Dona (Elizabeth, Robert, and David). Mona died in California in 1984. In 1986 Mickey moved from California to Texas, where Stan and his family lived. He died on July 30, 1986, in Dallas, Texas.
Note: The author is one of Mickey Heath's grandchildren.
An earlier version of this article, "Bad Breaks: Mickey Heath of the 1931 Reds," appeared in the SABR publication Baseball in the Buckeye State (2004).
Sources
http://www.baseball-reference.com/
Bigelow, Dona, interviews 2003-2004.
Hause, Jeff, "Hollywood Stars: A History…" http://www.sportshollywood.com/hollywoodstars1.html (accessed March 1, 2010).
Heath, Minor W. (Dona Bigelow, ed.). Minor Leaguer (aka Baseball Before Money), unpublished manuscript, 1981.
Johnson, Lloyd, and Miles Wolff, eds. The Encyclopedia of Minor League Baseball (2nd Ed.), Durham: Baseball America, Inc., 1997.
O'Neal, Bill. The American Association: A Baseball History 1902-1991. Austin, Texas: Eakin Press, 1991.
O'Neal, Bill. The Pacific Coast League: 1903-1988, Austin, Texas: Eakin Press, 1990.
Society for American Baseball Research, Minor League Baseball Stars Vol. II, 1985.
Weiss, Bill, and Marshall Wright. "The 1926 Toronto Maple Leafs," in 100 Greatest Minor League Teams), online at http://web.minorleaguebaseball.com/milb/history/top100.jsp?idx=39 (accessed February 23, 2010).
Newspaper Sources:
Evening Independent
Hartford Courant
Los Angeles Times
Milwaukee Journal
Milwaukee Sentinel
Montreal Gazette
New York Times
Born
October 30, 1903 at Toledo, OH (USA)
Died
July 30, 1986 at Dallas, TX (USA)
If you can help us improve this player's biography, contact us.
http://bioproj.sabr.org/bp_ftp/images4/HeathMickey.jpg
600
800
admin
/wp-content/uploads/2020/02/sabr_logo.png
admin
2012-01-04 20:33:00
2012-01-04 20:33:00
Mickey Heath