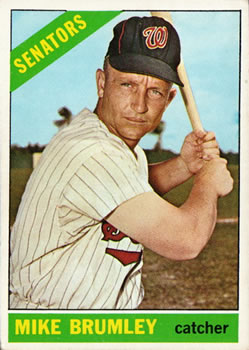 ---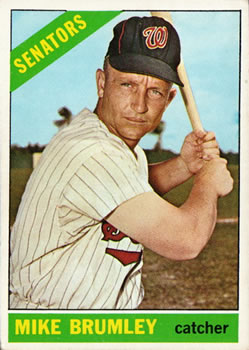 Catcher Mike Brumley's future in the major leagues appeared bright in 1964. That year Topps issued baseball card number 167, featuring two "Senators Rookie Stars"– Brumley and Lou Piniella. Piniella had a lengthy career as both a player and manager, but Brumley's major-league stint spanned just three years. He collected 151 hits, five home runs. and 50 RBIs in 660 at-bats.
Oddly enough, Piniella barely played in 1964 and did not return to the majors until 1968 – whereas Brumley was a Sporting News rookie all-star in 1964. In March 1965, that paper described the group as "players who were well on their way to long-term prominence in the majors."1 This rich contingent included sluggers Dick Allen, Rico Carty, and Tony Conigliaro, and pitcher Wally Bunker, as well as Brumley. The Oklahoman was part of a large group of players who arrived in Washington from the Los Angeles Dodgers during former Brooklyn Dodger Gil Hodges' tenure as the Senators manager. He was looked upon to stabilize the team's catching for many years. Instead, a "bad case of 'sophomoritis'" in 1965 relegated Brumley to a part-time role.2 He exited the big-league stage less than a year later.
Tony Mike Brumley was born on July 10, 1938, the second of two children of Jack C. and Mattie E. (Bethel) Brumley, in the small town of Granite, Oklahoma, 120 miles west of Oklahoma City. His fourth great-grandfather was John Brumley, a native of Cleveland County, North Carolina, 50 miles west of Charlotte. In the early 1800s John and his growing family began a trek west across the new country. Around the time of the Civil War, John's heirs settled in southwest Arkansas. In 1876 Mike's grandfather, William Hill Brumley, was born in Hope, Arkansas, the birthplace (70 years later) of future President Bill Clinton. In the 1890s, during the Oklahoma Land Rush, the family moved to Ada, Oklahoma, 80 miles southeast of Oklahoma City. William married Texas native Lucy West and about 1897 Jack Brumley, Mike's father, was born. By 1930 Jack was an insurance salesman living in Oklahoma City with his new wife and her siblings. Shortly thereafter he and Mattie began raising a family.
Though he was born in Granite, Mike Brumley grew up in Oklahoma City. He attended Central High School, in the northwest sector of the city's downtown region, just blocks from the state capitol. Before the school closed in 1981, Central High helped launch several careers in professional baseball, most notably those of All-Star hurler Cal McLish and Hall of Fame outfielder Paul Waner. The school's rich tradition was continued by Brumley's baseball prowess. He soon attracted interest from Brooklyn Dodgers scout Bert Wells, who four years earlier had signed rival Capitol Hill High School star Don Demeter. In 1957, shortly after he graduated from Central High, Brumley was signed by Wells.
The Dodgers (on the verge of moving to Los Angeles) possessed a very deep farm system with 10 affiliates below Class A. They assigned Brumley to the Class D Midwest League's Kokomo (Indiana) Dodgers, where he platooned behind the plate with veteran catcher Robert Ford. Brumley, future major-league first baseman Tim Harkness, and outfielder Tommy Davis helped lead Kokomo to its first pennant in the club's short history. In 1958, all three advanced; Brumley was assigned to the Class C California League's Reno Silver Sox. Though he had a powerful build (5-feet-10 and 195 pounds), Brumley was more of a spray hitter, placing among the team leaders with a .305 average, a .426 on-base percentage, 16 doubles and 65 RBIs. Once again platooning behind the plate, Brumley also played 29 games in the outfield as Silver Sox skipper Ray Perry sought to keep the youngster's aggressive bat in the lineup.
The success in Reno, combined with a strong 1959 spring training, earned Brumley a promotion to the Triple-A International League's Montreal Royals. On April 16 the "exciting newcomer" delivered an extra-inning RBI triple for a 3-2 win over the Miami Marlins.3 Three days later Brumley's fourth-inning homer (the first of only two he got during the season) proved the margin of victory in a 1-0 win over the Havana Sugar Kings. But the promotion also had a downside. Slotted behind veteran backstop Dick Teed, Brumley got behind the plate in only 43 games (he made 20 appearances as a pinch-hitter), and the sporadic play resulted in a pedestrian .244 average in 135 at-bats.
When the season ended Brumley ventured to Cabimas, Venezuela, to play winter ball in the Occidental League. On November 5 his infield single deprived Boston Red Sox lefty prospect Ted Bowsfield of a no-hitter in a 4-0 loss to Pastora. Over the next four years Brumley would make a habit of robbing pitchers of potential no-hit fame.
In 1960 the Dodgers transferred Brumley laterally to the Pacific Coast League's Spokane Indians (one of three Triple A clubs maintained by the franchise). Though he received the bulk of play behind the plate, Brumley was platooned with Red Sox prospects Jim Pagliaroni and Ed Sadowski in a loan arrangement between Boston and Los Angeles. For Brumley, sporadic usage resulted in a .237 average in 228 at-bats, a meager yield that contributed to his demotion the following season.
His assignment to the Double-A Southern League's Atlanta Crackers in 1961 was initially a letdown. Yet it turned into a windfall; for only the second time in five years, Brumley got more than 228 at-bats in a season. On April 16 he took advantage of his regular play with a ninth-inning, game-winning homer to lift the Crackers to a 10-9 decision over the Chattanooga Lookouts. Three weeks later Brumley's .344 average in 64 at-bats placed among the league leaders. Though he slowed in the second half, Brumley finished the season among the club leaders with 94 hits, 15 doubles, and a surprising seven stolen bases (he was far from the fastest player on the team). He also placed among the league leaders with a career-best .996 fielding percentage. In September Brumley was selected by the circuit's sportswriters as the Southern League's All-Star catcher. A month later he was added to the Dodgers' 40-man roster.
The Dodgers had a veteran catching corps anchored by All-Star backstop John Roseboro. In spring 1962, they assigned Brumley to the Omaha Dodgers of the Triple-A American Association. On April 19, the 23-year-old had a homecoming of sorts when the brand-new Oklahoma City 89ers hosted Omaha in their season opener. An overflow crowd of 10,102 squeezed into the new 6,000-seat All Sports Stadium to welcome the city's first professional team in four years. They went home disappointed when Brumley, whose high school was within walking distance of the new ballpark, went 2-for-2 with a run scored in a 6-5 come-from-behind win over the 89ers.
Brunley's continued hitting earned him unanimous selection in July as the American Association's All-Star catcher. On August 12 his ninth-inning groundball single deprived 89ers right-hander Red Witt of a no-hitter. Brumley finished the season with a club-best .283 average while his career-high 12 stolen bases trailed only outfield teammate Dick Smith. Though he did not make an appearance in a September call-up, Brumley's path to the majors appeared certain when, two weeks after the season ended the Dodgers sold backup catcher Norm Sherry to the New York Mets. During the offseason, The Sporting News contributor Bob Hunter tabbed Brumley among the three most promising youngsters poised to join the Dodgers in 1963.4
But flowery projections turned to bitter disappointment in the spring when the Dodgers chose to enter the 1963 season with just two catchers and assigned Brumley to Spokane. Immediately afterward, Brumley announced his retirement but eventually joined Spokane in early May. On May 19 Brumley came up a triple shy of the cycle while accounting for more than half of Spokane's offense in a five-hit, 8-2 loss to the Hawaii Islanders. A month later he connected for a 12th-inning triple and then scored the winning run in a 2-1 decision over the Seattle Rainiers. On June 16 Brumley was among the league leaders with a .325 average in 151 at-bats. On August 19 he continued to spoil no-hitters, dribbling a fifth-inning infield single against San Diego Padres right-hander Ray Rippelmeyer during a 4-0 loss. Though Brumley slowed in the season's second half, he helped the Indians to a 98-win first-place finish while placing among the team's leaders in doubles (24) and RBIs (64). In October he was selected by the Topps Chewing Gum Company as the National Association's Triple-A All-Star (West) catcher.
During the season the Dodgers had fielded several trade queries regarding Brumley. On October 14, while he prepared for winter ball with Leones del Caracas in Venezuela's Central League, the Dodgers sold Brumley to the Senators for $50,000. Sportswriter Shirley Povich immediately anointed Brumley "the Senators' No. 1 catcher"5. "Manager Gil Hodges, an old catcher himself, [wa]s buoyed by the prospect that his catching corps will be bolstered by [the] rookie."6
But Brunley was again disappointed; he began the 1964 season on the bench after a challenging spring training. On April 18, five days into the new season, he made his major-league debut in Washington's D.C. Stadium against the Minnesota Twins. He entered in the seventh inning as a defensive replacement and an inning later came to bat against Twins reliever Gerry Arrigo. With one out and runners on first and second, Brumley had a chance to break a 6-6 tie. Instead the inning ended on one swing when he flied out to center field and teammate Bill Skowron was doubled off second. He got his first start the next day against the Kansas City Athletics and went 0-for-2 in a rain-shortened six-inning 5-1 loss. It wasn't until April 25, in his 11th at-bat of the season, that Brumley got his first major-league hit, a third-inning leadoff single to right field against Athletics right-hander Moe Drabowsky. The next day he got his first extra-base hit (a double) and scored his first run in a 7-4 win over the Athletics.
Having started the season as part of a three-man platoon, in May Brumley wrestled the starting job away from his competitors with a 20-for-55 surge. On June 9, with the Senators nursing a 2-1 lead in the eighth inning against the Athletics, he launched a bases-loaded triple to center field to put the game away. A month later he collected his first major-league home run, a three-run shot off Detroit Tigers right-hander Dave Wickersham that accounted for the Senators' entire offense in a 5-3 loss. On July 18 Brumley garnered a career-high four RBIs on another three-run homer and an RBI single in a 12-6 loss to the Red Sox. After an August slump, he rebounded in September to finish the season with a .244 average with 19 doubles and 35 RBIs in 426 at-bats. Brumley's contributions were not limited to his offensive prowess. Despite 12 passed balls, third highest in the AL, the strong-armed catcher was among the league leaders in throwing out runners (23) and caught-stealing percentage (40.4%) while placing third in the league in fielding percentage as a catcher (.991). Moreover, on September 10 Brumley became the only AL catcher to participate in a triple play during the season. One month later he was honored at New York's Waldorf-Astoria alongside his fellow Topps All Star Rookie members.
On May 8, 1965, former player and manager turned ABC baseball analyst Leo Durocher, who rarely endeared himself to players with his frank remarks, watched Brumley approach the plate against the New York Yankees. He said, "This guy can't hit the changeup curve. Let's watch."7 Whether it was the changeup curve or something else, Yankees right-hander Jim Bouton had no problem retiring Brumley in each of three at-bats (he reached base on a HBP in the fifth inning) in the Senators' 7-3 loss. The game results, combined with Durocher's harsh assessment, encapsulated the left-handed hitter's challenges. He struggled to lift his batting average above .150 through the season's first half. Though nothing more than "sophomoritis" was offered as an explanation, Brumley appeared to have lost confidence at the plate. No fewer than five other catchers would be used by Hodges during the season as he tried to find a reliable backstop for the club.
There were some bright spots. On July 27 Brumley collected two of his three season homers in a 10-7 win over the Twins. Five weeks later, on September 4, he set an AL record by recording eight consecutive putouts by a catcher to start a game. But these were two of very few highlights for Brumley as he finished the season with a meager .208/.280/.269 slash line in 216 at-bats. By November The Sporting News contributor Bob Addie projected that Brumley would battle Doug Camilli to be the Senators third-string catcher the following spring.8
As events unfolded, both catchers made the club's final cut in 1966. Injury to the recently acquired John Orsino, combined with the poor spring of prospect Jim French, left the Senators' catching bare. On April 19, in his second start of the season, Brumley lined a groundball single to right field against Baltimore Orioles future Hall of Fame right-hander Jim Palmer in a 14-9 Senators loss. It proved to be his last hit in the major leagues. The next day Brumley entered the seventh inning of a game against the Orioles as a defensive replacement and his two passed balls contributed to a four-run rally that gave the Orioles a 6-3 come-from-behind win. Brumley made three additional appearances (including one start) through May 1 before being assigned to the Islanders in the PCL.
Hawaii's tropical climate suited Brumley, He rebounded with a .294 average in 327 at-bats with a career-high 10 home runs, including a pinch-hit three-run shot on July 17 that helped lead the Islanders to a 12-11 win over the Seattle Angels. Recalled by the Senators in September, Brumley had five unsuccessful at-bats in two appearances. He retired in October after the Senators sold his contract to Hawaii.
During his playing career Brumley spent his offseasons pursuing a Bachelor of Divinity degree at the University of Oklahoma. After retiring he continued these studies on a full-time basis. From an early age, religion had been a staple in Brumley's life. During the 1964-65 offseason, he and Don Demeter, his neighbor-friend who doubled as a golfing partner, spent several nights a week proselytizing at churches in Oklahoma and northern Texas. The following spring Brumley continued this work on and off the field at the Senators spring-training camp in Pompano Beach, Florida. In October he preached at a revival service in Washington. Two years later the Brumley-Demeter duo reunited to spread the word in Alaska. Before 1969 Brumley was ordained as a Baptist minister.
In August 1969 the Oklahoma City 89ers recruited Brumley to return to baseball after catcher Hank Izquierdo was suspended for a year for a bat-swinging incident. "'I'm having the time of my life,' beamed the 31-year-old veteran [during his 35-game stint.] 'It's always fun to play in your hometown and we have the kind of guys who make baseball a whole lot of fun.'"9 Recruiting Demeter as a coach, Brumley returned to the 89ers in 1970 and caught in half of the team's games. Released after the season, Brumley got a tryout with the Portland Beavers the following spring. His playing career ended when he was let go in April 1971. In the spring of 1972 Brumley became a scout for the Cleveland Indians. It is unknown how long he scouted but it proved to be his last brush with Organized Baseball.
Brumley returned to the ministry. He served as the pastor of churches in Florida and Oklahoma and was credited as the founder of the New Creation Church in Broken Arrow, Oklahoma. "He later broadened his outreach to embrace far-flung missionary work that included teaching baseball to young people in many countries. He was also the chaplain for the 1984 US Olympic team."10
Around 1960 Brumley married Carol Sue Loveland, an Oklahoma native four months his senior. The union produced a son, Anthony Michael, and a daughter, Kendell Sue. In 1983, after a standout collegiate career, Anthony "Mike" Brumley followed his father into Organized Baseball. He remained there for 14 years as a player and continued in the game as a manager and coach. The family legacy extended further when three decades later, Brumley's grandson Logan launched a brief career in independent leagues.
After a long career in the ministry, Brumley retired to Keller, Texas, a suburban city in the Dallas-Fort Worth metroplex. On August 8, 2016, a month after his 78th birthday, Brumley died following a long illness. He was survived by his wife, two children, and four grandchildren. "BIG Mike went home to see the Lord!" his son posted on Facebook. "There is a long long line to high five him entering into Heaven! … [He a]lways reached out to struggling people! Tough as a pine knot! Thousands led to Christ! Happy for him, sad for the rest of us!!"
Sources
In addition to the sources cited in the Notes, the author consulted Ancestry.com and Baseball-Reference.com. The author wishes to thank SABR members Bill Mortell for his invaluable research, Rod Nelson, chair of the SABR Scouts Committee, and Len Levin and Rory Costello for review and edit of the narrative.
Notes
Born
July 10, 1938 at Granite, OK (USA)
Died
August 8, 2016 at Grapevine, TX (USA)
If you can help us improve this player's biography, contact us.
http://sabr.org/sites/default/files/BrumleyMikeSr.jpg
600
800
admin
/wp-content/uploads/2020/02/sabr_logo.png
admin
2017-03-06 15:19:42
2017-03-06 15:19:42
Mike Brumley (the Elder)