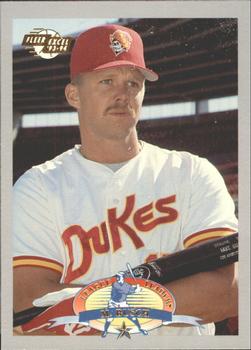 ---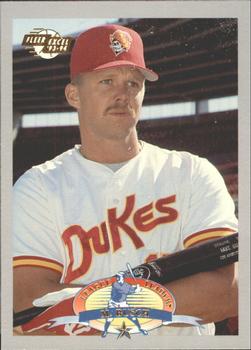 During the Major League Baseball Players Association strike of 1994-95, Los Angeles Dodgers minor-leaguer Mike Busch accepted the club's invitation to come to 1995 spring training as a replacement player. The strike ended in early April before the regular season began. Busch returned to the minors and in late August he was the second replacement player promoted to the major leagues. He spent the remainder of 1995 and most of 1996 with the Dodgers as a pinch-hitter and third baseman for the Dodgers before returning to the minors again.
Michael Anthony Busch was born on July 7, 1968, in Davenport, Iowa, the youngest of four children, and grew up nearby in tiny Donahue, Iowa, with two brothers and one sister. His father, Darold, worked 46 years as a fire inspector for Alcoa Aluminum, while his mother, Arlene (Legan) Busch, worked at J.C. Penney and Younkers stores and later operated an interior decorating business. Busch enjoyed listening to St. Louis Cardinals games, learned baseball  fundamentals from J.B. Cronkleton, a neighbor and Little League coach, and often played against older youngsters. The avid University of Iowa Hawkeyes fan idolized third basemen Brooks Robinson and Mike Schmidt. The very competitive, highly disciplined Busch graduated in 1986 from North Scott High School in Eldridge, Iowa, where he made All-State in football and honorable mention All-State in baseball, performed in the discus at the state track and field meet, and participated in basketball.1 Several major universities recruited Busch, who vowed, "I just knew I was going to stay in the state and go to Iowa."2 Iowa did not offer him a football scholarship, but Iowa State University coach Jim Criner granted him one and permitted him to play baseball, too.3
The 6-foot 5-inch, 250-pound Busch played tight end in football at Iowa State from 1986 to 1989, making 78 receptions for 1,061 yards (13.6-yard average) and four touchdowns in 43 games. A three-year starter, he caught 21 passes for 253 yards (12.0-yard average) in 1987, 27 passes for 343 yards (12.7-yard average) and one touchdown in 1988, and 23 passes for 375 yards (16.3-yard average) and two touchdowns in 1989. His honors included being named All-Big Eight Conference in 1988 and 1989 and first team All-America by United Press International, the American Football Coaches Association, and the Walter Camp Football Fouondation his senior year. In 1999 Sports Illustrated rated Busch among the 50 greatest sports figures from Iowa.4
Busch, who threw right-handed, pitched for Iowa State in 1987, but did not play as a sophomore because the contact and blocking as a tight end had taken a toll on his shoulders. Coach Bobby Randall observed, "There's all the extra weightlifting — tight end and pitcher don't mix well."5 But Busch's hitting skills impressed Randall, who persuaded him to rejoin the Cyclones in 1989 as a first baseman. Busch, who batted right-handed, quickly became the Cyclones' most feared hitter, batting .401 with 14 home runs and 56 RBIs in 56 games in 1989 and being named Most Valuable Player of the Big Eight Conference Tournament. In 1990 he hit .311 in 52 games and set a Cyclones single-season record with 17 home runs. Randall, a former major leaguer, admired Busch's power, noting that he "hit the longest home run I've ever seen in my life against Oklahoma State,"6 breaking a light standard 450 feet away. Busch in 1990 garnered All-America honors and was named Big Eight Athlete of the Year. The same year, he earned a bachelor's degree in liberal arts and sciences. The ISU Athletic Hall of Fame inducted Busch in 2000, his first year of eligibility.
In 1990 the Los Angeles Dodgers selected Busch in the fourth round of the free-agent draft and the Tampa Bay Buccaneers tabbed him in the 10th round of the National Football League draft. Busch chose baseball because it "gave me a longer potential time horizon" with "less stress and contact."7 The Dodgers signed Busch that June and sent him to Great Falls, Montana, of the Rookie Pioneer League. After Busch went hitless in his first 21 professional at-bats, roving hitting instructor Reggie Smith restored his confidence. "I owe him so much credit," Busch recalled. "Smith told me "success is all about confidence" and "to play with confidence."8 The Dodgers awarded Busch minor-league player of the year accolades, as he hit. 362 the rest of the season, finishing with a career-high .327 batting average, 13 home runs, and 47 RBIs in 61 games. After the season his Sun Cities Solar Sox won the inaugural Arizona Fall League title. Busch gradually rose through the Dodgers' farm system, batting .278 for the Bakersfield Dodgers (Class A California League) in 1991 and .238 for the San Antonio Missions (Double-A Texas League) in 1992. Busch spent the next two full seasons with the Albuquerque Dukes (Triple-A Pacific Coast League), batting .283 with 32 doubles, 22 home runs, and 70 RBIs in 1993 and hitting .263 with 23 doubles, 27 home runs, and a career-best 83 RBIs in 1994. His biggest minor-league thrill came against Colorado Springs in 1994, when he was the fourth of five consecutive Albuquerque batters to clout home runs.9 The versatile Busch started out as a first baseman, but played mainly third base at San Antonio and Albuquerque.
The players union went on strike in August 1994. Busch did not belong to the MLBPA because he had not yet played in the major leagues. The Dodgers asked him to report to spring training in 1995 as a replacement player. "Executives of baseball organizations put all of us young players in a bad situation," Busch said in 2019. "The situation was unfair to the replacement players. They did not understand the severity of the strike." Team union representative Brett Butler sharply criticized Busch and his family in the media. Busch attended several Players Association meetings, but was denied union membership because he had been a replacement player in spring training. "I had agreed to play only in spring-training games, not regular-season games," Busch said, "and already had made housing arrangements in Albuquerque."10 Busch told Bob Nightengale of the Los Angeles Times, "It was something I felt I had to do for my family."11 "To his teammates," however, "Busch was a scab."12
The strike ended on April 2. Busch, who was not on the Dodgers' Opening Day roster, batted .269 with a career-high 32 doubles, 18 home runs, and 62 RBIs for Albuquerque in 1995 and made the Pacific Coast League All-Star team as a first baseman. The national media widely publicized his August 30 promotion as the second replacement player called up to the major leagues. In the ninth inning against the New York Mets on August 30, manager Tommy Lasorda told Busch to bat for Mark Guthrie. "Stepping to the plate at Chavez Ravine for the first time," Busch reflected, "was my greatest thrill."13 The 40,394 spectators, many of whom considered the striking players too greedy, even gave Busch a loud ovation after he struck out on three pitches in the 8-1 loss. "The Los Angeles community," he recalled, "supported me daily with sympathetic letters."14 Busch appeared in just 13 games, mostly as a pinch-hitter, batting .235 with 6 RBIs. Three of his four hits were home runs.
Busch replaced Eric Karros at first base on October 1, and clouted a three-run homer off Brian Williams to clinch the National League West crown in a 4-1 victory over the San Diego Padres at Jack Murphy Stadium. The Dodgers, however, did not include Busch on their postseason roster against the Cincinnati Reds. Teammates declined to vote him any of the club's $10,000 playoff shares because he had been a replacement player in spring-training games. "It hurt a lot,"15 Busch reflected, but he realized, "Replacement players couldn't control that. We were at their mercy."16
The Dodgers invited Busch to spring training in 1996 as a full-fledged player. Bush wondered whether there would be lingering hostilities, but "his anxiety subsided when he was treated like everyone else."17 After beginning the 1996 campaign with Albuquerque, he rejoined the Dodgers from May 3 to August 10, batting .217 with four doubles, four home runs, and 17 RBIs in 38 games. On July 18 he clouted a double and three-run homer with four RBIs against the San Francisco Giants at Candlestick Park. "Greg Maddux was the toughest pitcher I faced," Busch recalled.18 During his brief major-league career, Busch batted .220 with four doubles, seven home runs, and 23 RBIs in 51 games. He struck out 40 times in just 100 at-bats, often as a pinch hitter. "Power hitters," Busch explained, "usually do not fare well as just pinch-hitters because they need to bat more often than just one time a game to develop a rhythm."19 The Dodgers optioned him to Albuquerque on August 10. He finished 1996 batting .303 with 12 home runs and 36 RBIs in 38 games for Albuquerque and was released in December.
On January 3, 1997, the Cleveland Indians signed Busch as a free agent and optioned him to the Buffalo Bisons (International League). Busch suffered knee problems, batting only .181 with 12 home runs and 29 RBIs in 51 games. The Indians released him after the season. During eight minor-league campaigns, Busch hit .266 with 133 doubles, 126 home runs, and 394 RBIs, but struck out 587 times in 655 games.
After playing with the Hanwho Eagles (Korean Baseball Organization) in 1998, Busch ended his playing career in the independent Northern League with the Fargo-Moorhead Red Hawks in 1999 and the Sioux Falls Canaries in 2000 and 2001. He batted .266 with 36 doubles, 45 home runs, and 145 RBIs in 209 Northern League games and was named All-Star first baseman in 1999. "I was never getting back to the majors," he realized.20
After serving as an assistant baseball coach for the Lincoln Saltdogs (Northern League) in 2003 and 2004, Busch managed the Calgary Vipers (Northern League, Golden Baseball League) from 2005 to 2008 and the Schaumburg Flyers (Northern League) in 2010. His clubs won 229 and lost 245 for a .483 winning percentage. Busch "loved managing" and called it "a wonderful experience."21
Busch retired from professional baseball to pursue a financial career and attend the activities of his daughters, Shunyl and Sylina, from a first marriage. He married Jane Grahek on May 19, 2017, in Oskaloosa and has three stepchildren, Lucas, Claire, and Nathan. Busch joined Edward Jones as a financial adviser in 2010 and as of 2019 was based in Oskaloosa. "Managing was excellent preparation for a financial career," he observed. "It's about finding the best avenues to reach your goals. In baseball the objective is to win a championship. In finances, the objective is to keep the money working hard for you."22 Busch enjoys hunting, golfing, and bicycling. He belongs to the Rotary Club, attends St. Mary's Catholic Church, and is involved with the United Way and other Oskaloosa community projects.23
Last revised: December 8, 2021 (zp)
Acknowledgments
This biography was reviewed by Warren Corbett and Len Levin, and fact-checked by Jeff Findley.
Sources
Besides the sources cited in the Notes, the author conducted interviews with Mike Busch on February 18, 2015, and April 24, 2019, and consulted the following:

Baseball-reference.com.
"Mike Busch — The Baseball Cube, thebaseballcube.com.
"Mike Busch — Hall of Fame Class of 2000," March 2, 2015, cyclones.com.
Notes                  
1 David Porter, interviews with Mike Busch, February 18, 2015, April 24, 2019.
2 "Where Are They Now: All-American Mike Busch," July 2017, cyclonefanatic.com.
3 Busch interview, April 24, 2019.
4 "The 50 Greatest Sports Figures From Iowa and Every Other State," Sports Illustrated, December 27, 1999.
5 Jacob Laxen, "Baseball: Mike Busch, the Cyclones' Sultan of Swat," Ames (Iowa) Tribune, April 14, 2012.
6 Ibid.
7 Busch interview, April 24, 2019.
8 Ibid.
9 Ibid.
10 Ibid.
11 Bob Nightengale, "This Time, Mike Busch Is Just a Guy Trying to Make the Team," Los Angeles Times, March 9, 1996.
12 Ibid.
13 Busch interview, February 18, 2015.
14 Busch interview, April 24, 2019.
15 Nightengale.
16 Busch interview, April 24, 2019.
17 Nightengale.
18 Busch interviews, February 18, 2015, April 24, 2019.
19 Busch interview, April 24, 2019.
20 Laxen.
21 Busch interview, April 24, 2019.
22 Ibid.
23 "Meet the Edward Jones team." Oskaloosa (Iowa) Herald, March 16, 2016.
Born
July 7, 1968 at Davenport, IA (USA)
If you can help us improve this player's biography, contact us.
/sites/default/files/BuschMike.jpg
600
800
admin
/wp-content/uploads/2020/02/sabr_logo.png
admin
2019-08-20 14:02:59
2021-12-08 07:39:56
Mike Busch