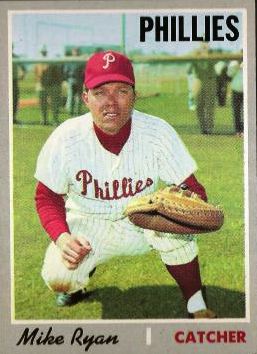 ---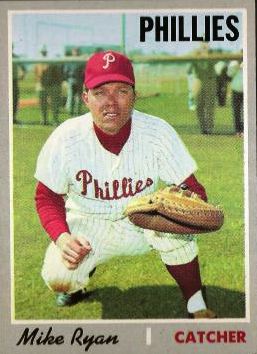 Michael James Ryan was born on November 25, 1941 in Haverhill, Massachusetts, to parents John and Lorraine Ryan. He was born into athletic stock, his father John a tackle who nearly made the Boston Yanks of the National Football League. His grandfather's cousin Jack Ryan had been a major-league ballplayer, breaking in with Louisville of the old American Association in 1889. Jack Ryan later caught for the National League Boston Beaneaters from 1894 through 1896, and finished his playing career with the Washington Senators, appearing in one game in each of the 1912 and 1913 seasons. Jack Ryan also served as a coach for the Red Sox for five years, 1923-27, working under both Frank Chance and Lee Fohl. Though Jack Ryan died in Boston in 1952, Mike does not believe he knew him.
Mike's father John was one of seven brothers to attend St. James High School in Haverhill, many of them active in school sports. Mike's uncle Paul Ryan pitched minor-league ball but didn't advance past A ball, and soon returned home to coach football at Haverhill High School. Mike's father played in baseball in high school and in some semipro ball around town, but Mike himself never played baseball, or any other sport, at St. James because the school had dropped interscholastic sports in 1948. John Ryan insisted his son attend St. James anyway because he felt that getting "… a parochial education was more important than baseball."1
John Ryan worked as a foreman at a shoe factory in Haverhill owned by his brother Dan Ryan. Lorraine Ryan was a homemaker. Mike was the oldest boy in a family of five boys and one girl. As it happens, none of the others showed much interest in playing baseball.
Mike did, though, and from an early age wanted nothing more than to play for the Boston Red Sox. He took in a couple of games at Braves Field as a kid, but the Braves moved to Milwaukee when he was 11 and it was the Red Sox that he always followed. Mike played town baseball in the Northeast League, an amateur league that consisted of teams located in Seabrook, New Hampshire and the Massachusetts communities of Newburyport, Amesbury, Salisbury, and Haverhill. He was a top player, and was one of the three New England players named to the Hearst sandlot team which played its 15th annual game at Yankee Stadium on August 18, 1960. Bob Guindon and Bill Harvey were the other two New Englanders on the club, which was pitted against a team of New York all-stars. Mike began to attract the attention of big-league scouts. George Owen, on behalf of the Philadelphia Phillies, had his eye on Ryan and took him to a tryout camp in Milford, Connecticut. Mike had an off-day and didn't perform well; Owen still had faith in him ("He was at my house at least once a week for a long time; he really wanted to sign me") but the Phillies passed.
Boston Red Sox scouts Larry Woodall and Fred Maguire had also noticed Ryan. They gave the 18-year-old the opportunity to fulfill his "lifetime dream" to sign with the Red Sox. "They got hot on me and I went into Fenway for a workout. Tony was hitting them up in the screen like it was nothing, and they just took him upstairs and signed him right away." They told Mike they were interested in him, too, and asked him, "What's it going to take?" Mike remembers, "Money wasn't all that big a deal, even though it seemed like a ton of money to me. I said, "I'd like to meet Williams.'" That wasn't too hard to arrange; they took him into the clubhouse where Ted was getting a rubdown from trainer Jack Fadden. "They introduced me to him, and we shook hands and he looked up and asked, 'Can you hit?' I kind of stammered; I didn't know what to say. He goes, 'F—ing right you can hit! Don't forget it!'"
Mike was given $5,000 to sign and the following spring (1961) he began his professional career with Olean of the New York-Penn League where he struggled offensively, a pattern that would continue throughout his career, batting just .185 in 119 at-bats. He did prove to be a stand-out defensively, and caught Bobby Doerr's eye. Doerr was there in the right place at the right time. "It was the last series of the year as I recall, and I happened to hit a couple of home runs and throw out a couple of guys, and Bobby Doerr was in town. Bingo. Things started. When somebody like that says, 'Keep your eye on him,' it helps."
In 1962, while playing for Waterloo under manager Matt Sczesny, Ryan led the Midwest League's catchers in putouts, assists, and tied for the lead in double plays. Playing under Eddie Popowski in Reading the next two years, Ryan led the Eastern League catchers in fielding average and double plays in 1964 for Reading while being named to the All-Star team. That year he had the highest batting average of his professional career (.248). Season over, he went home and spent several weeks hanging with friends.
On Friday, October 2, Mike had come back home around midnight after spending a full day at New Hampshire's Hampton Beach. "I was down the beach having a good time. We were there every day for a month. My father was sitting there at the table and he said, 'The Red Sox called. They want you in the morning.' I'm standing there in the door and I'm looking at him. 'What?' He repeated it, and I kind of shook my head. 'Are you kidding?' He says, 'They want you there tomorrow.' I didn't go to sleep, really. I was at the ballpark at 8 o'clock in the morning, for a 1:30 game. They didn't know I was coming in; they wouldn't let me in!" The guard had to go in and ask around before they'd let him into the ballpark.
It had certainly been a call out of the blue. X-rays on Thursday revealed that Bob Tillman had suffered a fractured thumb on a foul tip in Wednesday night's game, and the Sox wanted another catcher to back up Russ Nixon.
New manager Billy Herman (Johnny Pesky had been fired on Friday) asked Ryan if he was in shape. What was he going to say? "Sure." Of course he was, despite not having played for several weeks. Ryan made his major-league debut on Saturday, October 3, 1964 on the next to last day of the season.
Bill Monbouquette was the pitcher, and Ryan was the starting catcher. After grounding out to third base to lead off the second inning, Mike singled in the third, driving in both Frank Malzone and Al Smith. Mike reached on an error in the fifth, and he was walked intentionally in the sixth. As Steve Ridzik threw a wild pitch, and Ken Retzer threw the ball wildly into center field, Ryan motored all the way around from first to home, but was tagged out at the plate trying to score. Unfortunately, he tore a ligament in his knee in the collision at the plate.
He had gone 1-for-3 with a walk and two runs batted in. He had been scheduled to catch in the Florida Instructional League later that fall, but due to the injury he could not crouch behind the plate. He did manage to go 3-for-6 as a pinch-hitter in Florida, however.
The year 1965 was split between Boston and Toronto of the International League. Ryan began the season with Boston, but the first game he got in didn't come until May 2. He made the most of it, though his second major-league ballgame hitting a third-inning homer off Detroit's Julio Navarro and a fifth-inning homer off Johnnie Seale. He drove in three runs; this proved to be the only multi-homer game of his big-league career. That was also one of the few bright spots at the plate in a season where he managed only a .159 batting average. In early July, he was sent to Toronto, where he played under Dick Williams, batting .236 in 161 at-bats. In mid-September, after the International League season was over, Ryan was brought back up and got in another 12 games with the Red Sox.
Despite his lack of success as a hitter, he earned praise from Boston manager Billy Herman for his work behind the plate. Herman said of Ryan, "I love that boy…He's a major league receiver right now. His past performances don't show too much hitting but I don't pay any attention to them. He has a good stroke and each year he has been improving with the bat."2 Another time, he said that he was "almost as good as Elston Howard. In fact, there is only a hairline difference between Ryan and Howard in defensive ability. Ryan has a great arm."3 Herman could not have known that Howard and Ryan would be teammates in 1967.
After 1965, Ryan didn't see the the minor leagues again as a player (though in as a minor-league manager in 1975, he inserted himself in a handful of games.) In 1966, he won the starting catcher's job and appeared in 116 games for the Red Sox batting .214. He managed two three-hit games that year, but just two home runs and some 32 RBIs. Bob Tillman served as the backup backstop.
Dick Williams took over the ninth-place Red Sox for the 1967 campaign. Williams was determined to run things his way and instill discipline into a ball club that historically had been known for its "country club" ways. At the start of the season, Ryan shared catching duties with Tillman and Russ Gibson. None of the three were known for their offensive contributions and Williams was hopeful that a trade could be made for a veteran catcher with some pop in his bat and experience in handling a pitching staff during a pennant race.
Ryan did the majority of the catching through July. However, there was some tension between Williams and Ryan because the two did not see eye-to-eye over pitch selection. On August 3, just two days after Ryan had connected for a three-run homer in a game against Kansas City, Williams got his wish and the Sox acquired a veteran backstop. The man they got was Elston Howard, with whom Ryan had been compared defensively, in a deal for Ron Klimkowski and Pete Magrini with the New York Yankees. Howard was 38 years old and had been a mainstay on several New York pennant winners. Williams was elated. So was Howard's new teammate Carl Yastrzemski, who said that Howard "is the best catcher I have ever seen for calling a ball game."4
On August 17, Ryan was quoted in the Boston Globe, "We were in second place when he (Williams) took me out. Then we went all the way to fifth. He can yank me, that's his privilege. But there's nothing that says I have to like it."5
Ryan also let his opinion be known on September 1 in the Christian Science Monitor: "I know everybody thinks the Red Sox made a great move when they picked up Howard. I'd like to have his reputation and I wish him well. I hope he helps us win the pennant, because it's obvious he's going to play no matter what happens."6 Mike did have one more bright moment in the Sox chase for the pennant. In a September 10 game versus New York, he hit a bases-clearing triple in a 9-1 Boston victory, but Ryan watched most of the action the rest of the way from the bench. He did have two at-bats in the World Series, going hitless.
A short time after the World Series he married Suzanne Graham of Newburyport, MA. She was an athletic girl with long reddish hair and an attractive freckled face. She enjoyed scuba diving, skiing, roller skating, as well as collecting antiques. They were introduced by a mutual friend while Suzanne was working as a secretary with Western Electric in 1964. After their honeymoon in Antigua, Jamaica, and the British West Indies, they moved into an old colonial home in Kingston, New Hampshire. In a very short period of time, Mike had been to his first World Series, welcomed his brother Steven back from Vietnam, and gotten married to the woman who remains his wife nearly 40 years later.
That winter Mike was selling cars for Ryan Motor Sales in Haverhill, owned by his uncle Mike. Actually, he admits, he never sold a single car, but it gave him some work in the offseason – which soon took another turn. On December 15, he received news that he had been traded to the Philadelphia Phillies for Dick Ellsworth and Gene Oliver.
He shared catching duties in 1968 with Clay Dalrymple, appearing in 96 games and hitting .179 with 15 RBIs. Ryan did show a knack for hitting in the clutch–during a six-game period early in the season he knocked in the winning run in three of the four games the Phils won, with two of those hits coming in the ninth inning. After the season Dalrymple was traded to Baltimore giving Ryan the number one catching slot.
He worked hard in the Florida Instructional League to improve his offensive production. He opened up his batting stance and choked up on the bat. According to Ryan, "I was always committing myself before, my first move with my hands was forward and when the pitchers changed up or took a little off I was too far out in front with my swing. Then, all I had left was my arms. Now my first move with my hands is back and that allows me to get a good look at the pitch before committing myself."
The results were mixed. He hit for more power in 1969, 12 homers and 44 RBIs, but his average was still just .204 in 133 games. He continued to receive recognition for his defensive prowess. Manager Bob Skinner's praise for his game calling struck a chord with Ryan as this was one of the raps against him leveled by Dick Williams.
"That was just Williams' excuse to get rid of me. I don't think I call a game any differently now than I ever did," Ryan remarked at the time. Veteran pitcher and teammate Dick Farrell said, "He's a great catcher. I pitched to (John) Roseboro and I think Ryan moves around back of the plate better than he did. I always thought Roseboro was the best. And Ryan's a great thrower, the best I've ever seen, not so much for strength, but getting rid of the ball and for accuracy."
His defensive ability notwithstanding, Philadelphia acquired Tim McCarver from St. Louis after the 1969 season in the infamous Curt Flood deal. McCarver was an All-Star and World Series hero with the Cardinals and it was obvious that he would receive the bulk of the playing time. Ryan began the 1970 season on the disabled list and returned on April 19. On May 2, a Willie Mays foul ball broke McCarver's hand in the sixth inning of a game against the Giants at Candlestick Park. Ryan took McCarver's place. Mays singled, Willie McCovey doubled, and tried to score on Ken Henderson's single. Mike Ryan blocked the plate, but broke his finger tagging out McCovey at the plate. With two catchers lost in one inning, Jim Hutto took over. Ryan was activated on July 6 but was back on the disabled list for a third time on August 15. For the year he appeared in only 46 games, batting .179.
Ryan spent the next three seasons with the Phils seeing limited action as a backup. He batted .164 in 43 games in 1971, .179 in 46 games in 1972, and .232 in 28 games in 1973. He was traded to Pittsburgh for Jackie Hernandez at the end of January, 1974 and saw limited action again appearing in just 15 games and getting three hits in 30 at-bats. He did not see any action for the Pirates in their NLCS loss to the Los Angeles Dodgers and he retired after the season.
Mike Ryan finished his career with a lifetime major-league batting average of .193, but teams always saw value in his defense. In just over 5,000 innings of work, given a total of 3,832 chances, he made just 34 errors a career percentage of .991.
The Pirates wanted him to stay with the organization and appointed him manager of their Class-A affiliate Charleston for the 1975 season. Charleston finished third in the first half season and fourth in the second. Ryan even filled in twice and pitched five innings, allowing three earned runs. The next season saw similar results for the Charleston ballclub, finishing fourth and third. He was let go following the 1976 season. The Phillies hired Ryan as their minor-league catching instructor for 1977, and midway through the summer, he was asked to manage their Triple-A club in the American Association at Oklahoma City, beginning in July. Oklahoma City finished third that season with a 70-66 record.
Ryan finished his career in professional baseball as a bullpen coach with the Philadelphia Phillies from 1980 through 1995. His very first year, the Phillies won the NL pennant and, after a 97-year wait, their first World Series.
Montreal eliminated the Phils the following year in the Division playoff but in 1983, Philadelphia was back in another World Series. This time the Orioles beat them in five games. Ten years later, in 1993, the Phillies won the pennant again, but the Toronto Blue Jays beat them in six. Mike Ryan can look back on one Series as a player, and three as a coach. After the 1995 season, he elected to retire after 35 years in baseball, 27 in the majors.
On July 7, 2020, Mike Ryan passed away in his sleep in Wolfeboro, New Hampshire. He was 78 years old. He was survived by his wife, Suzanne, to whom he was married for 52 years, and by five siblings.
A version of this biography originally appeared in "The 1967 Impossible Dream Red Sox: Pandemonium on the Field" (Rounder Books, 2007), edited by Bill Nowlin and Dan Desrochers.
Notes
Born
November 25, 1941 at Haverhill, MA (USA)
Died
July 7, 2020 at Wolfeboro, NH (USA)
If you can help us improve this player's biography, contact us.
http://bioproj.sabr.org/bp_ftp/images2/RyanMike.jpg
600
800
admin
/wp-content/uploads/2020/02/sabr_logo.png
admin
2012-01-04 20:35:34
2022-04-04 13:52:38
Mike Ryan