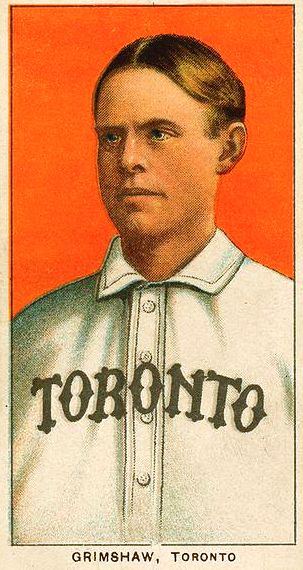 ---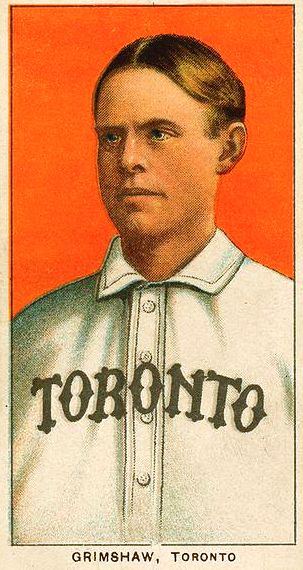 Beech-Nut, known for baby foods and chewing gum, was founded in Canajoharie, New York, in 1891, when Moose Grimshaw was 16 years old. He was born about 10 miles away, in the village of St. Johnsville, on November 30, 1875. A right fielder and first baseman for the Boston Americans in 1905-07, he made his professional debut for the 1898 London Cockneys (Canadian League) in Ontario. The Cockneys had Grimshaw that year, though perhaps only for four games; he moved to the Guelph Maple Leafs in 1899. He had one more year in Canadian-based ball, in 1900 for the Chatham Reds, before coming back a bit across the border to play three seasons for the Eastern League's Buffalo Bisons in 1902-04. What he did in 1901 remains unaccounted for, though he had married in April 1900 and that may have played a part in his decision to take a year off.
The years with Buffalo were good ones; Moose batted .317, .297, and .325. It was the major leagues for the next three years, after Buffalo's George Stallings sold his contract to the Boston Americans in early September 1904, one of five players he sold to various ballclubs.[1] He'd actually been signed to Cleveland the year before, but never truly had a trial with them.
Buffalo was in a battle for the Eastern League flag, and Grimshaw stuck with his team. He impressed the Boston Globe's Tim Murnane, who had stopped by Buffalo to look over the team. "They tell me here," Murnane wrote, "that Grimshaw is one of the finest batsmen in the business and a clever first baseman." Murnane noted how his four hits had helped the Bisons win a doubleheader the day before, and believed that he would strengthen manager Jimmy Collins's club, which was in the process of winning its second straight league championship. "He should strengthen the champions next year where they are a bit weak right now," Murnane predicted.[2] Candy LaChance was completing a season in which he hit .224 as Boston's first baseman. Buffalo won the pennant that year, too, in the Eastern League, eight games ahead of second-place Baltimore. Grimshaw led the league in runs scored (98) and hits (177). Boston manager Collins hailed from Buffalo and his ties there may have counted a bit in making the deal to bring Grimshaw to Boston.
Murnane did say that Grimshaw was "awkward-looking" – perhaps leading to his nickname. Myron Frederick were his given names; he stood 6-feet-1 and weighed 173 pounds (and was a switch-hitter); "the local fans are very sore over the loss of this good batsman," wrote Murnane on the 23rd. For some reason, Collins didn't bring Grimshaw to Philadelphia and Washington for the opening games of the season. His first game was the ninth of the season; Boston was already 2-6 at this point. Grimshaw pinch-hit for pitcher Bill Dineen and singled in the sixth, driving in a run.
Collins was impressed with Grimshaw in spring training at Macon, Georgia, in 1905. LaChance – George by name – was losing out to Grimshaw. "Big George is hitting weaker than ever in his life, while Grimshaw looms up as big as a house."[3]
Grimshaw missed quite a few games to illness in 1905 – "chock full of malaria. … In fact, Dr. Erb, the efficient American League physician, said he never saw a more-pronounced case than 'Grim's,' so it was indeed a wonder that he could play ball a little, let alone what he did do. Then 'Grim' strained his side severely in capturing a difficult foul fly and that made matters worse, for it put him out of the game. Grimshaw well is one of the best men to be had today."[4] The death of his mother resulted in his leaving the club for 10 days. He somehow managed to appear in 85 Boston games by year's end, hitting for a .239 batting average. His four home runs tied him with Collins, Jesse Burkett, and Kip Selbach for second on the club (Ferris had six). After two years atop the standings, Boston fell back in the pack, finishing fourth with a 78-74 record.
Apparently not everyone with Boston was sympathetic. Jimmy Collins seemed to have forgotten about the malaria and asserted in an interview that "Grimshaw was too timid this year and for that reason he didn't do as well as he could."[5]
Almost the day the season ended, Boston owner John I. Taylor had actually traded Grimshaw to Minneapolis (along with Perry Sessions and $1,000) to acquire first baseman Jerry Freeman. Grimshaw never appeared for Minneapolis, though; Taylor couldn't get him through waivers and at least a couple of other clubs claimed him, and league president Ban Johnson "put the kibosh" on the trade.[6] So the first-base job was his; and he got over the feeling of being miffed while fishing and hunting in the Adirondacks in the offseason, and came back with renewed resolve, and health, assured that the first-base job was his.
Grimshaw was in good shape at Macon in the spring of 1906 and appeared in 110 games that year, despite injuring his kneecap in April and suffering a broken wrist in July, batting .290 (tops on the club, in a year Boston was a dismal 49-105), while driving in 48 runs – just three fewer than club leader Chick Stahl.
In early 1907 there were reports that Boston's Bob Unglaub had been traded to Washington for first baseman Jake Stahl, but it never came off, and Moose became Boston's main first baseman. Rumors then began that it would be Grimshaw (plus additional inducements) for Stahl. Owner Taylor wanted to make the trade, but was turned down by the Senators. Grimshaw hit for a better average than Stahl but Taylor felt "Jake would help our infield more and that is why we wanted him."[7]
Grim was rated as "a first baseman of more than ordinary ability."[8] At the same time, some felt that Unglaub was a superb utilityman and, according to former Boston Americans owner Henry Killilea, "one of the best first basemen in the land."[9] Grimshaw played a little outfield for Boston, in addition to his work at first base. He played out the 1907 season, filling in very nicely for Unglaub at first base at the end of the season. His final game saw him go 1-for-4 in a 10-inning 3-3 tie game against New York. He'd played in 64 games, hitting .204.
There was no plan to bring Grimshaw back, and he was placed on waivers in December. No one claimed him, and after a winter of working as a guide in the Adirondacks, it was north of the border again; he'd been booked for Toronto on December 23. He played in 1908, 1909, and 1910 for the Toronto Maple Leafs, albeit for only 18 games the first year (.209). Before May was half over his collarbone was broken by a thrown ball. In 1909, he hit exactly 100 points higher – a league-leading .309 – in 124 games. Not everyone in Boston seemed to feel that the team had gotten the best out of him; writer Louis A. Dougher dubbed him "the greatest lemon ever worked over on a major-league team."[10]
Beset by some injuries, Grimshaw played in only 62 games in 1910, and hit .287. He wound up in conflict with the team, filing a case with the National Commission claiming $450 that he said the Maple Leafs had not paid him for the last weeks of the season, when he was out after being struck in the ear. Toronto asserted that he had left the club without permission, for which he was suspended. The Toronto World said that if Moose had only waited for his final paycheck along with everyone else, he would have been made whole, but he chose instead to enter his grievance. The National Commission took up the case and found "conclusively" that his case was without foundation.[11] In the offseason Grimshaw was traded to Louisville for outfielder Timothy Jordan.
He had one more year of pro ball in him, though Louisville hadn't heard from him until almost the last minute when a telegram arrived saying he'd report to spring training on time. (The same thing had happened in early 1906, when Boston was left wondering until nearly the last minute. It wasn't a holdout in either case; he just took his time communicating.) For the Colonels Moose hit a strong .363 in 97 games. Despite missing so many games, he was looking for a pay hike after the season. Louisville offered to maintain his pay – and he'd been getting paid a major-league salary. He was looking for a better deal so he began a holdout, on top of that never getting himself in condition. That didn't work out well for Grimshaw. Louisville more or less just let him go, turning his contract over to Indianapolis, which finally released him in early 1914.
In the 1910 census Grimshaw and his wife, the former Mabel Mae Hassett, were found living in Canajoharie. In 1920 they were still there with their 8-year-old daughter, Ruth. Myron was working as a laborer in the Beech-Nut Packing Co. at the time of his registration for the draft at the time of the First World War, and he was still there in the 1920 and 1930 censuses. By 1936 he had become superintendent of shipping at Beech-Nut; he suffered a heart attack on the morning of December 11, 1936, and died at work. He was 61.
Sources
In addition to the sources noted in this biography, the author also accessed Grimshaw's player file from the National Baseball Hall of Fame, the online SABR Encyclopedia, Retrosheet.org, and Baseball-Reference.com.
---
Born
November 30, 1875 at St. Johnsville, NY (USA)
Died
December 11, 1936 at Canajoharie, NY (USA)
If you can help us improve this player's biography, contact us.
http://bioproj.sabr.org/bp_ftp/images4/GrimshawMoose.jpg
600
800
admin
/wp-content/uploads/2020/02/sabr_logo.png
admin
2012-01-04 20:30:41
2012-01-04 20:30:41
Moose Grimshaw