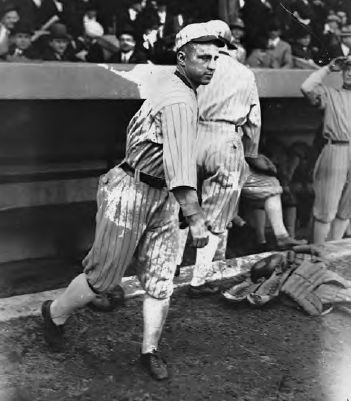 ---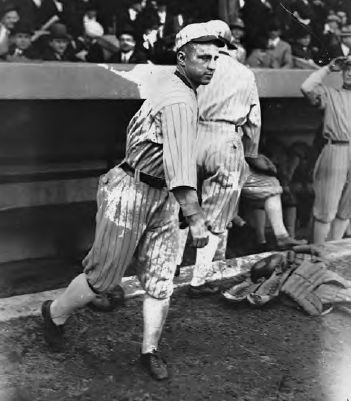 A scrappy outfielder, Nemo Leibold had a 13-year major-league career and played on four World Series teams, winning a championship with the Chicago White Sox in 1917 and another with the Washington Senators in 1924. Later a distinguished manager in the minor leagues from 1928 to 1948, Leibold is best known for passing through the Black Sox Scandal of 1919 with his reputation and honor intact.
Harry Loran Leibold — a German name pronounced LYE-bold — was born February 17, 1892, in Butler, Indiana, to Henry and Etta Leibold. One year later, his family moved to Detroit, where his father worked in factories. Growing up an only child in a family of limited means, Harry, also called "half-pint" because of his small stature, began playing baseball in Detroit's competitive sandlot leagues by the time he was in junior high school. Playing center field on his high-school team, the quick and agile Leibold quit school to work for Edison Electric Co. and earn much-needed pocket money to help his parents.1 On Sundays he played for Delray, a local semipro team that played in Factory Park in the industrialized southwest part of the city.
In 1910 Leibold traveled to western Michigan to try out for the Kalamazoo Kazoos, in the Class D Southern Michigan League.2 He made the team, but after three weeks player-manager Charles Wagner sent him home before he had seen action in a game. A disappointed Leibold returned to Detroit and resumed playing for Delray. His fortunes appeared to have changed when Jimmy Barrett, a former big-league outfielder with the Tigers, saw him play. Barrett, who played for the Milwaukee Brewers in the American Association at the time, intended to purchase the Oshkosh Indians in the Class C Wisconsin-Illinois League and offered Leibold a contract with the team; however, the deal to buy the team fell through.3
But fate was on Leibold's side. Barrett was named player-manager of the Brewers for the 1911 season and immediately told Brewers owner Otto Borchert about the 5-foot-6 speedster Leibold. Borchert dispatched his right-hand man and expert talent evaluator, Louis M. Nahin, to Detroit, where he signed Leibold to a contract.4
Leibold's skills were well suited to baseball in the Deadball Era. He was fast on the basepaths and in the outfield, where he could play all three positions. He was nimble, agile, and quick, and he was a slap hitter and solid bunter. Leibold reported to the Brewers' spring-training site at the University of Illinois in Champaign in 1911. Longtime Milwaukee sportswriter Manning Vaughn recalled how Leibold was greeted with jeers and snide remarks because of his size; however, Vaughn was amazed by Leibold's athleticism and fielding ability, writing, "[Leibold] could throw equally well with either arm."5 Once he earned a regular job, the natural left-handed-hitting Leibold threw right-handed. As a 19-year-old, Harry struggled in his first year with the Brewers, batting just .177.6
Playing for manager Hugh Duffy, a former big-league batting champ later elected to the Baseball Hall of Fame, Leibold blossomed in 1912 for the Brewers. Described as a "midget player" by Sporting Life, Leibold raised his batting average to .285, prompting Duffy to predict that he would be as good as Donie Bush, the Detroit Tigers' slick-fielding shortstop and reportedly the shortest player in the major leagues.7
Leibold began to attract the attention of major-league scouts. Bob Gilks, a scout for the Cleveland Naps in the American League, was impressed with Leibold's natural fielding instincts and his ability to track fly balls even in the sun. At the end of the season, the Naps drafted Leibold from the Brewers for a reported $2,500.8
For the 1913 season, Leibold joined manager Joe Birmingham's Naps (a name honoring the team's star player, Nap Lajoie) and was given the title of "smallest man in the league" by Sporting Life.9 Teammate Jack Lelivelt began calling Leibold "Nemo" based on the popular comic strip "Little Nemo," and the nickname stuck with Leibold for the rest of his playing career. Teaming with Shoeless Joe Jackson and Jack Graney in the outfield, Nemo took over center field by midseason and finished with a .259 batting average in 286 at-bats. "[Leibold] should be one of the best flychasers in the American League next season," Sporting Life predicted.10
In 1914 Leibold married Edena (née Loranger), one year younger than he, and together they had five children, Edna, Raymond, Harry, Edwin, and Robert, during the first ten years of their marriage.11 In the offseason Leibold was reunited with his family in Detroit, where he lived his entire life after moving there with his parents.
After a surprising third-place finish in Leibold's rookie season, the Naps' hope for a championship in 1914 were dashed when, in spring training, Nemo injured his knee and shortstop Ray Chapman broke his leg, landing both of them in Cleveland's Charity Hospital. Leibold returned to bat .264 in 402 at-bats, but the team fell to last place with a 51-102 record. Naps owner Charles W. Somers, one of the principal founders of the American League in 1901, actively shopped Leibold during the season. Somers was in financial straits in part because of poor attendance, but especially due to the upstart Federal League, which aggressively attempted to sign players and drove up salaries.
Leibold flirted with the Federal League before its inaugural season in 1914 and approached the Pittsburgh Rebels about a job. Reports from the Milwaukee Sentinel that Leibold, dissatisfied with his contract with Cleveland, had jumped to the Buffalo Blues of the Federal League for the 1915 season, proved to be inaccurate.12 Batting .256 in midseason for Cleveland, Leibold lost his job to Billy Southworth and was placed on waivers. On July 7 the Chicago White Sox purchased his contract for a reported $7,500.
Leibold could not dislodge Shano Collins or fellow 23-year-olds Happy Felsch and Eddie Murphy from the White Sox outfield. He played sparingly in 1915, batting .230 in 74 at-bats. With the acquisition of Leibold's former Naps teammate Shoeless Joe Jackson, the White Sox outfield grew even more formidable. Leibold was relegated to the role of fifth outfielder and his playing time was limited to just 82 at-bats in 1916.
Even though Leibold was a backup outfielder in his first 1½ seasons with the White Sox, the Pittsburgh Press described him as a future "star" and said that manager Pants Rowland would give him a chance to start in 1917.13 Leibold earned a starting job in the outfield, but was often replaced by Shano Collins when facing left-handed pitchers. Rooming with future Hall of Famer Eddie Collins on the road and typically batting leadoff, Leibold was a hustling sparkplug for the team. Though he batted just .236 in 428 at-bats, his 74 walks trailed only Eddie Collins on the team. Known for his quick, instinctive jump on balls hit to the outfield, Leibold often played shallow and dared hitters to try to hit over his head. With a 100-54 record, the White Sox cruised to the American League pennant behind Eddie Cicotte's 28 wins and an AL-leading team ERA of 2.16, earning the right to play the New York Giants in the World Series.
The White Sox faced left-handed starting pitchers in every game of the Series; consequently, Shano Collins got the starting nod over Leibold. In a 7-2 victory in Game Two, Leibold pinch-hit for Collins and rapped an RBI single in the fourth inning to score Buck Weaver, and then took over right field. His next action came in the deciding Game Six, when he pinch-hit again for Collins. In his second at-bat in the ninth inning, he hit a single to center field, scoring Weaver for the final run in the 4-2 Series-clinching victory. In right field for the final out, Leibold celebrated with teammates as Red Faber got pinch-hitting Lew McCarty to ground out to second to secure the first White Sox championship since 1906.
Anticipating another pennant in 1918, the White Sox struggled to a sixth-place finish, their roster depleted by the government's "work or fight" order which prevented baseball players from being exempted from wartime service. Leibold was off to the best start in his career, playing in 116 of the team's 124 games during the abbreviated season and batting .250.
In 1919 the White Sox got off to a fast start and won their second pennant in three seasons. Under new manager Kid Gleason, Leibold excelled, platooning in right field with Shano Collins, but seeing most of the playing time and batting .302 in 434 at-bats. His 72 walks led the team and his .404 on-base percentage trailed only Shoeless Joe Jackson among the regulars.
The White Sox were to face the Cincinnati Reds in the best-of-nine World Series. Washington Senators manager and co-owner Clark Griffith predicted that Chicago would win the Series and praised Nemo: "[Leibold is] hard to pitch to and has a good eye. If the balls are bad, he won't take a cut at them. If they are in, he is liable to crack for two or three as he is a single."14
Playing against right-handed pitchers in the Series, Leibold went hitless in his first 13 at-bats (with two walks) before lining a single in the deciding Game Eight loss. He finished the Series with just one hit in 18 at-bats.
With rumors of a fixed World Series resonating throughout baseball in 1920, a grand jury was convened in Chicago in September to investigate the allegations. Despite the disruptions, the 1920 White Sox played well and were in first place to begin the last month of the season. "It was a reeling blow to us when the investigations proved the 1919 Series had been fixed," Leibold recalled almost 40 years later. "We could not believe that eight of our teammates let us down."15
Leibold thought the White Sox should have won the pennant again in 1920, but that chance was lost when White Sox owner Comiskey suspended seven players — Cicotte, Felsch, Jackson, Fred McMullin, Swede Risberg, Weaver, and Lefty Williams (Chick Gandil sat out the 1920 season in a salary dispute) — on the eve of the season's final series.16 Those eight players were subsequently banned from baseball by Commissioner Kenesaw Mountain Landis.
Summoned by the grand jury to testify, Leibold revealed that friends from Detroit had contacted him about a rumored fix and wanted an inside scoop, but he never wrote to them. Under oath, Leibold said, "[I told them] I was in a spot where I couldn't advise you either way, so I just didn't answer. That was the only thing I could do."17 Leibold said he had no knowledge of a fix. "I roomed with Buck [Weaver] throughout the 1919 and 1920 season and I never had any inkling that there was anything wrong," he said.18 Leibold, who suffered a broken left hand in 1920 that limited his batted average to .220, was never implicated in the scandal.
Along with Shano Collins, Leibold was traded to the Boston Red Sox for right fielder (and future Hall of Famer) Harry Hooper during spring training in 1921. Lauded as "one of the best outfielders in the American League," Leibold was reunited with manager Hugh Duffy and had his best season at the plate, batting a career-high .306 in 467 at-bats and playing center field.19 Platooning at center with Collins in 1922, Leibold saw his average fall to .258 for the last-place Red Sox.
Playing sparingly for new Red Sox manager Frank Chance in 1923, Leibold had a stroke of luck when Washington Senators player-manager Donie Bush, to whom he had been compared as a young player, persuaded Clark Griffith to acquire Leibold at the waiver price in late May. Installed as the starting center fielder soon after his arrival, Leibold batted .305, one of five regulars to bat over .300.
Under the leadership of new player-manager Bucky Harris, the Senators got off to a slow start in 1924. Their record on June 16 was 24-26. Then the Senators caught fire, winning 68 of their final 104 games to claim their first pennant. Harris praised Leibold's ability to get on base and start rallies. With a .293 batting average and a .398 on-base percentage (trailing only Goose Goslin), Leibold was part of an outfield The Sporting News considered one of the strongest in baseball.20
A steady, dependable, and experienced leader on the field, Leibold was thought to be finished as a player when the Senators acquired him. However, Clark Griffith said during the final days of September, "The splendid playing of Leibold has proved one of the season's surprises in the American League."21
Facing the powerful New York Giants in the World Series, the Senators took the National League champs to Game Seven. Down 3-1 with one out in the bottom of the eighth inning, Leibold pinch-hit for third baseman Tommy Taylor and responded with the biggest hit of his career: a double to left field, which put him in position to score along with Muddy Ruel on Harris's two-out single to tie the game. "[Leibold's] vitally necessary two-bagger was no surprise," said Harris after the game.22 In the bottom of the 12th, Earl McNeely scored Ruel with a dramatic game-ending hit to give the Senators and Walter Johnson, who pitched the final four innings in relief, their first title.
Citing Leibold's leadership qualities, Bucky Harris and Clark Griffith thought he would be an excellent coach or manager. They may have even toyed with the idea of naming Leibold a Senators coach for the 1926 season, his last in the major leagues. While the Senators won their second consecutive pennant in 1925 in convincing fashion, the 33-year-old Leibold was hobbled by nagging injuries to his legs and had difficulties playing in the outfield. In 84 at-bats, his lowest total since 1916, he batted .274. In the Senators' seven-game World Series defeat by the Pittsburgh Pirates, Leibold saw action as a pinch-hitter on three occasions (hitting a double and scoring in the Game Five defeat), but did not play in the field.
Leibold was given his unconditional release after the season. He played in 1,268 games in his major-league career and batted .266 in 4,167 at-bats. In four World Series — with his teams winning two — he hit .161 (five hits in 31 at-bats.)
Leibold added a new chapter to his career in 1928. He was named player-manager of the Columbus (Ohio) Senators (no connection to the Washington Senators) in the American Association. Batting a solid .296 from 1928 through 1930, Leibold skippered the Senators in their last three years of independence before they signed an affiliation contract with the St. Louis Cardinals for the 1931 season. Though the Senators finished seventh, sixth, and sixth in the eight-team league during his tenure, Leibold proved to be popular with the fans and a positive influence on his players, most of whom had or would have some experience in the major leagues.
Cardinals general manager Branch Rickey retained Leibold as manager of the team, renamed the Red Birds, in 1931. Leibold was an innovative trainer who stressed physical fitness. At the Red Birds' spring training site in Bradenton, Florida, he was one of the first known managers to employ volleyball to improve players' reflexes and agility.23 After leading the Red Birds to a winning record and a fourth-place finish in 1931, he was replaced in midseason 1932 by Billy Southworth.
In 1933 Leibold began a professional relationship with the Boston Red Sox that lasted until 1948, during which time he led various Boston minor-league affiliates to six league championships.24 Acting on the advice of Red Sox general manager Eddie Collins, who knew Leibold well, Bob Quinn hired Leibold to manage the Reading Red Sox of the New York-Penn League in 1933. After two consecutive winning seasons, Leibold moved up to the Syracuse Chiefs of the International League.25 Chiefs president Jack Corbett cited Leibold's aggressive style of game management which harkened back to the Deadball Era.26
After a second-place finish in the regular season, the Chiefs beat the Montreal Royals to secure the inaugural Governor's Cup as league champions in 1935. Fired after the first third of the season in 1936, Leibold served as a team scout before managing the Rocky Mount (North Carolina) Red Sox in the Class B Piedmont League and the Clarksdale (Mississippi) Red Sox in the Class C Cotton States League in 1937 and 1938.
On "Nemo Night" in his honor in 1938, he received gifts including a set of golf clubs and $48 collected from fans in the stands, but more impressive was when the 46-year-old inserted himself in the outfield, shagged fly balls, and hit a double and a single in two at-bats in his team's victory.27
After leading the Class A Scranton Red Sox to five consecutive playoff appearances from 1939 to 1943, including two league titles, Leibold was named manager of Boston's top affiliate in the American Association, the Louisville Colonels. Replacing Bill Burwell, Leibold led Louisville to three consecutive league championships in his first three years (1944-46).
In 1946 Leibold was involved in a nationally reported controversy when he had an altercation with umpire Forrest Peters in a game on June 16. Peters claimed Leibold punched and pushed him; Leibold was suspended indefinitely and fined $100 by American Association president H. Roy Hamey. However, when the suspension was lifted after just six days, Peters and his fellow umpire at the game, Milton Steengrafe, resigned in protest and appealed to W.G. Bramham, president of the National Association, the minor leagues' governing body.
While coaching first base at the league's all-star game on July 17, Leibold was informed that Bramham had suspended him for the remainder of the season, effective immediately. "The decision of Judge Bramham is an injustice to me," Leibold said. "I at least deserve a hearing."28 He was granted a hearing in Chicago at the end of July and the suspension was reduced to 45 games, making him eligible to coach the Colonels at the end of the season.
After losing the league finals in 1947, the Colonels were mired in last place for most of 1948. Ten days before the end of the season, Leibold surprisingly announced his retirement. The timing of the announcement stirred rumors of a falling-out between Leibold and Red Sox management. Joe Cronin had replaced Leibold's old teammate, Eddie Collins, as Boston's general manager.
"I feel that I have outlived my usefulness to Louisville and Boston," Leibold said. "I have been manager in Louisville for five seasons and that's a long time."29 Despite his comments, the rumor mill churned out reports that he would take a job with the Philadelphia Phillies or his hometown Detroit Tigers.
Richard Leibold, Nemo Leibold's grandson, told the author that the falling-out may have been more complicated than typically reported. He suggested that Nemo felt he was never able to completely overcome the stigma of the Black Sox Scandal. Nemo told his family he felt a sense of "guilt by association" with anyone involved with the 1919 White Sox, even though he was not implicated in any wrongdoing. According to Richard Leibold (and his deceased father, Robert Leibold), Nemo felt betrayed by the Red Sox, an organization he had served since 1933.30
Several months after Leibold resigned from the Colonels, he agreed to a contract with the Detroit Tigers' affiliate in the American Association, the Toledo Mud Hens. But before the 1949 season he abruptly resigned, citing poor health and a desire to remain closer to his wife and family. Leibold never managed or coached again in professional baseball. He scouted for the Tigers in 1950 and 1951 before retiring at the age of 58.31
For the remainder of his life, Leibold lived in Detroit. "He never really talked about his baseball career," grandson Richard Leibold said. "He had lots of memorabilia lying around the house and was casual with it. We'd play baseball with balls and bats signed by members of the 1924 Senators."32
Leibold drifted away from the game in retirement, and did not maintain close relationships with either the Red Sox or White Sox organizations. "My grandfather enjoyed watching games with us," said his grandson, "and got upset when players didn't play fundamentally sound baseball. He never lost his coaching instincts."
Leibold died of natural causes at the age of 84 on February 4, 1977. He was buried at Holy Sepulchre Cemetery in Southfield, Michigan, near Detroit.
Leibold was a scrappy competitor as a player and manager. Sam Levy of the Milwaukee Journal described him as a "rough rider from the old school" because of his no-nonsense style and insistence that players play hard. But he also noted Leibold's fatherly side and compassionate concern for his players' welfare.33 "Baseball owes me nothing and I owe baseball nothing," Leibold said. "I've always done the best I could."34
Author's note
The author would like to thank Richard Leibold, grandson of Nemo Leibold, whom he interviewed on April 22, 2013.
Sources
Ancestry.com
BaseballLibrary.com
Baseball-Reference.com
Milwaukee Journal
Milwaukee Sentinel
New York Times
Retrosheet.org
SABR.org
Sporting Life
The Sporting News
Notes
1 "Nemo Leibold, Former Brewer, Has One Fear — He's Afraid He Will Get Fat," The Milwaukee Journal, April 2, 1914, 13.
2 Ibid.
3 Ibid.
4 Ibid.
5 Manning Vaughn, "Nemo Passes From Big Show," Milwaukee Journal, January 31, 1926, 2.
6 All minor- and major-league statistics have been verified on Baseball-Reference.com.
7 Sporting Life, June 22, 1912, 17.
8 Sporting Life, November 23, 1912, 8.
9 Sporting Life, March 22, 1913, 11.
10 Sporting Life, October 10, 1913, 15.
11 Ancestry.com; interview with Richard Leibold, April 22, 2013.
12 Milwaukee Sentinel, March 12, 1915, 6.
13 "Leibold Will Get a Chance," Pittsburgh Press, December 23, 1916, 1.
14 "Griffith Says Sox Should Win the Series," Easton (Pennsylvania) Daily Free Press, September 9, 1919, 11.
15 The Sporting News, December 27, 1961, 37.
16 The Sporting News, December 27, 1961, 37.
17 The Sporting News, October 7, 1920, 2.
18 The Sporting News, December 27, 1961, 37.
19 The Sporting News, March 10, 1921, 3.
20 The Sporting News, September 25, 1924, 3.
21 Sam Levy, "Nemo Leibold Helped Nats, Says Griffith," Milwaukee Journal, September 26, 1924, 52.
22 The Sporting News, November 13, 1924, 3.
23 The Sporting News, March 12, 1932, 5.
24 Lloyd Johnson and Miles Wolff, eds., Encyclopedia of Minor League Baseball (Durham, North Carolina: Baseball America, 1997). The championship years were 1935, 1939, 1942, 1944, 1945, and 1946. (Leibold was replaced in the 1946 season by Fred Walters.)
25 Ibid.
26 The Sporting News, November 8, 1934, 6.
27 The Sporting News, July 14, 1938, 3.
28 The Sporting News, July 24, 1946, 9.
29 Eddie Jones, "Leibold 'Definite Candidate' for Hens' Manager After Quitting at Louisville," Toledo Blade, September 3, 1948.
30 Interview with Richard Leibold.
31 The Sporting News, April 25, 1951.
32 Interview with Richard Leibold.
33 Sam Levy, "Nemo Leibold Suggests Changes as he Quits Post at Louisville," Milwaukee Journal, September 3, 1948, 9.
34 Interview with Richard Leibold.
Born
February 17, 1892 at Butler, IN (USA)
Died
February 4, 1977 at Detroit, MI (USA)
If you can help us improve this player's biography, contact us.
http://sabr.org/sites/default/files/NemoLeibold.JPG
600
800
admin
/wp-content/uploads/2020/02/sabr_logo.png
admin
2012-01-04 20:03:59
2020-10-16 15:45:22
Nemo Leibold