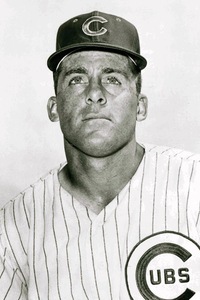 ---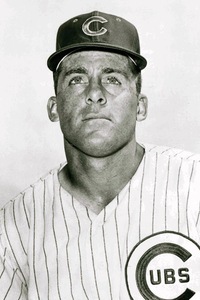 After an eight-year apprenticeship in the minor leagues, from 1959 to 1966, Norm Gigon played one year of major-league baseball in 1967 as a utility infielder-outfielder with the Chicago Cubs. Following his retirement as a player, Gigon coached the baseball team at Lafayette College, where he most famously nurtured Joe Maddon, a future major-league manager, who in 2016 piloted the Cubs to their first World Series championship in 108 years. Gigon's role in the development of Maddon was prominently captured in Tom Verducci's 2017 book, The Cubs Way: The Zen of Building the Best Team in Baseball and Breaking the Curse.1
Norman Phillip Gigon was born on May 12, 1938, in Teaneck, New Jersey. He was the third of four sons of Auguste Gigon and Madeline Blomme, who had settled in suburban New Milford, New Jersey, after their earlier years living in New York City's borough of Queens.2 His father, an electrical contractor, had immigrated to the United States from Switzerland; his mother was born in Belgium. Gigon excelled in both academics and athletics at Hackensack High School, where he graduated in the Class of 1955.3 During the summer of 1955 he was the second baseman for the Dodgers Rookies, a touring Metro New York City high-school all-star team sponsored by the Brooklyn Dodgers, which played ballgames throughout upstate New York and New England.4 The Dodgers offered him a minor-league contract, but Gigon opted instead to go to college.5
Gigon attended Colby College, a small liberal-arts college in Waterville, Maine. At Colby he was an infielder for baseball coach John Winkin, a New Jersey native who had achieved success as a college baseball player at Duke University and went on to earn master's and Ph.D. degrees at Columbia University.6 When Gigon was a student at Hackensack High School, Winkin was a high-school baseball coach in nearby Englewood, before he left to be the baseball coach at Colby in 1954. Winkin believed his baseball players could achieve the best of both worlds at Colby, a first-class education and a shot at professional baseball. Gigon was an early success story, signing with the Philadelphia Phillies in 1958 after his junior year, when Colby qualified for the NCAA regional tournament.7 During the baseball offseason, Gigon continued his studies at Colby, eventually earning his bachelor's degree in the Class of 1961.8
During his first three years in the Phillies' minor-league system, Gigon, a 6-foot, 195-pound right-handed-hitting second baseman, quickly progressed up the ladder. After playing in 1959 for Tampa in the Class D Florida State League, he advanced to Williamsport of the Class A Eastern League in 1960, and then to Chattanooga of the Double-A Southern Association in 1961. When he hit .306 at Chattanooga and made the league all-star team, the Phillies invited Gigon to spring training in 1962, during which he played in several exhibition games.9 For the 1962 season he initially played for Buffalo of the Triple-A International League, but in midseason was sent back to Williamsport. After playing a few games there, he suffered an appendicitis attack and sat out the rest of the 1962 season.10 After playing winter ball in Venezuela, Gigon was promoted back to Triple A for the 1963 season, with the Phillies' new top farm club in Little Rock, Arkansas.
Despite solid seasons in 1963 and 1964 in Little Rock, Gigon was hopelessly blocked from advancement behind Tony Taylor, the Phillies' second baseman. After the Phillies collapsed during the September 1964 pennant drive, Cookie Rojas emerged as the team's second baseman of the future in 1965. Gigon did get an invitation to spring training in 1965, but got playing time in exhibition games only because Richie Allen was a holdout. Once Allen signed, Gigon was sent down to Little Rock. "That was probably the only time I was really disgusted with baseball," he recalled in 1967. "I felt that no matter what I did, I just didn't have a chance to get ahead in baseball."11 By midseason 1966, when it was readily apparent that Gigon would never play with the Phillies, Philadelphia traded him to the Chicago Cubs for outfielder Billy Cowan.12
Following the 1966 season, Gigon pondered his future after spending eight years in the minor leagues. He was married and had two children (Jeffrey and Kristen) to support.13 He had also earned his master's degree in history from the University of Rhode Island and was now working on his doctorate in history, focusing on British imperialism in East Africa from 1890 to 1910.14 On the other hand, the Chicago Cubs had lost 103 games in 1966 to finish in last place in the National League, so Gigon had a chance to make the major leagues in 1967. The Cubs asked him to play that fall for their team in the Arizona Instructional League, which was run by Cubs coach Pete Reiser. "I was glad to go," Gigon told Chicago Sun-Times sportswriter Jerome Holtzman in March 1967. "I figured it this way. I can always finish my thesis. But I'm going to be 29 in May, and I've had five years in a row in Triple A. If I'm going to make the big leagues, it's got to happen fast. I don't have much time left."15 Gigon did so well in the Instructional League that the Cubs invited him to spring training.
Reiser became Gigon's biggest proponent to make the Cubs roster as a utility player for the 1967 season. "The back-up man has to be someone who can come off the bench and play a good game, even after a 10-day period of inactivity," Reiser told the Scottsdale Daily Progress during spring training. "Gigon is that type of player. He's as good as he'll ever be and he's the kind we need because he's always ready to go. When he's on the bench he'll keep the whole team jacked up; he never loses interest."16 Although he was a long shot to make the Cubs, Gigon "impressed [manager] Leo Durocher and the coaches with his desire and determination," Edward Prell of the Chicago Tribune wrote early in spring training, as the media picked up the emerging Gigon saga.17 Since Durocher was a hustler on the diamond during his playing days, Gigon got an extra look in spring training. He worked out both in the infield and the outfield, including at first base, to demonstrate that he could capably fill in at seven of the nine positions on the playing field.
Gigon's big break came on March 17 when third baseman Ron Santo was injured sliding home in an exhibition game. When Durocher put him into the starting lineup to replace Santo, Gigon immediately made an impression with his bat. Gigon, "who's not even on the roster, kept up his campaign for major-league status" by going 9-for-17 in his first four games as a replacement for Santo.18 "I know (the Cubs) have their infield set for this year," Gigon said. "But I can still help. I can play utility. I can come in and pick 'em up. If I didn't think I could help, I wouldn't be here. I'd be home working on my doctorate."19 Gigon continued his batting heroics throughout spring training, hitting over .400, to make the Cubs team for 1967.
He sat on the bench for most of the first two weeks of the season, getting just two pinch-hit appearances (both walks), before Durocher started Gigon in right field on April 23. He made the most of his opportunity, as he hit a three-run homer to propel the Cubs to victory over the Pittsburgh Pirates. The home run led to national newspaper exposure during the next two days. "The 28-year-old handyman, who was on the verge of quitting the game two years ago, now has renewed hope that he may yet make a life out of big league ball," the Pittsburgh Press wrote the next day.20 An Associated Press story appeared in numerous newspapers across the country on April 25, with the following lede: "What compels a grown man who has a wife and two children and is working on a doctor's degree in history to play minor league baseball for eight years?"21 Durocher declared that he would platoon the "scholarly and muscular" Gigon with Lee Thomas in right field.22
As with most Cinderella stories, Gigon's fairy-tale day with the Cubs soon evaporated. After just two more starts in right field, Gigon was benched again as Thomas produced the hot bat. After several unproductive pinch-hitting appearances, the Cubs shipped Gigon back to the minor leagues, to their Triple-A club in Tacoma, Washington. The timing meshed with one more prominent article about Gigon, entitled "Baseball's Professor; Cubs' Gigon Seeks Ph.D.," which was published on May 14 in the Los Angeles Times.
"It may still seem paradoxical to some for a guy to be playing baseball and going to college, too," Gigon told Los Angeles Times sportswriter Charles Maher. "But I think it's a nice arrangement. Just when I'm starting to get a little tired of school, it's time for the baseball season to start. And when I'm about to get tired of baseball, it's time to go back to school."23 When the Cubs sent Gigon back to the minors the day Maher's article appeared on Sunday, Maher was ribbed by his colleagues in the press box who claimed he had written the article on Friday and tagged it "for Sunday release." Seeking to avoid the label as a kiss of death, Maher retorted, "I said the story was for Sunday release, not the player."24
It looked as though the demotion to Tacoma might be the end of Gigon's cup of coffee with the Cubs. However, the real reason the Cubs needed a top-notch utility player in 1967 was to fill in for players who, during the Vietnam War era, had to serve their Army Reserve obligations (required two weeks of active duty or monthly weekend duty) during the baseball season. Gigon was soon recalled to substitute for second baseman Glenn Beckert, who was away on military duty for a good part of June. Gigon produced a seven-game hitting streak as Beckert's replacement, going 8-for-30, as the Cubs contended for the pennant for the first time in years. However, after Beckert returned to the Cubs, Gigon once again became a seldom-used utility player.
During his June appearances with the Cubs, Gigon was approached about becoming the baseball coach at Lafayette College, a liberal arts college like his alma mater, Colby College. Given his future prospects in the major leagues, Gigon was "more than mildly interested" in the offer.25 This was reinforced when he was shipped to the minor leagues once again in mid-August, this time to Dallas-Fort Worth in the Double-A Texas League.26 The Cubs recalled Gigon in September, when he collected two more hits, including a double in his last at-bat, as the Cubs faded from pennant contention but finished in third place in the National League standings. By the time he arrived back with the Cubs in September, Gigon had already decided to take the college coaching job at Lafayette College.27 Gigon finished his major-league career with a .171 batting average, and asked to be put on the voluntarily retired list.28
Gigon devoted 15 years to coaching the baseball team at Lafayette College in Easton, Pennsylvania, where he espoused a similar coaching philosophy to that of John Winkin, his mentor at Colby College: "(a) a sound education and (b) a chance at professional ball if desired, after four years and graduation."29 Since "the pros shy away if a young man wants to stay four years and graduate," Gigon said in 1972, "we have to come up with something that will satisfy the young players and allow his full uninterrupted education as well as a fair chance at pro ball if he wants it."30 Gigon later said that the satisfaction he got as a college coach "was not the wins and losses, but if I could influence a college kid to maximize his potential."31
During the early 1970s, Gigon was quite successful at implementing the "chance at professional baseball" aspect of his coaching philosophy. From 1971 to 1975 nine players from Lafayette College were selected by major-league clubs in the amateur draft; seven went on to play minor-league baseball.32 His most prominent baseball development effort, though, was Joe Maddon, who was not drafted after playing at Lafayette from 1973 to 1975. Maddon did talk his way into a brief minor-league career as a player, but he never rose above the Single-A level. Maddon, though, did leverage his tutelage under Gigon to become a successful minor-league instructor, eventually earning promotion to the major leagues as a coach and eventually as manager.
As a college player, Maddon was undersized and was not very fast, had a strong arm and some power in his bat, but more importantly exhibited drive and intestinal fortitude. He wanted to play pro baseball. In 2008 Gigon told a sportswriter: "I told him the only way he had a chance [at pro ball] was to try catching. I said, 'You have some skills and you have an outside chance to be a backup catcher.' I was very honest with him. I laid it on the table. He gave up football and he developed into a very good college catcher."33 Gigon thought Maddon could play pro baseball because he "consistently gave you 100 percent and 100 from someone who's not that talented, that's admirable."34 Gigon often simplified his analysis of Maddon as "one of those tough Hazleton kids." As Verducci observed in his 2017 book about the Cubs winning the World Series, "And with that, Madden became a catcher, a position that literally and figuratively gave him a view of the whole field."35 Maddon never forgot the valuable lessons that Gigon imparted on the baseball field.
After the 1982 baseball season, Gigon resigned as baseball coach at Lafayette College.36 His career coaching record was 195-169-3 over 15 seasons. The team's 6-18 record in 1982, though, foretold the reason why he left: The college was de-emphasizing his sport. "My personality was such that I could not just throw the balls out there and let them play," Gigon later said of his departure from Lafayette.37 Signifying its de-emphasis on athletics, Lafayette's new baseball coach had last worked at the Philadelphia College of Pharmacy, not exactly a premier Division I athletic institution.
After leaving Lafayette, Gigon disappeared from the public scene.38 Maddon began talking him up as his mentor once he had achieved some success in professional baseball. In 1996, when he had risen to coach with the California Angels, Maddon told his hometown newspaper: "Without him, I would never have become a player. Norm Gigon, a former professional, an infielder with the Phillies and Cubs, taught me how to catch even though he wasn't a pro [at that position]. He reinforced my abilities, and early professional teachers reinforced what Gigon taught."39 After winning his first World Series ring in 2002 as a bench coach with the Angels, Maddon credited Gigon as the prominent factor in his success as a baseball instructor. "Looking back, he was the best teacher I ever had and I found that out later on," Maddon told a communications staffer at Lafayette College about Gigon. "When I began playing in the minor leagues and even coaching and scouting, I found that people were always re-emphasizing what he told me years prior at Lafayette."40
When Maddon was hired during the fall of 2005 to become the manager of the Tampa Bay Devil Rays, he immediately began to let everyone know that his biggest baseball influence was Norm Gigon.41 He even insisted that it be listed in his official biography published by the Tampa Bay club.42 When Maddon led Tampa Bay to its first World Series appearance in 2008, Gigon received national attention as Maddon's inspiration. "He has the old blue-collar American spirit," Gigon told a sportswriter after the Devil Rays fell short of winning that World Series. Using his academic background in history, Gigon added, "He's got all the attributes you admire about the World War II generation."43 When Maddon won the World Series with the Cubs in 2016, Gigon was elevated from teaching mentor to spiritual guru. Under the tutelage of an academic like Gigon and "buoyed by his liberal arts curriculum at Lafayette, where he discovered James Michener and became a voracious reader of books, Maddon brought his own philosophy to baseball," a nouveau one filled with positive attitude and ideas that were not "by the book."44
Gigon, though, didn't get the opportunity to watch his former baseball pupil, Maddon, win the 2016 World Series. Gigon died three years earlier on April 1, 2013, in Mahwah, New Jersey.45
Acknowledgments
This biography was reviewed by Len Levin and fact-checked by Thomas Nester.
Notes
Born
May 12, 1938 at Teaneck, NJ (USA)
Died
April 1, 2013 at Mahwah, NJ (USA)
If you can help us improve this player's biography, contact us.
/sites/default/files/GigonNorm.jpg
600
800
admin
/wp-content/uploads/2020/02/sabr_logo.png
admin
2017-05-25 12:44:08
2017-05-25 12:44:08
Norm Gigon