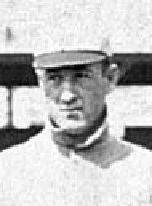 ---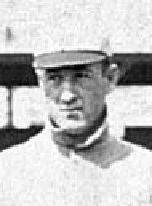 Understanding is shrouded by the passage of more than a century, but it is still difficult to figure out what the St. Louis Cardinals saw in minor-league outfielder Ody Abbott. During five professional seasons, Abbott had established himself as a capable fly-catcher, but had proved unable to hit even Class C-level pitching. Still, in August 1910 the Cardinals extracted Abbott from the Ohio-Pennsylvania League and afforded him a 22-game audition in their lineup. Predictably, he flopped, batting an anemic .186 with 20 strikeouts. Abbott then resumed play as a mediocre minor leaguer until he left the game in 1914. In sum, he simply was not a major-league-caliber ballplayer, his stint with the Cardinals notwithstanding.
Baseball statistics, however, are hardly the only measure of a man, and Ody Abbott led a useful and productive life. He was among the first western Pennsylvanians to heed the call to arms in 1917, and served honorably during World War I. Thereafter, he became involved in local politics, eventually winning election as county sheriff. Abbott was still in law enforcement when his health began to fail in the early 1930s. He died of pneumonia and complications of heart disease at age 46, with the throng of local dignitaries, government officials, and fellow citizens who attended his funeral attesting to the esteem in which the deceased was held by those who knew him.
Ody Cleon Abbott was born on September 5, 1886, in Riverview [now New Eagle], Pennsylvania,1 a Monongahela Valley enclave located about 20 miles south of Pittsburgh. He was the eighth of 10 children2 born to William Abbott (1847-1911), a Brooklyn-born miner-turned-contractor-turned hotel proprietor, and his wife, Elizabeth (nee Hodgson, 1852-1909), a childhood immigrant from England. Ody attended public school through his graduation from Monongahela High School. In January 1905 he enrolled in Southwestern Normal, a nearby two-year teachers college now known as California University of Pennsylvania.3 Thereafter, Ody matriculated to Washington & Jefferson College in Washington, Pennsylvania, where he was active in fraternity life (Beta Delta) and donned the pads as a 5-foot-9, 165-pound backup right end on the Presidents' 1907-1908 football teams.4 Abbott's fleeting moment of gridiron glory came in November 1907 when he scooped up a "sideways" punt and returned it for a touchdown in Washington & Jefferson's season-ending 13-8 upset of West Virginia.5 The following year, he returned to campus long enough to play in a 47-0 rout of Alleghany College.6 But before the Fall 1908 term was out, Abbott dropped out of school, and he apparently never returned to finish his degree work at Washington & Jefferson.7
Ody began playing baseball as a youngster, and was "always superior to his playmates."8 Most likely following in the footsteps of his older brother Joe, later a professional ballplayer himself, Ody soon graduated to faster competition, playing for local amateur and independent teams. By 1905 he was attracting attention playing for an independent club in Charleroi, Pennsylvania.9 A lefty batter now listed as a righty thrower,10 Abbott was among the players reportedly signed by the Bradford (Pennsylvania) Drillers of the Class D Interstate League in January 1906.11 But no record of his playing for Bradford was discovered by the writer. Rather, it appears that Abbott entered the professional ranks that August when his Charleroi club was admitted to the Class D Pennsylvania-Ohio-Maryland League as a late-season replacement for Piedmont. At season's end, he re-signed with Charleroi for 1907,12 but spent most, if not all, of that season with the Newark (Ohio) Newks of the Class C Ohio-Pennsylvania League. He proved an apt member of a weak-hitting (.233 team BA) Newark club, batting a powerless .222 in 102 games.13
After the season, Abbott signed with a different Newark club, the New Jersey-based Sailors of the Class A Eastern League.14 But well before the 1908 season began, Newark sold him to the New Haven Blues of the Class B Connecticut League.15 He did not get a chance there either, being consigned to the New Castle (Pennsylvania) Nocks of the Ohio-Pennsylvania League, where he played the next three seasons. As previously, Abbott hit for neither average nor power while in New Castle livery. But while there, he did make the acquaintance of future middleweight boxing champion George Chip and the two became lifelong friends.16
Early August of 1910 found Abbott in familiar surrounds, holding down an outfield berth for New Castle. Approaching age 24, he was showing modest improvement with the stick, his batting average standing at .250 – he had hit .208 and .231 the previous two seasons – with 27 extra-base hits in 105 games. But this uptick in offensive performance had been achieved against Class C minor-league pitching. On their face, therefore, Abbott's numbers afford no reason why he would be considered a major-league prospect. Nevertheless, on August 8, 1910, his contract was purchased from New Castle by the National League St. Louis Cardinals.17 He reported at the close of the Ohio-Pennsylvania League schedule nursing a sprained ankle suffered in late-season play and spent his first week in St. Louis on the bench. By then, the Cardinals were headed for a seventh-place (63-90) finish and ready to try out new talent.
On September 10, 1910, Ody Abbott made his major league debut in a 14-7 Cardinals victory in Cincinnati. While his teammates feasted on the servings of Reds hurlers Bill Burns and Jack Rowan, Abbott went 0-for-3. But he did execute a successful sacrifice, score a run, and handle three fielding chances without mishap in center field. Back in the lineup the next day, Abbott registered his first big-league hit, a single off Harry Gaspar in another St. Louis win over Cincinnati, 8-6. Thereafter, the Cardinals gave Abbott a thorough audition, using him in 20 of the season's final 27 games. He played a competent center field, making only one fielding miscue. But he could not hit major-league pitching. Abbott batted a meager .186 (13-for-70), with but three extra-base hits. And he struck out 20 times. As tersely noted by Sporting Life, "Abbott failed to shine."18 Still, St. Louis reserved him for the 1911 season.19
Abbott went to spring camp with the Cardinals but did not impress. Before the 1911 season started, St. Louis brought his days in a major-league uniform to an end, selling Abbott to the Tacoma (Washington) Tigers of the Class B Northwestern League.20 Once back in a less competitive environment, Abbott performed pretty well. In a July game against Vancouver, he pulled a "Ty Cobb," drawing a walk, and then stealing second, third, and home to spot the Tigers a quick first-inning lead in an eventual 2-1 win.21 By season's close Abbott had posted professional career highs in batting average (.273), extra-base hits (30), total bases (174), and slugging percentage (.366). Abbott encored in Tacoma, but evidently, all was not well between the club and him. Prior to the start of the 1912 campaign, it was widely reported that Tacoma had compelled Abbott to sign a "water wagon" contract,22 indicative of a player having a drinking problem. Abbott was playing at or near his previous season's numbers (.269 BA, with 23 extra-base hits in 93 games) when Tacoma abruptly released him.23 According to club president Ed Watkins, Abbott and infielder Pete Morse were let go "for refusing to keep in condition,"24 as Watkins was "determined to have a sober club, even if he cannot have a winning one."25
Whether credible or not – and the absence of any evidence that Abbott was a drinker either before or after his stay in Tacoma suggests that he and Morse may simply have been made scapegoats for another noncompetitive Tigers campaign – the Watkins blast did not deter the Oakland Oaks of the Class A Pacific Coast League from promptly signing Abbott.26 For the remainder of the long PCL season, he proved a useful utility outfielder for the Oaks, batting .268 in 43 games. And as soon as the season ended, Oakland signed Abbott for 1913.27
Back in Monongahela for the winter, Abbott sent word that he was "going to show the [Oakland] fans just how good I really am. I have taken off weight and am sure that I will make the team."28 In limited early-season opportunities, Abbott hit a respectable .289 (11-for-38) in 14 games. But he was among those released by Oakland on roster cutdown day in early May.29 Within days, however, he was re-employed, signed by the San Jose Bears of the Class D California League. In 104 games with San Jose, Abbott batted .249.30 The following season, he was re-engaged – improbably – by Tacoma, and was batting .271 in 61 games when released in early July.31 Abbott played a 65-game tour with the Regina Red Sox in the remote Class D Western Canada League, where he batted .277 with 15 extra-base hits. He completed his career in Organized Baseball in 1916 with brief stints with the Springfield (Ohio) Reapers in the Central League and St. Mary's (Pennsylvania) Saints in the Interstate League (according to his Sporting News contract card).
Having reached the end of the professional line, Abbott returned home where he lived and worked as a clerk at the Hotel Abbott, a 31-room hostelry/bar erected in West Monongahela by his late father in 1903, and now operated by Ody's older brothers. In his leisure time, Abbott played outfield for Monongahela City, the semipro baseball champs of the Monongahela Valley, 1916.32 A genial, friendly man but never married, he cultivated a wide circle of friends who, in time, facilitated Abbott's entry into local politics. But not before World War I intervened. Reportedly the first man from Washington County to enlist, Abbott was placed in charge of the contingent of area recruits dispatched for training to Camp Sherman in Chillicothe, Ohio. In time, he was assigned to a training battalion there and eventually attained the rank of first sergeant.33Although he remained stateside during the conflict, First Sergeant Abbott was responsible for the military training of thousands of soldiers headed overseas. A month after the Armistice of November 1918, he was honorably discharged.34
Upon returning home, Ody resumed playing ball for Monongahela City, and would thereafter play in local old-timers-type games into his late 30s. He also became a member of various civic and fraternal organizations, and active in local Republican Party politics. In 1921 his efforts on behalf of the re-election campaign of a friend, Washington County Sheriff Alex Gary, were rewarded with appointment to the post of deputy sheriff. And when the new county jail was completed, Abbott was selected as warden by the local prison board.35 Following Gray's death, Abbott threw his hat into the ring and emerged victorious in the Republican primary for county sheriff. He then won a hotly contested general election in November 1925. A fanciful essay recently posted online imagines Sheriff Abbott busy locking up bootleggers and having other Prohibition Era adventures.36 But his official duties were actually quite tame: courthouse security, transportation of prisoners, serving process, and other mundane legal chores.
At the end of his term, Abbott declined to stand for re-election, accepting instead another appointment to the post of deputy sheriff.37 But soon heart disease began taking its toll on Ody's well-being. In January 1933 he was admitted to Walter Reed Hospital in Washington, DC. At first, he was still well enough to receive visitors, and hopeful reports on his health were published.38 The onset of pneumonia, however, sent his condition into irreversible decline. Ody Cleon Abbott died on the morning of April 13, 1933. He was 46 and remembered fondly, the Charleroi Mail declaring: "His career was marked by a conscientious performance of every duty … and because of his integrity and high character, he had earned the respect and esteem of the entire community."39
His remains were transported home where funeral services were conducted from the Hotel Abbott by the Reverend W.F. Bayle of the local Episcopal Church and produced "one of the largest [requiems] in the history of the district. … Attendees included former classmates from school and college, fellow athletes and political leaders."40 Interment with full military honors at Monongahela Cemetery followed. Originally one of 10 Abbott children, he was survived by only his brothers James and Joseph.
Last revised: December 26, 2020 (ghw)
Sources
Sources for the biographical detail recited herein include material in the Ody Abbott file at the Giamatti Research Center, National Baseball Hall of Fame and Museum, Cooperstown, New York; US Census, city directory, and Abbott family data accessed via Ancestry.com; and various of the newspaper articles cited below, particularly the extensive and personal information-rich obituaries published in the Charleroi (Pennsylvania) Mail and Monongahela (Pennsylvania) Republican, April 14, 1933. Unless otherwise noted, stats have been taken from Baseball-Reference.
Notes
Born
September 5, 1888 at New Eagle, PA (USA)
Died
April 13, 1933 at Washington, DC (USA)
If you can help us improve this player's biography, contact us.
http://sabr.org/sites/default/files/AbbottOdy.jpg
600
800
admin
/wp-content/uploads/2020/02/sabr_logo.png
admin
2017-02-28 15:51:40
2020-12-26 07:10:40
Ody Abbott