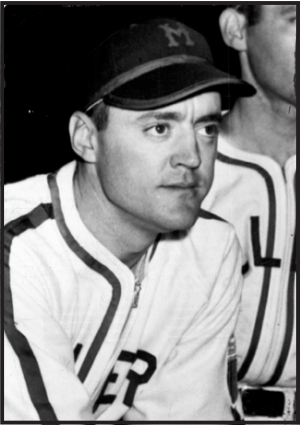 ---
Otey Clark pitched right in the middle of the '40s in the heat of World War II. His major-league career may have lasted only one season but it was a productive season. His first win came against the Chicago White Sox when he pitched a complete game, giving up only two earned runs. For the season, Clark went 4-4 with a 3.07 ERA. He outdueled Bob Feller to achieve one of those wins. After that season Clark returned to the minors until 1950, when he called it a career. He does hold one unusual spot in Red Sox history: It was Clark who pitched to Jackie Robinson, Sam Jethroe, and Marvin Williams in the three Negro Leaguers' April 1945 tryout at Fenway Park.
Clark was born in Boscobel, Wisconsin – the birthplace of the Gideon Bible. It's in the southwestern part of the state, on the Lower Wisconsin River. He was born as William Otis Clark on May 22, 1915.  His parents were farmers at the time – John J. "Jack" Clark and Cora (Gobin) Clark. The 1920 US census lists the family as living in Marietta, Wisconsin, but provides William's middle name as "Oats." He was always called Otey as a kid, by his parents and by others. Ten years later, the family was living in Boscobel once more and Jack Clark was working as a trainer of race horses. William was the oldest of their seven children at the time. In 1940 he was a "common laborer" working at the city's sewage-disposal plant, and at least one more child had joined the family.
William grew up as a Chicago Cubs fan. He graduated from Boscobel High School, where he played first base and then, after taking over for a pitcher who had developed a sore arm, reportedly pitched on the high-school team with great success. "I played freshman, four years, straight through. I never got beat. Never lost a game," he said. "Then I started pitching for a semipro club at Soldiers Grove, Wisconsin. I guess it was more or less 22 miles from here. I pitched there during the summer while I was still in high school and I won 43 and lost 3 over three years. We played the House of David, Pine Grove Colored Giants out of Mississippi, teams out of La Crosse. Whoever come along.  There was traveling teams in those days."1 
Clark had pitched for both Brown's All Stars of Woodman, Wisconsin, and the Soldiers Grove Cardinals.2 He also drove a delivery truck for the three years, selling "candy and pop in little towns around there."
"We were in La Crosse playing the Heileman Brewing Company with this team and a Minneapolis Millers scout asked me if he could talk to me that fall when the ball season was over and he did, and I signed a contract.   Big Ed Konetchy.  He was a scout for the Minneapolis Millers, and the reason I talked to him is because he was going to manage the La Crosse team in Wisconsin, Class D, that fall.   And so I went there with him and pitched my first year for La Crosse in the Wisconsin State League. 
"And then the Millers sent me to Eau Claire in the Northern League the next year."
Clark was 11-7 (4.50 ERA) for the La Crosse Blackhawks in 1940. In 1941, working for the Class C Eau Claire Bears, he was 14-6 (3.76), and achieved a personal best by striking out 15 batters from Fargo-Moorhead on July 1. On a Moline Plow Boys contract from February on, he pitched in six games for the Class B team, but was 0-2.
He went to spring training with the Millers in 1942, in New Braunfels, Texas. The team played in Dallas and Fort Worth, and Clark and two other players were placed with the Fort Worth Cats of the Class A1 Texas League and manager Rogers Hornsby for 1942. Clark was 4-7 but with a 2.82 earned-run average. He'd pitched his way onto the Millers for 1943.
Asked about Hornsby as a manager, Clark was polite: "He was a terrific ballplayer.  He was a great man for hitters and so forth. He hated pitchers.  And maybe even his own pitchers, I don't know, but he didn't like pitchers." 
Clark was 4-F, exempt from military service. He explained: "In our area here, when I was in high school and stuff, we took iodine pills. It was a goiter area here. We lacked iodine. When I went to get examination for the draft to go, the doctor here in La Crosse said, 'I can't make you 4-F.  I can't make a decision on this at all.  You have to go to a military doctor.' So I went to Fort Snelling in Minneapolis and [the doctor there] said, 'You are 4-F. You have a toxic goiter.  You cannot go overseas.  The shots would be very fatal for you.'"  The condition was not something that bothered him in later life. 
Pitching 213 innings in Double-A for Minneapolis was harder work. Clark's ERA for 1943 was 4.44.  His 11 wins put him one behind Lefty Lefebvre for tops on the team. Part of the reason was the bases on balls; he struck out 59 but walked 98. He split 1944 between the Millers (23 games) and the Louisville Colonels (nine games); the Boston Red Sox bought his contract during the season and assigned him to their own Double-A club, in Louisville. His combined ERA is listed as 4.01. It was largely a bookkeeping move, but Boston formally purchased Clark's contract from Louisville on the last day of August 1944. Clark pitched in the Junior World Series that year and showed some grit. Facing Baltimore, the International League champs, in Game Three, he was struck smack in the kneecap by a fourth-inning line drive. A doctor snapped his dislocated kneecap back into place and he pitched until he was lifted for a pinch-hitter in the 13th inning.3 The Orioles won the game, 7-4, in 14 innings and won the series itself three days later.
In 1945 Clark was with the Red Sox throughout spring training (based in Pleasantville, New Jersey) and came to Boston with the ballclub. He played in the City Series against the Braves. The Red Sox season opened in New York on April 17, and Mayor Fiorello LaGuardia threw out the first pitch, standing next to his guest, Fulgencio Batista, president of Cuba. Clark worked in that Opening Day game, taking over from starter Rex Cecil, who had been staked to a 3-0 lead in the top of the first. Cecil was ahead 3-1 heading into the bottom of the seventh while working on a two-hitter, but then New York scored seven runs – in large part thanks to first baseman Catfish Metkovich, who committed a record three errors in the same inning. After Cecil gave up his fourth hit in the inning, a grand slam, Clark was brought in and put out the fire. He threw 1⅔ innings of hitless relief, striking out one. Then he was sent back to the Colonels, not returning until August 12. "There was some guys coming back from service and so forth, you know, in those days.  I guess I wasn't quite ready for it, or whatever, so they sent me back to Louisville."
The day before he was sent out, however, Clark played a role in the famous sham tryout. "We had a guy come in. … When we got back to Boston, there was news in the paper, like the Christian Science Monitor and stuff, there was a university student in town, a very good baseball player, and the Boston Red Sox should give him a look-and-see, see if he was a good enough ballplayer to play pro.  His name was Jackie Robinson.  So we did it.  I had good control, so Joe Cronin (then the Red Sox manager) asked me to pitch batting practice to this kid, and I did, and he hit the ball all over Fenway Park. He hit the ball all over the ballpark, but then they worked him out at shortstop, of course. That's where he played in college. And I felt that he couldn't throw from over in the hole by third base.  He didn't have quite the arm to throw from the hole at shortstop. And I said so the next morning to the press, and Joe Cronin said he'd never make it." 
Clark had a very good year at Louisville (11-6, 4.06) and was recalled by the Red Sox in August, while catcher Fred Walters was sent down. Clark started nine games for Boston, with an 8-2 loss in the first one and then an 8-2 win in the second. His third was a 2-1 loss to the St. Louis Browns. On September 5 he beat Bob Feller, 2-1, though he gave up 11 hits to the seven Feller surrendered. "I got a hit off him but I won't tell you where I hit it!" "A little dribbler?," he was asked.  Laughing, Clark said, "It was a dribbler."
Clark's best game was a 3-0 seven-hit shutout of Philadelphia on September 19.  His last two games were in relief, both against the Yankees. On September 23, he threw 6⅓ innings of long relief and surrendered only two hits and one (unearned) run, but on September 30 in five full innings, he gave up seven earned runs on seven hits. Even with that, Clark's ERA for his even dozen appearances in the majors came to just 3.06.  In 82 innings, he'd struck out 20 and walked only 19, but he'd given up six home runs.
The Louisville Colonels finished third in the American Association, but they won in the playoffs. Clark told of a time during spring training 1946, in Sarasota, when the bus carried the team to St. Petersburg to play the Yankees, and as they approached the park, there was a church within walking distance of the hotel. "Cronin said to the bussie, he said, 'You stop here at the Catholic church.  Some of us want to stop there, and we'll meet you at the hotel.'"  Everyone got out except the bus driver, Ted Williams, Rudy York, and Clark. 
Clark worked out with the Red Sox during spring training and even pitched in the City Series against the Boston Braves. He was on the bench for the first week and a half of the season, though he didn't appear in a game and was optioned to Louisville on April 25. There wasn't really room for him on the Red Sox. The 1946 team won 104 games, with a 17-game winner in Mickey Harris, a 20-game winner in Tex Hughson and a 25-game winner in Boo Ferriss. The Red Sox had a strong farm system, too, and Clark's Louisville club won the American Association pennant and blazed through the playoffs, winning four of five in the first round and then sweeping all four games in the final. They played the Montreal Royals for the Junior World Series, and won then, too. Montreal was the team for which Jackie Robinson played second base in 1946. "We just said hello. Just passed. Kind of nodded."
Not everyone was as friendly, as Clark recalled. "He was scared to death.  We opened in Louisville, that series.  He was booed.  He was throwed at.  Jim Wilson could throw hard.  He was our starting pitcher.  He floored him a couple of times, and he just got right up and brushed himself off a couple of times.  He just got right back in there. He's the only one I think could have made [successful integration of baseball] happen He had the right personality and the guts, you might say." Clark had also been quoted in the papers at the time: "He showed lots of speed and plenty of nerve. … When we saw he didn't scare, we let him alone."4
Clark spent spring training with Boston again in 1947, but – as in 1946 – never appeared in a regular-season game. When the team headed north, he was left behind in Sarasota and was assigned once more to Louisville. Partway through the 1947 season, the Red Sox traded him to the Cardinals for another right-hander, Jack Griffore, and Clark pitched his final 17 games of 1947 for Columbus. Minneapolis, by then a Giants affiliate, traded to bring him back for 1948.
Clark played three more seasons in Organized Baseball – 1948 and part of 1949 with Minneapolis, and then the other part of 1949 and six appearances in 1950 with the Toledo Mud Hens. On May 8 or 9, he was released outright. He continued to live in Minneapolis, and then for a couple of years afterward managed in semipro ball for Rochester in the Southern Minny League.
Clark worked as a men's clothing buyer and salesman for J.C. Penney and then for 25 years he sold Buicks in Minneapolis.
He was glad he'd played baseball, felt he'd been given a fair chance, and had no regrets. "I met a lot of nice people and saw a lot of nice country. My wife went with me and we had a good time."
Back before he left Boscobel, Otey Clark had married his high-school sweetheart, Hilda Irene Swenson, on June 1, 1938. They both loved to country dance and taught it in both Minnesota and Wisconsin. Otey liked to hunt and fish as well.
The Clarks never had any children. He died in Boscobel on October 20, 2010. He was 95, survived by Hilda and four of his sisters.
Sources
In addition to the sources noted in this biography, the author also accessed Clark's player file and player questionnaire from the National Baseball Hall of Fame, the Encyclopedia of Minor League Baseball, Retrosheet.org, and Baseball-Reference.com.
Notes
1 Author interviews with Otey Clark on September 24 and October 23, 2003.  All quotations attributed to Clark come from these interviews unless otherwise noted.
2 Player questionnaire in Clark's file at the National Baseball Hall of Fame.
3 Associated Press story, October 9, 1944, and Clark's player questionnaire.
4 Boston Globe, March 28, 1947.
Born
May 22, 1915 at Boscobel, WI (USA)
Died
October 20, 2010 at Boscobel, WI (USA)
If you can help us improve this player's biography, contact us.
http://sabr.org/sites/default/files/Screen%20Shot%202016-08-07%20at%202.44.09%20PM.png
600
800
admin
/wp-content/uploads/2020/02/sabr_logo.png
admin
2012-01-04 20:47:07
2021-09-22 19:20:42
Otey Clark