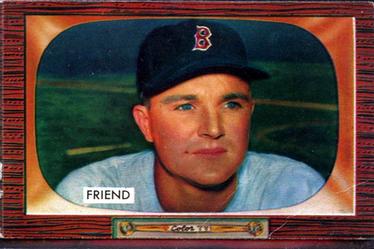 ---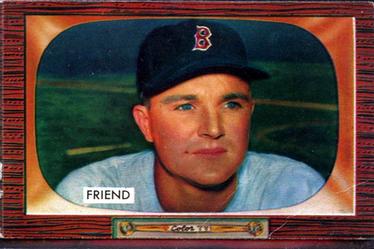 Infielder Owen Friend played in parts of five major-league seasons, appearing in 208 total games, with 119 of them for the 1950 St. Louis Browns. Scout Fred Hofmann signed him to the Browns in 1943, and he more or less began playing for his hometown team. Of course, the Cardinals would have qualified on that score, too, but it was the Browns who made the commitment.
Owen Lacey Friend Jr. was born on March 21, 1927, in Granite City, Illinois, across the river and somewhat northeast of St. Louis. The Friend family lived in nearby Nameoki, on the shores of Horseshoe Lake. His parents were Owen Friend Sr. and Edna Mae (Wingerter) Friend, his father an Illinois native and his mother a Missourian. Owen Sr. worked with American Car and Foundry, then as a pipefitter helper in a gas and coke plant at the time of the 1930 census. In 1940 he worked as a water tender for the gas, light, and power company. In the early 1940s it appears he operated a tavern. Owen Jr. was their first-born, with followed by a sister, Margaret, and brother, Forest. Later, Owen Sr. returned to a position with American Car and Foundry. In 1949 Mr. and Mrs. Friend opened a restaurant in Nameoki.Owen attended the Webster School and Granite City High School. He played two years of amateur baseball and three years of semipro ball. Had he not been signed to play professionally, he would have become an electrician.1 He later said that the high school hadn't had a baseball team of its own during the war years, "but that didn't stop me from getting in all the sandlot games I could."2
He was right-handed, stood 6-foot-1, and was listed at 180 pounds. Most of the time, Friend was a second baseman. Hofmann had seen him playing Pony League ball and invited him, at age 15, to a workout at Sportsman's Park. He wore his Granite City Steelers uniform to the workout. They might have signed him earlier, but his father wanted him to stay in school.3 Signed at 16, he spent the rest of 1943 working out with the Browns, but his first professional assignment was in 1944 with the Newark (Ohio) Moundsmen in the Class-D Ohio State League. He hit for a .281 batting average over the course of 129 games. He homered twice and drove in 52 runs. He led the league's second basemen in putouts and assists, and was named to the league's All-Star team. Newark won both the playoffs and the finals. In July league president Frank M. Colley fined second baseman Friend $10 for "profanity audible to the stands."4
For the most part, he matched that in 1945, again batting .281, this time for the Class-C Raleigh Capitals (Carolina League) in 106 games. He also appeared in eight games in High-A baseball for the Southern Association's Memphis Chicks. In that limited time, he hit .345 in 29 at-bats.
His 1946 season was spent in New York, playing A-level ball with the Eastern League's Elmira Pioneers. He played in 114 games, but it appears he was perhaps more challenged by the higher quality of postwar pitching; he batted .229. He was fast on the base paths, reportedly stealing 71 bases.5
In 1947, Friend played for two teams. With a Toledo contract, he went to spring training with the Browns, then was sent to Double-A San Antonio. In 46 games, he batted .222. At the start of June, he was sent to Springfield, Illinois, to play for the Class-B Springfield Browns in the Three-I League. He arrived in time to play in 88 games; he hit .240. He was named the All-Star second baseman of the league.
Despite having several years of baseball under his belt, Friend was still only 20 years old when he began the 1948 season. He played in the Class-A Central League for the Muskegon (Michigan) Clippers, on loan to the White Sox farm club. He got in a full season of 141 games, and in an even 500 at-bats hit for a .278 average. The Muskegon ballpark size may well have been a factor in his hitting 21 home runs, the most of his career (he matched the mark with Vancouver in 1957.) During the offseason, he worked at the Free Sewing Machine Company in Rockford, Illinois, and played for the company's semipro team.
In 1949 he got his first taste of the majors – in two games. First he got in a full season of work with Elmira again, this time homering 20 times while batting .264 in 139 games. He was called up to St. Louis and enjoyed his major-league debut on October 2, playing in both games of a doubleheader at Sportsman's Park. The Browns were hosting the Chicago White Sox. Friend played second base in both games, and went 0-for-5 in the first game, but rebounded with a 3- for-3 game with an RBI and a run scored in the second game, a 5-3 win. Friend spent the winter playing ball in Panama.
The year 1950 was Friend's big year. The Browns had sold Bob Dillinger and Gerry Priddy. So they needed infielders. Friend traveled to Burbank, California, for spring training with the Browns and became involved with a hypnotist hired by the team to work with the players in hopes of instilling more self-confidence and in having them feel less vulnerable to fears of committing errors in full view of the manager, teammates, and the general public. Though he had good success with some players, there were others who remained skeptical, "so he chose one strapping rookie infielder, Owen Friend, and before Owen knew what was happening, he was in the firm mental headlock of Dr. Tracy. About the last vestige of skepticism vanished right there."6 A later story said that Dr. David F. Tracy planned to work with the team all year, and quoted Friend as saying the psychologist gave him the confidence he had lacked.7
He became the team's starting second baseman and appeared in 119 games for manager Zack Taylor. The entire infield was a new one as the season began, with Hark Arft at first base, Billy Demars at short, and Leo Thomas at third base. Taylor even compared him to Rogers Hornsby in the early going.8
Friend hit .237 with a .312 on-base percentage, homered eight times and drove in 50 runs. He committed 22 errors in 568 chances for a fielding percentage of .961. There was one bizarre incident on June 2, when Gil Coan's head collided with Friend's leg, and Coan suffered a fractured skull.(If not Hornsby, maybe Eddie Stanky?) Zack Taylor was very pleased with Friend's first half-season, saying, "He'll cut your suit off to win a ballgame."9
His best game of the year was on May 23, when he homered twice and singled, driving in four runs as the Browns beat the Philadelphia Athletics. August 10 was a red-letter day. Thanks to the sponsorship of a contingent from Granite City, the date was declared "Owen Friend Night" at Sportsman's Park, chaired by Major Leonard Davis. Friend was 1-for-4 with a double and a run batted in.
Friend was called to military service during the Korean War, and was inducted into the Army at Fort Sam Houston in mid-December 1950. He missed the entire 1951 and 1952 seasons while serving in the Medical Corps. The Browns also lost outfielder Dick Kokos, inducted on the same day as Friend. By March 1951, some 44 major-leaguers had been called to service.
Friend was able to play some baseball in the Army and helped contest for the semipro championship of Texas, playing with the Brooke Army Medical Center team against the Sinton Oilers and hitting a 12th-inning home run to win the first game, 7-6.10 They went on to the finals in Wichita. In 1952 he was a utility infielder with the Brooke Army team, again playing in the national championships at Wichita.
His visit to Wichita in 1951 was momentous. "One of the girls who presented the trophies was a farm girl from around Newton," he said. "I got to talking to her and her name was Maxine Scheffer. Six months later, we got married."11 They were married on January 6, 1952 and made their home in Wichita where they raised a daughter and two sons.
Though still in the service, he was traded on December 4 to the Detroit Tigers a day or two before he was discharged. The six-player swap sent Friend, Bob Nieman, and Jay Porter to Detroit for Johnny Groth, Virgil Trucks, and Hal White. Friend was characterized by many as a "throw-in" as part of the deal.12
Tigers manager Fred Hutchinson was leading a team coming off its first eighth-place finish ever. In January 1953, he said he was looking forward to the new season, in particular Harvey Kuenn at shortstop. He said Friend "may settle our second-base problem."13
Friend made the team in spring training, hitting a number of home runs, including two on one day and a grand slam on another day. Joe Reichler of the Associated Press saw the "blossoming of Owen Friend into a potential infield star."14 He called Friend "the most pleasant surprise" on the team, with only Kuenn out-hitting him. Articles often praised his fielding, particularly his work in turning the double play.
Friend started the season playing all but one of the games in April, but he was only batting .157 at month's end, with three RBIs. He was dubbed the team's "biggest disappointment" in the early going, and was "benched in favor of lame-legged Jerry Priddy."15 He only started four games in May. He got more playing time in June and contributed a couple of home runs, edging his average up to .216, but when it declined to .177, he was traded to the Cleveland Indians on June 11 in an eight-player trade: Joe Ginsberg, Art Houtteman,Bill Wight and Friend to Cleveland for Al Aber, Ray Boone, Steve Gromek, and Dick Weik. The key men were Houtteman and Boone.
He appeared in 34 games for the Indians, as opposed to the 31 for the Tigers, but he hit for a .235 average, driving in 13. He had fewer at-bats, however, since he was used more as a pinch-runner or later in games as a defensive replacement. Over the winter, he played in Mexico City.
In 1954 he was cut near the end of March and was back playing minor-league ball, spending the full season with the Triple-A Indianapolis Indians. His contract had reportedly been sold outright to Indianapolis. Playing shortstop, he saw duty in 134 games, accumulated 504 plate appearances, and batted .251. Indianapolis, managed by Kerby Farrell, won the American Association pennant. Friend was named to the league All-Star team as utility infielder.
On October 14 the Boston Red Sox purchased his contract from Indianapolis.16 They had acted quickly. Just the day before, new Boston manager Mike Higgins had given his first press conference and said their primary need was a utility infielder. Joe Cashman of the Record recognized Friend was "weak with the willow" but a good fielder.17 Higgins, as manager of Louisville, had been able to observe Friend in the American Association. They'd figured out how to pitch to Friend, he said, but later in the 1954 season, Friend had changed his approach to hitting, choking up on the bat and not going for the long ball. That had started to pay off.18
The Red Sox had also added Billy Klaus from Minneapolis. It was Klaus who stuck, securing a spot at shortstop, while Grady Hatton became the Red Sox second baseman. Friend only appeared in 14 games at short, hitting .262 in the limited time but also committing three errors. His last game for Boston was on May 3, after which he was sent to Louisville. He got into 24 games, batting just .190. On June 12 the Red Sox sold his contract to the Chicago Cubs.
He stuck with the Cubs the rest of the season, but was used only sparingly, appearing in six games and going 1-for-10.
Friend played in two games for the 1956 Cubs, pinch-hitting on May 2 and again on May 16. He struck out both times, somewhat ignominiously ending his major-league playing career. The Cubs were prepared to release him on May 13, the date they needed to cut back rosters to the 25-man limit. But they learned he was just a few days short of qualifying as a five-year man for the players' pension fund, so they optioned Eddie Winceniak to their club in Havana instead. Winceniak was told what the deal was; on May 24, the Cubs optioned Friend to Havana and recalled Winceniak.19
Friend spent a few more years in minor-league ball. He hit only .202 for Havana in 94 games. In 1957 and 1958, he played for the Vancouver Mounties in the Pacific Coast League, 248 games over the two seasons, batting .243 and then .261. He homered 21 times for the Mounties in 1957 and 11 more times in 1958. He pitched in one game in 1958.
In 1959 he appeared in two games for Double-A Dallas, where he was meant to be a player/coach, but was sold to Phoenix in April. There he hit .237 in 116 games. He would have played more but for a broken bone in his foot suffered in mid-August.
Friend began a career as a manager in 1960, in the State of Washington for the Class-B Wenatchee Chiefs. He was a player/manager and hit .299 in 53 Northwest League games. In 11 games he pitched and, as a result of winning one of the games, holds a career 1-0 mark as a pitcher.
He managed from 1960 through 1975, with a couple of years off – such as in 1969 when he returned to the majors for a year as bench coach for the Kansas City Royals, in charge of the expansion team's infielders. He worked as a scout for the Orioles in 1968.20
In 1964 he put on a glove for the last time as a player while managing the Rocky Mount Senators in the Class-A Carolina League. He pitched three innings in one game, giving up three runs, and he batted in four games, with a single in five at-bats.
The teams he managed took him all over. After Wenatchee, it was:
Winnipeg, Alberta; Billings, Montana; Brunswick, Georgia; Geneva, New York; Rocky Mount, North Carolina; Burlington, North Carolina; Aberdeen, South Dakota; Kingsport, Tennessee; Marion, Virginia; Anderson, South Carolina; and Wausau, Wisconsin. Only twice – in Kingsport (1971) and Marion (1973) — did his teams finish above .500. Of course, winning is not the only goal of minor-league affiliates. The clubs he managed were in the farm systems of the Cardinals, Senators, Orioles, Royals, and Mets.
After retiring from baseball, Friend lived in Wichita where he died on October 14, 2007. He was survived by his wife Maxine, daughter Nancy, and sons Larry and Terry.
Sources
In addition to the sources noted in this biography, the author also accessed Friend's player file and player questionnaire from the National Baseball Hall of Fame, the Encyclopedia of Minor League Baseball, Retrosheet.org, Baseball-Reference.com, Rod Nelson of SABR's Scouts Committee, and the SABR Minor Leagues Database, accessed online at Baseball-Reference.com.
Notes
Born
March 21, 1927 at Granite City, IL (USA)
Died
October 14, 2007 at Wichita, KS (USA)
If you can help us improve this player's biography, contact us.
http://sabr.org/sites/default/files/FriendOwen.jpg
600
800
admin
/wp-content/uploads/2020/02/sabr_logo.png
admin
2017-01-31 15:30:56
2017-01-31 15:30:56
Owen Friend