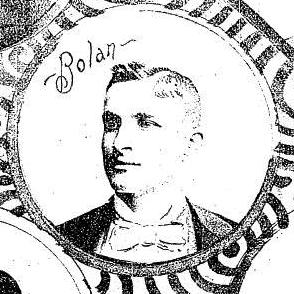 ---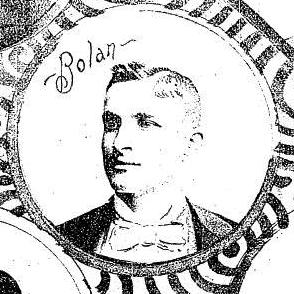 Patrick J. "Paddy" Bolan was probably born in 1869. The first I could find of Bolan was in a March 26, 1890, article in the Sporting Life about baseball in Toledo: "Amateur ball in this city has struck a snag. Price, a promising first base player, has signed with an Indiana club, and Picord and Bolan, the crack battery of last year's Hacketts, have signed with Flint, Michigan." Two months later the Sporting Life reported "Paddy Bolan, a Toledo boy, now with the Flint, Michigan, team, is catching wonderful ball for a yearling, and is running bases and batting nicely. He was formerly of the Hacketts, and it does Mr. Hackett more good to read of Bolan's good work than it does to have a winner on the board."
The Michigan State League disbanded on June 13, throwing a good number of Toledo boys "out on the cold and cruel world." According to the Sporting Life "prominent among them are Paddy Bolan, who is now catching for Peru, Ind. Paddy has created a furore in Hoosier towns by the way he holds runners to the bases, and besides is batting and running the bases well himself. He would make a good man, and the end of the year will doubtless find him in faster company."
I found Bolan catching for Peru as early as June 19. Unfortunately, this Indiana League was in trouble and disbanded in late July. In the Sporting Life of October 18, 1890, it was reported Paddy had arrived home for the winter, having done splendid work during the season. "He is a great little catcher, and a few years under an old head will make him a desirable man in any club."
The next season found Paddy Bolan with Grand Rapids of the Northwestern League. The Grand Rapids club disbanded on July 30, putting an end to the Northwestern League. The Sporting News reported Bolan would probably go to Minneapolis. However, Paddy did not go to Minneapolis. In early August it was reported he and pitcher Maurice O'Connor had been blacklisted by the Oconto, Wisconsin, club for accepting money and "then sneaked off." I could find no more of Bolan during the 1891 season.
In early April 1892 the Sporting Life reported Manager Harpster, of the Genoa Base Ball Club, had been in Toledo the previous week, arranging for the Genoa's tour through Northwestern Ohio, Indiana, Illinois and Wisconsin. A number of players were put under contract, a Bolan being one. Whether this is Paddy is not known, but being from Toledo it is possible.
The playing season of 1892 found Paddy Bolan playing right field in Terre Haute, Indiana. He was not playing good ball, and on May 17 was released.
Paddy signed with Memphis of the Southern League, and played in his first game on June 2. The Sporting News of June 11 talked of the new Memphis catcher, and related: "This lad has a bright future before him." In July The Sporting Life claimed "Bolan is the best catcher that has been in Memphis."
Apparently Atlanta, also in the Southern League, realized Bolan's value to Memphis and tried to have Paddy (and Maurice O'Connor) declared ineligible, due to the two players having been blacklisted by Oconto the previous year. This attempt failed and Bolan finished the season in Memphis.
Hailed as a fine catcher, Bolan's hitting appeared to be light, having hit only .209 for the season in Memphis. However, after the season Manager Graves of the Memphis club said he would re-engage Bolan for 1893.
Bolan was indeed re-signed by Memphis in January for the 1893 season. However, before the season began Paddy got into a bit of trouble back in Toledo. On March 12 Paddy, having missed his train to join the club, was walking along the street with Miss Lizzie Bee. Bolan claimed two men "grossly insulted his lady friend, which he promptly resented by knocking one down." A fight ensued between the three, and "Paddy was pummeling his two opponents in good shape" when the police arrived and arrested all three. The next day the judge discharged Paddy.
Bolan apparently played very well early on for Memphis. The last box score Paddy appears in is from July 15, but he remained on the team. Emmett Rogers took over the catching position, causing the Memphis Sporting Life correspondent to ask in August: "What has become of Paddy Bolan? Has he been lost in the shuffle? He is too valuable a man to permit his remaining idle any length of time. I'm told he is seriously ill." Bolan's catching appeared to be solid, and he hit .267 in the 57 games he played in.
Whatever the reason for Rogers, "the erstwhile rival of Paddy Bolan," to become the Memphis regular catcher, it became irrelevant when the Southern League disbanded on August 11, 1893. It was reported that Bolan, Billy Goodenough and Charlie Frank were wanted by the St. Louis Browns. Goodenough and Frank signed with the St. Louis club. It was reported the Browns offered Bolan a trial. Bolan, however, wanted $275 for the remainder of the season, $200 up front. He said he would wait in Memphis for the Browns to meet his terms. The Browns told the Sporting News they had wanted Frank and Goodenough, but did not particularly want Bolan. In their version, Paddy wanted to join the Browns, but there was no regular place for him, and manager Watkins did not think Bolan "was a world-beater." Bolan was offered a trial at $175 a month, which was subsequently raised by Chris von der Ahe, but the ex-Memphis catcher refused the offer. St. Louis officials stated: "If he waits in Memphis until he hears from us again, I'm afraid he will live and die in the Bluff City."
Bolan–who decided to stay in Memphis–and some other former Memphis players, organized a City League. The league consisted of four teams, all playing in Memphis. The professionals of the teams would accept challenges from any organization in the south. Emmett Rogers was to manage this team. However, low gate receipts in the few games played caused the league to be abandoned.
Paddy was a popular player, receiving enough votes to place him 69th on the most popular player list of a Sporting News poll–this included both major and minor leagues across the country. He decided to stay the winter in Memphis. Later in the year it was decided Memphis would have a team in the newly organized Southern League in 1894. One of the first players signed was Paddy Bolan.
Paddy's 1894 started off badly when it was reported his five year old step daughter had been sexually assaulted by a young man in Chelsea, a superb of Memphis. The neighbors' indignation "knew no bounds," and it was reported Paddy tried to kill the boy before police took him to the station.
The 1894 baseball season started with Bolan again in Memphis of the Southern League. However, on July 8 the league collapsed, and three days later Paddy signed with Milwaukee of the Western League. Bolan's first game with the Blue Ribbons (a name the club was trying out, before reverting to Brewers) was on July 17 in Detroit.
In this first game it was reported Paddy had taken sick in the fourth inning and was replaced by Jacko Fields. When the Brewers returned home, Paddy was again out of the line-up, reportedly still sick. There were some conflicting stories on what had actually happened. The Milwaukee Sentinel of July 21 reported: "The products of local breweries and Kentucky stills were his friends, and when it came time for him to dress for Thursday's game (July 19) he was swaying like a flagstaff in a gale and wanted to shake hands with everyone he met." Reportedly letters from Southern League owners stated while Bolan was a first-class catcher, he could not be depended to keep himself in condition. Still, "he was signed with the hope that he would take care of himself while here and when he proceeded to take a strong fancy to everything drinkable in Milwaukee before he knew the directions of the compass it was deemed wise to let him go." The Milwaukee Journal of the same date told pretty much the same story: "Bolan this morning was shipped back south to some town where beer and other things for which Milwaukee is noted are not so plentiful." The Evening Wisconsin, tongue in cheek, reported Paddy had been injured crossing Chestnut Street (Juneau Avenue) near 3rd Street when he "accidentally collided with one of the Pabst beer wagons."
But a week or so later the story had changed. It was reported Bolan had skipped town, causing some surprise, and owing the club $100. Paddy returned to Milwaukee on August 8 and the Evening Wisconsin reported he had been in Toledo, attending to his wife, who had been very ill. He was back in the line-up on August 10 and did the greater majority of the catching for the rest of the season for the last place Brewers. Bolan hit .245 (36 hits in 147 at bats) in 41 games for Milwaukee. In his forty games behind the plate he had a fielding percentage of .882 (9th out of 20 who played the position in the Western League), committing 24 errors, and being credited with 148 put outs and 32 assists.
Milwaukee reserved Bolan for their 1895 roster, and Paddy wrote to Brewer President Matthew Killilea that he was wintering in Memphis.
Paddy did stay the winter in Memphis and had the troubles to prove it. On December 29 he was sentenced $50 and given 60 days in jail in criminal court for carrying concealed weapons, in addition to $25 for assault and battery.
In January 1895 Bolan signed with the Brewers. Milwaukee's manager, Larry Twitchell, thought Paddy was one of the best at throwing to second base, "a valuable accomplishment, which all catchers do not possess." In the spring he was late reporting, supposedly because of the bad weather. However, it was thought he wanted to play in the Southern League and would like his release from Milwaukee. But the Brewer manager was said to have had enough with Southern League tactics and said Bolan would play in Milwaukee, or not at all. Paddy did arrive in Milwaukee on April 22, saying he was in shape as he had been playing ball in Memphis for a few months.
The 1895 Western League season began with Bolan doing excellent work behind the plate, making only 6 errors going into late May, for a fielding percentage of .933. However, he was struggling at the plate. On May 25 he was hitting only .085 in 70 at bats. After this his hitting came around and by the next week he had raised his average to .153.
Bolan's work behind the plate continued to be outstanding; by the middle of June he had made only 9 errors and had 59 assists. Paddy's hitting continued to improve, as he raised his average to .219. He also displayed power, as this description of his third home run of the season shows: "Bolan came up in the sixth inning and hit the ball so far over the left field fence that people in Williamsburg [a Milwaukee suburb north of Milwaukee Park] heard something drop, and took up a line of thought of meteors and wondered if all stars were so small and round when they got through falling as the object which struck in the middle of the Silver Springs Road and bounded away to the country side."
Paddy Bolan had become a popular player in Milwaukee with the fans. During the summer an amateur club took on the name "Bolan's Stars". At the last game of the 1895 season in Milwaukee he would be presented with a diamond ring.
As good a catcher as he was, Bolan was apparently not fleet of foot. There was a debate among the team members who was slower, Paddy or infielder Gus Klopf. At one point it appeared the two would meet in a 100-yard dash, but manager Larry Twitchell refused to allow them to run before a game because he said it would take them so long to run the distance that the game would never get started. The two players finally agreed not to test their abilities mano a mano. Bolan had a talk with the Milwaukeean Klopf, telling him "Now here, there's no use of we's makin' this talk about how fast we's can run. You know as well as I do that me and you can't beat anybody, so what's the use of goin' out there some day and one of us gettin' beat. The one what gets beat is goin' to be marked down as the slowest man what lives, and I know you don't want that kind of a rep. following you around. Say, the best thing what we's can do is to keep quiet and say nothin'." Gus agreed.
The latter part of June became a nightmare for Paddy. In a game on June 16 he split his thumb and was out for a number of games. Then on June 25 his 8-month old child died in Memphis and he went home to attend to the funeral.
After the family funeral Bolan re-joined the team on July 4 in Kansas City. However, by the end of the month he had "taken a sudden slump in his work." His game was bad enough that he was taken out during the game on July 19. The Sentinel reported: "Bolan's catching of late has been the poorest of the season." Bolan was becoming "exceedingly irregular lately." In late July he was missing the night the team left for St. Paul. The manager and players searched all over for him, but finally the train left without Paddy being found. However, he was later found in one of the sleepers.
On August 1 it was reported the Brewers borrowed Bill Moran, one of the Chicago Colts' catchers. Two days later Bolan was taken out in the first inning of the game in St. Paul, saying he felt sick.
Within a week the truth was coming out. It seems Paddy "ran into another beer wagon" and went on a bender before the Minnesota trip. He was unable to catch the final home game and was fined $50. But the fine did not accomplish the desired effect, as he continued his drinking in St. Paul. The Sentinel of August 6, 1895, gave its readers the previously untold story:

Now that the days of "Paddy" Bolan as a Brewer are numbered, it might be in place to tell a story or two of him that were sacred so long as he was a member of the team. Bolan's worst failing is an intense love for intoxicants. Sometimes he will go for weeks without touching a drop and during the days when he keeps away from John Barleycorn and the extract of hops he is a terror to the base runners. Some days when he has been drinking his catching is also excellent, but it is oftener the case that he makes some very bad play before the game ends. Before he "ran in the brewery wagon" the time before the last time, Manager Twitchell warned him that if he drank again before the season closed it would cost $100 and a month's suspension. For a week Bolan didn't go into a saloon and came around on time every morning for practice wearing a white tie and carrying a light cane and looking like a dapper student. At the end of the week, however, Bolan was missing one fine July morning and Twitchell knew that something was wrong. Knowing about where he would find Bolan, he went to a saloon not more than five or six blocks from the grounds and there sure enough was Bolan sitting at a table with two or three friends and imbibing freely. When Bolan saw Twitchell come in and look at him as though he would cut out his heart if he had half a chance, Bolan said: "Come here, Larry. I want you to see that I don't have to drink if I don't want to. I have been here al night just to try myself and I haven't taken a thing stronger than pop all night." Just then the bar-tender approached and said: "Paddy, will you have the same kind of brandy that you had before?"
The
Milwaukee Journal
summed it up nicely: "Bolan is a good backstop when he doesn't allow his one great falling to get the best of him."
Bolan was released in early August, and told the press he had several good offers and would accept one. It was reported Detroit was after him, but he would take an offer from Grand Rapids, which was for more money. Then it was reported he had decided to join Detroit after all.
Catcher Bill Moran was having arm problems and Milwaukee manager Larry Twitchell decided to reinstate Bolan, after he promised he would "touch not, taste not, handle not." Moran was returned to Chicago, and from August 18 to the end of the season Bolan was Milwaukee's catcher, without incident. The Brewers finished the 1895 Western League season in 6th place with a 57 and 66 record. Bolan's official batting average was .209 (296 ABs, 62 hits, 32 runs scored) in 80 games. His fielding average was .938, with 24 errors and 33 passed balls. His percentage put him 12 out of 20 catchers listed for the season.
It was said Bolan would be replaced the next season, as his work in 1895 had been "uncertain and not as good as was desired in other respects." However, he was still placed on the Milwaukee reserve list for 1896.
After the 1895 playing season a number of the Brewers went west, and played on a new California League team in San Jose. In an exhibition game in Rockford, Illinois, on September 26 in route to California, Paddy was seriously injured when a foul tip drove a wire of the mask into his head, rupturing a blood vessel. He was taken to a hospital and at first it was thought he would not be able to continue on to the coast. But he recovered and was said to have done all the catching for the San Jose team. By mid-November the league folded, the club finishing with a 9-9 record. Many of the players in the league were left stranded and broke, but the San Jose owner, Milwaukeean Theodore Engel, was given credit for paying his players' salaries in full, getting them all to Chicago, and then buying them all tickets to their respective homes. Bolan left for Memphis on November 27, where it was said he would play in 1896.
For the 1896 season Bolan was still being discussed as the Brewer's backup catcher to newly acquired Kid Speer. But Bolan's career, and life, took a turn for the terrible. On February 1st in Memphis Bolan's wife was granted a divorce and Bolan was sent to jail for contempt of court. A judge had issued a restraining order against the ball player a few days earlier when his wife filed for separation, telling him he could not maltreat her. Bolan paid no attention to all this and gave his ex-wife a bad beating. He was now charged with assault with intent to murder. A week later Bolan was found guilty and given a sentence of six months in jail for the contempt of court, then 11 months and 29 days in jail, plus a fine of $50, for the assault and battery. However this was all suspended if he left down and never returned. Paddy left Memphis on the first train.
The Milwaukee club made a deal to transfer Bolan to St. Paul in mid-February. Even though a Minneapolis paper reported Bolan would play for Charlie Comiskey's team, this never materialized. Bolan's days in the Western League were at an end, and the Sporting Life put a nail in the coffin when it wrote: "He's [Bolan] a disgrace to the sport; wife beaters ought to be blacklisted; they're as bad as traitors almost. Bolan's place is the gravel pits or stone yard, and no Western League team should have any dealing with him."
At the end of May it was reported the Columbus (Georgia) club of the Southern League was to strengthen itself with three new men, Bolan being one. However, a month later he had not reported, as the Sporting Life wrote: "Bolan, the catcher signed by Manager Cushman, seems to have gotten lost since he was furnished ticket and advance money. This kind of thing seems to be getting very common down here, and if the managers would not only blacklist one or two, but handle them under law, it might be stopped."
It is unknown why Bolan did not report to Columbus, but in early August it was reported he was in Toledo, dying of consumption. Paddy was in "destitute circumstances" and a benefit game was scheduled to be played for him in Toledo. Back in Milwaukee the Brewer players purchased 20 tickets, and a contribution box was placed in the grand stand during the Brewer's home stand so Paddy's old admirers would have an opportunity to aid him in his distress. The Milwaukee Sentinel had these words about the ex-Brewer catcher:

Bolan was a big-hearted man, and, like most of such men, he was his worst enemy. He went the pace that kills. He shouldn't have taken up the pace, of course, but he himself is paying the penalty now. In all probability Bolan will receive considerable from here, as he was one of the most popular players with those who knew him that was ever a member of a Milwaukee team.
In Toledo the
Bee
was kind to Paddy, writing "in his prime he was one of the best ball players Toledo ever turned out." The paper only said of his condition: "His health is shattered and deprived him of the means of earning a livelihood." On August 22 a game between the local Ivys and Orientals was played at Toledo's Bayview park. The Ivys won 11 to 4, in front of very few spectators, the weather being threatening.
Patrick "Paddy" Bolan died of consumption in Toledo on December 19, 1896. The Milwaukee Sentinel obituary was the best of those I found:

Paddy Bolan, formerly identified with the Milwaukee team as a catcher, died Saturday in Toledo. He was a catcher of considerable merit and when Manager Cushman secured him for the Brewers in 1895 [correctly 1894] from the Southern league he was considered one of the rising players in the profession. His ability as a catcher deteriorated, however, as his indulgence in liquor increased and he was finally released. From Milwaukee he drifted from one club to another, his appetite for liquor destroying his chances for a permanent position with any team.
Reported to be a catcher with better than average skills and a great arm, he never appeared in a major league game. A talented young man, but regrettably a troubled life. Paddy Bolan was only 27 years old when he died.
Sources
Evening Wisconsin: 1894
Milwaukee Journal: 1894, 1895, 1896
Milwaukee Sentinel: 1894, 1895, 1896
Minneapolis Penny Press: March 31, 1896
New Orleans Picayune: 1893, 1894, 1896
Sporting Life: 1890, 1891, 1892, 1893, 1896
Sporting News: 1890, 1891, 1892, 1893, 1894, 1895
Toledo Bee: August 20, 23, 1896
Photo Credit
Yenowine's Illustrated News, April 28, 1895
Died
December 19, 1896 at , ()
If you can help us improve this player's biography, contact us.
http://bioproj.sabr.org/bp_ftp/images4/BolanPaddy.jpg
600
800
admin
/wp-content/uploads/2020/02/sabr_logo.png
admin
2012-01-08 21:23:22
2012-01-08 21:23:22
Paddy Bolan