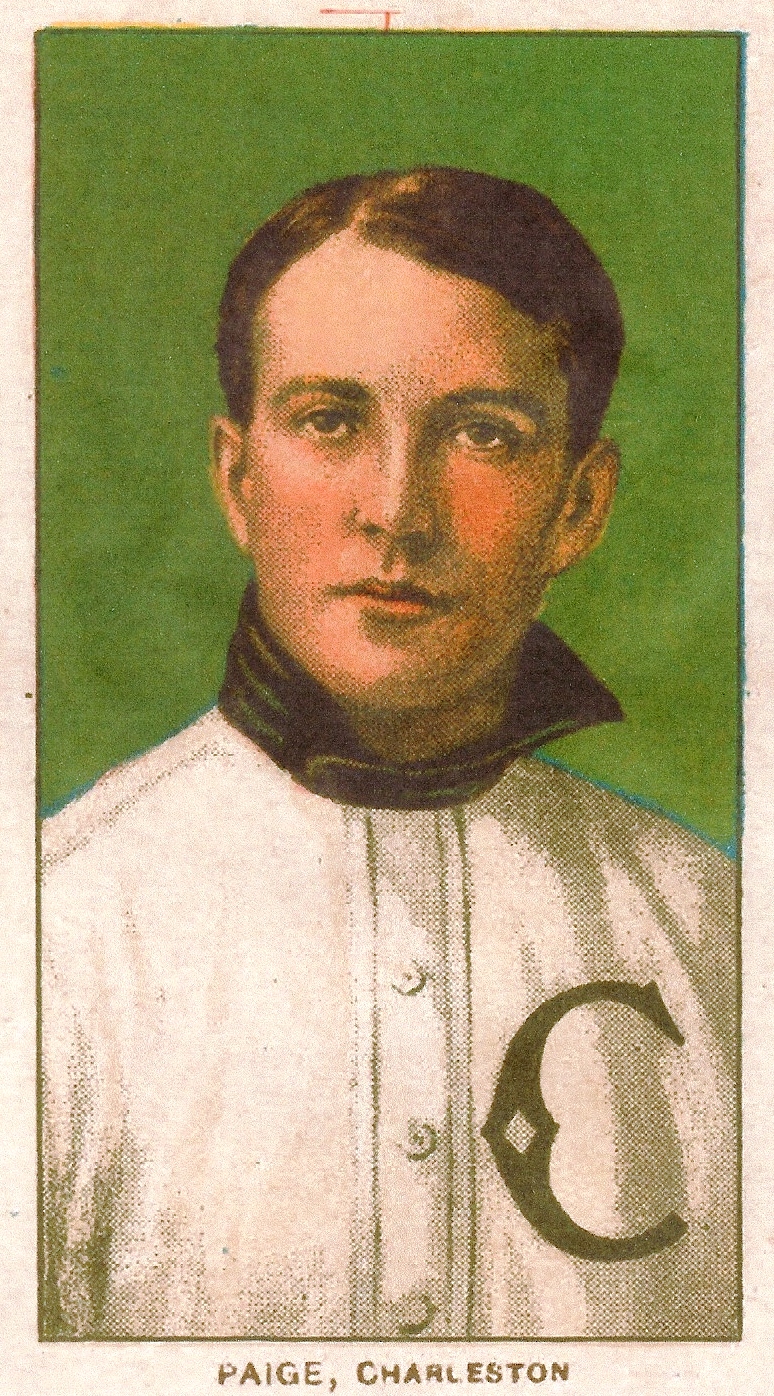 ---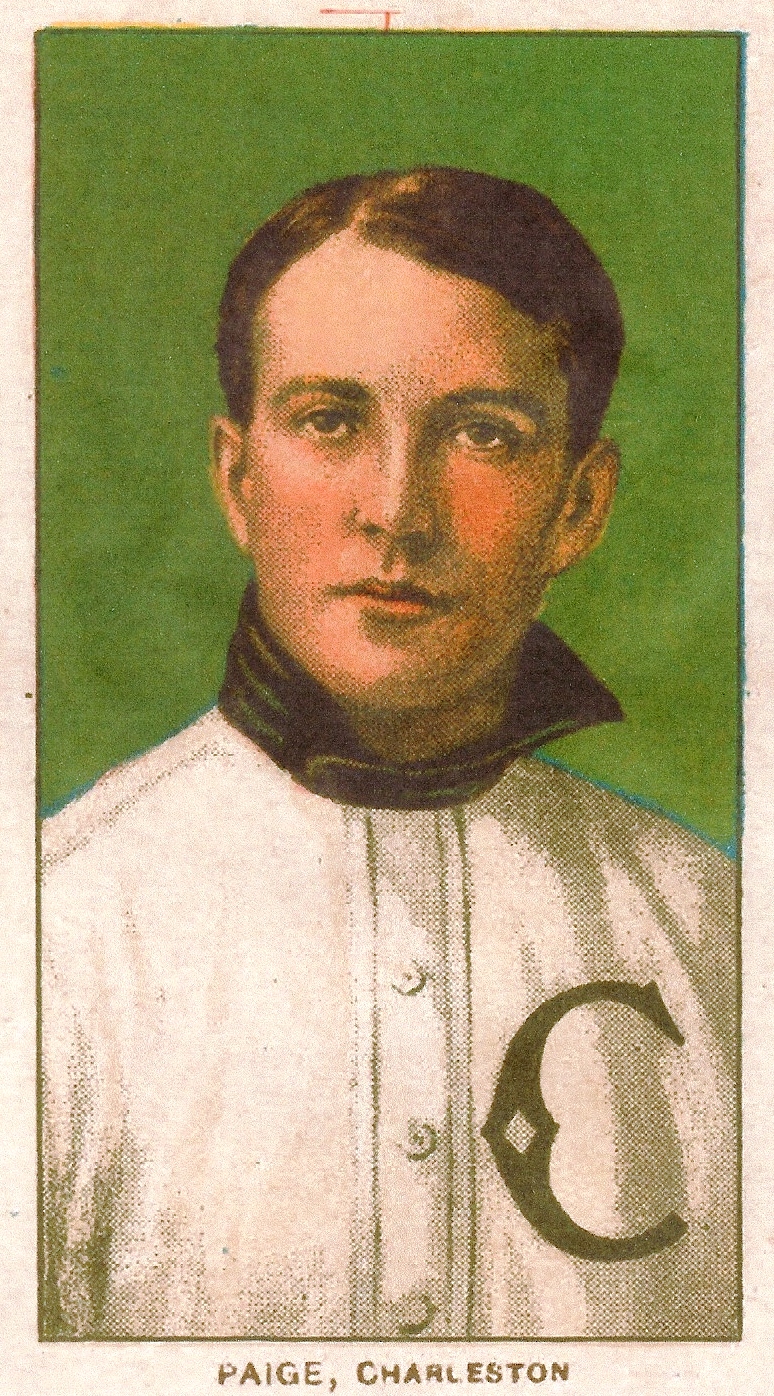 Pat Paige achieved a kind of perfection during his cup-of-coffee in the big leagues, posting a 1-0 record and a 4.50 ERA in two games with the 1911 Cleveland Naps. He was also found wanting during three opportunities at the major league level, labeled by Sporting Life as a pitcher who "does not have the class to stick in the American League." 
At 5' 10" and 175 pounds, the stocky right-hander (who was ambidextrous and owned gloves for both hands, according to researcher Bill Haber) was known as a clever and cool performer during his nine years in the minors, where he fashioned a 116-117 record. A fine fielder, Paige was a curveball specialist who relied on his control to strike out batters. According to the Columbia, South Carolina, State newspaper, "He can make opposing batters look like puppets when he settles down to striking them out." Known as "Piggy" and sometimes called "Mabel," Paige was a fan favorite in several cities. He could also exasperate club management at times, having been suspended twice for contract jumping and once for being out-of-shape.
The youngest of John J. and Emma (Cummings) Paige's three sons, George Lynn "Pat" Paige was born on May 5, 1882, in Paw Paw, Michigan. His father, a carpenter and native of Connecticut, served as a commissary sergeant in the 11th Michigan Infantry during the Civil War. John and Emma, who was born in Palmyra, New York, were married in Paw Paw on September 25, 1874. They were divorced by the time of the 1900 U. S. Census when John was living in a Paw Paw boardinghouse.
Baseball became popular in Paw Paw shortly after the end of the Civil War, primarily due to the efforts of Dr. Henry Field, a native of Detroit who learned the game there as a member of the Early Risers Base Ball Club. When he moved to establish a practice in Paw Paw, Field founded and became president of the area's first team in 1866, the LaFayette Base Ball Club.  
Given its popularity in the village, it isn't surprising that Pat Paige grew up loving to play baseball. One of his best friends was Karl Killefer, older brother of future major leaguers Wade "Red" Killefer and Bill Killefer. All three Killefer boys loved baseball and played whenever they had the opportunity; Paige was older than the Killefers and was likely their leader on the ball field.
On Saturday, October 12, 1895, Karl Killefer, Paige, and three others went hunting. The group spotted a rabbit and everyone had their shotguns at the ready. For reasons unknown, Karl's shotgun went off, wounding him in his right arm. The others bandaged him as best they could and hustled him back to town. Three doctors who attended Karl decided that the only way to save him was to amputate his arm, but the loss of blood was too much and he expired at 2:00 the next morning. On Monday, his chair at the local grammar school was covered by homemade wreaths brought in by classmates.
Paw Paw High School began interscholastic baseball in 1897-98. Pat Paige was the Indians' pitcher and got the decision in every game, posting a 5-1 record helped by an offense which averaged over fourteen runs per game. He also played for the Paw Paw town team during the early years of the twentieth century. Of one contest against Benton Harbor High School in April 1903, a 13-12 loss, The Daily Palladium said, "George Page (sic), who has signed with the South Bend team of the Central League, pitched for Paw Paw, and what Benton Harbor didn't do to his benders isn't worth telling." Paige apparently didn't pitch in a regular season game as a member of the South Bend team during 1903-04, but a 1905 Grand Rapids Press article mentioned that he played for the 1904 Lake Linden Lakers of the Copper Country Soo League.
On February 18, 1905, Louisville of the American Association secured the rights to Pat Paige, who impressed manager Charlie Dexter with his fastball during spring drills. He got his first exposure to major league play on April 2 when Louisville hosted John McGraw's New York Giants for an exhibition game. Paige was one of three pitchers for the Colonels and issued three walks and a wild pitch in an 8-0 loss. The New York Times said his performance "showed a lack of practice." By the end of April, Pat was sent to the Calumet (Michigan) Aristocrats of the Copper Country Soo League. Individual records no longer exist, but the Grand Rapids Press called Paige a "Copper Country League star." Calumet (61-36) won the four-team loop's regular season championship but lost a playoff series to Lake Linden 4-0.
Still under contract to Louisville in 1906, Paige was released to Denver of the Class A Western League, where he was the pitching staff's workhorse, appearing in 47 games. In mid-May, after allowing only two hits, the Lincoln Evening News said Pat "was the chief factor in the shutout [6-0] victory the Grizzlies scored over Lincoln….He has fine speed and sharp shoots and ought to be heard from frequently during the season." Paige was particularly effective in a 10-2 win over Pueblo on June 3, striking out three, hitting a double and "pitching the best game this season," according to the Evening News. His four-hit 4-2 win on June 28 prompted the Des Moines Daily News to say "Pitcher Paige was the whole show in the Denver-Lincoln game Thursday." On the other hand, there were many games where Paige was ineffective, leading to a final record of 17-30 for the fifth place Grizzlies (68-81).
In June 1907, Charleston, South Carolina, of the Class C South Atlantic League obtained Pat Paige on option from Denver. Paige had an outstanding season with the league champion Sea Gulls (75-46), particularly in August, holding Augusta to two hits and one run and pitching one-hit and two-hit shutouts against Savannah and Columbia. His 15-6 record and .714 winning percentage was second in the league.
At the conclusion of the Sally League season, Norfolk of the Virginia League secured Paige for the stretch drive. Pat performed well for the pennant-winning Tars (57-48), winning four games while giving up only four runs, including two shutouts and a four-hit, 14 strikeout 4-1 victory over Danville on September 5. Paige's presence, however, drew protests from second-place Danville, which maintained that league rules made him ineligible to play. The league president and Secretary Farrell of the National Association agreed, and Pat's four victories, though not enough to affect the pennant race, were excluded from Norfolk's total.
Pat Paige's contract reverted to Denver for the 1908 season. He posted a 3-1 record in six games in April and May, including two wins over Pueblo in a three-day span, plus a five-hitter against Omaha. Charleston attempted to purchase Paige in early April but was rebuffed by Denver, which wanted $1,000 for the twirler. A deal was finally reached on May 22, with Charleston paying $600 for what the South Carolina State newspaper called "the idol of Charleston fandom." Paige, known as a warm-weather pitcher, wanted to return to the South and figured to do better in a balmy climate.
Charleston got ten weeks of good pitching from Pat, who had an 11-8 mark in 21 games. Nine of his wins were shutouts, including a one-hit, 1-0 victory over Augusta on July 3. He also had two two-hit shutouts and even in his losses never gave up more than eight hits. In early June, the Macon Weekly Telegraph called him one of the five best pitchers in the league. A few weeks later, after Paige defeated Macon three times in a five-day span, the Weekly Telegraph revised its estimate, saying "there's no better pitcher in the league."
On June 23, 1908, Franc Mangum, a sportswriter for the Weekly Telegraph, wrote a letter to John McGraw of the New York Giants advising him to draft four South Atlantic League players, including Pat Paige. On July 21, Mangum reported that New York had purchased Paige for $2,500, the largest sum ever paid for a Sally Leaguer. According to Mangum, "it is said of Paige that he possesses remarkable natural ability, but is a mechanical slabman. If this is his only fault, it will be remedied by the astute McGraw." The plan was for Paige to remain with Charleston for several weeks, but the absence of pitcher Jake Weimer caused McGraw to send for Paige during the last week of July.
Paige arrived at the Polo Grounds on the afternoon of August 1 and watched the last few innings of the Giants-Cardinals game on the clubhouse veranda with Fred Tenney and Roger Bresnahan. He was in uniform the next day and for the next two weeks, but never saw action. By mid-August he was loaned to New Haven of the Connecticut League for the remainder of the season. Pat was 3-3 in eight games with the Blues, including one shutout victory and one game where he played right field. After hurling an 8-2 win over Hartford on September 11, Paige returned to New York for the rest of the season, again seeing no action. When he left New York for Paw Paw in October, he was told to report for spring training with the Giants in March 1909.
In February 1909, New York returned Pat to Charleston, brightening the Gulls' pitching prospects but leaving them without the $2,000 due them had Paige made good with the Giants. His signature moment of the season came on May 28 when he hurled a 5-0 no-hitter against Macon. A month later, Sporting Life was calling Paige "the best pitcher in the league." In mid-June, Pat was indefinitely suspended for jumping his contract, quitting the team after Chattanooga hit five homers off him in four innings. Paige countered by claiming that he was never tendered a contract by the Charleston club, and was therefore a free agent.
On July 5, the financially strapped Charleston franchise was moved to Knoxville and became known as the Appalachians. Back from suspension, Pat was particularly effective during July, pitching shutouts against Augusta (a one-hitter) and Columbia twice (both two-hitters).  
On July 23, the New Orleans Pelicans of the Southern Association bought Paige (12-9) from Knoxville for $900. There was a hitch in the negotiations between the two clubs that was ultimately resolved but kept Paige off the mound for days. In early August, the Weekly Telegraph said, "It took him quite a while to get in shape, but George Paige is now pitching wonderful ball for the New Orleans team." In one of his early starts, Pat shut out Nashville 2-0 on one hit. Of the trade, Sporting Life said "Manager Frank paid $2,000 to claim Paige, a rather high price for a man with no big league experience." By the end of the season, Paige (4-9) convinced the New Orleans Times-Picayune: "While he has won only half as many games as he lost, he has shown considerable ability at keeping down hits than the average, and will undoubtedly improve."
Paige had a career year in 1910 with the pennant-winning Pelicans (87-53), posting a 24-14 record in 44 games. After a slow start (8-8) through the season's first three months, Pat was dominant during the second half, including a six strikeout 2-0 two-hitter over Atlanta on July 18. As the Atlanta Constitution put it, "The Crackers were cruelly crimped by Paige's manipulation of the pellet." His finest game was in the nightcap of a doubleheader on August 20 when he threw a 1-0 seven-inning no-hitter against Mobile. "Paige's work was splendid," said the Montgomery Advertiser, "The little twirler was never in better mettle. He had all the hard hitters standing on their heads….and gave no one free transportation to the first sack." 
Pat pitched eight other shutouts, with four coming in succession against Montgomery, Birmingham and Mobile (twice) in August. He was also an ironman on the mound, pitching three doubleheaders during the season. His last ironman effort was on September 5 when he defeated Atlanta 8-2 and 4-3, giving up a combined seven hits. According to the Constitution, "To Paige belongs the majority of the credit for the winning of both of the games." At the end of the season, Pat Paige was named to the Constitution's All-Star Southern League team.
Pat headed home to Michigan, where he was picked up by the Benton Harbor Speed Boys, a semipro team that was playing the St. Joseph Red Tags for a championship on September 25. The Speed Boys prevailed 5-0 with Paige recording six putouts, an assist and an error in center field. He also doubled and scored a run. The Speed Boys later lost to Berrien Springs in a three game series in October for another Michigan-Indiana semi-pro championship. Pat was hitless and again played center in a 6-2 loss on October 16.
Back with New Orleans in 1911, Pat Paige was 3-3 on the hill when manager Charlie Frank sold him to the American League's Cleveland Naps on May 13. The Advertiser speculated that Frank "is using the Cleveland club as a farm. In Hess, Breitenstein and Maxwell he has better pitchers than Paige. If he wanted to give them something why did he not ship one of these?"  
With the Naps in sixth place, Paige made his major league debut on May 20 against Washington, going the distance on the mound and winning 8-4; he scattered 10 hits, struck out 4, and walked three. Pat also stroked a bases-loaded double off losing pitcher Bob Groom in the eighth inning, driving in three runs. He made his second appearance on June 1 in Philadelphia, relieving starter Spec Harkness in a 14-8 loss. Paige gave up seven runs on 12 hits in seven innings while notching two strikeouts and two walks. Three days later, the Naps sent him to the Toledo Mud Hens of the American Association.
In reviewing Pat's brief visit to the majors, Sporting Life said, "Paige does not have the class to stick in the American League. He debuted by winning…but it was not his good pitching that brought the Naps' victory as much as it was the timely stick work of the men behind him…When he reported to Manager [George] Stovall, he had a lame back and this ailment still sticks to him."
Paige spent three weeks with Toledo and was 0-4 in six games, giving up 49 hits in 42 innings and walking three times as many hitters as he struck out. His best outing was a sixteen inning 1-0 loss at St. Paul on June 15 where he gave up only seven hits but surrendered the winning tally in the last frame on a single, a sacrifice, and a wild throw. One other game was notable; in a 6-3 loss at Minneapolis on June 19, Pat faced Red Killefer, his friend from Paw Paw, who was 2-for-4 with a run against him.
By the end of June 1911, the Constitution was reporting that Cleveland, which still retained Paige's contract, would soon be dealing him to Birmingham of the Southern League. This speculation was proved false by mid-July, when the Atlanta Crackers of the same loop secured him. Dick Jemison of the Constitution hailed the acquisition as "a great move. Piggy has proven a consistent winner and should do so now…How the Crackers managed to make the trade is past fathoming. Maybe their luck has changed at last."
According to Sporting Life, "The recent addition of Paige…makes the [Atlanta] hurling department dangerous." Paige was effective more often than not, completing the campaign with a 7-6 record, a respectable mark for a hurler with a last-place club [dubbed by the Constitution as "The Best Team That Ever Finished at the Bottom"] with notable defensive deficiencies. Two of his more satisfying wins came against his old teammates from New Orleans; he gave up only two hits in a 2-0 win in August; in a 2-1 win over the Pelicans in July, Sporting Life said "Paige's brilliant pitching was the feature [of the game]."
During the third week of August, the Constitution reported that Pat Paige and seven other Crackers were purchased under an optional agreement by the National League's Brooklyn Superbas. Sporting Life, commenting on the acquisition of pitchers Paige, Tommie Atkins, and Walter Miller said, "They are problems," but didn't elaborate. Pat reported to Brooklyn after pitching for New Orleans on September 13 but never appeared in a game.
Back with Atlanta in 1912, Paige (3-2) made a few appearances for the Crackers in April and May before he was placed on the ineligible list and given ten days to get in shape by manager Frank. On May 22 the Constitution said that "Paige is a grand pitcher when right. It is a trifle early for Piggy to be pitching grand ball. He is essentially a hot-weather pitcher, and if the weather continues warm, by the time his suspension ends he should show form." 
Paige, however, would be showing form for another club since he was dealt by New Orleans to the Southern League's Montgomery Rebels on June 12. Two days later, he was an 8-3 winner over Birmingham. His best game for the Rebels was a 7-0 two-hitter against Nashville on August 14. He finished with an 11-13 record with sixth-place Montgomery; Sporting Life game accounts included the following comments: "was hit freely," "hits off Paige came in bunches," and "Paige was wild."
Pat's baseball career began to unravel in 1913. Back with Montgomery, his early performances caused the Montgomery Advertiser to say that "Piggy Paige has hurled nothing better than worse than indifferent ball since the start of the season." Montgomery soon traded him to the Nashville Southern League club for Charlie Case. Paige made two appearances for the Volunteers in late May, losing 9-3 to Mobile on May 14 and getting knocked out of the box in the fifth by New Orleans in an 8-8 tie on May 20. Unimpressed with his performances, Nashville sent Paige to Austin of the Texas League on June 3. He won his first game for the Senators on June 5, pitching 5 2/3 innings of relief in a 4-3 victory over Ft. Worth. He lasted only two innings in each of his next two outings.
On June 12, when the Austin club left San Antonio, Piggy Paige apparently jumped the club in a dispute over money and his performance. According to the Fort Worth Star-Telegram, the Austin club claimed that Pat "made farces" of the games he pitched and then left the team for no reason. For his part, Paige claimed that Manager Leidy notified him that his services were no longer needed and he was without funds for his own transportation out of San Antonio after the club departed. He also added that his pitching was affected by a slight strain in his side. Paige asked the National Board to declare him a free agent and order Austin to pay his $225 salary.
The National Board sided with the Austin club, citing the fact that Paige had been advanced $150 for transportation money when he signed "under false representations of his condition," according to the Star-Telegram; he was fined $150 for contract jumping. Pat's appeal of the decision was denied. The Star-Telegram concluded that "Piggy is well-named; in fact Mr. Paige is a whole stye (sic) of greedy porkers…He seems to be one of those ball players who believe that the national game is operated for…giving players all they can work the suckers for."  
By June 1914, Paige had paid his fine and was eligible for reinstatement. He signed a contract with the Chattanooga Lookouts of the Southern Association on June 18 and lost a 4-1 decision to Atlanta the next day. Pat (2-3) made five appearances for the Lookouts in June and July. His best outing was a 5-3 win over Atlanta on June 23. He also pitched eight innings in relief against the Crackers six days later, winning 10-9. His last professional game was on July 3, a 3-1 loss to Mobile in which he worked three innings and gave up three runs on four hits. On July 10, Pat Paige was released to Ottawa of the Canadian League, but there's no evidence that he played with them.
Pat wasn't much of a hitter. A left-handed swinger, he was 1-for-7 (.143) with a double at Cleveland and had a .173 average in 260 minor league games. Primarily a singles hitter, Paige's doubles were a rarity, and triples and home runs were non-existent.
Pat Paige married Bernice A. Robb, likely before the birth of their son John about 1903. They had three other children, Charles, Donald, and daughter Doris, born between 1904 and 1914.
Little is known about Paige's life after baseball. According to SABR researcher Bill Haber, he last lived in Paw Paw no later than 1914 and moved to Mishawaka, Indiana, for a brief period to work as a guard at the Indiana State Prison in Michigan City. He then returned to Michigan to live in Jackson for a short time before settling in Elkhart, Indiana, where he became a brakeman and conductor for the New York Central Railroad.
Paige became ill in the spring of 1938 and couldn't continue to work. He went to Wautoma, Wisconsin, in September to live with his son Reginald and Reginald's wife. In May 1939, he was brought to Berlin Hospital in Berlin, Wisconsin, where he died at age 57 on June 8, 1939. He is buried at Rice Cemetery in Elkhart, Indiana.
Last revised: August 23, 2020 (ghw)
Sources

Periodicals
Haber, Bill. "A Favorite Paige of Mine." Baseball Research Journal (1977)
Newspapers
Sporting Life– 1906-1914
The Atlanta Constitution– 1911-1912
New York Times– 1905
Grand Rapids Press– 1905
Des Moines Daily News– 1906
Lincoln Evening News– 1906
Washington Post– 1907
Macon Weekly Telegraph– 1908-1909
State (Columbia, SC) – 1908
Charlotte Observer-1908-1910
Montgomery Advertiser– 1908-1910
Colorado Springs Gazette– 1908
Salt Lake Telegram– 1908
Albuquerque Journal– 1908
Beaumont Enterprise-Journal– 1910
Philadelphia Inquirer- 1911
Chicago Tribune– 1911
Ft. Worth Star-Telegram– 1913
The Daily Palladium (Benton Harbor, MI) – 1903
News-Palladium (Benton Harbor, MI) – 1910
Websites
Retrosheet.org
Baseball-reference.com
Ancestry.com
SABR Minor League Database
Acknowledgment
Thanks to Butch Hindenach, Sports Editor of the Courier-Leader (Paw Paw, MI) for 1897-98 Paw Paw High School baseball statistics.
Born
May 5, 1882 at Paw Paw, MI (USA)
Died
June 8, 1939 at Berlin, WI (USA)
If you can help us improve this player's biography, contact us.
http://bioproj.sabr.org/bp_ftp/images3/PaigePat.jpg
600
800
admin
/wp-content/uploads/2020/02/sabr_logo.png
admin
2012-01-04 20:38:35
2020-08-23 11:59:10
Pat Paige