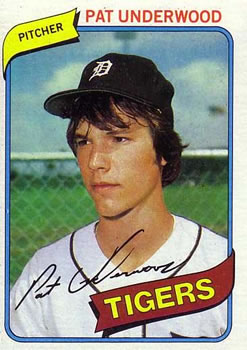 ---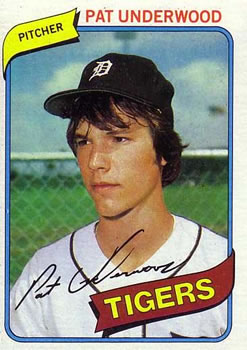 He was the second overall pick in the June 1976 amateur draft. In his major-league debut his brother was the opposing pitcher. He was the winning pitcher on Disco Demolition Night. Pat Underwood accumulated only 13 victories over four big-league seasons, but he had a remarkable baseball career.
Patrick John Underwood was born on February 9, 1957 in Kokomo, Indiana, to John and Helen Marie (née Murphy). John Underwood played one season in the minor leagues in the Philadelphia Phillies organization before serving in World War II.1 After the war he served in the Indiana National Guard and accumulated 22 years of military service, retiring as a captain. He was also terminal manager for Motor Express.2
Young Pat grew up playing sports with his father and brothers Mark and Tom Underwood. Tom was a left-handed pitcher who was picked in the second round of the 1972 amateur draft and enjoyed an 11-year major league career.3 The boys also had a sister named Nancy.
Pat graduated from Kokomo High School in 1976. He enjoyed an outstanding high school career and continues to hold the Indiana High School Athletic Association record of 637 career strikeouts (in only 338 innings pitched) and 22 shutouts. The strikeout mark bested his brother Tom, who had graduated four years previously with a then-record 553. Pat is also among the top five in state history in complete games, no-hitters, shutouts in a season, and career ERA.4 In his senior year, he struck out 165 batters while allowing a mere 25 hits, throwing three no-hitters, and recording a 0.42 ERA.5  
Pat was taller than Tom at 6 feet even, and slightly heavier at 175 pounds. However, they were both left-handed pitchers (though Tom had switched from throwing righty at age 11). The younger Underwood gained attention derived from his brother's quick ascent to the major leagues and was also aided by Tom's pitching tutelage. Thus, the Detroit Tigers selected him with the second overall pick in the June 1976 amateur draft, after the Houston Astros took another lefty hurler, Floyd Bannister.6 A $75,000 signing bonus persuaded Underwood to forgo a scholarship to pitch at the University of Missouri.7
In announcing the signing, Tigers executive Bill Lajoie praised Underwood "as the kind of pitcher who won't let you cross the plate. He's a terrific competitor with a great arm."8 The Tigers had an incredibly productive draft class that year. It also included future Hall of Famer Alan Trammell (2nd round), rotation stalwart Dan Petry (4th round), and another future Hall of Famer, Jack Morris (5th round).
Underwood was assigned to Class A Lakeland and earned his first professional victory on June 25, 1976 when he pitched five shutout innings and surrendered only two hits.9 In his first summer as a professional, Underwood recorded six wins and three shutouts while posting a 2.22 ERA.
By the following June, Pat was rushed to Class AAA Evansville. His first start there was rocky — he gave up four runs in one-plus innings. But on July 14, 1977, in a game against the Indianapolis Indians and with many hometown fans making the one-hour trek to Indianapolis, Underwood secured his first AAA win. Somewhat ominously, The Sporting News noted that he worked "the first five innings despite elbow soreness that caused his removal."10
Underwood remained in AAA in 1978. In an April appearance, he produced his best minor-league start, a near perfect game against Iowa. After his no-hitter was broken up in the ninth inning, Underwood explained that the hit came on a "waste pitch," an up and away curveball that the hitter went with for a double.11 Underwood also recorded a three-hit victory over Indianapolis later in the month, but on June 29 he severely bruised his pitching shoulder in a collision at first base and was placed on the disabled list.12 He ended the year with a 5-5 record.
Underwood was back in Class AAA in 1979 and started the season strong, pitching a complete game four-hitter in which he struck out nine Oklahoma City batsmen on May 10.13 Three weeks later, he made a major-league debut unique in baseball history. On May 31, 1979, the 22-year-old faced off against his older brother Tom, then 25 years old and in his fifth major league season.14 It is the only time in major league history where one brother made his pitching debut against another brother. (The most similar occurrence came on September 5, 2019, when Marlins pitcher Brian Moran debuted against his younger brother, Pirates third baseman Colin Moran, and struck out his sibling. Colin was the second batter Brian faced in the major leagues.15)
Tom was less than thrilled about the matchup with his younger brother, commenting beforehand, "I think it's stupid. . . . I'm not sure it's really fair to Pat. There's enough pressure on you when you're pitching your first game in the big leagues without worrying about your brother."16 The Blue Jays arranged for Pat and Tom's mother Helen Marie to travel from Kokomo to attend the game.17 Understandably conflicted about the matchup, she said, "I prayed for rain."18
Hours before the game, while visiting with a sportswriter from his hometown paper, The Kokomo Tribune, Pat dreamed up the ideal game scenario: "Wouldn't it be great if it ended up 1-0?" Underwood knew that was too fantastical and admitted that the situation was almost too much to absorb. "I don't expect to go all the way or pitch a shutout or anything like that," he said, adding "it's all very scary. I don't want to go through it, but I know I have to."19
As it turned out, he had it about right. The brothers pitched magnificently. Pat retired the first 12 batters before the leadoff hitter in the fifth inning, Rico Carty, doubled. He and Tom matched zeroes for seven innings until Jerry Morales snapped the tie with an eighth-inning solo home run for the Tigers. On the evening Pat pitched 8 1/3 innings, struck out four, and gave up three hits and a walk, before exiting in the ninth after surrendering a one-out double. Dave Tobik and John Hiller retired the final two batters to preserve the Tigers' 1-0 victory. One of the three hits was to future National Basketball Association player Danny Ainge, whom Pat then picked off base.
After the game Tom commented, "I'm awfully happy for Pat. He pitched great and deserved to win." He then added, "I taught him [Pat] how to throw a slider and changeup while he was in high school. When I looked out, I felt like I was watching myself."20
Reflecting on the experience the next day, Pat called it "unbelievable" and speculated that it would "probably never happen again." It was also an experience he hoped to avoid in the future: "I'll pitch against Tom [again] if they tell me to, but I'd prefer not to."21
The game-winning homer by Morales also created feelings of dissonance for Pat. "It was strange," he explained. "Here he [Morales] had won the game for me and I just kind of sat there on the bench. I just couldn't congratulate the guy who hit a homer off my brother."22
Giving another glimpse into the strong bonds of brotherhood, Pat offered another admission about the outcome of the game: "Maybe I shouldn't say this, but in the ninth inning when they took me out, I was kind of hoping [Toronto's] Roy Howell would hit a homer. I wouldn't have gotten the loss, but Tom would have been the winner. He just pitched too well to lose."23
Summing up the experience, Pat said, "If I never do another thing in my life . . . I can say I pitched a shutout in my first major league game and I'll remember the greatest thrill of my life when I walked off the mound to a standing ovation (from the opposing team's fans)."24
Reflecting on the game 40 years later, Underwood called it the highlight of his major-league career. He fondly recalled meeting Tom, who passed away in 2010, on the field after the game. Tom put his arm around Pat as "He Ain't Heavy, He's My Brother" played throughout the stadium. Together they walked over to greet their mother and a small contingent of family and friends.25
Propelled by his magical debut, Underwood continued pitching effectively for the Tigers. On June 12, in his third start, he surrendered only two runs in a complete-game victory over Oakland.
A month later, on July 12, Underwood was involved in one of the most infamous games in baseball history, the ill-fated Disco Demolition Night at Chicago's Comiskey Park. Pitching in game one of a doubleheader, Underwood ran his record to 4-0 when he gave up one run over 7 2/3 innings, lowering his ERA to 3.43. The game's notorious place in baseball lore has been well documented.26 Fans were offered admission to the doubleheader for only 98 cents if they brought a disco record. The records were to be collected and placed in a dumpster that would be exploded between the contests.
The promotion far exceeded expectations; the official attendance was recorded as 47,795, with thousands more held outside Comiskey.27 With many fans still possessing records — there were too many for the designated container — the game was stopped multiple times as the discs were hurled onto the field along with beach balls, firecrackers, and beer bottles.28 Reflecting on the evening years later, Underwood recalled the hot muggy night filled with the haze and smell of people smoking marijuana, "major disruptions" during the game, the crowd chanting "Disco Sucks" throughout, and his teammates wearing batting helmets to play the outfield.29
Following Underwood's game one victory, the "disco demolition" commenced. After the container of records was exploded — an act that shot fire and vinyl record shards into the air — as many as 7,000 fans stormed the field, in the process tearing it up, stealing the bases, and starting a bonfire in center field. Underwood recalled that although many Tigers players returned to the dugout to watch the wild events, uncertainty over what the spectators charging the field might do prompted them to retreat to the locker room.30
Despite the pleas of White Sox broadcaster Harry Caray and owner Bill Veeck for fans to return to their seats, the situation was only resolved when police in riot gear arrived. The field was deemed unplayable and the Tigers were awarded a forfeit because baseball's rules say that the home team is responsible for the condition of the field. The game continues to hold the distinction of being the most recent forfeit in American League history (a 1995 game between the Cardinals and Dodgers in Los Angeles is the most recently forfeited National League game).31
The raucous events of Disco Demolition Night did little to slow Underwood. The following week he ran his record to 5-0 when he pitched 8 1/3 innings against the Minnesota Twins in an 8-3 victory. By the end of July, with Underwood 6-1, the Tigers felt they had something special with Morris, Petry, and Underwood. Sparky Anderson, who had taken over as manager in mid-June, predicted, "These youngsters have a tremendous future with Detroit" and saw them as "the kind of young arms we [Detroit] need to win." Referring specifically to Underwood, Anderson said, "He's shown me a lot already . . . But wait until he gets a little stronger and really learns how to pitch."32
However, Underwood struggled in his next three starts — twice failing to make it out of the second inning — and closed out the season in the bullpen. After finishing with a record of 6-4 and a 4.59 ERA, Anderson was uncertain about Underwood's future in the Tigers' starting rotation.33
After a spring training that Anderson called "outstanding," Underwood started 1980 with a new role: lefthanded stopper out of the bullpen. "I'm not saying he won't start a game now and then," Anderson explained, "but I also like what I've seen him do as the short man. He can pitch in back-to-back games pretty effectively."34 In turn, Underwood produced his most effective season, pitching 112 2/3 innings across 49 games, including seven starts, and recording three wins and five saves while compiling a team best 3.59 ERA. Underwood was particularly effective during the second half of the season, picking up all five of his saves and recording a 2.33 ERA over 58 innings in 28 relief appearances and one start.
In the offseason the 23-year-old Underwood married Debbie Hayes, his high school sweetheart. The wedding invitations were reported as an item of interest in The Sporting News. Worried that teammates might struggle to find their way to Kokomo, Underwood included so many maps that invitations "arrived postage due at some of his teammates' homes."35
In contrast to the joy of a wedding, spring training 1981 was unkind to Underwood; despite his success the previous year, he was demoted to AAA. Though not pleased with the decision, Underwood was resolved to earn his way back: "Apparently they decided to judge me on 13 innings of spring training. I don't have any excuses for what happened, I just didn't throw well. But I'm not going to pout. I'll go to Evansville with a good attitude. If I don't make it back with this club, I'll make it with another."36
While the major-league season was interrupted by a players' strike, Underwood spent the entire year with Evansville. Used exclusively as a starter, he logged a professional high of 165 innings while compiling a 3.98 ERA and 9-8 record across 26 starts.
Underwood was back in the Tigers bullpen at the start of 1982. However, on April 21 he was called on to start, and gave up only one run in a complete game victory against the Royals. He was not used again until May 3 in an exhibition between the Tigers and the Cincinnati Reds to support youth baseball. During the game, Underwood suffered a bruise to his lower right leg, but he returned to pitch two scoreless innings in the teams' exhibition rematch on May 6.37 Despite that strong outing, he didn't pitch again until a relief appearance on May 18.
Then, after three more nondescript appearances, on June 8 Underwood delivered a winning, eight-inning start against Cleveland. Assessing his performance, he said, "I need to be more aggressive. I keep reminding myself not to be too picky. I know my time will come to be important to this team." As for the role he might have, he wasn't particular: "I don't have to start . . . to be happy. I worked my way back to the majors by being versatile. I just want to be useful."38
Underwood continued to move between starting and relieving, and on October 1 he won what would turn out to be the final start of his major league career, a 4-2 victory over Cleveland. In his return to the majors, Underwood amassed a 4-8 record in 33 appearances, including 12 starts, two complete games, and three saves over 99 innings.
After the season, Underwood went to the Dominican Republic for winter ball to refine his split-finger fastball, a pitch he began throwing in late 1982. While there he hurt his elbow, an injury he didn't disclose until he was unable to take the mound for a 1983 spring training appearance. In the days before MRIs, Underwood's only non-surgical option was a physical exam, which did not conclusively identify the partially torn ligament that was later discovered.39
Underwood started the season back at Evansville. On May 17, in his first start in a month, he allowed only four hits over seven innings in a 1-0 victory. The outing, his seventh straight without allowing an earned run, lowered his ERA to 2.81 and Underwood explained, "I told myself to quit worrying about the elbow and go for it."40
His performance soon earned him a brief promotion to Detroit, where he logged 10 1/3 innings over four relief appearances. However, on June 30th the Tigers traded Underwood to the Cincinnati Reds for infielder Wayne Krenchicki. Underwood was pleased with the trade and the opportunity to contribute to a new organization. "I'm confident I can pitch better somewhere else," he explained, "and I'm looking forward to doing so."41 Assigned to AAA Indianapolis for the remainder of the season, on August 8 Underwood pitched the Indians to victory over his former Evansville teammates, giving up only a single hit and facing one batter over the minimum.42 Despite pitching effectively overall that year, the issues with Underwood's elbow weren't going away. He had inflammation after every appearance.43
The Texas Rangers selected Underwood in the December 1983 Rule 5 draft. In the spring of 1984, he was in the mix to be a left-hander out of the Texas bullpen. Despite having a good spring, he ultimately didn't make the club.44 He considered retiring but instead joined his brother Tom's new organization, signing with the Baltimore Orioles as a minor-league free agent. Underwood explained, "It just came down to deciding that I still wanted to play. I'm pitching well and I thought 'why quit?' I'll give it one last shot."45 However, after just three rocky appearances for Triple-A Rochester, he landed on the disabled list. Eventually he was released.
Later in 1984 Underwood had exploratory elbow surgery, but declined the "Tommy John" (ligament replacement) procedure, knowing that it would entail 18 months of rehabilitation. He began 1985 pitching for the semipro Kokomo Highlanders along with his brother Tom. Later in the summer the Chicago Cubs offered him the opportunity to join their AAA team.46 But with his wife Debbie expecting their first child, Underwood felt ready to move on to the next stage of his life. He officially retired at age 28.47 He finished with a major league record of 13-18 and eight saves along with an ERA of 4.43. In 113 appearances, 34 of them starts, Underwood logged 343 2/3 major league innings.
Underwood soon enrolled in college. He earned his bachelor's degree in business administration and management from Indiana University and a Masters from Wesleyan University. As of May 2020, he has worked as a Product Quality Manager at General Motors for nearly 30 years.
He and Debbie raised two sons, Ryan and Evan, who also played baseball in their youth and have settled in California.48 Evan received a degree in computer graphics technology from Purdue University and has worked as an Emmy-winning visual effects artist for FuseFX, creating digital effects for several television shows.49
Pat and Debbie Underwood continue to reside in Kokomo, where Pat coached youth baseball from 1990 through 2005.
Last revised: May 14, 2020
Acknowledgments
Special thanks to Pat Underwood for participating in a telephone interview (February 6, 2020).
This biography was reviewed by Rory Costello and Joe DeSantis and fact-checked by Alan Cohen.
Sources
In preparing this biography the author also consulted Underwood's player file at the National Baseball Hall of Fame Library in Cooperstown, New York and statistics from Baseball-Reference.com.
Notes
1 Pat Underwood, telephone interview with Todd McDorman, February 6, 2020; Hugh Bernreuter, "Dodgers Prospect J.D. Underwood Keeps Father Close through Tattoo, Memories," MLive, May 1, 2015, https://www.mlive.com/loons/2015/05/dodgers_prospect_jd_underwood.html.
2 "Helen Underwood," Kokomo Tribune, July 7, 2002, 2; "John D Underwood," Kokomo Tribune, July 7, 2003, 10.
3 "Thomas Gerald Underwood," Kokomo Tribune, November 23, 2010, https://obituaries.kokomotribune.com/obituary/thomas-underwood-717183261.
4 2018 Indiana High School Baseball Record Book, Indiana High School Baseball Coaches Association, http://ihsbca.org/wp-content/uploads/2018/01/IHSBCA-Record-Book-2018-upd…. Specifically, Underwood is fourth in state history with 40 complete games, tied for third with six no-hitters, tied for fourth with eight shtouts in a season, and fifth in career ERA at 0.58.
5 Detroit Tigers Press Release, National Baseball Hall of Fame Library player file.
6 Nolan Sanburn interview with Pat Underwood, The Ballplayer Mindset, "He Ain't Heavy, He's My Brother," episode 11, July 3, 2018, podcast; "Astros Tap Hurler Bannister as No. 1 Draft Pick," The Sporting News, June 26, 1976, 9.
7 "Inductee – Pat Underwood," Indiana Baseball Hall of Fame, http://www.indbaseballhalloffame.org/inductees/inductee-pat-underwood/.
8 Detroit Tigers Press Release, National Baseball Hall of Fame Library player file.
9 "Massari Ties HR Mark," The Sporting News, July 17, 1976, 42.
10 "Underwood Jolted in Debut," The Sporting News, July 16, 1977, 38; "Cripe's Gripe," The Sporting News, August 6, 1977, 38.
11 "A.A. Day by Day," The Sporting News, May 6, 1978, 32; "Near-Perfect Game," The Sporting News, May 13, 1978.
12 "A.A. Day by Day," The Sporting News, May 13, 1978, 35; "Hamrick Handcuffs Denver," The Sporting News, July 22, 1978, 41.
13 "Ratzer's Finishing Touch," The Sporting News, May 26, 1979, 50.
14 "Tigers Top Blue Jays as Brothers Duel, 1-0," New York Times, June 1, 1979, A19; "Brother Act in Toronto," The Sporting News, June 16, 1979, 30.
15 Adam Berry and Alan Saunders, "Moran Brothers Stage Battle 119 Years in Making," MLB.com, September 6, 2019, https://www.mlb.com/news/brian-moran-strikes-out-brother-colin-moran.
16 "Tom and Pat Underwood: Brother, Can You Spare a Run?," RetroSimba: Cardinals History Beyond the Box Score," May 29, 2019, https://retrosimba.com/2019/05/29/tom-and-pat-underwood-brother-can-you-….
17 "Tigers Top Blue Jays."
18 "Tom and Pat Underwood."
19 Dave Kitchell, "Underwoods: Tom vs Pat,"Kokomo Tribune, June 1, 1979 (republished December 27, 2009), https://www.kokomotribune.com/sports/kitchell-underwoods-tom-vs-pat/arti…."
20 Kitchell, "Underwoods: Tom vs Pat;" "Tom and Pat Underwood."
21 Kitchell, "Underwoods: Tom vs Pat."
22 Kitchell, "Underwoods: Tom vs Pat."
23 Kitchell, "Underwoods: Tom vs Pat."
24 Kitchell, "Underwoods: Tom vs Pat."
25 Sanburn-Underwood interview.
26 Christopher J. Young, "'What Fans Wanted to Rock, the Baseball Stopped': Sports, Promotions, and the Demolition of Disco on Chicago's South Side," SABR Baseball Research Journal 38.1 (2009): 11-17. "Disco Demolition Night at Comiskey Park in Chicago in 1979, YouTube, https://www.youtube.com/watch?v=I1CP1751wJA&feature=youtu.be.
27 David Funk 74, "Disco Demolition Night in 1979," SportsBlog, July 12, 2015, https://www.sportsblog.com/allfunkedup/disco-demolition-night-in-1979/; Gary Waleik, "Forty Years Later, Disagreement about Disco Demolition Night," WBUR.org, July 12, 2019, https://www.wbur.org/onlyagame/2019/07/12/disco-demolition-dahl-veeck-ch… Phil Vettel, "Steve Dahl's Disco Demolition at Comiskey Park," Chicago Tribune, January 3, 2008, https://www.chicagotribune.com/nation-world/chi-chicagodays-disco-story-…
28 Underwood-McDorman interview; Funk, "Disco Demolition Night in 1979."
29 Underwood-McDorman interview.
30 Underwood-McDorman interview; "Pat Underwood, Disco Demolition Game 1 Winning Pitcher," http://www.kemmetmueller.com/baseball/collection/baseballs/underwood_pat….
31 "Disco Demolition Night in 1979."
32 Tigers Press Release, July 24, 1979, National Baseball Hall of Fame Library player file.
33 Tom Gage, "Tigers Desperate for Hill Help," The Sporting News, December 15, 1979, 52.
34 Tom Gage, "Firemen Give Sparky Warm Glow," The Sporting News, April 26, 1980; Tom Gage, "Tigers Find a Spot for Hiller," The Sporting News, May 3, 1980, 10.
35 Tom Gage, "Parrish Spurns Tigers' $2.66 Million Offer," The Sporting News, January 31, 1981, 54.
36 Tom Gage, "Four New Lefties in Line to Crash Tiger Hill Staff," The Sporting News, April 18, 1981, 31.
37 "Tigers Win Exhibition," Petoskey (Michigan) News-Review, May 4, 1982: 9; "Tigers Blank Reds, 3-9," Evansville Courier and Press, May 7, 1982: 31.
38 Tom Gage, "Tigers Puzzled Over 4th Starter," The Sporting News, June 21, 1982, 15.
39 Underwood-McDorman interview.
40 "Underwood Quits Worrying," The Sporting News, June 6, 1983, 55.
41 David Barnes, "Pat 'Happy' with Trade," Kokomo Tribune, July 2, 1983, 13.
42 "Close Encounters," The Sporting News, August 29, 1983, 59.
43 Underwood-McDorman interview.
44 Jim Reeves, "Pitching Poor? Not the Rangers," The Sporting News, April 2, 1984, 21.
45 Dave Kitchell, "Underwood Inks Triple-A Pact," Kokomo Tribune, April 3, 1984, 14.
46 Underwood-McDorman interview.
47 Sanburn-Underwood interview.
48 Underwood-McDorman interview.
49 Martin Slagter, "Underwood Overcomes Obstacles on Journey to Emmy," Kokomo Tribune, March 24, 2016, https://www.kokomotribune.com/news/underwood-overcomes-obstacles-on-jour….
Born
February 9, 1957 at Kokomo, IN (USA)
If you can help us improve this player's biography, contact us.
https://sabr.org/sites/default/files/UnderwoodPat.jpg
600
800
admin
/wp-content/uploads/2020/02/sabr_logo.png
admin
2020-05-04 20:28:02
2020-07-06 15:03:44
Pat Underwood