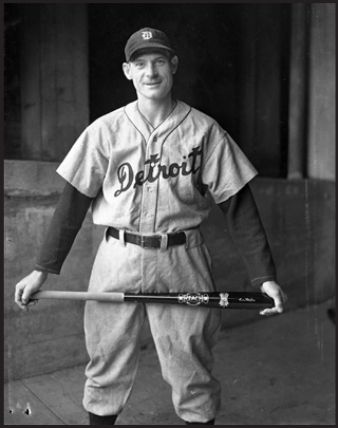 ---
He "gripped a bat so tight that when you shook hands with him, you shook hands with a callus."1  The quote epitomizes Pete Fox, who was remembered as a "winning ballplayer, diligent and deadly serious…"2 Fox rose from the sandlots of Evansville, Indiana, to play 13 seasons in the big leagues. A lifetime .298 hitter, he was a popular player who performed in the shadow of several Hall of Famers and perhaps did not receive the notoriety to match his accomplishments.  Fox hit .300 or better in five seasons, batted .327 in three World Series (and led the Tigers in the 1935 Series with a .385 average). As of 2013 he still held the record for the most doubles in a single Series (6, in the 1935 Series), was an All-Star in 1944, and led the league in fielding average five times as a right fielder.
Ervin "Pete" Fox was born on March 8, 1909, the fourth of six sons of Evansville Fire Captain Henry Fox. He was labeled early on as "Ab Fox's brother"; locals predicted that the older Ab was the one who would rise to the major leagues.3 However, Ab never made it past the low minors. Pete was determined to succeed in baseball, concentrating solely on the one sport. After elementary school, he graduated from Bosse High School and played on multiple local independent teams. 
He married his wife, Elizabeth, at the age of 18, and worked in a furniture factory while pitching for industrial-league teams on Saturdays and playing outfield on Sundays.4 In 1928, as both a pitcher and batter, Fox led Huntingburg to the championship of the semipro Indiana-Kentucky League. The next year, playing for Boonville in the Southern Indiana League, he bested local legend "Big Six" Leimgruber in an 11-inning duel in which he struck out 12 and helped win the 1-0 game by scoring after hitting a triple. In late 1929, as a 20-year-old, Pete smashed two successive homers, each estimated at 350 feet, during an Industrial League championship game at Bosse Field in Evansville. Afterward, Gilbert Evans of the Evansville Hubs of the Class B Three-I League, a Detroit farm team, signed Fox to a $250-a-month contract, a considerable increase from his $18-a-week factory job. 
The following year, Fox made his professional debut in his hometown, but after a slow start with Evansville, he was sent down to the Wheeling Stogies in the Class C Middle Atlantic League. Evansville manager Bob Coleman advised Fox, "I am afraid that you might be too nervous trying to make it make good as pro before your own town folks…If you make good I will spring you on your friends next year: But just forget about pitching, you're an outfielder."5  Fox proceeded to have an excellent season in Wheeling, batting .339 with 27 stolen bases. Returning to Evansville in 1931 and joining forces with Hank Greenberg for the first time, he hit .302 while stealing 27 bases.
Fox advanced in 1932 to the Beaumont Exporters of the Class A Texas League, playing for manager Del Baker. There he teamed with Greenberg and future roommate Schoolboy Rowe to lead the Exporters to a first-place finish. It was at Beaumont that Fox first acquired the nickname Pete. Impressing the locals with his speed on the basepaths, he was dubbed Peter Rabbit, which was later shortened to Pete. He led the Texas League in batting (.357) and had 19 home runs. He scored 103 runs and had 30 steals before going down for the season in early August with a bone chip in an ankle. Scoring from second on a single, he caught a spike in home plate. Fox lamented, "When they picked me up I found out that the throw from the outfield had been cut and I could have scored standing up. Think of that!"6 Pete was later named league MVP in a close race with Ducky Medwick.
Fox made the long jump from Single-A to the majors in 1933. The Detroit outfield needed strengthening that year. In spring training, Fox made an impressive over-the-shoulder catch in deep center that H.G. Salsinger of the Detroit News labeled  "worthy of Tris Speaker at the height of his career."7 Manager Bucky Harris was equally excited, exclaiming, "That Fox looks like an answer to my prayer."8    
Fox opened the season in center field. He singled in five at-bats against Clint Brown in a 13-inning home-opener loss to Cleveland at Navin Field on April 12. Five days later, on the 17th, Fox, in dramatic fashion, hit his first major-league home run, off Vic Frazier in the tenth inning for a walk-off 8-5 victory over Chicago.  
Early in the season Fox's speed and fielding continued to amaze sportswriters, one of whom commented that "the center field berth has not been patrolled so efficiently since the heyday of Ty Cobb."9 At 5-feet-10 and 165 pounds, Fox was known more as a "chop hitter" who sprayed line drives. However, he initially struggled against big-league pitching and near midseason his average was down to .212. His hitting then improved dramatically. Fox later recalled that he "discovered there was a big difference between pitching in the minors and the pitching in the majors…I decided to do a little experimenting."10 Against harder-throwing pitchers he used a lighter, shorter bat, and against others a heavier, longer one. These adjustments began to pay off; Fox hit .427 on a 19-game road trip. He finished the season with a respectable .288 average with a .320 on-base percentage and led the team with 13 triples. Fox was named to The Sporting News All-Star Freshman Team of 1933, along with teammate Greenberg.
In the offseason, the fifth-place Tigers fired Bucky Harris, acquired catcher Mickey Cochrane from Philadelphia, and made him the player-manager. That December Cochrane expressed his satisfaction with Fox playing center field. Cochrane proceeded to win the 1934 American League's Most Valuable Player award, while leading the team to its first AL pennant since 1909. As the Tigers finished with 101wins and 53 losses, Fox was a key contributor. His batting average declined slightly, to .285; but he scored 101 runs, had 25 steals, and increased his on-base average to .351. He tied for the league lead with four double plays from the outfield.
Detroit came up short in the World Series, losing to St. Louis in seven games, with an 11-0 home-field drubbing in the final game. In that game the Cardinals scored seven runs in the third inning, in which Fox accidentally kicked a ball while falling down. It rolled into a drain in front of the St. Louis dugout as three runs scored.11 Fox finished with a .286 average (8-for-28), the the record-setting six doubles.
The 1935 season was one of redemption for Fox and the Tigers. Fox had been offended by a teammate's offseason comments. Over the winter he read in an Evansville newspaper that Goose Goslin, the Tigers' left fielder, had made disparaging remarks about Fox's abilities as a hitter, runner, and fielder. Fox vowed to outperform Goslin in all categories in the coming year. He did not speak to Goslin the entire season.12  
Fox's season did not start well. In the spring he suffered from a sore arm and was displaced in center field by Jo-Jo White. In the first month he played sparingly in right field and was hitting a paltry .111 while watching Goslin get most of the playing time in that spot. 
Detroit was below .500, five games out of first, and was looking for more production from the outfield. A trade was proposed with Washington, swapping Fox for outfielder Fred Schulte.  Both teams agreed, but at the last minute Senators owner Clark Griffith asked that the Tigers add pitcher Elden Auker to the deal. Detroit refused. Almost immediately, Fox went on a hitting rampage, putting together hitting streaks of 29 and 17 games as the Tigers began their climb to the top of the standings. From June 13 until July 11, when his 29-game hitting streak was snapped, Detroit won 22 of 29 games. Only a sterling play on Fox's eighth-inning hot smash by Oswald Bluege, a late-inning insertion at shortstop, prevented the streak from continuing. On June 30, 500 fans from Evansville journeyed to St. Louis to watch their hometown boy in action. Fox proceeded to have the best day of his career, with eight hits in the doubleheader, including a grand slam, nine RBIs, and another home run. Fox later told sportswriter Sam Greene, "I talked with some of them before the game and I knew their eyes would be principally on me…I was anxious to show…that I belonged in the big leagues."13
Detroit again finished first with 93 wins, three games ahead of the New York Yankees. The almost-traded Fox hit .321 with a career-high 15 homers and scored 116 runs. As vowed, he bested Goslin in almost every offensive and defensive category. In the World Series the Tigers defeated the Chicago Cubs in six games with Fox leading his team in batting (.385). Goslin had some consolation by knocking in the Series-winning run in the bottom of the ninth inning of Game Six.
In January 1936 Fox spoke at the Detroit Yacht Club while being honored as the "individual who contributed most" to the Tigers' pennant and World Series.14 He predicted another pennant championship in the coming season. Pete's prognostication would not hold true for the next four seasons, during which his team chased the Yankees. The 1936 season was one of disarray and disappointment for the Tigers. Injuries to key players and illness to manager Cochrane plagued the team. Fox was in and out of the lineup due to a series of injuries and appeared in only 73 games. He still hit .305 while the Tigers finished second 19 1/2 games out.  
Despite having hit over .300 in the past two seasons, Fox faced an uncertain future in Detroit.  In the offseason his name surfaced in trade rumors. At the beginning of the1937 campaign, he was relegated to a reserve role. The Tigers faltered, again finishing second. Cochrane's playing career came to an end when he was beaned and suffered a fractured skull in May. Fox, on the other hand, went on to experience perhaps his best season. He scored 116 runs while batting .331. He hit 12 home runs and had a career-high 208 hits. 
In 1938 Fox was securely entrenched as the right fielder. Del Baker, his former minor-league mentor, had replaced Cochrane as manager the previous season. Fox's His batting average declined to .293, but he had other major achievements. He played in every inning of every game, knocked in a career-high 96 runs, and led AL outfielders with a fielding percentage of.994.  Fox was voted the right fielder on the national All-American popularity poll team. The Chicago Tribune proclaimed, "Fox, many believe, is the most underrated player in baseball. His value to the team is inestimable."15
The next year Fox remained firmly established as the Tigers' right fielder. He played in 141 games and batted.295, but the team slid to fifth place. Its makeup had changed dramatically since its championship days. By the end of the 1939 season, only Fox and five others remained from the 1935 team.
In 1940 playing time in the Detroit outfield became more competitive. In a move to get the bat of promising slugger Rudy York a permanent slot in the lineup, Hank Greenberg agreed to move from first base into the outfield. The Tigers had also acquired the left-handed-hitting outfielder Bruce Campbell from Cleveland. The switch at first base worked, as the hitting of both Greenberg and York propelled the Tigers to the pennant. Fox, on the other hand, had his playing time reduced, appearing in only 93 games and batting .289. It was his fewest games played since his injury-plagued 1936 season. The World Series was a disappointing one for him; he got only one hitless at-bat as a pinch-hitter. His replacement in right field, Campbell, hit .360 in a losing effort against Cincinnati.
In December Fox was sold to the Boston Red Sox. Detroit general manager Jack Zeller said, "Pete wasn't a regular here last season and we didn't figure he would make the grade in 1941."16 The 1941 season belonged to Ted Williams and Joe DiMaggio. Fox had a front-row seat as his teammate, Williams, hit .406. He also became a footnote in DiMaggio's 56-game hitting streak. In game 16 of the streak, Fox lost DiMaggio's fly ball in the sun, and Joe D was credited with his only hit of the day. Fox played in 73 games for the Red Sox, hitting a very respectable .302. In 1942 he continued in his part-time role, playing in 77 games while hitting only .262, a new career low.
As the US stepped up its war effort, more players were called to military duty. After teammates Ted Williams and Dom DiMaggio left for the military, Fox again became a regular in 1943, playing in 127 games. At 34 he was above draft age, but was youthful enough to steal 22 bases. His .288 batting average was tops on the Red Sox and ninth in the league.  
The 1944 campaign was an exciting one for both Fox and the Red Sox. Boston contended for first place most of the season as the team led the AL in hitting. The loss of key players to the military as the season progressed ultimately doomed the Red Sox' pennant hopes. Fox began the season with a ruptured blood vessel in his left arm and did not appear as a starter until early May. However, at the age of 35, he made the All-Star team for the first time. For much of the season, Fox and two Red Sox teammates, Bobby Doerr and Bob Johnson, contended for the AL batting title. Fox led the league as late as mid-September with a .328 average when he pulled a back muscle. After he returned to the lineup, his average slid to .315. The Red Sox lost 14 of their final 18 games and finished in fourth place, 12 games back.
The 1945 season was Fox's last in the majors. He played in only 66 games and had career lows in all offensive categories, including a .245 average. The next season players returned from the war and Fox was released by the Red Sox at the end of spring training. Not finished, Fox landed with the Oakland Oaks in the Pacific Coast League. There he played in 57 games while hitting .258 in his final season as a player.
For the next three years, Fox managed: Pawtucket (New England), Waterloo (Three-I), and Hot Springs (Cotton States). He then served as a scout for the White Sox and the Tigers. When Fox experienced vision problems, he became a manufacturer's representative with the R.B. Harper Company of Detroit.
Pete Fox died on July 5, 1966, in Detroit at the age of 57 after a three-year struggle with cancer. He was buried at Woodlawn Cemetery. He was survived by his second wife, Helen, and three children, Don, who pitched in the Red Sox farm system; James, who was an all-city football player at Evansville's Bosse High School; and Mrs. John Markey of Evansville. Fox was a member of the Evansville Sports Hall of Fame and was inducted into the Indiana Baseball Hall of Fame in 1980.
Last revised: July 12, 2021 (zp)
Sources
Auker, Elden, and Tom Keegan, Sleeper Cars and Flannel Uniforms  (Chicago: Triumph Books, 2001).
Cava, Pete, The Encyclopedia of Indiana-Born Major League Baseball Players (Published by the author, 2007).
Greenberg, Hank,  Hank Greenberg, The Story of My Life (Chicago: Triumph Books, 2001).
Rosengren, John,  Hank Greenberg, The Hero of Heroes (New York: New American Library, 2013).
Associated Press, "Tigers Sell Pete Fox to Red Sox," Washington Post, December 13, 1940.
Burns, Ed, "From One Feller to Another at New York Meetings," The Sporting News, December 17, 1936.
"Daniel's Dope," New York World-Telegram, April 19, 1933.
Greene, Sam, "Big Day at Bat Before Fans From Home Thrilled Fox," Detroit News, September 15, 1935.
Malaney, Jack, "Flag Bid of Cronin's Battling Bosox Gradually Cracking Up Under Breaks," The Sporting News, September 21, 1944.
Robertson, Bill, "Detroit's Favorite Tiger Was a Fox Named Pete," Evansville Press, July 6, 1966.
Salsinger, H.G.,  "Bluege Stops Pete's Streak," Detroit News, July 12, 1935.
Salsinger, H.G., "Fox Answers Harris' Prayer," Detroit News, May 11, 1933.
Salsinger, H.G., "Salsinger Compares Tigers of Present With Game's Heroes of Past —Today: Pete Fox," Detroit News, September 15, 1935.
Salsinger, H.G., "The Umpire," Detroit News, December 24, 1933.
Shaver, Bud, "Fox and the Goose," Detroit Times, October 9, 1935.
Williams, Joe, "Tiger Club to Be Stronger Than Last Year; Two Kids May Break In," New York World-Telegram, March 17, 1934.
"Pete Fox Dies in Detroit at 57," Evansville Courier, July 6, 1966.
"Pete Fox Voted Most Popular Right Fielder," Chicago Daily Tribune, September 4, 1938.
ondeckcircle.wordpress.com/2012/07/04/baseballs-surprising-stats-joe-dimaggio/
Pete Fox's file, Baseball Hall of Fame.
 Case, George III, "Ballfield to Battlefield and Back, from FDR to JFK" (DVD), 2012.
Edwards, Henry P., American League Service Bureau news release, December 24, 1933.
Notes
1 "Ballfield to Battlefield and Back, from FDR to JFK."
2 Bill Robertson, "Detroit's Favorite Tiger Was a Fox Named Pete," Evansville Press, July 6, 1966, 24.
3 Robertson, 24.
4 Henry P. Edwards, American League Service Bureau, December 24, 1933.
5 Ibid.
6 Pete Fox file, Baseball Hall of Fame.
7 H.G. Salsinger, "Fox Answers Harris' Prayer," Detroit News, May 11, 1933. 
8 Ibid.
9 "Harris Draws a Pair of Aces," The Sporting News, May 11, 1933, 1.
10 Henry P. Edwards.
11 Elden Auker and Tom Keegan,  Sleeper Cars and Flannel Uniforms, 55.
12 Bud Shaver, "Fox and the Goose," Detroit Times, October 9, 1935.
13 Sam Greene, "Big Day at Bat Before Fans From Home Thrilled Fox," Detroit News, September 15, 1935.
14 Charles P. Ward, "Pete Fox Bats 1.000 in Debut as Speaker," The Sporting News, February 6, 1936, 7.
15  "Pete Fox Voted Most Popular Right Fielder," Chicago Daily Tribune, September 4, 1938, A2.
16 "Tigers Sell Pete Fox to Boston Red Sox," Washington Post, December 13, 1940, 24.
Born
March 8, 1909 at Evansville, IN (USA)
Died
July 5, 1966 at Detroit, MI (USA)
If you can help us improve this player's biography, contact us.
http://sabr.org/sites/default/files/PeteFox.JPG
600
800
admin
/wp-content/uploads/2020/02/sabr_logo.png
admin
2012-01-04 20:31:41
2022-01-09 09:31:41
Pete Fox