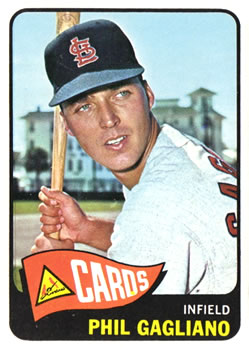 ---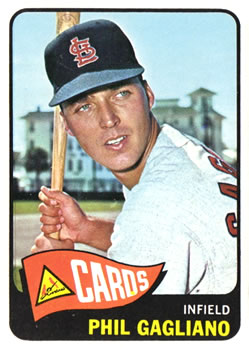 Phil Gagliano grew up in a baseball-oriented family. Though his grandparents on his father's side of the family hailed from southern Italy (Sicily and Calabria), and on his mother's side from the Tuscany region, the second-generation Americans took to baseball whole-heartedly. Phil's father, Ralph, who was a director of purchasing at a wholesale food business in Memphis, Tennessee, played second base for a local semipro baseball team. Phil's uncle Tony Gagliano, who coached Phil through high school and American Legion baseball, signed with the New York Giants as a pitcher and spent time in Class D for Portageville, Missouri in 1935, before injuring his arm. Phil had three younger siblings – each spaced five years apart – Ralph, Elizabeth, and Paul; the two brothers also starred at baseball. Ralph signed with the Cleveland Indians, which outbid 16 other major-league clubs for his services, though Ralph appeared in only one major league game, playing two more years in the minors after returning from the Vietnam War. Paul, meanwhile, earned a full scholarship to play baseball at Vanderbilt University. Phil reminisced, "My whole family – my uncles, my cousins – we were all baseball players." Through it all Phil's mother, a "stay-at-home mom. … kept the food on the table."1
Philip Joseph Gagliano was born on December 27, 1941, in Memphis. His first competitive baseball was in Catholic Youth Organization baseball, when he was in the fifth grade. "That's when I saw I had a little talent," he said. "I was a pretty good hitter and I pitched, just like most of your better athletes. They'd hit and pitch." Phil continued to play as he grew up, both for Christian Brothers High School and American Legion baseball. "My junior year is when scouts started hanging around. That was when I really started thinking I might have a chance at this game." He was good at basketball as well, being named his high school's MVP in 1959. That summer, the high-school baseball team coached by his uncle Tony won the state championship.
Gagliano's high school team featured another future major leaguer and member of the 1964 Cardinals, Tim McCarver. Phil and McCarver graduated together in 1959. Whereas McCarver signed immediately, Gagliano, still 17 years old, waited a few months, when he, like McCarver, then signed with the St. Louis Cardinals. After signing he was scheduled to play for Class D Billings in 1960. The signing scout was Buddy Lewis, who signed both Christian Brothers graduates. It was a dream signing for young Phil, who, like most of the kids in Memphis, was a Cardinals fan growing up. "St. Louis was only a few hundred miles away. We'd get them on the radio every night."
There was no draft at the time. The best bidder prevailed. McCarver had signed for a $75,000 bonus in the spring of 1959. Phil said his own bonus was $10,000, and later quipped, "We were the gold dust twins. Tim got the gold, I got the dust." It was no small sum at the time, though dwarfed by McCarver's bonus.2 Phil's bonus may have been smaller than otherwise, because he'd waited until September and some of the big-league budgets may have been tapped out. When asked, he allowed that he might have received a little more money if he'd not stuck with his uncle's Legion team through the summer.
Phil signed a Billings contract but never played there. That was Class C ball, and soon after he reported for spring training, he was shifted downward to Class D, where he played 89 games in 1960 as shortstop for the Dothan Cardinals in the Alabama-Florida League. There he hit .280 – but leapt over several classifications and hit even higher (.315) when he finished the season in Double-A playing both shortstop and second base back in his own hometown with the Memphis Chickasaws (Southern Association).
That success in the latter part of the 1960 season led to Gagliano's being placed with the Portland Beavers in December. In 1961 with the Triple-A Pacific Coast League club, Phil hit .260, but boosted his power numbers, hitting 11 homers and 29 doubles, exclusively at second base. The Beavers performed above expectations and sportswriter Lee Irwin said, "The work of a pair of 19-year-olds at short– Jerry Buchek and Phil Gagliano – was a good part of the reason."3 The two infielders later roomed together as Cardinals.
In 1962, Gagliano played for the Atlanta Crackers in the International League, another Triple-A ballclub. He hit .284 and slugged the same .381 as he had with Portland. Even more noteworthy, he had made league all-star teams for three years in a row: 1960, 1961, and 1962. Late in 1962 Phil married Mary Palmer Ashford. At the time of his December 2009 interview, the couple had just celebrated 47 years of marriage. They raised three daughters and one son.
Gagliano's first year training with the Cardinals was 1963. It was particularly special because of the overlap with one of his childhood heroes, Stan Musial, who was entering his final year in baseball. Phil made the team out of spring training that year. "That's back when they would take 27 north. Twenty-seven players would break camp, and then they had to cut back to 25 after the first month. So I got a month in and they sent me back to Atlanta. I was number 26 or number 27. But I got to see Musial for a month. As a kid, listening to him play…I was in another world, man."
Phil had his major-league debut on April 16, 1963, an uneventful one. He had both his first major-league hit and his first run batted in on April 23 in Houston, playing the Colt .45s. His old Christian Brothers teammate Tim McCarver had tripled to lead off the ninth and Gagliano, who had come in to play second base for Julian Javier in the bottom of the eighth (the Cards were winning 11-0), singled in McCarver for the 12th St. Louis run. It was the only run he drove in during the 10 games (six plate appearances) he appeared in in 1963. With two hits and a walk, his major-league line saw him batting .400 with an on-base percentage of .500, but Jack Damaska got the playing time as backup infielder. It wasn't the easiest infield to break into, by any means: Bill White, Ken Boyer, Dick Groat, and Julian Javier. Among the four of them, the Cardinals claimed every infield position in the starting nine at the 1963 All-Star Game. After the roster was trimmed to 25, Gagliano spent most of the year back with Atlanta. In his second season with the Crackers, his average dipped considerably, to .242.
For his time with the Cardinals, Phil received a quarter-share of the team's second-place earnings. Phil played in the Dominican Republic in the winter of 1963-64 and the Cardinals' brain trust had already perceived his true potential as a utilityman. Cardinals veteran Red Schoendienst declared, "He's got guts and he looks to me as if he could play any of three infield positions at least adequately," and manager Johnny Keane chimed in: "He was the best hitter I saw in the Dominican League last winter. He'd make a good pinch-hitter as well as handyman, because he seldom strikes out, and he runs well."4
In 1964 Phil opened the year with St. Louis (The Sporting News selected him as the hardest worker in the spring training camp, and his 13 exhibition-game RBIs led the team). Gagliano had his first key hit for the Cardinals on April 24 – his first hit of the season, a pinch-hit single in the bottom of the 11th inning that drove in the winning run to beat the Houston Colt .45s, 3-2. On May 5 he drove in the first of two runs and scored the second as St. Louis beat Jim Bunning and the Phillies, 2-1. On June 20 Phil hit the first of his 14 major-league home runs, in the bottom of the eighth inning at Busch Stadium against right-hander Jim Duffalo of the San Francisco Giants. It came in a game the Cards lost 14-3. Phil was playing first base for the first time at any level of play, because regular first baseman Bill White had been ejected from the game. His parents were visiting from Memphis, so it was a happy day all around. Phil had one of the more dramatic splits that season – he hit .342 at Busch but only .100 in road games. He also often tended to hit right-handed pitchers better. Over his career, however, he hit both about equally well, and there was only a slightly higher average at home.
He stayed with the team through July 19, when the Cardinals brought up pitcher Gordon Richardson and infielder Ed Spiezio. Gagliano was batting .259 in 58 at-bats and was sent down to Jacksonville, the new St. Louis Triple-A affiliate in the International League. With the same All-Star infield intact, there still wasn't much playing time with the Cardinals. They began to think of converting him to an outfielder, and he played 27 games in the outfield the following season, but more of his outfield work was later in his career. He hit .262 in the 48 games he played with Jacksonville (which won the league championship). These were his final 183 at-bats in minor-league baseball. Phil was recalled on September 5, but with the Phillies collapsing and the Cardinals contending for the pennant, he saw no further action. Still, for the remainder of his playing career, he was in the major leagues.5
The Cardinals won the 1964 pennant under manager Johnny Keane and beat the Yankees in seven games in the World Series. Gagliano was not on the World Series roster; he followed the Series from his home in Memphis. He'd appeared in 40 games, however, and he was awarded a three-quarter share of the World Series payout. Phil worked hard in the Instructional League in Florida after the 1964 season. "That's where I learned to hit. I learned to handle the bat. I learned how to handle the outside pitch, and I learned the strike zone there."6
Phil played regularly for St. Louis in 1965, getting into 122 games, batting .240 with eight homers and 53 RBIs, and playing second and third base, and the outfield. Early in the '65 season, with new manager Red Schoendienst on board, the Cardinals benched Javier, the second baseman, and inserted Gagliano there. The move paid off quickly, as Phil contributed to three consecutive wins: a game-winning single on April 30, another game-winning single on May 1, and a pinch-hit double to kick off a three-run rally that helped win the second game of a May 2 doubleheader. The three wins helped lift the Cardinals out of the cellar.
One event that stood out in 1965 came during a game on May 11. Phil collided on the basepaths with Ron Hunt of the New York Mets, fracturing his shoulder as Hunt tried to make a play at second base. Ron's shoulder was first held with pins, and in mid-June Hunt underwent surgery and was out until August 5. After the collision, Phil said it was "an unfortunate accident … nobody's fault." Hunt wasn't entirely sure how Phil could have failed to see him right there in the basepaths making the play, but allowed, perhaps with a touch of skepticism, "I guess it was unintentional."7 Gagliano was far from a popular man in New York after the accident; he even received some threatening letters in the mail. He also proved a nemesis to the Mets that year. On July 3 Phil's two-run sixth inning homer gave the Cardinals the only runs of a shutout of the Mets, and on July 16 in St. Louis, he was 3-for-4 with a triple and two RBIs, sparking another victory. Phil got some infield play at this time, because Schoendienst wanted to keep his often-hot bat in the lineup. In mid-June Javier broke his hand and was out for a month and a half. This provided Phil more playing time.
Sportswriter Neal Russo characterized Gagliano as "an adequate outfielder" but wrote that he "doesn't possess enough glove magic at second."8 A few years later Russo more fully appreciated Gagliano's role as the "dean of the bench."9 As for Gagliano himself, he said the right things: "I'll play anywhere, just to play. I'd even catch."10
In the second half of 1964, Bob Howsam joined the team as general manager; following the Cardinals' seventh-place finish in 1965, they decided to go younger and look for more power. Phil was young enough, but didn't have a lot of power. There were postseason rumors that the Mets were interested in him. Gagliano had played primarily at third base and pinch-hit a lot in 1966, getting into 90 games but with only 213 at-bats. He had one prolonged 2-for-41 slump, but still hit .254 and drove in 15 runs.
When the Cardinals traded Charley Smith to the Yankees that December, to acquire Roger Maris, Gagliano hoped he might have a chance to break into the starting lineup at third base, but it wasn't to be. Mike Shannon, heretofore an outfielder who had no experience with infield play, became the regular Cardinals third baseman. Gagliano was a utilityman once again. In 1967, "I was told that I was going to get a shot in spring training, which I never did," he recalled. "They gave it to Shannon. I think it was preplanned and that their telling me that was to get me to sign my contract. That's the way they negotiated back then. I just never got the opportunity. He was a more powerful hitter than I was. He was going to hit more home runs. He did a commendable job, I'll say that." Gagliano played when he could, and did a decent job, filling in nicely when Julian Javier pulled a thigh muscle on August 2.
Even though star pitcher Bob Gibson broke his leg in mid-July, the 1967 Cardinals were not to be denied. Lou Brock, Curt Flood, Orlando Cepeda, and Tim McCarver were all strong on offense, and the team won 101 games even with Gibson at 13-7 and without anyone winning more games than the 16 Dick Hughes won. Gibson made up for it all in the World Series, though, winning three of St. Louis's four victories over the Boston Red Sox, with a sterling 1.00 earned run average. Gagliano – who had hit only .221 in the regular season – appeared in just one game; with Javier on second and St. Louis losing 1-0, he popped up to shortstop to end the eighth inning in Game Five. Boston won the game, 3-1.
In 1968 Phil was back but got only about half as much work as the season before. He had 105 at-bats, hitting .229, and drove in 13 runs. One of the RBIs came on his game-winning triple on August 23 in the 11th inning against the Pittsburgh Pirates. It was one of three game-winners for him that year. It wasn't the first time he wished he'd had a chance to play more. "Everybody wants to be a regular, because that's where the good money is. You like to get a chance to satisfy your personal goals. … It's a matter of pride. Something even when you win, you feel down when you know you're not contributing."11 St. Louis made the World Series again, and Gagliano got three pinch-hit at-bats, in Games Two, Five, and Seven – with a fly out sandwiched between two groundouts. There was one postseason game he won with a home run, but it didn't come until November 10, in Tokyo. After losing the World Series to the Tigers in seven games, the Cardinals went to play in Japan, and Gagliano beat the Yomiuri Giants with a ninth-inning homer in the 12th game of the scheduled 18-game series.
It was clear that the Cardinals highly prized Gagliano's utility role. They broke up the 1968 team, for reasons that mystified Gagliano, but he was brought back for a seventh season in 1969 and contributed in the usual fashion, helping out when he could. He got a few more at-bats, hitting .227, but his RBIs were down to just 10. One of them, though, was a pinch-hit game-winner that made August 5 another happy day for Bob Gibson, who banked a 2-1 victory.
When Mike Shannon went down with a serious kidney condition in 1970 spring training, the Cardinals might have been expected to give Gagliano more work, and he did appear regularly in May, but they still didn't view him as a regular – and proved it by trading him to the Cubs on May 29 for right-handed reliever Ted Abernathy. Cubs GM John Holland said the team had been looking for an extra infielder, at least to fill in for a couple of weeks when Don Kessinger had military service commitments. As early as spring training 1964, Holland had coveted Gagliano.12 Phil had been struggling with St. Louis, hitting only .188, and didn't even do that well for the Cubs, batting .150 for the rest of the season in very limited use. Cubs skipper Leo Durocher didn't seem to see fit to use him much.
A change of league led to a remarkable rebound in 1971. At the winter meetings on December 2, 1970, Gagliano was sold to the Red Sox for cash. Some later sources suggested that it was actually a trade for Carmen Fanzone, and that it didn't occur until the day after it was first reported among the transactions of the day. It was kind of a mystery, as the Chicago Tribune mused on September 10, 1971. Fanzone himself told the press that he'd been sent to the Cubs as part of the deal. Regardless of what and wherefore, Phil Gagliano became a member of the Boston Red Sox. Manager Eddie Kasko was looking to strengthen the Boston bench at the middle infield positions. The Red Sox didn't seem to have the strongest bench going into the season, but Phil had a terrific start, hitting well over .500 through June and only dipping to .500 on July 5.
By the time he got to Boston, Phil said, he had reconciled himself to being known as a bench player, a utility player. And resigning himself to that made him better at it. Both Phil and "Super Sub" John Kennedy did excellent work for the Red Sox in 1971. Kennedy was acquired first, but as Phil said, "I never knew of a club that went with only one spare infielder." Complimented Carl Yastrzemski soon after the All-Star break: "He gets a good piece of the ball every time he goes up there."13 Gagliano's average by the end of the year was .324 and he had played four defensive positions without making an error: left field, right field, second base, and third base. Primarily, though, he pinch-hit. Taking 11 bases on balls helped pump his on-base percentage up to .413.
All manager Eddie Kasko looked forward to for 1972 was more of the same, from both Kennedy and Gagliano. Kasko said, "The secret to the success of a utilityman is realizing the importance of being a utilityman. These players have the proper attitude and realize a major part of their job is to be ready at all times."14 There was some talk of Gagliano trying out for the first-base job. He said he had enjoyed it briefly with the Cardinals and admitted once more that he'd like to play more regularly: "I'm not complaining, mind you, but I'd like to play regularly over a long stretch to see how well I could do."15 He played only two innings at first base, yet when Yaz went down with torn knee ligaments Gagliano filled in for 12 games in left field. His stats dipped in 1972, but he still managed a.333 on-base percentage. Along with everyone else on the 1972 Red Sox, Phil wished he could have helped win just one more game. This was the strike-shortened season when the Red Sox missed out on a playoff berth by half a game to the Detroit Tigers.
Phil had been active in the labor talks. He had taken over from Gary Peters as the main contact between the Red Sox players and the union. "I was the player rep during those negotiations. After those negotiations were firmed up and we got back to playing ball, I nominated Carlton Fisk for the job. That wasn't too secure a job for a guy like me." Had his work as player rep led to him being traded away by Boston? "I don't know. I don't think so. Who knows? It was something else, really. What Marvin Miller did for us is what these guys are reaping today."
At the time Gagliano had been working as an offseason printing salesman in the St. Louis area (he'd earlier worked doing public relations work for a packing company in Memphis), and had just opened a sporting-goods store in partnership with three others.
Near the end of spring training, at the end of March 1973, the Red Sox decided that Mario Guerrero gave them more upside in the infield and traded both Gagliano and Andy Kosco to the Cincinnati Reds for pitcher Mel Behney. The Sox got very little out of the deal; Behney pitched that year at Pawtucket but never made it back to the big leagues.
"I figure Gag is really going to help us," said Cincinnati manager Sparky Anderson.16 That he did. Gagliano had another very good year, hitting .290 (with 15 walks taking his OBP to .402) and went to his third postseason. "The job the bench has done had been remarkable," said Sparky on the eve of the first round of playoffs. "This year's bench is the best I've seen the Reds have since that 1956 club. … There's a terrific amount of pride among those fellows who don't play regularly. There're all eager to make a contribution toward the success of the club." Gagliano had 14 hits in 41 pinch-hitting at-bats during the season.17
The Reds fell to the New York Mets in the National League Championship Series. Phil was 0-for-3 at the plate. The Mets won the pennant but the Shea Stadium crowd became a little unruly and at least one Cincinnati official's wife was knocked to the ground, while another had her hair pulled. Phil punched the guy who pulled her hair.18
Gagliano's last year in baseball was 1974, and he approached setting a major-league record when he walked 15 times as a pinch-hitter. The National League record was 11, but the major-league mark was 18, set by Elmer Valo of the 1960 Senators. Phil had only two base hits in 46 plate appearances – but because of the walks he had an on-base percentage of .370 to go with his .065 batting average. Near the end of October the Reds released Phil. He had booked 12 seasons as a major-league utility player, hitting .238 overall, scoring 150 runs and driving in 159. It had been a good, long career and now it was time to do something else. He and Mary had bought a house in St. Louis in 1969.
"I was 32 years old with four kids, and I had to get a job. I had to make the adjustment, like everybody. The biggest adjustment was financial. I went from making $40,000 to $16,000 a year. I was starting all over again, and I was 10 years behind. … It took me a good five years of adjustment to get baseball out of my blood." For two years, he worked as a salesman for Paramount Liquors and then went to work for Durbin Durco, Inc., an industrial hardware manufacturer. He started out as a salesman, then moved into operations and finished his 17 years with the company as its operations manager.19
After leaving Durbin Durco Phil worked a number of odds and ends of jobs until his children all completed their school, and then he fully retired in 2002. He and Mary moved to the small southwestern Missouri town of Hollister, not far from Branson, after living in St. Louis since 1969. "It's really country living," he told Rob Rains. "In the summer I play a lot of golf and the kids all come and visit. I don't do much of anything in the winter."
Looking back on his career, Gagliano agreed that perhaps his versatility might have hurt him a bit. "I played six positions. When I was younger, I was kind of, I guess, disappointed that I never got an opportunity [to play regularly]. I think I got myself labeled as a guy that could come off the bench and play. Not everybody can do that. By me playing so many different positions, they could carry another pitcher. That was another advantage of keeping me on the bench.
"I was fortunate because I played on winning ballclubs. I didn't play on too many losing ballclubs. In my early days with the Cardinals, yeah, but after that I was always on a contender. I have no regrets. It was a great life. The only thing you do regret is that you become friends with a lot of guys and then everybody goes their own ways and you never see them again. That's pretty disappointing, but that's the way it is."
There is already some more baseball in the family. Phil and Mary have 10 grandchildren, and Phil has his baseball eyes on a couple of them. Grandson Kyle Mach signed out of the University of Missouri with the San Francisco Giants, a third baseman who was a 27th round pick in the 2009 June draft. He played in the Arizona Rookie League and hit .216 in 97 at-bats, and by 2010 had progressed to Class A. "And I have another grandson, Conner Mach, at Missouri University that's going to be a dandy."
Phil Gagliano died a week shy of his 75th birthday, on December 19, 2016, in Hollister, Missouri.
Sources
Interview with Phil Gagliano on December 4, 2009.
In addition to the sources cited in this biography, the author consulted the Phil Gagliano player file at the National Baseball Hall of Fame, the online SABR Encyclopedia, retrosheet.org, and Baseball-Reference.com.
Notes
Born
December 27, 1941 at Memphis, TN (USA)
Died
December 20, 2016 at Hollister, MO (USA)
If you can help us improve this player's biography, contact us.
http://sabr.org/sites/default/files/GaglianoPhil.jpg
600
800
admin
/wp-content/uploads/2020/02/sabr_logo.png
admin
2012-01-04 20:34:54
2012-01-04 20:34:54
Phil Gagliano