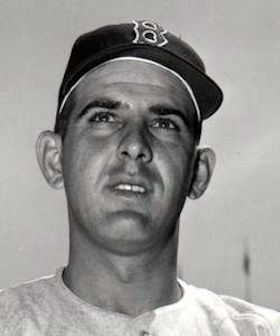 ---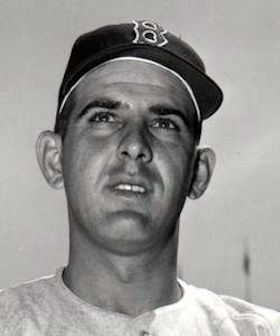 Tall right-handed pitcher Ralph Brickner had an enviable first year in major-league baseball, with a .750 winning percentage and a career 2.18 earned run average. Unfortunately, his time in the minor leagues was not as productive and his career was a relatively short one.
A Cincinnatian – born, raised, and buried there, Ralph Harold Brickner was born on May 2, 1925, to Arthur and Carolyn "Carrie" (Hoffman) Brickner. Arthur Brickner was a cutter in the clothing trade, working at the time of the 1930 census as a cutter of overalls and in 1940 as a cutter in wholesale clothing. Arthur Jr. was the first-born in the family, followed by Ralph, Joseph, and Ronald.
Ralph attended St. Catherine's School for the first eight years of his education, and then graduated from Elder High School. Pitching for Elder High, he threw a one-hitter in May 1943 to win the Class-A state high school tournament. He also played two years of American Legion baseball for Bentley Post No. 20 in Cincinnati, striking out 10 in a win over a Detroit Legion team in the regional finals in August 1942. (He no doubt took some pride in seeing the Bentley Post become national Legion champions in August 1947 at Los Angeles. Among the players on that winning team were Don Zimmer and Jim Frey. None other than Babe Ruth was present for the final, deciding game and "Ruth presented the tournament trophy and gave each player a Spalding baseball with his autograph on it."1)
With World War II in progress, he enlisted in the United States Army at age 18, on October 23, 1943, in Cincinnati and was mustered out in 1946. Despite having a Catholic primary education, and ultimately having a Christian burial ceremony after his death, PFC Brickner is noted as having registered in 1946 with the National Jewish Welfare Board, an organization which had been formed during World War I to support Jewish soldiers in the military. Though he described himself as of German ancestry on his player questionnaire for the National Baseball Hall of Fame, perhaps he was indeed of mixed background.
On September 19, 1946, he married Heloise Janet Fagedes.
After leaving military service, "Brick" enrolled at Indiana University in time to pitch as a freshman in the spring of 1946. He had grown to 6-foot-3, with perhaps another half-inch, with a listed weight of 205-215 pounds.
He played baseball two years at I.U. while pursuing studies in physical education, planning to become a coach, then signed with the Phillies. He was given a significant bonus and never finished at I.U., putting in 3 ½ years, but not completing his degree.2 In his Hall of Fame player questionnaire, Brickner wrote, "Philadelphia Phillies signed me in the summer of 1947 but never reported until the following spring because it was too late in the summer. The Phillies scout who signed me was Heinie Groh. The Red Sox organization drafted me in 1950."
In the spring of 1948, he was assigned to the Class-B Terre Haute Phillies in the Three-I League. He worked in 28 games and compiled a record of 8-9 with an earned run average of 3.62. His best game was a 15-strikeout game against Evansville.
In 1949 he moved up to Class A, pitching for the Utica Blue Sox in the Eastern League. His record shows he struggled (an ERA of 5.79 and a record of 6-12 in 20 starts), but he showed flashes of brilliance, including back-to-back shutouts at one point.
Ralph's older brother, Arthur, who had been Ralph's batterymate in the spring of 1946 at Indiana, played professional baseball for two seasons. In 1948 with the Marion (North Carolina) Marauders in the Class-D Western Carolina League, managed by 40-year-old player/manager Wes Ferrell, Arthur appeared in 60 games and hit for a .261 batting average with two home runs. In 1949 he played for the Wilmington Pirates in the Tobacco State League, another Class-D circuit. He appeared in 62 games and batted .236, and then left the game.
In 1950, Ralph Brickner had one more season with the Phillies, working for three teams. He pitched in 18 games for the Portsmouth (Virginia) Cubs in the Piedmont League. He was 10-3 with a 2.50 ERA. He worked in 10 games for Utica and was 2-0, despite a 7.50 ERA. And he threw a total of two innings in Triple A for the International League's Toronto Maple Leafs and was 0-1. Portsmouth won the Piedmont League pennant. The Boston Red Sox took note and on December 4, 1950, Ralph was selected by their Scranton affiliate in the minor-league draft.
The Red Sox placed him with the Double-A Southern Association's Birmingham Barons. Brickner pitched in 32 games (28 starts) and worked to a record of 15-9 (3.91). He made the league All-Star team. Brickner lost five days in August when he suffered second-degree burns on his left hand by trying to re-fill a lighter while smoking.
Birmingham squared off against the Houston Buffs in the 1951 Dixie Series and prevailed in six games. Brickner lost Game Two by a 1-0 margin, but won Game Five, 4-3. He drove in two of the team's four runs. Not a bad hitter, he compiled a career .238 batting average in minor-league play. Right after the Series, his contract was purchased from Birmingham by the Boston team (along with Hershell Freeman and Milt Bolling).
He impressed manager Lou Boudreau in spring training but came up with a sore arm during the final week or so of the exhibition season. He stayed back in Boston and did not travel with the team on their first road trip. His major-league debut came on May 4 in Boston, pitching an inning and two-thirds against the visiting Cleveland Indians, allowing one run in a game Boston lost, 9-6. Immediately after the game, Boudreau said, "He had good stuff in the bull pen, and the kid has a lot of courage."3 Five days later, Brickner threw two innings in Yankee Stadium, giving up two runs.
With an ERA of 7.36, he was sent back to Boston for treatment. Boudreau said, "I was sorry to have to send [him] home for treatment of the bursitis in his right shoulder. I think he has the chance to become a major league pitcher. He was suffering so much pain, however, that I felt we should send him back to Boston for treatment."4 He was given permission to see a doctor in Cincinnati instead.
Optioned to Louisville, he recovered sufficiently to throw a two-hitter against Columbus on June 23. In six games, he was 2-2 (2.37) and was called back up to Boston as Ellis Kinder faced a possible back operation. Brick's next game in the big leagues saw him work five innings of relief on July 3 in Philadelphia, giving up one run to the Athletics, but that one run gave him a loss in a 4-3 ballgame. He'd left the tied game in the bottom of the ninth with runners on first and second and one out. Reliever Al Benton got one out but couldn't get the third. It was the only loss of Brickner's big-league career.
On July 13 the shoe was on the other foot in the first game of the day's doubleheader against the St. Louis Browns. He pitched the last three innings of the game, a 5-5 tie snapped in the bottom of the 10th by Sammy White's three-run homer. Now he had his first big-league win. Five days later he won another, with 4 2/3 innings of relief (facing one batter over the minimum), helping the Sox hold on to second place. And five days after that, he won his third, again in long relief – 3 2/3 hitless innings in Chicago. That win earned him a subhead in the next day's Boston Globe: "Brickner Winner in Great Relief Job." He was dubbed "the rugged right hander who is rapidly becoming an expert fireman."5
Brickner appeared in two more games in July, four in August (he was optioned to Louisville in late August but recalled just two days later), and two in September, for a total of 14 appearances (one start) and 33 innings. The quick recall was part of a somewhat amusing story; the Red Sox said it was an "office error" that cost them pitcher Ray Scarborough. They had optioned Ralph Brickner to Louisville, but the Commissioner's office said that was illegal because there were fewer than 20 games left on Louisville's schedule. Forced to take Brickner back, they had to dispense with someone else, so they put Scarborough on waivers.6
He had no more decisions, and finished the season 3-1 with a 2.18 ERA. He struck out nine and walked 11, yielding one home run (to Mickey Mantle), and posted a 1.303 WHIP (walks and hits per inning pitched.)
He went to spring training again with the Red Sox in 1953, but the bursitis continued to be a real problem. It hurt so badly he "felt, on more than one occasion, like quitting baseball altogether."7 During the 1952 season, at the suggestion of roomie Sid Hudson, he began to work on a sidearm delivery. "I just couldn't get my arm over my shoulder,' he said, the pain being too great.8
Near the end of March, although he'd pitched seven innings without giving up a run, he was optioned to Louisville.9 Ed Rumill of the Monitor anticipated he might not be able to come back. "Releasing big Ralph Brickner to the Louisville Colonels was not easy for Manager Lou Boudreau," he wrote. "Lou liked Big Ralph. Not just as any manager likes any pitcher who has shown some ability…as an athlete who was a credit to a big league ball club…A year ago big Ralph was one of the most effective pitchers in baseball…tops among American League hurlers not in enough games to rate as regulars. On the records, Brickner figured to be a key man in Boudreau's 1953 mound plans, with that department's strength and depth a large question mark. But what most of the crowd hasn't known is that Ralph has been working under handicap. Even last season, while he was looking so good in spots, Boudreau could never be sure whether he would be available or not. This spring in Sarasota Brickner was more uncertain than ever. Consequently, the ticket to Louisville."10
He had something of a mediocre year, 4-4 (4.74) in 21 games (eight of them starts). At one point, he was sidelined for six weeks because of a bruised leg, missing much of June and most of July. By late August, he was again reporting an ailing arm.
Brickner was recalled to Boston (on paper) in September and expected to report to Sarasota for spring training in the spring of 1954.
He was never able to conquer the bursitis, however, and in February he asked to be placed on the voluntarily retired list.11 The year 1953 stood as his last year in professional baseball.
Brickner became credit manager for the Rauh Shirt Co. and office manager for the Mack Shirt Company before spending 25 years in the Hamilton County, Ohio, clerk of courts office, retiring in January 1994 after 15 years as the head cashier. He died of heart failure in his home at Bridgetown, Ohio, on May 9, 1994. Brickner left his wife, Heloise, and their two daughters. He is buried at St. Aloysius Cemetery in Cincinnati.
Sources
In addition to the sources noted in this biography, the author also accessed Brickner's player file and player questionnaire from the National Baseball Hall of Fame, the Encyclopedia of Minor League Baseball, Retrosheet.org, Baseball-Reference.com, Rod Nelson of SABR's Scouts Committee, Bill Lee's Baseball Necrology website, and the SABR Minor Leagues Database, accessed online at Baseball-Reference.com.
Notes
Born
May 2, 1925 at Cincinnati, OH (USA)
Died
May 9, 1994 at Bridgetown, OH (USA)
If you can help us improve this player's biography, contact us.
http://sabr.org/sites/default/files/BricknerRalph.jpg
600
800
admin
/wp-content/uploads/2020/02/sabr_logo.png
admin
2016-09-22 11:35:16
2016-09-22 11:35:16
Ralph Brickner