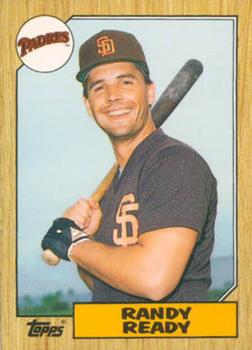 ---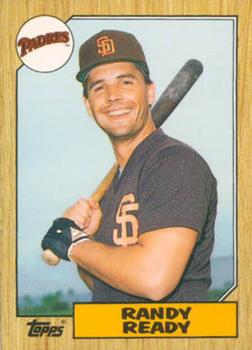 Randy Ready played 13 major-league seasons, 1983 to 1995. He won a 1980 college batting title, 1980 and 1982 minor-league hitting titles, plus a 1986 Caribbean Series MVP and batting crown. And he overcame challenges. Tony La Russa, his 1992 Oakland manager, called Ready the "quintessential professional."1 Tony Gwynn, a San Diego teammate (1986-1989), stated: "I don't know what's going on in that little man's head, but something is definitely clicking that keeps [Ready] going. … That man is tough."2 (Ready played at 5-feet-11, 180 pounds.)
As of 2017 Ready has managed 11 minor-league seasons and served as San Diego Padres hitting coach for two years, two months. His 14 hits in the 1986 Caribbean Series are the most by an American player in the history of this regional tournament.3 Ready holds Colorado Mesa University's (then Mesa College) single-season records with a .522 batting average, .626 on-base percentage (OBP), and 1.476 on-base plus slugging percentage (OPS).4
Randy Max Ready was born in San Mateo, California, on January 8, 1960. He was the third child of Max and Jeanne Ready, after Dani, his oldest brother, and Cindy. Greg was the baby. Max Ready, an Oklahoma native, was a carpenter. He moved to California and later worked in the Alaska oil fields. Jeanne Ready (née Richardson) kept the family together in Fremont, 40 miles south of San Francisco and 27 miles south of Oakland.
Ready's favorite major-league teams were the Oakland A's and San Francisco Giants. "Mom loved Willie Mays," he recalled. "She ran into him at the airport and got to meet him and talk to him." 5 Ready, who witnessed this, loved the 1970 to 1975 Oakland A's with Reggie Jackson, Gene Tenace (a future neighbor of Ready's), Joe Rudi, Sal Bando, Rollie Fingers …
Raymond H. "Hoss" McKinney, Fremont National Youth Baseball co-founder, was Ready's Little League coach. Ready spent 1973 to 1975 summers as a general laborer on the Alaska pipeline, due to his dad's work there. He laid concrete (1973); was on an above-the-ground-insulation crew (1974), and 1975 Tape Gang — putting tape around the pipe before setting it into the ground. Back in Fremont, Ready worked the midnight-to-6 a.m. shift making doughnuts at Winchells before heading to high school. Max Ready died in 1976. This void motivated Randy to continue contributing to household income and covering his expenses.
Ralph O. Holding Sr., Ready's Kennedy High School baseball coach, knew the game well, per Ready: "I was fortunate to have him." Holding, an All-America catcher at Stanford, coached two high-school players at Kennedy from 1966 to 2001 who made it to the majors: pitcher Dennis DeBarr (Class of 1971) and Ready (Class of 1978). Dennis Eckersley was one of Fremont's best athletes, but "Eck went to Washington High School," Ready said. Randy played three summers of Babe Ruth baseball with the Centerville Lions, age 16 to 18, equivalent to a summer select team today. This prepared Ready for an outstanding collegiate career starting at Cal State, Hayward.
The 1978 and 1979 Cal State Hayward Pioneers (now California-East Bay) played in the Far Western Conference. Ready earned First Team All-Conference honors at third base as a 1979 sophomore for the 23-26 Pioneers, with a batting line of .308-2-23 and a .376 OBP.6 One highlight was Joe Morgan (ex-Pioneer infielder) speaking to the 1979 team while the Cincinnati Reds were in town to play San Francisco.7 Doug Weiss, Ready's Cal State coach, was "even keel, consistent — told us to practice with purpose to play the game," Ready said. "Weiss was planning on playing me in center field as a junior (but) a New York Yankee scout in Colorado mentioned a small NAIA school (Mesa) in Grand Junction, Colorado, that needed a shortstop and it might be beneficial for me to play the infield. … Everything fell into place."
Mesa College played in the Rocky Mountain Athletic Conference under coach Byron Wiehe. After Ready's offensive explosion in 1980, he was drafted by the Milwaukee Brewers in the sixth round of the amateur draft (155th overall), and was signed by Sam Suplizio, a Brewers scout for $11,000.8 Ready mentioned that scout Ray Poitevint helped finalize the signing.
Ready joined the 1980 Butte Copper Kings of the Pioneer League, managed by Ken Richardson. Ready's 65 runs and .376 batting average led the Rookie League. He played 21 games at second base (where he made the All-Star team), 20 at third, and 32 at short. His .497 OBP and .619 slugging resulted in a 1.116 OPS.
The 1981 Burlington Bees in the Class A Midwest League had manager Terry Bevington, "who had just left his playing days to manage the Bees," recalled Ready. "I had enough bat to play third; Sal Bando and Don Money were getting up there in age. … Paul Molitor was playing in the middle." Ready hit with power at .308-17-56 in 105 games at third base, where he earned all-star honors. Ready supplemented his income during the 1980 and 1981 offseasons in Grand Junction washing 18-wheeler rigs, stacking groceries, and loading pallets onto big trucks.
Ready's .375-20-99 campaign with the Double-A El Paso Diablos in 1982 earned him all-star plaudits at third base, a batting crown, and a league-best 122 runs and 178 hits, but Darryl Strawberry of the Jackson Mets was named MVP. Ready: "Jackson had the million-dollar outfield: Strawberry, Terry Blocker, and Billy Beane. We beat Midland in the playoffs, but lost in the finals to the Tulsa Drillers." Ready married Dorene A. Crowe in El Paso on July 19, 1982.
The Triple-A Vancouver Canadians came next. Ready was an all-star third baseman at .329-13-59 in 1983 under Tony Muser and Dick Phillips. A special moment was the birth of son Andrew on July 29. Ready's call-up to the Milwaukee Brewers was also special. "Harry Dalton (the GM) called me into the office and told me: You're coming to the major leagues," said Ready. "Manager Harvey Kuenn called me 'Mighty Mite' and gave me an opportunity to play." Ready told the author he was shaking in his first major-league at-bat versus Tommy John of the California Angels, when he hit a solid drive, caught by right fielder Ellis Valentine. Kuenn told Ready: "Kid, we play defense here." Ready's first start came against Detroit on September 11. His first hit came the next day at Yankee Stadium, off Ray Fontenot. Ready, the DH, hit a hopper down the third-base line. "Graig Nettles threw it to Ken Griffey Sr. — ball went into the Yankee dugout," chuckled Ready. "(Yankees manager) Billy Martin threw it to Kuenn, who had the wooden leg, up on the dugout steps, who threw it back to Martin, yelling, "You SOB …" His first big-league home run came off Cleveland's Lary Sorensen. "It was a 2-and-1 slider hit to dead center field in the old Cleveland ballpark," Ready said, and "landed on top of the batting turtle they use to store it there for the games!!!" His season ended with a flourish at Detroit: 2-for-2 with a walk off Jack Morris on October 1; a 3-for-5 day on October 2, to finish .405 in 37 at-bats. "I hit Morris and [Dan] Petry hard," summarized Ready.
Ready received his first opportunity to play in Puerto Rico. "Harry Dalton made arrangements to send me to Mayagüez," said Ready. "Frank Verdi was my [1983-84] manager." The hitting momentum continued in winter ball in a batting-title chase with Don Mattingly of Caguas. "In fact, we were playing each other on the last day," recalled Ready. "I said to him: I'm going to catch you, but Mattingly got a hit his first at-bat and then two more." Mattingly (.368) stayed ahead of Ready's .361.9 Ready, second in the league with 22 doubles, had 43 walks versus 19 strikeouts.10 Mayagüez (38-22) won the regular-season and postseason title. Ready did not participate in the 1984 Caribbean Series hosted by Puerto Rico.
Ready's 1984 big-league figures were .187, 3-13 for Rene Lachemann's Brewers; 1985 showed improvement to .265-1-21, under George Bamberger. Ready hit .325, 3-18 with the 1984 Vancouver Canadians, followed by .326, 4-29, in 52 games for the 1985 Canadians, with 32 of them in the outfield. Dorene Ready gave birth to twins Collin and Jarrod on August 21, 1985. Ready, Milwaukee's starting left fielder part of September 1985, had a 5-for-5 game versus the Yankees on September 10 to reach .308, but fell to .265 by season's end.
A second winter in Puerto Rico (1985-86) featured a league title for 31-22 Mayagüez, but subpar stats for Ready: .207, 2-11. "Puerto Rico was one of the top (winter) places in the 1980s; very competitive," said Ready. "Winter ball was so much fun — the crowds, a learning experience; prepared me for the next season." Ready added: "we (Mayagüez) had a good team, a good group of guys with José Guzmán, Willie Lozado, Paul O'Neill, Bobby Bonilla, Harold Reynolds, Wally Joyner, Juan Agosto. …" Manager Nick Leyva led Mayagüez to round-robin and final-series wins, and to Maracaibo, Venezuela, for the 1986 Caribbean Series, in which Ready batted .467 and was the Series MVP.
After a slow start with Milwaukee, Ready (23 games, .190, 1-4) was traded to San Diego for a player to be named later on June 12, 1986. Jack McKeon, San Diego's director of baseball operations, said: "Randy's a good right-handed hitter off the bench or he can play several positions." After one game with the Padres, Ready found out Dorene had collapsed at their Tucson home from a heart attack, leading to a long-term vegetative state. Ready told the author: "When I got traded from Milwaukee to San Diego, (John Kruk) got optioned out. I went on the disabled list shortly after the trade. … When I went on the DL, Kruk went up [to San Diego]." Ready somehow found the energy to play in 10 games with the 1986 Las Vegas Stars.
Ready's best big-league season came in 1987: 124 games, .309-12-54. His .423 OBP, .520 SLG and .943 OPS were career bests at the major-league level. Ready applauded skipper Larry Bowa's competitive nature, affirming, "Bowa could not comprehend losing" in San Diego's 65-97 season. Ready was the Padres' third leading hitter behind Gwynn (.370) and Kruk (.313). But his 425 plate appearances precluded him from being ranked in the National League batting race.
Larry Bowa, fired after 46 games in 1988, was replaced by McKeon. Ready hit .266-7-39 in 114 games, with 39 walks and 38 strikeouts. He impressed Bowa and 11,891 fans at Jack Murphy Stadium on April 24 when the Padres beat the Houston Astros, 4-0, behind the pitching of Andy Hawkins and "another diving catch by that new second baseman named Roberto Alomar," wrote Bill Plaschke of the Los Angeles Times. "But they won on fortitude, in the person of Ready and his fourth-inning, self-made run that broke a scoreless tie and eventually the Astros' will."11 Ready led off with a double. One out later, Benito Santiago hit another shot to left. Sandy Alomar Sr., the third-base coach, waved Ready home. Ready slid in safe around the tag of Alan Ashby. Houston manager Hal Lanier: "I don't know how somebody can go from second to home on a ball hit that hard. … [T]hat play really hurt." Ready, when asked about his speed, answered: "Average, make that aggressive average."12
Ready's character/attitude were noted in a Los Angeles Times October 1, 1988, letter to the editor by M.L. Elder of Oceanside, California: "The article about Randy Ready of the Padres in The Times (Sept. 25) compelled me to write to you concerning what I know about this fine young man. My son, a quadriplegic because of a head injury, is a patient in the same facility as Randy's wife. Learning of this, Randy, even with all of his burdens, took the time to have a ball autographed by the Cincinnati Reds and presented it to my son. My son's smile lit up his whole face." Elder added, "I pray Dorene Ready will continue to improve and wish Randy great success in his baseball career."13
On June 2, 1989, Ready and John Kruk were traded to Philadelphia for Chris James. Ready said: "McKeon was looking for more power; Kruk was struggling; McKeon told us in his office in Cincinnati: you've been traded." Ready, .254-0-5, was expendable due to the acquisition of Luis Salazar. Ready's sense of humor flowed in a July 1, 1989, interchange at third base with Andy Van Slyke of the Pittsburgh Pirates. Van Slyke asked coach Gene Lamont why Phils reliever Greg Harris — who could throw with either hand — was wearing a special glove? Ready, overhearing this, said: "Because he's amphibious." Van Slyke followed up: "Does that mean he can throw underwater?"14 Ready hit .267-8-21 in 72 games with the 1989 Phils.
The 1990 Phillies finished 77-85, and Ready contributed .244-1-26 in 101 games. In early July he was driving his three sons (Andrew, Collin and Jarrod) to the Vet for the team's annual father-son game when car troubles came into play. Ready: "Radiator hose blew up on the Walt Whitman Bridge. … Philly police cruiser pushed us through. …" Frank Coppenbarger, the team's clubhouse and equipment manager, met Ready and his sons, and brought them to the field.15
Jim Fregosi replaced Nick Leyva two weeks into the 1991 Phillies season. Ready liked Fregosi, opining: "Jimmy Fregosi was a great guy — loved to hold court; stood out as a manager; a former great player and good communicator. … You saw the rise of the 1993 team. …" Ready batted 249, 1-20, in 76 games; 47 walks contributed to a .385 OBP. He nearly pulled off an unassisted triple play on April 28: "I had Bip Roberts on second and Tony Fernández on first," (versus San Diego), recalled Ready. "I was thinking about leading off in the home first; Tony Gwynn hit a shot; [I] caught it, so I stepped on second and threw it to first to get the third out. … Could have tagged Tony Fernández but threw it to Ricky Jordan."
Ready was granted free agency by the Phillies on October 28, 1991, and signed a one-year contract with Oakland on January 14, 1992. Sandy Alderson, Oakland's general manager, "was big on OBP and this was the last hurrah [for the 1988-1992 A's]," said Ready.16 Ready's 61 games: .200, 3-17, .329 OBP, 25 walks, 23 strikeouts. He recalled "Carney Lansford came back from a snowmobile injury; Eck had 51 saves, a real good pen. …" The A's went to the World Series, falling to the Toronto Blue Jays. Ready's big-league career highlight took place late in the 1992 season when A's manager Tony LaRussa called him "the quintessential professional." Ready's only at-bat (a strikeout) came as a pinch-hitter for Lance Blankenship in the ninth inning of Game Six at the Sky Dome, versus Tom Henke.
Ready was released by the A's on October 27, 1992. The Kansas City Royals signed him on March 2, 1993, during spring training, but released him during the first week of the season. He went home, then reported to Rochester after Baltimore signed him on May 7, 1993. Ready batted .289-9-46 in 84 games for Rochester, but Baltimore released him on August 9. "I had a 30-day Class AAA-out clause," Ready said. Montreal general manager Dan Duquette picked up his contract. Ready, in 40 games for Montreal, went .254, 1-10. Of Expos manager Felipe Alou, Ready said, "He could command attention — no nonsense. He commanded respect of the club. Everyone wanted to perform well for him. …"17
The first part of 1994 included 39 games for the Expos' Triple-A affiliate, the Ottawa Lynx, batting .205. Released by the Expos in June 1994, he joined the Phillies and hit .381, 1-3, in 17 games.
His second marriage,18 to Tracy L. Cenkovich in 1994, preceded Ready's last big-league season, when he was 4-for-29 in 23 games for the 1995 Phillies.19 He played his final big-league game on July 9, 1995, pinch-hitting for Paul Quantrill against the Cubs. "The Phils wanted me to go to Triple A," said Ready. "I went home to Grand Junction, Colorado."
Ready had a brief Japanese League stint with the 1996 Chiba Lotte Marines: 30 games, .200, 1-11. "I left Japan," recalled Ready. "The (San Diego) Padres were in the hunt; went to Las Vegas to: 1) help them win the pennant and 2) help San Diego win the NL West." Ready's .324, 3-11,.443 OBP for Las Vegas, in 35 games, was impressive, but he did not get called up. "I hurt my leg with Las Vegas, and after discussions with (San Diego manager) Bruce Bochy and (coach) Tim Flannery and higher-ups, did not get a call-up." Max Ready, Randy and Tracy's first son, was born in 1996. Tracy gave birth to their second son, Nic, on February 13, 1997. The 1997 Lake Elsinore Storm (California League) were the last professional team Ready played with: He was 4-for-22 in seven games.20 "I got hurt in the Freeway Series.21 … I had a conversation with Billy Bavasi [the Angels general manager], and told him he planned to retire as a player. Bavasi had planned to return Ready to the minors. "[This] made the decision easier for him."
From 1997 to 2002, Ready stayed home in Poway, California, raising a family that grew to six boys (three from each marriage), after Mark Ready's birth in 1999. The older sons played travel ball. Ready was contacted by the Detroit Tigers organization in 2002 to manage rookie ball. He called it "a perfect set-up; come to spring training, manage the Oneonta Tigers in the New York-Penn League with Bill Monbouquette as pitching coach. What a great opportunity! OK, I'll try it." Ready's 2002 team went 47-27 followed by a 45-30 mark in 2003. Both teams fell short in the postseason.
From 2004 to 2006 Ready managed the Fort Wayne Wizards in the Class A Midwest League, a Padres farm team. The 2004 and 2006 clubs had winning records (72-68 and 71-66), but fell in the first round of the playoffs. In 2005, a 65-75 team qualified for the playoffs, losing in the first round.
The 2007 San Antonio Missions (73-66) managed by Ready were Texas League champions and were named the minor league Team of the Year by Baseball America. "I tell players, it's not how you start, but how you finish," claimed Ready. The 2007 Missions did not have a proven cleanup hitter, a leadoff guy or closer. They clinched a playoff berth during the final homestand; swept Frisco in the Division Series; beat Springfield, three games to one, for their 11th overall pennant. Ready: "We had guys who did their jobs and got things done."
Ready spent 2007 and 2008 offseasons working on hitting strategies with neighbor Gene Tenace in Poway. He helped rescue a lost golden retriever (Teddy) after October 2007 fires that swept through California, before managing Triple-A Portland in 2008. Despite a 70-74 record, he was named the Pacific Coast League's Best Manager Prospect in Baseball America's annual "Best Tools" survey. The 2009 Portland Beavers were 46-60 when Ready got another promotion, this time as San Diego's hitting coach.
Dave Magadan, Merv Rettenmund, and Wally Joyner were San Diego hitting coaches prior to Lefebvre. Ready opined that his two years (2010 and 2011) and two months of 2009 as Padres hitting coach were a "long time." He enjoyed working with Adrian González before San Diego traded González, and felt Anthony Rizzo was not ready for the majors, before Rizzo's trade to the Cubs. Ready, a finalist for 2009 Houston and Seattle managing jobs, was one of seven candidates interviewed by the Mariners. Brad Mills, Boston's bench coach sponsored by Terry Francona, became the Astros manager. Ready told the author: "It is important to have a sponsor and someone who believes in your style."
The Texas Rangers hired Ready as their 2012 minor-league hitting coordinator. Ready worked with Scott Coolbaugh, Texas hitting coach, and six minor-league hitting coaches. On January 16, 2013, Ready was the guest speaker at the Ernie Banks–Bobby Bragan Dallas-Fort Worth SABR Chapter meeting, held at the Ballpark in Arlington, now Globe Life Park in Arlington. C. Paul Rogers III, chapter president, noted that Ready spoke "mostly about his 13-year big league career and minor league managerial career … very friendly, forthcoming guest and well received by our chapter."22
Ready then managed the 2013 Gwinnett Braves of the International League, a 60-84 club. "I really enjoyed that more than [being a] hitting coach." He transitioned to home life in Dallas for 2014 and 2015, after Brian Snitker became Gwinnett's skipper in 2014. Nic Ready, Randy's fifth son, had two outstanding baseball seasons for Jesuit Prep in Dallas. Ready returned to pro baseball as manager of the 2016 Jupiter Hammerheads (68-69) in the Florida State League, a Miami Marlins affiliate. Ready told the author: "Scouting and player development are a perfect blend" and it is key to blend "analytics with day-to-day performance," adding, "You have to factor in human nature — player's wife has a baby that is sick. …"
The Jacksonville Jumbo Shrimp in the Southern League hired Ready as their 2017 manager. Marc DelPiano, the Marlins' vice president of player development, said Ready "brings attention to detail in everything he does." Ready's 34 years in professional baseball are capsulized in his desire, determination, and love of the game. He uses ACE — Attitude, Concentration and Effort –in motivating his players, adding: "We have to prepare them to be the best. I take a little of all managers I played under. … (I) love to compete and get information to handle 25 different personalities in the clubhouse and get them rowing in the same direction."23
Ready said he enjoyed managing and helping develop minor leaguers. He said he hoped to manage in the majors one day. His greatest thrill in baseball is Tony LaRussa's 1992 compliment on him being a quintessential pro. Ready's proudest accomplishment: His children "have strong relationships with each other and remain on a solid life path." As of 2017 Andrew was a physician; Jarrod passed the bar exam in California; Collin, the musician, ran a recording studio in San Diego; Max was a senior finance major at Rockhurst University, Kansas City, Missouri; Nic was a student-athlete at the Air Force Academy, going into his junior baseball season; and Mark, the youngest son, was a freshman at Santa Clara University. Baseball fans, players, coaches and managers should appreciate Ready's work ethic, attention to detail, and positive human qualities.
Last revised: October 19, 2017
Acknowledgments
Grateful acknowledgment to Randy Ready for memories via interviews in person at Veterans Stadium, Philadelphia, September 16, 1991, and Trustmark Park, Pearl, Mississippi, July 29, 2017; and email, July 31, 2017. Thanks to Miranda Black, director of tickets and communications, Mississippi Braves, and Roger Hoover, broadcaster, Jacksonville Jumbo Shrimp, who facilitated the 2017 in-person interview.
Len Levin's editing was invaluable. Jorge Colón Delgado furnished Randy Ready's Puerto Rico regular-season hitting record, and confirmed that his 14 hits in the 1986 Caribbean Series are a record. Stephen Connolly, director of athletic communications, California State University, East Bay, provided data from Ready's 1979 season. David Jahnke, assistant sports information director, Colorado Mesa University, shared data from Ready's 1980 season. Paul Rogers III, president, Banks-Bragan Dallas-Fort Worth SABR Chapter, provided insights on Ready's January 16, 2013, presentation at the SABR chapter's meeting at the Ballpark in Arlington.
This biography was fact-checked by Kevin Larkin.
Sources:
Internet resources
articles.latimes.com/1986-06-13/sports/sp-10918_1_randy-ready.
articles.latimes.com/1989-07-02/sports/sp-4835_1_phillie-reliever.
articles.latimes.com/1988-10-01/sports/sp-4165_1_head-injury-ready-son.
baseball-reference.com/bullpen/1986_Caribbean_Series.
baseball-reference.com/boxes/TOR/TOR199210140.shtml.
eastbaytimes.com/2008/04/03/cal-state-east-bay-to-honor-joe-morgan/.
legacy.com/obituaries/eastbaytimes/obituary.aspx?page=lifestory&pid=1926758.
milb.com/milb/news/randy-ready-to-help-a-neighbor/c-319207/t-185364810.
prbaseballleague.blogspot.com.
studeri.org/tag/Jacksonville-Jumbo-Shrimp.
thebaseballcube.com/players/profile.asp?P=randy-ready.
Books
Bjarkman, Peter C. Baseball With a Latin Beat (Jefferson, North Carolina: McFarland Publishers, 1994).
Johnson, Lloyd, and Miles Wolff (editors). Encyclopedia of Minor League Baseball (Durham, North Carolina: Baseball America, Third Edition, 2007).
Van Hyning, Thomas E. Puerto Rico's Winter League (Jefferson, North Carolina, McFarland Publishers, 1995).
Articles
Bowe, Jeff. "Manager Randy Ready," Jupiter Courier Newsweekly, April 21, 2016.
Friend, Tom. "Padres Send Pyznarski to Milwaukee to Complete Deal for Randy Ready," Los Angeles Times, October 30, 1986.
______. "Padres' Bowa Decides to Bench Slumping Garvey," Los Angeles Times, May 3, 1987.
Gramling, Chad. "Former Wizards Skipper, Randy Ready, Has a Shot at M's Gig," Baseball in Fort Wayne.com, November 10, 2008.
King, David. "2007 Team of the Year: San Antonio Missions," Baseball America, October 5, 2017.
Notes
Born
January 8, 1960 at San Mateo, CA (USA)
If you can help us improve this player's biography, contact us.
https://sabr.org/sites/default/files/ReadyRandy.jpg
600
800
admin
/wp-content/uploads/2020/02/sabr_logo.png
admin
2017-10-19 13:48:55
2020-04-09 14:40:30
Randy Ready