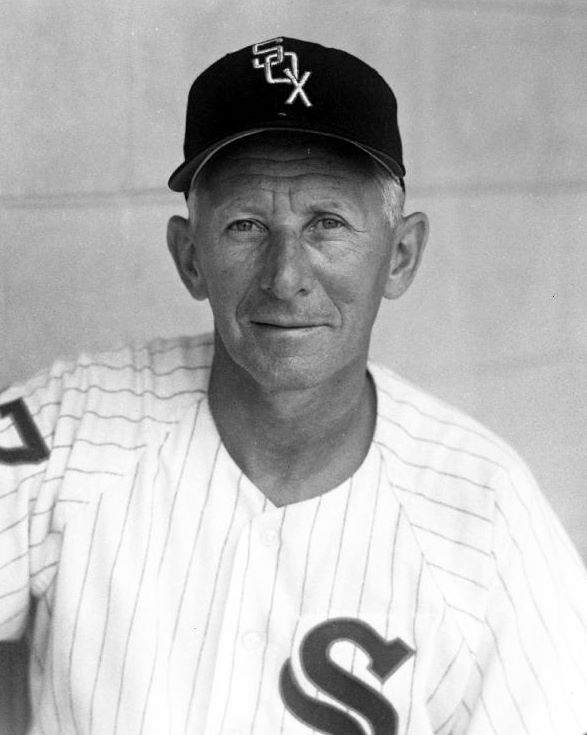 ---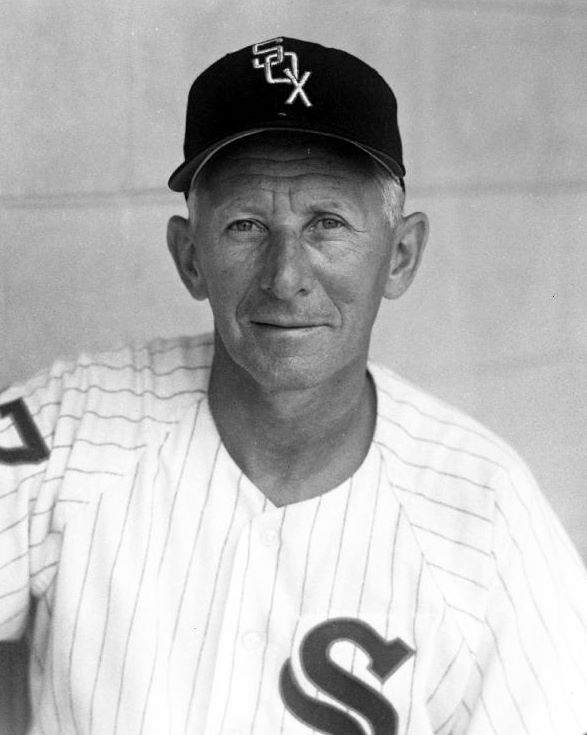 As pitching coach for the White Sox in the 1950s and '60s, Ray Berres was noted for two things: developing quality pitching staffs year after year, and not wanting to draw attention to himself. Quiet and unassuming, he once said, "I stayed away from writers. … I didn't care for publicity." But Ray Berres couldn't avoid the limelight completely, for one reason: his work – as one of the most successful pitching coaches of all time – was simply too good.
Raymond Frederick Berres was born in Kenosha, Wisconsin, on August 31, 1907. "I thought it was wonderful," Berres said about growing up in Kenosha. "The streets weren't paved and we could play ball in the streets morning, noon and night." Ray's father, a carpenter and repairman, had immigrated to the US from Germany and had no interest in baseball. He died when Ray was 14; his mother was not a baseball fan, either, but his two brothers and four sisters encouraged his baseball ambitions (Ray was the youngest of the seven children).
In his late teens, Berres caught for sandlot teams in the Kenosha area, traveling as far as Chicago on occasion to play ball. He caught the attention of former major-league pitcher Dick Crutcher, who was managing a semipro team for Nash Motors in Kenosha. With Crutcher's help, Berres was offered a professional contract with the Oklahoma City club of the Class A Western League. He went to spring training with Oklahoma City in 1929, but in his eagerness to show the team his throwing ability, he developed a sore arm. Rather than take a chance on waiting for the untried youngster's arm to heal, the club handed Berres his release at the train station just before departing for its opening game. "Here I was, suitcase in hand, proud as heck," Berres remembered years later. "I was really broken-hearted."
Lacking the money to return home after his abrupt release, Berres began hitchhiking back to Kenosha. When he reached Waterloo, Iowa, he remembered that an old teammate of his from Kenosha was trying out for the Waterloo Hawks of the Class D Mississippi Valley League. He found the hotel where his friend was staying, met the manager, and was given an opportunity to try out for the team. His arm was still sore at first, but the club showed patience with him and offered him a contract (ironically, to make room for Berres, the team released his friend). Berres rewarded the club's patience by hitting .300 in his debut season, but was limited to 64 games after spraining his ankle and hurting his knee sliding into second base. With the club threatening to release him, he returned to action with the ankle still in a cast, and came up with a sore arm again. But he soldiered on, grateful to have a job playing baseball. "I was making $75 a month," he recalled.
After that season Berres' contract was purchased by the Birmingham Barons of the Class A Southern Association for $7,500. "The Birmingham owner, Bill Curtis, kept calling me all winter about the ankle, telling me to do a lot of dancing to strengthen it," he recalled. The Barons were loaded with catchers in 1930, and sent Berres to Montgomery of the Class B Southeastern League for that season. He was recalled to Birmingham in 1931 and spent three seasons there under manager Clyde Milan. "He was like a godfather to me," Berres said of the former Washington Senators outfielder. "I asked him if he thought I would make it to the major leagues – I was a comparatively small man (5'9"). He said, 'Your enthusiasm and your work and your ability will get you there. You'll never be a good big-league hitter, but observant as you are and as cooperative as you are, you'll always have a job.'" However, injuries continued to hold Berres back; played in only 69 games in 1930 and 36 in 1931. "I suffered a lot of broken fingers," he recalled.
Berres was healthy and productive in 1932 and '33, hitting over .280 for Birmingham both years, and after the 1933 season, he was drafted by the Brooklyn Dodgers. He made his major-league debut for the Dodgers in 1934, playing for manager Casey Stengel, and got into 39 games, hitting .215 while backing up veteran catcher Al Lopez, who became his roommate and lifelong friend. However, Berres' arm began acting up again and he spent the 1935 season back in the minors with Sacramento of the Class AA Pacific Coast League. It proved to be a break for Berres. He developed a new way of throwing while in Sacramento that was less taxing on his arm. "The warm weather in Sacramento helped my arm also," he said.
In December 1935 the Dodgers traded Lopez to the Braves and brought Berres back to Brooklyn. Sharing the club's catching chores with Babe Phelps in 1936, he caught 105 games on a mostly veteran staff led by colorful right-hander Van Lingle Mungo. Phelps was by far the better hitter, but Berres' throwing ability and his knack for working with pitchers helped him get playing time. His knowledge of hitters' strengths and weaknesses was encyclopedic; even when he was in his late 80s, Berres could tell an interviewer what pitches were best to throw to Ernie Lombardi, Mel Ott, or the Waner brothers.
But while Berres was proving Clyde Milan correct when he told Ray that his knowledge and ability would get him to the majors, he was also living up to Milan's prediction that he'd never be a good major-league hitter. Berres batted .240 for the Dodgers in 1936, a good season with the stick by Ray's modest standards; however, Phelps, batted .367, and the next year Berres was back in the minors with Louisville of the Class AA American Association. "Burleigh Grimes (the Dodgers' new manager) had never seen me play," recalled Berres. "He had an outfielder in Louisville that he wanted, and Louisville needed a catcher." So a trade was worked out. "I was really despondent; I was going to quit," said Berres. "I thought my chances were going to run out." But Berres was told that other major-league teams were interested in him, so he reported to the Colonels.
The Pittsburgh Pirates brought Berres back to the majors late in the 1937 season, but a broken toe limited him to two major league games that year. He spent 1938 and '39 with the Bucs as a backup receiver. ("I was brought back primarily to catch the curveball pitchers, like Cy Blanton and Russ Bauers," said Ray). In June of 1940, he recalled, "We blew a game in the Polo Grounds, and (Pirates manager Frankie) Frisch was going from one locker to the other, giving everybody hell. When he came to me, he said, 'And you… get your ass up to Boston. I just dumped you.'" The Pirates traded him – for Al Lopez, of all people. (Pittsburgh also gave the cash-poor Braves $40,000.)
Reunited with his former Dodgers manager, Casey Stengel, in Boston, Berres earned playing time with his solid defensive work but continued to struggle mightily at bat – hitting .192 in 1940 and .201 in 1941. And according to Ray, he did not get along as well with Stengel as he had when the two had been together in Brooklyn. Despite that and despite his weak hitting, Berres got into 106 games in 1940 (85 of them after the trade to Boston) and a career-high 120 games in 1941. "My whole pride was in defense," Berres said about his playing career. "I think one year I picked more men off the bases than one (regular) catcher threw out stealing. Somebody said I was included in the top 10 defensive catchers in the history of baseball."
One of Berres' best memories of his years in Boston was his marriage to the former Irma Ludwig in July, 1940. "Our families had known each other for years," Ray said. The couple had a son, John, and remained together for 62 years, until Irma's death in 2003.
The Pirates sold Berres to the Giants before the 1942 season. According to Ray, Bill Terry, the Giants' general manager, had made the trade with the thought of sending Berres to New York's Jersey City farm team to work with the team's young pitchers, but Ray refused to go back to the minors. He did agree to spend spring training with Jersey City, then spent the 1942-45 wartime years with the Giants as a seldom-used backup catcher, getting a total of 107 at-bats in the four seasons. (Harry Danning, Gus Mancuso, and Ernie Lombardi were ahead of him on the depth chart. The Giants released Berres after the 1945 season, and he finished his major-league career with a lifetime average of .216 and only 78 RBIs and just three home runs in 561 games. (One of those home runs was inside-the-park.) He wasn't quite through playing. He spent the 1946 a player-manager for Richmond of the Piedmont League, but decided, "I hated managing." Though he never played professionally again, Ray Berres was far from through with baseball. The career that would win him lasting fame – as a pitching coach – was about to begin.
Ray began that second career in modest fashion as a bullpen coach (and possible emergency catcher, though he never got into a game) under Billy Southworth with the 1947 Boston Braves. Aware of Ray's ability to impart his knowledge to young pitchers, the Braves arranged for him to room with Warren Spahn, who was then in his second full major-league season. It was probably no coincidence that Spahn improved from eight wins in 1946 to 21 wins in 1947, with a league-leading 2.33 ERA.
In 1948, the Braves sent Berres down to coach with their Milwaukee club in the American Association; while there he worked extensively in spring training with future major-league catching star Del Crandall. Then in 1949, Berres returned to the majors with the Chicago White Sox. "I got a call one day from (White Sox general manager) Frank Lane, asking me to be his pitching coach," Ray recalled. Lane had been president of the American Association while Berres was coaching at Milwaukee, and was familiar with Ray's reputation as someone who had a knack for working with pitchers.
Berres remained a coach with the White Sox for the next 18 seasons. The Sox team he joined had been the worst in the American League in 1948, losing 101 games and ranking next-to-last in team ERA with a 4.89 ERA. The White Sox moved up to sixth place in '49, and the Berres touch was immediately evident as the club improved its team ERA by more than half a run, to 4.30. Berres had his first major success that year with left-hander Bill Wight, who went from 9-20 with a 4.80 ERA in 1948 to 15-13 with a 3.31 ERA in 1949.
After one more bad season (94 losses) in 1950, the White Sox in 1951 began a streak of 17 consecutive seasons with winning records – one of the longest such streaks in major-league history. Berres, who was the pitching coach for all but the last of those 17 years, was a major factor in the White Sox' success. Under his guidance, the White Sox posted an overall team ERA of 3.33 in the years from 1951 through 1966 – the top mark for any major-league team over that time span.
One of Berres' trademarks during his years as White Sox pitching coach was his ability to take pitchers who had struggled with other teams and turn them into winners with the White Sox. Among the pitchers who had the best seasons of their careers after hooking up with Berres were Saul Rogovin, who won the American League ERA title after being traded to the Sox in 1951; Sandy Consuegra, who went 16-3 with a 2.69 ERA in 1954; converted first baseman Jack Harshman, who won 40 games for the White Sox from 1954 through 1956; Ray Herbert, who had his only 20-win season for Berres and the Sox in 1962; and Juan Pizarro, who had several good years in White Sox pinstripes, including a 19-9 season in 1964. There were many others.
"I always went to the ballpark early," said Berres about his ability to notice pitchers on other clubs who had the potential to help the White Sox. "I loved to watch teams work out, and I'd see pitchers getting their work in. I'd see a pitcher and think, 'I believe if I could get him to go my way, he could help us.'" With Berres, it happened again and again.
"I owe a great deal to Ray Berres," said Bob Shaw, who blossomed into an 18-game winner for the pennant-winning 1959 Sox club under Berres' tutelage. "What he basically taught me was quite simple: you've got to break your hands, get the hand out of the glove, keep your weight back, get your arm up. It wasn't all that elaborate. Just basic fundamentals and he knew 'em and there are really very few people in the country who know what they are."
"He was the reason I got to the big leagues," former White Sox pitcher Gary Peters said of Berres. "He had a knack for spotting mechanical problems and he could cure you pretty easily." As with many pitchers, success came quickly to Peters once he was able to grasp Berres' concepts. After several frustrating seasons in which he pitched well for Sox farm teams but could never stick with the big club, Peters won 19 games and the American League Rookie of the Year Award in 1963, then became a 20-game winner the next season.
"He was a quiet fellow, a very, very good coach," Billy Pierce, the ace of the White Sox pitching staff during the 1950s, said of Berres. "Ray's main theory was that a pitcher's arm would drop down as he began to tire. He would watch that intently."
Unlike most other pitching coaches, Berres preferred to spend the game in the bullpen rather than the dugout. "I was never on the bench. … I was always in the bullpen working with pitchers," he said. "We worked on the phone between me in the bullpen and Richards or Lopez or whoever was in the dugout. I'd probably see things from the back of the pitcher that they couldn't see from their angle."
"He keeps a running stream of chatter all during the game," said Bob Locker, a successful relief pitcher for White Sox in the 1960s. "Two of the things he's always looking for are getting the arm up and not rushing the delivery. He thinks the pitcher's motion is the key to everything."
Along with helping the careers of numerous pitchers, Berres played a key crucial role in convincing the White Sox to keep Nellie Fox when the club was about to send Nellie to the minors early in Fox's career. As he told David Gough and Jim Bard, authors of Little Nel: The Nellie Fox Story:
'In 1951 Paul Richards came in as manager. In spring training Paul didn't think Nellie was the answer at second base. They wanted someone who could hit the ball long.  They were all set to send him to the minors…. We had a meeting with Frank Lane, Paul and the other coaches. They wanted a consensus of opinion on what to do. I told them that I had seen Nellie in all of 1950 and that \he had hit the toughest .250 that I had ever seen. Lots of line drives. I told them 'He can play.'"
The Sox wound up keeping Fox, in good part due to Berres' strong support. And when Fox was posthumously inducted into the Baseball Hall of Fame in 1997, Nellie's widow, Joanne, said, "It is with great appreciation that I remember his mentors, especially coach Ray Berres. I know that he is watching today."
The high point of Berres' years with the White Sox was the pennant-winning season of 1959 – a club managed by Ray's good friend Al Lopez and led on the field by Fox, who was named the American League's Most Valuable Player that year. On the mound, staff ace Early Wynn won 22 games; Bob Shaw was a career-best 18-6; dual bullpen aces Jerry Staley and Turk Lown combined to go 17-7 with 29 saves; and the White Sox led the major leagues with a 3.29 ERA. It was a typically excellent performance from a Berres-coached pitching staff. During the 16-season period from 1951 to 1966, Berres' staffs finished first or second in the American League in team ERA 10 times and never ranked lower than fourth.
Berres was such an unquestioned master at working with pitchers that he was able to keep his position with the White Sox despite frequent changes in managers, front offices, and even owners. From 1949 through 1966 the Sox had six managers (Jack Onslow, Red Corriden, Paul Richards, Marty Marion, Al Lopez, and Eddie Stanky); four vice presidents/general managers (Frank Lane, Chuck Comiskey, Hank Greenberg, and Ed Short); three ownership groups (the Comiskey family, Bill Veeck, and Arthur Allyn) … and one pitching coach (Berres). It was an almost unmatched display of loyalty to a modest man who always preferred to stay in the background. "I attribute my longevity in baseball to the fact that I do not give interviews to reporters," Berres once said. Toward the end of a long 1996 interview for the SABR Oral History Committee, he commented, "I probably talked more today than I did in 44 years in baseball."
When Lopez retired as White Sox manager after the 1965 season, new skipper Eddie Stanky agreed to keep Lopez's entire coaching staff (Berres, Don Gutteridge, Tony Cuccinello, and Kerby Farrell). After a year at the helm, Stanky decided that he wanted to select some of his own coaches, and Berres and Gutteridge were out of a job. The club nearly won a pennant under Stanky in 1967, but when the Sox got off to a terrible start in 1968, Stanky was fired and Lopez came out of retirement to take over the team. He brought Berres and Gutteridge back with him. Ill health forced Lopez to retire again early in the 1969 season, and Gutteridge took over as manager, with Berres continuing to serve as his pitching coach.
After the 1969 season, the White Sox gave Berres a new role as a minor-league pitching instructor. "That drove me nuts," he said. "Those kids wanted to do things their own way." After a couple of years, Berres finally retired for good, settling down with Irma in the home in Silver Lake, Wisconsin, which they had bought when their son, John, was born in 1947. Eventually they moved to the resort community of Twin Lakes, a few miles away. Both towns are in Kenosha County, where Ray was born.
Berres stayed active well into his 90s, though the aches and pains from years of catching and coaching occasionally caught up with him. "I had 18 pieces of chips taken out of my elbow just from working with pitchers," he told an interviewer. And though he remained a quiet man, he loved telling a story about his first spring training as a professional player with the Oklahoma City Indians back in 1929. As Ray told it, the New York Yankees came to town to play an exhibition game against Oklahoma City, and young Berres was behind the plate when Babe Ruth came to bat.
"Babe came up with the bases loaded and two outs and the count went to 3 and 2, which meant that everybody was on the move," Berres told Pete Jackel. "He hit the damnedest, highest pop fly that I had ever seen up to that time and the wind was spinning the ball. I started back-pedaling all the way to the mound … and fell on my butt. The ball bounced on the rubber and I happened to look up and I said, 'Good God, that's almost as high as the one he hit!'
"I felt terrible. Everyone scored and the fans booed something awful. When the inning was over, I was depressed, of course, and was walking slowly to the dugout. I thought I was going to get bawled out and, all of a sudden, I felt an arm go around my shoulders and it was the Babe. He said, 'Kid, don't let that bother you. That has happened to a lot of big-league catchers.'"
Several years later, when he reached the major leagues with the Dodgers, Berres was behind the plate for another exhibition game against the Yankees. And up came Ruth. "He had a habit of walking up to the plate and tapping it," Berres related. "And as he did, he saw me down there and said, 'Hey, kid! I'm glad to see you made it!
Ray Berres passed away from heart failure and pneumonia in his hometown of Kenosha on February 1, 2007, four years after the death of his beloved wife, Irma. He was 99 years old; at the time of his death only one former major leaguer, Rollie Stiles, was older. He had enjoyed a long and remarkable life; as a long list of people whom Berres had helped could attest, Ray Berres most certainly had "made it."
Special thanks to Warren Corbett for his assistance with this piece, and to Dave Anderson for the material he contributed.
This article originally appeared in the book Go-Go To Glory—The 1959 Chicago White Sox (Acta, 2009), edited by Don Zminda.
Sources
Ray Berres Interviews, March 8 and 19, 1996, SABR Oral History Committee
Interview with Billy Pierce, September 9, 2008
"Horn Tootin' Not for Sox Tutor Berres," Jerome Holtzman, Chicago Sun-Times, July 8, 1966
"He's the Berres," Dave Nightingale, Chicago Daily News, July 20, 1968
"Reluctant Legend," Pete Jackel, Racine (WI) Journal Times, October 13, 2005
David Gough and Jim Bard, Little Nel: The Nellie Fox Story, D.L. Megbec Publishing, Alexandria, Virginia, 2000
Bob Vanderberg, Sox: From Lane and Fain to Fisk and Zisk, Chicago Review Press, 1982
The SABR Minor Leagues Database
Born
August 31, 1907 at Kenosha, WI (USA)
Died
February 1, 2007 at Kenosha, WI (USA)
If you can help us improve this player's biography, contact us.
http://bioproj.sabr.org/bp_ftp/images5/BerresRay.JPG
600
800
admin
/wp-content/uploads/2020/02/sabr_logo.png
admin
2012-01-04 19:54:57
2021-09-22 18:33:24
Ray Berres