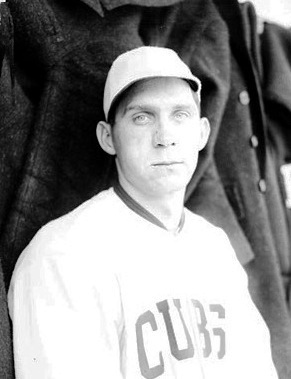 ---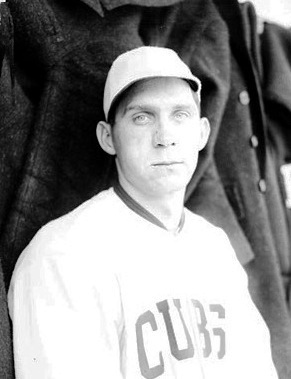 Both Ray Grimes and his brother Roy broke into the majors in the same year, 1920. Ray and Roy were twins, both born in Bergholz, Ohio, on September 11, 1893. Ray played in just one 1920 game, with the Boston Red Sox on September 24. Ray was properly Oscar Ray, and Roy was Austin Roy.
Roy got an earlier start, debuting with the New York Giants on July 5 and appearing in 26 games as a second baseman right up to the end of the season. The single he hit that last day boosted his average to .158 and gave him his third run batted in. Roy had already had eight years of minor-league ball behind him, including 63 games with Bridgeport (batting .374) earlier in 1920 which had brought him to the big leagues; he had 11 more seasons in Organized Baseball ahead of him, but he never returned to the majors. He finished with a career batting average of .315.
Ray and Roy were born to Thomas and Alnetta "Nettie" Grimes, Thomas being an engineer of some unspecified sort. There were two older children in the family – Harry and Fannie – and a younger brother, Clarence.
Ray started playing professionally three years after Roy, in 1916 with the Durham Bulls of the Class D North Carolina State League. He played the next four seasons for the Bridgeport Americans (Eastern League). Ray and Roy were on opposing teams – Roy with Hartford – until mid-1919, when they became teammates on Bridgeport. By then Ray was the manager at Bridgeport, having taken over the managerial reins from Paul Krichell when Krichell resigned on June 27.[1] Roy had already been a manager by this time; he'd taken over from Danny Murphy as manager of the Hartford Senators on May 29, and led the cellar-dwelling Senators until late July, when he was himself deposed. Owner Jim Clarkin offered him the same salary to continue, but Roy said that if he weren't to continue as manager, he'd rather quit the team. Clarkin said, "It is entirely up to Grimes. … He told me that he was through."[2]
Roy made a move – to join Bridgeport, where he worked under brother Ray – and alongside Clarence. The third Grimes played at least one game at second base, but after Roy joined the team moved to the outfield and played both left and right. The box score for the August 12 game shows Roy at second base, batting cleanup, Ray at first base and batting fifth, and Ken in left field, batting seventh. Bridgeport beat New Haven, 3-0. Both Ken and Ray doubled. Roy was hit by a pitch and stole a base. Both Roy and Ray took part in one double play. Ken also played for Bridgeport in 1920; he hit .207 in 1919 and .253 in 1920. Ken played some for Toledo in 1921, too, but then left baseball. 
With so many Grimeses in the league, and two of them twins, it's perhaps not surprising that there was an anecdote or two. Bill Lee of the Hartford Courant wrote that in 1918, when Ray was with Hartford and Roy with Bridgeport, the manager of the Bridgeport team spent some time in the lobby of a hotel running over the signs with a Grimes. The problem was that he was giving all the signs to the Grimes who played shortstop for Hartford, not the one who played for his own team.[3]
Ray, playing first base, had averaged .288 for his first three seasons, but in 1920 at Bridgeport – perhaps inspired by Roy's aforementioned .374 – Ray hit a league-leading .364 for manager Ed Walsh (Roy didn't have enough at-bats to qualify). Ray had earned himself his own look in the major leagues. Unlike Roy, Ray stuck, though every one of his 433 major-league games other than that one with the Red Sox was in the National League.
Roy was slightly larger than Ray, two inches taller than Ray's 5-feet-11 and listed with a playing weight of 176 to Ray's 168. Ray's son, Oscar Ray Grimes Jr., was right in there, too, playing nine seasons in the majors from 1938 through 1946. He was the same height as Ray Sr., and listed at two pounds more than his uncle. Oscar (as he was known, rather than Ray Junior) played all four infield positions, more at third base than any other, and all in the American League, for the Indians, Yankees, and Athletics, a career .256 hitter.
Our focus here is on Oscar Ray Grimes Sr. In that first year with Durham, 1916, he hit .248. In June 1917, when he registered for the military draft, he listed himself as an unemployed potter living with a wife and one child. (Jumping ahead a war, when he registered for the Second World War draft, he was working for the Cronin China Company in Minerva, Ohio.) Soon afterward, in 1917, the Bridgeport ballclub gave him a job, and he appeared in 61 games, hitting .284. He improved that considerably in 55 games in 1918, batting .323. After a down year in 1919 (.275) he came back with the .364 season that propelled him to Boston.
Both the Yankees and the Red Sox were bidding for Grimes, as were the Detroit Tigers and the Chicago White Sox. Boston won out, and Grimes started at first base on September 24 against the Philadelphia Athletics, batting fifth in the order. He was walked to load the bases in the bottom of the eighth. He came in and scored the third of four runs that tied the score, 9-9. The A's went ahead, 10-9, in the top of the ninth. Grimes singled in the bottom of the ninth and, on second base with two out, was pulled for a pinch-runner, but then Everett Scott fouled out and the game was lost. At the annual minor-league meetings in November, the Chicago Cubs purchased Grimes from the Red Sox at the recommendation of Cubs scout (and former Red Sox manager) Patsy Donovan.[4] The Sporting News attributed the interest to Johnny Evers, who had seen the twins play and preferred to pursue Ray.
A story circulated at the time Roy Grimes was purchased by the Giants said that they'd made a mistake and signed the wrong Grimes. But the Giants didn't need help at first base, and they did at second, so they no doubt got the Grimes they were after. As early as May 1921, however, Roy was playing for Toledo, and Ray was off to a good start with the Cubs. The Sporting News said that Ray was "going great guns. In fact, he's about the best looking first sacker to wear a Cub uniform since the days of Frank Chance."[5]
Ray didn't disappoint – not in the least. In 1921 he hit .321, drove in 79 runs and scored 91, and in 1922, he hit .354, driving in 99 runs and scoring 99, too. In that season he hit 14 home runs, more than half of the 27 he hit in his career. He set what was a National League record at the time, driving in one or more runs in 17 consecutive games from June 27 through July 23 – despite being hurt and missing 10 games in the middle of his streak. He drove in 27 runs during the stretch. At the beginning of May 1923, Ray's good run snapped when he badly dislocated his back and a couple of joints – aggravating an earlier injury – while sliding into second base during a game in St. Louis. The Sporting News's assessment of his work to date was that he was "not a star in fielding, but is rated as safe and sane around first base, and he has been a great hitter for the Cubs."[6] Grimes tried to come back too soon, after three weeks, and even had a 3-for-5 game on May 27, but had to undergo an operation and missed all of June and July, appearing in just 64 games. He still hit consistently in the games he did get into, finishing at .329. Somehow, somewhere along the line, he picked up the nickname Bummer.
The 1924 season was a truncated year, too. Ray started well but fell off sharply in the last week of June and the first week of July, playing his last game of the year on July 8 (his average wound up at .299). Harvey Cotter had taken the first-base position away from him, and manager Red Killefer put him on waivers, feeling he was "just a bit too slow."[7] After clearing waivers, Grimes was dealt to the Los Angeles Angels in the Pacific Coast League, where he played in 65 games, batting .320 and often hitting when it counted most – driving in 48 runs in those 65 games. The Los Angeles Times was impressed. In early 1925, it ran a column headlined DEPEND ON RAY GRIMES, saying that his "terrific stick work made it possible for the Angels to finish second. Grimes is a real slugger, one whose presence at the plate throws fear into every pitcher who faces him. … Not only did he succeed in winning game after game for the Angels with his long and timely hits but he assisted the team materially by drawing many bases on balls when the opposing twirlers feared to get the pellet close to the plate for him."[8]
Grimes put in a full season with the Angels in 1925, appearing in 167 games (the Coast League played a much longer schedule than the majors), hitting .294 in 623 at-bats. The Angels wanted to move in another direction and, after failing to find a willing buyer, mailed Grimes a letter in February that he need not report to the team for the 1926 season.[9] He caught on with Toledo, then returned one last time to the majors when the Phillies acquired him in exchange for pitcher Ernie Maun. He appeared in 32 games for the Phils between June 16 and August 12, but on the 13th, Grimes was unconditionally released by the Phils. He finished the year out with Columbus.
At this point, Grimes embarked on a team-a-year stretch, playing in 1927 with Little Rock (batting a strong .358, third among the Southern Association batting leaders), in 1928 with San Antonio (.337), and in 1929 moving from San Antonio to Fort Worth (.329, combined). In 1929 he hurt his hand while setting off fireworks on the Fourth of July and needed a minor operation, which cost him 10 days and from which he had trouble coming back.
In 1930 Grimes played only a partial season (68 games) with Atlanta, but was still hitting .309. At some point, an eye injury prevented him from continuing in baseball, and Ray retired in 1932.
After their respective careers were finished, Ray had a .307 minor-league average. Brother Roy had hit .315, though in 542 more games.
After baseball, Grimes died of a heart attack on May 25, 1953, while working as a caster at Cronin China.[10]
Last revised: January 4, 2023 (zp)
Sources
In addition to the sources noted in this biography, the author also accessed Grimes' player file from the National Baseball Hall of Fame, the online SABR Encyclopedia, Retrosheet.org, and Baseball-Reference.com.
---
Born
September 11, 1893 at Bergholz, OH (USA)
Died
May 25, 1953 at Minerva, OH (USA)
If you can help us improve this player's biography, contact us.
http://bioproj.sabr.org/bp_ftp/images4/GrimesRay.jpg
600
800
admin
/wp-content/uploads/2020/02/sabr_logo.png
admin
2012-01-04 20:27:46
2023-01-04 08:51:13
Ray Grimes