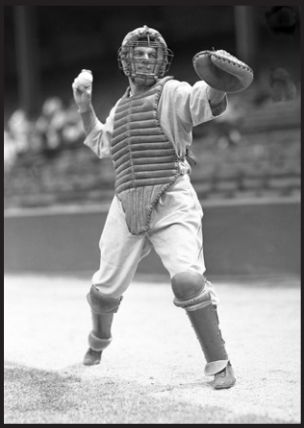 ---
Ray Hayworth intended to go into the upholstery trade, but was talked out of it by a friend, and the result was an 18-season career as a catcher, 15 of them in the major leagues. Hayworth was prized for his defensive ability, but swung an effective bat for a catcher, with a .265 career batting average. After his career ended, he spent many years as a coach and scout.
Raymond Hall Hayworth was born on January 29, 1904, to Mary Emma Hepler Hayworth and John Ensley Hayworth, of High Point, North Carolina. He was one of nine children born to the Quaker family. Hayworth's father was a jack of all trades, owning a grocery store and a meat market, and running a tobacco farm. The Hayworth children all did their share of chores on the 30-acre farm, helping keep the grocery store stocked with vegetables from the farm, as well as growing a little bit of cotton. It was hard work, as they used mules and horses for power. They did not even own a truck until Raymond was 11. But Mr. and Mrs. Hayworth were always sure to allow their children to also have time to play as well as do chores. 
Hayworth had a strong arm that he said he developed throwing rocks at squirrels and rabbits. He was involved in a few rock fights with neighborhood boys, as well. His strong arm translated well to baseball, where he played on his church team growing up. He was a pitcher in high school, but caught on the days when he wasn't on the mound.  
After graduation, Hayworth went to learn the upholstery trade, but a friend told him he was too good a ballplayer to be wasting his time in upholstery, and suggested he go to Oak Ridge Military Academy. Hayworth followed the advice, and under the tutelage of Professor/Coach Earle P. Holt, Hayworth honed his skills as a catcher. Hayworth felt Holt was the greatest coach he ever saw. Throughout its history, some of the talent that passed through Oak Ridge Military Academy and on to the majors included Jackie Mayo, Dick Burrus, Al Evans, Pete Shields, Chubby Dean, the Ferrell Brothers (Wes and Rick), and Hayworth's brother Myron "Red" Hayworth.
Hayworth went to Oak Ridge with the desire to be a pitcher, but Coach Holt convinced him that with his strong, accurate arm, he should concentrate strictly on catching. From 1923 to 1925, Hayworth was the starting backstop for Oak Ridge, and also played semipro ball in the summers with a team in Bluefield, West Virginia. 
In the spring of 1925 Hayworth was catching Vic Sorrell for Bluefield when he was informed that a baseball scout was looking him over from the stands. The scout was Billy Doyle of the Detroit Tigers. Eventually Doyle signed both Sorrell and Hayworth to contracts with the Toronto Maple Leafs of the International League. Hayworth played the first half of 1926 with Toronto, then played for the Columbus Senators of the American Association, before getting called up to the Tigers.
The Tigers that year were struggling with injuries at catcher. Their primary receiver, Johnny Bassler, had broken his leg. Clyde Manion was filling in along with Larry Woodall. But player-manager Ty Cobb wanted some more security at the position; Manion hit only .199 in 1926, while Woodall (not considered a very good backstop) finished at .233. Hayworth made his major-league debut on June 27, 1926, at Navin Field in Detroit, pinch-hitting unsuccessfully against Sherry Smith of the Cleveland Indians.   
Hayworth got in 12 games for the Tigers in 1926. Two days after his debut, he saw his first action behind the plate, as a late-inning defensive replacement. He got his first hit on July 19, against Jack Quinn of the Philadelphia Athletics at Shibe Park. Hayworth drove in two runs in an 8-3 Tigers victory. The next day he got his first start when he played a complete game in Philadelphia and went 1-for-3 with two more RBIs. 
Hayworth was having the time of his life. On July 21 he had his greatest thrill in baseball. "I got to the ballpark and Cobb said, 'You're the catcher today,' and that scared me to death. I caught the game and hit against Walter Johnson and that was a thrill of a lifetime to me, just to get in a ballgame and hit against him."1 Hayworth went 0-for-1 before Cobb himself pinch-hit for him. But Hayworth had faced Walter Johnson. Years later Hayworth wrote, "There were so many great thrills that I experienced during my 15 years plus in the major leagues that it would be difficult to pinpoint one of them (as my greatest). As I look back now, perhaps one that stands out was to hit against Walter Johnson in 1926.  Also to play with Ty Cobb and have him as my first manager in 1926."2
After pinch-hitting on August 2, 1926, Hayworth spent the rest of the season on the bench. In the 12 games he played he went 3-for-11 with five RBIs. He earned a raise from Tigers owner Frank Navin. Navin called Hayworth into his office and asked him how much he was making. Hayworth told him he was earning $300 a month at Toronto. Navin responded, "We don't pay anyone here less than $500 a month."3 So Hayworth, a backup backstop, had his salary increased to $500 a month.
Hayworth toiled for Nashville and Shreveport in 1927 and 1928. He advanced to Double-A Toledo (the equivalent of today's Triple-A) in 1929. At the time the Tigers had a revolving door at catcher. Toledo's player-manager, 38-yer-old Casey Stengel, coached Hayworth to change his stance and work on hitting to all fields. As a result, Hayworth hit .330 in 1929. But with hitting for average came a drop in power. Hayworth had only four home runs in 73 games that season, compared with 13 in 1928 with Shreveport (where he hit 50 points less). Hayworth was called up to Detroit in September for 14 games. He hit .256, and gunned down more than half the runners trying to steal on him. Tiger manager Bucky Harris had discovered that he had a fine young talent at backstop. 
In 1930 Harris decided to go with Hayworth as the Tigers' main catcher. He hit.278 in 77 games, and though his fielding was not as good that of as fellow receivers Pinky Hargrave and Gene Desautels, he became Harris's favorite.
Hayworth's.256 batting average in 1931 was the lowest among Tigers starters, but the highest among the five players who caught for Detroit that season. He caught 48.6 percent of the runners trying to steal, second-best in the league behind Charlie Berry's 49.4 percent. Hayworth was showing that he was a steady defensive backstop. Despite his solid season, the Tiger brass felt he was expendable and tried to trade him to the Washington Senators for first baseman Joe Judge.  
The more experienced Muddy Ruel took over the Tigers' catching chores at the beginning of 1932, but hit poorly and soon Hayworth was back to starting most of the games. He did not make an error behind the plate for almost a year, September 2, 1931, to August 29, 1932, thus setting an American League record for consecutive errorless games as a catcher (later broken by Yogi Berra). The streak ended as a result of mixed signals. Hayworth flashed the sign for a curve ball, but his pitcher crossed him up by throwing a fastball. Hayworth missed it for a dropped third strike, and the batter made it to first safely. Hayworth's glove is exhibited in the Baseball Hall of Fame.
Besides becoming an outstanding defensive catcher, Hayworth had his best year at the plate in 1932, batting.293, the same as the batting average of Mickey Cochrane, who was still with the Athletics that season. Only Cochrane had a higher fielding percentage among American League receivers. Hayworth had gone from trade bait to being an above-average catcher.
The season also saw one of Hayworth's favorite moments at the plate. On August 19, in a game at Yankee Stadium, facing future Hall of Famer Lefty Gomez, Hayworth hit his second career home run. He recalled later, "When I rounded first base I felt like a bird flying. When I got to second base it suddenly dawned on me how hundreds of times Ruth made that same trip around the diamond. It was a great feeling. I sure never forgot about that."4 For the remaining 13 years of his career Hayworth hit only three more homers.
Manager Harris resigned with a couple of games left in the 1933 season. The Tigers had not finished in the first division in the five years he had been manager. After the season the Tigers took advantage of one of Philadelphia Athletics owner Connie Mack's fire sales, and acquired Mickey Cochrane to be their new player-manager. Cochrane was a fiery competitor who singlehandedly lit a fire under the Tigers to make them not just a first-division ball club, but a championship squad as well.
Hayworth did not have an issue with Cochrane coming to Detroit. He said, "I would rather be a backup on a championship team than starting for a last-place club."5 Cochrane became the starting catcher, with Hayworth spelling him from time to time against left-handed pitchers. Cochrane and Hayworth helped the pitching staff post the second-lowest ERA in the American League in 1934. Hayworth hit .293 in 54 games as the Tigers captured the American League flag. The Tigers took the league lead for good after beating New York three games out of four in a series at Navin Field. In that critical series Hayworth started two games and went 3-for-5 with a walk and two RBIs, and also gunned down would-be base stealers Frank Crosetti and Ben Chapman. 
In the 1934 World Series against the Cardinals, Hayworth got into only one game. In the wild Game Seven, Cochrane removed himself in the ninth inning after the Cardinals were up 11-0. Hayworth caught an uneventful inning as the Cards went down 1-2-3 and lost the Series. It was Hayworth's only appearance in a World Series. While the Tigers won the pennant again in 1935, and Hayworth hit .309 in 51 games, Cochrane caught all six games against the Chicago Cubs. This was almost not the case. After Hank Greenberg broke his wrist in Game Two, Cochrane's first thought was to take over at first base himself. But after discussions with Tigers owner Navin, Cochrane moved third baseman Marv Owen to first, a move that was deemed more prudent defensively.
We will never know what the 1935 Series would have looked like with Hayworth behind the plate. Regardless, the Tigers won the 1935 World Series and Hayworth got his wish. He was the backup on a championship club, rather than the starter on the last-place Philadelphia Athletics. 
Hayworth became the starting catcher for the Tigers again in 1936 when Cochrane suffered a nervous breakdown. On June 5 Cochrane put Hayworth in behind the plate. Five days later Del Baker replaced Cochrane as skipper, and Hayworth took over the bulk of the catching duties for the rest of the season while Cochrane recovered. 
Hayworth's final season as a starter was also his worst, as he hit only .240. He was now 32, and the Tigers' future at catcher rested in 23-year-old Birdie Tebbetts and 22-year-old minor-league slugger Rudy York. Hayworth played in only 30 games in 1937, 21 as a starter. The writing was on the wall, and in September 1938 Hayworth was put on waivers and picked up by the Brooklyn Dodgers, having played in only eight games for Detroit that year. The Dodgers were a struggling seventh-place team, and figured to benefit from Hayworth's experience.
Hayworth was still a Dodger in 1939 when the club hired Leo Durocher as its new manager. Durocher kept Hayworth around in the hope that he could help salvage a couple of pitchers, Boots Poffenberger and Whitlow Wyatt. Poffenberger had been a problem child in Detroit and manager Del Baker could not control him. The Tigers waived Poffenberger, and the Dodgers picked him up. Durocher assigned Hayworth to help him harness the talented young pitcher. He had Hayworth room with Poffenberger on the road. (Hayworth had caught most of the pitcher's games with Detroit.) The move did not work out, as Poffenberger flamed out quickly, and was cut loose
Hayworth's next roommate under Durocher was former Tigers pitcher Whit Wyatt, in an effort to see if Hayworth could help turn him around. Hayworth had worked with Wyatt in Detroit in 1932, when Wyatt had his best year in the majors with nine wins. Wyatt had bounced around a bit after that, before a desperate Dodger team signed him after a seventh-place 1938 season. Wyatt came around with gusto in 1939, with his old friend Hayworth behind the plate and as his roommate. Wyatt posted an 8-3 record with a 2.31 ERA and made the All-Star team. But shortly after that, the Dodgers traded Hayworth to the New York Giants for Jimmy Ripple. Wyatt did not win another game the rest of the season, but with Hayworth's help his career had been reborn, and over the next four seasons as a Dodger, Wyatt had the best four years of his career, winning 15, 22, 19, and 14 games.
Hayworth also helped the Dodgers' offense, introducing Dolph Camilli and Al Todd to his model bat. Camilli's batting average jumped nearly 40 points, while Todd moved up 13.
Hayworth's time with the Giants was short. He got in only five games before the season ended. In 1940 he rode the bench for the entire summer, working mostly as a bullpen catcher and coach, and was released after the season. At that point his major-league career would likely have been over but for World War II. Hayworth played as a backup with Milwaukee (American Association) in 1941 and with Rochester (International League) in early1942, before being signed by the war-depleted St. Louis Browns. He got into one game, hitting a single in his lone at-bat. In May the Browns released him. Two days later he signed with the crosstown Cardinals, but was released after less than a month without getting into a game.   
Hayworth again signed with the Dodgers before the 1943 season and stayed with the organization for the next several years, even getting into a few games in his 40s in the war years of 1944 and 1945. He was joined in the majors by his brother Myron Red Hayworth, who caught for the St. Louis Browns those two seasons. Red caught almost every inning of the six-game 1944 World Series for the Browns.
Hayworth was done playing after 1945. It had been 20 seasons since he debuted with the Tigers, 15 of which were in the majors. After his playing days, Hayworth coached in the minors and majors and also served as a scout for the Chicago Cubs, the Milwaukee and Atlanta Braves, and the Montreal Expos. When asked if he would do it all over again 60 years after his only appearance in the World Series he replied, "Lord yes!  I've never known any other life."6
On September 25, 2002, Ray Hayworth died at the age of 98, in Salisbury North Carolina. At the time, he was the oldest living former major league player. He is buried in Guilford Memorial Park, in Greensboro North Carolina, next to his wife Virgina Jones of Parrott, Virginia. He was survived by his two sons, Raymond Jr. and John D. as well as five grandchildren, one of whom is US Congressman, John D. Hayworth of Arizona.  According to his obituary in the New York Times, Ray Hayworth was the last surviving teammate of Ty Cobb on the Detroit Tigers.
Sources
Baseball Hall of Fame Library, player file for Ray Hayworth
Auker, Elden, with Tom Keegan, Sleeper Cars and Flannel Uniforms; A Lifetime of Memories from Striking out The Babe to Teeing it up with the President (Chicago: Triumph Books, 2001).
Bak, Richard, Cobb Would Have Caught It; The Golden Age of Baseball in Detroit (Detroit: Wayne State University Press, 1991).
Bevis, Charles. Mickey Cochrane; The Life of a Baseball Hall of Fame Catcher (Jefferson, North Carolina: McFarland and Company Inc., Publishers, 1998).
Edwards, Henry P., "Ray Hayworth," American League Service Bureau, January 22, 1933.
Notes
1 Brent Kelley, "Ray Hayworth: 50 Years in Baseball," Sports Collectors Digest, May 6, 1994.
2 Personal correspondence, Ray Hayworth to author, undated.
3 Nick Wilson, Voices From the Pastime; Oral Histories of Surviving Major Leaguers, Negro Leaguers, Cuban Leaguers and Writers, 1920-1934 (Jefferson, North Carolina: McFarland and Company Inc., Publishers, 2000), 43-57
4 Wilson,
5 Kelley.
6 Kelley.
Born
January 29, 1904 at High Point, NC (USA)
Died
September 25, 2002 at Salisbury, NC (USA)
If you can help us improve this player's biography, contact us.
http://sabr.org/sites/default/files/RayHayworth.JPG
600
800
admin
/wp-content/uploads/2020/02/sabr_logo.png
admin
2012-01-04 19:49:50
2021-09-24 07:27:40
Ray Hayworth