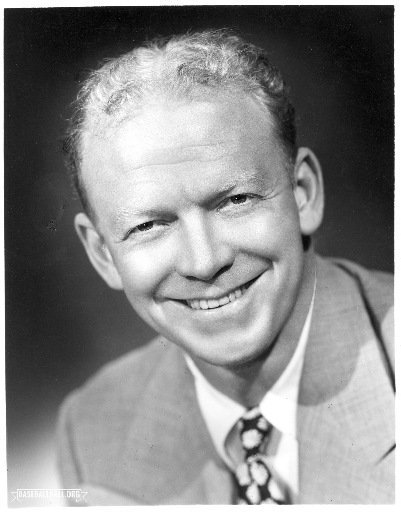 ---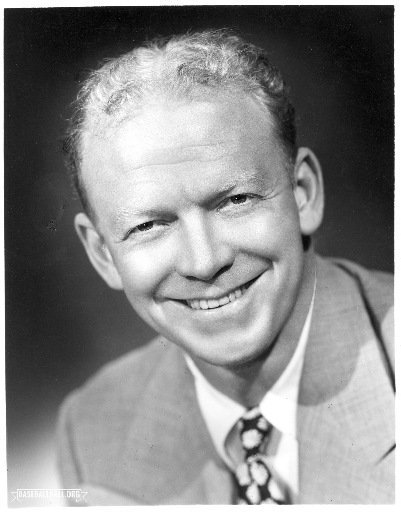 The man who broadcast Jackie Robinson's first season with the Dodgers recalled that, as a boy in Sanford, Florida, "I saw black men tarred and feathered by the Ku Klux Klan and forced to walk the streets. I had grown up in a completely segregated world." Red Barber confessed that when he learned the Dodgers would field a black player, his first reaction was to quit his job.
Walter Lanier "Red" Barber—Red for the color of his hair—was born in Columbus, Mississippi, on February 17, 1908. Seventy years later he was one of the first two broadcasters honored by the National Baseball Hall of Fame, along with his rival and sometime partner Mel Allen. Curt Smith, who chronicled the history of baseball broadcasting in two books, wrote in The Storytellers, "The Ol' Redhead was white wine, crepes Suzette and bluegrass music; Mel, beer, hot dogs and the United States Marine Band."
Red's father, William Lanier Barber, was a locomotive engineer from Brown's Creek, North Carolina. His mother, Selena Martin, was an English teacher and school principal from an old Mississippi family. She insisted that her children practice what she taught. "My mother gave me an ear for language. . . . She gave me my interest in religion, too," he wrote. "My father didn't have the education my mother did, but he was a wonderful raconteur, a natural storyteller. He'd sit out on the front porch and tell stories by the hour." The Barbers later had a second son, William Martin, and a daughter, Effie Virginia.
The Barbers moved to Sanford, Florida, near Orlando, when Walter was ten years old. He was a high school football halfback and kicker at five feet eight and 165 pounds. He graduated first in his class and was rewarded with a $20 gold piece. His first ambition was to be an end-man (the lead comedian) in a minstrel show, and he performed in blackface during high school and college. While he was working his way through the University of Florida as a waiter and boarding-house manager, one of his housemates, Ralph Fulghum, asked him to read a research paper on the university radio station. As Red put it, "Then came the great turning point of my life. I know that Satan took Christ up on a mountain and showed him the world and said, 'If you bow down to me I'll give it all to you.' Christ wasn't tempted, but I was. Fulghum tempted me out of all proportion. He said, 'If you come out and read this paper I'll buy you dinner tonight.'" Barber made his radio debut reading a paper on "Certain Aspects of Bovine Obstetrics."
That led to a job with the station, WRUF, and to his first sports assignment: Florida's opening football game in 1930. He called his debut "undoubtedly the worst broadcast ever perpetrated on an innocent and unsuspecting radio audience." He was so bad that he was pulled off the air and other announcers tried their hands at the next two games. During those weeks, Barber began attending football practice and picking the brains of an assistant coach. He learned how to prepare for a broadcast. He talked his boss into giving him another chance, and the sportscaster's career began.
Barber encountered the other passion of his life in Gainesville: Lylah Murray Scarborough, a nurse who treated him when he was taken into the infirmary one night after an accident. They were married in 1931. On September 17, 1937, Red and Lylah's daughter, Sarah, was born. Sarah, their only child, later became a professor of English.
Ambitious for a better job, Red took time off from WRUF and rode buses to Atlanta, Louisville, Cincinnati, and Chicago for auditions, but stations were not hiring during the Depression. In 1934 the Cincinnati Reds' new general manager, Larry MacPhail, persuaded owner Powel Crosley Jr. to put the team's games on the air. An executive at WLW, a station owned by Crosley, remembered the young man from Florida, and hired him as the club's first play-by-play announcer at $25 a week, less than he was paid in Gainesville. On Opening Day he broadcast the first major-league game he had ever seen. "That was the most joyous day of my life, next to my wedding day," he remembered.
In 1935 Red called the first of thirteen World Series, over the Mutual network. What he remembered most vividly was the pregame briefing by Commissioner Kenesaw Mountain Landis. Judge Landis summoned the announcers from all the networks (there were no exclusive rights deals then) and in his customary Sermon-on-the-Mount style, lectured them, "Don't editorialize. Report." Landis's admonition was prompted by Ted Husing's 1934 Series broadcasts, when Husing criticized the umpires. Husing was banned from the Series forever after.
Many of Barber's successors in the booth have called him the first reporter to broadcast baseball. "I've heard tapes of Red Barber in the 1930s and '40s," Bob Costas told the Los Angeles Times, "where he tells you there's a line single to left-center and he tells you how many times it bounced before the center fielder picked it up. You needed that then. Today, even the very good announcers will very rarely describe a guy's stance or the peculiarities of a guy's windup, because they've been subconsciously influenced by television even though they're on the radio."
Allan Barra, in the online magazine Salon, described listening to tapes of Barber's broadcasts: "There were no complex statistics, no hype, and, of course, no visuals. Just poetry. When the wind was blowing the flag. A description of how the fielders were set. An anecdote or two about each player. With nothing to work with but words, Barber painted a picture of the game that kick-started my own imagination in a way that technology never could."
Barber's best-known innovation for broadcasters was a simple device to remind him to repeat the score frequently for listeners who had just tuned in: He kept a three-minute egg timer, an hourglass, on his desk in the booth. Every time the sand ran down, he repeated the score and flipped his timer over. Dozens if not hundreds of later announcers adopted this prop.
An important part of the early play-by-play man's job was the re-creation of out-of-town games. Broadcasters didn't begin traveling with teams until after World War II. The announcer in a studio hundreds of miles from the ballpark used Western Union's telegraphic pitch-by-pitch accounts to simulate a live broadcast. Most broadcasters tried to make the re-creation seem as realistic as possible: using sound effects of recorded crowd noise, cranking up the volume for an exciting play; two pieces of wood banged together to simulate the crack of the bat; recorded organ music. "My reaction was just the opposite. I wanted the audience to know at all times that I was doing a re-creation," Barber said in a 1985 appearance on KCMO radio in Kansas City, Missouri. He used no sound effects and placed his microphone close to the telegraph key, so listeners heard the beeps of Morse code.
"You did that broadcast from a series of mental pictures," Barber said. "I made it my business to mentally photograph every player—how he looked, how big he was. . . . I memorized the idiosyncrasies, the habits. . . . I memorized how each pitcher pitched. So as I stood in the studio I saw the game."
When Larry MacPhail left Cincinnati for Brooklyn in 1939, he took Barber with him to the nation's media capital. Red brought the down-home idiom of his Southern roots to the borough whose residents were ridiculed for speaking of "dem" and "dose." Many people who lived in Brooklyn in the 1940s have insisted that they could walk down any street in the borough and never miss a pitch, because Barber's voice was wafting out of every window and every passing car. During World War II, he became a civic institution as chairman of Brooklyn's Red Cross blood drive and host of radio War Bonds sales.
New York offered Barber unmatched opportunities. According to the Pro Football Hall of Fame, he called the first National Football League championship game to be broadcast nationwide, in 1940, when the Chicago Bears buried the Washington Redskins, 73-0. He regularly broadcast football games of the professional Brooklyn Dodgers and New York Giants, as well as Princeton University. He also hosted entertainment programs with bandleaders Sammy Kaye and Woody Herman and singers Lena Horne and Mario Lanza. For nine years after World War II, he was the director of sports for CBS, where he first heard Fordham University student Vince Scully.
During the war, Dodgers general manager Branch Rickey was signing as many promising young players as his scouts could find, laying the groundwork for a decade of success. He was also laying the groundwork for an even more important move. Months before he signed Jackie Robinson, Rickey confided his plan to Barber. Red said he was the first one outside Rickey's family to hear that Rickey intended to break organized baseball's sixty-year-old color line: "I believe he told me about it so far in advance so that I could have time to wrestle with the problem, live with it, solve it."
Barber never admitted any racist feelings. In his history of Robinson's rookie year, 1947: When All Hell Broke Loose in Baseball, he declared, "I was not a racist." He wrote in his autobiography, "The Negroes who came and went through our lives were always treated with the utmost respect and with a great deal of warmth and a great deal of affection." At the same time, he acknowledged, "[T]here was a line drawn, and that was that." Southerners of Barber's generation never encountered a black person in a situation of social or economic equality until they reached middle age. That was that.
After Rickey's revelation, Barber told Lylah, "I'm going to quit." She suggested they have a martini and sleep on it. His wife's cooler head prevailed, but Barber said, "It really tortured me." Eventually he concluded, "[A]ll I had to do when he came was treat him as a fellow man, treat him as a ballplayer, broadcast the ball." In his 1991 interview with Bob Costas, Barber recalled, "I don't think I ever said he was a Negro. I didn't have to. Everybody knew who he was." He also owned up to his self-interest: "Economics has a way of being the hidden persuader. I valued the job at Brooklyn."
The rookie Robinson led the Dodgers to the 1947 World Series. That classic included two of Barber's most famous games. In Game Four, Yankees right-hander Bill Bevens took a no-hitter into the ninth inning, while walking ten. Brooklyn pinch-hitter Cookie Lavagetto came to bat with the Dodgers trailing by one run and two runners on base: "Two men out, last of the ninth. The pitch. Swung on. There's a drive hit out toward the right-field corner. Henrich going back. He can't get it. It's off the wall for a base hit. Here comes the tying run— and—here's—the winning run."
On National Public Radio's "Morning Edition" on April 23, 1982, Barber told host Bob Edwards, "When all of the excitement was over for a little bit, I just sort of caught my breath and without thinking about it, Bob, I said, 'Well, I'll be a suck-egg mule.' "
Edwards asked why he said that. Barber replied, "When you're doing something such as you and I are doing, live radio without any preparation, no script, you are just concentrating on your work and something just comes out. . . . When you realize that things suddenly come out of your subconscious or your unconscious when you're talking to an open microphone, sometimes it frightens you.
In the sixth game, Brooklyn had a three-run lead when Joe DiMaggio came to bat. In Barber's words: "Here's the pitch. Swung on, belted. It's a long one deep to the left center. Back goes Gionfriddo. Back, back, back, back, back, back. He makes a one-handed catch against the bullpen. Oh, doctor. [Pause for crowd noise.] He went exactly against the railing in front of the bullpen and reached up with one hand and took a home run away from DiMaggio." Barber said those calls demonstrated an important rule for a play-by-play broadcaster: On a long drive, watch the outfielder; he'll be the first to know whether it's catchable. Thus, "Back goes Gionfriddo." "Henrich going back. He can't get it."
More than thirty years later, a young broadcaster named Chris Berman on the upstart cable network ESPN adopted "back, back, back," he said, as a tribute to Barber.
Barber was celebrated for his vivid imagery, all the more memorable because he brought the country sayings of his Southern upbringing to urban Brooklyn. Cincinnati public radio station WVXU assembled this Red Barber sampler:
The game "is just as tight as a brand-new pair of shoes on a rainy day."
"They'll tear up the pea patch before the day is over."
"The bases are FOB — they're full of Brooklyns"—he acknowledged he made up after seeing the term, which meant "free on board" in the shipping industry, and turning it over in his mind. His most enduring coinage was "sitting in the catbird seat." In Barber's lexicon, that meant a batter with a three-ball, no-strike count or a team with a comfortable lead.
Ernie Harwell, who broke into big-league broadcasting under Barber in 1948 and lasted for fifty-five seasons, told WVXU, "The ironic thing was, he was a very cultured man, and on the air he sounded like some guy from the backwoods, you know . . . And he really wasn't. He loved the opera and he loved the classics and all that kind of stuff. He lived on Park Avenue in New York."
Vin Scully, who inherited Red's mantle as "Voice of the Dodgers," joined the broadcasts in 1950 as a twenty-two-year-old. "His work ethics were so strong that he imbued me with that spirit," Scully told WVXU. "Get to the ballpark early. Check, check, recheck. Talk to players, managers constantly. And that rubbed off on me."
In 1950 attorney Walter O'Malley bought Rickey's 25 percent interest in the Dodgers and took control of the franchise. Red's relationship with the new owner was touchy. "O'Malley wanted to cut me down to size," he wrote in his autobiography. "He is a devious man, about the most devious man I ever met." Barber broadcast his thirteenth World Series in 1952, again sharing the NBC radio and television microphones with Mel Allen. It would be his last.
Ever since the Gillette Company bought exclusive rights to the Series in 1939, Barber had chafed at the company's cavalier treatment of announcers. By 1953 Gillette paid the broadcasters just $200 a game "for the biggest sports event on coast-to-coast television," he fumed. Barber declined to broadcast the '53 Series when the company refused to negotiate his fee. When Red told O'Malley what had happened, O'Malley's reply—"That's your problem"—ended Barber's relationship with the Dodgers. His contract for the Brooklyn broadcasts had expired, and the sponsors had made no move to renew it.
A few days after he left the Dodgers, Red was hired by the Yankees. The new job was quite a comedown. For twenty years in Cincinnati and Brooklyn, he had been the principal broadcaster, handing out assignments to his assistants. He decided how many innings they would call, who would do which commercials, who would handle pregame and postgame shows.
The Yankees' principal broadcaster, Mel Allen, was the most famous sports announcer in the country. Red was hired to handle pregame and postgame shows on televised home games and to work a few innings of play-by-play. He traveled with the team only occasionally. "Mel accepted me as an equal," he insisted." . . . he could not have been nicer to me either then or all through the years we worked together"
Red was forced to adjust, grudgingly, to fundamental changes in the broadcasting industry. In 1939 he had broadcast the first major-league game on television over NBC's experimental station W2XBS, when only a few dozen homes had TV sets. In the 1950s television became the dominant medium. Like many other radio veterans, Barber never accepted television. He endured it. He explained why in Rhubarb in the Catbird Seat: "On TV it's the director's show, and the broadcaster is an instrument of his, like a camera. On radio, it's my show, where my knowledge and experience and taste and judgment decide what goes and what doesn't. On radio, you're an artist. On TV, you're a servant."
Barber deplored the invasion of the broadcast booth by retired ballplayers—he dismissed them as "former-great-star-expert(s)." By 1965, after the Yankees fired Allen for "popping off," Barber was sharing the booth with three of those "experts:" ex-shortstop Phil Rizzuto, ex-second baseman Jerry Coleman, and Joe Garagiola, a onetime backup catcher who had parlayed a quick wit and a trove of real and invented anecdotes about his boyhood pal Yogi Berra into a broadcasting career. Garagiola committed what Barber considered the unforgivable sin: "He cut in on me in the middle of sentences . . . He ran over fellows."
CBS had bought the Yankees, and network executive Michael Burke took over as the team's president in September 1966. He curtly informed Barber, "We have decided not to seek to renew your contract." Barber thought he knew why. On a chilly, rainy day near the end of the 1966 season when baseball's marquee franchise fell to last place, the Yankees played a home game before 413 fans. Barber wrote in The Broadcasters, "This was the smallest crowd, by far, in the history of the massive ballpark built by Babe Ruth, Ed Barrow, and Colonel Jake Ruppert." He asked the television director for a shot of the empty seats. The director refused, and Barber was told that the order came from the CBS executive who supervised Yankee broadcasts. But Barber was still a reporter. As he recalled it, he said, "I don't know what the paid attendance is today—but whatever it is, it is the smallest crowd in the history of Yankee Stadium . . . and this smallest crowd is the story, not the ballgame."
According to the University of Florida's Smathers Library, where Red's papers are housed, he broadcast play-by-play on thirteen World Series, four baseball All-Star Games, five Army-Navy games, one Sugar Bowl, two Rose Bowls, eight Orange Bowls, and four National Football League championship games. That career was over.
At age fifty-eight Barber began what he called his retirement at his home in Key Biscayne, Florida, near Miami. But it was an active retirement. He wrote a syndicated newspaper column and four books, and did sportscasts for Miami radio and TV stations. Cable television impresario Ted Turner hired Barber and Mel Allen to call the 1978 Little League World Series, one of the most bizarre anachronisms in broadcasting history.
That same year, he and Allen—forever linked—became the first broadcasters honored by the National Baseball Hall of Fame. They received the Ford C. Frick Award for "major contributions to baseball," an award named for the commissioner Barber despised.
Red would take one more star turn on a national stage, introducing himself to a generation of listeners who knew only the Los Angeles Dodgers and who, if they followed baseball at all, followed it primarily on television. In 1981 he joined National Public Radio's Morning Edition as a regular commentator, appearing for four minutes every Friday at 7:35 a.m. Eastern time.
The host of Morning Edition, Bob Edwards, lovingly captured those years in Fridays With Red published after Barber's death. The Barbers had left the fast-growing Miami area for the smaller city of Tallahassee, where Lylah had attended Florida State College for Women, the predecessor of Florida State University. Tallahassee station WFSU-FM ran an audio line to their home, and Red broadcast from a desk in his office. Nominally the spot was a sports commentary. In reality, it was a free-form conversation about just about anything, often including his flower garden and the adventures of his cats. He talked about opera, quoted Victor Hugo and Kahlil Gibran, and delivered condensed versions of some of the sermons he had preached as a lay reader in the Episcopal Church.
To the buttoned-down Edwards—who had every word of his broadcasts scripted, even "I'm Bob Edwards"—it was both a nightmare and a delight. Red insisted that his segment be live. He made it unpredictable. A producer would call him on Thursday to discuss topics for the next morning's broadcast. By Friday, Red had often changed his mind and took off in a totally unexpected direction. Edwards described himself as Barber's straight man. Because Red talked about his camellias so often, Edwards's wife planted one in their back yard. Red wanted to know what variety it was. Edwards replied, "Pink."
"Red's spot on 'Morning Edition' was the most popular feature of any program on public radio," Edwards wrote." . . . And for many listeners, Red was a reminder of a father, a grandfather, or a favorite uncle they had—or wished they had." Barber was as much a perfectionist as ever: Edwards said he could hear the click of Red's stopwatch at the beginning and end of his allotted four minutes. His career had come full circle: from noncommercial station WRUF in 1930 to noncommercial National Public Radio more than fifty years later. In his first NPR broadcast he said, "I'm a child of radio."
In the 1980s Lylah developed Alzheimer's disease, and much of the rest of Red's life was devoted to caring for her. "By the time I met him in the early '80s, he was so frail it seemed a gust of wind might take him away," Edwards wrote. Barber had suffered various physical ailments since the 1940s, going deaf in his left ear and surviving a heart attack and surgery for ulcers that removed much of his stomach. On October 8, 1992, he begged off the next day's broadcast, blaming a sore throat. On that Friday he drove himself and Lylah to a hospital. He underwent emergency surgery for an intestinal blockage and fell into a coma.
Red Barber died at eighty-four on October 22, 1992, at the Tallahassee Memorial Regional Medical Center. The New York Times reported that the cause of death was pneumonia and other complications from surgery. His ashes were buried in his yard, beneath five camellias. In his Morning Edition tribute, Bob Edwards said, "One of the great voices of America will speak to us no more, and the camellias will never smell as sweet." Red would not have liked that; camellias have no scent.
In Sanford, Florida, where Red grew up, a municipal park bears his name. In Tallahassee, where he lived his last years, Florida State University's Center for Public Broadcasting sits at 1600 Red Barber Plaza. His alma mater, the University of Florida, annually awards the Red Barber Radio Scholarship—$700 to a junior or senior majoring in telecommunications, with a preference to students planning to pursue careers in sports broadcasting. In Los Angeles Red's heir, Vin Scully, continued into the twenty-first century as the voice of the Dodgers.
Sources
Barber, Red. The Broadcasters. New York: The Dial Press, 1970.
Barber, Red, with Robert Creamer. Rhubarb in the Catbird Seat. Garden City, New York: Doubleday & Company, 1968.
Barber, Red, Show Me the Way to Go Home. Philadelphia: The Westminster Press, 1971.
Barber, Red, Walk in the Spirit. New York: The Dial Press, 1969.
Barber, Red. 1947: When All Hell Broke Loose in Baseball.Garden City, New York: Doubleday & Company, 1982.
Barber, Lylah, Lylah. Chapel Hill, North Carolina: Algonquin Books of Chapel Hill, 1985.
Edwards, Bob. Fridays With Red.New York: Simon & Schuster, 1993.
Smith, Curt. The Storytellers . New York: Macmillan, 1995.
Smith, Curt. Voices of the Game. South Bend, IN: Diamond Communications Inc., 1987.
Thurber, James, "The Catbird Seat," The New Yorker, (n.d.) 1942, reprinted in The Thurber Carnival, New York: Modern Library, 1945
Salon, November 7, 2000.
Los Angeles Times, August 6, 2002.
From the Catbird Seat: Red Barber, a 1993 radio documentary written and produced by Greg Rhodes for public station WVXU in Cincinnati. It included excerpts from his play-by-play broadcasts and his later interviews.
Born
February 17, 1908 at Columbus, MS (US)
Died
October 22, 1992 at Tallahassee, FL (US)
If you can help us improve this player's biography, contact us.
https://sabr.org/sites/default/files/BarberRed.jpg
600
800
admin
/wp-content/uploads/2020/02/sabr_logo.png
admin
2012-01-08 21:23:15
2012-01-08 21:23:15
Red Barber