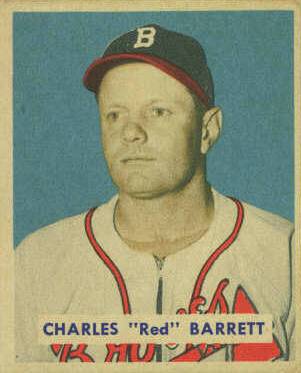 ---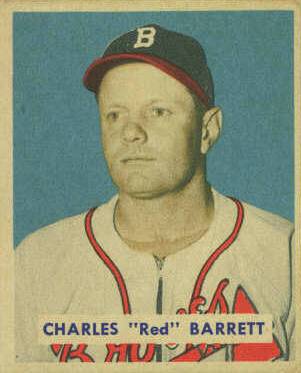 Red Barrett made a solid contribution to the 1948 Braves pitching staff, as both a spot starter and reliever. He appeared in 34 games with a 7-8 record and an impressive ERA of 3.65 (although he did not qualify for the ERA title), besting both ace hurler Warren Spahn's earned run average of 3.73 and the league average of 3.84. Overall, Charles Henry "Red" Barrett's major league career spanned 12 years, starting in 1937 with the Cincinnati Reds and finishing with the Braves in 1949.

While his lifetime record was an even 69-69, he earned a page in the record books when he threw only 58 pitches for the Braves in a complete game. It was a 2-0 win over Bucky Walters and the Cincinnati Reds in a one hour, 15 minute affair the evening of August 10, 1944, at Cincinnati's Crosley Field. During the historic outing Barrett's pitching included 13 groundouts, five fly balls, three popups in fair territory, four foul pop outs, and two line-drive outs. Barrett threw an average of two offerings per batter faced, giving up singles to Gee Walker and Eddie Miller. Known for his fast pace on the mound, the redhead faced only 29 batters and neither walked nor struck out a man. According to his son Bob Barrett, when Red was asked how it was that this game went so fast, "He would always answer that the other pitcher was working just as fast, and without him the record would never have been set."1

A lesser-known fact about the fun-loving and vocally gifted Barrett is that just two pitches nine months apart may have separated him from a plaque in Cooperstown. Twice he came within a single toss of a perfect game. On September 2, 1945, in a game Barrett pitched for the St. Louis Cardinals, Lennie Merullo of the Cubs made the only hit, in the third inning, and was the only baserunner. Merullo was caught stealing; the final score was 4-0, and it was the redhead's 20th victory of the season. The following June 6, the Phillies' Del Ennis celebrated his 21st birthday by singling in the eighth inning off Red, and no other batter reached first base. Barrett had retired 22 batters in a row before the Ennis hit. The 7-0 victory was Barrett's first win of the 1946 season.

Red Barrett was born February 14, 1915, in Santa Barbara, California, one of four children of Joe Barrett, a rancher, and Josephine Barrett. At an early age, Red excelled in track and field as well as baseball. Simi High School had only 69 students and, he told a sportswriter years later, there was no football team. "The school would not let us play football because there weren't enough able-bodied boys," Barrett said. "The farmers were afraid the boys would get hurt and they would have to do the chores themselves instead of their sons; consequently we played baseball."2

After graduating, Barrett played semipro ball for a team in Reseda, California, and then competed in a tryout camp with 500 players for 17 spots on the Los Angeles Angels' Western Association Class C team in Ponca City, Oklahoma. He made the cut, and in 1935 signed with Ponca City and registered a 15-12 record.

The next year, however, he dropped to 5-12 and was released by manager Mike Gazella, who thought "Red was too screwy."3 Barrett wired Joe Magota, president and owner of the Muskogee Reds, a Cincinnati farm team in the same Western Association, and promised him that if signed he would help the team win the pennant. Muskogee did win the pennant in 1937, with Barrett recording 24 victories plus two more in the playoffs, chalking up 213 strikeouts against just 49 walks, and posting a 2.85 ERA. During that season, he faced Ponca City seven times and won six of the games. Barrett later commented, "It was a lucky day for me when I got away from the (Ponca City) Angels, and a lucky day for Cincinnati when it got me, because if ever there was a major league pitcher it's Red Barrett."4 In 1937 he was with Muskogee of the Class C Western Association when his contract was purchased by Cincinnati. Late that season, he made his major league debut, appearing in the second game of a September 15 doubleheader against Brooklyn. He pitched 6 1/3 innings, allowing five hits and just one earned run.

In 1938, the Reds optioned Barrett to their Syracuse team in the International League, where he won 16 games with only three losses and a league-leading ERA of 2.34. His moundmates ranked second, third, and fourth in ERA. Near season's end, the big-league club brought him up again, and on August 31 he defeated Brooklyn, 9-3, allowing three runs and eight hits under the lights at Crosley Field. He followed that first victory with another complete game win, a seven-hitter over St. Louis.

Red started the '39 season with Cincinnati, but after appearing in only one game he was sent to Indianapolis of the American Association, where he recorded a 16-12 record and an ERA of 3.41. The next year, 1940, was another year in the minors with a short stint in Cincinnati, where he pitched a total of three innings in three games and chalked up one victory without a defeat. During the four-year period 1937-1940, Barrett pitched 44 innings in the big leagues and won three games without a loss. From all indications, Barrett was not the most popular player with his managers; this may have led to fewer opportunities.

Barrett outlined his view on pitching to Los Angeles Times sportswriter Bob Ray in a 1938 interview: "I'm no strike-outer. These strikeout pitchers are chumps in my book. Me, I try to make them hit that first ball. After all, those other guys out there are supposed to work too. If everybody in business was like me there wouldn't be so many people out of jobs. My idea is to throw as few pitches as possible. Even when you strike out a batter it generally takes four to seven, and sometimes even more pitches. I'd rather get that batter out on one pitch and save my arm. I am a control, and if you don't mind my saying it, smart pitcher."5

Red's off-field work during his minor league career included a job as a guard at a Cincinnati roller skating rink and another as a salesman in a sporting goods store. He was also quick with a song, and when he appeared at Cincinnati's Moonlight Gardens in September 1938, he was spotted in the audience by famed bandleader Tommy Dorsey, who called the right-hander up to sing "Please Be Kind" and "The One Rose" to an appreciative crowd of 3,000. The 1939 National League Green Book described Barrett as the "Sorrel thrush of the pitching mound, sweet singer in lighter moments, tough man on the twirling tee."

Barrett's 5-13 record in 1940 with Indianapolis was the poorest of his career, but in 1941, hurling for Birmingham of the Southern Association, he rebounded with 20 wins — tops in the Southern Association (he lost 16). On August 17, he pitched in a twin bill against Knoxville, winning both games, 9-1 and 5-2. Barrett did not reach the majors in either 1941 or 1942, even after, in 1942, duplicating his 1941 total with a league-leading 20-win season at Syracuse, this time with just 12 defeats. His 20th victory was a one-hitter over Jersey City. Pitching his best ball to date, Red had an ERA of 2.05 in 1942, also leading the league in starts (34); shutouts (7); complete games (25); innings pitched (268); strikeouts (114); and longest winning streak (7). Not surprisingly, he was named the International League's Most Valuable Player, the first Syracuse Chief to win the honor. Forty-six years later, on July 25, 1998, Charles Henry Barrett was posthumously voted in as a member of the first class in the Syracuse Chiefs' Wall of Fame.

It must have been a relief to Barrett when the Boston Braves purchased his contract from the Reds on September 30, 1942. Boston gave him the shot Cincinnati never did. In 1943, at the age of 28, Barrett finally played his first full season in the majors. He pitched in 38 games with a record of 12-18 and a respectable earned run average of 3.18. The Braves finished that season in sixth place with a 68-85 record. Barrett won his first game on April 29 against the New York Giants — he gave up six singles in a 5-2, complete-game victory at the Polo Grounds. His own single aided in the win, driving in two eighth-inning runs. During the season he also bested Cincinnati ace Bucky Walters three times.

Barrett's first year in Boston, 1943, was manager Casey Stengel's last season at the helm of the Braves. Stengel once related a story of how he counseled Barrett on pitching to slugger Stan Musial. "Feed the eager kid a slow pitch," Stengel instructed his right-hander. Barrett followed orders and Musial hit the pitch out of sight. An angry Barrett snarled at Casey, "You don't know how to pitch to him." Stengel thought a moment and then retorted, "Lemme tell you somethin'. We still don't know how to pitch to him."6
On July 12, 1943, before 12,000 spectators at Braves Field, Barrett pitched to both Ted Williams and Babe Ruth during Boston Mayor Maurice J. Tobin's annual charity field day. Ruth led a military service All-Star team that faced the Braves. Before the game, won by Ruth's All-Stars 9-8, Ruth and Williams attempted to put on a long-range batting duel for the fans, with Barrett serving up batting practice lobs. Williams sent three balls into the right-field stands, while the 48-year-old Bambino, hampered by an old knee injury, was unable to clout a ball out of the playing confines.
Barrett finished 1944 with a 9-16 tally, appearing in 42 games and pitching 230 1/3 innings during another sixth-place season. Amid the dismal record and a 4.06 ERA, his highlight was the 58-pitch win over the Reds.
Barrett continued to pursue his off-field singing career while with the Braves, winning first prize in Kay Kyser's Kollege of Musical Knowledge contest with his song "So You Want to Lead a Band."7 He followed this with a two-week engagement in Boston singing with the Sammy Kaye Orchestra.

The right-hander seemed headed for another losing year in 1945 — with a 2-3 record and lofty 4.74 ERA in mid-May — when he was traded to the St. Louis Cardinals in a "throw-in" deal, with the Braves paying $60,000 and Barrett for disgruntled Cardinals pitching ace Mort Cooper. Cooper and owner Sam Breadon had a long-festering salary dispute and the St. Louis owner was happy to exchange the high-priced Cooper for the Boston journeyman. One columnist commented on the sale, "There was nothing to do but get rid of the troublemaker, even if the Cardinals received nobody more impressive than the 30-year-old Barrett."8 Barrett himself quipped, "The Cardinals should have thrown in Kurowski," a reference to the Cardinals' slugging third baseman Whitey Kurowski.9

The self-confident hurler's shift to St. Louis proved to be a career-saving move for the redhead. He won 21 games and lost nine for the Cards, and directed them to a second-place finish with a 95-59 record behind the Chicago Cubs. He led the league in complete games (24); victories (23); and innings pitched (284 2/3). Dan Daniel, a columnist for the New York World Telegram, wrote, "Barrett is not endowed with a lot of stuff. He isn't fast, his curve ball is not especially baffling. He has no particularly elusive delivery but he jitters the hitter into a state of agitation." Barrett explained his newfound success by saying, "The difference between the Cardinals and the Braves is that the Cards are fast enough to catch line drives hit off me."10 Obviously not superstitious, Barrett chose the number 13 for his uniform when he joined the Cardinals in 1945, the same number he would later wear with the pennant-winning Braves in '48.

Barrett defeated every club in the National League at least twice in 1945, including a 4-0 record over the New York Giants. The light-hitting pitcher's bat also came to life when he slapped a two-bagger against the left-field wall in Boston good for two RBIs to help him beat his old teammates, 8-4, on August 21. He was named to the All-Star Team and was third in the MVP voting, trailing the Cubs' Phil Cavaretta and Boston's Tommy Holmes. Barrett was philosophical about his All-Star status, recalling, "I made the All-Star team in 1945, the only time the All-Star team never played a game because wartime gas rationing prevented travel."11 Adding to his workload, after the season, he toured with a group of National Leaguers to play before 225,000 troops on a USO tour of islands in the South Pacific. Among the players on the 22-game journey were future 1948 Braves teammates Frank McCormick, Jim Russell, Bill Voiselle, and Ed Wright. Barrett pitched in Honolulu, Guam, and the Philippines, throwing 39 innings and striking out 23 while walking just four. He posted a 3-1 record and batted .285 at the plate, usually playing in the infield or outfield while not pitching. He didn't hesitate to sing a few songs from the USO stage, either.

Barrett had continued his singing career while with the Cards, appearing with Dick Slack's All Star band. They were on the radio at 5:30 a.m., "before the birds even got up," he commented.12 For several years during the winter season, the "amiable thrush" (The Sporting News) earned extra money by singing country music on the radio. Son Bob recalls, "Dad used to sing in nightclubs and speak at dinners. He could tell a joke better than most comedians, with a great range of dialects and had a wonderful Irish tenor voice."13

The singing redhead's fame spread beyond the diamond when the April 1, 1946, issue of Life magazine featured the 23-game winner on its cover. A newspaper in St. Petersburg, where the Cardinals held spring training, reported, "Newsstands around Central Avenue were understandably bare of copies of Life magazine shortly after the issue hit the streets. Pitcher Red Barrett…took ample precautions to see that each of his mates would receive a copy of the publication. The redhead was up at sunrise to buy every available copy in St. Petersburg. He explained, 'Just getting them to sell to the other Cardinals so they'll be sure to have one.'" Prophetically, the caption describing Life's cover stated, "The 31-year-old Barrett is working hard on his tricky pitching and change of pace to meet this year's younger and stiffer competition."

There was a little confusion in Beantown during this time. In 1944 and 1945, both the Braves and the Red Sox had right-handed pitchers named "Red" Barrett. The Red Sox' "Barrett" was christened Francis and served as a reliever. Adding to the confusion, Francis "Red" Barrett was picked up by the Braves in 1946 during Charles "Red" Barrett's exile to the Cardinals. That same season, the Tribe also briefly employed an outfielder named Johnny Barrett.

Red (Charles, that is) turned up a week early for 1946 spring training, raring to go for new Cardinals manager Eddie Dyer. But although it was a great year for the Redbirds, climaxing in a thrilling seven-game World Series victory over the Boston Red Sox, Barrett's role was relegated to 23 appearances, a total of 67 innings, and a disappointing 3-2 record (though one of them was that near-perfect game against the Phillies). Dyer had replaced Billy Southworth, who left to join the Braves for what at the time was a record-breaking contract of $50,000 a year for five years. Dyer was blessed with a young pitching staff of strong-armed hurlers led by Harry Brecheen, Murry Dickson, and Howie Pollet, diminishing Barrett's importance to the staff. The manager told The Sporting News in April that Barrett had been "hit hard most of the spring." Giving up 20 earned runs in his first 20 1/3 innings of the regular season, he demoted himself to low man in the rotation. In midseason, sportswriter Fred Lieb wrote that Barrett "seems to have lost his touch." The only complete game he won during the year was a masterful 7-0 one-hitter against Philadelphia, a near-perfect game on June 8, broken up by a Del Ennis single with one out in the eighth.

Barrett's transformation from Life cover boy to afterthought in 1946 may have been related to a perception held by manager Dyer. "He's essentially a control pitcher but control isn't enough this season [with war veterans back in the lineups]. A pitcher has to have more than that. I was talking about him to Mel Ott last winter and remarked that Barrett had twirled some low-hit games against the Giants. However, Ottie stopped me cold. 'I know that,' he said, 'but the park still was full of line drives.'"14

The Cards used only seven pitchers during their seven-game World Series victory over the Red Sox, and Barrett did not make an appearance. The autumn classic was not a total washout for the Barrett family. Red's wife, Margaret, was chosen as the "most chic World Series wife" and was presented with a hat valued at $1,000. Dyer, who piloted the club to a 98-56 record in his first year, was named National League Manager of the Year.

In a reversal of fortune after the season, Barrett was sold back to his old team, the Boston Braves, joining his former manager, Billy Southworth, and Mort Cooper, the pitcher he was traded for two years previously. Southworth was "hopeful that the loquacious flinger will be able to regain some of the winning form he displayed in St. Louis in 1945."15 Boston Globe cartoonist Bob Coyne heralded the return with a drawing headlined "Back With Billy!" and a compilation of small sketches with the following captions, "Arrived in camp with a well developed front porch wearing a ten gallon hat, boots and chaps!"; "Served as a professional entertainer singing hillbilly songs during the winter months"; and "The guy has more color than a crazy quilt."

During the 1947 season, Barrett was the third starter in Boston's four-man rotation and the club's third leading winner with an 11-12 record. Fellow pitchers Warren Spahn and Johnny Sain each registered 21 wins. Barrett appeared in 36 games and pitched 210 innings. Never considered a strikeout hurler, he issued 53 walks and struck out 53. He recorded three shutouts, twice defeating the Cubs' Hank Borowy, by scores of 1-0 and 2-0, and the Dodgers' Vic Lombardi, by 3-0. Barrett hit just .118, but five of his eight hits were doubles — including two in a 6-2 victory over the Pirates on June 13. The Braves finished in third place with an 86-68 record.

Barrett's tendency toward braggadocio proved somewhat embarrassing toward the end of the '47 season. The Pirates' Ralph Kiner went on a home run tear in September, and on September 11 in Pittsburgh hit four homers in a doubleheader against the Braves. His circuit clout string stood at six in three straight games, and scheduled to face the slugger the next day, Barrett predicted that Kiner wouldn't hit one off of him. Barrett was only partially correct. In a 4-3 victory over the Tribe on the 12th, Kiner lashed out two homers, besting the old record of seven in four consecutive games, set by Tony Lazzeri of the Yankees in 1936.

At the opening of the 1948 season, Red changed his uniform number to 13, the lucky numeral that produced 23 wins for him that year. The Braves were primed for a big year with the league's highest paid manager, two 20-game winners and a shortstop, Alvin Dark from Louisiana State University, who was given a $50,000 signing bonus to join the Tribe. To induce fan attendance, the team offered a special night-game package that included tickets, a room at the nearby Somerset Hotel, and dinner for $4.50.16 Barrett became a sometime starter, replaced in the regular rotation by Vern Bickford. While he, Nelson Potter, Bobby Hogue, and Clyde Shoun shared the bulk of the bullpen work, Red did have several key wins as a starter. He threw a complete game six-hitter against the Dodgers on April 27, winning 3-2. This was followed by a 3-2 victory over Cincinnati on May 8. Another big win over the Reds was on August 31, 3-1, to get the Braves within two percentage points of the first-place Dodgers. And on September 5, with Boston now in first, Barrett defeated the Phillies, 5-1, allowing only five hits and retiring 15 in a row. Del Ennis, the outfielder who spoiled Barrett's perfect game bid in 1946, broke the spell with a harmless two-out single in the ninth.

During the season, Barrett also had the dubious distinction of losing both ends of a twin-bill against Cincinnati on June 12, as a starter in the first game and in relief in the second. Reds' pitcher Johnny Vander Meer (who'd been Barrett's teammate with Indianapolis in 1940) hit the only home run of his career off Red in the first game. Ultimately the Braves finished in first place with a 91-62 record, and also won at the gate by drawing a franchise-record 1,445,437 fans. Barrett had just a 7-8 record, but his big wins, versatility, and solid 3.65 ERA outshined his record. In the World Series against the Indians he appeared in Games Two and Three, pitching a total of 3 2/3 innings of shutout ball, but the Braves lost in six.

The New York Times recapped the Braves offseason plans after the '48 season:

The Braves most vociferous off-season planner was right hand pitcher Charles (Red) Barrett, proud thrower of the game's only "mushball."

"As usual," Barrett said without being asked, "I will resume my musical career as soon as possible. That means as soon as anybody offers me money to sing. I'll admit I'm not one of the world's topflight vocalists. But I do sing loud and I've been able to make more money with my voice during the cold winter months than I could driving a truck.

"I'll let you know as soon as one of the more astute Boston night club owners comes through with a professional engagement," Barrett continued despite many raucous interruptions. "Be sure to come up and see me and bring all your friends. But be prepared to pick up the check."17

While in the minors, Red Barrett had married Helen Margaret Knutsen on April 5, 1936. A son, Bob, was born in August 1937, followed by daughter Kathryn in January 1941. Bob recalls his family's stay in the Boston area: "We lived in a big house in the Auburndale section of Newton and had a French couple living with us, serving as a maid and butler. Dad had a lot of friends on the club but was closest to Sibby Sisti, Earl Torgeson, and Bob Elliott. I remember when Bob Elliott was voted the league MVP and I took a picture of him holding his trophy. Basically everyone liked my dad except the management. He was kind of a rabble-rouser and got into trouble a few times. And although he did not drink, he sure knew how to party. He had great control and was probably the first pitcher to throw a slider, although he called it a nickel curve."18

After the pennant season, 1949 was not a good year for either the Braves or Barrett as dissension wracked the club. Spring training started with a closed-door meeting in which players confronted manager Southworth, who throughout his managerial career had been a hard disciplinarian. Barrett was a Southworth supporter. He suggested taking a vote of confidence among the players but was rebuked by Eddie Stanky, who declared, "If Southworth wants a vote of confidence, let him ask for it himself."19 Southworth, who had long struggled with alcoholism, was rumored to be drinking heavily and near nervous collapse. In August, he was persuaded by owner Lou Perini to take a leave of absence and was replaced by coach Johnny Cooney.

Despite the return of All-Stars Sain and Spahn, however, the Braves fell to a lackluster 75-79 record and a fourth-place finish in '49. Their attendance slumped to just over 1 million, and the cross-town rival Red Sox — led by superstar Ted Williams — captured the headlines with a photo-finish finale that climaxed in their losing to the rival Yankees on the last day of the season. The 34-year-old Barrett was now used exclusively in relief, compiling a 1-1 record in 23 games and a total of 44 1/3 innings. He played his final game in a Boston uniform on September 29, 1949, hurling one shutout inning in a 9-2 loss to the pennant-bound Dodgers. It was also his final game in the majors. Evidently he didn't feature in the Braves' plans for 1950, and no other big league team picked him up.

Barrett remained in organized baseball for four more years with minor league teams in Los Angeles, Nashville, Buffalo, Toronto, and Tampa, and ended up in Texas with the Paris Indians of the Big State League in 1953, where, at the age of 38, he had a record of 6-4 in 15 appearances. Barrett's playing odyssey had taken him to 11 minor league cities and three major league cities. He appeared in 253 major-league games, 149 of which he started.

Life after baseball saw a move to North Carolina and a job with Sealtest Ice Cream. He was divorced in 1951 and while managing a plant for the ice cream company in New Bern met his second wife, Libby, whom he married in 1957. Red and Libby had one son, Rick, who remains in the North Carolina area. Red never lost his love of sports, and "officiated just about every sport — baseball, softball, basketball, and football at midget through college levels." He worked for the North Carolina High School Athletic Association and for the U.S. Slo-Pitch Softball Association, where he also served as a director. Barrett commented on officiating to a local reporter, "Officials receive a lot of kidding and criticism. Ninety-nine per cent of calls are judgment calls — the call was right, but maybe my judgment was bad."20

Barrett eventually settled in Wilson, North Carolina, where he became active in the Wilson Hot Stove League, bringing many major league players to meetings, including former teammates Stan Musial and Enos Slaughter. In 1971, he went to St. Louis to participate in a replay of the 1946 World Series between the Cardinals and the Red Sox. Another trip, in 1987, took him to an old-timers game, an event he described as a "bunch of old veterans getting together to play five innings of baseball."21 His retirement also improved his golf game, and he received two hole-in-one awards from the local Willow Springs Country Club.

Under the auspices of the New England Sports Museum, Barrett returned to Boston one last time in August of 1988 to celebrate the 40th anniversary of the 1948 NL championship. At an onstage question-and-answer session held in an auditorium on the Boston University campus, which contains the remnants of old Braves Field, Barrett was cajoled by former Tribe publicity director Billy Sullivan to demonstrate his vocal talents and croon a tune.

Around this same time Barrett was diagnosed with cancer, and after a prolonged illness died at the age of 75 on July 28, 1990. He was buried at Evergreen Memorial Gardens in Wilson. The following year the Wilson Hot Stove League dedicated their banquet to the fun-loving redhead. Among the remembrances in the program:
He played the quickest round of golf of anyone in the United States of America.
He officiated every conceivable athletic contest that was ever played.
He, year after year, led the Hot Stove League in singing "Take Me Out to The Ballgame." In tune or out of tune made no difference.
He was a great philosopher fond of saying, "Be careful of the words you say — keep them warm and sweet — because you never know from day to day which ones you'll have to eat! And never complain of not getting everything you want — just pray to God you don't get all you deserve.
Numerous photos and memorabilia from Barrett's career are displayed at the legendary Dick's Hot Dog Stand in Wilson, owned by Barrett's good friend and fellow Hot Stove Leaguer Lee Gliarmis.

After Red died, son Rick, president of CityScape Builders, decided to honor his father, and in appreciation of the care he received during his illness, established the Charles "Red" Barrett Memorial golf tournament. The event has raised thousands of dollars for a local hospice.


Note

This biography originally appeared in the book Spahn, Sain, and Teddy Ballgame: Boston's (almost) Perfect Baseball Summer of 1948, edited by Bill Nowlin and published by Rounder Books in 2008.

Notes

1. Interview with Bob Barrett, May 13, 2007.

2. McCrory, Rosellen. Interview with Red Barrett sent to author.

3. Ray, Bob The Sports X-Ray, Los Angeles Times, November 9, 1938.

4. Ibid. Bob Brady located a story by Arthur Daley in the March 31, 1943 New York Times that tells how teammate Albert "Dutch" Mele led the Association in batting average (.354) and homers (30). Mele beat out "Mad Russian" Lou Novikoff of Ponca City for the batting title in the final game of the season. Red Barrett took the mound that game and told Mele, "You'll win the title if you get a loud foul today, because I intend to take care of Novikoff myself." He held Novikoff hitless while Mele went 4-for-4.

5. Ray, ibid.

6. Daley, Arthur, New York Times, August 16, 1962, p. 19.

7 McCrory, Rosellen, Wilson North Carolina Daily Times, June 18, 1990.

8. Drebinger, John, New York Times, December 8, 1946.

9. Kaese, Harold, The Boston Braves, p. 259.

10. Ibid.

11. McCrory, Rosellen, Wilson North Carolina Daily Times, June 18, 1990.

12. McCrory, Rosellen. Interview with Red Barrett. Barrett also told Rosellen McCrory that he "dated" Betty Grable while on a USO tour and that the two double-dated with Jane Wyman and Ronald Reagan.

13. Interview with Bob Barrett, May 13, 2007.

14. Daley, Arthur Daley, New York Times, September 21, 1946, p. 21.

15. Drebinger, John, The New York Times, December 8, 1946.

16. Pietrusza, David, "Boston Braves Finale" at http://www.davidpietrusza.com/Boston_Braves_Finale.html

17. New York Times, October 13, 1948.

18. Interview with Bob Barrett.

19. Kaese, The Boston Braves, p. 279.

20. McCrory, Rosellen, Wilson North Carolina Daily Times, June 18, 1990.

21. Ibid.
Born
February 14, 1915 at Santa Barbara, CA (USA)
Died
July 28, 1990 at Wilson, NC (USA)
If you can help us improve this player's biography, contact us.
http://bioproj.sabr.org/bp_ftp/images3/BarrettRed.jpg
600
800
admin
/wp-content/uploads/2020/02/sabr_logo.png
admin
2012-01-04 20:35:44
2012-01-04 20:35:44
Red Barrett