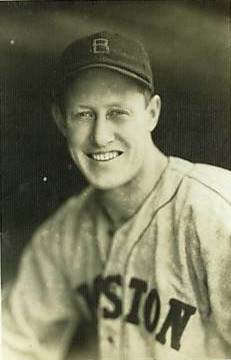 ---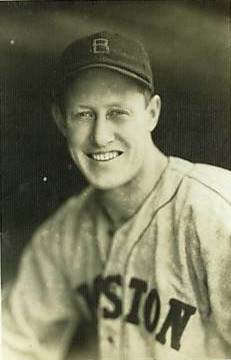 The Boston Red Sox have had two Kelletts play for them, ten years apart. Al Kellett had more success as a professional basketball player, turning to that sport after his brief baseball career was done. Red Kellett had an extremely brief baseball career as well, later making more of a mark in football. Though the two athletes both grew up in New York City, they do not appear to be related.
Donald Stafford Kellett was born about eight years after Al, in Brooklyn, on July 15, 1909. His father David was an accountant and his mother Grace (Chatterley) was at home. Both parents were native New Yorkers, though Grace's maternal grandmother was born in Scotland. In 1944, Donald himself applied for membership in the Sons of the American Revolution, listing himself as a descendant of Daniel Booth. Booth was born in 1735 and "signed the Association in May 1775 in Suffolk Co. He was a refugee from Long Island to Guilford, Connecticut where he remained until January 1783."[1]
Kellett attended P.S. 152 in Brooklyn, and then Erasmus Hall High School and the Peekskill Military Academy. Kellett was the star quarterback for Penn football beginning with his sophomore season in 1931. No sooner was the football season over than he was playing left forward for the basketball team. And by April he was playing baseball, his two-run homer in the first inning of the April 8 game against Harvard accounting for the only two runs of the game. It was the only hit of the game off Harvard's pitcher, future major-leaguer Charley Devens. The Penn pitcher, John Powhida, threw a one-hitter, too. Penn took third place in Eastern Intercollegiate League play in 1932.
Overcoming what threatened to be a serious foot injury during football practice, he starred on the team again, one of the highlights being the four touchdowns (one a 75-yard run) he scored against Swarthmore on October 8. Kellett was used to performing in front of large crowds; home games for Penn often drew 55,000 or more. He was a stocky 6-foot-tall, 185-pounder who could kick, pass, and run – and often earned headlines.
He continued to excel at all three sports and was awarded the Penn medal in March 1934 for typifying the ideal athlete. The New York Times added, "His scholastic record is excellent."[2] Kellett graduated from the University of Pennsylvania with a B.S. in economics. He was a member of Phi Beta Kappa, and later a graduate of the Wharton School of Finance.
With Red Sox general manager Eddie Collins casting a wide net for talent, backed by Tom Yawkey's budget, it is little surprise that they sought out the nine-letter athlete. They signed Kellett on June 17, and the Penn shortstop and team captain joined the Red Sox immediately after his 1934 graduation. He'd hit for a .488 average in the season's 12 intercollegiate games, to lead all college batters. He set a new intercollegiate mark in home runs, with four. He first suited up for the Red Sox on June 21, wearing number 8.
Kellet's debut came as a pinch-hitter in the July 2 game at Yankee Stadium, and he struck out to end the 5-0 loss. He played part of the second game on July 4, when the Red Sox hosted the Yankees, replacing Bill Cissell at shortstop. Kellett was 0-for-3 at the plate, with another strikeout, but was perfect in the field.
It took a long time for Kellett to collect a hit in a Red Sox uniform. He didn't even do so in the July 8 exhibition game in Brockton (Massachusetts) against the Taunton Lumber Company team, when he was 0-for-3 and made an error in the field, nor in the July 11 exhibition game against the Malone Stars in Malone, New York. He was 0-for-1 in that game, and committed another error. We're not sure if he played on either July 27 in Syracuse or August 6 in Reading. The only time we see him making a hit for the Red Sox was in the August 20 exhibition game against Springfield when he was 1-for-4.
In major league games, he never did get a hit. He had ten plate appearances and was 0-for-9 with five strikeouts. He walked once, in the August 11 game against the Yankees at Fenway Park in the bottom of the 13th inning. The Yanks had taken a 2-1 lead in the top of the inning, but the Red Sox had scored one run on an errant throw, to tie the game. With Moose Solters on second, and one out, they intentionally walked Lou Legett to get to Kellett, who drew a base of balls, loading the bases and pushing Solters to third base. Wes Ferrell was brought in to pinch hit for Ostermueller and he singled to center, the slow Solters scoring for the win.
That walk earned Kellett a .100 on-base percentage for the season (and, as it turned out, his major-league career).
He was quick to return his signed contract for 1935 and sent along a note that he was going to fight for the job at second base. He played throughout spring training, his best day coming in Bradenton against the Cardinals on March 19 when he was 4-for-4 (all singles) and scored five times.
He began to hit better and broke camp with the team, returning to Boston as a backup infielder. But a few games into the season, on April 24, he was sent on option to Albany. James C. O'Leary wrote in the Boston Globe, "In the games he has played with the Red Sox his fielding in the infield positions he was called on to fill was very good, in view of his limited experience."[3] O'Leary was thinking as much of that spring as during the previous season, when he'd committed two errors in 15 chances, both at shortstop. He'd played four games at short, two at second base, and one at third base.
June 10, 1935, was a big day for Kellett. In a series against Newark, he hit two home runs in one inning, one of them a grand slam. He'd already hit a slam against Newark earler in the same series. On July 20, he was acquired by Doc Prothro to play for the Little Rock Travelers. He'd hit .251 with Albany (with three homers), but could only manage a .184 mark for Little Rock. He was officially released by the Travelers in January of 1936, but signed on with Syracuse, where he hit .219 in 91 games.
In 1935, while still playing with Albany, he had been named the freshman football coach for Ursinus College, in Collegeville, Pennsylvania, and he held that position for the last couple of baseball seasons. He married Dorothea Tevis on March 1937 and decided to give up playing baseball. In June 1941, he resigned the position at Ursinus to become supervisor of freshman athletics at his alma mater, the University of Pennsylvania. He'd had a bit of a last hurrah as a player that summer, playing shortstop under Billy Rogell for the Lancaster, Pennsylvania Red Roses in the Class B Interstate League. In his final seasons he hit .248 in 119 games.
Kellett became head basketball coach at Penn in 1943 and had a very successful 1944-45 campaign, winning the league title. He resigned in June to take a position as the Baltimore branch manager of the Stonhard Company, a building maintenance material firm.[4] When his successor resigned after one year, an accommodation was made which allowed Kellett to return as head basketball coach but on a partial-year basis, leaving him free to keep a foot in private business as well.[5]
He resigned from Stonhard in April 1948 and became a Philadelphia television announcer. The University of Pennsylvania's web site says, "He did the first commercial telecast of football play-by-play for WFIL-TV, and later headed the operations of this radio and television station."[6]
On June 12, 1953, he was named President and general manager of the Baltimore Colts professional football team just before they became a franchise in the National Football League, the team having moved from Dallas. "I started in a hotel room with a briefcase," he said.[7] He was an active executive, bringing the Colts into the NFL, and was honored with the 1955 award as "Maryland sportsman of the year" by the Sports Reporters Association of Baltimore. He served well and was a contender for the position of NFL Commissioner in 1960, before Pete Rozelle was ultimately selected. In his time with the Colts, he'd signed Alan Ameche and Johnny Unitas and hired Coach Weeb Ewbank. His Sporting News obituary called the signing of Unitas his "prize catch…He got him for an 85-cent phone call to Pittsburgh after Unitas had been dropped by the Steelers in 1956."[8] The Colts won NFL championships in 1958 and 1959.
In November 1966 he retired to be with his family in Florida, retaining an advisory position with the Colts. He died in Fort Lauderdale of a heart attack on November 3, 1970.
October 1, 2011
Sources
In addition to the sources noted in this biography, the author also accessed Kellett's player file from the National Baseball Hall of Fame, the online SABR Encyclopedia, the Encyclopedia of Minor League Baseball, Retrosheet.org, and Baseball-Reference.com.
---
Born
July 15, 1909 at Brooklyn, NY (USA)
Died
November 3, 1970 at Fort Lauderdale, FL (USA)
If you can help us improve this player's biography, contact us.
http://bioproj.sabr.org/bp_ftp/images5/KellettRed.jpg
600
800
admin
/wp-content/uploads/2020/02/sabr_logo.png
admin
2012-01-04 20:33:33
2012-01-04 20:33:33
Red Kellett