---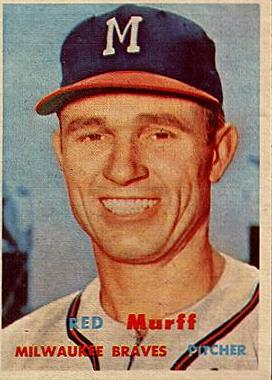 Just before the start of the 1969 World Series, Baltimore Orioles third baseman Brooks Robinson was said to have uttered the rather Grinch-like statement, "We are here to prove there is no Santa Claus."1 Such unabashed, un-American hubris could only naturally result in a rude October awakening for Baltimore. No presents under the Orange Birds' postseason tree. Just a lump of coal wrapped in pine tar.
Surprisingly, one person who contributed mightily to the Miracle Mets World Series triumph over the Orioles that year was a jolly Texan who never swung a bat or fielded a ball for the New Yorkers: Red Murff. It was this superscout's particular insight and dogged persistence that led to the signing of some of the most beloved players ever to doff a royal blue and orange cap. As a Mets scout, Red was credited with delivering a core of gifted players to the Mets. Jerry Koosman, Ken Boswell, and Jerry Grote all came to New York thanks to Murff's efforts. Red was also credited with discovering a fellow Texan, a lean high-school student the majority of scouts ignored. The only way this pitcher could have got into the Hall of Fame, so they thought, was if he bought a ticket. Murff proved his genius when he signed this fireballer from Alvin, Nolan Ryan.
John Robert "Red" Murff was born in Burlington, Texas, on April 1, 1921, and came to the game late. There was no baseball program at Red's high school in Rosebud, Texas; he only began playing during World War II while a member of an Army Air Corps team. At Maxwell Field, Alabama, Murff hit .466 in 1944 as an outfielder.2 After the war he played semipro while working as an assistant department manager at Union Carbide and Carbon Corp. in Texas City. He signed on, at the age of 29, with the Baton Rouge Red Sticks of the Class C Evangeline League in 1950 when the club agreed to pay him a higher salary than his day job.3 Pitching for the Red Sticks, Murff went 17-4, with a respectable 2.96 earned-run average. When he wasn't on the mound, he played the outfield, batting .331 while knocking in 65 runs. He won the league's Rookie of the Year Award. Years later he reflected, "The nicest thing [about the award] was the recognition that helped get me to the big leagues. The award made it known that I was a good player. And I was a rookie nearly 30 years old!"4
The following year, at an age when most athletes see their abilities start to decline, Murff decided that he would focus solely on pitching5 In the process of amassing 19 wins, he tossed a no-hitter for the Texas City Texans of the Class B Gulf Coast League. He won 23 games for the Tyler East Texans of the Big State League in 1952, and led the Texas League with 17 victories the following year for the Double-A Dallas Eagles (Texas League). Still an Eagle in 1955, he posted a 1.99 ERA, went 27-11, and logged more than 300 innings. The Sporting News named him Minor League Player of the Year. His next jump was to the majors, and it was decided in a unique manner. Murff said the Dallas owner, Dick Burnett, and Milwaukee Braves scout Earl Halstead could not finalize a sale price for the pitcher. "Burnett wanted ($100,000) and three players from the Braves 40-man roster. Halstead countered by offering ($40,000) and three players. Arguing back and forth for several days, the two decided to sit down and play gin rummy with the winner setting the price for the deal. Eight hours later Halstead emerged victorious, and the Braves paid forty grand and three players to acquire [Murff's] services."6 Red joined the Milwaukee Braves in 1956, pitched in 14 games (one start) and had a 4.44 ERA. The 35-year-old rookie injured his arm in the third inning of that first start for the Braves, which was his first major-league appearance. Murff, who had also suffered back problems, lamented that there was no real rehabilitation practiced in those days. He never graduated beyond being a bullpen pitcher in Milwaukee. His final game in the major leagues came just 13 months after his debut. He started just twice in 26 games. As a reliever he was retroactively credited with three saves.
Murff remained with the Braves over the 1956 and 1957 seasons, going 2-2 in 1957, but he did not pitch for the Braves after Memorial Day the year they went on to win the World Series. Murff lingered in the minors through 1959, pitching for Triple-A Wichita (11-9 and 11-5 in 1957 and '58) and Louisville (5-5 in 1959). He also hurled in the Puerto Rican League, where he later managed as well.
"Injury only stopped my baseball career as a player," Red philosophically noted. "Baseball was still a part of my life. Baseball was my vocation."7 In 1960 he became the player-manager of the Jacksonville Braves of the Class A South Atlantic League. Still the ever-competitive Texan, the 39-year-old Murff had a 5-5 record. At Jacksonville he helped a young pitcher named Phil Niekro, who was struggling with his knuckleball. More than 3½ decades later, the 318-game winner said during his 1997 induction speech at the Hall of Fame. "When I played in Jacksonville, Florida, my manager by the name of Red Murff … walked to me and said, 'Son,' he said, 'if you can get that knuckleball over the plate, you can pitch in the big leagues.' And I believed him. I've had a lot of respect for Red and I still do. He's here today and I just want to say thank you for finding someone at that age telling me that I could pitch in the big leagues with that knuckleball."8
It was merely Red Murff's first instance of helping a pitcher on the path to Cooperstown.
After scouting for the Houston Colt .45s, Murff joined the expansion team that really needed help. He went to work for the Mets organization in 1963, touring a huge territory that embraced Texas, Louisiana, Oklahoma, and New Mexico. In an attempt to lift the fledgling Mets farm system, Red instituted tryouts for young men enrolled in job-training programs and helped establish winter instructional camps in Mexico. All the while the scout continued to cultivate a keen, almost prescient ability to judge those players being overlooked.
Following up on a lead regarding a lefty hurler at the Army's Fort Bliss in El Paso, Texas, Red was shocked to find a "very fat" Jerry Koosman roaming the outfield.9 Weight was not the only reason scouts were discouraged about this plump fellow from Minnesota; his lackadaisical approach caused their clipboards to remain blank. Murff persuaded the pitcher to lose weight. He signed Koosman shortly after his military discharge. Murff gave a helping hand to Sam Houston State student Ken Boswell, tutoring the infielder on how to approach the commissioner's office and enter the major-league draft as a special exception. (The Mets took Boswell in the fourth round of the first major-league draft, in 1965.) Jerry Grote, who would become a lifelong friend of Red's, was inked by Murff while he was scouting for the Colt .45s. When Houston lost interest in the catcher, Red's word convinced the Mets brass they should acquire the backstop after the 1965 season.
Nolan Ryan provides a special example of Murff's foresight and determination. Not even his blossoming fastball attracted scouts. The skinny kid's wild delivery did not resemble anything close to big-league potential. It was Murff who stood by the young pitcher, seeing what no one else could. During Ryan's 1999 Hall of Fame induction speech, the man who hurled seven no-hitters praised Murff for making his baseball career possible. "Red is a friend and Red took more of an interest in me at an early age," Ryan said. "He thought when he saw me at 6-foot-2 and 140, he wasn't discouraged by my build and by the way I threw the baseball as many other scouts were. And I appreciate the fact that Red spent so much time with me and worked to help me become a better pitcher."
While Koosman, Ryan, Grote, and Boswell propelled the Miracle Mets into a ticker-tape blizzard in Manhattan, one has to remember that it was Murff who helped bring these gifted players to the team. It is no fairytale for fans and statisticians to look at the contributions of these four members of the 1969 Mets roster and honestly credit Murff with winning 23 regular-season games while collecting 272 strikeouts during that magic season. By bringing Boswell and Grote to the Mets, Murff can also be credited with uncovering 72 RBIs for the club. His postseason numbers for 1969 are even more impressive: the clinching victory in the NLCS, followed by two World Series victories and a save).
By the time the Mets won the Series, Murff was with another club. In September 1968 he had again joined another expansion club that really needed his help, the Montreal Expos. He was named Montreal's Scout of the Year in 1975. Murff also started the baseball program at the University of Mary Hardin-Baylor College, near his home in Belton, Texas, and came up with the innovative method of allowing released professional ballplayers to get an education and still be able to play college ball (games against ex-professionals were deemed exhibitions). The school's baseball ballpark was named Red Murff Field in 1994.
Murff, who was also credited for finding catcher John Bateman (Oklahoma) and pitchers Mike Stanton (Texas) and Norm Charlton (Louisiana), retired from scouting in 1991 after 34 years on the job. He was inducted into the Texas Baseball Hall of Fame in 1989 and the Texas Scouts Association Hall of Fame in 1999. Murff was an uncle to former Yankees and Twins relief pitcher Ron Davis and the great-uncle of Ike Davis, the Mets first baseman). He tried his hand at writing, penning a children's book called Little Whiskers Fin after telling his grandson a story. With that under his belt, wrote his own story, The Scout: Searching for the Best in Baseball (with Mike Capps).
Murff remained close to the game even in his 80s. After moving to the Tyler, Texas, area in 2003, he took an interest in the University of Texas at Tyler. "Red loved baseball and I loved it as well and we hit it off. …" said the university's former head baseball coach and athletic director, James Vilade. "Early on in our program, Red was the only person who supported our team and our players. He was instrumental with having a scouting day and getting our players ready for professional ball and it really helped them out."10 Murff was given a Lifetime Achievement Award by the school.
Even when Parkinson's disease, along with heart problems, forced a move into a Tyler nursing home, Murff still talked baseball and went with Vilade to area games on occasion. One of his prize pupils, Nolan Ryan, even paid a visit. Murff died on November 28, 2008, at the age of 87.
This biography is included in the book "Thar's Joy in Braveland! The 1957 Milwaukee Braves" (SABR, 2014), edited by Gregory H. Wolf. To download the free e-book or purchase the paperback edition, click here.
Sources
Murff, John "Red" with Mike Capps. The Scout: Searching for the Best in Baseball, (Dallas: Word Publishing, 1996).
Cotham, Jeremy, " 'Red' Murff: The Legend of Baseball Legends," The Patriot Talon of the University of Texas at Tyler, December 9, 2008.
Daley, Arthur,"The Bubble Bursts," New York Times, October 12, 1969.
Wolf, Bob," 'Won't Muff Big Chance,' Chirps Confident Murff," The Sporting News, March 7, 1956.
The Sporting News, 1955-68, 1973.
Niekro, Philip Henry – Baseball Hall of Fame Introduction Speech, August 3, 1997,
http://baseballhall.org/node/11259.
Red Murff interviews conducted by Michael J. Bielawa, November 2005.
Red Murff file, National Baseball Hall of Fame, Cooperstown, New York.
Notes
1 Arthur Daley,"The Bubble Bursts," New York Times, October 12, 1969.
2 Bob Wolf, " 'Won't Muff Big Chance,' Chirps Confident Murff," The Sporting News, March 7, 1956.
3 Wolf, " 'Won't Muff Big Chance' …"
4 Red Murff interview by Michael J. Bielawa November 21, 2005.
5 Wolf, " 'Won't Muff Big Chance,' …"
6 John "Red" Murff with Mike Capps, The Scout: Searching for the Best in Baseball (Dallas: Word Publishing, 1996).
7 Red Murff interview conducted by Michael J. Bielawa, November 21, 2005.
8 Philip Henry Niekro – Baseball Hall of Fame Introduction Speech, August 3, 1997. http://baseballhall.org/node/11259
9 Red Murff interview conducted by Michael J. Bielawa, November 30, 2005.
10 Jeremy Cotham, " 'Red' Murff: The Legend of Baseball Legends," The Patriot Talon of the University of Texas at Tyler, December 9, 2008.
Born
April 1, 1921 at Burlington, TX (USA)
Died
November 28, 2008 at Tyler, TX (USA)
If you can help us improve this player's biography, contact us.
https://h2j7w4j4.stackpathcdn.com/wp-content/uploads/2020/03/research-collection4_350x300.jpg
300
350
admin
/wp-content/uploads/2020/02/sabr_logo.png
admin
2012-01-04 20:40:47
2012-01-04 20:40:47
Red Murff