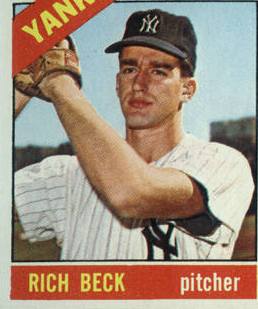 ---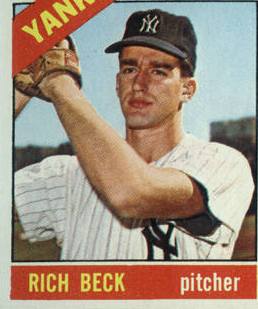 At the end of the 1965 season, New York Yankees pitcher Richard Henry "Rich" Beck had every expectation of a good year ahead. For the Yankees' Double-A franchise at Columbus, Georgia, he'd finished third in the Southern League in earned-run average, earned a spot on the league All Star team, and won 13 games, including a no-hitter, his second as a professional. In the last game of the season, with the league title on the line, Beck shut out Asheville, 7-0, to clinch the pennant for Columbus by a scant .001. The Yankees rewarded him by calling him up to the major leagues for September; he responded by going 2-1 with a 2.14 ERA. In his second start—his first appearance at historic Yankee Stadium—he shut out Detroit, 3-0. Looking ahead to the 1966 season, Yankees manager Johnny Keane said that Beck "figures pretty big for us in the future."
Beck, however, never made it back to the major leagues. In the offseason, with the US in the midst of the Vietnam War, he received his draft notice from the Army. In 1968, after a two-year tour of duty, Beck, by then 28 years old, tried a baseball comeback, but found that he had lost his control on the mound. In two less-than-stellar seasons with Yankees and New York Mets Triple-A teams, he posted a 5.41 ERA for the two seasons, giving up 189 hits and 123 walks in 178 innings, and then was through.
Beck, who was 6-feet-3 and weighed 190 pounds in his playing days, was born on January 21, 1940, in Pasco, Washington, in a heavily agricultural section of the state's southeast corner. (For years, beginning before the Yankees signed him to a professional contract in 1962, he listed his birthdate as 1941, shaving a year from his age. In an interview with the author, he said the scout who found him for the Yankees, Eddie Taylor, said his being 21 would make him more appealing to the organization than if they knew he was 22.) His father, Henry, operated a mom-and-pop grocery, while his mother, Ragna (nee Overlie), stayed home to raise Beck and his younger sister, Beverly. Both his mother and sister died when Beck was 8 years old. Shortly after that, Beck's father put him to work in the store after school and during the summers. He started out sweeping floors for 50 cents an hour; by the time he was 13 he was working as a checker and helping deliver orders to elderly customers.
"Pasco was a blue-collar town whose largest employer was the Northern Pacific Railroad," Beck said. "A lot of our customers were railroad people who were paid once a month and so they'd charge their groceries all month long and then, when they got their checks, they'd come in, settle up, and most of them would turn around on that same day and buy their groceries on credit to start the next month's tab."
Beck played football, basketball, and baseball at Pasco High School until he graduated in 1958. By his own assessment, he was a "very mediocre football player and okay at basketball." He said he played those two sports primarily to stay in shape for his passion, baseball.
"I had always loved the game," he said. Although he grew up before relocation and expansion took any major league-teams to the US west, he was a diehard Dodgers fan. As a young boy, he said, he spent hours a day playing baseball in his yard with a friend who was a Braves fan. "We would use a tennis ball in the driveway and play Dodgers-versus-Braves day after day, batting left- or right-handed depending on whose spot in the lineup it was." That practice taught Beck how to switch-hit.
Beginning in Beck's junior year, Eddie Taylor, the Yankees scout, began following him and, after Beck's senior year, when he earned All-State honors as a pitcher, offered him a contract. Beck declined the offer because his father was adamant that he attend college.
"When my father was younger, he'd had the chance for a scholarship but had turned it down to help in the family store," Beck said. "He never complained about that decision but he said it was important for me to get an education since it would open doors for me that he didn't have."
When his father was stricken with cancer soon thereafter, Beck—who said the two were close even before his mother and sister died—became even more determined to accede to his wishes that he attend college. He started as a mathematics major at Columbia Basin Community College and then transferred to Gonzaga University for the 1961-62 academic year, switching his major to business administration with an emphasis in finance. There, he played basketball for a mediocre team that went 5-9 and pitched and played first base for the baseball team. When his collegiate eligibility ran out, he signed with the Yankees for a nominal progressive bonus that would pay him $1,000 if he reached Double-A ball and lasted at least 90 days there; if he lasted 90 days at Triple-A, he would get another $1,500, and if he reached the major leagues and stayed there for 90 days, he would get $2,500 more. Offering him a salary of $600 a month, the Yankees assigned Beck to their Idaho Falls team in the Class C Pioneer League. In his first game, on June 19, he pitched a seven-inning no-hit, no-run game against the Boise Braves, striking out eight and walking two. He finished the season 9-6 with a 3.63 ERA, striking out 171 batters in 134 innings and walking 71.
In the offseason, the Philadelphia Phillies took Beck from the Yankees' organization in the minor-league draft and assigned him to their Double-A Southern League team at Chattanooga. It was an all but lost year for Beck. In four games at Chattanooga– two starts and two relief appearances—he went 0-2 with a 7.50 ERA, while walking 18 and striking out only 12 in 18 innings. The Phillies sent him down to Single-A Bakersfield (California League). There, he started only two games (12 innings, 1-1, 4.50) before he became ill in early June with viral pneumonia that put him in the hospital for three weeks. When his high fever persisted, Beck's doctors advised the Phillies to sit him down for the rest of the year.
The next year the Phillies sent Beck to Chattanooga again and, after a 5-0 start, he ended up 6-9 with a 5.38 ERA. That was nearly his last year in baseball. During the offseasons Beck had continued his education at Gonzaga and after he finished his degree in business administration he had begun working in a bank, SeaFirst, in installment credit collections. Although he hated the job, it was a steady one, he said, with the promise of promotion within the bank. He had married Jeanne Elizabeth Moorman in 1960 and while they did not yet have children, the prospect that they might prompted him to think about stability. "When the Phillies sent me a contract for the 1965 season, for $700 a month, I told them I had a good job with the bank and if they wanted me to sign the contract, I needed more money," he said. "[General Manager] Jack Quinn just responded, 'Either sign the contract or let us know you're quitting so we can offer the spot on the roster to someone else.' " Beck decided to sign.
"I thought I would give it one more try," he said. "I decided just walking away would be throwing in the towel and I didn't want to do that."
On April 12, 1965, the Yankees reacquired Beck from the Phillies and sent him to their Double-A Southern League team in Columbus, Georgia. For the first season since his initial one as a professional, he pitched consistently well, winning his first five decisions. Before the Yankees called him up, the highlight of his season occurred in August 13, when he pitched his second professional no-hit, no-run game, against Lynchburg. Beck struck out five and faced the minimum number of batters; he walked two but both were caught trying to steal.
In the last week of the season, Beck's manager, Loren Babe, told him that the Yankees were calling him up after the last game. (Columbus won the league pennant; there was no playoff.)
"We were in Lynchburg when he told me," Beck said, "and I proceeded to go out and pitch a not particularly good game." Beck, however, proved that he merited the Yankees' interest by nearly single-handedly winning his next start, the final, decisive game of the season, pitching a two-hit, 7-0 shutout against the Asheville Tourists and driving in Columbus's first two runs with a second inning single. The victory gave Columbus its first league title since 1947.
After the game Beck and his wife drove 700 miles to New York to meet the Yankees. Beck remembered clearly his first glimpse of life in the major leagues.
"When we got to New York, we checked into the Concourse Plaza Hotel and I walked the six blocks to Yankee Stadium," he said. "Someone took me down to the locker room and I stashed my bag in the trainer's room and walked out under the first-base stands into the dugout and took the two steps up onto the field level and stopped and looked from left to left-center to right, to the right-field wall and I thought about how I had seen this field so many times on television. I thought about how Lou Gehrig had played here and that Mickey Mantle plays here now. Then it struck me, 'Oh my God, he's my teammate, and so is Elston Howard and Whitey Ford.' It was an overwhelming feeling, that I'd wanted to do this for my entire life and there I was."
In 1965, a year removed from what turned out to be their last pennant until 1976, the Yankees were having a miserable season when Beck joined them. While they had won the American League title the previous five years and nine of the previous ten, they were then in sixth place, 19 games out of first and ten games behind fifth-place Detroit. The Yankees brass had decided that September would be a month to find out who among the team's young talent might be viable prospects for the next season. In addition to Beck, the team also called up pitcher Mike Jurewicz (who like Beck never played in a major-league game after 1965), second baseman and future All Star Roy White, shortstop (later outfielder) and future All Star Bobby Murcer, and outfielder Archie Moore, who had appeared in 31 games the season before and who, after going 7-for-17 (.412, one homer run, 4 RBIs) in September 1965, also never again appeared in a major-league game.
A week after his call-up, on September 14, Beck started his first game, against the Washington Senators in Washington.
The game was scoreless until the bottom of the fifth, when Washington got a run on back-to-back hits, a double by infielder Ken Hamlin and a single by catcher Jim French. The Yankees tied the score in the top of the sixth and took the lead for good in the top of the seventh on Murcer's first career home run. (It was also his first major-league hit.) Beck ended up pitching into the eighth, when, after he allowed back-to-back singles to start the inning, manager Johnny Keane sent Jack Hamilton in to relieve him. After Hamilton shut down the Senators and then Pedro Ramos closed the game with a scoreless ninth, Beck had his first major-league victory. His line: seven innings, one run, six hits, eight strikeouts and no walks. In its account of the game, the New York Times wrote that Beck "impressed as a strong prospect for a place on the starting staff in 1966 [and] showed a blazing fastball, a good curve and fine control."
Beck started again five days later, September 19, against the Tigers in Yankee Stadium. He was not quite as sharp as he was in his first game, allowing nine hits and five walks with no strikeouts, but ended with a 3-0 shutout, helped by three double plays. ("It may have been one of the ugliest shutouts ever," Beck recalled.)
In his third and final start, against Cleveland on September 28, Beck lasted only five innings and took the loss when Indians outfielder Rocky Colavito hit a three-run home run in the fifth inning."
After the season, with Keane and others in the Yankees organization talking openly in the press about Beck being one of their bright prospects, the Yankees sent him to their Florida instructional team. However, almost immediately, Beck received his Army draft notice. The Yankees, not wanting to lose him for two years, found him a spot in an Army Reserve unit instead. But a new law prohibited anyone who had already received a draft notice from opting for the Reserve, Beck said. He spent a few weeks shy of two years in the Army, stationed as a payroll specialist at Fort Hood, Texas. During the two years his name showed up periodically in newspaper articles whenever the Yankees talked about which of their prospects might be able to help stop what was becoming a serious post-glory funk; in 1966, the team finished last and in 1967 the Yankees ended the year ninth out of ten teams.
Beck was such a significant figure in the Yankees' talks of their plans to turn the organization around, and near the start of spring training in 1968, Leonard Koppett of the New York Times wrote a long article about Beck's possible comeback. But Beck didn't make the club that spring, pitching the year in Triple-A Syracuse, going 5-5. Nor did he make it the next year. In fact, in early June of the 1969 season, when Beck was 0-5, the Yankees released him. He quickly found another team. "We were facing the Mets' Triple-A team in Tidewater on the day the Yankees let me go and so I walked (to the clubhouse) next door and said to Clyde McCullough, the Tidewater manager, 'Do you need any pitchers?' He asked, 'Is your arm all right?' and had me throw for ten minutes." The club offered Beck a spot on its staff and he finished out the season, going 4-1 the rest of the way, helping Tidewater win the International League title.
At the end of the season, however, the Mets sold Beck to the Kansas City Royals and he decided that he had had enough. "We had a daughter then (Kate, who was born in 1968) and I decided I didn't want to be a baseball bum," Beck said. "In my first year in (Class) C ball, I had met a player who was 30 and still trying to hang on and I told myself I wouldn't be him."
In the two seasons Beck pitched after returning from the Army, his bases on balls per inning pitched rose. During his time in the Army, he said, his baseball activity consisted of nothing more than a few games of catch on the base.
"For me, it was that I had lost my fine tuning," he said. "Instead of throwing the ball on the outside corner, it was down the middle. My arm didn't hurt. I just wasn't sharp. I didn't want to feel like that on payday, I would have to back up to the pay window because I was embarrassed to be collecting a check when I wasn't as effective as I thought I should be."
After he gave up baseball, Beck worked in lending at Seafirst until the bank laid him off in 1986. He and Elizabeth were divorced in 1975 and in August 1976 he married Cheryl Roy. They had a daughter, Chelsea, born on Beck's birthday in 1978, and a son, Lance, born in 1985, and two grandchildren. After leaving Seafirst, Beck worked briefly for a company that removed fiberglass insulation, in a company he and his wife ran that sold aloe-vera-based skin care products and for the A.C. Nielson Company, for whom he was a market supervisor. When the author spoke to him, in 2010, he was working as a substitute teacher in Spokane, Washington, where he was living.
Once, he said, the students in a class he was teaching learned that he had pitched briefly in the major leagues. "One of them asked me, 'Mr. Beck, weren't you really upset that you got drafted and lost out on your chance to keep playing ball?' After we kicked it around the room a while, I told them, 'I'm sitting here talking to you but I was in the service with a lot of 18-year-old guys who went to Vietnam and never came back and so I consider myself lucky. How many times does a person get to realize their dream? I didn't get to realize it for very long, but I did get to realize it."
Sources
Most of the information about Beck's early life and his life after baseball, as well as his comments about his career, came from two interviews I had with him, on May 12 and June 8, 2010. A few of the details come from a player questionnaire Beck completed in 1965 and on file at the A. Bartlett Giamatti Research Center at the National Baseball Hall of Fame and Museum. For details of his minor- and major-league career, I referred to a number of newspapers, including The Sporting News, the New York Times, the Gastonia Gazette, Newsday, the Lawton Constitution, the Charleston Daily Mail, the Montana Standard Post, and the Spokane Daily Chronicle. I accessed most of the newspapers through the archives at http://newspaperarchive.com, and The Sporting News through the archives at http://www.paperofrecord.com/default.asp.
For Beck's major- and minor-league statistics and the details of his major league appearances, I turned to http://www.baseball-reference.com and http://retrosheet.org.
Photo Credit
The Topps Company
Born
January 21, 1940 at Pasco, WA (USA)
If you can help us improve this player's biography, contact us.
http://bioproj.sabr.org/bp_ftp/images4/BeckRich.jpg
600
800
admin
/wp-content/uploads/2020/02/sabr_logo.png
admin
2012-01-04 19:50:16
2012-01-04 19:50:16
Rich Beck