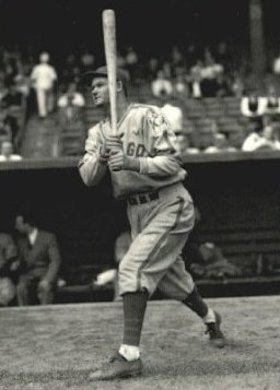 ---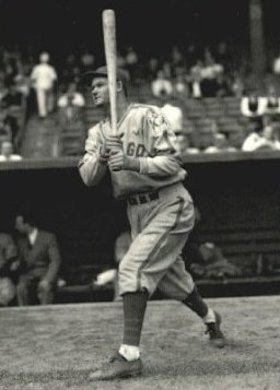 Rip Russell came through in the biggest moment of his career, with a pinch-hit single leading off the top of the eighth inning in Game Seven of the 1946 World Series. Four batters later, both he and Catfish Metkovich scored on Dom DiMaggio's double and the Boston Red Sox had tied the game against the St. Louis Cardinals.
Back in Game One, he'd also hit an eighth-inning pinch-hit single that help set up a run to come from behind and tie up that game, too. The Red Sox won Game One in the 10th. They fell behind in Game Seven in the bottom of the eighth, and lost the game and the World Series. Russell was 2-for-2 in World Series baseball.
Russell, coming off three excellent years in the Pacific Coast League, might never have been in the World Series but for the need to plug a hole at third base in what was generally a stellar Red Sox team. They'd gone through a couple of third basemen in 1945, Ben Steiner and Jackie Tobin. In 1946, they used seven different players at third base. Russell, despite batting .208 and having a pretty average .942 fielding percentage at third base, nonetheless played third base in 70 games, more than any other. After being purchased from the Tigers in mid-May, former All-Star Pinky Higgins played third in 59 games. Higgins hit for a better average, but Russell supplied marginally better run production.
Glen David Russell was born in Los Angeles, on January 26, 1915. His father William F. Russell was a lineman for the Southern California Edison Co. of Los Angeles.1 His mother was Lillian Mae (Pryor) Russell. They had married in 1908, but the marriage ended in divorce. By the time of the 1920 census, Lillian and her three children had moved into her parents' home in Los Angeles, which also housed her younger brother William Pryor. Her father John Henry Pryor had a blacksmith shop. John's wife Frances (Fannie) looked after the home during the days; Lillian took employment as a seamstress in a knitting mill. Her three children were Nona, aged eight years, Glen, five years, and Lois, three years.
At the time of the 1930 census, John (then a carpenter) and Fannie still provided a home for Lillian (working as a tile decorator) and the children.
Glen attended the Maywood School and then Bell High School in Bell, California, and Pasadena Junior College. After graduating high school, he took off a year to prospect for gold, working with his grandfather. "We didn't hit anything like the Comstock Lode," he said, "but we did pick up enough nuggets to keep food on the table."2
He was discovered and signed at a two-week "rookie school" run by the Pacific Coast League Angels.3 Manager Jack Lelivelt and coach Truck Hannah had spent much of the winter of 1933–34 "scouting around the sandlots all winter" and "personally selected a couple of dozen youngsters to report for tryouts."4 One suspects they did the same in the 1934–35 winter and turned up Russell. By April he was playing second base for the Angels in spring training.
Signed to become part of the Chicago Cubs system, he played two long stretches of baseball in Los Angeles, for the Angels, from 1936 through 1938 and from 1943 through 1945. The two major-league clubs he played for were the Cubs and the Boston Red Sox. Russell was an infielder in the majors, but also played more than 150 games in the outfield while in the minors. Russell was right-handed, was listed at 180 pounds, and stood 6-feet-1.
Russell played some semipro ball on Catalina Island, but his first season in professional baseball was as second baseman for the Ponca City (Oklahoma) Angels of the Western Association in 1935. As noted, he played in spring training for the Los Angeles Angels; before the regular season began, he was assigned to Class-C Ponca City. There he played every one of the team's 131 games. His first game was a bit of a disaster—0-for-5, with errors that cost his team the game.5 Clearly, he righted the ship. Ponca City finished in second place, but prevailed in a nine-game playoff against the Springfield (Illinois) Cardinals. He hit .275 with three home runs, and had a .949 fielding percentage.
It was in 1935 when he earned his nickname "Rip." Bob Ray of the Los Angeles Times explained that it was bestowed on him while the Ponca City club was in Pampa, Texas, for an exhibition game. "A dust storm came up and Russell, in the street, dashed for the hotel. Pampa features double curbs and when Russell leaped for the sidewalk he forgot about the second curb. He ripped his pants, shirt and epidermis in the ensuing spill, and from then on his mates called him 'Rip.'"6
He played for the Angels in 1936, filling in both at second base and first base, batting .249 in 73 games. His fielding had improved, and he was seen to have some power. He hit five home runs. He also filled out physically during the offseason, working in the oil fields and adding muscle.7 The prediction of power was on the mark: he hit 13 homers for the Angels in 1937 and 21 in 1938. He got more playing time, too—129 games in 1937 and then 178 games in 1938—and his batting average climbed to .278 and then .318. Most of the time he played first base, which by 1937 became his regular position.
He had earned a few mentions in the headlines, but kicked off 1938 with a home run, a single, and a walk on Opening Day against the Hollywood Stars, and then—with two outs in the bottom of the ninth—singled again to break a 5-5 tie and drive in the winning run. From April into May, he had a 17-game hitting streak. Because he batted over .300 all season long (his 216 base hits led the league), and ultimately batted in 114 runs, it was little surprise that, rather than lose him in the draft, the Cubs exercised their rights and purchased his contract on September 6. He was "rated as the most improved ball player in the Coast League" and, despite the obvious bump in his batting average, it was said to be "in his fielding where Russell has made tremendous improvement."8 Some credit for that improvement was given to Dutch Reuther, who had joined the Cubs scouting and player development staff beginning in 1937; Russell was described as "one of Dutch's boys. He gave him the boost that eventually placed him where he is."9
Before the season began, it looked like he'd be left with Los Angeles for another year.10 But on March 20, they sold one Rip (Rip Collins) to the Angels and kept the other, Rip Russell. It was considered to be "chance-taking."11
Russell debuted with the Cubs on May 5 in Brooklyn. He was 2-for-4 with one RBI. He was 2-for-4 the next day, too. Left-handed-hitting Phil Cavarretta had started the season at first base, but once Russell broke in, manager Gabby Hartnett almost exclusively used Cavarretta as a pinch-hitter. After May 4, Cavarretta never started in another game that year.
The Cubs finished fourth. Russell played in 143 games, made only 18 errors (.988), and batted .273 with 79 RBIs (second on the team only to Hank Lieber) and nine home runs. One of those was on July 28, a ninth-inning home run that gave the Cubs a win and at the time catapulted them from fourth place to second place in the standings.
Before the 1940 season got underway, Russell married Lois Gladys Chamberlain, "a striking 20-year-old brunet of Long Beach" on March 27.12 He started the season well enough, it seemed, his 10th-inning two-run homer winning the May 19 game in Brooklyn being his biggest moment of the first couple of months. His batting average fell under .250 by early June. He hit a grand slam—again homering in Brooklyn—on July 5. But on July 9 he underwent an emergency appendectomy in Chicago and didn't get in another game until August 21. He was used only for pinch-hitting until getting a start on September 15 (he drove in three runs, playing a doubleheader that day). Cavarretta was hurt 10 days later, and the Cubs had to go on the market and buy the contract of Zeke Bonura. Russell finished with a .247 batting average, with 33 RBIs in 68 games.
He played only six April games for the Cubs in 1941. He hit .294 in those games but Babe Dahlgren handled most of the first-base work. On April 26, Russell was optioned to Tulsa. Russell spent most of the year (143 games) at Tulsa. He hit .313 with 20 homers for the Texas League Tulsa Oilers.
Cubs manager Jimmie Wilson, who'd skippered the team in 1941 to a sixth-place finish, decided to keep Russell in Chicago as a utility infielder in 1942. Russell played 24 games at second base and 10 at third, in addition to 35 at first (and 3 in the outfield). With some pinch-hitting work mixed in, he got into 102 games, drove in 41 runs, and hit .242.
On March 20, 1943, his contract was sold back to the Los Angeles Angels. He was working on his farm, which helped provide crops and was considered important to the national defense effort during the war. He talked about staying on the farm, and declined to report for spring training, but at the very end of June did join the Angels. He appeared in 53 games, batting .320.
In 1944, Russell played for the Angels again, this time appearing in 155 games despite suffering a fractured rib during a game in June 1944. He hit .315 and drove in 89 runs. On September 4, his contract was traded to the Philadelphia Phillies, with Ken Raffensberger, for after the season. Come springtime 1945, however, there he was, back again with the Angels. He had chosen not to leave home. Then the Cubs tried to entice him back to the big-league club, but he elected not to join them, either.13 It has to be one of the very rare times a ballplayer declined an invitation to play in the majors. The Associated Press said "he was reluctant to leave the West Coast."14
The Angels had won the pennant in 1943, by 21 games over the San Francisco Seals. They won again in 1944, by an even dozen games over the Portland Beavers. They plunged to seventh place in 1945. Russell himself, though, had another excellent year—he drove in 89 runs again, with 18 homers, and hit for a career-best .342 batting average.
The war over, it seemed that Russell might be ready not only to leave Los Angeles but to travel all the way to the East Coast to play baseball. The Red Sox offered the Angels cash and two players to be named later to get him. Since he did have a preference to travel by train rather than air, his arrival to Boston was delayed.15
Over the wintertime, he played ball in Mexico, which is particularly interesting given how hard the Mexican League's Jorge Pasquel tried to sign Ted Williams and Johnny Pesky. Russell advised ballplayers against it: "You don't know their language and they don't speak yours. They did everything for me they said they would but the conditions are not for me. My advice to any player who is seriously thinking about jumping to it, is don't."16
Russell was fortunate to have joined another pennant-winning ballclub, the 1946 Red Sox. He appeared in 80 games, 70 of them at third base, sharing time there with Pinky Higgins and, to a much lesser extent, Ernie Andres. (Red Smith told an anecdote regarding Russell's versatility: "When Cronin asked him which position he played best, Rip smiled pleasantly and said, 'None of 'em.'")17 Russell only hit for a .208 average. He drove in 35 runs, perhaps none bigger than his 10th-inning double off the left-field wall driving in Bobby Doerr for a 3-2 win over the Tigers.
The Sox won the American League pennant with ease. Russell only saw action in two games of the World Series, as detailed at the beginning of this article. His lifetime World Series batting average is 1.000, one of four players in baseball history to have more than one at-bat in a World Series and a perfect 1.000 average.18
The Red Sox worked out Russell at first base again in 1947, but when it came down to it, it was his ability to play so many positions that earned him a roster slot. He either played third base (in 13 games) or pinch-hit (another 13 games), but he was used sparingly. Only once did he get a hit while pinch-hitting; he had seven hits while playing third. He hit .154 (8-for-52, with three RBIs.) On July 16, the Red Sox sold his contract to Sacramento. That put him back in the Pacific Coast League. Working at Triple A was perhaps the place to be: he hit .329 in 65 games.
In 1948, Russell started the season with Sacramento and played in 30 games, batting .314. In the first part of May, he was dealt to the Hollywood Stars. He played in 114 games, but hit for a .286 average.
His final games in professional baseball were the 23 games he played for the Toledo Mud Hens in the American Association. His contract had been sold to them in January. He hit .263, but suffered a serious arm injury and was released in early June.
It was time to find other employment. Russell worked for 18 years as a salesman for a wholesale beer distributor, Reardon Distributors, owned by former National League umpire Beans Reardon. Russell married again, in April 1953, to Charlotte Villasenor.
Glen Russell died of a heart attack at home in Los Alamitos, California, on September 29, 1976. He is buried in Culver City.
Sources
In addition to the sources noted in this biography, the author also accessed Russell's player file and player questionnaire from the National Baseball Hall of Fame, the Encyclopedia of Minor League Baseball, Retrosheet.org, Baseball-Reference.com, Bill Lee's A Baseball Necrology, and the SABR Minor Leagues Database, accessed online at Baseball-Reference.com. Thanks to Rod Nelson of SABR's Scouts Committee.
Notes
Born
January 26, 1915 at Los Angeles, CA (USA)
Died
September 26, 1976 at Los Alamitos, CA (USA)
If you can help us improve this player's biography, contact us.
http://sabr.org/sites/default/files/RussellRip.jpg
600
800
admin
/wp-content/uploads/2020/02/sabr_logo.png
admin
2016-03-29 17:08:34
2016-03-29 17:08:34
Rip Russell