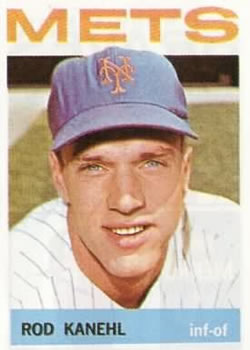 ---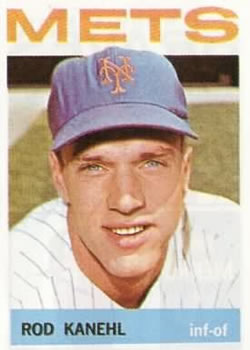 In March 1956, New York Yankees manager Casey Stengel watched in "amazement" as Rod Kanehl, the club's versatile 22-year-old prospect, "scaled the fence in a do-or-die effort to catch" a home run ball during a meaningless practice game.1 The effort left a lasting impression on Casey that when the New York Mets hired the future Hall of Fame skipper before the team's inaugural season, he directed the team's Triple-A affiliate to select Kanehl during the November 1961 minor league draft. "[T]he embodiment of the every-man quality that helped to popularize the Mets . . . Kanehl [or 'Kanoo,' as he was known by his manager,] hustled his way on to the 1962 roster with Casey's support and hung around for three seasons."2
Roderick Edwin Kanehl (pronounced kah-NEEL) was born on April 1, 1934, the third of four children of Raymond E. and Marjorie M. (Roderick) Kanehl in Wichita, Kansas. In the 1940s Rod's parents, both Kansas natives, moved the family to Springfield, MO. Raymond was a high school physical education teacher, a vocation that had a significant influence on his son. An exceptional athlete at Springfield (later Central) High School, Rod's exploits in football, basketball, baseball, and especially track would, 50 years after his circa 1952 graduation, still place on a list of top 100 southwest Missouri athletes.3 In 1953, while enrolled as a physical education major at Drury University in Springfield, Rod finished second in the national decathlon competition. His exploits captured the attention of Missouri native and longtime major league scout Tom Greenwade who four years earlier had signed Mickey Mantle. Though Kanehl's baseball pursuits ran secondary to his track exploits, Greenwade was convinced that the youngster's talents (especially his ability to run the 100-yard dash in 10.5 seconds) would prove valuable on the baseball diamond. In 1954 Kanehl inked a $4,000 bonus contract and reported to the Yankees Class-D affiliate in McAlester, Oklahoma.
Greenwade's projections panned out when Kanehl, whose teammates included Mantle's twin brothers Ray and Roy, established a Sooner State League record 32-game hitting streak that ran through July 4. Among the McAlester Rockets leaders in nearly every offensive category, Kanehl also finished the 1954 season tied for second in the circuit with 11 triples. Progressing rapidly through the Yankees farm over the next two years, Kanehl was initially assigned to the Triple-A Denver Bears in 1957, but plans changed and the Yankees put him in Double-A. With the Dallas Rangers a year later, Kanehl rebounded to finish among the Texas League leaders with 154 hits while pacing the circuit with 28 stolen bases.4 Despite a dismal .879 fielding percentage at shortstop, the organization was pleased with his adaptability at other positions — specifically second base and center field.
In February 1959, Kanehl was one of just four minor leaguers invited to the Yankees advanced training school, a week of accelerated instruction in Florida that Stengel conducted ahead of spring training. At its close, Kanehl was asked to work out with the big boys as a non-roster invitee. A dark horse candidate for the club's last roster spot, Kanehl was one of the last players the Yankees cut before the start of the regular season. After a brief stay with Triple-A Richmond Virginians, Kanehl was sent to the Triple-A Houston Buffs in the American Association with a request from Stengel that he be used at second base. With veteran infielder Dick Cole holding down the position in Houston, Kanehl spent the season jockeying between the outfield and shortstop where, despite meager improvement in fielding percentage, he drew considerable notice for his range.5 On the downside, his first season of extended play in the high-level minors roughed up his offensive numbers. Kanehl's batting line dropped to a meager .238/.301/.291 in 429 at-bats, and his career path appeared crippled when he was demoted to the Class-AA Nashville Volunteers midway through the 1960 season. But a changed batting grip helped resurrect his career the following year. Though a late slump removed him from contention for the Southern Association's 1961 batting crown, Kanehl finished the season among the league leaders in runs (92), hits (174), doubles (31) and stolen bases (14). And this rebound helped Stengel make the argument for Kanehl's selection by the Mets in the November minor league draft.
In 1962 Kanehl, for the second time in his career, reported to a major league spring training as a non-roster invitee. Already appreciated by Stengel, Kanehl's aggressiveness — a style of play which earned him the nickname "Hot Rod" — soon won over the Mets front office personnel as well. Lastly, he "won his way into the hearts of Mets' fans . . . [when] in a game televised to New York from St. Petersburg, Fl[orid]a, [Kanehl] delivered a ninth-inning, two-run [pinch-hit] double off the Los Angeles Dodgers ace Sandy Koufax on a check swing . . . The hit enabled the Mets to tie the score in a game they eventually won."6 A week later Kanehl officially became part of a rare breed, an original Met, after edging out outfielder Joe Christopher for the final roster spot.
On April 15, 1962, Kanehl made his major-league debut at New York's Polo Grounds pinch-hitting against Pittsburgh Pirates ace Bob Friend where he grounded out to third baseman Don Hoak. Two days later, Kanehl got his first start as the Mets second baseman during a 5-2 loss to the Houston Colt .45s. Not until April 21, in his seventh season at-bat, did Kanehl get his first major league hit, an eighth inning pinch-hit single against Pirates reliever Roy Face. Used primarily as a pinch-runner or -hitter for the first six weeks of the season, on April 28 Kanehl notched a small little piece of Met history. Entering as pinch-runner in the sixth inning of a game against the Philadelphia Phillies, he scampered home from second base on a wild pitch to score the winning run in the franchise's first-ever home victory. He was soon "regarded as something of a lucky piece by the Mets" after scoring the tying or winning run in seven of the club's first 11 wins.7
As injuries and general ineffectiveness plagued the team, in June Stengel began inserting Kanehl into the starting lineup hoping to generate some offense from the major leagues worst hitting team. The "enthusiastic and eye-catching . . . rookie" opened the month with a 10-for-18 run in route to a .321 average in 131 at-bats through June and July.8 Although far from a power threat, on July 6 Kanehl connected for the first grand slam in franchise history, against St. Louis Cardinals reliever Bobby Shantz. Used at every position except catcher or pitcher throughout the season, Kanehl eventually took over the Mets starting second-base job after Charlie Neal was moved to shortstop to replace injured Elio Chacon. Unfortunately, his 22 errors in 62 games there were exceeded in the majors only by the San Francisco Giants' Chuck Hiller, who played 99 more games at second than did Kanehl. Nonetheless, he was one of only two rookies (and seven players overall) Stengel designated as the team's untouchables in the wake of the Mets modern record-setting 120-loss season.
This horrendous debut season understandably precipitated a buzz of Mets activity during the offseason. Upon reporting to spring training, Kanehl found himself competing with six other potential second basemen. Hobbled slightly by winter knee surgery (to fix an undisclosed injury he suffered near the close of the season), Kanehl, despite reporting to Florida early, failed to reclaim his starting job (former Milwaukee Braves prospect Ron Hunt took it). Reassigned to the bench, Stengel's "favorite utility player" got just 10 ABs through the first four weeks of the 1963 season.9 On May 12, in his first start of the year, Kanehl earned a $50 bonus from his run-starved club after driving in a run on a bases-loaded hit by pitch. But he got few starts: Stengel preferred to hold Kanehl back as the club's deluxe substitute batter. "[He is] our leading pinch-hitter," Casey explained. "[W]hen you need a hit, he generally comes through."10 Moreover, Kanehl's versatility in the field — he played every position except pitcher, catcher and shortstop — provided Stengel with a valuable late-inning defensive replacement. Though he got just 191 at-bats throughout the season, Kanehl understood perfectly. "If being an all-around man is the way I can stay in the major leagues, I'm for it," he said.11
During the offseason Kanehl's tenure with the Mets appeared tenuous when Mets GM George Weiss, unlike Stengel not nearly as enamored with the reserve player, purchased utility infielder Amado Samuel from the Braves. One of Weiss's concerns about Kanehl appears to have been his free-swinging approach at the plate a large contributor to his meager .268 OBP during the 1963 season. But Stengel pushed back and eventually prevailed. He pointed out Samuel's equally poor career OBP, plus his hope that Kanehl might solve the Mets' veritable turnstile at third base—a gaggle of 15 players including Kanehl at the hot corner over two seasons.
In the Mets 1964 spring training Kanehl competed with six others for the starting third base job. When the regular season opened he started at third in three of the club's first seven games before resuming his familiar reserve role after the Mets acquired veteran third baseman Charley Smith from the Chicago White Sox. He was used primarily at second base and center field, where on June 19 he accomplished a rare unassisted double play by a outfielder. Racing in to catch a shallow line drive, his momentum carried him to second base where he put the tag on Phillies baserunner Ruben Amaro. This was one of few highlights for Kanehl during the 1964 season. He endured a horrific slump in July, and then injured his leg in August, which limited him to just 92 ABs through the second half of the season. On October 4, in his last appearance in the major leagues, Kanehl delivered a pinch-hit RBI single against reliever Barney Schultz during a lopsided 11-5 loss to the Cardinals. Within days he was dispatched to the International League's Buffalo Bisons, but one of nine players reassigned as the Mets, who had suffered through their third straight 100-loss season, committed themselves to a youth movement.
Exposed to the Rule 5 draft because of his assignment to Triple-A, Kanehl was bypassed in the selection process. In February 1965, he reported to the Bisons spring training while the Mets, per his request, tried to trade him. When no one showed interest, Kanehl spurned a minor-league contract for the 1965 season and retired from baseball. He had amassed a .241/.277/.300 batting line in 796 major-league at-bats. On April 12, when the Mets opened the regular season at home against the Dodgers, observers noted a banner which read: "The Mets Look Odd Without Hot Rod."12
During his professional career Kanehl had spent off-seasons at his home in Missouri, to which he returned in April 1965. But he was not willing to abandon the game he loved. He signed on with the semi-pro Wichita (Kansas) Rapid Transit Dreamliners, and alongside several former big leaguers including Mets teammate Charley Neal and future GM Pat Gillick, led the club to the National Baseball Congress championship (the World Series for amateur and semi-pro leagues) in September 1965. Kanehl, a meticulous student of the game, continued play in the semi-pro circuits for at least one more year, hoping all the while to attract attention as a professional coach or manager.
Around 1960 Kanehl had declined a Yankees offer of a managerial post with a Class-D affiliate to continue playing. Many years later, "in Peter Golenbock's book, 'Amazin': The Miraculous History of New York's Most Beloved Team [Kanehl] talked about how he . . . [and] future manager[s] Gil Hodges and] Don Zimmer all talked strategy and managerial technique while in the locker room."13 Stengel often thought of Kanehl as an extra coach and in one instance at the end of the 1963 season used him as a first base coach after letting his regular coaches go home early. But despite his seemingly rich qualifications Kanehl attracted no interest as a possible coach or manager. Around 1970 he moved to California and over the next several decades dabbled in a variety of occupations: construction, insurance sales, restaurant management, and eventual ownership. In semi-retirement in the late 1990s and early 2000s, he worked part-time as caddy at the exclusive Bel Air Country Club in Los Angeles.
Throughout his playing career Kanehl was known for his sharp sense of humor; he was a beloved teammate and a favorite on the rubber chicken circuit. A "noted [tongue-in-cheek] philosopher[, he] once observed that 'the line drives are caught, the squibbles go for hits. It's an unfair game.'"14 On October 20, 1963, Kanehl represented the Mets at a St. Louis dinner honoring retired Cardinals great Stan Musial. The following spring, when the Mets opened their new state-of-the-art Shea Stadium, Kanehl turned to teammate Bill Wakefield and, alluding to the hapless nature of the team, cracked, "Are we good enough to play [here]?"15 Though well received by fans at several Old Timers Games between 1967-72, Kanehl slowly receded from memory as the Mets began achieving some success. After the club captured the world championship in 1969, Kanehl "ventured into the clubhouse as no more than a suitably dazzled and slightly grizzled spectator of the team's amazing rise to glory."16 When Stengel died six years later, Kanehl was "reportedly the only ex-Met player" to attend the funeral in Glendale, California.17
Around 1953 Kanehl married Missouri native and high school sweetheart Shirley L. Toler. The couple had three sons and one daughter before their divorce in California 20 years later. In 1975, Kanehl remarried and also proudly celebrated the graduation of one of his sons from Yale University. This marriage proved short-lived, and Kanehl eventually wed a third time. He also suffered a particular tragedy in 1990 when his youngest son, Thomas Andrew, died of AIDS at the age of 30.
On December 14, 2004, four months removed from his 71st birthday, Kanehl died from a heart attack in Palm Springs, California. He was buried at Greenlawn Memorial Gardens in Springfield, Missouri.
Sources
In addition to the sources cited in the Notes, the author consulted Ancestry.com and Baseball-Reference.com.
The author wishes to thank SABR member Tom Schott for review and edit. This biography was fact-checked by Kevin Larkin and Warren Corbett.
Notes
1 Barney Kremenko, "Hot Rod Slams Foot on Gas Pedal—Mets Leap out of Loss Rut," The Sporting News, May 2, 1964: 8.
2 Barry Duchan, "Remembering 'Hot' Rod Kanehl," MetsMerizedOnline, December 14, 2013 (http://bit.ly/2DHQV79 ), accessed January 17, 2018.
3 "Jock 98.7 Top 100 Southwest Missouri Athletes," MoSports.com, December 19, 2003, http://bit.ly/2A4e5CJ ), accessed January 18, 2018.
4 Though Dallas was not a Yankees affiliate, it was one of five minor league clubs Kanehl played for with which the Bronx Bombers maintained a working relationship.
5 Apparently, Kanehl could get to the ball but was unable to do anything with it. Just one of several sources that touched on his "great range" is at https://www.baseball-reference.com/bullpen/Rod_Kanehl (accessed January 20, 2018).
6 Richard Goldstein, "Rod Kanehl, 70, An Original Met, Is Dead," The New York Times, December 31, 2004 (http://nyti.ms/2EFESZg ), accessed January 18, 2018.
7 Joe King, "Mets Mavericks Hogtied in Colts' King-Sized Corral," The Sporting News, June 2, 1962: 22.
8 Joe King, "Casey Leads Mets' Cheers for Kid Keystoner Kanehl," The Sporting News, August 11: 24.
9 Barney Kremenko, "Hunt and Moran Play Snappy DP Ditties for Mets," The Sporting News, May 4, 1963: 8.
10 Barney Kremenko, "Hot Rod Slams Foot on Gas Pedal—Mets Leap out of Loss Rut," The Sporting News, May 2, 1964: 8.
11 Ibid.
12 Pat Wallace, "Voice of the Fan," The Sporting News, May 8, 1965: 18.
13 Scott Ferguson, "Reinventing the Mets: 1962," Mets 360, November 7, 2014 (http://bit.ly/2lzh5BR ), accessed January 18, 2018.
14 Jason Fry, "Dreaming of an Even Keel," Faith and Fear in Flushing," July 19, 2014 (http://bit.ly/2zXXeBn ), accessed January 18, 2018.
15 Dave Allen, "Mets Honor San Rafael's Wakefield 45 Years after Memorable Moment on the Mound," marinij.com News, July 7, 2009 (http://bayareane.ws/2C83nNr ), accessed January 18, 2018.
16 Greg W. Prince, "Al Jackson," SABR Biography Project, (http://bit.ly/2C4Vyba ), accessed January 18, 2018.
17 Duchan, "Remembering 'Hot' Rod Kanehl."
Born
April 1, 1934 at Wichita, KS (USA)
Died
December 14, 2004 at Palm Springs, CA (USA)
If you can help us improve this player's biography, contact us.
https://sabr.org/sites/default/files/KanehlRod.jpg
600
800
admin
/wp-content/uploads/2020/02/sabr_logo.png
admin
2018-02-01 16:09:32
2020-04-09 14:40:24
Rod Kanehl