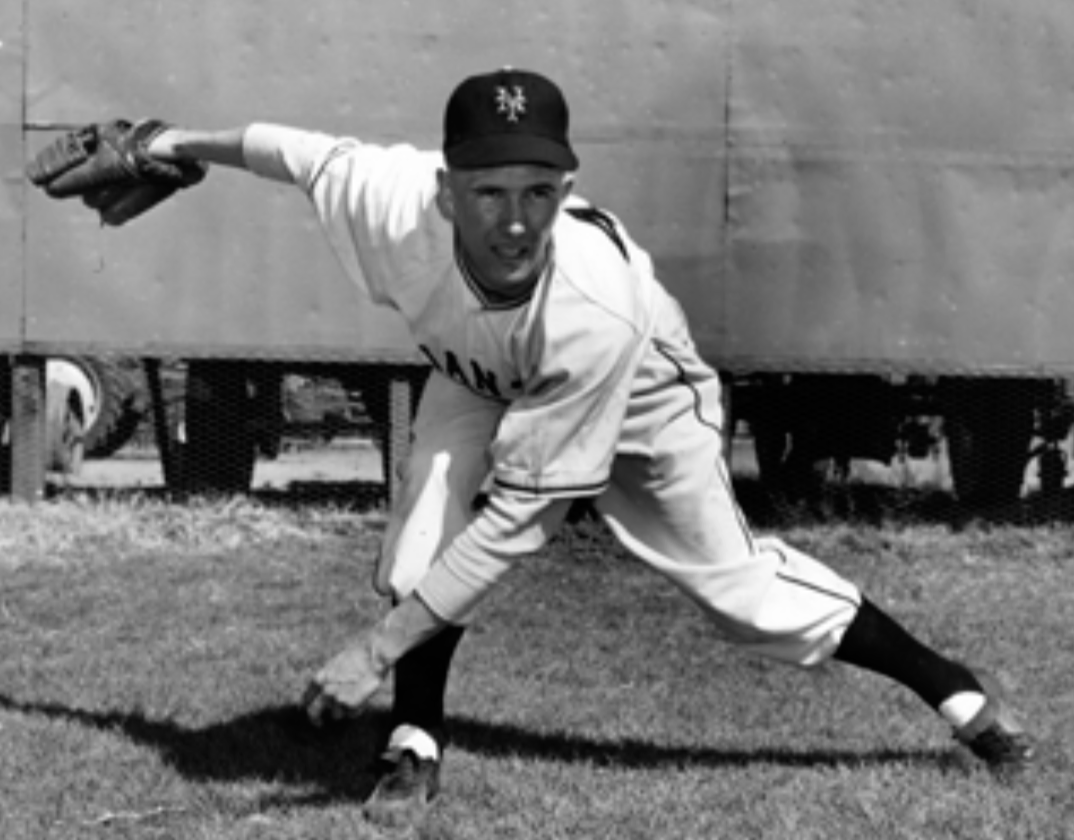 ---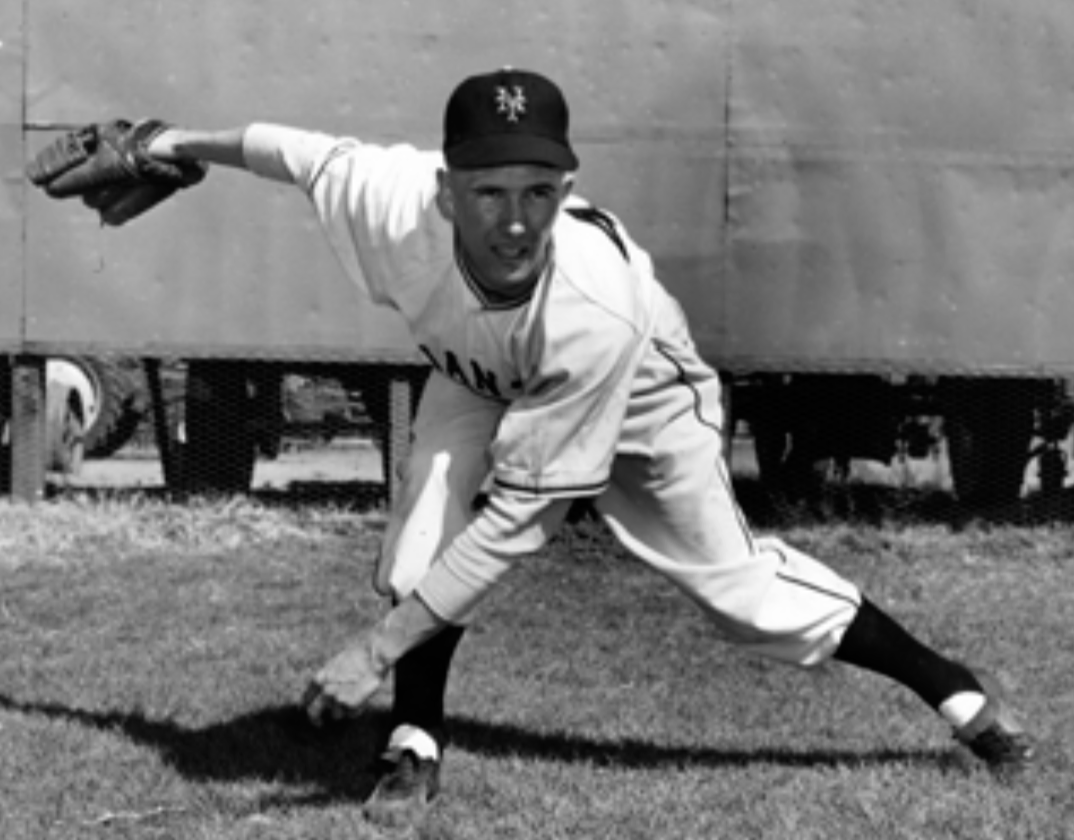 Roger Bowman was a 16-year-old high-school junior when a wire-service report presented him to the nation in 1944 as a "left-handed Bob Feller."1 The schoolboy pitcher had thrown two no-hitters in his first six games of the 1944 season, surrendering a lone run to go with 91 strikeouts.
The previous summer he had visited the Polo Grounds, where he got pointers from New York Giants players as well as from Dolf Luque, the Cuban-born pitcher. The Associated Press report suggested that the boy's father rejected signing immediately with the club, preferring that his son continue with his studies, which included a promising musical career.
In the end, young Bowman signed with the Giants organization at age 18 in 1946. He made his major-league debut three years later, by which time no one was comparing him to Feller.
The left-hander appeared in 50 games over five seasons (13 with the Giants and 37 with the Pittsburgh Pirates). His record in the majors was 2-11, both victories coming with the Giants in 1951. He was known for a slow curve, as well as for a hesitation windup that was described as "elaborate"2 and "weird."3  Giants manager Leo Durocher tried to tinker with the windup in spring training only to be defied by the pitcher. "I've been winning with this delivery," Bowman said.4
Most of Bowman's 15-season professional career was spent in the minors with stops as far afield as Hawaii and Ottawa, Canada. In 1952 he threw a no-hitter for the Oakland Oaks of the Pacific Coast League. The next season the Pirates used him in 30 games, mostly as a reliever. That October, he accidentally riddled his pitching arm and hand with shotgun pellets in a hunting accident. After recovering, he returned to the PCL to enjoy the best season of his career, winning 22 games as a starter with the Hollywood Stars, tops in the league that season.
Roger Clinton Bowman was born on August 18, 1927, an only child for Rebecca (Hinkle) Bowman and Burdette F. Bowman. His father, a one-time semipro baseball player, worked as a bookkeeper in Amsterdam, New York, a thriving industrial center known as Rug City, located in the Mohawk Valley about 30 miles west of the state capital, Albany.
Young Bowman attended Amsterdam High, where he played basketball under coach Ed Clonek and baseball under John D. Tracy. The baseball team had been unbeaten in three years by the time Bowman was profiled by the Associated Press. The lefty pitched for his high-school team as well as for local amateur squads, such as one sponsored by Jim's Tavern on Jay Street. His most outstanding performance in his senior year came off campus, as he pitched the Amsterdam Rugmakers to a 10-0 championship victory over Schenectady in an All-American Amateur Baseball Association tournament in Johnstown, Pennsylvania. The young lefty issued one walk and two singles while striking out 24 batters, only three outs coming from batted balls.
Bowman appears to have transferred schools; he graduated from Wilbur H. Lynch High in 1945 and enrolled as a part-time student at Colgate University, 88 miles west of Amsterdam in Hamilton, New York. Before he completed his first semester, Bowman was called up for World War II naval duty and was stationed at Camp Peary, Virginia. After the war, Bowman spent several years studying at the university, attending classes during the fall semester as he built up credits towards a degree. In 1952 an Associated Press article on Bowman's academic ambitions appeared in the Schenectady Gazette under the headline: "Bowman Seeks Diploma on Installment Basis."5
When Bowman signed with the Giants organization in July 1946, he received a reported $15,000 bonus. (Another report placed the bonus at $18,000.) He was assigned to the Jersey City Giants of the International League, where he showed wildness by walking eight in just three innings of work. He was sent down to the Trenton (New Jersey) Giants of the Class B Interstate League, where he struck out 11 Harrisburg batters in his debut on August 15, three days before his 19th birthday. In a later start on the road in Wilmington, Delaware, Bowman was shelled by the Blue Rocks, failing to record an out in the fifth inning, by which time he had surrendered nine hits (and five costly bases on balls). Bowman went 2-4 in six games.
In 1947 Bowman went 17-8 for Trenton, including a string of nine consecutive victories despite continued wildness. A typical outing was a game against Lancaster Red Roses on May 16, when he walked 11 and struck out 11 in picking up the victory.
He spent most of the 1948 season with the Sioux City (Iowa) Soos in the Class A Western League, going 11-8. (He also appeared in five games for Jersey City with a loss as his only decision.) In a game on July 9, Bowman struck out 17 Des Moines batters only to have his team lose, 2-1. Bowman rebounded six days later by striking out 10 Lincoln batters in getting a victory. His 182 strikeouts for the season were second best in the Western League behind only fellow lefty Bobby Shantz's 212. (The following season Shantz made his debut with the Philadelphia Athletics, the first of his 16 major-league seasons.)
Back on the hill for Jersey City in 1949, Bowman went 15-9 and showed greater control than in the past, issuing 90 walks in 194 innings pitched. He got a late-season call-up to the parent Giants, making his major-league debut in the second game of a doubleheader at Crosley Field in Cincinnati on Sept. 22. Bowman started and pitched four innings, giving up three hits (a double and two singles), walking four, and striking out three. The lone run he surrendered came when Virgil Stallcup, who had walked and advanced to third on a single, stole home on a double steal. (It was Stallcup's only steal in a season in which he had 589 plate appearances.) Bowman was removed for a pinch-hitter as part of a four-run rally in the top of the fifth. He had no decision in a game the Reds went on to win, 8-4.
Bowman got his second start three days later, making his Polo Grounds debut against the Boston Braves, who chased him in the third inning after Connie Ryan hit a two-run homer.
The prospect spent the entire 1950 season with Jersey City, leading the International League in innings pitched (233) and strikeouts (188), going 16-11 while completing 19 of 30 starts.
As spring training opened in 1951, The Sporting News offered writers' advice to each player on the Giants roster. For Bowman, the suggestion read: "Anybody who can pitch as well as you can't miss, even if you aren't a spring star."6 Now aged 23, the willowy lefty stood 6-feet and weighed 175 pounds. He started the Giants' ninth game of the season, a night game at Shibe Park in Philadelphia. Bowman was "looking mighty impressive," John Drebinger reported for the New York Times.7 "[T]hings took a bad turn in the second when a single went by (Don) Mueller for a triple." Del Wilber scored on a long foul out to left. "In the fourth," Drebinger wrote, "the luckless Mueller wrecked Bowman completely when, with two out and two on, he cut across for Richie Ashburn's drive into right center. It would have been an easy catch for Bobby Thomson but Don, on the dead run, could not hold the ball and it went for a two-bagger to score two. Come another real double by Willie Jones to drive in a third tally and Bowman had to bow out." The Phillies hung on to win, 6-4, and Bowman had his first major-league decision, a loss.
The sportswriters took note, too, of Bowman's unorthodox pitching style, described by the Times's Roscoe McGowen as a "pretzel wind-up."8
Bowman took a second loss on April 28 against the Brooklyn Dodgers, leaving after the first three batters in the sixth singled. The lefty was charged with five runs on six hits (including a home run by Carl Furillo) and three walks. It was the Giants' 10th consecutive loss, leaving them at 2-11 in the National League basement, already trailing the league-leading Braves by seven games.
Bowman's fortunes improved on May 5 when Leo Durocher tapped him in relief in the fifth inning of a home game against the Pittsburgh Pirates. The Giants trailed 3-2 when Bowman took to the mound. He gave up just three singles through five innings, as the Giants rallied for an 8-3 triumph and Bowman earned his first big-league win.
A second win was earned just five days later, as Bowman limited the St. Louis Cardinals to one run and three singles through six innings despite issuing seven walks. The Giants won, 3-2, their ninth victory in 11 games.
An ill-fated relief stint against the Cards in St. Louis on May 20 had Bowman come on in the seventh with two out and two on. He balked and then walked the only batter he faced, who later scored, enough to saddle Bowman (2-3) with the loss.
On June 3 Bowman got another start, in the second game of a Sunday doubleheader at the Polo Grounds, a grinding effort during which he gave up 11 hits (nine singles, two triples) in 4⅔ innings. He somehow gave up just two earned runs and did not factor in the decision as the Giants lost, 4-3.
By June 11 the Giants had fought back to a 27-26 record, six back of the league-leading Dodgers. No games were scheduled, but the Boston Red Sox were in New York for a midseason exhibition at the Polo Grounds as a fundraiser for the National Amputation Foundation. Many of the 5,586 fans who showed up were keen to see how Ted Williams fared with the short porch in right. Bowman got the start for the home side and Williams singled in the second, walked in the third, flied to left in the fifth, and grounded to second in the eighth. (He got another single in the ninth off reliever Al Gettel.) The Giants lefty struck out nine Red Sox in eight innings in the free-swinging affair (Dom DiMaggio twice and Vern Stephens thrice).
The nadir of Bowman's season came on June 17 at Forbes Field, as he got the start in the first game of a doubleheader. He struck out the first two batters he faced but failed to get out of the inning, as a pair of singles and a walk loaded the bases before Danny Murtaugh's double cleared them. Durocher yanked Bowman, who took the loss, and the manager didn't survive much longer himself, getting tossed in the second inning.
The Giants brought up Frank Hardy from Ottawa of the International League the next day, sending Bowman down in his place.
The southpaw responded by throwing a one-hitter (a second-inning single) in Baltimore against the Orioles, during which he walked two and struck out eight in a 4-0 shutout.
On July 9, the parent club was in Ottawa for an exhibition and Bowman got the start and defeated his former teammates. After the game, Giants general manager Charlie Stoneham transferred Bowman to Minneapolis of the American Association. He went 5-3 with the Millers through the rest of the 1951 season, following the daily progress of the dramatic pennant race through the newspapers instead of on the field.
The Giants had Bowman stay with the parent club after spring training in 1952, but he failed to get through the third inning of an April start against the Braves. (He was yanked with a 2-and-0 count on Sid Gordon after giving up a single and a walk in the inning after having allowed four singles and two runs in the second.) On May 6 he worked two-thirds of an inning in middle relief, giving up a single and two walks. He hit the Cardinals' Solly Hemus with a pitch that would turn out to be the last he'd ever throw as a Giant.
On May 14 Durocher sent the hurler to Minneapolis. The skipper said Bowman, still just 24 years old, needed to do more work before he could be a regular.
Bowman pitched in six games with the Millers before being included in a three-for-one trade to Oakland of the Pacific Coast League. He arrived complaining of a sore left shoulder with X-rays showing a calcium deposit.
Nonetheless, Bowman barely had time to meet his new teammates before he threw a no-hitter against the Hollywood Stars. The lefty was perfect through five innings before issuing a walk to open the sixth. He also issued passes in the eighth and ninth innings, facing only 29 batters, only one of whom managed to hit a ball as far as the outfield. Overall Bowman went 7-5 in 17 starts for the Oaks.
Late in the season, Bowman was at the center of a rhubarb with the Hollywood Stars. After a second pitch came uncomfortably close to the head of Jim Mangan, the batter charged the mound. "The pair mixed, clinching and pummeling each other, until they were pulled apart as tenants of both dugouts swarmed on the field," The Sporting News reported.9 Mangan got tossed, but Bowman continued throwing warmups as both managers (Fred Haney for Hollywood and Mel Ott for Bowman's Oaks) argued for about 20 minutes. Finally, Bowman was ordered from the field. As he left, he threw the ball over the grandstand roof before charging at umpire Roman Bentz. He was intercepted by several teammates and pitching coach Augie Galan, who accidentally spiked the pitcher in the dustup. Mangan and Bowman were each fined $75.
In May 1953 the Pittsburgh Pirates claimed Bowman on waivers from the Giants. He pitched in 30 games for the Bucs, all but two in relief, including closing out 15. He went 0-4 with a 4.82 earned-run average in 65⅓ innings pitched. That fall he was traded to Hollywood for home run-hitting first baseman Dale Long. Five days later, while hunting near Otter Lake in the Adirondacks, Bowman accidentally shot himself in his pitching arm with a shotgun. He was treated at Albany Hospital.
Bowman went on to lead the PCL in victories in 1954 with 22 against 13 losses for Hollywood. He had 165 strikeouts while issuing 99 walks. The 22nd victory was also the most impressive — a seven-inning perfect game against Portland in which only one ball was hit to the outfield, a routine fly to left. It was only the third perfect game in PCL history with the other two also seven-inning affairs. The win in the nightcap of a doubleheader tied Bowman's Stars with San Diego for the pennant, which the latter would win, by 7-2 in a one-game playoff.
Bowman opened the 1955 season with the parent Pirates, making two starts and five relief appearances. On May 22 the Giants, his old team, touched him for 10 hits over eight innings in a 5-2 win at Forbes Field, as Bowman dropped to 0-3. He never pitched again in the majors. He went 5-10 with Hollywood over the remainder of the campaign.
Bowman's final six seasons of professional ball saw him throwing for the Millers, the Buffalo Bisons, the Sacramento Solons, the Louisville Colonels, and the Portland Beavers before he joined the expansion Hawaii Islanders as an assistant manager to Tommy Heath. (Heath had been his manager in Trenton in 1947.) Bowman appeared in seven games in fill-in duty, pitching five innings and emerging with a 1-0 record for his 131st career minor-league victory against 119 losses.
Later that season, Bowman turned up in his hometown pitching for the Amsterdam Textiles, a semipro team sponsored by the Textile Workers Union and whose other starting pitcher was Tom McMullen, a right-hander who had spent five seasons in the Brooklyn Dodgers system.
Over the years, items appeared in the sports pages declaring that Bowman could make a living as a professional musician, especially on the saxophone, as he performed with big bands at Caroga Lake, a summer resort town in the Adirondacks. It was said that Bowman had once even sat in with Tommy Dorsey.
While playing baseball, Bowman completed an arts degree at Colgate. He later completed an education degree at the University of California at Los Angeles. He operated an eponymous upholstery business in Santa Monica for 45 years. The business had two partners, Leo Ummard, a German whom he helped immigrate, and George Mockry, an old school friend. Bowman handled the books.
A pilot, Bowman served as president of the Air-Spacers Flying Club, based at Santa Monica Airport, and he also moonlighted as an aviation instructor for 20 years.
Bowman's father died in Amsterdam on April 19, 1982, and his mother died on March 25, 1997. She was 99 and had been resident of a nursing home for three years. Four months later, Bowman himself died in Los Angeles on July 21, 1997. He was 69. He left his wife of 12 years, Nancy (Watson) Bowman. He was also survived by a son, two daughters, a stepson and a stepdaughter. He is buried in a family plot with his mother and father at Hagaman Mills Cemetery in Amsterdam, New York.
Notes
1 Jeff Moshier, "Playing Square," Evening Independent, (St. Petersburg, Florida), June 13, 1944, 12.
2 Sam Chase, "Clubhouse Interviews," Billboard, May 26, 1951, 8.
3  Sam Chase, "Bowman, Giant Cast-Off, Hurls No-Hitter on Coast," New York Times, July 5, 1952.
4  Sam Chase, "Rookie Halts Durocher's Effort to Change Windup," The Sporting News, March 15, 1950.
5 Sam Chase, "Bowman Seeks Diploma on Installment Basis," Schenectady (New York) Gazette, January 30, 1952.
6  Ken Smith, "Giants Urged to Remember Their Comeback Late in '50," The Sporting News, March 28, 1951, 23.
7  John Drebinger, "Phils Win, 6 to 4, Facing 6 Hurlers," New York Times, April 25, 1951.   
8   Roscoe McGowen, "Tenth Loss in a Row," New York Times, April 29, 1951.
9  Sam Schnitzer, "Stars and Oaks Tangle in Mass Ruckus When Batter and Hurler Swap Punches," The Sporting News, September 24, 1952.
Born
August 18, 1927 at Amsterdam, NY (USA)
Died
July 21, 1997 at Los Angeles, CA (USA)
If you can help us improve this player's biography, contact us.
https://sabr.org/sites/default/files/BowmanRoger.png
600
800
admin
/wp-content/uploads/2020/02/sabr_logo.png
admin
2012-01-04 20:03:32
2020-10-09 08:29:04
Roger Bowman