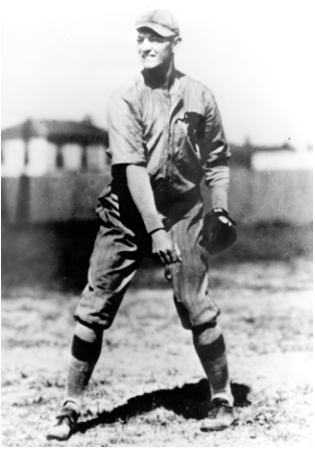 ---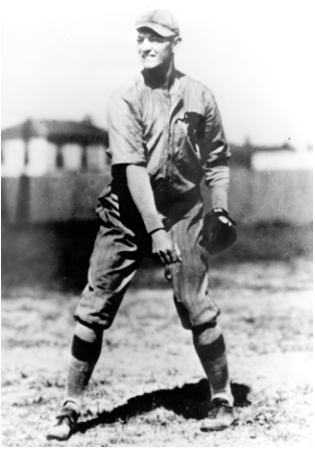 Is Rollie Naylor the unluckiest pitcher in baseball history? Pitching for the then-hapless Philadelphia Athletics from 1917 through 1924, he amassed a 42-83 career record and an ERA+ of 101. Through 2016, more than 800 pitchers with at least 100 decisions to their credit have earned an ERA+ of at least 100. (With this retrospectively-calculated statistic, anything over 100 is considered better than average.) None have a winning percentage as low as Naylor's .336.1 But the diligent, well-humored right-hander seemed impervious to adversity. After all, Naylor pitched with the sight of only one eye.
Roleine Cecil Naylor was born on February 4, 1892, in Krum, a small Texas town some 45 miles north of Dallas and Fort Worth. He was the seventh of James and Laura (Whalen) Naylor's eight children. His parents farmed for a living. One day, as a teenager, while his mother gave him a haircut, Rollie whittled a piece of wood into a toothbrush. Somehow he slipped and stuck himself in his right eye with the stick. A permanent loss of sight resulted.2
The first four Naylor brothers – Art, Taylor ("Dick"), Fredric, and Jerry — all played baseball. In 1913 they facilitated Rollie's professional debut with several teams in the Class-D Texas-Oklahoma League. First he twirled for the Ardmore, Oklahoma, squad that Art managed.3 Then Jerry caught his efforts with the Durant, Oklahoma, team.4 Finally, he landed in Hugo, Oklahoma, where it was Dick's turn to catch his pitching.5
In 1914, Rollie pitched for Bartlett in the Class-D Middle Texas League. He remained with Bartlett until the middle of the 1915 season, when the league went belly-up. Houston of the Class-B Texas League grabbed him. The "tall right-hander with a world of blazing speed and an occasional hook" won his first two games with the Buffaloes.6 But Naylor soon struggled, and finished his Houston stint with a 2-7 record.
Houston did not reserve Naylor for the 1916 season.7 Another Texas League team, the Waco Navigators, picked him up. Waco quickly farmed him out to the McAlester (Oklahoma) Miners of the Class-D Western Association.8 Naylor emerged as one of the circuit's finest pitchers, going 19-11 and leading the league with 228 strikeouts.9
Meanwhile, in Philadelphia, the once-proud Athletics achieved a 36-117 mark in 1916. Connie Mack drafted with renewed determination that fall.10 For $500, he took a flyer on Naylor.11 The newcomer arrived in the Athletics' Jacksonville training camp in March 1917 and started well, but was then "walloped unmercifully."12 Mack farmed him out to New Haven of the Class-B Eastern League, managed by former Athletic Danny Murphy. Naylor excelled in Connecticut, leading the league with 18 victories. Mack recalled him that September.
On September 14, 1917, Naylor made his major-league debut, in Washington. He allowed five hits and five walks while going the distance in a 2-1 victory over the Senators. Over the next several weeks, Naylor made another four starts. In 33 innings with Philadelphia in 1917, Naylor went 2-2 with a sterling ERA of 1.64 (ERA+ of 169). Although the Athletics landed in the cellar for the third straight season, their 55-98 record represented a 19-game improvement from their 1916 nadir. Naylor provided hope that the Mackmen might continue their climb back to respectability.
But by November 1917, Naylor was in the Army. Contemporary reporting indicated he "saw plenty of action" and "the heaviest kind of fighting" in France.13 He seems to have served with the 65th Coast Artillery Corps.14 Naylor mentioned the 65th in a 1918 letter to his father and, two years later, with his American Legion membership.15 Naylor returned to the States in March 1919, and a month later rejoined the Athletics.
The 27-year-old rookie stood 6-feet-1 and weighed 180 pounds. "A quiet, religious sort of fellow," Naylor smiled "from sunrise to sunset."16 He employed a "cork-screw, pivot delivery."17 From the onset of his major-league career, Naylor possessed "a cracker-jack slow ball which breaks something on the order of Matty's famous fade-away with his zip."18 But instead of Christy Mathewson's screwball, this pitch was later identified as a forkball.19 At first, Naylor's offspeed offerings seemed secondary to his fastball and curveball, but they emerged as his primary weapons later in his career.20
During Naylor's absence, fueled by an outstanding debut from pitcher Scott Perry, Philadelphia inched forward again in the war-shortened 1918 season, finishing with a 52-76 record. But in 1919 the Athletics immediately regressed. By June 5, the team was 6-24. Naylor, reacquainting himself with major-league play, had seen limited action in six games and claimed an ERA of 6.75.
The team continued to flounder, eventually landing in the cellar with a 36-104 record. But Naylor emerged as the steadiest piece of an unfortunate starting rotation. From June 29 through August 1, he lost nine straight games. In these affairs, Philadelphia was shut out four times, and Naylor's ERA was 3.18. Naylor finished with a 5-18 record, but led the team with 204⅔ innings pitched. His 3.34 ERA (and ERA+ of 101) was the best among staff regulars.
On September 7, 1919, the Athletics journeyed to New Haven to play a Sunday exhibition game. With Naylor pitching, Philadelphia won 4-1.21 Gertrude Donavan, "a well-known concert singer" and a New Haven native, sat in the stands.22 A year later, she and the pitcher were married.
In December 1919, Mack informed Philadelphia sportswriter James Isaminger that, over the past several seasons, he possessed "concrete evidence of cases where other managers sent their players to members of his team and filled their ears with tales of how much more money they would be drawing if they could get away from the Athletics."23 To dissuade halfhearted efforts from tempted players, Mack responded forcefully: "Hereafter we will not sell or trade any player on our team who is of use to us or any other big league club."24 Thus, when White Sox manager Kid Gleason offered "almost" $25,000 for Naylor that offseason, he was rebuffed.25
Another early-season swoon doomed the 1920 Athletics. By July 6, after losing 27 of the previous 28 games, the team was 30½ games off the American League pace. Suspensions and desertions abounded. "Philadelphia is crying for good baseball," Isaminger wrote of the damage afflicted on the city's sports psyche by the Athletics and Phillies.26 The Mackmen concluded the 1920 season with a 48-106 mark.
Naylor persevered. From May 24 through July 3, he lost 11 games in a row. Amid this misery, over 18 days in June, he threw five consecutive complete games, in which he allowed only 10 earned runs. Naylor finished the 1920 campaign with a 10-23 record. His ERA of 3.48 (and ERA+ of 115) suggests a quality pitcher toiling for a poor team. Tigers President Frank Navin, reportedly "sweet on" Naylor, dangled outfielder Ira Flagstead and cash as trade bait for the pitcher that offseason.27 Mack again passed.
In 1921 Naylor struggled with injuries early on. Two months into the season, he had pitched less than 20 innings. In midseason, for several weeks he returned to top form. On July 12, at Detroit, he kept the Tigers at bay for 15 innings before yielding a triple and sacrifice fly in the 16th, and losing 2-1.28 Nine days later, at Chicago, he suffered another 2-1 extra-inning loss, when Bibb Falk launched a homer into the right-field bleachers to lead off the 14th.29 But soon after this stretch, his troubles returned. Naylor went 3-13 in 1921, with a 4.84 ERA (and an ERA+ of 92). Isaminger opined that "Naylor has been a big disappointment and whether he returns is matter of doubt."30
Mack did send Naylor a contract that winter but, after the pitcher's poor showing, it included a pay cut. Naylor balked. Mack, noting that the club had substantially raised Naylor's salary after his fine 1920 showing, argued that a reduction was justified after his mediocre 1921 season. If Naylor had a beef, Mack suggested, he should take it up with Commissioner Kenesaw Mountain Landis. Naylor promptly wrote the judge. Landis, undoubtedly anxious not to set any precedent on arbitrating salary squabbles, kicked the matter to AL President Ban Johnson. Naylor, sensing his fight was up, signed the contract.31 Occasional business differences aside, all indications suggest the pitcher and the manager held each other in high esteem.
Possibly to combat arm problems, Naylor modified his motion in 1922. "Last year he was more of an overhand pitcher," Mack explained, "Now he's throwing them side arm and he has a better change of pace."32 On April 12 in Boston, Naylor started the season opener. In the fourth, behind 1-0, he loaded the bases with none out. Mack pulled him, and the Athletics went on to win 3-2.33 After this inauspicious beginning, Naylor went on to post a 10-15 record, with a 4.73 ERA (an ERA+ of 90). The Athletics, driven by Eddie Rommel's 27-13 season, finally escaped the cellar with a 65-89 seventh-place finish. "The crowds this season are much bigger than last year," Isaminger noted that May, "and old-time enthusiasm is being stirred."34 When the 1922 season concluded, attendance at Shibe Park topped the 400,000 mark for the first time since 1913.
Naylor "works hard to win and he never utters a peep when the breaks go against him," a Philadelphia sportswriter observed as the 1923 season dawned.35 That spring, fortune finally smiled back at the "smiling hurler."36 In his first 10 starts, Naylor pitched eight complete games, and possessed an 8-1 record with a sparkling 2.20 ERA. On Saturday, June 16, before taking on the Indians at home, the Athletics sported a 29-21 record, and stood only three games behind the Yankees. With an overflow crowd expected at Shibe Park, ropes were laid out beyond the outfield lines. Naylor, not scheduled to start, shagged flies. Then he tripped over one of the ropes, damaging ligaments in his left leg.37 For the next four weeks, he was sidelined. By the time he returned, other injuries had riddled the Athletics. The team was under .500 and out of the race.
"Rollie was never his self after that," an onlooker noted.38 After he returned in July, his performance was pedestrian. Naylor concluded the 1923 season with a 12-7 record and a 3.46 ERA (an ERA+ of 119). The Athletics finished 69-83 and climbed another rung in the standings to sixth place. The next season, Naylor began badly, going 0-5 in 10 games with a 6.34 ERA (an ERA+ of 68). On June 28, 1924, with Philadelphia languishing in last place, Mack traded Naylor and Paul Strand to Toledo for Bill Lamar. For the remainder of the season — indeed for almost a decade to come — the Athletics played winning baseball.
With the Mud Hens in 1924, Naylor went 4-10. The next season, he spent time with four clubs. In May, New Haven purchased him from Toledo.39 Later that month, Seattle picked up the hurler, only to sell him to Mobile after two months. Naylor spent the entire 1926 season with Mobile. The Bears released him that August, and the pitcher returned home to Oklahoma to twirl for Tulsa for the next two seasons. His "tantalizing slow balls" helped the Oilers win the Class-A Western League pennant in 1927, and the circuit's playoffs in 1928.40 Naylor was then signed by Toronto as a free agent. But he was soon back in the Western League, pitching — and scouting – for Pueblo in 1929 and 1930.41 His professional pitching career concluded with the Fort Smith Twins of the Class-C Western Association in 1931.
Naylor then turned to umpiring. He began with the Eastern League in 1932. But that circuit soon folded, and Naylor caught on with the Western League. In 1936 he joined the Texas League's staff, where he remained until he concluded his officiating career with the American Association in the 1943 season.
Gertrude died suddenly in the early 1930s, along with a baby; the couple had no other surviving children. Sometime later that decade, possibly from his travels as a Western League umpire, Naylor met Pauline (Vanora) Lyon, in Des Moines. The two soon married. From her first marriage, Pauline had a daughter, Maxine.42
After umpiring, Naylor lived in Fort Worth, where he sold men's clothing before retiring in 1960. Baseball friends often visited, and he closely followed Texas League action. But he was characteristically modest about his major-league career, finding greater satisfaction in playing catch with Maxine's children than in reciting past glories. On June 18, 1966, Rollie Naylor died from a heart attack. Pauline, Maxine, and five step-grandchildren survived him. He was buried in the Odd Fellows Cemetery in Denton, Texas.
This biography is included in "20-Game Losers" (SABR, 2017), edited by Bill Nowlin and Emmet R. Nowlin.
Sources
In addition to the sources noted in this biography, the author also accessed Naylor's file from the National Baseball Hall of Fame, the Encyclopedia of Minor League Baseball, and a number of sites such as ancestry.com, baseball-reference.com, chroniclingamerica.loc.gov/newspapers, genealogybank.com, newspapers.com, and retrosheet.com.
The author is grateful to Joe Hartwell for his insights toward the 65th Coast Artillery Corps, and especially to Ron Sanders (the pitcher's step-grandson) for sharing his knowledge of Rollie Naylor's life.
Notes
1 From baseball-reference.com's play index, 1876 through 2016. Immediately ahead of Naylor on this list, with a career winning percentage of .370, is his teammate, Scott Perry.
2 Ron Sanders, telephone interview with the author, March 8, 2017. Naylor, on his World War I draft registration card (available via ancestry.com), wrote: "lost eyesight of right eye." Also, for an elderly Athletics fan recalling Naylor's loss of sight, see Edgar Williams, "Woman's Memories of Old-Time Baseball," Philadelphia Inquirer, January 24, 1993. This fan recalled Naylor having a glass eye which, per Sanders, is not accurate: he did not lose his right eye, just its sight.
3 "Raising Baseball Money," Daily Ardmoreite (Oklahoma), February 26, 1913; "More Players Here," Daily Ardmoreite, March 26, 1913; "Ardmore Loses Another Game," Daily Ardmoreite, April 17, 1913; "Three Straight to Texarkana," Daily Ardmoreite, April 30, 1913.
4 "Durant 11, Bonham 10," Bonham (Texas) Daily Favorite, June 7, 1913.
5 "Friday's Results," Daily Ardmoreite, July 27, 1913.
6 "Three in a Row From the Giants," Houston Post, June 24, 1915.
7 "Twenty Players Are in Navigators' Camp," Dallas Morning News, March 12, 1916.
8 "Broncs Take Fast Game From Navs," Waco Morning News, April 9, 1916; "Kike's Komment," Fort Worth Star-Telegram, September 16, 1916.
9 Sporting Life, January 6, 1917, 10.
10 Norman Macht, Connie Mack: The Turbulent & Triumphant Years, 1915-1931 (Lincoln: University of Nebraska Press, 2012), 60-87.
11 T.H. Murnane, ed., Spalding's Official Guide of the National Association of Professional Base Ball Leagues, 1917 (New York: American Sports Publishing Company, 1917), 25.
12 "Baseball's Two Highest-Priced Performers Will Exhibit Wares in Diamond Classic This Fall," Philadelphia Evening Public Ledger, September 17, 1917.
13 "Another Recruit Reports to Mack," Philadelphia Inquirer, April 4, 1919; James C. Isaminger, "Phils Will Try Out Much Young Talent," The Sporting News, March 20, 1919: 1.
14 Naylor's headstone indicates he served with the 162nd Depot Brigade. During World War I depot brigades served as staging areas for men coming from or going to specific units. If he indeed served with the 65th Coast Artillery Corps, it is quite possible he passed through the 162nd. For background on the 65th, see Joe Hartwell, "The History of the 65th Artillery, C.A.C. 1917-1919," freepages.military.rootsweb.ancestry.com/~cacunithistories/65th%20Arty.html, accessed March 9, 2017.
15 "City News and Views," Daily Ardmoreite, March 1, 1918; "Many Branches of Service Are Represented in Legion Membership," Daily Ardmoreite, November 7, 1920.
16 J.C. Kofoed, "Stove League Stories," The Sporting News, January 31, 1924: 6; "Buds From Rose Field," Philadelphia Evening Public Ledger, March 20, 1917.
17 "Recruit Pitcher of Macks Hands Nationals Defeat," Washington Herald, September 15, 1917.
18 Ibid.
19 "Mrs. Naylor Is Also a 'Fork' Ball Twirler," Mount Carmel (Pennsylvania) Item," June 13, 1923.
20 "Billy Evans Says," Jersey City Journal, July 18, 1923.
21 "Connie Mack's Team Beats New Haven in Sunday Contest," Bridgeport (Connecticut) Times and Evening Farmer, September 8, 1919.
22 J.C. Kofoed, "Stove League Stories," The Sporting News, November 30, 1922: 6; "Mrs. Naylor."
23 James C. Isaminger, "Tampering With His Players Must Stop," The Sporting News, December 11, 1919: 1.
24 Ibid.
25 James C. Isaminger, "Connie Nails Yarn by Gotham Scribes," The Sporting News, January 22, 1920: 1.
26 James C. Isaminger, "Shibe Park Setting Record for Homers," The Sporting News, May 27, 1920: 1.
27 Harry Bullion, "Peace Reigns as Baseball Chiefs Gather," Detroit Free Press, December 10, 1920; "Nationals Sign New Agreement," Philadelphia Inquirer, December 15, 1920.
28 For a game account, see "Tiges Win Longest Battle of Season," Detroit Free Press, July 13, 1921.
29 For a game account, see I.E. Sanborn, "Falk's Homer in 14th Nets Faber Victory No. 20," Chicago Tribune, July 22, 1921.
30 James C. Isaminger, "This Sounds Like Annual Tale That Connie Mack Has to Tell," The Sporting News, December 1, 1921: 1.
31 "Landis Refuses to Help in Settling Salary Scrap Between Mack and His Men," Philadelphia Inquirer, February 12, 1922; James C. Isaminger, "Fletcher Returning to Play Second Base for Phillies," The Sporting News, February 23, 1922: 1.
32 Edwin J. Pollock, "Naylor's Work Pleases Connie," Philadelphia Evening Public Ledger, April 19, 1922.
33 For a game account, see Ed Cunningham, "Athletics Defeat Red Sox, 3 to 2, in Opening Game at Fenway Park," Boston Herald, April 13, 1922.
34 James C. Isaminger, "Different Tune on Shibe Park Homers," The Sporting News, May 18, 1922: 1.
35 "Shibe Park Flashes," Philadelphia Inquirer, April 25, 1923.
36 "Tigers Send Johnny Kerr to Omaha Leaving but Two Extra Infielders," Detroit Free Press, June 10, 1923.
37 "Jinx Hits Mack's Title Contenders," Harrisburg Telegraph, June 18, 1923.
38 "Strand and Naylor Traded to Toledo," Philadelphia Inquirer, June 29, 1924.
39 "Rollie Naylor Back With New Haven Club," Springfield (Massachusetts) Republican, May 7, 1925; "Naylor Found for Blows in Pinches," Springfield (Massachusetts) Republican, May 11, 1925.
40 "Tulsa Wins Flag Playoff From Rivals," Des Moines Register, October 2, 1928.
41 Walter E. Dobbins, "State League Notes," Lincoln (Nebraska) Evening Journal, August 5, 1930.
42 Details of Naylor's family life from Ron Sanders, telephone interview with the author, March 8, 2017.
Born
February 4, 1892 at Krum, TX (USA)
Died
June 18, 1966 at Fort Worth, TX (USA)
If you can help us improve this player's biography, contact us.
https://sabr.org/sites/default/files/naylor.png
600
800
admin
/wp-content/uploads/2020/02/sabr_logo.png
admin
2012-01-04 20:45:47
2012-01-04 20:45:47
Rollie Naylor