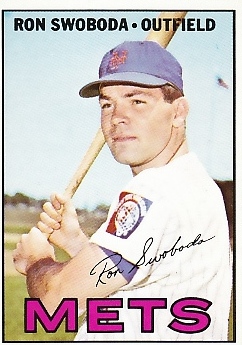 ---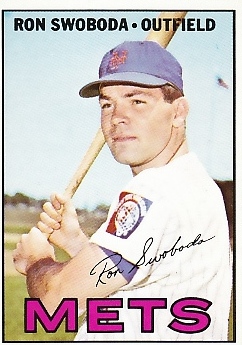 The casual fan of the game might know Ron Swoboda for "The Catch" in the 1969 World Series, or for his home run heroics in a game against Hall of Famer Steve Carlton, or for Casey Stengel's early summation: "He will be great, super, even wonderful. Now if he can only learn to catch a fly ball." The true fan of the man will also know Ron Swoboda for his wit, heart and humility, and for his drive to become the best outfielder he could be.
Ronald Alan Swoboda was born in Baltimore on June 30, 1944 to John and Delores Swoboda. His father was a waist gunner in World War II, a mechanic, salesman and teacher. His mother was a secretary, case manager and supervisor in social services. At Sparrows Point High School, he played three sports. Ron's baseball coach was Andy McDonald. In addition to baseball, Swoboda played basketball and helped take his team to the State title, and soccer where he was the goalkeeper and captain of his team. He played goalkeeper for the freshmen soccer team at the University of Maryland as well.
But of course baseball was his game, and Ron started playing at age 9. He played 15-to-17-year-old amateur baseball for Sterling "Sheriff" Fowble, acclaimed Baltimore City coach and scout for the Cincinnati Reds and New York Mets. When he was 18, Swoboda played on the Dolphin Club. At 19 he played on Leone's Boys' Club, where his coach was Walter Youse, a scout for the Baltimore Orioles. But somehow, Walter let Ron get away. In 1963, the summer following his first year at the University of Maryland, he played in the AAABA tournament in Johnstown, Pennsylvania. Following a wonderful performance in that tournament, Swoboda was offered a $35,000 contract to sign with the New York Mets and scout Pete Gebrian, which he did on September 5, 1963.
Ron was invited to major league spring training in 1964 and made a fine showing with a home run outburst. He was assigned to the Mets' Triple-A club, the Buffalo Bisons in the International League. In his first professional game, Swoboda had three hits including a home run in five at bats. In his second game, he struck out four times. When he reflected on that somewhat inauspicious start to his professional baseball career, Ron would say, "That's about how my career went. That was it in a microcosm." (1) Later on in the summer of 1964, he played for the Williamsport Mets in the Eastern League, the New York Mets' Double-A club, but returned to Buffalo for the playoffs later that summer.
On April 12, 1965, he made his debut with the New York Mets. He wore uniform number 14 that year. (The next year the Mets traded for Ken Boyer who took number 14, and Swoboda switched his uniform number to 4.) Ron's first major league manager was Casey Stengel. Casey managed the Mets until he broke his hip in mid-season 1965. Ron was fascinated by Stengel. Here was a boy of 20 with so much to learn being managed by a man of 75 with so much to teach. Ron remembers Casey's teaching style. While Casey appeared to be talking to the reporters – he of course loved to talk to the reporters – he would often deliver a message to his ballplayers by directing an instructive or critical remark about that player to the reporter when he knew the player was within earshot.
And then there was a less fondly remembered lesson Casey taught Ron. On May 23, 1965, in a game against the Cardinals in St. Louis, the Mets took a 7-2 lead into the 9th inning, with Mets reliever Larry Bearnarth on the mound. The Cardinals scored two runs, and the bases were soon loaded. Dal Maxvill lifted a fly ball out to right field, but Ron lost it in the sun. The ball got by him, and all three Cardinal runners scored to tie the game at 7-7. When Ron batted in the 10th, he did not get on base. As the Mets took the field in the bottom of the 10th, Swoboda's pent-up frustration seemed to burst. When he reached the top of the dugout steps, he angrily stomped on a batting helmet with the intent of smashing it. Instead, his foot stuck in the helmet, and he continued to kick at it to shake it off while taking the field. Casey rushed over to him, grabbed him by the shirt and hollered, "When you missed that fly ball, I didn't go looking for your watch to break it. So quit busting up the team's equipment. You're done for today." In the locker room, Ron thought he just blew his major league chance. He sat there, alone, and cried.
Ron Swoboda was one of the "Youth of America," Stengel's expression for the corps of young players who would take the Mets from worst to first in four short years – players like Cleon Jones, Bud Harrelson, Tug McGraw and Swoboda, who all made their debut in 1965, Nolan Ryan, who came aboard in 1966, Tom Seaver, Jerry Koosman and Ken Boswell in 1967, Jim McAndrew and Duffy Dyer in 1968, and Gary Gentry and Wayne Garrett in 1969. Casey Stengel said the Mets were "amazing, amazing, amazing." Swoboda knows simply – and humbly — that he was part of something special in that amazing year of 1969: "If you're lucky enough to get into the World Series, that's a privilege. All I was trying to do was play baseball." (2)
Swoboda was pictured on the May 6, 1968 cover of Sports Illustrated with the caption "Slugger Ron Swoboda." Indeed he was. So many of his 73 career home runs were memorable. As a rookie in 1965, in only his second major league at bat, the right-handed hitting slugger hit a long, pinch-hit home run over the back wall of the bullpen at Shea Stadium. The pitcher was Turk Farrell of the Houston Astros. ("The longest ball I ever hit," says Swoboda. (3)) He hit four home runs in his first sixteen at-bats and ten in his first ninety at-bats. Swoboda hit a career-high 19 home runs that year, which led the Mets, and was the most home runs hit by a Mets rookie until Daryl Strawberry hit 26 in 1983.
Ron's rookie home run record was actually victimized by an umpiring error. On April 30, 1965, at a game in Cincinnati, he came to bat in the first inning with the bases loaded and one out against right-handed pitcher John Tsitouris. Crosley Field had a concrete outfield wall with a bright yellow line at the top. However, above that home run line and set back about four inches from the concrete wall in center field was a plywood wall installed to prevent the batters from looking into the headlights of the cars on the nearby elevated highway. Swoboda hit a grand slam home run off the plywood wall–except second base umpire Frank Secory never signaled that the ball left the playing field. When center fielder Vada Pinson threw the ball back to the infield, one run scored but the other runners held, and all Swoboda got was a long single. Mets' coach Yogi Berra was ejected from the game for arguing the call. Ron recalls Yogi's famous quote: "Anybody who couldn't hear that ball hit the wood is blind." Swoboda hit two grand slams in his career. And then there was this one that got away. (4)
On July 4, 1966, he hit a ball onto the leftfield roof in Connie Mack Stadium in Philadelphia. On August 4th that season, he hit a three-run, pinch-hit, walk-off home run to beat the Giants 8-6 at Shea Stadium. The pitcher was Bill Henry. (Swoboda remembers, "Every time he threw it, I hit it hard somewhere.") He hit home runs in four consecutive games for the Mets in April 1968. Later that month, on April 30th, he homered off Philadelphia's Chris Short to give the Mets a 1-0 victory. On September 13, 1969, with the Miracle Mets on their way to their first championship season, Swoboda hit a grand slam home run, his first, in the eighth inning to beat the Pittsburgh Pirates, 5-2.
Even more memorable was his performance on September 15, 1969, against Steve Carlton at Busch Stadium. On a night when the Cardinal southpaw struck out 19 batters, setting a new major league record, Swoboda hit two two-run home runs off Carlton. In his other two at bats, Swoboda struck out twice to aid Carlton's record, but his two-run homer in the fourth, with two strikes on him, put the Mets up 2-1, and his two-run homer in the eighth, again with two strikes, gave the Mets the 4-3 victory.
Swoboda hit a home run for every 36 times at bat while playing for the Mets. However, perhaps his most satisfying hit was not a homer, but rather his double in the eighth inning of the fifth and final game of the 1969 World Series that helped New York defeat those Orioles from his hometown of Baltimore, Maryland. Another significant hit in Ron's career was a single off Mike Kekich of the Dodgers on August 4, 1968. That hit was the only one Kekich allowed that day.
Fielding did not come as easily to Swoboda as hitting, but he had a strong and accurate arm and always worked hard at improving his fielding technique. He had 53 outfield assists in his career and a lifetime .972 fielding percentage. He was the Mets leftfielder in 1965 and 1966 but slid over to right when Tommy Davis joined the Mets in 1967, while Cleon Jones covered centerfield. When the Mets traded for centerfielder Tommie Agee from the Chicago White Sox in 1968, the Mets were now able to play Cleon in left, and Swoboda and newly-acquired Art Shamsky in right. Ron also played 20 games at first base for the Mets under manager Wes Westrum in 1967, including opening day.
After escaping the cellar in 1966, the Mets slipped back to last place in 1967 and the beleaguered Westrum resigned on September 20th. Gil Hodges became the Mets manager beginning with the 1968 season. Although he played for both Gene Mauch and Ralph Houk later in his career, Hodges was Swoboda's most influential manager. "Gil was so on top of the game," says Swoboda. "There was no one better than Hodges. He was interesting, and creative, but in a way a player could understand." Swoboda enjoyed perhaps his best season under Hodges in 1968, batting .242 with 450 at bats (a career high) in 132 games, and he led the team in RBIs with 59, triples with 6, and walks with 52, all personal bests. He played 125 games in right field in 1968 with career highs in total chances (231), putouts (217) and assists (14). However, with the flashy fielding and switch-hitting rookie outfielder Rod Gaspar joining Swoboda and left-handed hitting Shamsky in 1969, Hodges' strategy of platooning batters reduced Swoboda's playing time to 109 games and 327 at bats in that championship year. In fact, Swoboda did not get a single at bat in the 1969 National League Championship Series, in which the Mets swept Atlanta in three games, because the Braves started three right-handed pitchers – Phil Niekro, Ron Reed and Pat Jarvis.
In the 1969 World Series, Ron got his chance when the Baltimore Orioles started Mike Cuellar and Dave McNally, two lefties, in four of the five games. In that Series, one of the more famous upsets in baseball history, Swoboda batted 15 times and collected six hits, the most by any player from either team, with three coming in Game Four and two in Game Five. His eighth inning double in the fifth game off Eddie Watt knocked Cleon Jones in from second base and helped seal the championship for the Miracle Mets. Yet, this is not the moment in the 1969 Series for which Swoboda is most remembered.
Despite a less than stellar defensive reputation, the single event for which he is best known was made in the field, in the fourth game. In the top of the ninth, with the Mets holding onto a 1-0 lead courtesy of Donn Clendenon's second inning home run off Mike Cuellar, Frank Robinson and Boog Powell each singled to put runners on first and third with one out for the Orioles. Brooks Robinson then hit a smash toward right center that Swoboda raced for and caught backhanded as he dove flat out to his right. Frank Robinson tagged and scored but Swoboda's grab prevented the go-ahead run from being plated. The Mets won the game in the 10th inning when pitcher Pete Richert cleanly fielded J.C. Martin's sacrifice bunt but then hit Martin with the throw to first base, allowing the winning run to score. Baseball Weekly later ranked the catch as one of the "10 Most Amazing Plays of All-Time." (5)
On March 31, 1971, Ron Swoboda and infielder Rich Hacker were traded to the Montreal Expos for outfielder Don Hahn. Swoboda appeared in just 39 games for the Expos, and on June 25 he was traded to the New York Yankees for Ron Woods. ("I remember putting on the Yankee uniform and walking out onto the field in the old Yankee Stadium," Ron says. "I was not prepared to be awed…but I was.") Swoboda played 152 games for the Yankees, during which he collected 69 hits with 4 home runs. He played the last game of his career on September 30, 1973, and was released by the Yankees on December 11, 1973. He was signed as a free agent by the Atlanta Braves on January 3, 1974, but was released before the 1974 season began.
Ron flirted with a place in history in 1973. The last year of his playing career was the first year of the designated hitter rule in the American League. On April 6, 1973, opening day, the Yankees' Ron Blomberg appeared in the game against the Boston Red Sox at Fenway Park as the first "designated pinch hitter" in major league history. But had the Red Sox started a left-handed pitcher that day instead of right-hander Luis Tiant, Swoboda would have been the first. Swoboda did DH against lefty John Curtis in the third game of that season-opening series.
Swoboda finished his nine-year playing career with a lifetime batting average of .242 in 928 games (his career high was .281 in 1967). He hit 73 home runs and knocked in 344 runs. His lifetime slugging average was .379 and his on-base percentage .324.
Ron and his wife Cecilia, whom he met at the University of Maryland, were married on October 9, 1965. ("I admire everything she does," says Ron.) They have two sons, Ron, Jr. and Brian Christopher. After baseball, Swoboda turned to writing and TV and radio broadcasting, holding jobs in New York, Milwaukee, Phoenix and New Orleans. He once ran a restaurant with Ed Kranepool, his former Met teammate and roommate. On March 1, 1999, he appeared on the popular TV show Everybody Loves Raymond with other members of the 1969 New York Mets, including Agee and Kranepool. Ron's hobbies and interests include studying impressionist art and New Orleans history.
This article has been modified from its original version.
Notes
(1) Golenbock, Peter, Amazin': The Miraculous History of New York's Most Beloved Baseball Team, St. Martin's Press (New York, 2002), p. 165
(2) Freeman, Kevin, "Ron Swoboda, October star of the Miracle Mets, savors his good fortune," Intelligencer Journal, July 16, 2004, p. D-1.
(3) Gergen, Joe, "Shea's Amazin' Grace," New York Newsday, July 25, 2004
(5) Leonard Koppett, "3 Home Runs Hit Off Spahn in 6th; Swoboda's 'Grand Slam' Is Ruled a Single–Rose Goes 5 for 5 at Bat", The New York Times, May 1, 1965, p.22.
(5) Baseball Weekly Cover Report, July 24, 2002.
Sources
Much of the information contained in this article came from an interview by the author with Ron Swoboda on July 15, 2004, in Landisburg, Pennsylvania. The author also consulted several baseball-related websites. In addition, he made use of the following:
Adell, Ross and Samelson, Ken, Amazing Mets Trivia, Taylor Trade Publishing (Lanham, Maryland, 2004).
Cohen, Stanley, A Magic Summer, Harcourt Brace Jovanovich (Orlando, 1988).
Freeman, Kevin, "Ron Swoboda, October star of the Miracle Mets, savors his good fortune," Intelligencer Journal, July 16, 2004, p. D-1.
Gergen, Joe, "Shea's Amazin' Grace," New York Newsday, July 25, 2004.
Golenbock, Peter, Amazin': The Miraculous History of New York's Most Beloved Baseball Team, St. Martin's Press (New York, 2002).
Born
June 30, 1944 at Baltimore, MD (USA)
If you can help us improve this player's biography, contact us.
http://bioproj.sabr.org/bp_ftp/images4/SwobodaRon.jpg
600
800
admin
/wp-content/uploads/2020/02/sabr_logo.png
admin
2012-01-04 20:30:39
2012-01-04 20:30:39
Ron Swoboda