---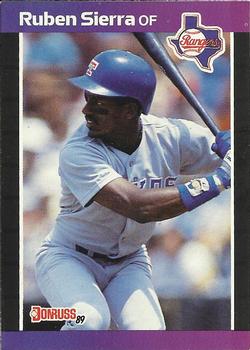 This is about what could have been and in reality what should have been. Very few players who come to the major leagues are labeled five-tool, can't-miss players. Even fewer go on to have that career. When you are involved in 31 transactions throughout your career and play for nine teams, two of them for multiple times, you end up with a career that should have been better. This is the tale of Ruben Sierra, a multitalented baseball player who never lived up to those lofty expectations for many reasons: all of his own doing, no one to blame but himself. Unfortunately for Sierra he figured this all out late in his career, when it was too late to matter. Yet despite all of this, he still hit over 300 homers and drove in over 1,300 runs. He stole 142 bases and amassed over 2,100 hits. For most, that would be considered a solid career, but Sierra is seen as a player who did not live up to what could have been. He also showed a lot of maturity late in his career, and helped both the Texas Rangers and New York Yankees after toiling in the minor leagues and independent leagues for a few years.
Ruben Angel Sierra Garcia was born on October 6, 1965, in Rio Piedras, Puerto Rico, to Angel and Petra Sierra. Ruben graduated in 1983 from Liceo Interamericano Castro high school, where he excelled in baseball, basketball, and volleyball. His life was full of family tragedy, starting at the age of 4 when his father was seriously injured in a car accident. One night in the hospital's intensive-care unit, he became thirsty. Unable to hail a nurse, he pulled out the tubes that tethered him to the bed and stumbled off to get a drink. On his way back to bed, he collapsed and died. Ruben's widowed mother worked as a hospital janitor to support her three sons and daughter. Ruben grew up in the Jardines Selles projects, a tough slum burdened by a flourishing cocaine trade, and violent crime. It became Ruben's goal to get his mother out of the projects.
Sierra was signed as a free agent by the Texas Rangers and scout Orlando Gomez on November 21, 1982, and assigned to the Rangers club in the Rookie Gulf Coast League. At the raw age of 17, he played in 48 games and started off slowly, hitting only .242 with one homer and 26 runs batted. The following year he was moved up to the Burlington (Iowa) Rangers of the Class-A Midwest League. He started to show the power the Rangers were hoping for with 6 homers, 33 doubles, and 75 RBIs in 482 at-bats.
At the age of 19 Sierra was starting to fill out a bit and it showed with his increased power in Double-A ball. Playing for the Tulsa Drillers (Texas League), he batted .253 with an on-base percentage of under .300, but raised his home-run production to 13 with 34 doubles and 8 triples in 545 at-bats.
Sierra opened the 1986 season with Triple-A Oklahoma (American Association) and in 46 games showed the Rangers enough for them to call him up on June 1. He wasted little time showing what he could do as he homered in just his second major-league at-bat, becoming the first Texas Rangers player to accomplish that feat.
Sierra went on to play in 113 games, hitting 16 homers, 13 doubles, and 10 triples to give him double figures in each extra-base-hit category. He finished sixth in the American League Rookie of the Year voting. Having picked up switch-hitting in his late teens, he homered from both sides of the plate on September 13 against the Minnesota Twins.
In 1987 Sierra played in 158 games, hit 30 homers, and drove in 109 runs while batting .263. The next season he hit 23 homers and drove in 91 runs. Before the age of 23 he had hit 69 homers and driven in over 250 runs. That put him on pace to easily reach the 500-homer club and come close to 2,000 RBIs; it looked as though he was becoming the player many had perceived him to be.
In 1989 Sierra finished second to Robin Yount in the MVP voting. He batted .306, and led the major leagues with 14 triples and the AL in RBIs (119), slugging (.543), and total bases (344). He also hit 29 homers and 35 doubles. His WAR (wins above replacement) was 5.9, the highest of his career.
During a radio interview by friend Luis Mayoral, a sportswriter and broadcaster, Sierra was told he would be an All-Star and began to cry. "Was it something I said?" asked Mayoral on the morning of the 1989 All-Star Game. "No," sobbed Sierra. "It's just that tonight is the most important game of my life and my mother won't be there to see me play."1 It was Sierra's fourth year playing in the majors, and his mother, Petra, had yet to attend one of his major-league games. He was named AL Player of the Year by USA Today and The Sporting News.
The day the MVP selection was announced, Sierra appeared at Mayoral's office in San Juan, at the Rangers' request, to be available to the press. Thirty or so reporters showed up. When it was announced that he had finished second to Yount, Sierra responded in character. He cried like a baby to the point of creating a dark spot on his pants leg where the tears had flowed. In the States, Yount's MVP victory was considered mildly controversial, but on the island of Puerto Rico, it was condemned as a "larcenous miscarriage of justice."2 Four months later, Sierra himself was still angry about the results. He said: "I led the league in RBIs 119, total bases 344, slugging percentage .543, extra-base hits 78, and triples 14, and I was there in all major categories. He beat me in batting average and doubles."3 Sierra emphasized that he was not miffed at Yount — "He's a good guy" — but at the voters. He confessed that he had already picked out a spot for the trophy, on top of his TV at home, he was so confident he would win.4
Sierra started to lift weights more than usual, which affected his swing as he bulked up to try to hit more homers. Only near the end of his career did he admit as such.5
In September 1989 Sierra's mother and grandmother lost their house in Puerto Rico to Hurricane Hugo. This weighed heavily on Sierra as the season wound down.
Sierra hit his 100th major-league home run on April 17, 1990, at age 24. He ended the season batting .280 with 16 homers, 37 doubles, and 96 RBIs. Sierra's rebounded from a subpar 1990 season with 25 homers and 116 RBIs and batted.307, the last time in his career he hit over .300. He had a career-high 44 doubles and was in double figures for steals with 16. All of his numbers were up from the previous year. In early February of 1992 he won his salary-arbitration case, getting $5 million rather than the $3.8 million the Rangers had offered. He struggled some at the plate and was batting .278 when he was traded to the Oakland A's on August 31, with Jeff Russell and Bobby Witt for Jose Canseco.
This was the start of what could be seen as a scenario of revolving doors. Instead of just moving on, Sierra started to show his immaturity, an impression held by others that arguably followed him for years. The Rangers had expected more for their $5 million, but it was more his frequent failures with runners in scoring position and lackluster play in right field (including seven errors), that began to draw the wrath of both fans and management.
Rangers president Tom Schieffer said Sierra, who rarely signed autographs and avoided interviews because of his broken English, had little community involvement and failed to cooperate when the club tried to promote him. "We made every effort we could to get Ruben to participate in the community and talk to the media and be part of the ballclub, and frankly we got very little cooperation," Schieffer said. "It's very difficult to get someone who won't sign autographs to be popular in the community."6
Sierra had hoped to spend his entire career with the Rangers. "I love this game and I figured I would play all my days as a Ranger," he said. "But this year I learned something. I started baseball with passion for the game, because I love it, and it was what I had to do to get out of where I was back home."7 He added, "This year I learned baseball is a business. You won't always get treated right, and so you just have to keep going where you can make money. I did not always feel that way."8
With Oakland, Sierra reached postseason play for the first time. Although the Blue Jays beat the A's in six games in the ALCS, Sierra hit .333 with one home run and seven RBIs.
After the 1992 season the Oakland A's believed that Sierra could productively hit behind Mark McGwire and gave him a five-year, $30 million free-agent contract. After signing, Sierra slammed the Rangers again, even to the point of calling the organization racist. "The Rangers don't want a Latin having all the records in their book," he said. "That's what I think. … They don't want to have anybody of dark skin, a Latin player, being the big man on the team."9 Yet after trading Sierra, the Rangers gave a five-year, $45 million contract to Juan Gonzalez.
Sierra's first full year with the A's was 1993 and he bounced back somewhat; his power numbers were back up, with 22 homers, and he drove in 101 runs, the last time in his career he broke the 100-mark in RBIs. He showed his speed again with 25 stolen bases, the last time he appeared in double figures in steals, but he batted only.233. He blamed manager Tony La Russa. Sierra said the low average was a result of pitchers working around him because Mark McGwire had so often been out of the lineup. "I don't have guys like Will Clark and Jose Canseco behind me," Sierra said. I don't have anybody like Rafael Palmeiro or Julio Franco like I had in Texas."10 La Russa said pitchers didn't throw strikes to Sierra because he chased so many bad pitches. Sierra had only 52 walks for the season.
In 1994 Sierra became injury-prone, a problem that followed him the rest of his career. He played in only 110 games. But he raised his batting average to .268, hit 23 homers and drove in 92 runs. There were whispers that again he was hard to deal with, wouldn't hustle, and just failed to connect with his teammates and management. He finally wore out his welcome and after just 2½ years of a five-year deal he was dealt to the New York Yankees on July 28, 1995.
He hit almost identically before and after after the trade, ending the season with 19 homers and 86 RBIs. Again a trade had given him a shot at postseason play. He drove in two runs, helping the Yankees win Games One and Two of the Division Series against Seattle, but was only 1-for-11 as the Mariners won the final three games.
In 1986 Sierra got in Yankees manager Joe Torre's doghouse for lackluster play and inattention. By the end of July, Torre had had enough and Sierra was on the move again, dealt to Detroit at the trade deadline. Years later, Torre wrote in his book Chasing the Dream that Sierra "has no clue what baseball is all about. … He cares only about statistics. Ruben was the toughest guy I ever had to coach."11 The Yankees manager criticized Sierra for not grasping the team-first attitude that Torre claimed carried the Yankees to championships. Torre lambasted Sierra for his attitude and said that after months of cajoling and prodding, Sierra still refused to shed his me-first attitude.
Sierra responded by blaming Torre. "What he's trying to do is mess with my career and he's not going to do it," Sierra said at spring training. "Joe Torre don't like me. He traded me. Why, I don't know. I worked hard every day for him in spring training. I worked hard during the season. … I don't understand a guy like Joe Torre. He played a long time, why does he have to say things about me?"12 Torre responded: "Ruben thought he should play right field instead of Paul O'Neill and thought he should have Paul's number 21 too."13
Sierra hoped he could end 1996 on a high note with Detroit, but it was not to be, and he started a downward spiral with many moves over the next several years. He only hit one homer for Detroit and batted just .222; after the season he was traded to the Cincinnati Reds. That lasted only 25 games into the 1997 season before the Reds released Sierra. He had won the left-field job coming out of spring training but lost his job after struggling when the season began. He was batting .244 with two homers and seven RBIs, but had only one hit in his final 18 at-bats with the Reds. He was released on May 9. Two days later, the Toronto Blue Jays took a chance and signed Sierra to a minor-league contract; he was assigned to Syracuse. After eight games, though he was hitting only .219, the Blue Jays had a need and called him up. Sierra proceeded to bat just .208, playing sparingly. He was released in June. This time, no one picked him up.
Sierra caught on with the Chicago White Sox in January 1998. He made the big-league team but was released on May 29, batting .216. He was picked up by the New York Mets at the end of June and assigned to their Triple-A team at Norfolk. He batted .259 with 3 homers and 19 RBIs in 28 games, and was released after the season.
Sierra's poor performance in 1998 undoubtedly had been affected by two family tragedies: His brother and sister both died from complications of AIDS during the year. Still, no major-league team was interested in signing Sierra. At the age of 33 it looked as if his career had come to its end.
Then something changed for the prideful man; he was willing to go to independent-league baseball. He joined the Atlantic City Surf of the Atlantic League. He started slowly but by year's end had hit 28 homers with 82 RBIs and batted .294. This production enticed the Cleveland Indians to sign Sierra after the season. But the Indians released him at the end of 2000 spring training.
Sierra signed with the Cancun Langosteros of the Mexican League and was batting .355 in 16 games when his old team the Texas Rangers came calling. In 2000 in limited action with the Rangers he hit .233 with one homer and seven runs batted in.
Sierra found new life in 2001. After starting the season with Oklahoma City, he was called up to the Rangers and posted good numbers playing a little over half the season. In June he was not just the Rangers' player of the month; he was one of the best players in the AL with 10 homers and 28 RBIs. Against the Los Angeles Dodgers on June 13, for the sixth and last time in his career he hit homers from each side of the plate. For the season he hit .291 with 23 homers and 67 RBIs, and was named the Comeback Player of the Year in the Players' Choice awards and by The Sporting News. "I never gave up," he said. "I had faith that I can play. I never lost faith in God that he was going to help me get here again. I just looked for the positive things to help me go forward. I got too big and I just didn't feel the same way. I couldn't hit the ball out over the plate. I was pulling everything. It just didn't work out at all."14 Through self-reflection, Sierra apparently was taking responsibility for his own action.
Even though he had a good year with the Rangers in 2001, he was released and signed as a free agent with the Seattle Mariners on January 3, 2002. He played the whole 2002 season with the Mariners, primarily as the designated hitter, and batted .270 with 13 homers and 60 RBIs. At the end of the season, he was again released — and for the third time in his career was back with the Texas Rangers, who signed him as a free agent. On June 6 he was back with the Yankees and Joe Torre, in a straight swap for outfielder-DH Marcus Thames.
Sierra said he had sought out Joe Torre in spring training back in 2000 and apologized during a sitdown in Winter Haven. "I apologized for anything I did before when I was immature," Sierra said. "The years have passed and you understand the way things have to go and now I'm a different guy."15
Sierra played in all three rounds of the postseason in 2003, as the Yankees beat the Minnesota Twins and the Boston Red Sox (Sierra getting only two at-bats in each series), but he was called upon in five games of the World Series against the Florida Marlins, the only time he played in the World Series. All nine postseason appearances were as a pinch-hitter. He hit a home run against the Red Sox in the ALCS and tripled in the Series against the Marlins.
Sierra was an important part of the 2004 Yankees, who hit 242 home runs. Sierra himself slugged 17 of those homers as designated hitter, playing in 56 games at that position. In Game Four of the 2004 AL Division Series, with the Yankees down to the Twins 5-2, Sierra hit a three-run homer off reliever Juan Rincon to tie the game. His clutch homer helped the Yankees rally to win the game and the series. He had three consecutive multihit games against the Red Sox in the ALCS, but saw Boston take four straight after being down three games to none.
Sierra had an injury-plagued 2005 season, hit just four home runs, and was released after the season. He was 1-for-3 in the ALDS.
In 2006, Sierra, now 40 years old, gave it another try, signing with the Minnesota Twins. He only had 28 at-bats before being released. He was offered a chance to join the New York Mets for the September run and the playoffs, but due to his mother's illness, he declined and his career ended quietly, without fanfare.
Sierra played for nine teams, was a four-time AL All-Star (1989, 1991, 1992 and 1994), and won an AL Silver Slugger award in 1989. He had seven 20-homer seasons and four times had over 100 RBIs. For his career he hit 306 homers and had 1,322 RBIs, with 2,152 hits and 142 stolen bases.
In retirement he recorded two albums of salsa songs.16 His son Ruben Jr. played minor-league baseball in the Rangers organization in 2009-2013.
He has said one of his proudest moments was having the money to move his mother out of the projects to a nice house in a nice place in Puerto Rico.17
Sierra will be remembered by some as flamboyant, cocky, surly, and immature in many ways, but also humbled himself to come back and end his career on his terms.
Last revised: August 1, 2018
This biography is included in "Puerto Rico and Baseball: 60 Biographies" (SABR, 2017), edited by Bill Nowlin and Edwin Fernández.
Sources

In addition to the sources cited in the Notes, the author also consulted Baseball-Reference.com and newspaper clippings in Sierra's file at the National Baseball Hall of Fame.
Notes
1 Austin Murphy, "Rising to the Top of the Game," Sports Illustrated, April 16, 1990: 60. "He cries at the drop of a hat," said Mayoral.
2 Ibid.
3 Ibid.
4 Ibid.
5 Bob Klapisch, "Mets' Sierra Ponders What-Ifs," Bergen Record (Hackensack, New Jersey), March 15, 2007.
6 Associated Press, "Sierra Bitter Over Texas Ending," Albany Times-Union, September 4, 1992.
7 Ibid.
8 Ibid.
9 Knight-Ridder Newspapers, "A's Sierra Bitter About Past and Present." Unattributed, undated newspaper clipping from Sierra's file in the National Baseball Hall of Fame.
10 Ibid.
11 John Giannone, "Torre's Book Causes Ruben to Unleash," New York Daily News, March 2, 1997.
12 Ibid.
13 Ibid.
14 David Leon Moore, "Rangers' Sierra Never Lost Faith in His Ability," USA Today, July 16, 2001.
15 Anthony McCarron, "'New' Sierra Back on Torre's Bench, New York Daily News, July 7, 2003.
16 Robert Dominguez, "This All-Star Goes From Swinging to Singing," New York Daily News, October 27, 1994.
17 Austin Murphy.
Full Name
Ruben Angel Sierra Garcia
Born
October 6, 1965 at Rio Piedras, (P.R.)
If you can help us improve this player's biography, contact us.
https://sabr.org/wp-content/uploads/2020/03/research-collection4_350x300.jpg
300
350
admin
/wp-content/uploads/2020/02/sabr_logo.png
admin
2012-01-04 20:37:42
2012-01-04 20:37:42
Ruben Sierra