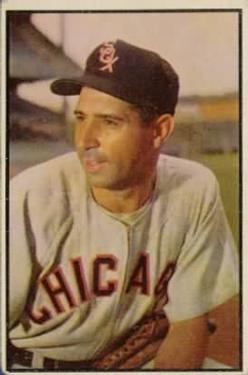 ---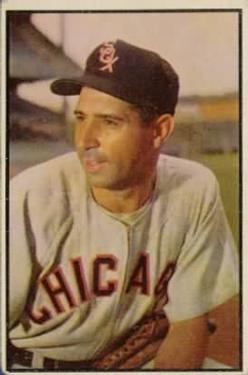 It's ironic that a player who's best remembered for the slogan "We'll win plenty with Sam Dente" would have played almost half his career for two organizations synonymous with losing, the St. Louis Browns and the Washington Senators.
It was during his three-year Senators tenure from 1949 through 1951 that the slogan was first seen on a sign, but the prediction didn't really come true until Dente was signed by the 1954 Cleveland Indians. His play as a utility infielder, ultimately taking over the starting shortstop job when regular George Strickland went down with a broken jaw, was a big part of the Indians' 111-win season.
Dente, a 5-foot-11, 175-pound right-hander, was often called in the press a "good-field, no-hit" infielder. For only two seasons did he hold down a steady position with a major-league club. What kept him in the majors was a rifle arm combined with the athletic ability to play all of the infield positions well. In his prime, he was the ultimate utility infielder.
He was a fiery competitor, quick to anger – mostly at himself. He was a serial water-bucket kicker, often being fined for ruining a dugout water bucket after striking out[fn]Mansfield (Ohio) News Journal, July 2, 1967. [/fn]. The practice eventually came to an end in one game when someone filled the water bucket with sand [fn]The Sporting News, July 4, 1961.[/fn]. But Dente was also the clubhouse comedian, keeping the locker-room mood light with his hijinks[fn]The Sporting News, August 25, 1954.[/fn].
Samuel Joseph Dente was born on April 26, 1922, in Harrison, New Jersey, to Italian immigrant parents Joseph, a railroad laborer, and Lena Dente. Both of his parents immigrated to the United States in the 1890s. Sam was the youngest of six children, with four sisters and a brother[fn]1930 United States Census.[/fn].
Dente excelled at two sports as he grew up. He was a fine centre-half for the Kearny High School soccer team[fn]Trenton (New Jersey) Evening Times, November 16, 1939.[/fn]. He was so good that after high school, Dente played professionally in the American Soccer League for the Kearny Americans[fn]Brooklyn Eagle, August 14, 1947.[/fn].
But Dente also shined at baseball. He played shortstop for Kearny High and, in 1941, was a finalist in the New York World-Telegram's Most Valuable Baseball Player contest for high-school players from New York and vicinity[fn]New York World-Telegram, June 25, 1941.[/fn]. More than 50 years later, the Newark Star-Ledger named Dente to its high-school baseball All-Century team for the 1940s[fn]Newark Star-Ledger, April 17, 2007.[/fn]. Dente also honed his skill in the American Legion junior ball program[fn]Undated newspaper article from Dente's Hall of Fame file.[/fn].
Naturally, a player of Dente's ability started to draw attention. The first person to talk to him was Jack Tighe, player-manager of the Muskegon Reds in the Detroit Tigers organization and a neighbor of Dente's in Kearny. In 1941 Tigers general manager Jack Zeller offered Dente a bonus for signing and sent him to Newark and Jersey City, where he worked out with the Tigers' International League team, the Buffalo Bisons[fn]Bendel, Fred. " 'No Hit' Dente Hit At Short." Baseball Digest, (March 1951), 91-92.[/fn].
What happened next is up to dispute. In 1950 The Sporting News reported that the Tigers cut Dente after watching him bat against hard-throwing Virgil Trucks, who amassed four minor-league no-hitters before starting a 17-year major-league career. But Dente told Baseball Digest in 1954 that Bisons manager Al Vincent never allowed him to bat when he was with the team, yet Vincent reported to the Tigers that he wasn't much of a hitter[fn]Bendel, Fred. " 'No Hit' Dente Hit At Short."[/fn].
Whatever happened, the Tigers weren't interested in keeping Dente. The Red Sox jumped in. Their scout Jack Egan signed Dente to a contract and sent him off to the Owensboro Oilers of the Kentucky-Illinois-Tennessee League[fn]The Sporting News, January 3, 1951.[/fn].
Dente had little trouble adjusting to the Kitty League offensively, batting .273. But he struggled defensively playing shortstop for the Oilers. In 77 games, he committed 44 errors for a .901 fielding percentage.
But the Red Sox saw enough potential that they moved Dente to Greensboro in 1942. At Greensboro he improved his defense but struggled with the bat. Yet despite his hitting only .209, he found himself moved up another classification, this time to Scranton for the 1943 season.
In Scranton Dente again struggled with the bat, but World War II soon intervened. In February he was classified as 3-A("men with dependents, not engaged in work essential to national defense")[fn]The Sporting News, February 4, 1943.[/fn]. On June 11 he enlisted in the Army at Wilkes-Barre, Pennsylvania. [fn]U.S. World War II Enlistment Records, 1938-1946.[/fn]
Unlike many other major and minor leaguers, Dente didn't play baseball during the war.[fn]Red Bank (New Jersey) Register, April 3, 1973.[/fn] He was sent to Europe, where he manned an antiaircraft gun for much of the war. Because he bent over the firing piece, it cost him his hearing in his left ear.[fn]The Sporting News, March 30, 1949.[/fn] He was kept in the Army until March 1946.[fn]Lowell (Massachusetts) Sun, March 7, 1947.[/fn]
Dente managed to make it to training camp after his discharge and was placed back with Scranton for the 1946 season, as were many of his former 1943 teammates who had gone away to the war. As a result, Scranton was loaded with talent.
Instead of playing shortstop, Dente was moved to third base. He, and the Scranton Red Sox as a whole, had a tremendous season. Dente hit .289 in 134 games and proved an asset in the field.
Scranton easily won the Eastern League regular-season championship by 18½ games and then steamrolled through the playoffs to the EL championship. Dente's teammate Sam Mele was named the EL Most Valuable Player. Dente finished eighth in the voting.[fn]Binghamton (New York) Press, November 12, 1946.[/fn]
After the season ended, the Red Sox swapped seven players to Louisville for seven players slated to be with Louisville in 1947. Dente was one of the latter group.[fn]New Orleans Times-Picayune, September 25, 1946.[/fn] The Sporting News proclaimed that he had "a fine minor league reputation" and was a "sure fielder and thrower and a fair hitter."[fn]The Sporting News, December 25, 1946.[/fn] Boston Red Sox manager Joe Cronin called Dente "promising."[fn]The Sporting News, December 4, 1946.[/fn] His career was definitely on the upswing. On January 22, 1947, Dente signed a contract to play for the Red Sox but not before the Red Sox told him in no uncertain terms to quit professional soccer.[fn]Cleveland Plain Dealer, July 14, 1947.[/fn]
At camp, he found himself in a battle for the third-base job with Frank Shofner and Merrill Combs.[fn]Lowell Sun, March 14, 1947.[/fn] The Sporting News wrote that Dente had the "strongest gun" of any infielder in the Red Sox camp.[fn]The Sporting News, March 19, 1947.[/fn]But his hitting held him back and Shofner soon had the inside track on the job as camp came to a close.[fn]The Sporting News, March 26, 1947.[/fn]
According to The Sporting News, when the Red Sox broke camp and started barnstorming home, Dente was left behind at their camp in Sarasota, Florida, "until the situation became clearer."[fn]The Sporting News, April 16, 1947.[/fn] Eventually, the Red Sox sent Dente and catcher Ed McGah to Louisville for the start of their season.[fn]Lowell Sun, April 18, 1947.[/fn]
Dente caught fire almost immediately at Louisville. By July 9 he was hitting .311. The Red Sox, on the other hand, were struggling to find an adequate third baseman.[fn]The Sporting News, July 16, 1947.[/fn] Shofner hadn't panned out and, in their desperation, the Red Sox had tried five other players at third base. On July 10, 1947, Dente became the seventh to play the position.[fn]The Sporting News, July 23, 1947.[/fn]
In his first game, Dente faced Detroit Tigers pitcher Hal Newhouser, a future Hall of Famer. He singled twice against Prince Hal and the press wrote that he had "played sensationally" at third base. Dente went on to start 42 straight games for the Red Sox at third base.[fn]Undated newspaper article from Dente's Hall of Fame file.[/fn] He was seen as a stabilizing presence at third base after two years of a revolving door at the position.[fn]The Sporting News, August 6, 1947.[/fn]
Cronin continued to praise his new third baseman for his defensive abilities, calling him the team's best defensive third baseman since Cronin became the manager of the Red Sox in 1935.[fn]Undated newspaper article from Dente's Hall of Fame file.[/fn]
But Dente still was a liability with the bat. Sporting News correspondent Jack Malaney wrote, "It appears that Dente is not ready for Major League pitching."[fn]The Sporting News, August 13, 1947.[/fn] By season's end, Dente was hitting only .232. The Red Sox, who finished third in the American League, were looking to upgrade at several positions so on November 18, they traded Dente, pitcher Clem Dreisewerd, minor league infielder Bill Sommers, and $65,000 to the St. Louis Browns for pitcher Ellis Kinder and infielder Billy Hitchcock.
Meanwhile, the Browns were interested in Dente as primarily a shortstop. Dente, eager to win the starting job, went to camp early in San Bernardino, California.[fn]Trenton Evening Times, March 17, 1948.[/fn]
Despite the successful integration of baseball in 1947, Organized Baseball was still holding its collective breath, worried that an incident might occur on the field between a white and black player that would have racial implications. It was an incident involving Dente that proved that, as far as play on the field goes, it would be business as usual.
It occurred during a spring-training game between the Browns and the Cleveland Indians at Wrigley Field in Los Angeles. While Dente was playing shortstop, Larry Doby accidentally spiked him while stealing second. There was no altercation between the two players though Dente had to leave the game to be tended to.
While the spiking may not seem a big deal given today's sensibilities, it warranted a full story in The Sporting News with the headline "Negro Spikes White Rival – and That's the Whole Story." The publication wrote of the incident, "Civilization's stumbling progress toward true maturity passed at least a minor milestone at Wrigley Field."[fn]The Sporting News, March 31, 1948.[/fn]
While Dente didn't crack the regular lineup at the start of the season, he still helped the Browns to a surprising winning record as June began. He batted over .300 in mostly pinch-hitting and utility roles.[fn]The Sporting News, June 2, 1948.[/fn] The Browns, however, soon fell into their normal pattern and finished the season 37 games back of the Cleveland Indians. Dente had a good season as a spot starter for regular shortstop Eddie Pellagrini. Dente started 57 games at shortstop and four at third base. He hit .270 in 98 games for the Browns.
But the Browns, always in the mood to trade a player especially when they received cash in return, traded Dente to the Washington Senators on October 4 in exchange for pitcher Tom Ferrick, infielder John Sullivan, and $25,000. Dente wasn't sad to move from St. Louis to Washington. Years later he told author Eric Stone, "I wasn't (in St. Louis) very long, thank God. We had some nice guys but absolutely no chemistry. Everybody went his way. No team unity. I was very happy to leave."[fn]Eric Stone, Wrong Side of the Wall: The Life of Blackie Schwamb, the Greatest Prison Baseball Player of All Time (Guilford, Connecticut: Lyons Press, 2004), 121.[/fn]
When the 1949 season started, Dente was the Senators' starting shortstop. Despite the changes, the Senators got off to a bad start. After dropping a doubleheader to the Philadelphia Athletics, the Senators stood at 3-11 and in the midst of a 14-game road trip. Things looked bleak. But the Senators won nine straight games before dropping their last game of the road trip.
When the Senators arrived back in Washington, there was an auto parade waiting to take them to Griffith Stadium. Thousands of people lined the route.[fn]The number of people on the parade route varies in sources from 5,000 to 10,000 people. Tom Deveaux, The Washington Senators, 1901-1971 (Jefferson, North Carolina: McFarland & Company, 2005), 174; The Sporting News, October 19, 1949.[/fn] Along the parade route, people held various signs. One sign in particular was reported in the newspapers: "We'll Win Plenty With Sam Dente."
While the slogan didn't exactly come true in 1949 for the Senators, it was Dente's best season as a major leaguer. Playing in 153 games, he batted .273 and drove opposing teams crazy with his ability to get the bat on the ball. In addition, he cracked the first of his four major-league home runs, off the St. Louis Browns' Red Embree on June 1.[fn]Bob McConnell and David Vincent, SABR Presents The Home Run Encyclopedia (New York: Macmillan, 1996), 450.[/fn]
In July, Sporting News correspondent Shirley Povich wrote that Dente "is now recognized as the most valuable player on the club."[fn]The Sporting News, July 6, 1949.[/fn] Povich later declared that getting Dente from the Browns was the "smartest trade" made by the Senators that year.[fn]The Sporting News, September 14, 1949.[/fn]
Everything seemed to be going Dente's way. His hometown of Harrison, New Jersey, presented him with a new car at Yankee Stadium between games of a doubleheader in August.[fn]The Sporting News, August 31, 1949.[/fn] And in a critical, must-win game for the Boston Red Sox at the end of the season, Dente played a superb game against his former team, handling 13 chances perfectly.[fn]Cleveland Plain Dealer, September 30, 1949.[/fn] At the end of the game, the Senators carried Dente off on their shoulders.[fn]Brooklyn Eagle, September 29, 1949.[/fn]
While Dente had a good season with the bat, it wasn't as good defensively. He led the league in errors. Yet despite Dente's fielding, Senators owner Clark Griffith declared him "an untouchable" in the offseason.[fn]The Sporting News, November 23, 1949.[/fn] Right before spring training, Griffith raised Dente's salary.[fn]Dallas Morning News, January 13, 1950.[/fn] Clearly, Dente was a popular player both with the fans and the Senators' front office.
When the season began, Dente was the Senators' starting second baseman. But at the end of May, the Senators obtained second baseman Cass Michaels in a trade with the White Sox. Michaels, who had hit .308 in 1949, would add another good hitter to the Senators' lineup. So with Michaels penciled in at second, Dente moved back to shortstop. He struggled with the bat throughout 1950. He finished the season with a .239 average. These weren't the numbers the Senators were looking for from Dente, who had started every game of the season. Shirley Povich wrote that he "was the biggest disappointment on the Senators."[fn]The Sporting News, March 28, 1951.[/fn] And there were plenty of disappointments to go around as the Senators finished in fifth, 31 games behind the Yankees.
So going into the 1951 season, Dente would have to earn his position. The Senators brought in a couple of shortstops from the Southern Association, Atlanta's Gene Verble and Chattanooga's Willy Miranda, to challenge Dente in spring training.[fn]The Sporting News, January 31, 1951.[/fn] He didn't handle the pressure well, going hitless in 18 straight games in spring training.[fn]Amsterdam (New York) Evening Recorder, March 26, 1951.[/fn] Toward the end of spring training, he started hitting again and entered the season with optimism. But his hitting woes continued through the beginning of the season. Manager Bucky Harris replaced him with both Verble and Miranda but they hit even worse than Dente.[fn]The Sporting News, June 6, 1951.[/fn] By June 6 Dente was hitting a paltry .218. Harris was trying everything to shake up his Senators, who were second-to-last in team batting in the American League.
Finally, in late June, the Senators called up shortstop Pete Runnels from Chattanooga. Runnels was tearing up the Southern Association, batting .356.[fn]The Sporting News, July 30, 1952.[/fn] Dente went to the bench for much of the rest of the season as the Senators staggered toward a seventh-place finish. Only the lowly Browns kept them out of the cellar. Dente finished the season with a .238 batting average.
On November 27, 1951, Griffith and Harris gave up on Dente, trading him to the White Sox for shortstop Tom Upton. The White Sox had received Upton earlier in the day in a trade with the Browns.[fn]Springfield (Massachusetts) Union, November 28, 1951.[/fn]The White Sox brought Dente to spring training in Pasadena, California, to compete for their third-base job. They had played seven different third basemen in 1951 and were hoping to solidify the position in 1952. Vying for the job in training camp were Dente, Hector Rodriguez, Mel Hoderlein, Minnie Minoso, Rocky Krsnich, and Bob Dillinger, who had played 70 games at third for the White Sox in 1951.[fn]The Sporting News, February 27, 1952.[/fn]
With all the third basemen in camp, rumors of trades swirled. Dente was reported to be headed to the Detroit Tigers.[fn]Springfield Union, March 11, 1952.[/fn] But in the end, Dente stuck with the White Sox, winning a utility infielder position helped by his .354 batting average in spring training.[fn]The Sporting News, April 23, 1952.[/fn] He filled in at every infield position as the White Sox battled in a pennant race. He even played six games in the outfield – by far the most versatile player in the American League that season.[fn]The Sporting News, December 24, 1952.[/fn] But he played in only 62 games and finished the season with a .221 batting average, easily his worst hitting season in the major leagues, as the White Sox finished in third, 14 games behind the Yankees.
After the season Dente worked at the Brooklyn Division of the American Baseball Academy, which was a baseball program aimed at juvenile delinquents.[fn]The Sporting News, November 19, 1952.[/fn] Teaching baseball would become a passion of his through the years. He often worked camps throughout the rest of his career and years beyond.
In 1953 Dente again made the Opening Day roster as a utility fielder and played in two games before the White Sox sold him to the Indianapolis Indians, a Cleveland Indians affiliate, on May 5.[fn]Cleveland Plain Dealer, May 6, 1953.[/fn] Dente thrived under Indianapolis manager George "Birdie" Tebbetts. By mid-June, he had already put together a 19-game hitting streak and a 37-game errorless streak at shortstop, nine games short of the American Association record In all, he had 219 chances without an error during the streak.[fn]The Sporting News, June 24, 1953.[/fn]
When the Indians' shortstop, Bobby Avila, was injured, rumors abounded that Cleveland general manager Hank Greenberg would call up Dente. But the Indians front office didn't want to further weaken Indianapolis, which was in the midst of its own pennant race. Indianapolis, with Dente, eventually fell out of the pennant race but finished fourth and made the playoffs only to lose in the first round to eventual champion Kansas City. It wasn't for lack of trying on Dente's part. He hit .524 in the six-game series.[fn]Logansport (Indiana) Press, September 22, 1953.[/fn] After the season he was voted most popular player by the fans.[fn]Nashua (New Hampshire) Telegraph. October 28, 1953.[/fn]
The Cleveland Indians wasted little time in getting Dente onto their roster. They sent outfielder Mike Lutz and cash to Indianapolis for Dente and pitchers Marion Murszewski and Don Mossi.[fn]Rockford (Illinois) Register-Star News, October 28, 1953.[/fn] When Dente reported to spring training in 1954, he found he was in competition with Hank Majeski and Owen Friend for two utility infielder spots.[fn]Amsterdam Recorder, March 22, 1954.[/fn] Friend eventually lost the battle and Dente found himself back in the big leagues.
On April 2 the Cleveland Plain Dealer ran a story in its "Batting Around" column about Dente and the signs from his Senators day that read "Win plenty with Dente."[fn]Cleveland Plain Dealer, April 2, 1954.[/fn] It would mark the resurrection of the slogan as the Indians magical 1954 season progressed.
Dente was forced into a starting role in June, when second baseman Bobby Avila went down with an injury.[fn]Kalispell (Montana) Daily Interlake, June 11, 1954.[/fn] While starting, Dente struggled with the bat, then was hurt when he collided with teammate Dave Philley while chasing a pop fly. The injury put him on the shelf for ten days.[fn]Augusta (Georgia) Chronicle, June 14, 1954.[/fn] After he rejoined the team, other than a few spot starts to relieve the slumping George Strickland, Dente was on the bench again.[fn]Lima (Ohio) News, July 15, 1954.[/fn] But the Indians were in the midst of the pennant race and Dente would play a big part in their success.
Dente's personal life was on a high as well. He went home over the All-Star break to visit his newborn daughter, Patricia, for the first time.[fn]Cleveland Plain Dealer, July 16, 1954.[/fn] With the new addition to the family, he bought a home in Clifton, New Jersey.[fn]Undated newspaper article from Dente's Hall of Fame file.[/fn]
Then Dente's big break came on July 23 when Strickland's jaw was broken by a ball thrown by New York Yankees pitcher Marlin Stuart as Strickland slid into third base.[fn]Corpus Christi (Texas) Caller-Times, July 25, 1954.[/fn]
With Dente playing shortstop and outfielder Vic Wertz stepping in at first base, Yankees manager Casey Stengel called the patchwork Indians' infield the "lousiest" he had ever seen in the majors. "None of 'em can move five feet," said Stengel.[fn]Lima News, July 28, 1954.[/fn] But even with a patchwork infield, the Indians played well. After Strickland went down, the Indians won ten of their next 14. Dente helped, batting .250 during that stretch.[fn]Cleveland Plain Dealer, August 7, 1954.[/fn] Despite being riddled with injuries, the Indians, behind their fine pitching staff, won 26 games in August.[fn]Brooklyn Eagle, September 1, 1954.[/fn]
Even more remarkable was the fact that midway through August, Dente fractured his finger yet kept playing. The only people to know of the break were Cleveland manager Al Lopez and the team doctor and training staff.[fn]Cleveland Plain Dealer, September 10, 1954.[/fn] Even GM Hank Greenberg was in the dark on the injury.[fn]Corpus Christi Caller-Times, September 10, 1954.[/fn] The team doctor told him playing couldn't make it worse. "The finger hurt for about a week," Dente told sportswriter Hal Lebovitz. After he broke his finger, the Indians went 20-6 and Dente batted .266.[fn]The Sporting News, September 29, 1954.[/fn]
Dente played some of the best baseball of his career while replacing Strickland. On September 1 he was batting .276 and was second in the American League in fielding percentage at shortstop. To top it off, he hit his fourth (and last) major-league home run off the Yankees' Whitey Ford.
After the Indians won the American League pennant, Greenberg, in Life magazine, wrote, "Sam Dente … did all the things our star, George Strickland, did before suffering the broken jaw."[fn]Hank Greenberg, "How We Got Into the Series," Life, September 27, 1954, 138-152.[/fn] Al Lopez was even more impressed. He said that Dente was "the fellow who gave us the greatest lift when we needed it the most."[fn]Brooklyn Eagle, November 9, 1954.[/fn] In 68 games Sam batted .266 and drove in 19 runs.
With Strickland back at full strength, Dente sat the bench for most of the World Series against the New York Giants. He got into Game One as a defensive replacement for Strickland in the eighth inning and had a sacrifice bunt in the tenth inning in the Indians' 5-2 loss. In Game Two he again was a defensive replacement in the eighth. He saw no action in Game Three.
In Game Four, with the Giants on the verge of a four-game sweep, Lopez started Dente for Strickland. Strickland had been hitless for the Series and Lopez needed a spark. Dente didn't fare much better than Strickland, going 0-for-3 with a walk and a run scored as the Giants won, 7-4, and swept the Series.
In spring training in 1955, The Indians, looking to upgrade their utility-infielder positions, brought in veteran Eddie Joost to compete with Dente.[fn]Cleveland Plain Dealer, January 24, 1955.[/fn] Joost, who never signed a contract with the Indians, left halfway through camp to sign with the Red Sox.[fn]Cleveland Plain Dealer, March 28, 1955.[/fn] So Dente entered the 1955 regular season again as one of the Indians' backup infielders.
By mid-May Dente was back in the starting lineup when Strickland was injured and out for three weeks.[fn]The Sporting News, June 15, 1955.[/fn] Meanwhile, the Indians, tired of Strickland and his injuries, attempted to deal Strickland, pitcher Art Houtteman and Dente to the White Sox for Chico Carrasquel. The White Sox nixed the deal, asking for Larry Doby instead.[fn]Oil City (Pennsylvania) Derrick, June 16, 1955.[/fn] Dente was also rumored to be coveted by the Baltimore Orioles but nothing came of it.[fn]Racine (Wisconsin) Journal-Times, June 16, 1955.[/fn]
Unlike 1954, Dente didn't play well in replacing Strickland in 1955. By June 22 his batting average stood at .210 in 40 games. After that, Dente played little, getting into 33 games the rest of the season. He did manage to pull his batting average up to .257 by season's end but it was clear that the Indians, who had finished second, three games back of the Yankees and sixth in AL team batting, were looking to make changes in the infield.
On October 17 Dente was sold to the Indianapolis Indians.[fn]Sandusky (Ohio) Register, October 17, 1955.[/fn] In November he told Hank Greenberg that he wouldn't be going to Indianapolis. "I feel that I can help several major-league clubs," he said.[fn]The Sporting News, November 23, 1955.[/fn]Dente also needed only 35 days of major-league service to become a ten-year man and improve his pension status.[fn]Red Bank (New Jersey) Register, May 24, 1956.[/fn]
Dente's hearing problems from his time in the Army became so bad that he underwent an ear operation.[fn]Red Bank Register, May 24, 1956.[/fn] The operation left him with vertigo. "My sense of balance was affected," he later remembered.[fn]Cleveland Plain Dealer, April 16, 1970.[/fn] On top of that, his wife, Marie, needed an expensive operation as well. They were forced to sell the family home to finance the operations.[fn]The Sporting News, December 14, 1955.[/fn] Dente did find work after the 1955 season as a salesman, working with the Yankees' Joe Collins at a Newark clothing store.[fn]Racine Sunday Bulletin, November 13, 1955.[/fn]
On February 16, 1956, the San Diego Padres of the Pacific Coast League purchased the rights to Dente.[fn]Abilene (Texas) Reporter-News, February 16, 1956.[/fn] Padres GM Ralph Kiner, who was an old teammate of Dente's, wanted Sam to replace Buddy Peterson, who had left to go to the White Sox.[fn]The Sporting News, February 29, 1956.[/fn]
But in March, still plagued by issues following his ear operation, Dente announced his retirement.[fn]Kalispell Daily Interlake, March 20, 1956.[/fn] "I had to stay idle in 1956 while recovering from the operation," he said a few years later.[fn]Red Bank Register, April 3, 1973.[/fn] He subsequently had one more operation to correct his progressive deafness.[fn]Red Bank Register, April 3, 1973.[/fn]
By August he was feeling good enough to ask for his release from the Indians.[fn]Cleveland Plain Dealer, August 23, 1956.[/fn]It's unclear whether the Indians granted him his release, but The Sporting News, said in September that Dente had informed Greenberg he would be making a comeback in 1957.[fn]The Sporting News, September 5, 1956.[/fn]
The comeback never occurred. The Indians insisted on sending him first to the minors, while Dente wanted to be placed on the major-league roster.[fn]Red Bank Register, April 3, 1973.[/fn]
Out of baseball, Dente become a salesman for various companies through the 1950s and 1960s. He worked for a construction firm in Clifton[fn]Connellsville (Pennsylvania) Daily Courier, January 22, 1959.[/fn] and a medical drug firm in Newark.[fn]Hagerstown (Maryland) Daily Mail, August 7, 1967.[/fn] In his spare time, he participated in baseball clinics.[fn]Red Bank Register, May 24, 1956.[/fn]
In the late 1960s Dente began working at Merit Mailers, a direct-mailing house in Newark, where he became a vice president.[fn]Sandusky Register, February 7, 1969.[/fn] He worked there until his retirement. Dente had moved to West Caldwell, New Jersey, after the 1955 season and remained there until his death on April 21, 2002, five days shy of his 80th birthday. He died at Mountainside Hospital in Montclair, New Jersey.
Dente was remembered a few years after his death when his grandson, Rick Porcello, was taken in the first round of the 2007 free-agent draft by the Detroit Tigers.[fn]Newark Star-Ledger, April 17, 2007.[/fn] Another grandson, Jake Porcello, was drafted in the 48th round by the Tigers in 2009. Jake decided to attend Seton Hall University instead.
To the end of his life, though he played on some terrible teams, Sam was best remembered for the catchphrase "Win plenty with Dente." While reminiscing on his career in 1973, Dente told the Cleveland Plain Dealer, "I still hear the 'Win plenty with Dente' slogan quite often."[fn]Cleveland Plain Dealer, April 16, 1970.[/fn]And in 1954, the Cleveland Indians certainly did.
This biography is included in the book Pitching to the Pennant: The 1954 Cleveland Indians (University of Nebraska Press, 2014), edited by Joseph Wancho. For more information, or to purchase the book from University of Nebraska Press, click here.
Born
April 26, 1922 at Harrison, NJ (USA)
Died
April 21, 2002 at Montclair, NJ (USA)
If you can help us improve this player's biography, contact us.
http://sabr.org/sites/default/files/DenteSam.jpg
600
800
admin
/wp-content/uploads/2020/02/sabr_logo.png
admin
2012-01-04 20:00:20
2012-01-04 20:00:20
Sam Dente