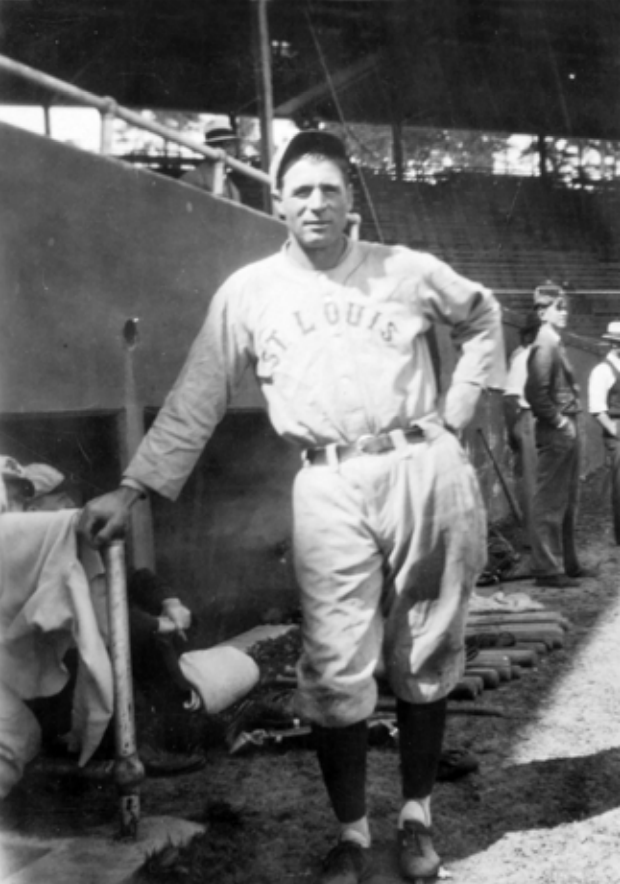 ---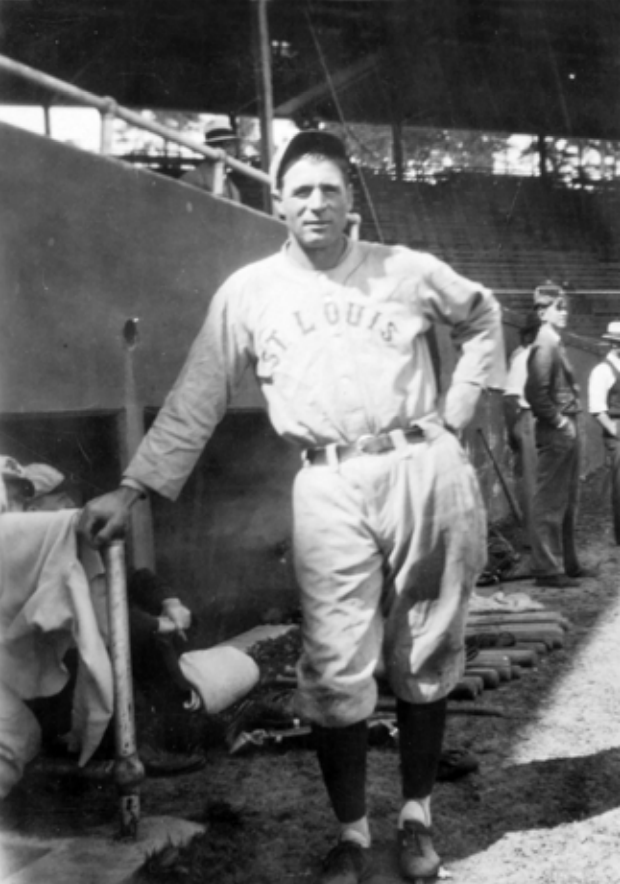 "I have never seen a recruit pitcher with a more deceptive hook," gushed syndicated sportswriter (and AL umpire) Billy Evans about rookie right-hander Sam Gray of the Philadelphia A's in 1924.1 Gray rode his impressive curveball to a 10-year career, the final six with the St. Louis Browns. Three years after winning 20 games for a surprising third-place club in 1928, the durable workhorse lost 24 contests, tied for the most in the majors, as the Brownies slid into baseball oblivion for most of their remaining two-plus decades in the Gateway City.
Samuel David Gray was born on October 15, 1897, in Howe, a small farming community of about 500 residents in Grayson County, Texas, about 60 miles north of Dallas.2 His parents, James Alonzo "Lon" and Eugenia (nee Bell) Gray, were originally from Tallapoosa, Alabama (and first cousins), married around 1888, and had settled three years later in the northeastern part of the Lone Star State to become farmers, probably focusing on cotton and wheat. At this time, Grayson County was home to the largest cottonseed-oil mill in the world.3 The Grays had at least eight children (six sons and two daughters), of whom Sam was the sixth.4 He attended Hack Berry school, a one-room schoolhouse, but quit in his early teens to work on the family farm. His big interest was baseball, and he apparently played with his brothers any time he could. By the time Gray was in his late teens, he was a member of a town team in nearby Van Alstyne (population about 2,000).
Like many young men across the country, Gray's life took an expected turn with America's involvement in World War I. He was drafted, mustered in on March 28, 1918, and subsequently assigned to the 3rd Trench Mortar Battalion, Coastal Artillery Corps of the US Army, stationed at Fort Jacinto in Galveston.5 On July 14 the battalion embarked to France, via Liverpool, and arrived in Le Havre, France, on July 31. Private Gray was stationed at two different trench-warfare and artillery schools, but the war concluded before the 3rd Battalion experienced active combat. On January 5, 1919, he and his fellow soldiers departed for the United States aboard the USS Montana.
Gray was restless when he returned to the bucolic landscape of Howe, where he was expected to follow the footsteps of his brothers and become a rancher. Gray had other plans and sought refuge in the most common source of entertainment available, baseball. Possessing a strong right arm and a good batting eye, he played on semipro teams in Van Alstyne and in Sherman, the county seat with 15,000 residents, and the economic and cultural center of the region. According to one report, Gray was called the "pride of Grayson County" and had a reputation of "picking off" sparrows in trees with cheap baseballs.6 Gray's career in professional baseball was a product of good timing and fateful location. In 1921 the Texas-Oklahoma League (Class D) was relaunched. Gray's semipro club in Sherman, which had had a team in the first incarnation of the league (1911-1914), became one of the revived circuit's six teams. Gray blazed a trail for the cellar-dwelling Lions, posting an 11-11 record and fanning a league-best 237. Transferred to Paris in 1922, Gray needed no knowledge of French to overpower opposition en route to a 23-4 record and another strikeout crown (219) while leading the Snappers to the Texas-Oklahoma League title. Meanwhile Gray had been purchased by the Detroit Tigers on scout George Leidy's recommendation.7 He split the 1923 campaign with two Class-A clubs in the Texas League, Beaumont and Fort Worth, to which the Tigers released him outright. Gray caught the attention of former Philadelphia A's catcher Ira Thomas, who was managing the A's affiliate in the league, the Shreveport (Louisiana) Gassers.8 Based on Thomas's recommendation, Connie Mack, owner and manager of the A's, selected Gray from Fort Worth in the annual Rule 5 draft in September.9
In 1924 Gray reported to the A's spring training camp in Montgomery, Alabama. Since capturing four AL pennants and three World Series championships in a five-year span (1910-1914), the A's had gone through a rough time with nine consecutive losing seasons, including seven straight in the cellar. However, the Tall Tactician's club looked to be on the rise in 1924 with the addition of a rookie hitting phenom, Al Simmons from Milwaukee in the American Association, and the continued development of a pair of stalwarts, pitcher Eddie Rommel, two years removed from leading the majors with 27 wins, and young slugger Joe Hauser. Into this fray stepped 26-year-old Gray, who defied expectations and made the club. His debut, in the A's season opener against the Boston Red Sox at Fenway Park, was an unmitigated disaster. Gray was torched for five hits and six runs (all earned) while retiring just one batter in a 12-0 loss. Confined to mop-up duty the next five weeks, Gray made his first start on the biggest stage in American sports, Yankee Stadium, in the second game of a doubleheader on May 31. Despite yielding what the New York Times described as one of Babe Ruth's "longest home runs of his career, possibly the longest," Gray "fooled the Yankees completely."10 He tossed a complete-game seven-hitter to pick up his first victory, 5-3. June proved to be another calamity for the recruit hurler (10 earned runs in just 7⅓ innings), but Gray found his stride in July, winning three consecutive starts, capped off by making the Chicago White Sox look like "feeble old men" (in the words of Irving Vaughan of the Chicago Tribune) in an impressive four-hit shutout.11 While the A's (71-81) moved up a slot to finish in fifth place, Gray turned in a sturdy campaign (8-7, 3.98 ERA in 151⅔ innings).
Gray's 1925 season alternated between phases of extreme success, frustration, and tragedy. He began the campaign by winning a career-best eight consecutive starts. "[Gray's] headed for stardom," gushed Philadelphia sportswriter James C. Isaminger, who compared his pitching to a forest fire destroying everything in its path.12 Included in that stretch were consecutive shutouts of the Yankees, which earned Gray the title of "public nuisance" bestowed by New York scribe James R. Harrison.13 "[Gray] rewrote 'The Elegy in a Country Churchyard' with a curveball," wrote Harrison, invoking the immensely popular eighteenth-century poem after the pitcher's five-hit whitewash in Yankee Stadium.14 Ira Thomas, who had rejoined the A's as a coach, was widely credited with Gray's emergence as one of the circuit's best hurlers. Gray's eighth victory proved costly, however. With the A's in first place, Gray was hit on the right hand by a pitch from George Blaeholder of the St. Louis Browns on May 21 and broke his thumb. Upon Gray's return four weeks later, he managed to win his ninth straight decision and also suffer his first defeat in three erratic starts before tragedy struck, threatening to derail his season. His wife, Alice (née Cobb), whom he had married the previous spring, died unexpectedly.15 Gray missed three weeks in July tending to funeral matters in Texas. While the A's high-priced and much ballyhooed acquisition from the Baltimore Orioles in the International League, Lefty Grove, struggled, the A's were in a tight pennant race with the Washington Senators. Mack relied heavily on Gray, Rommel, and dependable veteran Slim Harriss, all of whom meshed well with rookie catcher Mickey Cochrane. Often pitching on short rest, Gray faded in August and September, splitting his final 12 decisions (with a high 4.61 ERA), as the A's lost 30 of their final 54 games to finish in a distant second place. Gray's season (16-8, 3.27 ERA in 203⅔ innings) left many wondering what would have been had he not missed seven weeks.
It is difficult to determine when Gray acquired the moniker "Sad Sam"; however, by 1926 its use was common in newspapers. The epithet originated from Gray's appearance, and not from his mental state even though he had plenty of reasons to be sad. Gray had a pronounced brown tan from the Texas sun, and a weatherbeaten, prematurely wrinkled face with skin often described as leathery. Punctuated by his deeply-set dark eyes, Gray gave the impression of being sad, though his disposition was the exact opposite. He was considered a jovial, affable player, a well-liked teammate, and popular with fans. Standing about 5-feet-11 and weighing just about 165 pounds, Gray had a lithe, wiry body; contemporary reports suggested he didn't necessarily give the impression of a ballplayer. Throughout his baseball career, the real-life cowboy returned to his hometown, where he raised cattle, goats, and especially sheep. As expected, his hobbies were hunting and fishing, and playing in amateur baseball games in the balmy autumnal weather of northeast Texas.
Described as the "slickest 'hook' ball pitcher in the league," Gray based his emergence as a bona-fide ace on his deceptive curveball.16 "A curve is always harder to hit than a fastball," said Gray in Baseball Magazine.17 "I pitch a curve with three speeds. Fast, medium and slow," each of which, he noted, had its own kind of break. "Sometimes my curve will break a good deal more than a foot. I particularly like a slow curve," continued Gray about his pitch of choice to sluggers.18 Although Gray might not have had the natural stuff like Grove, nor was he overpowering like Brooklyn's Dazzy Vance, he compensated for any perceived shortcoming with a pronounced cerebral approach to the game. His repertoire also included a solid heater with good movement and an effective change of pace. "Batting is timing," said Gray, "and if a batter is crossed up on the amount of time he's got, he's isn't like to 'get hold' of the ball."19 He altered release points from overhand to side-arm, and occasionally dropped to a submarine style. Syndicated sportswriter John B. Foster described Gray's motion as "easy, frictionless shoulder action. [He] lets the ball go with so little perceptible effort."20
For the first time in more than a decade, the A's began the season considered among the challengers for the AL pennant. Expectations in 1926 were equally high for Gray, whom teammate "Bucketfoot Al" Simmons, lauded as the "toughest man to hit in the league."21 The 28-year-old Texan, however, mysteriously struggled to find his rhythm. He was yanked after just 2⅓ innings in his first start, lost his first three decisions, and pitched erratically (he failed to make it through the fourth inning in five of his first 13 starts) After a laborious outing on July 3 against lowly Boston, yielding nine hits and five runs (three earned) but earning the victory, Gray was shunted to the bullpen. Mack, whose club came with 5½ games of the front-running Yankees in July, desperately searched for an effective combination of hurlers, seven of whom started at least 10 games. Reserved for long relief, mop-up duty, and an occasional start over the last three months of the season, Gray (11-12, 3.64 ERA in 150⅔ innings) was the odd man out, especially after the midseason acquisition of Howard Ehmke (in exchange for Harriss), who won 12 of 16 decisions.
Gray picked up a figurative win in late August 1926 when he married Texan divorcée Myrtle Thompson, mother of a young son, Dickie. However, Gray was collared with the loss about eight years later when the couple divorced.
Despite their third-place finish the previous season, the A's were seen as a viable threat to derail the Yankees' quest for another pennant in 1927. The club's strong suit was its pitching staff, which paced the AL in team ERA (3.00) and was anchored by Grove, who captured his first of a record nine ERA crowns. It was déjà vu for Gray all over again. He was bashed in Gotham City by the Bronx Bombers (nine hits, six runs in three innings) in his first start, on April 13, and never got on track. With a dismal 8.22 ERA after an implosion in Detroit on May 12, Gray was relegated to the bullpen, having lost Mack's confidence. Given the club's surfeit of pitchers (workhorses Grove and Rube Walberg, the 43-year-old ageless wonder Jack Quinn, Ehmke, and Rommel), it was no surprise when the runner-up A's shipped Gray to the Browns for outfielder (and former A's player) Bing Miller on December 13.
The St. Louis Post-Dispatch described the Browns' acquisition of Gray as the final step in a massive "house cleaning" project.22 After a disastrous 59-94 season in 1927, their second consecutive seventh-place finish, Browns owner Phil Ball had traded or sold nine players. Most prominent among them were their two-time .400 hitter, 34-year-old first baseman George Sisler, fresh off his fifth 200-hit season in seven years (sold to the Washington Senators); an aging slugger, outfielder Ken Williams (sold to the Boston Red Sox); and flychaser Harry Rice and pitcher Elam Vangilder (traded to the Detroit Tigers for left fielder Heinie Manush and first sacker Lu Blue). The Browns, suggested the Post-Dispatch in a positive evaluation of the rebuilding project, "[are] not going to win any pennant in 1928, nor even for several years, [but] they have taken a forward step."23
Skipper Dan Howley expected Gray to become the ace of a staff that had the worst team ERA (4.95) in the AL in 1927. Tabbed to start Opening Day, Gray scattered six hits over 8⅓ innings to defeat the Tigers at Navin Field on April 11. After Gray's four-hit shutout against the Cleveland Indians at League Park on May 2, sportswriter L.C. Davis of the Post-Dispatch praised the club's new star in one of his kitschy ditties: "You're the Brownies' pitching ace, Sammy Gray. In our hearts you've won a place, Sammy Gray. Quite a number you have won, And now your record is five and one."24 Poems aside, Gray kept winning. He notched his 10th victory of the season, a career-longest 12-inning complete game to defeat Boston 2-1 in Sportsman's Park on June 10. It was Gray's third extra-inning, distance-going victory in eight starts, and pushed the Browns one game over .500 (26-25), though well behind the streaking Yankees (39-9). Described by the Post-Dispatch's J. Roy Stockton as "one of the hardest working athletes in the business," Gray became the first Browns hurler to win 20 games since Urban Shocker in 1923 when he overcame three errors contributing to three unearned runs to beat Detroit, 5-4, on September 2.25 Six days later Gray's season came to a premature conclusion in his next start, also against Detroit, a line drive off Harry Heilmann's bat fractured the index finger on his left hand. Coincidentally, Gray also hit his first of two career home runs in that game. The 30-year-old hurler finished fifth in the league in three categories, wins (20), complete games (21), and innings (262⅔) while posting the eighth-best ERA (3.19). Gray and teammate General Crowder (21-5), a right-hander who won eight consecutive decisions in the last five weeks of the season, became the first set of Browns hurlers to notch 20 wins in the same season since the franchise's maiden campaign in the Gateway City, in 1902, when Jack Powell (22) and Red Donahue (22) turned the trick.
Despite coming off a third-place finish, the Brownies got no respect when their spring training opened in West Palm Beach in 1928. "Their performance," opined beat writer John E. Wray in the Post-Dispatch, "is generally considered an accident."26 It was just the eighth winning campaign in franchise history as a charter member of the AL. (The club was founded as the Milwaukee Brewers in 1901, and moved to St. Louis after just one season.)
"Thirty sees a pitcher at his prime, so far as endurance and strength is concerned," said Gray, now 31, in Baseball Magazine. "He ought to improve in control and knowledge of the batter for several years after that."27 In a self-fulfilling prophecy, Gray picked up where he left off the previous season, winning the 1929 season opener on April 16 with a complete-game five-hitter against the White Sox in front of only 6,000 fans on a cold, damp day at Sportsman's Park.28 He ended the month by winning his fourth straight start, a 10-inning complete game against the Tigers, 3-2, in the Motor City. The Browns (45-28) proved to be one of the surprises of the first half of the season, tied on July 7 with the Yankees in second place, 8½ games behind the A's. Then they hit a brick wall, losing almost twice as many as they won the rest of the season to finish 79-73, good for fourth place. Dapper Dan Howley once again leaned heavily on Gray, whose season mimicked the club's. Gray led the majors in innings (305), paced the AL in starts (37), finished second in compete games (23) and fifth in victories (18). That number would surely have been higher had he received better run support. In 11 of his 15 losses, the Browns scored just 11 total runs. Gray also tied teammates Crowder (17-15) and Blaeholder (14-15), and Boston's Danny MacFayden for the AL lead with four shutouts.
Bill Killefer, Howley's pitching coach the last three campaigns, took over as Browns skipper in 1930. "[Our] staff," he boasted as spring training got underway, "ranks with the best in the league."29 Killefer had good reason to be optimistic as the club had finished third in team ERA the previous season; however, signs of trouble quickly emerged in Florida. Gray held out and did not report until mid-March. Crowder was equally upset with his contract from the cash-strapped club as the Great Depression, precipitated by the stock-market crash the previous October, tightened its grip across baseball. Starting his third straight season opener, Gray was belted for eight hits and five runs and lasted just five innings in a 6-3 loss to the Tigers in Detroit. His season soon veered out of control. He lost his first nine decisions before notching his first victory on June 8, almost two months into the season. Five days later the Browns shipped Crowder and their best offensive weapon, Heinie Manush, who had batted .378 and .355 in his two seasons with the Brownies, to the Senators for Goose Goslin. By that time St. Louis was battling Detroit for seventh place, though well in front of a horrible Boston team. Gray, sidelined by arm problems for six weeks beginning in early August, was crushed by Philadelphia in his return on September 21 (seven runs in 6⅓ innings), then ended the season by surrendering 10 earned runs (for the second time in four starts) and 14 hits in five innings in a brutal loss to Cleveland to finish the season with a dismal 4-15 record. Labeled a "prize flop" by sportswriter John M. Foster, Gray posted the highest ERA in the AL (6.28 in 167⅔ innings, though well below the unfathomable 7.71 of the Philadelphia Phillies' Les Sweetland).30 The "Year of the Hitter," during which the AL set a new league record in runs per game (10.8), took its toll on the Browns. After five winning seasons and finishing in the first division seven times in the 1920s, the Browns (64-90), with an AL-worst 5.07 team ERA, finished in sixth place to inaugurate a dismal decade in which they averaged 95 losses per season.
The St. Louis Post-Dispatch reported that the "most interesting and satisfying sight" in the Browns 1931 spring training was Gray, who seemed to have overcome the chronic arm problems that had limited him to just 167⅔ innings the previous season.31 Gray looked shaky in his season debut (a complete-game 14-hit victory against Detroit, 6-4), but Killefer counted on him and 20-game winner Lefty Stewart to have a chance to crack the first division. In his best impression of a Jekyll and Hyde act, Gray had an atrocious June (0-5, 9.99 ERA in 33⅓ innings), followed by his best stretch in two years, winning five of six decisions with a 2.80 ERA in 54⅔ innings from July 1 to July 26 to improve his record to 9-11. Propelled by Gray, the Browns (42-49) were one of the hottest teams in baseball, having won 25 of 39 games, and seemed poised to make a move. However, both Gray and the Browns slumped miserably thereafter. The Browns won only 21 more games all season (42 losses), and struggled to score enough runs (4.27) to compensate for a porous defense, which committed 87 errors, and a pitching staff that surrendered 5.78 runs per game in those 63 contests. In a nightmarish combination of bad luck, poor run support, and dreadful pitching, Gray lost his next 11 starts, finishing with an 11-24 record, tied with Pat Caraway of the Chicago White Sox for the most losses in the majors. Gray paced the majors with 37 starts; his 5.09 ERA (in 258 innings) was the fourth highest in the AL.
Expected to form with Stewart and Blaeholder the backbone of the Browns staff in 1932, Gray tossed a five-hit shutout against the White Sox at Comiskey Park in his season debut. Six days later he blanked the South Siders on three hits at Sportsman's Park. Another three-hitter, his third shutout in eight starts, took place on May 16 against the Senators in Washington. With an impressive 3.09 ERA Gray looked like the 1928-29 vintage pitcher. But he struggled in his next two starts (10 earned runs in 4⅓ innings) sandwiched around three relief appearances, and was relegated to the bullpen. By that time the Browns had acquired workhorse Bump Hadley from the White Sox. En route to making a career-high 52 appearances (second most in the AL), Gray occasionally made a spot start, the last of which occurred in the final home game of the season, on September 18. Gray's performance, suggested St. Louis sportswriter James M. Gould, caused "more enthusiasm among the fans than has been shown at a Brownie game in the last three months."32 Probably "pitching for another chance" with the club in 1933, continued Gould, Gray tossed a 10-inning complete game with a career-high 10 strikeouts to defeat the Yankees, 2-1.33
After logging 206⅔ innings in 1932, Gray was plagued by a sore arm in 1933, and spent most of the season in the bullpen, making only six starts. On August 17 he was sent in a waiver transaction to the Senators, but was returned six days later, as reported by the Post-Dispatch, when Gray informed the Senators' brass of his arm miseries.34 Gray's honesty infuriated recently hired Brownie skipper Rogers Hornsby. Just days before the 1934 season opened Gray was given his unconditional release by the club after an argument with the Rajah.
Within months after his release, the 36-year-old Gray was fighting for his life. According to Associated Press reports, he was attempting to catch on with the Milwaukee Brewers of the American Association when he came down with abdominal pain, necessitating hospitalization and an "emergency operation."35 With rapidly deteriorating health and his weight down to 117 pounds, Gray was a "shadow of his former self," wrote the St. Louis Post-Dispatch.36 The Sporting News reported in December that the former 20-game winner had been transferred to a veterans hospital in Muskogee, Oklahoma, where he had been treated for "liver troubles."37
Gray recuperated and returned to his ranch in northeastern Texas, but his professional baseball career seemed over. He pitched in various semipro leagues, and attempted a brief comeback in 1936 with the Dallas Steers in the Class-A Texas League, but lasted just one game. Defying expectation, Gray returned to Organized Baseball as a 40-year-old player-manager with Class-C Texarkana in the East Texas League in 1938. He won 10 games and logged 185 innings while leading the Liners to a second-place finish. Named player-manager of the Welch (West Virginia) Miners of the Class-D Mountain State League in '39, Gray concluding his active playing career in a blaze of glory. Old enough to be the father of his players, Gray was the best hurler in the circuit, posting a 16-7 record and capturing the ERA crown (3.03 in 205 innings). When he was replaced as skipper after a second-place finish, Gray returned to his ranch in Grayson County.
In parts of 10 big-league seasons, Gray went 111-115 with a 4.18 ERA in 1,951⅓ innings. He completed 101 of 231 starts among his 379 appearances, and tossed 16 shutouts. He won 72 games and tossed in excess of 1,000 innings in the minors.
Gray remained in the Van Alstyne area for the remainder of his life. On April 16, 1953, Sam Gray died at the age of 55 at the VA Hospital in McKinney, Texas. The cause of death was carcinoma of the brain. He was survived by his third wife, Jewell Waynie (Hodgins) Gray. After a funeral service, Gray was buried at Van Alstyne Cemetery.
This biography is included in "20-Game Losers" (SABR, 2017), edited by Bill Nowlin and Emmet R. Nowlin.
Sources
In addition to the sources cited in the Notes, the author also accessed Gray's player file and player questionnaire from the National Baseball Hall of Fame, the Encyclopedia of Minor League Baseball, Retrosheet.org, Baseball-Reference.com, the SABR Minor Leagues Database, accessed online at Baseball-Reference.com, and The Sporting News archive via Paper of Record.
Notes
1 Billy Evans, "Connie Has a Star in Moundsman Gray," Reading (Pennsylvania) Times, September 11, 1924: 6.
2 Most sources give Gray's place of birth as Van Alstyne; however, Gray provided Howe as his birthplace and home in a questionnaire provided by Baseball Magazine. Document in player's file, Baseball Hall of Fame.
3 "Grayson County," Texas State Historical Association. tshaonline.org/handbook/online/articles/hcg09.
4 According to US Census Reports of 1900, 1910, and 1920 accessed via ancestry.com.
5 Joe Hartwell, "History of the 3rd Trench Mortar Battalion, C.A.C," Rootsweb, freepages.military.rootsweb.ancestry.com/~cacunithistories/3d_Trench%20Mortar%20BTN.html. Gray's military service is based on Hartwell's history.
6 "Gray First Drew Notice by Picking Off Sparrows." St. Louis Daily Globe Democrat. Undated article, player's Hall of Fame file.
7 Norman E. Brown, "The Fanning Bee Hive," Pittsburg (Kansas) Daily Headlight, March 8, 1923: 12; "Sam Gray, Athletic Castoff, Had Banner Year with Browns." [Unattributed article, dated 1928, player's Hall of Fame file].
8 "Gray First Drew Notice by Picking Off Sparrows."
9 United Press, "Majors Draft Star Bushes," Evening Journal (Wilmington, Delaware), October 9, 1923: 10.
10 "Yankees Split Even; Break Tie for Lead," New York Times, June 1, 1925: S1.
11 Irving Vaughan, "Sox Getting Awful; Lose Pair to Macks," Chicago Tribune," July 17, 1924: 17.
12 The Sporting News, May 7, 1925: 3.
13 James R. Harrison, "Miller's Home Run Wins for Athletics," New York Times, May 4, 1925: 23.
14 Ibid.
15 Sam Gray's Wife Died of Injuries," Shamokin (Pennsylvania) News-Dispatch, July 11, 1925: 4.
16 Norman E. Brown, "He's Like Matty and Alec," Olean (New York) Evening Herald," June 6, 1925: 7.
17 F.C. Lane, "They'll Never Get His Goat," Baseball Magazine, September 1929: 455.
18 Ibid.
19 Ibid.
20 John M. Foster, "Sam Gray, Pitcher, Is Season's Find," Harrisburg (Pennsylvania) Telegraph, May 6, 1925: 17.
21 "Great Things Expected of Sam Gray," Los Angeles Times, March 14, 1926: 54.
22 J. Roy Stockton, "Deal Bringing Sam Gray to St. Louis for Bing Miller Completed Housecleaning," St. Louis Post-Dispatch, December 16, 1927: 48.
23 "Browns Made Rapid Strides Toward Rebuilding, Consensus of Meeting," St. Louis Post-Dispatch, December 16, 1927: 48.
24 L.C. Davis "Sport Salad," St. Louis Post-Dispatch, May 5, 1928: 10.
25 J. Roy Stockton, "Gray Secures 17th Victory in Beating the Red Sox," St. Louis Post-Dispatch, August 8, 1928: 15.
26 John E. Wray, "Schang Joins Browns and Assesses He Will Be Active Again," St. Louis Post-Dispatch, March 4, 1929: 26.
27 Lane.
28 J. Roy Stockton, "Sam Gray Pitches in Fine Form; Manush Smashes 3- Bagger," St. Louis Post-Dispatch, April 16, 1929: II, 1.
29 "Killefer Says Browns Will Be 'Up There,'" St. Louis Post-Dispatch, February 15, 1930: 7A.
30 John. M. Foster, "'Dutch' Henry, White Sox 'Pitcher' Headed for Loss record," San Bernardino (California) County-Sun, August 1, 1930: 18.
31 "Batting Power to Decide Open Positions in Lineup of Bill Killefer's Browns," St. Louis Post-Dispatch, February 28, 1931: 6.
32 James M. Gould, "Sam Gray Sporting It as Browns End Home Season," St. Louis Post-Dispatch, September 19, 1932: 13.
33 Ibid.
34 "The Story of an Honest Pitcher," St. Louis Post-Dispatch, August 20, 1933: 16.
35 Associated Press, "Sam Gray Finds Club Owner With Plenty of Heart," Moberly (Missouri) Monitor-Index, June 21, 1934: 6.
36 "Sam Gray, a 'Very Sick Man,' Thinks He Can Make a Comeback," St. Louis Post-Dispatch, December 16, 1934: 42.
37 The Sporting News, December 13, 1934: 1.
Born
October 15, 1897 at Van Alstyne, TX (USA)
Died
April 16, 1953 at McKinney, TX (USA)
If you can help us improve this player's biography, contact us.
https://sabr.org/sites/default/files/Screen%20Shot%202018-10-04%20at%201.52.03%20PM.png
600
800
admin
/wp-content/uploads/2020/02/sabr_logo.png
admin
2012-01-04 20:27:21
2012-01-04 20:27:21
Sam Gray