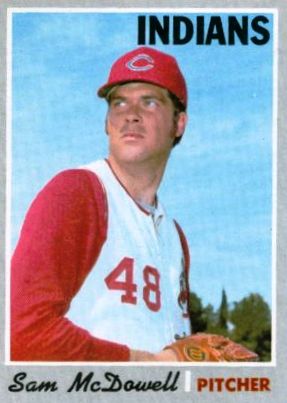 ---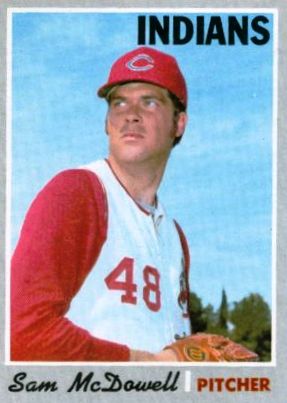 It was a series between cellar dwellers in the American League's East Division as fifth-place Washington came to Cleveland for a five-game set starting on July 6, 1970. The Senators had spent their holiday weekend taking three out of four games in New York while the sixth-place Indians were licking their wounds after getting swept in four games by the Boston Red Sox at Fenway Park.
Sam McDowell was on the hill for the Indians in the opener and thus far had been enjoying a superb year. Sudden Sam was 11-4 with a 2.64 ERA, fanning 160 batters in 160 1/3 innings. In this game, however, he would be asked to play a role other than that of the ace of the pitching staff.
As the game moved to the eighth inning, Cleveland was holding on to a 6-4 lead. Washington center fielder Eddie Stroud led off with a single to right field and, one out later, shortstop Eddie Brinkman also singled. McDowell struck out Tom Grieve, but uncorked a wild pitch in the process, and Stroud and Brinkman moved up a base. Up stepped first baseman Frank Howard, a nemesis of McDowell's, who already was 2-for-2 with two walks (one intentional) and a run scored.
Indians manager Alvin Dark made his way to the mound. He made his plans clear. He told McDowell: "I think I'm going to put you on second base, move Eddie Leon to third and bring in (Dean) Chance to pitch to Howard." Big Sam gulped, blinked his eyes, and agreed to the move. Later, he recalled, "When I could talk, I said, 'That's fine. . . . I can handle it.'" The 11,950 spectators buzzed as McDowell moved over to second, keystone sacker Leon replaced Graig Nettles at third base, and Dean Chance came in to face Howard. Chance walked Howard intentionally to load the bases, the strategy being that perhaps Washington skipper Ted Williams would send a left-hander up to pinch-hit for the right-handed hitting Rick Reichardt and southpaw McDowell could return to the mound. But Williams let Reichardt hit, so everyone stayed at their positions. Chance got Reichardt to hit to third, where Leon threw low to a kneeling McDowell at second base. "I lost the ball momentarily in the crowd when Eddie threw but I knew it was coming in low," McDowell recalled. "That's why I went down on my knees for it. Jack (Shortstop Jack Heidemann) kept telling me to make sure I covered second base on a ball hit on the ground." McDowell returned to the mound in the ninth and earned his 12th victory of the season by striking out the side, giving him 15 K's for the game. It was the eighth time he had achieved ten or more strikeouts in a game thus far that season.
Dark tried his unusual strategy again two months later. The Senators were again the opponent, McDowell was again the pitcher, Dean Chance was again the reliever, and the fearsome Howard was again the batter. There were two differences: The manager moved McDowell to first base instead of second; and the strategy failed. Howard reached base on an infield hit to, of all people, McDowell. And Reichardt drove in two runs, sealing a loss for Sudden Sam. That was the last time Dark tried the strategy – and the last time in a major-league game that McDowell did anything but pitch. And pitch he did: In 15 seasons of throwing a blazing fastball, sharp curve, or hard slider past batters, McDowell led the American League in strikeouts and in walks five times each – a fitting apotheosis to a career that saw him tumble into the depths of alcoholism – and redeem himself.
Samuel Edward McDowell was born in Pittsburgh, Pennsylvania, on September 21, 1942. He was one of six siblings, four brothers (Tom, Warren, George, Don) and one sister (Margret Ann) in the family of Mr. and Mrs. Thomas McDowell. Tom McDowell worked at U.S. Steel as a heat inspector. Sam was a four-sport star (baseball, basketball, football, track) at Central Catholic High School in Pittsburgh. By his junior year, big-league scouts were flocking to the Steel City to see him pitch. Central Catholic was only two blocks from Forbes Field, then home of the Pirates. The tall left-hander would often throw batting practice to the hometown Bucs. He gained more attention pitching at the Colt World Series that summer in Los Angeles, when he tossed a pair of no-hitters and a one-hitter. His senior year at Central Catholic, McDowell dominated the opposition, going 8-0 and not giving up a single earned run. He struck out 152 batters in 63 innings, and could boast that he had thrown 40 no-hitters so far in his young career.
The Cleveland Indians, with a $75,000 bonus offer, outbid 14 other teams for McDowell after his high-school graduation. Scout Walter "Hoot" Evers signed McDowell. Sam's parents were happy with the signing, but adamant that their son start off in the low minor leagues and work his way through the organization. Cleveland obliged and sent McDowell to the Class D Lakeland Indians of the Florida State League. Before he left to embark on his baseball career, McDowell went to New York City to appear on To Tell the Truth, on which only one panelist, actor Tom Poston, correctly identified McDowell as a professional baseball player.
At Lakeland McDowell, like many young pitchers, had control problems, and walked a lot of batters at first. But under the watchful eye of pitching coach Ted Wilks, McDowell improved. He finished with a 5-6 record and a 3.34 earned-run average. "Even when McDowell was giving those bases on balls, he had a lot of stuff on the ball," said Pinky May, Sam's manager in the Fall Instructional League.
When McDowell reported to spring training in Tucson for the 1961 campaign, he was given the nickname that, at times, became just as common as his given name. "Sudden Sam", was the moniker that Bob Dolgan, Indians beat writer for the Cleveland Plain Dealer, pinned on the young pitcher after Dolgan witnessed McDowell's first Cactus League appearance against the Cubs on March 13.
McDowell was promoted to Salt Lake City of the Pacific Coast League, the Indians' top farm team, for the 1961 season. He led the league in both strikeouts (156) and walks (152) while posting a 13-10 record for the Bees. He earned a call up to the Indians and on September 15, 1961; just six days before his 19th birthday, he made his major-league debut, against the Minnesota Twins at Cleveland. Manager Jimmie Dykes lifted McDowell in the seventh inning when Sam was suffering pain in his back. He was leading 2-0 and had struck out five Twins, but also walked five. The bullpen could not hold the lead, costing McDowell his first major-league win as the Tribe lost 3-2. It was his only major-league appearance that season.
Before leaving for spring training in 1962, McDowell married his high school sweetheart, Carol Beisgen. Sam and Carol had two children, Debbie and Tim. Tim had a short career as a minor-league pitcher in the Pittsburgh organization (1988-1991).
Splitting the 1962 season between Salt Lake City and Cleveland, Sam continued to have control problems. He posted a 3-7 record for Cleveland with a 6.06 ERA. His strikeouts and walks each totaled 70. Velocity wasn't the problem for McDowell, but location was. It continued to plague him in the 1963 season. Again, he split his season between the Indians and the Jacksonville Suns of the International League. His record in Cleveland was 3-5 with a 4.85 ERA. In 65 innings, he struck out 63 batters, but walked 44.
At the end of spring training in 1964, McDowell was sent down to Portland of the Pacific Coast League. Although Sam was disappointed, he turned the situation into a positive, going 8-0 for the Beavers with a sparkling 1.18 ERA. His strikeout-to-walk ratio also improved, as he struck out 102 batters in 76 innings and walked just 24. McDowell pitched three consecutive shutouts; one was a no-hitter against Salt Lake. He struck out 15 Bees, with outfielder Bill Ott's fly out as the only ball that left the infield.
Asked to explain the abrupt turnaround, McDowell explained it this way: "During those first four years, I listened to everybody and anybody who had a theory on pitching and I tried to do everything they told me. I made up my mind to stop listening to everybody and figure out a few things on my own. I made up my mind I wasn't going to worry about my wildness; that I would throw where I wanted. By the middle of the season, I could do it most of the time, at least with my fastball." McDowell also credited Portland manager Johnny Lipon: "He suggested things instead of telling me and respected my opinion. We'd sit around and talk about pitching and exchange ideas. He was the first person in baseball to handle me that way."
Sam left minor-league baseball behind for good when he was promoted to Cleveland in late May. In his first start, he struck out 14 and gave up just two runs to beat the White Sox on June 2. He struck out 10 in his next start, against Washington, but got a no-decision for his effort. Sam pitched 173½ innings for the Indians and finished the year ranked second among the Cleveland starting pitchers in wins (11). He led the team in ERA (2.70), strikeouts (177) and walks (100). In his final eight starts of the season, McDowell went 6-0, with two no-decisions. But Cleveland hit .247 as a team, and no regular starter hit over .280. The Indians, managed by both George Strickland and Birdie Tebbetts, finished in sixth place, 20 games behind New York.
Behind McDowell, the Indians were forming a strong but young pitching staff. In 1965, Sonny Siebert, Luis Tiant, Gary Bell, and Steve Hargan made key contributions, and Ralph Terry came over from the Yankees to lend a veteran presence. The Indians finished fifth (out of ten), winning 87 games. McDowell posted a monster season, going 17-11 with a league-leading 2.18 ERA. His 325 strikeouts (in 273 innings) led the American League, and he was only the fifth pitcher since 1900 to strike out 300 or more in a season. He pitched 14 complete games. Of his 11 losses, the Indians were shut out three times and scored only one run four times.
A good example of McDowell's lack of offensive support came on September 4 in Baltimore. He pitched ten innings and struck out 16 Orioles. He was lifted in the bottom of the 11th inning of a scoreless tie. Bobby Tiefenauer relieved, pitched a third of an inning and surrendered the winning run on a hit by Luis Aparicio. "He just overpowered us, "Aparicio said of McDowell. "I'm glad I'm a right-handed batter. I never saw anybody so fast."
One of McDowell's frustrations was with Tebbetts. "Birdie Tebbetts called every one of my pitches," he recalled. "I mean every single pitch. I wasn't learning anything by him doing that because he never sat down with me after games or between innings to tell me why he wanted me to pitch a certain guy a certain way. Really, I didn't have to take responsibility for how I pitched. If I lost, I could always just blame Birdie Tebbetts."
McDowell was selected to pitch in the All Star Game at Metropolitan Stadium in Minneapolis on July 13. It was the first of his six selections for the All Star squad. He pitched two innings, gave up one run, and was charged with the loss as the American League lost 6-5.
The 1966 season began for Sam much as 1965 ended. He broke out of the gate with four victories and a no-decision in his first five starts. He threw consecutive one-hit shutouts in this streak, on April 25 against Kansas City and on May 1 against the White Sox. McDowell became the fourth pitcher in major-league history to post back-to-back one-hit complete game starts.
On May 23, McDowell graced the cover of Sports Illustrated with the caption "Faster Than Koufax?" The comparison of the two left-handed strikeout kings was a hot discussion around the major leagues. McDowell gave an athlete's non-answer to the magazine's query: "It gives me quite a boost. . . . I am thrilled by it. After all, Sandy is the greatest and anyone would be thrilled to be mentioned in the same breath. I don't take it too seriously, but I get a big boost out of it."
But McDowell's season slowed somewhat when he began to experience arm problems. He was on the shelf for two weeks after injuring the deltoid muscle in his left arm in Detroit on May 25. On June 16, he reinjured his shoulder and didn't make another start until July 1. On September 18, he had to leave a game in Detroit because of a sore shoulder, but in just six innings of work, he struck out 14 Tigers. He fanned the first five Tigers batters of the game, and came within four of tying the record at the time of batters struck out in a nine-inning game (18) shared by Bob Feller and Sandy Koufax. "I'm sure I could have got at least four more strikeouts if I could have pitched those last three innings," McDowell said. "But my arm was getting tired, so maybe it was better we didn't try. The important thing is that we won the game." Cleveland topped Detroit, 6-5, in ten innings.
In spite of the setbacks, Sam went 9-8 with a 2.87 ERA in 1966. He once again led the league in strikeouts, with 225, and tied for the lead in shutouts (5). The Indians were managed that year by both Tebbetts, who resigned in August, and George Strickland.
Former Milwaukee Braves star Joe Adcock was installed as the Cleveland skipper in 1967. Adcock, who had retired from playing baseball the previous year, had no prior managing or coaching experience at any level. He was considered a stern taskmaster. This was the only year he managed in the major leagues.
For McDowell, 1967 was a so-so year. He ended the season with a 13-15 record and a 3.85 ERA. His 236 strikeouts ranked second, ten behind league-leading Jim Lonborg of Boston. McDowell led the league in walks with 123 free passes. From June 5 to June 22, McDowell started five games, losing four. In those five games, the Indians' offense scored nine runs, twice getting shut out. On May 21, he clubbed the first of his two major-league home runs, a two-run shot off Boston's Bucky Brandon at Fenway Park.
In 1968, Alvin Dark took over as manager after Adcock was fired. The former New York Giants shortstop was making his third stop on the manager carousel after stops in San Francisco (1961-1964) and Kansas City (1966-1967).
The 1968 season was known as the Year of the Pitcher. Because of a perceived imbalance in favor of the offense, the major leagues had expanded the strike zone in 1963. The result was six years of extraordinary pitching, culminating in 1968. McDowell pitched his way to a 15-14 record, with an ERA of 1.81. He struck out 283 hitters, again leading the league. His run support, however, was among the worst among starters, at 2.84 runs a game. First baseman Tony Horton led the team in home runs with 14 and in RBIs with 59. In McDowell's 14 losses, the offense was shut out five times and scored just one run seven times. "What can I do?" Sam said. "I know the guys are trying hard – I feel sorry for them. It's just one of those unexplainable things. Next year the situation might just be the opposite." McDowell did break Feller's American League record (set in 1938) for strikeouts in successive games. He struck out 16 Athletics on May 1, and then came back to strike out 14 Yankees on May 6 for a total of 30 strikeouts, eclipsing Feller's mark of 28 set in 1938.
Under Dark, the Indians jumped to third place (86-75) in the standings in '68, but still finished 16½ games behind pennant-winner Detroit. Early in 1969, pitchers Sonny Siebert and Vicente Romo and catcher Joe Azcue (who led the Indians' regulars with a .280 batting average in 1968) were dealt to Boston for first baseman/outfielder Ken Harrelson and pitchers Dick Ellsworth and Juan Pizarro. Siebert had been a solid starter for the Tribe. He had notched double-digit win totals for the Tribe in the last four years to go along with an ERA under 3.00 each year. But Cleveland was trying to solve its offensive woes by acquiring Harrelson. He was coming off a great year for the Red Sox, having blasted 35 home runs and led the league in RBIs with 109.
Heading into the 1969 season, McDowell was happy pitching for the Indians and his manager. In spring training he was confident that the Tribe could contend for the pennant. "As a strategist, Dark shows me things I never dreamed of before," he said. "He has it all, and because he does, we've got a shot at the pennant this year — you better believe it." But it did not turn out that way. McDowell with an 18-14 record, led the team in victories and had a 2.94 ERA. He led the league in strikeouts with 279. But Tiant finished with a record of 9-20, and led the league in losses. (New Commissioner Bowie Kuhn had restored the 10-inch height of the pitching mound and shrunk the strike zone.) Neither Ellsworth nor Pizarro did much to help the staff. On June 27, McDowell threw the 1,500th strikeout of his career, whiffing Yankees center fielder Ron Woods. But Sam's prediction for the team fell flat; as they finished 46½ games behind first place Baltimore.
In spite of McDowell's fondness for Dark, he still found the manager's calling the pitches from the dugout an obstacle, just as he did when Tebbetts was the skipper. Catcher Ray Fosse said he would "get a sore neck from looking into the dugout as Alvin was calling the pitches. But most of the time Sam just shook me off and threw what he wanted."
Oakland slugger Reggie Jackson said of McDowell, "I like Sudden and I think he's got the greatest fastball, curveball, slider, and changeup I ever saw. I call him 'Instant Heat.' Sudden simplifies things out there. You know he's gonna challenge you, his strength against yours, and either you beat him or he beats you. And he won't throw at you, either, because he's too nice a guy. He knows that with his fastball he could kill you if he ever hit you."
After the deal that sent Siebert to Boston, Luis Tiant was sent packing as well, to Minnesota. In return, the Indians received third baseman Graig Nettles and pitcher Dean Chance. Minnesota released Tiant after the 1970 season. He was signed and released by Atlanta in 1971 without pitching for them. Eventually he found a home in Boston, where he was a three-time 20 game winner for the Red Sox in the 1970s.
McDowell broke through for his only 20-win season in 1970, going 20-12 with a 2.92 ERA and striking out 304 batters in 305 innings. He was named American League Pitcher of the Year by The Sporting News. From May 10 to July 23, McDowell went on an incredible streak, posting a 12-1 mark in 17 starts. His offensive support improved; the Indians averaged 4.10 runs a game for him.
McDowell was selected to his third straight All Star Game, and the fifth in six years. On July 14 at Cincinnati's Riverfront Stadium, he pitched three shutout innings for the American League, striking out three. As a team, the Indians finished 10 games below .500 at 76-86, and were a distant 32 games behind East Division Champion Baltimore.
The 1971 season was a disruptive one for McDowell, and by his own doing. It started with a five-day holdout in spring training and a threat to quit. McDowell was asking for $100,000. After negotiations with manager Alvin Dark, McDowell signed an incentive-laden contract for $72,000. Contracts with incentives based on performance were illegal in major-league baseball, and on June 11 the contract was voided by Commissioner Kuhn. (Kuhn also voided the similar incentive-laden contracts of Indians Graig Nettles, Ken Harrelson, and Vada Pinson.) After Kuhn's ruling, Sam left the team and was suspended for a few days (none of the other players appealed). In his mind, since the contract had been voided, he should be declared a free agent. After pitching on July 27, he again left the club. The Indians suspended him again and filed a grievance under the contract with the Players Association. McDowell returned to the team after 10 days, and started on August 10 against the White Sox in Chicago. He pitched six innings and got credit for the Indians' 4-1 victory. But McDowell's 1971 season ended with only one win in his final seven starts. He was charged with another loss when he pitched in relief on September 20 (a game that began on September 14, but was suspended and resumed) for a final record of 13-17 and a 3.40 ERA. In the midst of all this, Dark was fired and replaced by Johnny Lipon.
It was apparent that Sam was wearing out his welcome in Cleveland. He demanded that general manager Gabe Paul trade him at the end of the season. Paul obliged and entertained all offers, and the highest bidder would land McDowell.
The highest bidder was the San Francisco Giants, defending champion of the National League West Division. They paid a steep price in obtaining McDowell on November 29, 1971. Going to Cleveland were pitcher Gaylord Perry and shortstop Frank Duffy. Perry and Juan Marichal constituted a formidable one-two punch for the Giants. Perry had two 20-win seasons to his credit and one season in which he won 19. Duffy, who was included in the deal at the urging of the Indians' new manager, Ken Aspromonte, was a no-hit, good-glove shortstop. But Duffy was considered the key to the deal, and wound up as the starting shortstop for the Indians from 1972 to 1977.
McDowell had gone 122-109 in a Cleveland uniform. He racked up 2,159 strikeouts in 2,109 innings and led the American League in strikeouts five times. But he also led the league in walks five times and in wild pitches three times. The trade was not popular among Indians' fans; of those who called in to the Cleveland Plain Dealer, 70 percent voiced their displeasure with it.
But Sam was ecstatic about his new location in the Bay Area. He predicted a pennant for the Giants, and promised manager Charlie Fox that he would report to spring training in the best condition of his career. "I'm gonna take them to the pennant," said Sudden Sam. "San Francisco gave up too much for me. I intend to show them they were right." McDowell, 29 years old, was four years younger than Perry. The Giants were banking on the difference in age to swing in their favor. Perhaps they should have asked Mike Paul, McDowell's former roommate with the Tribe, who was traded to the Texas Rangers three days after McDowell departed. "What the Giants told the writers was that Gaylord was 33 and Sam was 29, so they were getting a younger pitcher," said Paul. "What I said was that Gaylord would still be pitching long after Sam had retired. Perry had a much younger body than Sam, and I told the writers that, but most didn't believe me."
McDowell got out of the gate fast in 1972, winning five games in his first six starts for the Giants. "I've never pitched before for a strong club like this, a potential contender," he said. "This team will score and it will be great to work with some runs."
McDowell was right about the run support. On May 27, he was staked to an 8-2 lead in the fourth inning at Atlanta. But thanks in part to seven walks he issued, he failed to finish the fifth inning of a game the Giants won 11-9. In midseason he began to experience a sore shoulder, and doctors said the southpaw had a circulatory issue that was also causing numbness in his fingers. Sam went on the shelf in mid-July and did not make another start until September 2. He won his last two games to push his record to 10-8. The Giants, who had traded Willie Mays back to New York and the Mets, finished in fifth place of the West Division of the National League. They were 26½ games behind division champion Cincinnati.
In spring training in 1973, McDowell contemplated retirement because of persistent back and neck pains. A doctor put him on a plan doing isometric exercises. He felt better and rejoined the team. Manager Fox used him primarily as a reliever; he made only three starts for the Giants, striking out 35 batters and walking 29 in 40 innings. McDowell reportedly had run-ins with manager Fox. On June 7, he was sold to the New York Yankees. Among other things, the Giants were unhappy with his drinking. But Gabe Paul, who was now in the Yankees front office, wanted to bring McDowell to New York. He had scouts following McDowell from spring training. Giants owner Horace Stoneham wanted players in return for Sam, but settled on the selling price of $100,000. On June 7, the Yankees had their man after months of pursuit.
McDowell was happy to be in New York pitching for the Yankees. "I think I can help the Yankees," he said. "This is one hell of an opportunity for me personally." He started out fast, just as he had when he joined the Giants the year before. He won five of his first six starts, sporting a 1.55 ERA and posting 34 strikeouts in 40 2/3 innings. Manager Ralph Houk wasn't sure what he was getting with McDowell. "When I gave Sam his first start," said Houk, "I frankly didn't know what to expect. I hadn't seen him pitch in two years, but the reports we had on him were good. I must confess I was pleasantly surprised." However, McDowell was winless after his first five victories, and finished 5-8 for the Yankees, with a 3.95 ERA. In 1974, he was on the disabled list from May 22 to mid-July because of a slipped disc. Unhappy about being used sparingly by new manager Bill Virdon (13 games, 7 starts, 1-6 record) McDowell quit the team on September 13. At the time, the Yankees were in first place in the East Division, leading Boston by a game and a half and Baltimore by two games. Baltimore eventually nudged out the Yankees for the division crown by two games. McDowell asked Gabe Paul for his release, and it was granted in the offseason.
In 1975, Sam returned home to Pittsburgh, as the Pirates signed him as a spring training invitee. He would have to pitch his way onto the club. He wasn't too happy about it, saying, "It's like pitching with the whole world on your shoulders. I just can't relax out there. It's very important to me to make this club. It means everything. When do you ever see me go out after I pitch and run for half an hour?" Still, the 32-year-old McDowell made manager Danny Murtaugh's team as a reliever. The Pirates had some early injuries to their staff, and when Ken Brett was reactivated from the disabled list and Kent Tekulve was promoted from Triple-A Charleston; Sam was the odd man out. He was released on June 26. "I've been in baseball too long to let sudden changes bother me," said McDowell. "I'm talking with my family. But in my heart, I don't know what I am going to do."
As of 2015 McDowell is listed among the all-time leaders in many pitching categories. Among left-handed pitchers, he ranks third in both career strikeouts per nine innings (8.86) and fewest career hits allowed per nine innings (7.03).
Sam McDowell's playing career is only part of his story. His production on the mound was reduced by injuries. But also, McDowell was an alcoholic. "The last four years of my career, I was a full-blown, third-stage alcoholic," he has acknowledged.
McDowell, who said he never drank until he got to the major leagues, attributed his drinking to trying to fit in, to be accepted. How did it begin? One time early in his career, McDowell said, he pitched a solid game against the White Sox. To celebrate, fellow pitchers Gary Bell and Barry Latman took Sam out to dinner. "I respected them because they were established pitchers, and I appreciated the fact that they were paying attention to me. Whatever Gary Bell ordered, I ordered. He ordered a drink, so did I. He ordered another drink, so I did. But when they stopped eating and drinking and went back to the hotel, I just stayed there and drank some more. It was the first time I had been drinking and I didn't want to stop."
Soon Sam was going out drinking regularly. Gabe Paul, the GM at the time, saw the warning signals and sent McDowell to a psychiatrist, but Sam went for only one treatment. His wife, Carol, knew it was a sickness, and it was affecting life at home. Sam was equating his drinking with his playing. He quit drinking in 1967, but posted a 13-15 record. He started drinking again in 1968 and had a terrific year. In those days, it was a badge of honor among your teammates to drink all night, show up the next day, and pitch a great game. For McDowell's low self-regard, that was a much-needed boost.
In 1971, he was fined $1,000 for "rowdyism" on the team bus going from the Los Angeles airport to Anaheim. Alcohol was canceled on all future team flights. This was only a series of problems McDowell had that year and led to his being traded to the Giants. According to McDowell, his addiction only intensified in San Francisco. Once he was arrested for being drunk and disorderly. "So what else is new?" said Fox, his manager. "It happened every year with Cleveland, too. If he keeps stepping out of line, he'll be a pauper. We already have our fines set up. We call it the Sam McDowell Fund." After Sam made noise about helping the Giants win the pennant, it couldn't have done too much for his ego that Gaylord Perry won 24 games for Cleveland and received the American League Cy Young Award in 1972.
Eventually all 24 major-league clubs blacklisted McDowell because of his drinking. After he retired from baseball in 1975, he sold insurance for Colonial Life & Accident Company. Although he was productive, he still drank heavily for the next four years, a period he termed an "absolute waste." Carol got a divorce and gained custody of their children. Sam moved back in with his parents in the house he grew up in. On a cold 1980 morning in Pittsburgh, he said, he sat on the couch, admitted defeat to his addiction, and muttered, "You beat me" over the next few hours. With the aid of his parents and his brothers, McDowell entered a rehabilitation center. "My parents and brothers pulled me through," he said. "They refused to let me lie to myself." He has been sober ever since.
"There was a horrendous inner pain, far more devastating then any physical pain," he said. "There was the feeling of always being alone, of always being on the outside, of something being wrong and you can never find out what. I can't say I chose to sober up or chose to get help. I quite frankly didn't think there was any hope. I didn't feel there was any way of helping me. I honestly thought I was going insane."
McDowell underwent rehabilitation at St. Francis Medical Center in Pittsburgh, where Dr. Abraham Twerski, the director of psychiatry at St. Francis, helped him conquer his addiction to alcohol. He helped coach a community baseball team in Monroeville, Pennsylvania, near Pittsburgh. Teenagers on the team readily confided in Sam. He would listen, but he would not offer advice to the teenagers, believing that he had no right to counsel them. Instead he took the youngsters to Dr. Twerski's office. Dr. Twerski encouraged Sam to take part in the counseling sessions. Eventually McDowell began to study counseling full time, if only to help himself. He obtained his associate's degree in sports psychology and addictions from the University of Pittsburgh. In 1982, the state of Pennsylvania certified him as a counselor.
McDowell formed Triumphs Unlimited in 1984 and hired a staff of counselors. At the request of Commissioner Kuhn, McDowell designed a rehab plan for the major leagues, although it was not implemented. The Texas Rangers hired him to advise their players. Soon, Toronto and Cincinnati also retained his services. McDowell also helped players in the National Football League and the National Hockey League, as well as others in every walk of life, to overcome their drug and alcohol addictions.
McDowell moved to Clermont, Florida, where he founded City of Legends, a retirement community for former professional athletes. He also got involved in the Baseball Assistance Team, which helps current and former players with personal, health, and financial problems.
"I don't think about the past very much," McDowell said. "Today is all I care about. I've been very lucky because I believe seriously in my heart that this had to be, that my calling in life is what I am right now."
Last revised: January 10, 2015
Sources
Dolgan, Bob. Heroes, Scamps and Good Guys, Cleveland: Gray & Company, 2003.
Pluto, Terry. The Curse of Rocky Colavito. New York: Simon and Schuster, 1994.
Spatz, Lyle, editor. The SABR Baseball List & Record Book. New York: Scribner, 2007.
Various Issues of The Sporting News
Various Issues of Sports Illustrated
Various Issues of the Cleveland Plain Dealer
Various Issues of the Cleveland Press
Various Issues of the New York Times
Various Issues of the Pittsburgh Post Gazette
Various Issues of the Philadelphia Inquirer
Born
September 21, 1942 at Pittsburgh, PA (USA)
If you can help us improve this player's biography, contact us.
http://bioproj.sabr.org/bp_ftp/images3/McDowellSam.jpg
600
800
admin
/wp-content/uploads/2020/02/sabr_logo.png
admin
2012-01-04 19:50:14
2012-01-04 19:50:14
Sam McDowell