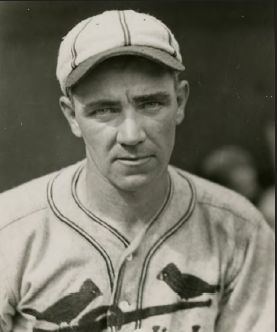 ---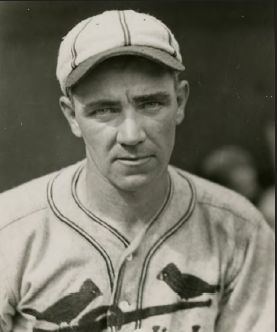 Sheriff Blake, was not really a sheriff, but rather a hard-throwing right-handed pitcher whose best days came during a six-year period for the Chicago Cubs, from 1925 to 1930, when he averaged 12 wins and 216 innings per season as a dependable starter and occasional reliever. After winning a career-high 17 games and tying for the league lead in the National League  with four shutouts in 1928, Blake helped guide the Cubs to the pennant in 1929.
John Frederick Blake was born on September 17, 1899, in Ansted, West Virginia, to Jesse Alfred and Lula Mae (Holder) Blake. He grew up in the rugged Appalachian terrain of central West Virginia, where coal mining was a way of life for most families. His parents were hard-working, industrious people of Scotch-English descent. His father worked in the coal mines for more than 40 years, rising to the post of foreman. His mother raised eight children born over the course of two decades. Fred, as his parents called him, was the third born and the first of two sons. With access to education limited and money scarce, it seemed like a foregone conclusion that young Fred would join his father in the mines by the time he was 14. His father trained him to operate mining machinery as a way to escape backbreaking and dangerous manual work.
Baseball offered miners and small towns in Appalachia a temporary respite from the harsh realities of their surroundings.  Blake's father was an accomplished amateur pitcher and taught his son the art of pitching. By the time Fred was 16, he was pitching with adults on local coal-field teams. In light of American's imminent entry into the World War, the Blakes sent Fred to the Greenbrier Military School in Lewisburg in 1916, hoping that a military career would provide their son an escape from the perils of mining. Fred played football and baseball at the boarding school, but despised the rigid discipline and quit after about two years.
Blake's big break occurred when he enrolled at West Virginia Wesleyan College in Buckhannon, where he made a name for himself as "one of the most phenomenal young pitchers" in the northwest part of the state, reportedly striking out 63 batters in four games in 1919.1 Blake caught the attention of Earle "Greasy" Neale, who had coached the college's football team and was also a fleet-footed outfielder for the Cincinnati Reds at the time. On Neale's recommendation, Reds scout Gene McCann signed the hard-throwing right-hander. 
For reasons Blake never understood, the Reds placed him on waivers some time after their World Series triumph over the Chicago White Sox in 1919. The Pirates, who had attempted to sign Blake the previous year, claimed him. Blake suffered a severely sprained ankle at the Pirates' spring training in Hot Springs, Arkansas, and was subsequently released. He returned to West Virginia, and began pitching for the semipro Charleston Senators, a former team in the Class D Ohio State League. Recalled by the Pirates in midseason, 20-year-old Blake made his big-league debut on June 29 during the second game of a doubleheader against the Chicago Cubs at Cubs Park. He tossed the final inning of relief in a 14-3 drubbing, yielding two hits and two runs. He pitched five more times in relief and finished with a lofty 8.10 ERA over 13⅓ innings.
The Pirates assigned Blake to the Rochester (New York) Colts, and then Tribe, of the Double-A International League for the 1921 and 1922 seasons, where he was managed by George Stallings, best known as the skipper of the "miracle" Boston Braves championship team of 1914. "He was the greatest man there ever was," Blake told oral historian Eugene Murdock.2 According to Blake, Stallings was a demanding manager who taught him to keep the ball low and encouraged him to rely on his fastball and curveball. Though Rochester finished in second place behind the Lefty Grove-led Baltimore Orioles both years, Blake developed into one of the league's premier pitchers. In his first year in the IL, he established career bests in wins (21) and innings (300); the following year he won 17 and posted a 2.76 ERA.  Like the young Grove, Blake suffered from poor control and finished second to the future Hall of Famer in walks in 1921; however, while Grove developed impeccable control, Blake battled bouts of wildness throughout his 21-year professional baseball career.
Blake credited Stallings for giving him the nickname Sheriff. "[It] was back during Prohibition," he explained. "Stallings knew I was from West Virginia [and also knew] that there was a lot of moonshining going on in West Virginia. He went to call me one day and could not think of my name, so he said 'Hey you moonshining sheriff, come here.'"3 The name remained with Blake for the rest of his life. He learned to embrace it, but admitted that he had to explain for the remainder of his baseball days that he was not really an elected official in charge of enforcing the law.
After his fourth consecutive spring training with the Pirates, Blake was sent to the Seattle Indians of the Double-A Pacific Coast League for the 1923 season. Described by The Sporting News as a "terrible bust," Blake limped to a 13-20 record and his ERA ballooned to 4.71.4 During the National Association meeting in December, the Pirates traded him to the Chicago Cubs. Blake had been the subject of rave reports from Cubs scout Jack Doyle, who considered his record to be an anomaly and predicted success for him. According to The Sporting News, Blake was "dissatisfied and indifferent" about playing so far from home and his pitching consequently suffered.5
Standing an even 6 feet tall and weighing about 180 pounds, Blake was quiet and easy-going, especially compared to his more rambunctious teammates Pat Malone and fellow West Virginian and good friend Hack Wilson. With his gray eyes, black hair, and bushy eyebrows, Blake spoke with an unmistakable Appalachian drawl that newspapers in Chicago often mentioned. Recognized by his slow, unpretentious gait, Blake was known to conserve his energy before he pitched. While a member of the Cubs, he married Marguerite H. "Madge" Cross, who, like other well-known wives of Cubs players, was a constant presence at home games at Wrigley Field. Despite the trappings and lifestyle the big city had to offer, Blake was a country boy at heart, and spent his offseason at home in West Virginia where he occasionally pitched in late-season coal-field league games, hunted, fished, and golfed.
Touted as a "stuff" pitcher for most of his career, Blake began his first season with the Cubs in the bullpen. Against the St. Louis Cardinals at Cubs Park on April 24, he pitched a scoreless frame of relief in the ninth inning, and picked up his first big-league win when the Cubs scored two in the bottom of the ninth to win the game, 5-4. On July 5 he tossed a complete game to defeat the Cardinals in St. Louis, 6-2, in his first major-league start, then hit his stride by winning five of six decisions through late August. But he struggled down the stretch, losing his last four decisions. With 11 starts among his 29 appearances, Blake finished the season with a 6-6 record and a high, 4.57 ERA in 106⅓ innings.
While the last-place Cubs took a large step backward in 1925, finishing with a losing record for the first time in four years, Blake became a regular in the starting rotation, joining his boyhood hero, 38-year-old Grover Cleveland "Pete" Alexander. Like the Cubs, who burned through three different managers during the season, Blake was maddeningly inconsistent. He led the team with 31 starts, and had 10 wins but also 18 losses (tying for the second-most in the league). He tossed complete games in all of his victories (including a ten-inning, ten strikeout performance) and carved out a nifty 2.47 ERA; yet in his other 36 appearances his ERA was well over 6.00. The root of Blake's Jekyll and Hyde act was a lack of control. He finished second in the league with a career-high 114 walks. During the course of his six-year run in the starting rotation (1925-1930), Blake's 591 free passes were the most among NL hurlers, but he led the league just once in the dubious category (1926).
Switch-hitter Blake's seven RBIs in 1925 were his most in a given season; he batted .211 in 558 career at-bats. In his only postseason at-bat, he singled to shortstop during Game Two of the 1929 World Series.
A turning point in Cubs history occurred in 1926 when they hired Joe McCarthy to pilot the club. McCarthy endeared himself to his players by his unwavering support for them, even when they struggled. Blake discovered that trait two months into the season. The lanky West Virginian's ERA was north of 7.00 as a swingman and reliever, but with the Cubs just three games off the pace in a tight pennant race, McCarthy gave his beleaguered pitcher another chance on the mound. Blake responded by hurling a four-hitter to defeat the Phillies at the Baker Bowl. Two starts later, Blake authored the best game in his big-league career as he held the eventual champion St. Louis Cardinals to one hit and matched his career high with ten strikeouts en route to a 5-0 victory at Sportsman's Park during the second game of a doubleheader. Though a poor September (13-14) doomed the Cubs' pennant aspirations, Blake's 6-3 record and sparkling 2.64 ERA in the pressure-packed games of August and September proved to McCarthy that he was an invaluable member of the staff despite his overall pedestrian record of 11-12.
Blake had a reputation as a quick worker on the mound and regularly completed games in well under two hours.  He claimed he learned to speed up his rhythm from home-plate umpires, like legendary Bill Klem. "Klem always told young pitchers to work fast," he recalled. "In one of the first games I pitched when he was umpiring, he brought the ball out to me and said to me, 'Young fellow, now let's have a real fast game. These fans want to get home for supper. All good pitchers pitch fast games.'"6 And despite all of his walks, undoubtedly many on full counts, the level-headed Blake rarely argued with umpires or became emotionally unhinged because of a bad call like teammates Charlie Root or Pat Malone, and was never ejected from a professional baseball game in his 21-year career. Blake's only pitching vice might have been his liberal use of the rosin bag, which drew the attention of The Sporting News in 1926 when the bag was introduced to the big leagues.7 
For most of the 1927 season, the Cubs played streaky baseball. After Chicago's fourth consecutive loss and sixth in seven games to fall to 22-19, Blake tossed a five-hit shutout against the Boston Braves on June 5 to commence the North Siders' 12-game winning streak and rekindle the club's pennant aspirations. The Cubs moved into first place on July 7 (owing to  nine straight wins), but were unable to pull away from the second-place Pittsburgh Pirates. After losing 10 of 13 games to fall back into second place, the Cubs and Blake got hot at the same time. In his first three starts in August, the West Virginian tossed three consecutive complete-game victories, allowing just one earned run in 28 innings. Included was a season-long ten-inning effort against the Cincinnati Reds on August 13 and a five-hit shutout of the Brooklyn Robins in the first game of a doubleheader on August 19 to maintain the Cubs' five-game lead over the Pirates. But the Cubs lost 16 out of their next 20 games to fall out of contention, and ultimately finished in fourth place. For the season, Blake won 13 and lost 14 and posted a 3.29 ERA (tenth-best in the NL) in 224⅓ innings.
Blake reported to the Cubs spring-training facility on Catalina Island in 1928 still reeling from the team's late-season collapse the previous September. Up by two games on August 30, the North Siders lost 18 of their last 30 contests to finish in fourth place again. Blake started the 1928 season red hot, wining five consecutive decisions with a sub-1.00 ERA. "[He's] the backbone on the Cubs pitching staff to date," exclaimed The Sporting News.8 Led by the pitching quintet of Bush, Malone, Root, Blake, and Art Nehf (who combined to start 129 games and log in excess of 1,100 innings) and the home-run slugging of Wilson, the Cubs climbed to within two games of the league-leading Cardinals on September 13, when Blake limited them to four hits in a complete-game victory.  Though the Cubs were collectively disappointed by their third consecutive "near-miss" and third-place finish, Blake enjoyed his first winning season, setting career highs in victories (17), innings (240⅔), ERA (2.47), and complete games (16); his four shutouts tied for the league lead with four other hurlers.
During the closing weeks of the season, Blake suffered a career-altering injury to the fingers on his right hand when a line drive damaged several of them. "I didn't pitch at all for about a week or so and then when I started again I held the ball a little differently," said Blake. "I even threw underhand for a while. I couldn't grip the curveball very well."9 Unfortunately for Blake, the height of his personal success also marked his steady, but swift decline. Without his "fast breaking curve" Blake was out of the big leagues three years later.10
Chicago acquired the extremely talented yet equally divisive second baseman Rogers Hornsby in the offseason making them the favorites to win the pennant in 1929. While the Cubs battled the Cardinals and Pirates for first place through July, the fingers on Blake's right hand continued to bother him. Described as a "mystery" by The Sporting News, Blake lost eight of his first ten decisions despite a sub-3.00 ERA.11 His control worsened (he walked at least five batters in 12 of 29 starts) as the season progressed, and his ERA steadily rose to 4.29 by season's end. Aided by the high-scoring Cubs offense, Blake won 12 of 15 decisions to finish with a winning record for the second and last time in his career (14-13) and logged 218⅓ innings. The Cubs cruised to their first pennant since 1918.
McCarthy opted for a three-man rotation (Root, Malone, and Bush) against the overwhelming favorite Philadelphia Athletics in the World Series. The Cubs lost the first two games in Chicago; Blake pitched 1⅓ innings of scoreless relief in Game Two before being lifted for a pinch-hitter during the Cubs' fifth-inning rally. Bush's win in Game Three at Shibe Park breathed new life in the North Siders, who were seemingly on the verge of tying the series, two games apiece. Leading the A's, 8-0 in the seventh inning of Game Four, the Cubs collapsed, surrendering ten runs in the bottom of the frame in an eventual 10-8 loss. Blake was the third of four pitchers in that fateful inning. With the Cubs still in the lead, 8-7, Blake relieved Art Nehf with one out and Mickey Cochrane on second base. "I lost that game," said Blake, "pitching to only two batters. [Al] Simmons bounced one over the third baseman's head and [Jimmie] Foxx grounded another one through the infield."12 Blake was lifted for Pat Malone, and subsequently was charged with the defeat when Jimmy Dykes cranked a double scoring Foxx, representing the lead run, and Bing Miller to complete the comeback. Miller's dramatic walk-off, Series-clinching double with two outs in the ninth inning of Game Five ended the Cubs' nightmare.
For the first and only time in his career, Blake was named Opening Day starter in 1930, and went six innings to defeat the Cardinals. He tossed a complete game in his next outing to start the season at 2-0. It went downhill after that. He lost seven of his next eight decisions with an ERA hovering over 6.30.  Blake was still capable of strong outings, such as an 11-inning complete-game victory over the Brooklyn Robins in August; however, he surrendered hits and walks at an alarming rate (1.67 per nine innings), exceeding even the league average in the Year of the Hitter. The Cubs appeared poised to take their second consecutive pennant but squandered a five-game lead during the last month of the season as pressure and mounting dissent led to McCarthy's resignation with four games remaining. Relegated to the bullpen, Blake made just two starts in the last five weeks of the season, finishing with a 10-14 record and 4.82 ERA in 186⅔ innings.
Just 31 years old, Blake reported to spring training early and was still considered an important cog in the Cubs staff. But Blake chafed under the authoritarian rule of manager Hornsby, struggled in the field, and was ultimately placed on waivers. With an 0-4 record, Blake was claimed by the Philadelphia Phillies on July 20. He took his acquisition in stride, but had little to offer the league's worst pitching staff.  He won four of nine decisions, but posted a dismal 5.58 ERA, and was released at the end of the season.
Blake spent the next nine years as a baseball nomad, wandering the upper minor leagues hoping to catch on with a big-league club in need of a cagey veteran. He also pitched annually in coal-field leagues in West Virginia once the professional season was over. Two years pitching in the St. Louis Cardinals farm system earned him an invitation to the Cincinnati Reds spring training in 1934. Among the last cut, Blake spent the next three years in the Double-A International League with the Toronto Maple Leafs and Baltimore Orioles, where he averaged about 13 wins and 225 innings per season.
The pitching-starved St. Louis Browns, managed by his one-time tormentor Rogers Hornsby, invited Blake to spring training in 1937. He made the team as a reliever, but was released on July 15 owning an astronomical 7.61 ERA. Two days later the St. Louis Cardinals unexpectedly signed the veteran as insurance in light of Dizzy Dean's injury in the All-Star Game. He tossed a 10⅓-inning complete game but lost in his first appearance as a Redbird. Though he pitched well in his 14 outings (3.71 ERA), he lost all three of his decisions and was released at season's end.
Blake hung on for three more seasons (1938-1940), winning 30 games and logging in excess of 500 innings for the Class A1 Birmingham Barons and Oklahoma City Indians, before retiring. "I was one of those fellows who never got a sore arm," said Blake.13 Except for the injury to his fingers, Blake never suffered from shoulder or elbow woes. He logged 3,967 innings in his professional career; 1,620 of them were in the big leagues, where he won 87 games and lost 102.
Blake tried his hand at managing, but lasted less than a full season with the Huntington (West Virginia) Aces of the Class D Mountain State League in 1941.  He returned to his home in Beckley, West Virginia, and worked for a coal-mining company for more than 20 years.  He continued to pitch well into his late 40s for various mining teams and was a local celebrity of sorts.
Sheriff Blake died on October 31, 1982, in Beckley after a long illness. He was 83 years old and never lost his childhood enthusiasm for baseball. He was buried at the Sunset Memorial Park.
Sources:
Ehrgott, Roberts, Mr. Wrigley's Ball Club. Chicago & the Cubs During the Jazz Age (Lincoln, Nebraska, and London: University of Nebraska Press, 2013).
Golenbock, Peter, Wrigleyville: A Magical History Tour of the Chicago Cubs (New York: St. Martin's Griffin, 1999).
Murdock, Eugene, Baseball Players and Their Times: Oral Histories of the Game, 1920-1940 (Westport, Connecticut: Meckler, 1982).
Stout, Glen, The Cubs: The Complete Story of Chicago Cubs Baseball (Boston: Houghton Mifflin Harcourt, 2007).
Stewart, Johnny, "Sheriff Blake Recalls 20-Years Baseball Career." Raleigh Register (Beckley, West Virginia), April 30, 1957.
Charleston (West Virginia) Gazette
Chicago Daily Tribune
New York Times
Raleigh Register (Beckley, West Virginia)
The Sporting News
Ancestry.com
BaseballLibrary.com
Baseball-Reference.com
Retrosheet.org
SABR.org
Sheriff Blake player file, Baseball Hall of Fame, Cooperstown, New York.
Notes
1 "Glen White, W. Va," Raleigh Register (Beckley, West Virginia), April 24, 1919, 9.
2 Eugene Murdock, Baseball Players and Their Times: Oral Histories of the Game, 1920-1940 (Westport, Connecticut: Meckler, 1982), 193.
3 Murdock, 194.
4 The Sporting News, July 26, 1923, 3.
5 The Sporting News, December 20, 1923, 1.
6 Murdock, 199.
7 The Sporting News, July 8, 1926, 7.
8 The Sporting News, July 5, 1928.
9 Murdock, 189.
10 The Sporting News, July 1, 1926, 1.
11 The Sporting News, July 25, 1929, 1.
12 Murdock, 190.
13 Murdock, 188.
Born
September 17, 1899 at Ansted, WV (USA)
Died
October 31, 1982 at Beckley, WV (USA)
If you can help us improve this player's biography, contact us.
http://sabr.org/sites/default/files/SheriffBlake.JPG
600
800
admin
/wp-content/uploads/2020/02/sabr_logo.png
admin
2012-01-04 20:42:54
2020-10-12 11:50:28
Sheriff Blake