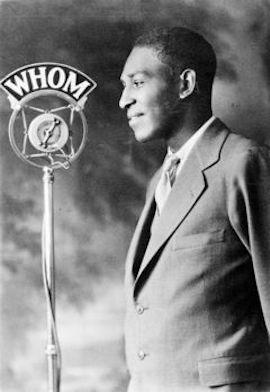 ---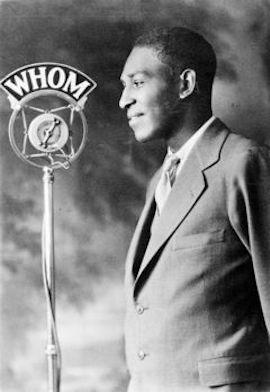 "Believed by many to be the first black sports broadcaster, he also was known as an unofficial historian of baseball's Negro Leagues, from his days as a sportswriter and sportscaster in Newark, N.J."1
Sportswriter Jerry Izenberg wrote on numerous occasions that one man gave us reports and box scores for the Negro Leagues and that man was Jocko Maxwell. He is not in the National Baseball Hall of Fame, but many of the men he spoke and wrote about are. Maxwell worked for over 40 years giving his fans the latest sports scores and news. He was a pioneer like Jackie Robinson, being the first African-American sportscaster on the radio. His writing also paved the wave for more well-known names like Sam Lacy, Red Barber, and Wendell Smith. Jocko Maxwell is a name anyone with an interest in baseball and sports history should know.
Sherman Leander Maxwell was born on December 18, 1907, in Newark, New Jersey. His father, William Maxwell, worked for many years in the journalism industry, primarily for the Newark Star-Ledger. Maxwell Sr. rose to work for the editorial staff, making him one of the few African-Americans to hold such a position at a white paper. In later life both Sherman Maxwell, his brother, Emerson, and his sister, Bernice, would also work for the Star-Ledger. His parents, Bessie and William, supported him in all his endeavors, encouraging him to pursue his dreams. Growing up in Newark, Maxwell played baseball and graduated from Central High School. While in school he earned his nickname Jocko by climbing a tree to try to catch a ball. Jocko was the name of a popular monkey featured in seven films from the 1920s, highlighted by The Lost World (1925) and Flat Broke (1920). Maxwell loved baseball so much he even failed one year so he could keep playing.2
After finishing high school, Maxwell applied to go to college, but due to the racial attitudes of the time he was not accepted. He believed that because professional baseball was segregated, he could not make a career as a player. Maxwell wanted to stay involved in the game, so he applied to a variety of radio stations to host a sports show. He was turned down many times before finally getting a shot in 1929 at WNJ in Newark. There is some debate in the sources about this starting date; some claim he began in 1932. The preponderance of evidence supplied in newspapers points to 1929 and the fact that Maxwell was the first African-American sports announcer in the country. Maxwell had met the owner of WNJ, Herman Lubinsky, at a baseball game and Lubinsky was impressed enough that he offered Maxwell a start with a 10-minute weekly program on which he would announce scores. Maxwell began his radio career the way it would continue, reporting on sports and receiving no pay. The only occasional paycheck he got was from advertising and by endorsing products like Calvert drinks. In order to be able to work in radio, Maxwell took a job as a postal clerk in Newark. He worked there until he retired in 1967.3
After hosting his program at WNJ, Maxwell moved to WRNY around 1932 to host the show Runs, Hits and Errors three evenings a week. He was able to inform listeners around New York and New Jersey about the great Negro League play in their own backyard. In 1934 Maxwell moved to WHOM (Coytesville, New Jersey) to host a new program called Sports Hi-Lites. These shows all were typically 10 minutes long, so the focus was primarily on reporting scores. Maxwell obtained most of the scores by attending games himself or by collecting information from other people who saw games that he was unable to attend. These accounts became the basis for some of his later writing about the Negro Leagues.
By 1938 Maxwell was on the move again, taking his voice to WWRL (Long Island), where he stayed until he left to serve in World War II in the fall of 1942. He also started a sports interview program at WLTH (NYC) in 1939. At WWRL Maxwell was named sports director in April 1942, becoming the only African-American in such a radio position. While in the military, he served with the 375th Engineers and helped to entertain the troops in Europe. After serving his country, Maxwell returned to the post office and WWRL for his weekend shows until he left to join WNJR (Newark) in 1954.4
Maxwell was constantly pitching new shows and formats. A few examples are The Sports Huddle, The College Football Scoreboard, Five Star Sports Final, and Sports with Maxwell. While baseball was his first love, Maxwell also focused on football as well as sports news in general. He even set another precedent when he helped announce midget auto races at the Polo Grounds in 1948. He also was chosen to help pick a local football all-star team more than once.5
Maxwell liked to keep busy. In addition to his radio shows and his postal work, he also wrote. Maxwell sent in stories about the Newark Eagles and their competition to newspapers like the Trenton Times, the Jersey Journal, the Star-Ledger and the Washington and Baltimore Afro-American.6 He also wrote for Baseball Digest and The Sporting News.
Jerry Izenberg, writing for the Star-Ledger, described the important role Maxwell played in keeping the Negro Leagues alive for fans, saying, "He let the world know what was going on in places like Ruppert Stadium and Forbes Field and Comiskey Park when the 'other' teams took over from regular tenants. And in his way, he made the part of America that would listen know all about these black knights of the open road."7 When the Negro League teams came to town Maxwell was there to report on the games.
Maxwell wrote about the games but also became the announcer for Sunday games at Ruppert Stadium. When the Eagles played the Monarchs, Maxwell was there to report on the game. When the Eagles marched their way to win the Negro League World Series in 1946, Maxwell was there to tell fans about Larry Doby, Monte Irvin, and Leon Day. For example, he submitted one of his weekly articles after the Homestead Grays defeated the Eagles twice with Day the losing pitcher in the second game. Eagles owner Effa Manley sought out Maxwell and asked him to promote the Eagles games on the radio, which he did. She also asked him to try to encourage some of the white sportswriters he knew to write about the Negro Leagues.8
Maxwell eventually got to add to his weekly shows with sports interviews. By the 1940s his shows were generally 15 minutes in length and he used the extra time to interview local sports heroes. Some of his interviews included Sugar Ray Robinson, the boxer, Marty Glickman, the Olympic sprinter, Chicago Bears quarterback Sid Luckman, George Puccinelli of the Newark Bears, George "Mule" Haas of the Chicago White Sox, George Selkirk of the New York Yankees, Hank Greenberg of the Detroit Tigers, and sportswriter Dick Anderson. Later he turned these interviews into books. In 1940 Maxwell published Thrills and Spills in Sports and later published Great Black Athletes. The first review of Thrills and Spills was not positive. The published review said his book felt like his radio shows on paper. What the book really lacked was any editing to turn his interviews into a book. Great Black Athletes gave the readers short interviews with stars from all sports, including such well-known players as Willie Mays, Jim Brown, and Jackie Robinson.9
In addition to radio broadcasting and writing, Maxwell and his brother Emerson also played on and managed a semipro integrated baseball team. The Newark Starlings played around Newark for about 10 years in the 1930s and took on any team that challenged them. Emerson also umpired around the area when he was not working in the morgue for the Star-Ledger. His interest in all sports led Maxwell also to manage a local basketball team for two years, the Mercer Baths.10
As busy as he was, Maxwell was not all work. He married Mamie L. Bryant in 1943. After 20 years of marriage they adopted two Korean orphans, 10-year-old Bruce and 8-year-old Lisa. Mamie and Lisa preceded Jocko in death. He lived to 100, dying in July 2008 from complications related to pneumonia.11
When Maxwell died, all the obituaries brought him the recognition he rarely had received in life. They focused on his pioneering role as a sports announcer and his importance to remembering the Negro Leagues. Monte Irvin said Maxwell was a unique individual who helped people know about their leagues. One reporter in 1960 ranked Maxwell with Sam Lacy and A.S. "Doc" Young and another called him the "ace colored radio sports caster."12
One recognition Maxwell did receive was being elected to the Newark Athletic Hall of Fame in 1994. He also, at long last, had the opportunity to visit the Baseball Hall of Fame in 2001.13 While there he finally met announcer Ernie Harwell, with whom he had corresponded early in Harwell's career, but the two had never met. Harwell said that he received a letter of encouragement from Maxwell when he first started. Maxwell later wrote about Harwell and called him "the sports voice of the South." In return, Harwell said that accolade meant so much coming from someone who was such a "sports authority." Maxwell's only presence in the Hall is a photo of him and Harwell from that 2001 visit.14
Never one to focus on himself, Maxwell revealed bits and pieces of his life over the years. His favorite athlete was Joe Louis. His favorite sport was baseball, with two favorite teams, the Yankees and the Cardinals. He thought Mel Allen was one of the best in his business. He loved hard work and he never really drank so that he could fill his evenings with his radio broadcasts. He did, however, smoke a pipe regularly. He loved scoring baseball games and telling people the stories and scores of all the games and matches he saw over the years. He also loved working in Newark, where he never really experienced any difficulty at the stadiums. He was always welcomed to sit with the white reporters. Maxwell's work opened the doors for many people, even if they were not always aware of him. Much of what we know today about the Negro Leagues can be credited in part to the stories and records that Maxwell kept and shared for publication.15
Notes
1 "A Pioneer Among Black Sportscasters," radioworld.com/news-and-business/a-pioneer-among-black-sportscasters, March 18, 2009.
2 IMDB; "Emerson Maxwell Rites Held Monday in Newark," Afro-American, March 24, 1962: 10; "Successful Negro Editor and Son Visit Portsmouth," Portsmouth (Virginia) Herald, August 8, 1940: 10.
3 Baltimore Afro-American, March 5, 1949; Trenton Evening Times, October 19, 1959.
4 Christopher H. Stirling and Cary O'Dell, eds., Biographical Encyclopedia of American Radio (New York: Routledge, 2010), 258-259; Mildred Jovien, "The Radio," Washington Afro-American, May 23, 1950: 11; "Name Maxwell Sports Director at WWKL," Indianapolis Recorder, April 4, 1942. (The station was actually WWRL); Baltimore Afro-American, August 29, 1942; Kansas City Plain Dealer, February 7, 1947.
5 "Sports Announcer Sets Precedent," Baltimore Afro-American, January 19, 1948: 13.
6 Jocko Maxwell, "Eagles Split," Afro-American, August 13, 1938: 23.
7 Bruce Weber, "Sherman L. Maxwell, 100, Sportscaster and Writer, Dies," New York Times, July 19, 2008. (https://www.nytimes.com/2008/07/19/sports/19maxwell.html)
8 Jocko Maxwell, "Homestead Grays Hog-Tie Eagles Twice, 9-2, 4-1," Baltimore Afro-American, June 11, 1938: 22; Laura T. Troiano, Give Me a "Ball Park Figure": Creating Civic Narratives Through Stadium Building in Newark, N.J. (Ph.D. Dissertation, Rutgers University, 2017), 83-85.
9 Jocko Maxwell, Great Black Athletes (Clearwater, Florida: Snibbe Publications, 1972, 3rd ed.; The Sporting News, September 12, 1935, March 5, 1936, and February 1, 1934; Lexington Herald-Leader, December 31, 1939.
10 Harold Lett, "Across the Color Line," in Opportunity: Journal of Negro Life (1939), 338-339; "Sports Announcer Sets Precedent," Baltimore Afro-American, January 19, 1948: 13.
11 Newark Star-Ledger, March 27, 1964.
12 "Along the Sports Trail," Baltimore Afro-American, July 23, 1938: 22.
13 Christina V. Baird, "Sportscasters Long Walk to Hall of Fame," October 27, 2001.
14 "Ernie Harwell: Praise Boosted this Novice Broadcaster," July 30, 2008. Maxwell file, National Baseball Hall of Fame, Cooperstown, New York, source not identified.
15 "Jocko Maxwell Tops as Sportscaster Over Air," Baltimore Afro-American, September 6, 1941: 47; "Jocko Maxwell, Sports Caster, Liked by Radio Fans," Indianapolis Recorder, May 10, 1941.
Born
December 18, 1907 at Newark, NJ (US)
Died
July 16, 2008 at West Chester, PA (US)
If you can help us improve this player's biography, contact us.
https://sabr.org/sites/default/files/MaxwellJocko.jpg
600
800
admin
/wp-content/uploads/2020/02/sabr_logo.png
admin
2017-01-17 12:16:03
2021-09-17 01:14:49
Sherman Maxwell