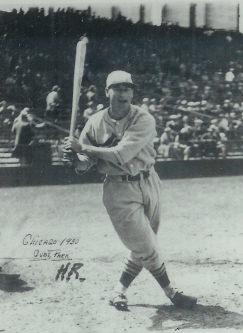 ---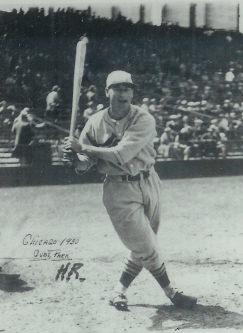 "I got the name Show Boat in St. Louis with the Cards in 1930," wrote George "Showboat" Fisher in a 1985 letter. "The show 'Showboat' was in St. Louis most of the summer, the fans liked what they saw, so they started to call me 'Show Boat.' I hit .374 to lead the club, and we won the pennant. My style of hitting was quite a bit different than most hitters."
Even though the 1930 season defined Fisher's career, he was back in the minors by the following season. He returned to St. Louis, but with the American League Browns rather than the National League Cardinals, two years later, but Showboat's only significant time in "the show" was his season with the pennant-winners.
Most of Fisher's career was in the minor leagues, including several seasons with the Minneapolis Millers in his home state of Minnesota, as well as playing for town teams around the state.
George Aloys Fischer was born January 16, 1899, to Joseph and Sophia (Schwalbach) Fischer. (The family name was spelled Fischer; George dropped the 'c' from the name around the time he got into professional baseball. Fisher's son Lewis said his dad told him he changed the spelling after encountering another Fischer on one of the teams he played on, especially since the other Fischer did not meet his standards in terms of ability. "Baseball players are all egotists," Lewis added. "He didn't want the confusion between the two, so he took the 'c' out of our name.")
Joseph Fischer was born in Germany; Sophia Schwalbach was born in Wisconsin, although her parents were both from Germany. George, the youngest of nine children, had four sisters, Marie (known as Mary), Helen (known as Lena), Isabelle, and Laura, and four brothers, Frank, Joseph, Alex, and John. (Mary and Isabelle died within nine days of each other in February of 1919, Mary of a peripheral embolism with Spanish influenza as a contributing factor at the age of 33 and Isabelle of pulmonary tuberculosis at the age of 27; eight years later, Alex also died of tuberculosis, at the age of 34.)
George's siblings were born in Wisconsin, but he was born in northern Iowa. Wesley and Jennings have both been listed as his city of birth although Fisher was later was quoted as saying, "I don't even know the name of the town where I was born. Haven't the faintest idea, but I know it was in Iowa. The folks moved to Minnesota when I was a few months old."
The Fischers moved to a farm near St. Anna, a few miles outside of Avon, in central Minnesota. "I was brought up on a farm and knew I would never be a farmer. I used to read the papers and magazines and set my heart on being a ball player," Fisher told a New York correspondent during spring training in 1930. In another interview a month later, Fisher said, "I began playing baseball when a youngster and that's about all I have ever done since. Like all kids, I wanted to pitch. Nothing else would do."
Fisher was a pitcher and had enough skill with the bat to hold a place in the lineup when he wasn't on the mound, playing on a variety of teams in Stearns County. In 1919 he played for teams in Avon, Albany, and Holdingford. Brother Alex was a catcher and teammate on the Avon and Albany teams.
In September of 1919, Fisher was recruited by Melrose to pitch in a big game at the Stearns County Fair against a team from Osakis. The Osakis squad had loaded up on outsiders for the game, including an ace pitcher named Wood.
"Osakis figured they had a sure bet and became real careless with their money and, there being no horse races at the fair, the ball game was the big betting card of the fair," reported the Melrose Beacon. The game was scoreless until the top of the eighth, when Melrose came up with two runs off Wood. In the bottom of the inning, Osakis had two on with two out when the Melrose left fielder missed a fly ball. One runner scored on the play but another, which would have been the tying run, was thrown out at the plate. Melrose held on for a 2-1 win as Fisher struck out 13 batters in the game.
A week later Fisher pitched again for Melrose and beat a team from Foley 2-1 in 11 innings. The Minneapolis Millers minor-league team was aware of the level of ball being played in central Minnesota and even considered arranging a post-season exhibition game with one of the teams. The Millers also summoned Fisher to Minneapolis for an in-game try out. Fisher got his chance in the Millers' final game of the season, pitching three scoreless innings.
Fisher was invited to train with Minneapolis in the spring of 1920 although he spent the season with the Miller team in the South Dakota League. Fisher pitched in 15 games (with a 5-3 won-lost record) and played in 51 games overall. Even though this was barely more than half the games his team played, Fisher was awarded the league batting championship with an average of .378. After Miller's season was over he was recalled by Minneapolis, where Fisher played in a total of four games, pitching in two, pinch-running in one, and pinch-hitting in one.
Minneapolis manager Joe Cantillon thought Fisher's future was as a hitter, not a pitcher, and assigned him to St. Joseph in the Western League to play regularly. Fisher played right field and appeared in more than 160 games each season in 1921 and 1922, hitting .352 and .359 in those years, respectively. Over those two years, he also produced 32 triples and 30 home runs. Minneapolis recalled him after the 1922 season and then sold him to the Washington Senators in the American League.
Fisher made his major-league debut on April 24, 1923, at Yankee Stadium, a game in which President Warren Harding was in attendance (Harding was in New York to give an address at the annual luncheon of the Associated Press at the Waldorf-Astoria Hotel). Fisher appeared as a pinch-hitter in the eighth inning for the Senators. Over the next two-and-a-half weeks, he played in only three more games, all as a pinch-hitter. He finally got into the starting lineup in mid-May when Sam Rice, a future Hall of Famer, contracted mumps. Fisher started four games before Rice returned. He appeared in only two more games before Washington sent him to New Haven in the Eastern League on June 8.
Given the chance to play regularly again, albeit in the minors, Fisher did well. He was hitting over .400 in August and still battling for the league lead in batting average when New Haven played at Hartford on September 20. Making his first appearance on the mound for Hartford was a player known more for his slugging, Lou Gehrig. Fisher was 0-for-2 against Gehrig when he came to bat in the seventh inning. Gehrig came in with a curve that hit Fisher in the temple. Fisher was removed from the game and did not play in either of New Haven's last two games, finishing with a .363 average, third in the league.
In a 1930 interview, Fisher explained the circumstances of the beaning: "The well-meaning efforts of a friend to help me win the batting crown nearly ruined my baseball career. It was near the end of the season, and we were playing Hartford. Lou Gehrig, now with the Yankees, was pitching for Hartford and my friend [Gus Redman] was catching. When I came to bat, the catcher asked me what kind of a ball I would like to hit. I said a curve and he signaled Gehrig accordingly. The curve came up all right, but instead of me hitting it, the ball hit me—right in the temple. I fell like a log and was out of the game for the rest of the season. I haven't wanted to know what's coming up since."
Although he missed the final games of the Eastern League season, Fisher survived the beaning and finished out the season by appearing in two more games, both as a pinch-hitter, with Washington.
Fisher finally got a chance to play regularly with Washington at the beginning of the 1924 season, one in which the Senators would win the World Series. He was in right field in each of Washington's first 11 games, starting most of them. However, he had hits in only three of those games (although in one of the games he had four hits) and had some difficulty in right field. He was also injured on the basepaths when he collided with Philadelphia Athletics second baseman Jimmy Dykes in an April 26 game. Two days later, the Senators sent Fisher back to the Minneapolis Millers in exchange for outfielder Carl East, a deal which would turn out to be anything but routine.
Fisher had an amazing start with Minneapolis, and the team and its fans were able to overlook any shortcomings he had in the field because he put on such a great show with the bat. In the Millers' home opener, he had a double and two singles, scored twice, and drove in Minneapolis's first run with a sacrifice fly. The next day he had two hits, including a home run, described by the Minneapolis Tribune as "a terrific drive, the ball sailing over the screen [above the right-field fence] on a line and bounding across the street from the park and landing in an alley half-a-block distant." A two-run shot, Fisher's homer tied the game in the fifth although the Millers eventually lost the game to the Columbus Senators.
Fisher had four hits in the next game. One was a home run and another was a two-out double in the last of the ninth that drove home Tillie Walker from first to give Minneapolis a 5-4 win. He stayed hot, collecting two more doubles the next day in the series finale with Columbus. The Millers then opened a series against the Toledo Mud Hens, and Fisher had three more hits and three runs batted in (RBIs). Through his first five games with Minneapolis, Fisher was hitting .667 (14-for-21) with five runs scored, four doubles, and two home runs.
What finally slowed Fisher was the weather, as two of the next three games were rained out with Fisher drawing a blank in five at-bats in the one game that was played. Meanwhile, there was ominous news about his future with the Millers as Carl East jumped the Washington team to play for the Fairbanks-Morse Fairies of Beloit, Wisconsin, in the Midwest League (considered an outlaw league because it was not part of the National Association, an umbrella organization that comprised the American and National leagues and affiliated minor leagues).
Contract jumping was nothing new for the temperamental East. The previous winter, he had jumped the Millers to sign with the Beloit club, after having led Minneapolis with a .375 batting average, 31 home runs, and 151 RBIs. He then got out of his contract with the Fairies to return to the Millers in 1924. After the trade from Minneapolis to Washington, he played only two games with the Senators before having a dispute with Washington president Clark Griffith. He would never again play in the big leagues, his career in the majors consisting of a total of three games (the other being as a pitcher with the St. Louis Browns in 1915). His quick departure from Washington led to speculation that Griffith would demand the return of Fisher. Minneapolis manager and part-owner Mike Kelley said there was "no danger of the Millers losing George Fisher."
However, Griffith asked for Fisher back on different grounds, maintaining that waivers on him had not been completed and that two American League clubs had not yet waived Fisher. Fisher responded to Griffith's order to return to Washington by going back to Avon to go fishing.
Kelley disputed the timing of the discovery of the waivers infraction by Griffith, claiming that it happened only after East had left the Senators. However, baseball Commissioner Judge Kenesaw Mountain Landis ruled in favor of Griffith and, in mid-May, ordered Fisher back to Washington. Kelley and team president George Belden appealed and went to Chicago to meet with Landis. The trio then ventured back to the Minnesota together as Landis was scheduled to be on hand at a St. Paul Saints game for the opening of the city's Poppy Day sale, an American Legion effort for relief to war veterans and dependents of veterans. (Why Kelley and Belden went to Chicago rather to see Landis rather than just wait for him to come to the Twin Cities is unclear.) Landis was expected to make a ruling on Fisher quickly, but he reserved his decision for more than a week.
The case then got stickier in early June as Griffith traded Fisher (who had made only three appearances, all as a pinch-hitter, since his return to Washington) to the Milwaukee Brewers, a Millers' rival in the American Association, bringing even greater howls from Kelley and Belden. Kelley pointed out that while Griffith recalled Fisher on the pretext that two teams had refused to waive on him, Washington had failed to turn Fisher over to either of those clubs. Then, by trading Fisher to Milwaukee, Kelley maintained that Griffith was admitting that waivers had been obtained on him. Commissioner Landis agreed. Fisher had reported to Milwaukee, but before he could play for the Brewers, he was ordered back to the Millers.
His Washington-to-Minneapolis-to-Washington-to-Milwaukee-to Minneapolis odyssey finally over, Fisher settled into the Millers' lineup and continued his fine hitting, finishing the 1924 season for Minneapolis with a .309 batting average. He did even better in 1925, starting the year by marrying Flora Hanauer in February and then hitting .350 with 19 home runs and 96 RBIs for the Millers. Fisher followed that up the following year with a .329 average as he split the season between Minneapolis and Indianapolis.
Fisher played in only three games for the Millers in 1927 before being sent to Buffalo of the International League, where he spent the next three seasons, producing batting averages of .320, .335, and .336 for the Bisons. Buffalo won the International League championship in 1927 and played in the Junior World Series against the American Association champion Toledo Mud Hens, managed by Casey Stengel. Although Buffalo lost the series, five games to one, Fisher led all hitters with a .476 batting average. (During the 1927 season Fisher had to return home to Avon for the funeral of his brother Alex, who died on July 30.)
In 1929 Fisher hit 36 home runs and drove in 124 runs for Buffalo despite missing the final weeks of the season with an injured arm. His outstanding hitting earned him another shot in the majors as the New York Giants purchased his contract.
New York sportswriters took a liking to Fisher. In early 1930, New York Daily News sportswriter Pat Robinson wrote, "Minor leaguers who watched this fellow Fisher in the International last year says the man never lived who can outhrow him and since he is a slugger of parts and a nifty fielder he has a good chance to eat plentifully around the major league circuit."
Ken Smith, a special correspondent for the New York Graphic, was impressed with Fisher during the Giants' training camp in Texas. "New York fans who go for colorful ball players will take to Fisher from the start. He is one of the brightest characters on the diamond," Smith wrote, "He is the most graceful athlete in camp, effects a nifty batting stance that makes you want to get off in a corner and swing a bat yourself, and fields, throws and runs with all the deftness of a sleek animal. Fisher is neat, stylish and classy out there on the field, perfectly symmetrical in stature and handsome in features with black hair combed pompadour in the middle and he has dimples like Rogers Hornsby [a great hitter then with the Chicago Cubs]."
Fisher apparently made a better impression on the writers than he did New York Giants manager John McGraw. Just before the Giants broke camp, they traded Fisher to the St. Louis Cardinals, along with infielder Eddie Farrell, for Wally Roettger.
Fisher said that McGraw never gave him a chance to prove himself with the Giants. Fisher was considered a throw-in in the trade to St. Louis, which didn't bode well for him because the Cardinals were already well stocked with outfielders. Fisher figured he would be assigned to one of the St. Louis farm teams, in Houston or Rochester, New York. However, at the same time the trade was being made, the Cardinals lost two of their outfielders, Ernie Orsatti, who broke his ankle, and Homer Peel, who became sick with the mumps.
For the second time in his career, Fisher got a chance in the outfield because of mumps (the other being in 1923 when he started a few games when Sam Rice was sick). St. Louis manager Gabby Street was impressed with Fisher's work in the batting cage and put him in the lineup as the Cardinals were wrapping up spring training with the city series against the St. Louis Browns. Fisher responded with a double and triple in the first game of the series, and he stayed in the lineup when the Cardinals opened the regular season on April 15 at home against the Chicago Cubs.
Fisher had four hits in each of the season's first two games, including seven hits in a row at one point. On April 23, nearly seven years after he had made his major-league debut, Fisher hit his first home run in the majors. It was off Charley Root at Wrigley Field in Chicago. At the end of the month, Fisher was hitting .462 and had 17 RBIs in 14 games.
As usual, Fisher had no problem hitting the ball, but he did have problems catching it. Peel, recovered from the mumps, returned to the St. Louis lineup in early June. In addition, George Watkins was being given more time in the outfield. As a result, Fisher found himself mostly watching from the bench as the Cardinals reeled off 17 wins in 18 games in mid-May.
Fisher returned to a starting role for a few spurts over the rest of the season, including a couple of occasions when left-fielder Chick Hafey (a future Hall of Famer) was injured. At the end of July, the Cardinals were tied for fourth place, 11 games out of first. However, St. Louis won 31 of its last 37 games and took the National League pennant.
Fisher made some contributions early in this surge. He had three hits, including two triples, in a 9-8, 11-inning win at Cincinnati on August 2. His other hit was a single that drove in Hafey with the go-ahead run in the 11th. The next day, Fisher had three hits and a home run in a win over the Reds. However, over the last three weeks of the season, Fisher played in only five games, three of them as a pinch-hitter.
He didn't see much action in the World Series (just two pinch-hitting appearances, striking out in one and doubling in the other), as the Cardinals lost the series, four games to two, to the Philadelphia Athletics.
Despite his sporadic playing time during the latter part of the season, Fisher had acquired his colorful nickname and earned a lot of fans in St. Louis. Years later, he elaborated on the style of hitting mentioned in the opening paragraph of this article: "I had a little style of my own when I'd go up to bat. Me and [Babe] Ruth hit alike, with both feet tight together and the bat down around your belt."
After the 1930 season, the Cardinals put Fisher on waivers. When no one claimed him, he was released to the Rochester team in the International League. An article in The Sporting News described his demotion as "particularly a puzzle to the public that a man like Fisher should be waived on by all major league clubs, with so many of them openly eager to add a hard-hitting outfielder to their roster. . . . However, Fisher proved to be one of those outfielders best described as a man with a bat in his hands. There's no doubt about his hitting ability. And he has a fine spirit, a will to win and an eagerness to do whatever the manager asked, but he can't cover ground. The public doesn't see that. They saw Fisher make some good catches. But they didn't notice that he was too slow starting for every chance. The spectator's eyes were on the ball as it left the bat, and when they did cast their eyes at Fisher he was running. But the time he lost in getting a jump on the ball reduced the amount of ground he could cover. The baseball scouts noticed that, and that is why Fisher, despite his unusual hitting ability, was not claimed by any big league clubs when the Cardinals asked for waivers."
Fisher almost didn't play for anyone in 1931. He had an insurance business back in Avon and thought he could make more money devoting all his time to it rather than take a cut in pay to go to Rochester. Fisher and his wife already had three sons by this time, George Jr., Richard, and Lewis (a daughter, Ruth, would be born in 1932), and he had to consider his most lucrative sources of income. However, when Rochester matched his pay from the previous season, he signed his contract.
In Rochester, Fisher was reunited with Warren Giles, the team's president, who had been the business manager for the St. Joseph team Fisher had played for 10 years earlier. Giles would later become the National League president and be inducted into the Hall of Fame, as would the Rochester manager in 1931, Billy Southworth. Fisher hit .325 with 17 home runs in 120 games and helped the Red Wings win the International League pennant for the fourth straight year. Rochester then won the Junior World Series, five games to three, over the American Association champion St. Paul Saints. Fisher had three appearances as a pinch-hitter, with one hit, in the series.
Fisher played the first half of the 1932 season with Rochester before the Cardinals traded him to the St. Louis Browns at the end of June. Fisher appeared in 18 games over the next month before he was sent to the Milwaukee Brewers of the American Association. He never played in the majors again, spending the rest of the 1932 season with Milwaukee, then splitting the 1933 season with Milwaukee and a couple of teams, Little Rock and Nashville, in the Southern Association.
His professional baseball career over, Fisher returned home and soon purchased a roadside tavern on Middle Spunk Lake in Avon. To attract customers, Fisher gave away free fish on Fridays, with all of the fish being caught by Fisher's children. Eventually he began charging for the fish on an all-you-could-eat basis. Fisher's son and daughter-in-law, George Jr. and Sally, eventually took over the establishment and ran it for many years before selling it to a group that includes entertainer Garrison Keillor. Fisher's Club is still in operation.
Fisher also kept his insurance business and ran unsuccessfully for the Minnesota Senate in 1958. Fisher enjoyed fishing, trapshooting, hunting, playing poker, and especially golf. He spent most nights on the golf course and shot his age for the first time in 1973. He carded a 74 at the St. John's University Alumni Golf Tournament at the age of 74. "I came within one stroke of my age for three years, and I started thinking that I'd never make it," he said at the time. "It should get easier from here on in."
Flora Fisher died February 15, 1989, shortly after the couple's 64th anniversary. George Fisher continued playing golf until he was 92, then spent the last two years of his life in a nursing home in Albany. He died May 15, 1994. In addition to George Jr. and Lewis, the Fishers were survived by a son, Dick, and a daughter, Ruth. Fisher is buried in St. Benedict Parish Cemetery in Avon.
Note
A version of this biography appeared in the book Minnesotans in Baseball, edited by Stew Thornley (Nodin, 2009).
Sources
Correspondence with George "Showboat" Fisher, January 1985.
Telephone conversation with Lewis Fisher (son), November 7, 2008.
Telephone conversation with Richard "Dick" Fisher (son), November 10, 2008.
Telephone conversation with Ruth Hipp (daughter), November 17, 2008.
"Base Ball Main Topic of Week: Melrose Beats Wood in Big Game with Osakis at Fair," Melrose Beacon, Thursday, September 18, 1919, p. 1.
"Melrose Victors in Fast Game: Foley Defeated in Eleven Innings 2 to 1," Melrose Beacon, Thursday, September 25, 1919, p. 1.
"Millers' Swan Song is a Double Defeat," Minneapolis Tribune, Monday, September 29, 1919, p. 10.
"Avon News," Albany Enterprise, Thursday, October 2, 1919, p. 5.
"George Fisher Will Train with Minneapolis Team," Albany Enterprise, February 12, 1920, p. 12.
"Millers Twice Trim Blues, 2-1, 7-4: New Pongo Moundsman Foils Kaws: Fisher, Dakota League Recruit Airtight," Minneapolis Tribune, Monday, September 13, 1920, p. 10.
"George Fisher, Former St. John's Student, Making Great Record" by John P. Broderick, St. Cloud Daily Times, Wednesday, July 26, 1922, p. 6.
"Shining Lights from out of the West," The Sporting News, November 9, 1922, p. 3.
"President Harding Sees Yanks Check Bushmen's Winning Streak—Babe Ruth Goes on Batting Spree," Washington Post, Wednesday, April 25, 1923, p. 18.
"Nats Dispatch Fisher to Play for New Haven," Washington Post, Saturday, June 9, 1923, p. 18.
"'Lefty Lou' Gehrig Makes Debut as Hurler and Hartford Defeats New Haven 6 to 4," Hartford Courant, Friday, September 21, 1923, p. 13.
"Lefty Lou Gehrig Twirls Senators to Win over Profs," Bridgeport Telegram, Friday, September 21, 1923, p. 16.
"East-Fisher Deal Appears a Lifesaver for Millers," Minneapolis Tribune, Tuesday, April 29, 1924, p. 14.
"Fisher, M'Graw Heroes of Miller Victory" by George A. Barton, Minneapolis Tribune, Sunday, May 4, 1924, p. 3.
"East, Traded to Washington by Millers, Jumps Back to Beloit: Fisher Will Remain Here, Kelley Says" by Hubert M. Dustin, Minneapolis Tribune, Wednesday, May 7, 1924, p. 22.
"Beloit Boss Admits East Is on His Way," Washington Post, Wednesday, May 7, 1924, p. 1 Sports.
"Kelley Betrays No Intention of Relinquishing Fisher" by Hubert M. Dustin, Minneapolis Tribune, Saturday, May 10, 1924, p. 28.
"Griff's Reserves Filling in Nicely: Deflection [sic] of Carl East Promises to Make Interesting Controversy as Nationals Want Fisher Returned" by Paul W. Eaton, The Sporting News, May 15, 1924, p. 2.
"Griffith Demands Fisher Back When East Deserts Senators: Mike Kelley at Minneapolis, However, Insists Washington Must Take Its Loss and That Outfielder Will Stay with Millers" by Chas. Johnson, The Sporting News, May 15, 1924, p. 3.
"Fisher Hopes to Remain with Minneapolis Team" by George A. Barton, Minneapolis Tribune, Friday, May 16, 1924, p. 21.
"Notes of the Nationals," Washington Post, Friday, May 16, 1924, p. 3.
"Miller Notes," Minneapolis Tribune, Saturday, May 17, 1924, p. 26.
"Lady Luck Frowns on Griffith's Team: Beloit of Mid-west League Begins to Look Like Washington Team; Fisher Returned by Minneapolis" by Paul W. Eaton, The Sporting News, May 22, 1924, p. 3.
"Decision in Fisher Case Expected Today: Judge Landis, Mike Kelley and President Belden Arriving in Twin Cities this Morning after Conference" by Hubert M. Dustin, Minneapolis Tribune, Saturday, May 24, 1924, p. 29.
"Decision in Fisher Case Is Reserved: Commissioner Not Ready to Announce Adjustment of Compensation," Minneapolis Tribune, Sunday, May 25, 1924, p. 2 Sports.
"Poppies Fall in Showers From Lexington Park Sky; Landis Buys First One, Exhorts Legion to Carry On," St. Paul Pioneer Press, Sunday, May 25, 1924, p. 1.
"Nats Get Wid Matthews from Milwaukee Nine: Griffith Trades Fisher and Coin to Brewers for Outfielder" by Frank H. Young, Washington Post, Tuesday, June 3, 1924, p. 1 Sports.
"Kelley Protests Deal Sending Fisher to Milwaukee" by Hubert M. Dustin, Minneapolis Tribune, Wednesday, June 4, 1924, p. 16.
"George Fisher Is Awarded to Millers by Commissioner Landis: Ordered to Join Kels at Kansas City" by George A. Barton, Minneapolis Tribune, Thursday, June 5, 1924, p. 21.
"Toledo Shuts Out Buffalo; Wins Title," New York Times, Friday, October 7, 1927, p. 31.
"Composite Score Junior World's Series," The Sporting News, October 13, 1927, p. 7.
"George Fisher, Avon Boy, Stars with Buffalo Nine," St. Cloud Daily Times, Thursday, May 2, 1929, p. 18.
"George Fisher, Former Miller, Sold to Giants," St. Cloud Daily Times and Daily Journal-Press, Tuesday, September 17, 1929, p. 13.
"George Fisher Seen as Likely League Leader," St. Cloud Daily Times and Daily Journal-Press, Tuesday, February 11, 1930, p. 12. (Comments from New York Daily News sportswriter Pat Robinson.)
"George Fisher, Now with Giants, Impresses Texas Sports Writer," St. Cloud Daily Times and Daily Journal-Press, Thursday, March 27, 1930, p. 18. (Comments about Fisher from Ken Smith, special correspondent for the New York Graphic.)
"George Fisher Traded to St. Louis Cardinals by New York Giants: Move May Lead Outfielder to Minor Circuits: Cards Not in Need of Outfielders This Season, Experts Declare," St. Cloud Daily Times and Daily Journal-Press, Friday, April 11, 1930, p. 21.
"Fisher Wants to Make John M'Graw Regret Trading Him," St. Louis Star, Saturday, April 19, 1930, p. 4.
"Broke in with a Bang," The Sporting News, April 24, 1930, p. 1.
"Fisher Again Stars as Cards Beat Cubs," New York Times, Friday, April 25, 1930, p. 29.
"Suhr and Fisher Blaze Trail as Newcomers Big for Major Jobs" by Fred G. Lieb, The Sporting News, May 8, 1924, p. 3.
"Cardinals' Destiny Hangs on Road Trip," The Sporting News, July 10, 1930, p. 1.
"George Fisher Leads Circuit with .426 Mark: Loses Out in Official Averages Because He Shares Position Too Often," St. Cloud Daily Times and Daily Journal-Press, Saturday, July 12, 1930, p. 14.
"Cards Release George Fisher and Ralph Judd to Rochester" by Herman Wecke, St. Louis Post-Dispatch, Sunday, November 30, 1930, p. 20.
"Cards Clean House to Replace Stars Plucked from Rochester: Six Players Are Shipped to Minors: St. Louis Fans Puzzled as Andy High, Fisher Are Waived Out of Majors," The Sporting News, December 4, 1930, p. 1.
"Pitch or be an Infielder is Advice of George Fisher to Young Baseball Stars," St. Cloud Daily Times and Daily Journal-Press, Monday, February 9, 1931, p. 12.
"George Fisher Signs Contract," St. Cloud Daily Times and Daily Journal-Press, Friday, February 27, 1931, p. 17.
"George Fisher Signs with Rochester Club," Holdingford Herald, Thursday, March 5, 1931, p. 1.
"Fisher Signs with Rochester," The Sporting News, March 5, 1931, p. 2.
"George Fisher Going Good with Rochester," Holdingford Herald, Thursday, April 9, 1931, p. 1.
Advertisement for "George A. Fisher for State Senator," Cold Spring Record, Thursday, September 4, 1958, p. 6.
"'30 Redbirds Swap Yarns of Miracle Finish: Cards Honor Pennant Crew that 'Came Out of Nowhere'" by Ralph Ray, The Sporting News, August 17, 1960, p. 11.
"'Showboat Fisher Should Have Been Designated Hitter" by Rob Held, St. Cloud Daily Times, Thursday, July 19, 1973, p. 22.
"Forty Years of Fish, Fun and Friends," Stearns-Morrison Enterprise [Albany], Tuesday, August 10, 1976, p. 9.
"Family Mourns Father's Death; Majors Baseball Player Remembered" by Tara Ploumen, St. Joseph Newsleader, Friday, June 17, 1994, p. 7.
Born
January 16, 1899 at Wesley, IA (USA)
Died
May 15, 1994 at St. Cloud, MN (USA)
If you can help us improve this player's biography, contact us.
http://bioproj.sabr.org/bp_ftp/images4/FisherShowboat.jpg
600
800
admin
/wp-content/uploads/2020/02/sabr_logo.png
admin
2012-01-04 20:32:36
2012-01-04 20:32:36
Showboat Fisher