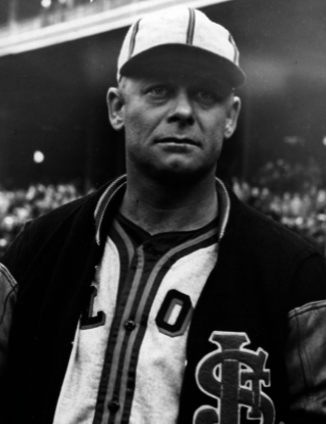 ---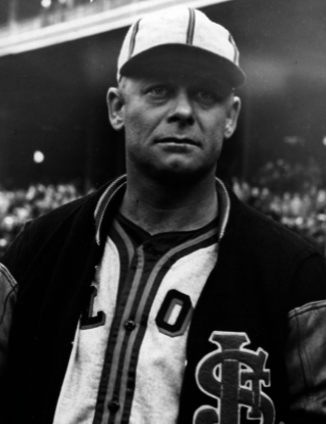 Big right-hander Sig Jakucki was once described as having a "$100,000 arm and a million-dollar thirst."1 Converted to a pitcher while a minor leaguer, Jakucki had a cup of coffee as a 27-year-old with the St. Louis Browns in 1936. Out of Organized Baseball for almost six years, Jakucki returned to the Browns in 1944, surprisingly won 13 games, and pitched the most important game in the club's history, a complete-game victory over the New York Yankees on the last day of the regular season to give the Browns their only pennant. But a penchant for drinking and fighting made Jakucki an unpredictable and divisive player. His big-league career came to an end when the Browns suspended him less than a year after his greatest achievement. "He was a mean son of a bitch, a big strong bastard that would turn over a juke joint every night if he could," teammate Ellis Clary said of Jakucki. "But you could not help but like him if he was on your side."2
A life in professional baseball could not have been foretold when Sigmund Jakucki was born on August 20, 1909, in Camden, New Jersey, across the Delaware River from Philadelphia. His parents, John and Johanna (Opszynski) Jakucki, were Polish immigrants who arrived in the United States at the turn of the century looking for a better life. According to US Census reports, John found work as a blacksmith at the Penn Shipyards and later in wool and soap factories; Johanna was a homemaker who raised four children, Henry, Sigmund, Theodore, and Florentina, born between 1908 and 1914. Growing up with limited means in the predominantly Polish-immigrant neighborhood of Liberty Park, Jakucki reportedly left school after the seventh grade and found piecemeal work.3 By all accounts athletic, strong, and big for his age, Jakucki probably got his formal introduction to baseball with the Polish Citizens Club, associated with the family's parish, St. Joseph's Catholic Church.4 Jakucki played shortstop and the outfield for the club and competed against semipro teams in southern New Jersey and Philadelphia.
With limited education and a burning desire to see the world, Jakucki enlisted in the US Army in 1927 and spent the following four years (1927-1931) stationed primarily with the 11th Field Artillery at the Schofield Army Barracks in Honolulu, Hawaii. The burly 6-foot-2, 200-pound Jakucki established a local reputation as a slugging sensation for his base team. Jakucki received an early medical discharge from the Army during his second tour; according to some sources, a local baseball promoter helped secure Jakucki's release5 or "bought his release."6 In any case, Jakucki joined the semipro Honolulu Braves, a team consisting of "Hawaiian born Japanese and Chinese, a few Portuguese, two native Hawaiians, and two players from the American mainland."7 A shortstop, outfielder, and occasional pitcher, Jakucki gained additional exposure when he played against a squad of major-league stars (including Lefty Grove, Lou Gehrig, Al Simmons, and Mickey Cochrane) organized by "Baseball's Ambassador to the Orient," promoter Herb Hunter.8 A fan favorite, Jakucki reportedly clouted three home runs in a game in Tokyo on one of the two trips he made with the Honolulu Braves to Japan to compete against local professional and semipro teams.9 He also played for Asahi in Honolulu, a semipro team made up of Hawaiian Japanese.
Jakucki was spotted by Bill Inman, a scout for the San Francisco Seals of the Pacific Coast League. In spring of 1934, Jakucki traveled to San Francisco (by one account fans collected money to pay for his expenses) for a tryout.10 Unable to handle the Seals' mature hurlers in spring training, Jakucki was eventually sent across the bay to the PCL's Oakland Oaks. After he batted just .202 (17-for-84) as an outfielder, the Oaks sold him to the Galveston Buccaneers of the Class A Texas League, where manager Bill Webb converted the hard-throwing right-hander into a pitcher. Jakucki thrived in his new role, winning 10 of 17 decisions in 28 games accompanied by a 3.20 ERA in 138 innings for the league champions. "I guess being sent to Galveston was a good break for me," he said in 1944. "I could play shortstop or in the outfield good enough to stand out in Hawaii. …I could hit that kind of competition, but when I got into Class AA or A ball, well, you had to have more to get by."11
In three seasons with the Buccaneers (1934-1936) Jakucki proved to be a durable, hard-throwing moundsman with a proclivity for wildness – and not just on the baseball diamond. In 1935, his first full season as a pitcher, the 25-year-old led the Texas league with 51 appearances and won 15 games, but walked 117 batters on 279 innings. He beaned 23-year-old Johnny Keane (a future big-league manager), who was in a coma for a week. The following season provided a glimpse into Jakucki's violent and often uncontrollable temper. In Houston to play the Buffaloes, Jakucki charged into the stands and started pummeling fans who had been riding him throughout the game. He and catcher-manager Jack Mealey, who also went into the stands, were suspended indefinitely.12 Although Jakucki was uniformly castigated by the press, he was reinstated a week later.
Jakucki struggled for most of 1936, but caught fire in the last six weeks of the season. He tossed a seven-inning no-hitter against Oklahoma City on July 16, and soon had the attention of major-league scouts. On the recommendation of scout Bobby Goff, the St. Louis Browns purchased Jakucki's contract on August 18, and Jakucki joined the Browns.13
Known to his teammates as Jack or Sig, the big right-hander made his major-league debut in the second game of a double header against the Washington Senators on August 30. He yielded only four hits in six innings but walked seven, surrendered five runs (four earned), and was collared with the loss, 7-4. He finished the season with an unsightly 8.71 ERA in 20⅔ innings and lost all three of his decisions.
Jakucki was fiercely independent and unpredictable, and kept his own council. In 1937, at the conclusion of what proved to be his last big-league spring training for seven years, Jakucki went AWOL when the Browns optioned him to Galveston. Jakucki and manager Rogers Hornsby (a noted teetotaler) clashed because of the pitcher's excessive drinking.14 Jakucki eventually reported to Galveston, but was a "bitter disappointment," winning just three games, losing six, and posting a 5.70 ERA. He was sold to the New Orleans Pelicans in the Class A-1 Southern Association where he found his groove, won 12 games, and secured the third-best ERA in the league (2.75). The Pelicans also got Jakucki's fighting side – on and off the field. In an episode described by the New York Times' Arthur Daley, Jakucki and teammate Chief Euel Moore attended a wrestling match in Atlanta where they got into a brouhaha with the referee (whom Jakucki "flattened"), the wrestlers, and fans, and ultimately ended up in jail.15 The Pelicans' exasperated owner, Larry Gilbert, let Jakucki spend a few days behind bars before he sent him to the Los Angeles Angels in a multiplayer trade in the offseason.
Jakucki wore out his welcome with the Angels after just 25 innings and was sent to the Shreveport Sports in the Texas League. After three appearances, Big Jack quit the team and returned to Galveston, his hometown since 1934.
Jakucki was out of Organized Baseball from 1938 through 1943. He worked as a painter and paper hanger as well as in the shipyards, and played semipro baseball. He played in the national semipro tournament in Wichita, Kansas, for three consecutive years (1940-1942), causing an uproar each season for different reasons. Jakucki was the pitching sensation for a Houston-based team in 1940; then was disqualified in 1941 when it was discovered that he had signed contracts with two teams (the Bona Allens from Buford, Georgia, and the Waco Dons). After losing a 2-1 game in the 1942 tournament, an inebriated Jakucki confronted the home-plate umpire, whom he later dangled over a bridge, threatening to drop him before he was arrested at gunpoint.16 Ray Dumont, president of the National Semi-Pro Conference, called Jakucki the "most persistent problem child in the ten-year history" of the association.17 A legend of sorts whom home fans loved and visitors despised, Jakucki was elected to the National Baseball Conference Sandlot Hall of Fame in 1942 in spite of his off-the-field excesses.18
Like most major-league teams during World War II, the St. Louis Browns fielded a talent-depleted squad consisting of aged veterans, 4-F (medically unfit to serve) players, and prematurely promoted minor leaguers to compensate for the veterans lost to the war effort. In March 1944 Jakucki was surprised to receive a letter from Browns general manager Bill DeWitt inviting the 34-year-old to spring training, which was conducted in Cape Girardeau, Missouri, under wartime travel restrictions. Praised for his "fast one," Jakucki made the team.19 The press often referred to Jakucki as the "three-cent stamp pitcher" in reference to the price of a stamp needed to acquire Big Jack.20
In what proved to be his only full season in the big leagues, Jakucki played on the most memorable Browns team ever and starred in the most important game in the franchise's history. Along the way he also demonstrated that he was one of the strongest, toughest, and meanest players baseball had seen in quite some time. With his large, work-hardened hands, Jakucki impressed teammates by warming up with iron bearings shaped like baseballs on days he pitched; he claimed that the baseball felt light after such a workout.21
In his first big-league game since 1936, Jakucki tossed a complete game to defeat the Detroit Tigers, 8-5, on April 20 and notch his first major-league win. Used a starter and reliever in May, Jakucki was firmly ensconced as a starter by June. On June 17 and 23 he tossed consecutive shutouts over the Tigers, surrendering seven and five hits respectively to extend his winning streak to four games. Against the Philadelphia Athletics at Shibe Park on July 4, he hurled his third shutout (an eight-hitter) in four starts. Described by The Sporting News as a "sensation on the mound," Jakucki was one of the biggest surprises in all of baseball. The Browns, historically the worst team in the history of the AL, were in an unexpected pennant race and led by a strong pitching corps including Jack Kramer, Nels Potter, Bob Muncrief, and Denny Galehouse. "Finding Jakucki was a tremendous break," suggested The Sporting News in August. "It looks like he might have made the difference between success and failure."22
Jakucki's excessive drinking and fighting have attained legendary if not mythical stature. "I wouldn't say that [Jakucki] was an alcoholic, but he drank a lot," said fellow right-hander Galehouse. "He was the barfly."23 Big Jack's two seasons with the Browns are filled with stories about his excesses. "I got sick in Boston," said Jakucki, recalling an episode at Fenway Park. "I threw up right there on the mound. I went in and got a glass of water and came back out."24 "I don't know how you classify people like him," said Jimmy Outlaw of the Tigers. "He was a kind of a tough guy. He was ready to fight at any time."25 Browns backup catcher Joe Schultz said many years later, "Jakucki used to spit on your shoes and dare you to do something about it."26 According to teammate Ellis Clary, he and Jakucki were drinking at a bar across the street from the New Yorker Hotel in Manhattan when they got into fight with a supposed mobster who pulled a gun on Jakucki. Big Jack grabbed the gun and knocked the gangster unconscious. "He was into something every night," said Clary. "Jakucki, goddamn, he was like Al Capone rolling around at night."27
In the final week of the most exciting season in Browns history, Jakucki tossed a five-hitter to defeat the Boston Red Sox 1-0 on September 26 at Sportsman's Park (his fourth shutout of the season) and kept the Browns in a tie for first place with the Detroit Tigers, with the reigning champion New York Yankees lurking just three games back. As fate would have it, the Browns' pennant hopes were decided on the last weekend of the season in a four-game series with the Yankees. The Browns won the first three games, holding New York to just one run, and set up what New York Times sportswriter John Drebinger called the "most dramatic finish any championship campaign has ever seen."28
Entering the last day of the season tied with the Tigers, Browns manger Luke Sewell chose Yehoodie (his pet name for Jakucki) to start the season finale.29 Recognizing the significance of the game, Browns players pleaded with Jakucki to refrain from drinking the night before he pitched. But Jakucki had other plans. "They knew I wasn't gonna be in my room," he said years later. "I went to bed at 6 in the morning and the game didn't start until 1:30. I was there."30 In front of a record crowd of 35,518 spectators in Sportsman's Park, Jakucki pitched a six-hitter to defeat the Yankees, 5-2. The Browns' victory, coupled with the Tigers' 4-1 loss to the Washington Senators, gave the long-suffering club their first and only pennant in St. Louis. "Drunk or not," wrote longtime St. Louis sportswriter Bob Broeg, "big Sig was competitive."31 Jakucki finished the season with 13 victories, completed 12 of 24 starts (35 appearances), and carved out a 3.55 ERA in 198 innings.
The "Trolley World Series" pitted the Browns against the St. Louis Cardinals. For the first time since the New York Giants and the New York Yankees battled in the Polo Grounds in 1922, all of the World Series games were played in one ballpark, Sportsman's Park, which was owned by the Browns; the Cardinals were tenants. The Browns won Game One, but lost four of the next five to the heavily favored Redbirds. Jakucki squared off against Harry Brecheen in Game Four, but lasted only three innings, surrendering five hits and four runs (three earned) and was saddled with the 5-1 loss.
Named Opening Day starter in 1945, Jakucki tossed a six-hitter to defeat Detroit, 7-1. On June 1, he blanked the Philadelphia A's on three hits to keep the Browns just 4½ games off the AL lead. He concluded the first half of the season by winning six consecutive decisions (including five complete games) to improve his record to 9-5. However, Jakucki's behavior was increasingly erratic and his boiling point seemingly had become lower. On June 20 Jakucki was involved in the "Battle of the Dugout," one of the most brutal brawls in major-league history, when he and several Browns players charged into the White Sox dugout at Sportsman's Park and savagely pummeled Karl Scheel, Chicago's batting-practice pitcher, who had been riding the Browns throughout the game. Scheel landed in the hospital; Jakucki (who was not pitching that day) was not suspended.32 Jakucki struggled after the All-Star break, losing five of seven decisions as the team drifted off the lead. While tensions in the clubhouse intensified, Jakucki often took out his frustrations on teammates, especially one-armed outfielder Pete Gray, whom he harassed viciously.33
Jakucki's tenure with the Browns came to an abrupt end on Saturday, September 1, when he arrived drunk at Union Station in St. Louis as the team prepared to depart to Chicago. Jakucki and Sewell's relationship had deteriorated and hit its nadir in Jakucki's last start, a miserable outing lasting just 2⅓ innings.34 According to several eyewitnesses, Sewell prohibited Jakucki from boarding the train, whereupon the stout pitcher challenged his manager and coaches Fred Hoffmann and Zach Taylor to fight. Jakucki nonetheless boarded the train, but was escorted off by police at the Delmar station, about five miles away. Bob Bauman, the Browns' longtime trainer, reported that Jakucki hopped a freight train and arrived at the team's hotel in Chicago demanding a room, but was denied one. Finally GM Dewitt suspended him indefinitely, on the spot, and his major-league career was at an end.35 The Browns were only four games out of first place at the time, leading Bob Broeg to speculate that the team might have won a second pennant had Jakucki not been so unpredictable and violent.36 Big Jack finished the season with a 12-10 record, completed 15 of 24 starts, and posted a 3.51 ERA in 192⅓ innings.
The Browns reinstated Jakucki in the offseason, paving the way for his sale to the San Antonio Missions of the Texas League when not one major-league team expressed interest in acquiring him.37 At the age of 36, Jakucki had arguably his best year in Organized Baseball with San Antonio, winning 15 games and putting up an impressive 2.16 ERA. But when his team needed him most, he "took a powder" and went AWOL during the league playoffs.38
Running out of options and with too many burned bridges in the Texas League, Big Jack signed with Seattle of the PCL in 1947. The Rainiers employed him as a starter and occasional reliever, then traded him the Sacramento Solons on July 31, but rather than report, Jakucki jumped the team and returned home to Galveston. 39 He subsequently was suspended and never played professional baseball again.
For a brief moment, Sig Jakucki was the biggest name in St. Louis baseball. He concluded his three-year big-league career with 25 wins, 22 losses, and a respectable 3.79 ERA. He won 77 games in his seven-year minor-league career.
In Galveston Jakucki lived the rest of his life in relative obscurity. He continued working odd jobs, mainly painting, and also in the shipyards in the 1950s. Jakucki gradually lost contact with baseball, save for his teammate Frank Mancuso, who was active as a city councilman in Houston in the 1970s. In his later years, Jakucki suffered from emphysema brought on by years of smoking three packs of cigarettes a day, as well as cirrhosis of the liver, likely due to his years of alcohol abuse.40
Destitute, Jakucki was found dead in his room at a flophouse, the Panama Hotel, on May 29, 1979. He was 69 years old and had no survivors.41 Services were held at the J. Levy and Brothers Funeral Home, and he was buried at the Calvary Cemetery in Galveston. On his gravestone, his name is misspelled as Jackucki.
This biography originally appeared in "Van Lingle Mungo: The Man, The Song, The Players" (SABR, 2014), edited by Bill Nowlin.
Sources
Books

Broeg, Bob, One Hundred Greatest Moments in St. Louis Sports (St. Louis: Missouri Historical Society Press, 2000).
Gaus, Ed, Beerball: A History of St. Louis Baseball (Lincoln, Nebraska: iUniverse, 2001).
Goldman, Steve, ed., It Ain't Over Till It's Over (Philadelphia: Perseus, 2007).
Heidenry, John, and Brett Topel, The Boys Who Were Left Behind. The 1944 World Series Between the Hapless St. Louis Browns and the Legendary St. Louis Cardinals (Lincoln, Nebraska: University of Nebraska Press, 2006).
Heller, David Alan, As Good As It Got: The 1944 St. Louis Browns (Charleston, South Carolina: Arcadia, 2003).
Mead, William M., Baseball Goes to War. Stars Don Khakis, 4Fs Vie for Pennant (Washington, D.C.: Broadcast Interview Source, 1998).
Mead, William M., Even the Browns: Baseball During World War Two (Chicago: Contemporary, 1978).
Swaine, Rick, Beating the Breaks. Major League Ballplayers Who Overcame Disabilities (Jefferson, North Carolina: McFarland, 2004).
Newspapers
Galveston Daily News
New York Times
The Sporting News
Websites
Ancestry.com
BaseballAlmanac.com
BaseballCube.com
BaseballLibrary.com
Baseball-Reference.com
SABR.org
St. Louis Browns Historical Society (thestlbrowns.com/)
Other
Sig Jakucki player file, National Baseball Hall of Fame, Cooperstown, New York.
Notes
Born
August 20, 1909 at Camden, NJ (USA)
Died
May 29, 1979 at Galveston, TX (USA)
If you can help us improve this player's biography, contact us.
http://sabr.org/sites/default/files/JackuckiSig.png
600
800
admin
/wp-content/uploads/2020/02/sabr_logo.png
admin
2012-01-04 20:18:45
2012-01-04 20:18:45
Sig Jakucki