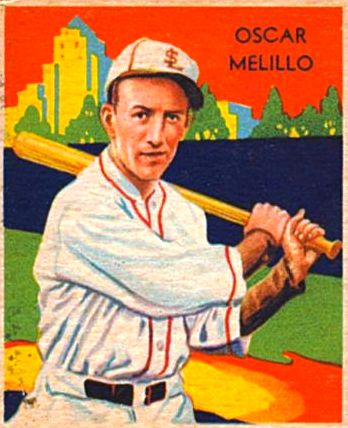 ---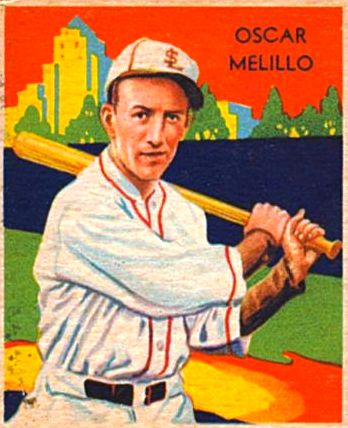 It sounds like a parody of Popeye, but the doctor was deadly serious when he told Oscar Melillo in 1926 that if he wanted to live he could eat nothing but spinach. Facing a potentially fatal kidney problem (Bright's Disease), the 27-year-old Melillo wisely followed the doctor's remedy and recovered from the disease, enabling him to continue his baseball career and live to the age of 64. Rather than having parodied Popeye in fact, Melillo's story may have actually inspired it. The comic strip was created three years after Melillo's diagnosis, by E.C. Segar, who may have known of the ballplayer's story.
Melillo reached the major leagues in 1926 after six seasons in the minors. He then played 12, through 1937, mostly as a second baseman. The first nine-plus were for the St. Louis Browns and the final nearly three seasons were as a member of the Boston Red Sox. He finished with a career .260 average, driving in 548 runs and scoring 590. Melillo then coached at the major-league level for 13 more years.
Melillo was of slight stature, standing 5-feet-8 and weighing 150 pounds. He was born on August 4, 1899, in Chicago to Italian immigrant parents Maria Scaldaferri and James Melillo, a painter and shoe cobbler. Both had come to the United States from Tuscany in 1883. Oscar was the youngest of five children; his older siblings included Josephine, Munzie, James, and Rosie.
He started a working life early, dropping out of high school almost as soon as he got there, "playing hookey and golf and baseball, particularly baseball." He took a job in the office of the Chicago & Eastern Illinois Railroad, attending night school to take stenography, but too much teasing about being a "sissy" led him to apprentice as a tool maker at International Harvester in West Pullman, Illinois – certainly a more masculine-sounding job. He started playing baseball on weekends with the Alma Maters, the company semipro team (ironically named, as none of them had ever gone to college), soon becoming captain and center fielder of the team, which only lost one game in the 1918 and 1919 seasons. Melillo then became a center fielder (perhaps for only one game) for the noted Logan Squares semipro team in Chicago. [The Sporting News, September 15, 1932; Calumet Index, June 28, 1954; and unattributed notes in Melillo's Hall of Fame player file]
A connection to International Harvester dated back to his grammar school days. The company's football team had a popular left tackle named Frank Fiske, whose nickname was Ski. Some of the other kids saw the way Melillo kicked the ball and helped pin the nickname on him. Years later, when he himself was working for the company, Oscar cheered Fiske on so much that his fellow workers started calling him "Ski" as well.
Catcher Jake "Tomatoes" Kafora, who played in parts of a couple of years with the Pittsburgh Pirates, recommended him for his first job on organized ball, to manager Jack Sheehan of the Winnipeg Maroon. He signed with them in the fall of 1919. He played two years of outfield in the Western Canada League in 1920 and 1921 – though he almost didn't stick. He was so homesick he said he was quitting after the first few weeks; Sheehan explained that homesickness was temporary and that he had the makings of a grand ballplayer. He hit .291 in each of his first two seasons, with 40 more at-bats the second year. After the two years of Class B ball, it was on to Milwaukee, where he played four years (1922 through 1925) in the American Association, improving his average each year from .280 to .294 at Double A. His contract had been packaged as a late "throw-in" when the Brewers bought pitcher Eddie Schaack. [Calumet Index, June 28, 1954]
Midway into his second year with the Brewers, he transitioned to the infield when the team's second baseman, Fred "King" Lear, jumped the club to play with a team in the Wisconsin Industrial League. Oscar had played second base with the team in some postseason barnstorming in the fall of 1922, so he volunteered to take the job; shortstop Johnny Cooney seconded the notion, and he kept it.
His final year with the Brewers, 1925, saw a .294 average, with 46 extra-base hits (13 of them home runs). Major league scouts were following him, and the Brewers reportedly turned down $50,000 in cash but accepted five ballplayers from the St. Louis Browns. Manager George Sisler was trying to strengthen the Browns' defense and dealt for the second baseman that some writers were beginning to call "the new Lajoie." [Atlanta Constitution, December 24, 1925. Later reports seemed to agree that the Browns had actually paid the money instead of supplying all those players.] With Milwaukee, Melillo had set a new record, handling 1,096 chances at second in 1925, and took part in 132 double plays.
In the fifth game of the 1926 season, he took over late in the game for third baseman Gene Robertson and went hitless in his first major-league at-bat. His first hit came the next day, a double with a run batted in. His first game-winning hit came later in April, as he singled in the bottom of the 12th inning in a 2-1 victory over the White Sox. He didn't homer often (22 in his 12 seasons); the first and only one of his rookie year was hit off Washington pitcher Dutch Ruether on June 18, tying the game in the eighth inning. His fielding won acclaim: On July 21 the New York Times wrote, "One reason the Yanks lost was Melillo's beautiful stop of Keonig's fast grounder near second, resulting in a double play of what should have been a base hit. Ruth's homer followed immediately, but nobody was on."
Melillo appeared in 99 games in 1926,a year in which the Browns tumbled to seventh place after they finished third the year before. Melillo's season had ended prematurely, after the August 9 game when he was hospitalized for six weeks with what was described as "complications due to a bad case of tonsillitis." [Chicago Tribune, October 13, 1926] Indeed, he was only released at the end of October, after being diagnosed with what was termed kidney poisoning.  For the season he batted 255 with 29 RBIs and 54 runs scored. His fielding was good – although he committed 22 errors, that was just two more than player-manager Sisler at first base and far fewer than Wally Gerber's 37 at short.
Following the kidney poisoning diagnosis, Melillo began his unusual diet. "They told me to eat nothing but spinach for the next few months if I wanted to live," he said. "I tried to talk them into letting me have a steak, spaghetti, ravioli, or goulash once in a while, but they said nothing doing. When I told them I couldn't stand the monotony of spinach three times a day, they told me I could have some variety by boiling it for breakfast, making a salad of it for lunch, and baking it for dinner." [The Sporting News, November 30, 1963] Between meals, he was allowed to chew on raw carrots. It's not surprising that he also earned the nickname "Spinach." [American League Services Bureau press release by Henry P. Edwards, December 31, 1920]
He was fortunate to survive, but there he was reporting to the Browns for spring training in 1927. He played all season long, getting spelled a couple of times a week while appearing in 107 games. He didn't hit as well (.225), though, and his fielding suffered (36 errors, a .935 fielding percentage). Three errors came in one game, a 6-5 loss on August 14 that cost Milt Gaston the win. Still, at the end of the year manager Dan Howley had him penciled in as his regular second baseman for 1928. In the spring, however, Otis Brannon played so well that he looked to have taken the position from Melillo by the end of March. Melillo had suffered some illness over the winter, so his stamina may not have been what it should have.
There were several stretches in the 1928 season when Melillo had to sit out for a week or more. It was a disappointing year in which he struggled to play as regularly as he would have liked, and he only hit .189 in his 132 at-bats. Only once, on September 11, did he drive in as many as two runs or have as many as three hits. The Browns did, however, climb back to third place.
Brannon hadn't hit that well that season, either. As a result, the team pinned some hopes on prospect Eddie Grimes, and Melillo was seen as a reserve for the 1929 season – until that spring, when he proved himself and became Howley's starting second baseman by Opening Day. On May 5, he had the only hit against Rube Walberg, denying him a no-hitter, but in general he started slowly, only really passing the .250 mark around the end of June. He had a strong second half though, finishing with a .296 average – well above the team's .276 average – in 141 games, driving in 67 and improving in the field. St. Louis finished fourth, two games behind the Indians.
Bill Killefer took over the helm in 1930, but the team sank to sixth. Melillo's average dropped to .256 that season, although the team's average was only .268. He played in all but five games, clearly having addressed his health issues. (He still typically brought a bag of carrots to much on during games.) His game-winning steal of home in the bottom of the ninth to beat the White Sox, 3-2, was probably his biggest moment of the year.
In 1931, Melillo had his best year, batting .306 and at times was among the league leaders in the early going, batting around .340 as late as mid-June. He drove in 75 runs. In the field, he handled 1,003 chances. He even placed eighth in the most valuable player (MVP) voting, and earned an extra $3,000 thanks to a bonus for hitting .300 promised him by owner Phil Ball. [Christian Science Monitor, June 6, 1953]
The seesaw effect seemed to take place that season, and he dropped to .242, playing in 154 games and still driving in 66 runs.
In 1933, he set a career mark with 79 RBIs, in part on the strength of a .292 average. His fielding was excellent, at one point handling 316 chances without an error and setting a new record at second base with a .991 fielding percentage. Rogers Hornsby took over as manager about two thirds through the season, but the Browns finished last. They'd still never won an American League pennant.
Not surprisingly for a last-place team, there were trade rumors throughout the offseason, and Melillo was often among them. He wasn't moved, though, and played another full season in 1934. His average fell once more, down to .241. Though St. Louis climbed back to sixth place, Hornsby announced that for 1935 everyone was on the trading block. Joe Cronin had taken over as manager for the Red Sox, Tom Yawkey's checkbook was open, and the Red Sox were looking for a second baseman. There were rumors galore during the winter, but nothing came of it until May 27.
The two teams finally made a trade, with Melillo going to Boston and Moose Solters and a reported $25,000 in Yawkey cash going to St. Louis. At the time, the Christian Science Monitor unequivocally declared, "He is undoubtedly the greatest second baseman of modern baseball." [Christian Science Monitor, May 28, 1935] Because of his inconsistently at the plate, his fielding was what kept him in the game. He played a deep second base and excelled at positioning himself well, anticipating the action – "playing the batter." Hornsby wasn't happy to give up so much on defense, but said he really needed a .300 hitter. Solters came through and hit .330 for him.
Melillo had only been hitting .210 before the trade, no doubt a little preoccupied with all the rumors. After he landed with the Red Sox, he hit. 260. In Boston, he found himself with a home locker next to Lefty Grove. That presented an awkward situation because of a moment on August 23, 1931 when Oscar's RBI double for a 1-0 Browns win had prevented Grove from extending his streak of 16 consecutive wins. Grove had never spoken to Melillo again, and didn't for the first several weeks they were lockering neighbors. Finally, Grove relented and told him, "You're eating with me tonight." [The Sporting News, November 30, 1963]
He was the starting second baseman in 1936, too, but appeared in only 98 games and hit just .226. He was 36 and perhaps starting to show his age, with a series of minor injuries that limited his playing time, though he did not miss any long stretches.
A young ballplayer from Southern California joined the Red Sox in 1937: Bobby Doerr. It became Melillo's job to tutor the promising prospect. It was predicted that he "may not appear in 50 ball games, but if Manager Joe Cronin carries out his plans the infielder will earn his salary." [Christian Science Monitor, January 16, 1937] It turned out to be Eric McNair who moved over from shortstop to second and handled the lion's share of the action, while Doerr became accustomed to major league ball. Melillo appeared in just 26 games, hitting an even .250. In early December, Melillo requested and was granted his release so he could take up a job with the Browns as a coach under Gabby Street. Doerr said, early in the season, "I've learned more about second base just watching Ski these few weeks than I picked up in my whole three years on the coast." [Calumet Index, June 28, 1954]
He coached off and on through 1956, first with the 1938 Browns (managing the last 10 games of the season after Gabby Street left the club, finishing 2-7 with one tie.) 
He coached for Cleveland in 1939 and 1940, resigning when manager Ossie Vitt was fired, complaining that the players who had rebelled against Vitt had forfeited his respect for them. Nonetheless, after one year out of baseball, Melillo was rehired for 1942 when 24-year-old Lou Boudreau became manager and hired a number of veteran coaches. After the one season, the Indians hired Del Baker as coach and Melillo left to engage in wartime work riveting wings in a Chicago airplane factory throughout 1943 and 1944. [Unattributed newspaper clipping in Melillo's player file at the Baseball Hall of Fame]
He was brought back from 1945 through 1948 – when he helped the Tribe beat the Red Sox in a single game playoff and then win the World Series against the Boston Braves. In mid-June, he'd left the team for a while to serve as temporary manager for the Indians' farm team in Burlington, Iowa. In 1949, he managed Cleveland's farm club in Dayton, Ohio, and the team won the Central League pennant.
Boudreau was dismissed in favor of Al Lopez after the 1950 season. On November 21, Melillo was released, too, Lopez's first move as manager. He served as a scout for the Indians in 1951.
In Boudreau's first move after being named manager of the 1952 Red Sox, he hired Oscar Melillo as a coach in late October 1951. Among his prize pupils was bonus baby Ted Lepcio.
He was out of baseball in 1954, the Sox carrying one fewer coach on the squad, but when Boudreau was named manager of Kansas City for 1955, he hired Melillo and George Susce, and both coached in 1955 and 1956, Melillo's last two years in the game. Both coaches were let go following the 1956 season.
Melillo devoted a fair amount of time to bowling after he left baseball, and spent time with his wife Ida Rose (Corradini), son Donald, and daughters Lois and Diane, all of whom survived him when he died of coronary disease at age 64 in Chicago.
Last revised: February 5, 2021 (ghw)
Sources
In addition to the sources cited in this biography, the author consulted the online SABR Encyclopedia, retrosheet.org, and Baseball-Reference.com.
Born
August 4, 1899 at Chicago, IL (USA)
Died
November 14, 1963 at Chicago, IL (USA)
If you can help us improve this player's biography, contact us.
http://bioproj.sabr.org/bp_ftp/images4/MelilloOscar.jpg
600
800
admin
/wp-content/uploads/2020/02/sabr_logo.png
admin
2012-01-04 20:41:08
2021-02-05 11:59:47
Ski Melillo