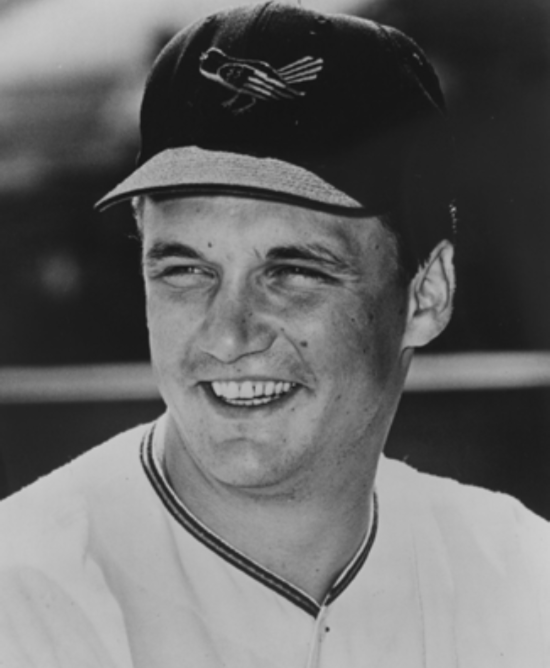 ---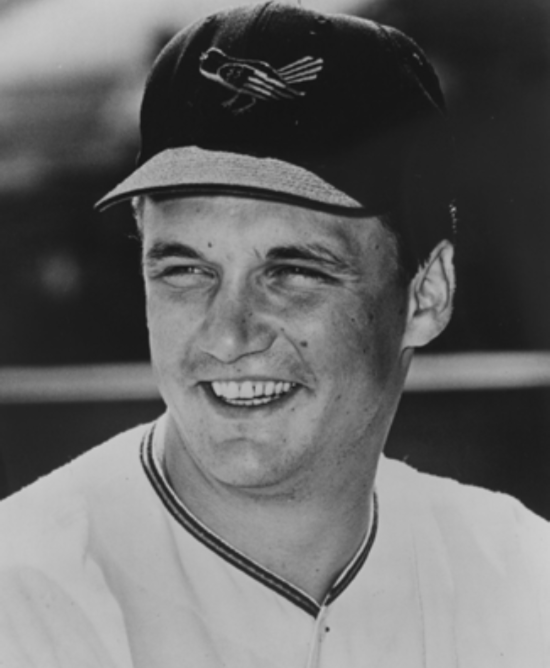 Steve Barber was a wild left-handed pitcher with a cannonball sinker, a chip on his shoulder, and a pain in his elbow.
Barber was anointed as the majors' fastest pitcher before he appeared in a regular-season game. He was the first 20-game winner in the modern history of the Baltimore Orioles, but his arm went bad before the team grew into the powerhouse of the American League. After leaving Baltimore, he latched on with eight other teams, proving that a left-hander with a live fastball and a pulse can always find work. A charter member of the doomed Seattle Pilots, he was depicted in Ball Four as a man who wouldn't lead, follow, or get out of the way.
Stephen David Barber was born on February 22, 1938, in Takoma Park, Maryland, just outside Washington, and grew up nearby in Silver Spring. His father, Stanley, a post-office clerk at the time of the 1940 census, was killed in a tractor accident when Steve was 15.1 His mother, the former Helen Johnson, worked as a secretary and moved in with her parents to raise Steve and his younger brother, Richard.
The girls at Montgomery Blair High School thought Steve looked like the actor Paul Newman, with his wavy hair and blue eyes.2 Big-league scouts thought he looked like a prospect when he went 8-0 and pitched a no-hitter as a senior. But Steve followed his mother's wishes and went to the University of Maryland.
That didn't work; he quit midway through his freshman year. "I dropped out of Maryland before I flunked out," he said.3 The Orioles' area scout, Walter Youse, heard that Barber was on the loose and gave him a train ticket to the club's minor-league spring camp at Thomasville, Georgia, in March 1957.
The camp was a cattle call for hundreds of hopefuls trying out for nine farm clubs. Barber, wearing uniform number 285, stood out from the herd well enough to win a contract. He signed for $500, plus $50 for bus fare home to visit his family before he reported to Class D ball in Paris, Texas.
Barber was stuck in Class D and C, the basement of the minors, for three years. He found his way from Paris to Dublin, Georgia, to Aberdeen, South Dakota, to Pensacola, Florida, but he couldn't find home plate. He walked 446 in 477 innings. He also struck out almost one batter per inning, explaining why the Orioles didn't give up on him.
"By '59 I'd been screwed around for three years," Barber said. "No one would work with me or teach me anything that would give me any control." He became so frustrated that he stormed out of spring training in 1958 and went home briefly. His Pensacola manager, Lou Fitzgerald, once told him, "I don't care if you walk five hundred guys, you're pitching nine innings tonight." When Barber walked the bases loaded in the first, Fitzgerald came to the mound to say, "Well, you've got four hundred ninety-seven to go."
Barber was wild after hours as well. He and Pensacola teammates Bo Belinsky and Steve Dalkowski made up a trio of hard-throwing, hard-partying lefties. Somebody labeled them "The Lost Boys." They all drank, but nobody could keep up with Dalkowski, who was even faster and much wilder than Barber on and off the field.
Harry Dalton, an assistant in the Orioles' front office, told Barber,"I hear you have an attitude problem." Barber replied, "It seems to me that if I make it, it's all well and good for you, but if I don't it's no big deal because you don't have any money invested in me."4
Near the end of the 1959 season, another Orioles executive, Eddie Robinson, watched Barber pitch and brought him to Baltimore to work out in September. Manager Paul Richards liked what he saw and asked, "How come I never heard of you?" The cheeky busher answered, "Probably because I'm not one of your fucking bonus babies."5 Barber took his case to general manager Lee MacPhail and demanded to be sent to the fall instructional league in Florida, where the Orioles polished their top prospects. Barber told the boss, "Mr. MacPhail, if you send me down there to play for [Orioles coaches] Luman Harris and Harry Brecheen this winter, there won't be any more minor-league ball for me."6
Barber got his way. In Florida Brecheen worked with him to tweak his delivery and perfect his slider. On a cold, windy afternoon Richards sat in his car with the heater running and watched Barber buzz through a lineup of the Milwaukee Braves' best prospects. "The ball was just singing," teammate Boog Powell remembered. "He's breaking bat after bat."7 Richards said, "I think we found our left-hander for next year."8 The lost boy from Class D had been discovered.
Barber continued to break bats in spring training in 1960, even when he was pitching batting practice. Orioles outfielder Jackie Brandt said, "Barber threw a shot put," a heavy sinking fastball that tailed away from right-handed hitters.9 He featured a slider and an occasional changeup, but never developed much of a curve. In an exhibition game he shut out the mighty Yankees for four innings, striking out Yogi Berra twice and Mickey Mantle once.
A photographer for This Week, a Sunday newspaper supplement, came to Florida on an assignment to find the fastest fastball. Mantle and Bill Skowron of the Yankees urged him to check out the Orioles' kid lefty. Radar guns did not yet exist, so the photographer used a high-speed movie camera to time six fireballers. Barber registered 95.55 mph, outpacing the big-name pitchers: Don Drysdale, who also topped 95, Sandy Koufax, Ryne Duren, Herb Score, and Bob Turley.10
The Orioles had never had a winning record in their first six seasons after the St. Louis Browns moved to Baltimore, but they had been building a strong farm system. In 1960 Richards and MacPhail decided to place their bets on the kids. Three rookies – first baseman Jim Gentile, second baseman Marv Breeding, and shortstop Ron Hansen – joined the 23-year-old "veteran" Brooks Robinson in the infield. A fling of young pitchers called the Kiddie Korps included Barber and right-handers Milt Pappas, Chuck Estrada, Jack Fisher, and Jerry Walker. Estrada was the oldest at 22, a week older than Barber.
In his first major-league game, on April 21, Barber gave up three runs to the Washington Senators before he was relieved in the fifth, but two of the runs were unearned. Richards said he was a victim of bloop hits. Three days later at Yankee Stadium, New York pounded out a 12-0 lead in the first two innings. Richards called on Barber to mop up. He held the Yankees scoreless for four innings, allowing only a single to Berra. In his next start he beat the Boston Red Sox with a complete-game six-hitter. He was a sensation, the unknown who rocketed from Class D to the majors. Baltimore fans embraced the Maryland boy as a hometown hero.
Barber showed typical rookie inconsistency, going more than a month without a victory before he faced the Kansas City Athletics on July 28. He walked five in the first five innings. Hank Bauer delivered Kansas City's first hit in the sixth. Barber allowed no more baserunners and finished a one-hitter with 10 strikeouts. On September 11 he held the Athletics scoreless through eight innings, but loaded the bases with two away in the ninth. Richards summoned a reliever to get the final out. Barber, denied his shutout, pitched a tantrum, throwing equipment around the clubhouse. That fire was just what the manager liked to see. "I was proud of that boy," Richards said. "I told him he could knock down all the lockers he wants to as long as he battles them on the mound, too."11
The young Orioles shoved their way into the pennant race. On September 16 they trailed the Yankees by just .001 in the standings when Barber opened a series in New York against Whitey Ford. The Baby Bird walked seven and gave up two home runs while Ford shut out the Orioles until the ninth. The Yankees swept the four-game series, killing Baltimore's pennant hopes. The Orioles finished second, the best showing in their short history. It was a turning point for the franchise.
Barber ended his first year with a 10-7 record and 3.22 ERA, though he led the league in walks and wild pitches. He made The Sporting News all-rookie team along with Estrada, Gentile, Breeding, and Hansen, who was voted Rookie of the Year.
Newly married in the spring of 1961, Barber shut out the Minnesota Twins in his first start, then added two more shutouts by the end of May. He continued to pile up victories and scoreless innings, but his control still deserted him occasionally. On August 13 he slogged through 11 innings against Boston, walking 11 and striking out the same number, before an error by the Red Sox pitcher let in the winning run. Barber's wife, Ann, keeping score in the stands, counted 193 pitches. Boston's Pete Runnels, the reigning batting champ, said Barber had the best stuff in the league: "He knocks the bat right out of your hand."12
After a slow start, the Orioles got hot in July and stayed that way. They won 95 games, but couldn't catch the Yankees and Tigers. Barber turned in a sparkling sophomore season, finishing 18-12, 3.33. He tied for the AL lead with eight shutouts, two of them over the Yankees, and opponents batted just .217 against him. But he and Estrada walked the most batters in the league.
Real life intruded on Barber's blossoming baseball career. After the Berlin Wall was erected in August 1961, President Kennedy called 148,000 military reservists to active duty. Like many ballplayers, Barber had secured a spot in the reserves to avoid being drafted for two years' service. He reported to Fort Bragg, North Carolina, as soon as the baseball season ended, and just before American and Soviet tanks faced off on opposite sides of the wall in one of the most perilous moments of the Cold War.
Barber's first child, Steve Jr., was born while he was serving his country driving an Army trash truck. The reservists' orders said they could be held on active duty for up to a year, so the Orioles made plans to use Barber as a weekend pitcher in 1962, whenever he could get a pass. He squeezed in three weeks of spring training while on leave, then began flying each weekend from Fort Bragg to where the Orioles were playing.
An extra day or two of rest seemed to agree with Private First Class Barber. He won his first three starts and was 4-2 at the end of May. But he faltered during a 25-day furlough in June (was the baby keeping him awake?) and stood at 6-6 when the Army released him on July 9. He won his ninth game on the 28th; a week later he was in a hospital with mononucleosis. That effectively ended his season.
The Orioles failed to build on their success of 1960 and '61. Richards had left to join the expansion Houston Colt .45s, and the amiable Billy Hitchcock replaced him. The young players reacted as if they had been let out of jail with the departure of the stern Richards. Outfielder Barry Shetrone said there was no discipline and much drinking. Barber and Estrada argued with Hitchcock when he came to the mound to relieve them. The club dropped from 95 wins to 85 losses and finished seventh. After the season GM MacPhail got rid of several of the playboys and traded for the veteran Luis Aparicio to play shortstop and bat leadoff. But he kept the manager.
Baltimore started strong in 1963, and so did Barber. His record was 12-5 by the end of June and he made his first All-Star team, but passed up the game because of a calf injury. Ann fed him a steak, french fries, and salad before every start. One day she substituted green beans, and he lost.
As the Orioles fell back to finish fourth, Barber kept winning without the beans. He beat the Angels on September 18 for his 20th victory, the first 20th-century Oriole to reach that milestone. His walks declined and his strikeout rate rose. His 2.75 ERA was eighth best in the league. The club rewarded Barber with an $8,000 raise to a reported $26,000.
Baltimore got a new manager in 1964: Hank Bauer, a mainstay of the Yankees dynasty whose biography always includes the words "tough" and "ex-marine." Barber landed in Bauer's doghouse early when he sat out three weeks with a sore back. After he recovered, his control was poor and he was serving up home runs because his sinker wasn't sinking.
The Orioles spent most of the season in first place, but Barber blamed himself for losing the pennant. He lost five of his last six decisions. The truth was that the Yankees got hot in September to nose one game ahead of the White Sox and two up on the Orioles. Barber was pitching in bad luck down the stretch; he lost three games while giving up a total of five earned runs. Still, his 9-13, 3.84 record looked like failure.
By this time Steve and Ann Barber had divorced­. Steve married his second wife, Patricia, in January 1965. He regained his control and his sinker to go 15-10 with a 2.69 ERA, the lowest of his career to date. But he was still frustrated by Bauer's quick hooks; he completed only seven of 32 starts.
The Orioles won the 1966 pennant on December 9, 1965, the day they acquired Frank Robinson from Cincinnati. Robinson won the AL Triple Crown, giving the club the slugger it needed. More important, he became the indispensable leader. With Robinson setting the tone, Barber said, "It was the closest knit group I've ever been around."13
By the All-Star break the Orioles were turning the pennant race into a runaway. Barber was the ace of the pitching staff, leading the league with a 10-3 record and a 1.96 ERA. Then his arm gave out. He pitched only 14 innings after the break. The diagnosis was elbow tendinitis, and the pain dogged him for the rest of his career.
On the last day of the season Barber and 21-year-old right-hander Wally Bunker started a doubleheader to audition for a World Series start. Barber walked the bases loaded in the second and was relieved. Left off the Series roster, he watched from the stands as the Orioles swept the heavily favored Los Angeles Dodgers. "The biggest thrill of my career was being part of that team," he said later. "Also the biggest disappointment, not getting to pitch in the World Series."14
Barber dug himself deeper into management's doghouse during spring training in 1967. As the club's player representative, he announced that the Orioles wanted to be paid for all radio and TV interviews. The players backed down, but Bauer showed little patience with his sore-armed pitcher. Barber was sent to the minor-league camp for a week. When he returned, he pitched like a man trying to save his job. In his first start he held the Angels hitless until Jim Fregosi doubled with one out in the ninth, then finished a one-hit shutout.
Two weeks later Barber again took a no-hitter into the ninth, against Detroit. The closest call was Jim Northrup's liner back to the mound in the second. It hit Barber in the backside and he threw Northrup out. The Orioles eked out a 1-0 lead, but Barber was staggering all the way, walking seven in the first eight innings. He walked the first two batters in the ninth, then retired the next two. On the verge of achieving a pitcher's dream, he threw a wild pitch that allowed the tying run to score. Rattled, he walked the batter. No-hitter or not, Bauer brought in Stu Miller to get the final out.
With runners at first and third, Miller got Don Wert to slap a grounder up the middle that Luis Aparicio speared and flipped to second baseman Mark Belanger for the force out to end the inning. But Belanger dropped the ball as the winning run scored.
Barber became the second pitcher to lose a no-hit game. He walked 10, hit two, unleashed the wild pitch, and made a throwing error. He said, "I was pitching so bad that day that I should have gotten beat 10-1."15
He got worse. By July 4 Barber stood at 4-9 with a 4.10 ERA and no control. He had allowed seven bases on balls per nine innings. The Orioles dumped him to the Yankees for three minor leaguers. (Barber had earned a reputation as a Yankee-killer with a 15-10 record against them.)
"I'm not coming to the Yankees as a broken-down pitcher with nothing left," the 29-year-old said.16 But his results didn't improve: 6-9, 4.05 with New York. One of the victories was the 100th of his career, a shutout of the Minnesota Twins. The 1967 Yankees were a broken-down team. They finished ninth.
The next spring Barber couldn't straighten his left arm and was sent down to Triple-A Syracuse. Rejoining the big club in June, he went 6-5 in 19 starts with a 3.23 ERA, no better than average in the Year of the Pitcher. The Yankees left him unprotected in the expansion draft after the 1968 season, but neither the new Kansas City Royals nor Seattle Pilots jumped at the chance to acquire a sore-armed 30-year-old pitcher. Seattle made Barber the 37th player chosen in the draft.
Pilots teammate Jim Bouton made Barber a villain in his celebrated 1969 diary, Ball Four. Bouton described watching Barber spend day after day taking heat treatment and cortisone shots for his arm, insisting all the while that it didn't hurt. Barber came out of a game in May after facing only three batters and didn't pitch again for three weeks. When he refused a rehab assignment in the minors, Bouton wrote, "'You son of a bitch,' I said to myself. 'You're the guy who won't go down in order to help out the club. Instead you hang around here, can't pitch, and now other guys are sent down because of you.'"17 Barber spent more than a month on the disabled list and finished with a 4-7 record and 4.80 ERA. He was the losing pitcher in the final game in the Pilots' history.
Barber went to spring training in 1970 declaring himself pain-free and optimistic: "This could be my biggest year in baseball."18 The Pilots released him a month later, just before the bankrupt franchise was transferred to Milwaukee.
Barber milked another five years out of his dying arm as a vagabond relief pitcher. Chicago Cubs: released. Atlanta Braves: released. California Angels: traded. Milwaukee Brewers: released. When the San Francisco Giants became the fifth team to release him, in August 1974, the handwriting on the wall looked like a mural. Barber hooked on with the Cardinals' Tulsa farm club and pitched the last six games of his career in Triple A. At 37, he still wasn't ready to give up. The next spring he wangled a tryout with the Cleveland Indians, managed by his former teammate Frank Robinson, but nothing came of it.
Barber owned a car-stereo business in Arizona, then moved to Las Vegas and opened a car-care shop. Jim Bouton sneered, "He has a bunch of cars lined up getting cortisone shots, whirlpool massage, and diathermy treatments."19 (Barber never forgave Bouton for Ball Four.) He later worked as a manager in a car dealership and a hearing-aid salesman. Nearing retirement age, Barber drove a school bus for children with disabilities for several years.
In 1988 Barber was inducted into the Orioles Hall of Fame. "I'm not sure I have the kind of accomplishments that are worthy of this kind of honor," he said. "But I'll take it."20 His final record shows 121 victories, 106 losses, and a 3.36 ERA.
Steve Barber died in Henderson, Nevada, on February 4, 2007, just short of his 69th birthday, of complications from pneumonia. His wife, Pat, their daughters Tracy and Danielle, and his son, Steve Jr., and daughter, Kelly, from his first marriage survived.
This biography appears in SABR's "No-Hitters" (2017), edited by Bill Nowlin.
Notes
1 Stanley and Helen Barber were living in the home of her parents, Sarah and Emil Johnson (a carpenter) at the time of the 1940 census.
2 Blair High alumni include bestselling author Nora Roberts, actress Goldie Hawn, Olympic gymnast Dominique Dawes, Watergate reporter Carl Bernstein, TV anchor Connie Chung, Internet provocateur Matt Drudge, and major leaguers Johnny Klippstein and Sonny Jackson.
3 George Minot, "Steve Barber Has Control So Now He's Big Leaguer," Washington Post, May 9, 1960: A20.
4 John Eisenberg, From 33rd Street to Camden Yards: An Oral History of the Baltimore Orioles (New York: Contemporary Books, 2001), 92.
5 Eisenberg, 93.
6 William Tanton, "Steve Barber Steps In," Baltimore Sun Sunday magazine, June 26, 1960: 184.
7 Eisenberg, 98.
8 Susan Reimer, "Barber Comes Home, Enters Through Hall," Baltimore Sun, August 6, 1988: 1B.
9 Eisenberg, 98.
10 Leslie Lieber,"Who's the Fastest Pitcher?" This Week, June 19, 1960: 11.
11 Doug Brown, "Greybeard Philley Filling Big Bill for Flag-Hungry Birds," The Sporting News, September 21, 1960: 7.
12 Lou Hatter, "Birds' Barber Draws Praise," Baltimore Sun, September 17, 1961: 1D.
13 Eisenberg, 167.
14 Eisenberg, 176.
15 Reimer, "Barber Comes Home." The first pitcher to lose a no-hitter was Ken Johnson of Houston, who lost to Cincinnati, 1-0, on April 23, 1964. Pete Rose reached on Johnson's ninth-inning error and scored on an error by Nellie Fox.
16 Jim Ogle, "Barber Delighted." The Sporting News, July 22, 1967: 15.
17 Jim Bouton, Ball Four (repr. New York: Collier Books, 1990), 180-181.
18 Hy Zimmerman, "Pilots' Painless Barber Impressive," Seattle Times, February 26, 1970: 66.
19 Bouton, 405.
20 Reimer, "Barber Comes Home."
Born
February 22, 1938 at Takoma Park, MD (USA)
Died
February 4, 2007 at Henderson, NV (USA)
If you can help us improve this player's biography, contact us.
https://sabr.org/sites/default/files/BarberSteve.png
600
800
admin
/wp-content/uploads/2020/02/sabr_logo.png
admin
2012-01-04 20:03:44
2012-01-04 20:03:44
Steve Barber