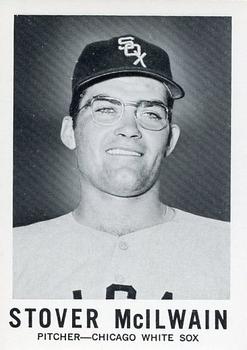 ---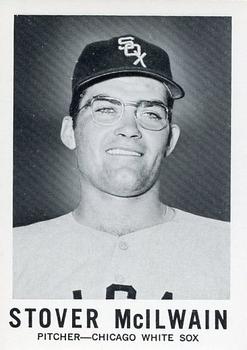 There are many quotes regarding the importance of living life. Just look it up on the internet; it's a fact! One such quote is "It is not the years in your life but the life in your years that counts." That quote is attributed to Abraham Lincoln … and Adlai Stevenson … and Dr. Edward Stieglitz, M.D.1 Whomever said it, the point rings true. Live life to its fullest; you just don't know how long you have.
Stover William McIlwain2 seemed to be destined for greatness, no matter what he was destined to do. He was a big boy (6-feet-4, 195 pounds) and he could throw hard, hence the nickname Smokey. His athleticism would bring him success both on the court and on the diamond. He was good-looking and his outgoing personality made him many friends. He was quite intelligent in the area of math and finance.3 Sadly, his life would be brief, but no matter how long he was given, Stover was going to make the most of it.
Smokey McIlwain was born September 22, 1939 in Savannah, Georgia to George and Irene McRae McIlwain; he was the youngest of three children. His father worked in the stockroom at a local paper factory before relocating the family to the Florida panhandle near Pensacola a few years after Stover's birth, where Stover did his growing up. It was also there where he picked up baseball. A former big leaguer, remembered now only as "Red," who had spent several years with the Brooklyn Dodgers had come into the area and began to instruct the local boys in the finer points of the game. With brother Blake serving as his catcher, Stover began to practice his pitching and slowly developed a stinging fastball. McIlwain went on to play both basketball and baseball at Gonzalez Tate High School, a program that just a few years after Stover's time also saw the development of future Hall of Famer Don Sutton.
Stover was tall even as a youngster and won all-state honors as a center for the basketball team. He was a math wizard, a devout Christian, and was also regarded as a playboy.4 Due to his excellence as a student, Stover graduated at the age of 15 and enrolled into Rollins College in 1955.
In 1957, Chicago White Sox scout James "Zack" Taylor, also a Rollins College alum and one who caught in the big leagues for 16 seasons from 1920-35 and managed the St. Louis Browns for five seasons after his playing career, signed the right-handed pitcher as an amateur free agent. He made 12 appearances that season, nine of them starts, for the Davenport DavSox of the Class-B Illinois-Indiana-Iowa League before his September callup. His ERA at Davenport was an abysmal 6.84 with 35 walks in 50 innings5, but the brass at the big-league level saw potential in the teenager.
McIlwain was 17 years old when he was first brought up to the big leagues. Three days removed from his 18th birthday, he got his first chance to take the hill in a major-league game—a call to mop up in the September 25, 1957 game against the Detroit Tigers at Comiskey Park in Chicago. The Tigers had hammered lefty starter Jim Derrington, 18 years old himself, for three runs in only 2 1/3 innings of work. Two relief pitchers later, when Stover got the call to pitch the top of the ninth, the score was 5-0.6 Undoubtedly, the wounds of their recent elimination from the pennant race were still fresh on the mind of ChiSox skipper Al Lopez. Now, with the pennant race over, it was time to see what some of the youngsters could do. Lopez needed a pitcher to keep the Tigers at bay so his Sox could have one more shot at a comeback victory. Could Smokey get the job done?
Seemingly wanting to make it exciting, McIlwain proceeded to walk leadoff man Bill Tuttle. It was the seventh walk surrendered by Sox pitchers that day. Lopez, known as a pitcher's catcher from his playing days, had to be fuming. Tiger third-sacker Jim Finigan stepped up next and promptly grounded into a force play at third, retiring the lead runner, Tuttle. With a man on first and one out, the Tigers' All-Star shortstop Harvey Kuenn stepped to the plate; Kuenn already had two hits in the game. Finigan, perhaps seeing an opportunity, took off for second base attempting a steal, despite having previously only stolen one base all season. The "thief" was no match for the arm of Sox catcher Earl Battey and was promptly thrown out, thus clearing the bases with two outs. Could Stover see the light at the end of the tunnel? Not quite, for Kuenn was still at the plate, and he promptly singled to center. Then came future Hall-of-Famer Al Kaline, who had two hits and two RBIs in the game already. The outfielder had been an All-Star that year and was a major threat to increase the Tigers lead. The man who would come to be known as "Mr. Tiger," however, only managed a single, moving Kuenn to second. That brought up the veteran first baseman Ray Boone.7
The 18-year-old McIlwain vs the 33-year-old Boone. This was Boone's 10th season in the league. He had a World Series ring he earned while playing for the 1948 Cleveland Indians and was a two-time all-star. The year before he had hit .308 and crushed 25 home runs. Though '57 had been an off-year (.273, 12 HRs), Boone had to feel some since of confidence as he stepped in to face the rookie. With 7,166 "chilled customers"8 at Comiskey in the late-September game, here was a wily veteran standing at the plate against a kid who had had his struggles in the inning, and there were two men on and two outs. Tigers skipper Jack Tighe had to have liked his club's chances while Sox skipper Al Lopez had to have been hoping for just an easy out to end the bleeding and keep the Detroiters within five runs. Would McIlwain grant Lopez his wish and get the best of Boone? He did. Stover got the veteran to ground to short to end the inning. However, the Pale Hose failed to score in the last half of the ninth and the Tigers managed to win, a 5-0 five-hit shutout for Detroit's Billy Hoeft. Though not a win for the hometown heroes, Stover McIlwain had made his first mound appearance in the big leagues. He gave up a walk and two hits, but no runs had scored. The Chicago Tribune noted, "Stover McIlwain, 18 year old rookie from Rollins college, made his major league debut by weathering a shaky, but scoreless Tiger ninth."9 Would Smokey get another shot?
The year 1958 found McIlwain back at Davenport. This time he was able to play a full season and to show just what he could do. He finished the Class-B season with a 4.01 ERA and 10 wins, while walking 85 in 164 innings. By late September, the White Sox found themselves once again in second place and out of the race, looking up at the Casey Stengel-led New York Yankees. It was the final game of the season as the Sox hosted the Kansas City Athletics. The A's had suffered through a miserable season. Just over 4,000 filled the park to witness the game between two teams dead in the water. There was an opportunity for Stover to truly step up as skipper Al Lopez gave him the ball to make his first big-league start. Coming in to do mopup work was one thing, but to take the hill for a start was something completely different. How would the youngster fare?
There are many ways to be remembered in the game of baseball. Perhaps a player had a colorful personality and was loved, or loathed, by the masses. Maybe a player put together a great career and was an All-Star or even reached the pinnacle: the Hall of Fame. Then there are players who are remembered by one game in particular, or perhaps just one play. These go into the historical record, and perhaps some memory banks. This was a day when fate would look down upon Stover McIlwain and a Kansas City infielder named Lou Klimchock. But upon which player would fate smile?
Klimchock, a left-handed hitting rookie infielder, had made his major-league debut the day before for Kansas City and had gone hitless in five at-bats versus the veteran Early Wynn. Klimchock was 18 years old, another youngster hoping to cement himself in the majors. The second baseman came to bat as the leadoff man and took his spot in the box, looking for his first hit. McIlwain toed the rubber, looking for his first win. The stage was set. Fate was looking in. With the McIlwain offering, Klimchock got the better end of the deal, not only getting his first big-league hit, but that hit was a homer into the right-field seats that put his squad up by a run early. The record books show that this was the first time in modern big-league history that a teenager had homered off of another teenager.10 Maybe not a positive record for Stover, but a record nonetheless.
Not allowing the homer to faze him, McIlwain settled down and held the A's scoreless for the next three innings. The one fielding chance he had in his brief career had been to successfully cover first base later in the first inning, when Kent Hadley grounded out, 3-1, to White Sox first baseman Ron Jackson. He did get one major-league at-bat. In the bottom of the second inning, he hit a long fly ball to deep left field off Athletics starter John Tsitouris. In the bottom of the fourth, with the White Sox up, 2-1, Al Lopez saw a scoring opportunity and lifted Stover for a pinch-hitter, Earl Battey. The move paid off as Battey hit a sac fly to score another run. Hal Trosky Jr. received the call and pitched the fifth and went on to get the victory, though he was not as effective as McIlwain had been, giving up three runs in two innings. The Sox went on to win, 11-4. If only McIlwain could have lasted one more inning to qualify for a decision, the victory could have been his. Such is baseball. Smokey had struck out four over his four innings of work and walked none.11
For the next three seasons, McIlwain labored in the minor leagues, still hoping for another big-league call, perhaps one that would be lasting. That call never came. Instead he pitched at Charleston, South Carolina, in the Class-A South Atlantic League. . His ERA finally dipped below 4.00, including a 3.38 ERA in 1960. After the 1961 season, McIlwain took a season off to serve in the military, only to return to the Sox minor-league system in 1963 for one more shot. He spent parts of the year with both the Eugene (Oregon) Emeralds and the Lynchburg White Sox, in Virginia. Following the 1963 season he retired, with a major-league ERA of 1.80 in just five innings of work. He was 23 years old, but already had experienced six years as a pro – something many young men (and old men) would have loved to brag about.
McIlwain married and had a son who would share his name. He worked in the banking industry for a time as a trust officer for the First National Bank of Chicago. The future still seemed quite bright. However, a few years after leaving pro ball, McIlwain developed testicular cancer and succumbed to the disease on January 15, 1966 in Buffalo. He was 26 years old. His funeral was attended by hundreds. Stover was interred in the Spruell Memorial Cemetery in Cantonment, Florida. Fittingly, his headstone reads "A PLAYER, NEVER A SPECTATOR OF LIFE."12
Smokey was no "spectator of life." He grew up beloved by those around him, used his height to succeed in basketball, put his math skills to work in banking, pitched in the big leagues and made the record books after just two outings, served his country, and started a family — all in just 26 years. That is making the life in your years count. Abraham Lincoln, Adlai Stevenson, and/or Dr. Stieglitz would be proud.
Notes
Born
September 22, 1939 at Savannah, GA (USA)
Died
January 15, 1966 at Buffalo, NY (USA)
If you can help us improve this player's biography, contact us.
http://sabr.org/sites/default/files/McIlwainStover.jpg
600
800
admin
/wp-content/uploads/2020/02/sabr_logo.png
admin
2017-01-10 13:24:44
2017-01-10 13:24:44
Stover McIlwain