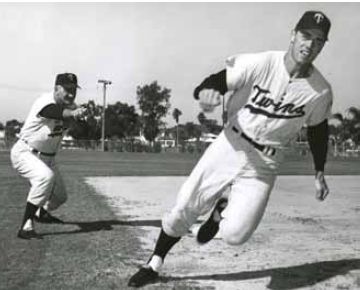 ---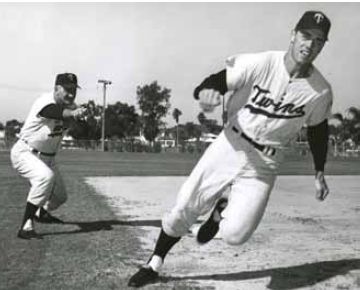 Theodore Otto Uhlaender was born on October 21, 1939. Although his birth took place in Chicago Heights, Illinois, he was raised in McAllen, Texas. He and his brother Mickey were the sons of Henry and Helen Uhlaender. Henry owned an electronics store. Ted Uhlaender was a superb all-around athlete, lettering in football, basketball, baseball, and track at McAllen High School.   
After he graduated from high school, Uhlaender enrolled at Baylor University. Although he was on the small side for a catcher (5-feet-9, 130 pounds), Uhlaender starred for the Bears. He also excelled in the classroom, earning a bachelor's degree in statistics.  Uhlaender also made a name for himself on the semipro circuit. He caught for the Texas State Champion McAllen Dons in 1959. The next year Uhlaender led the league in hitting and was named the MVP of the Kansas State League while playing for the Wichita Cessna Bobcats.
The 1961 major-league season was the first of the expansion era. The Washington Senators relocated to Minneapolis, and two cities were awarded expansion franchises: Los Angeles and a new club under new ownership in Washington. Minnesota Twins scout Morris "Buddy" Hancken signed Uhlaender to his first professional contract.
Uhlaender began his ascent through the Twins' minor-league chain in 1961, beginning with Class D (short season) Wytheville (Virginia) of the Appalachian League. He played in only five games because of a leg injury. "I was stealing second and in the middle of my slide, decided to stand up instead. I caught my spikes in the ground and broke my right leg," Uhlaender recalled.1 Although the broken leg stalled his career before it even started, Uhlaender was faced with another obstacle. "I was always a catcher, but when the Twins sent me to Wytheville they had a catcher named Donny Hagen, a bonus baby who hit .376 that year."2 Because he showed above-average speed, Uhlaender was shifted to the outfield. Also making his professional debut that year for Wytheville was Tony Oliva, whose .410 batting average showed that he was not long for the bush leagues.
Uhlaender went on to play for four teams in five leagues along his minor-league journey. The left-handed-batting Texan showed that he could hit the ol' rawhide. With the Erie Sailors of the Class D New York-Pennsylvania League in 1962, Uhlaender led the league in batting with a .342 average. But he found the going a little rougher the higher he went in the Twins chain. He struggled in back-to-back seasons at Double-A Charlotte, batting .228 in 1963 and .260 in 1964. The Twins front office was not pleased with his progress, or lack thereof, and a promotion to Triple-A Denver did not seem to be in the cards for the young outfielder. But Charlotte manager Al Evans assured Denver manager Cal Ermer that he believed Uhlaender would fill his need for an outfielder with some pop in the bat and sufficient speed. 
Uhlaender began the 1965 season with an 11-game hitting streak on his way to winning the Pacific Coast League batting title with a .340 average. He drove in 57 runs and smacked 31 doubles for Ermer's Denver club. His fine season earned him a call-up to the Twins.  
Uhlaender made his major-league debut against the Chicago White Sox on September 4, 1965, with the Twins in the hunt for their first pennant. Pinch-hitting, he was struck out by White Sox pitcher John Buzhardt. He got his first major-league hit the next day. Again pinch-hitting, he got an infield single off Joe Horlen. Like many minor leaguers who are called up as the big-league rosters expand, Uhlaender was there to spell the regulars, who needed a break at the end of the long season. He played sparingly, but had a front seat to watch the action as the Twins outlasted the White Sox and Orioles to win the flag and punch their ticket to the World Series. Minnesota knocked the New York Yankees, who had won five straight pennants, from atop their perch in the American League.
The next season saw Uhlaender break spring training with the Twins, but in early May, with just two hits in 16 at-bats, he was sent back to Denver. After getting a taste of major-league life, it was gut-check time for Uhlaender to see how he would adjust to this latest impediment in his career. "Now we'll see what you're made of,"3 Ermer told Uhlaender upon his return to the Mile High City. 
Uhlaender had plenty to prove to himself and to the Twins organization. He responded with a .341 batting average in 43 games. The Twins recalled him and manager Sam Mele inserted him in center field on June 25, 1966. His minor-league days were in the rear-view mirror. "Uhlaender has shown me he can really go get those long drives," said Mele. "He lopes, but he makes the hard plays look easy. He's throwing much better than he did in the spring, and he gets a good jump on the ball. That's the best center-field play we've had since (César) Tovar played there earlier this spring."4  
Uhlaender hit 32 points higher in 1967 than in the previous season (up to .258 from .226). One of his highlights came on September 5, 1967, when he stroked two triples against Cleveland and scored both times in a 9-2 pasting of the Indians at Metropolitan Stadium. He led all center fielders in the American League with a .996 fielding percentage that season.  "The way he plays center field, all Ted has to do is hit .250 or .260 to help us," said Twins owner Calvin Griffith.5
Ermer replaced Mele 50 games (25-25 record) into the 1967 season, reuniting with Uhlaender. Under Ermer the Twins went 66-46. On September 26 they held a one-game lead with three games to play. But they dropped their last three games, including two to the Red Sox at Fenway Park. Boston squeaked by to grab the pennant.
Uhlaender's batting average continued to climb in 1968, as he hit .283 and posted a career high in doubles with 21. He tallied five hits, also a career high, against the New York Yankees on June 23, 1968, in a 6-3 Twins win. The 1968 season is commonly referred to as the Year of the Pitcher, when  pitching dominated both leagues. While many batters had dismal seasons, Uhlaender flourished. 
Uhlaender held out in spring training, feeling that he was entitled to a raise. "I made $10,000 in 1968, my fourth year in the league, and at the time the major-league minimum was $8,000," he recalled. "Calvin asked me how much I need for 1969 and I told him $14,000 and he laughed."6 Uhlaender held out, and played baseball in the Mexican League to keep in shape. Billy Martin was the new Twins manager in 1969. "About the middle of March, Billy called me and said, 'Could you play tomorrow if we got it worked out?' I told him I could, so he said, 'Let me handle this, you just report tomorrow.'"7 Uhlaender did as he promised Martin, and reported to spring training, signed his contract, and played the same day. "The next day, Billy said 'You look like you could use a day off.' So he didn't play me. I played one day, signed a contract, then got a day off. That drove Calvin crazy."8  
In 1969 each major league expanded by two more teams and they each went to a two-division format. This created a round of playoffs before the World Series. No longer was the team with the best record guaranteed a spot in the fall classic.    
The Twins won the newly formed American League West Division over the Oakland Athletics by nine games. They had a solid nucleus of players including Harmon Killebrew, Rod Carew, and Tony Oliva. Their pitching staff was led by Jim Kaat, Jim Perry, and Dave Boswell. Players like Leo Cárdenas, Tovar, and Uhlaender helped to support the stars, and were integral parts of the team. Uhlaender hit .273, bolstered by a 20-game hitting streak from August 16 to September 7. He hit .307 during this span, stroked five doubles, and drove in 16 runs.
But in the inaugural American League championship Series, the Baltimore Orioles swept the Twins in three games.(Uhlaender started in left field in Game Three and went 0-for-5). Perhaps the knowledge that the Orioles had the better pitching caused the Twins to look for help. After the World Series they dealt Uhlaender to Cleveland, along with pitchers Dean Chance and Bob Miller, and third baseman Graig Nettles in exchange for pitchers Luis Tiant and Stan Williams.
Cleveland ace Sam McDowell was upbeat about the deal that brought Uhlaender to the Indians. "He's a fabulous center fielder and also one of the toughest batters around," McDowell said. "I'm counting on him to hit .300 and I know he'll walk plenty and steal a lot of bases."9
In 1970 Uhlaender struck a blow for players' rights. On behalf of professional baseball players, he sued Kent L. Henricksen and the Nemadji Game Company. The case sought to enjoin a manufacturer of a "scientific" baseball board game from using players' names and statistical records without payment of royalty or licensing fees to the players.10
A federal judge in Minneapolis agreed with the players, holding that a player's "name, likeness, statistics, and other personal characteristics, is the fruit of his labors and is a type of property" entitled to protection from unauthorized commercial use by others. The court rejected the claim of unlawful antitrust action by the players' union in demanding royalty fees for the use of the players' names and statistics. Once a ballplayer, always a ballplayer, in the eyes of the law. 
Uhlaender may not have hit .300 for the Indians, as McDowell predicted, but he did reach a career high in homers (11) in 1970 and hit .288 in 1971. The Indians were not on the same plateau as the Twins, though, and were not considered a contender in the East Division. Uhlaender had a short "retirement" from the Indians in late June 1971. Upset at the lack of playing time, he jumped the team while it was en route from Detroit to New York. It was a curious move by Uhlaender, who achieved the second most at-bats in his career (500) that season. Although he and manager Al Dark worked out their differences, it did not sit well with the Cleveland front office. The Indians dealt him after the season to Cincinnati for pitcher Milt Wilcox.
Uhlaender was used in a reserve role with the Reds, playing mostly in right field and as a pinch-hitter. The Reds won their division and bested Pittsburgh in the NLCS. Their opponent in the World Series was Oakland. It was a tightly played series. With one exception, every game was decided by one run. The Athletics prevailed in seven games. Uhlaender was used as a left-handed batter off the bench. He got one hit, a double in Game Two. 
At the age of 33, Uhlaender retired as a major league player after the 1972 season. For his career, he had a .263 batting average and fielded his position in center at a .991 clip. He did not stray far from the baseball diamond. He managed Rio Grande Valley in the Gulf States League in 1976. He joined former Twins teammate Charlie Manuel's coaching staff in 2000, when Manuel was named the Cleveland Indians manager.  For two seasons he served as the club's first-base coach. 
Uhlaender also was employed by various teams in their scouting departments, including the Yankees, Arizona, and San Francisco. An avid outdoorsman, Ted hunted everything from rattlesnakes to elk to deer. He often went on excursions in the offseason with teammates. Uhlaender was also a licensed pilot, frequently flying from Texas to his new home in Kansas. 
Uhlaender was diagnosed with multiple myeloma-bone marrow cancer in 2008. It was not a curable disease, although there was optimism if they could get in remission. Doctors appeared to have the condition under control by early the following year; the Giants even were hopeful he could get back to doing a little scouting for them. But on February 12, 2009, while chatting with his son at the family ranch in Kansas, Uhlaender had a heart attack and died. He was 69. He was survived by his second wife, Karen Uhlaender, and five children, Scott, Sheryl, Hank, William, and Katie.
At the time of her father's death, Katie Uhlaender was competing in a World Cup skeleton sliding race in Park City, Utah. She won the silver medal, and as the award was being presented, she was unaware that her father had died. She had wanted to be at home with her parents, but he encouraged her to compete. "The only time I feel normal is when I slide, and that's because I feel like my dad is there with me," said Katie.11
Last revised: February 11, 2022 (zp)
Sources
Baseball-Reference.com.
Retrosheet.org.
Ted Uhlaender's player file, National Baseball Hall of Fame, Cooperstown, New York.
Author's interview with Karen Uhlaender, September 2, 2014.
Notes                                       
1 Sports Collectors Digest, July 18, 1997, 72.
2 Ibid.
3 The Sporting News, July 16, 1966, 34.
4 Ibid.
5 Sporting News, September 9, 1967, 20.
6 Lorain (Ohio) Morning Journal, February 6, 2000, B6.
7 Ibid.
8  Ibid.
9 The Sporting News, January 3, 1970, 38.
10 Marshall Tanick, "Play Ball — Minnesota Baseball Litigation Lore," The National Pastime (SABR, Phoenix, Arizona, ,  2012), 146.
11 Cleveland Plain Dealer, February 16, 2009.
Born
October 21, 1939 at Chicago Heights, IL (USA)
Died
February 12, 2009 at Atwood, KS (USA)
If you can help us improve this player's biography, contact us.
http://sabr.org/sites/default/files/TedUhlaender.JPG
600
800
admin
/wp-content/uploads/2020/02/sabr_logo.png
admin
2012-01-04 20:34:19
2022-02-11 08:50:42
Ted Uhlaender