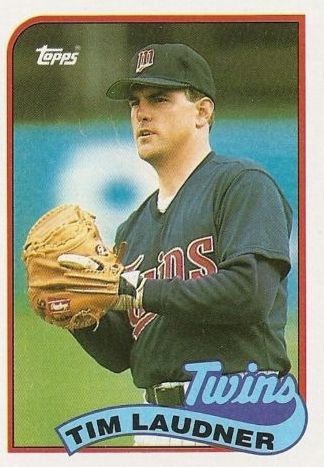 ---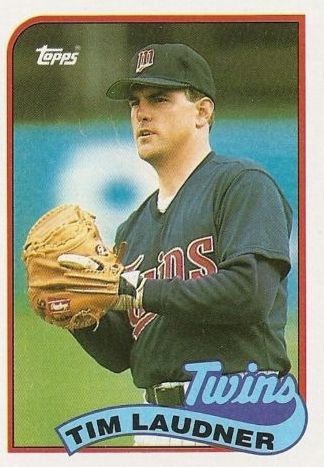 Tim Laudner followed up on a record-setting season in the minor leagues in 1981 with a home run in each of his first two games in the majors. After creating a tough act to follow, Laudner didn't reach the heights some expected of him. However, he played nine seasons for the Minnesota Twins, was the team's starting catcher when it won the World Series in 1987, and was selected for the American League All-Star team a year later.
Timothy Jon Laudner was born June 7, 1958, in Mason City, Iowa. His parents, Marvin (Pete) and Eileen, were both from northern Iowa, and the Laudners lived in Rockford, Iowa, for the first seven years of Tim's life. In 1965, the family, which included two other children, Randy and Joan, moved to Brooklyn Center, Minnesota, a northern suburb of Minneapolis. Laudner said the move was for reasons of work opportunities for Eileen, who became an administrator for a pediatrician, and Pete, who was a maintenance electrician at the FMC Corporation plant, a large defense contractor and manufacturer of ordnance.
Laudner played his first organized baseball in the Brooklyn Center Little League. At the time, he used his strong right arm on the mound rather than behind the plate. He played a variety of sports at Brooklyn Junior High School and Park Center High School. In addition to baseball, Laudner was on the junior varsity hockey team through his junior year. An all-state tight end on the football team, Laudner played in the Shrine Bowl high-school all-star game at Metropolitan Stadium, home of the Minnesota Twins and Minnesota Vikings.
In baseball, the Park Center Pirates made it to the state high school tournament in 1975, Laudner's junior season. Laudner pitched a one-hitter and a no-hitter during the District 16 tournament. In the quarter-final game, against Brooklyn Center, Laudner struck out 15 batters while allowing only one hit. He also singled to start a three-run rally and break a scoreless tie in the top of the seventh (and final) inning.
In the district championship game, Laudner pitched a six-inning no-hitter (the game was shortened by the 10-run rule) and struck out 13 Coon Rapids batters in a 10-0 win. He upped his season won-lost record to 7-1. However, Laudner was the losing pitcher, despite allowing only two hits, in a 3-0 loss to St. Peter in the Region 4 championship game.
Stopped a game short of going to the state tournament in 1975, Park Center made it the following year. Laudner pitched a three-hitter and also had three hits, including two triples, as the Pirates beat Southwest High School of Minneapolis for Region 4 title.
Park Center played Kennedy High School of Bloomington, in the opening game of the 1976 state tournament. The Pirates won the game, 4-1, as Don Noland held Kennedy to just one hit, a single in the bottom of the first by Kent Hrbek, Laudner's future teammate in the majors.
Laudner pitched the semi-final game, against Hill-Murray. However, Park Center lost to Hill-Murray, 2-0, despite a strong performance by Laudner, who struck out nine and allowed only three hits.
Laudner played the outfield and was also a designated hitter when he wasn't pitching. Soreness in his shoulder hampered his senior season on the mound, and Laudner decided he no longer wanted to deal with the injuries and problems common to pitchers. He switched to catching in the summer of 1976, playing for the Brooklyn Center Novas. The Novas had won the Senior Babe Ruth state tournament in 1975 and repeated the feat in 1976, this time advancing all the way to the national tournament in North Carolina.
During the summer, Laudner declined the offer of a football scholarship to the University of Minnesota as well as a pro baseball offer after having been drafted in the 33rd round by the Cincinnati Reds. The same day that Reds scout Bill Clark visited him, Laudner received a call from University of Wisconsin baseball coach Gary Land, and he began considering what college he might want to attend and play baseball.
He visited with Dick Siebert of the Minnesota Gophers but two days later, on a whim, called the athletic department of the University of Missouri and asked for the baseball coach, Gene McArtor. Laudner had written out what he wanted to say. Reading from the script, he told McArtor he wanted to talk to him about becoming a student-athlete at the University of Missouri. McArtor said his assistant, Bob Todd (who later became the head coach at Kent State before moving on to Ohio State, where he has been the head coach since 1987), did the recruiting and would give Laudner a call.
Todd called the next night and offered a ¾ scholarship, which Laudner accepted over the phone, without even visiting the campus. The next morning when Siebert called, Laudner told him he was going to Missouri.
Asked what prompted him to contact Missouri and decide to go there without even visiting the campus, Laudner says, "I don't know. It just seemed like the thing to do." He added that he later found out that Missouri had been recruiting a catcher from Kansas City, Bill Sobbe, who was holding out for a full scholarship. Missouri was offering only a ¾ scholarship. It was at this time that Laudner called Missouri. Sobbe later called Missouri and told them he would accept the ¾ scholarship, only to be told that it had been given to Laudner, who summed up the story by saying, "If you don't believe in fate . . . I do."
Laudner majored in business at Missouri, played the outfield for the Tigers as a freshman, then caught for two years. After each of his first two years, he went elsewhere to play over the summer. He played in Fairfax, Virginia, in 1977 and for the Kenai Peninsula Oilers in the Alaska Baseball League in 1978. One of the players he encountered in Alaska was Bill Sobbe, the man who lost out on a scholarship at Missouri because of Laudner. (Sobbe instead went to Northwest Missouri State, where one of his teammates was future Twins third-baseman Gary Gaetti, and played for the Anchorage Glacier Pilots in Alaska.)
Laudner earned All-Big 8 honors his junior season at Missouri and was drafted in the third round of the 1979 free-agent draft by the Twins. Angelo Giuliani, who had watched Laudner pitch in high school, signed him to a contract.
After two seasons in the minors, Laudner had a chance to make the majors in 1981. However, he was the last catcher cut by the Twins and was sent back to Orlando, where he had played in 1979 and part of 1980. The Orlando Twins, a Class AA farm club in the Southern League, were managed by Tom Kelly, Laudner's future manager with the Twins, and loaded with sluggers, including future Twins Gary Gaetti, Randy Bush, Scott Ullger, and Tim Teufel. The heaviest hitter, not just with Orlando but in the entire league, was Laudner, who broke the Southern League single-season record for homers and led all of organized baseball with 42 home runs.
Laudner finally got the call to the Twins in late August, after Minnesota's regular catcher, Butch Wynegar, was put on the disabled list with a bad shoulder. Laudner was in the starting lineup Friday night, August 30, 1981, in a game at home against the Detroit Tigers. He singled his first time up and then walked. When he came up again in the sixth inning, the Twins had a 2-0 lead with a runner on base. Laudner made the score 4-0 by connecting on a home run that landed a few rows into the left-field bleachers at Metropolitan Stadium off Detroit's Dave Rozema. The Twins went on to win the game, 6-0.
Four nights earlier, in New York, Kent Hrbek had homered in his first major-league game. Now Laudner had repeated the feat, and, a few weeks later, Gary Gaetti would join the Twins and homer in his first major-league game. Hrbek, Laudner, and Gaetti were the nucleus of a growing group of young players that would lead the Twins to the World Series title six years later.
Laudner homered again in his second game, this time a deeper drive to left field, giving him two homers and four runs batted in through his first two games. However, he did not homer again and had only one more RBI through the rest of the season.
Laudner was having some problems with his right knee and that winter underwent surgery to remove cartilage from the knee. He didn't make the Twins out of spring training in 1982 and started the season with the Toledo Mud Hens, the Twins' top farm team, in the International League.
Although he was struggling with his hitting at Toledo, he got the call back to the majors after the Twins traded Wynegar to the New York Yankees in mid-May. Laudner's troubles at the plate continued in Minnesota as he had only two hits in his first 19 at bats. However, his hitting picked up in the second half of June. He homered in three consecutive games during a road trip to Chicago and Toronto. Laudner became the Twins' regular catcher over Sal Butera and was named to the major-leagues All-Rookie team at catcher, finishing the season with a .255 batting average and seven home runs in 93 games.
Laudner had a new competitor in 1983. Dave Engle was moved from the outfield to catcher because he had trouble seeing the ball in the dark backdrop of the Metrodome roof, the result of a childhood eye injury. Laudner was the stronger defensive player, but his batting average dropped to .185 in 1983, and he played in only 62 games. "I had a lot of confidence behind the plate. I had a lot of confidence handling the pitching staff. Sometimes that didn't carry over onto the offensive part of my game," Laudner said.
After three more years as a part-time player, Laudner regained his status as the Twins' number-one catcher in 1987. Although his batting average during the regular season was only .192, he hit a career-high 16 home runs and was regarded as the best catcher among a crew of several Minnesota had behind the plate that year.
The Twins won the American League West Division for the first time since 1970, then beat Detroit in the playoffs to advance to the World Series. Laudner started all seven games of the World Series, had a .318 batting average (7 hits in 22 at bats) and added five walks for an on-base percentage of .444. He had one home run and four runs batted in, and his slugging percentage was .500. In the seventh game of the series, the Twins held a 3-2 lead into the last of the eighth. Laudner singled with one out and came home with an insurance run on a two-out double by Dan Gladden. The Twins won the game 4-2 for their first world championship since moving to Minnesota more than 25 years before.
Laudner continued his strong play into 1988, when he was named to the American League All-Star team. In the All-Star Game, he caught the final four innings and batted once, doubling in the seventh inning, as the American League won 2-1.
Laudner lost his starting job as the catcher to Brian Harper in 1989. His season ended in early September because of more problems with his knee and more surgery. Laudner came back in 1990, but abruptly announced his retirement near the end of spring training. He eventually decided to return and was sent to the minor leagues with the intent of getting back into shape to play and then joining the Twins. However, in nine games in the minors, he had no hits and only three walks in 32 plate appearances. The Twins had already acquired another catcher, Junior Ortiz, as a backup to Harper and tried to trade Laudner. When they were unable to do so, they released him.
"When I retired," Laudner said, "there was a great deal of questioning about why. I made it perfectly clear at the time that the reason I retired had nothing to do with drugs or alcohol or anything like deviant behavior or anything like that. I didn't owe it to anyone else other than my close friends to comment on it. It was my choice."
Laudner still hunts and spends time with his former teammate, Kent Hrbek. An avid golfer, Laudner tried out for Minnesota state amateur golf tournament. Despite his skill at this sport, he has found out that he will always be known as a baseball player. "There were times I didn't want to be a ballplayer anymore," he says. "I wanted to move on to something else, not just be received as an athlete or ballplayer. I've come to the realization and understanding that it doesn't matter where I go or who I meet or where I'm at, I'm always going to be a ballplayer. And I'm very comfortable with that."
He is often at the Metrodome as a Twins alumnus after having stayed away for many years. He credits Twins president Dave St. Peter for reaching out to former players. "It's been a blast," Laudner said in 2007. "I've enjoyed the last two years coming to the ballpark more than I have for the last 17."
Laudner has two children, both athletes. His son, Sam, born December 1, 1986, was an offensive lineman at Wayzata High School. Inheriting his dad's size, Sam played in the 2004 Prep Bowl title game for Wayzata and then went to North Dakota State on a football scholarship. Laudner's daughter, Sarah, was born November 12, 1990 and became a catcher for Wayzata's softball team.
"There isn't a day that doesn't go by that I'm not appreciative of the opportunities that I had," Laudner said. The longer that you're out of the game, with each passing day, you realize how special that is. I'm extremely thankful and grateful for the opportunities. But there are also parts of me that think that I underachieved. I put that on nobody but myself."
"If I could come up with one regret about my major-league career, I wish I would have smiled more. I enjoyed my career immensely. Sometimes people's assumption was that I wasn't having any fun. I was having fun. I wish it would have showed more."
Note
A version of this biography appeared in the book Minnesotans in Baseball, edited by Stew Thornley (Nodin, 2009).
Source
Interview with Tim Laudner, June 28, 2007.
"Laudner's Decision: Pro Baseball or College Football?" by Gary Johnston, Brooklyn Park Post, June 3, 1976, p. 12.
"Scott Clark Picks Missouri . . . So Does Laudner," Brooklyn Park Post, July 22, 1976, p. 12.
"Orlando Slugger Laudner Taking Hot Pace in Stride" by Victor Lee, The Sporting News, August 8, 1981, p. 42.
"Laudner Breaks Homer Record," The Sporting News, August 29, 1981, p. 42.
Photo Credit
The Topps Company
Born
June 7, 1958 at Mason City, IA (USA)
If you can help us improve this player's biography, contact us.
http://bioproj.sabr.org/bp_ftp/images4/LaudnerTim.jpg
600
800
admin
/wp-content/uploads/2020/02/sabr_logo.png
admin
2012-01-04 19:49:12
2012-01-04 19:49:12
Tim Laudner