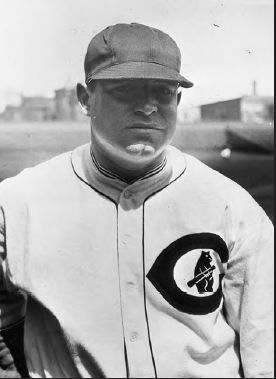 ---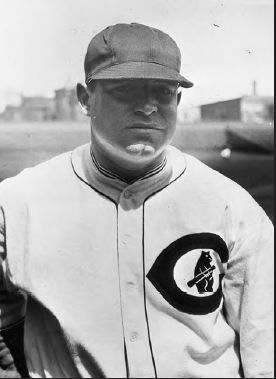 Tom Angley was a ballplayer born 50 years too soon. Born in an era nearly 70 years before the designated hitter, he was a short but powerfully built player who hit for average and power. However, defensively, he was a catcher more because of his physical size than prowess behind the plate. The Sporting News once called Angley "the stout hitting catcher with the effeminate throwing arm."1 Pop flies around the plate were also a problem for Angley. So despite a career minor-league batting average well over .330 and two league batting titles, his major-league career was limited to five games with the 1929 Chicago Cubs.
A graduate of Georgia Institute of Technology, Angley as of 2014 still held the Georgia Tech record for career batting average (.436) and career slugging percentage (.763).2 In his first three years in Organized Baseball (1927-1929), he led the South Atlantic League in batting, hit .323 in the Southern Association, and  then topped the American Association in batting. His offensive numbers were so good that in 1929 Cubs manager Joe McCarthy kept Angley on the club as a fourth-string catcher and pinch-hitter. But when fate thrust him into the starting catcher's role after injuries to three Cubs catchers, McCarthy quickly found a replacement, ending Angley's major-league career at five games. No other major-league team took a chance on the poor fielding Angley.
Thomas Samuel Angley was born on October 2, 1904, in Baltimore, the first of two children born to Thomas and Lelia Viola Burrows Angley. His father was a career Army man so the family was always moving. Five years before Angley's birth, his father was stationed in the Philippines during the Philippine-American War. In 1910 the family was living in South Portland, Maine, when the senior Angley was stationed at Fort Williams, and in 1920 they were at Fort Howard in Baltimore. From Baltimore the family moved to Fort McPherson in East Point, Georgia, just outside Atlanta.3
It was in Atlanta while attending the University School for Boys that Angley blossomed as an athlete. He participated in four sports at the prep school, playing football, basketball, and baseball for four years, and running track and field for two years. In football Angley set what was purported to be the "world's record" for the most dropkicks in a game against Georgia Military Academy, when he booted 13 through the goalposts in an 86-0 win. He was the captain of the basketball and baseball teams in his senior year.4
After high school, straying not too far from home, Angley chose Georgia Tech to attend. By his sophomore year, he was a starter on the varsity baseball team. As a right fielder, he batted .422 in 21 games with seven home runs. In 1926 he switched to catcher, leading Georgia Tech to the Southern Conference championship with a 21-4-1 record. Angley batted .500 in 26 games with nine home runs. On April 10, against Auburn, he banged out three doubles to set the Georgia Tech record for the most doubles in a game. During the season, nationally syndicated sportswriter Roy Grove called Angley "the greatest hitter ever to appear in southern college baseball."5
Angley wasn't the only talented player on that 1926 Yellow Jackets team. Bobby Reeves, also a junior, went straight to the Washington Senators after the season and played in the majors for six years. Junior center fielder Doug Wycoff, who hit .430, went on to play in the National Football League for the New York Giants. And first baseman John Brewer played five seasons in the minors after college.6
Angley also played football at Georgia Tech and in his senior year he made the starting varsity as a guard. After the football season, when January 1927 rolled around, it was announced that the Atlanta Crackers of the Class A Southern Association had signed Angley. He was to report after graduation to Macon of the Class B South Atlantic League. While the 1927 Georgia Tech baseball team wasn't quite as good as it had been in 1926, the team went 15-6. Angley, the captain, had another fine season, batting .388 in 28 games with two home runs.7
After graduating, Angley left for Macon. In his first game with the Peaches, he crushed a grand slam. He easily picked up where he left off in college and was hitting well over.300 as the season progressed.
On July 13 Angley was involved in probably the most disturbing event of his career. Playing against Asheville at Macon, with the game scoreless in the bottom of the third, Angley singled. He took a big lead on Asheville pitcher Tom Ferrell while Raymond "Pete" Mann, Macon's third baseman, squared to sacrifice Angley to second. The first two pitches were wide and outside. Anticipating another wide offering, Mann stepped far out toward the plate. Instead of throwing outside, Ferrell fired a pitch that bore in toward Mann. Before Mann could get out of the way, the ball struck him in the chest. He collapsed and died. An autopsy revealed that his rib had shattered and pierced his heart. Mann is the only minor-league player to die after a pitched ball struck him in the chest.8
After the tragedy, Angley continued his torrid hitting, batting .357 as of August 1. On September 15 it was announced that he had been purchased by the Atlanta Crackers for 1928. By season's end, Angley led the league in hitting with a .386 mark. He pounded out 19 doubles, 6 triples, and 2 home runs.9
When Angley reported to Atlanta, he weighed in at 212 pounds. At 5-feet-8, he was decidedly heavy. But in ten days he managed to shed 17-plus pounds. He came into camp as the second-string catcher and his fielding didn't help his chances. Dick Hawkins of the Atlanta Constitution wrote of him during spring training, "Tom Angley's failing on foul balls may buy him a ticket back to Macon for a bit more seasoning."10 But Angley's bat not only kept him on the team, it pushed him into the starting lineup.
Angley finished with a .323 batting average, and on October 4, the Chicago Cubs drafted him from the Crackers. And to top off a great year for Angley, he married the former Harriet O'Neal of Atlanta.11
As the 1929 Cubs' spring training went along, it appeared that Angley was ticketed for Atlanta for another season. The Cubs had future Hall of Famer Gabby Hartnett as their first-string catcher. Behind him was steady veteran Mike Gonzalez. Rookie Earl Grace had batted .336 in Little Rock of the Southern Association the year before and was more polished behind the plate. But toward the end of spring training, Hartnett came up with a lame throwing arm. With his return uncertain, Angley, based on his hitting, made the squad. For the first five games of the season, he sat the bench waiting for his chance. Then against the St. Louis Cardinals in Chicago on April 23, first Gonzalez and then Grace hurt fingers while catching in the top of the fifth inning. Angley was forced into the game. He acquitted himself well with both the bat and glove. He drove in two runs on sacrifice flies in a 9-6 loss to the Cards.12
With no backups, Angley started the next day in Pittsburgh. He went 3-for-5 with two RBIs and a walk. The first hit of his career came off future Hall of Famer Burleigh Grimes. But despite Angley's batting, Joe McCarthy frantically sought a starting catcher. He acquired veteran Johnny Schulte from Double-A Columbus. Schulte started the next three games but on April 28 he was spiked and forced out of a game at Cincinnati. With both Grace and Gonzalez still laid up, Angley again stepped in. He scored a run and drove in another. He started the next two games. The second of them, on April 30, was his last major-league game. Despite driving in six runs and batting .250 in five games, Angley was back on the bench. Grace recovered enough to take over the catching duties on May 1. Two weeks later Gonzalez was back into the lineup as was Schulte.13
With four catchers, plus Hartnett available for pinch-hitting duties, Angley was sold to Reading of the International League. But under the Organized Baseball rules, because Angley had been drafted from Atlanta, he was to have been offered back to the Crackers. Since he wasn't, Commissioner Kenesaw Mountain Landis declared him a free agent. By June 8 he had signed with Kansas City of the American Association. Two months later, Angley was second in the league in hitting with a .369 mark. By season's end he was the leading hitter in the American Association (.389). His offense helped propel Kansas City to not only the American Association title but also a Little World Series victory over the Rochester Red Wings of the International League.14
In 1930 Angley started the season with Kansas City but the Blues tired of his poor fielding. In his fourth season in Organized Baseball as a catcher, he still had trouble on pop flies. Typical of Angley's play was this sequence as related by the Milwaukee Sentinel about a game on May 30 against the Brewers: "Tom Angley must have had another one of his 'nervous' spells, judging by the way he chased a couple of popups around the plate. He muffed [Ed] Grimes' foul in the third and then failed to touch [Buck] Stanton's popup in front of the plate in the sixth. Buck's ball bounced foul and on his next chance tripled against the scoreboards."15
On July 15 Kansas City had had enough. Angley was sold to Indianapolis of the American Association. The Indians were in need of catching help after losing Joe Sprinz to Cleveland. Angley ended the season with a batting average of .334 with six home runs. That winter he went to Cuba to play in a short-season winter league. He played for Marianao where he was the teammate of future Hall of Famer and Negro League great Oscar Charleston. Angley batted .267 in the three-week-long season.16
In 1931 Angley had his best year in professional baseball. Playing for Indianapolis, he finished tied for second in the league in batting to Art Shires with a .375 mark. He belted out 18 home runs and had a slugging percentage of .595. Midway through the season The Sporting News wrote that if "Angley continues his terrific hitting, it is difficult to see how he … can be kept out of the majors in 1932." The paper even saw improvement in his defense: "(H)is work behind the bat also has been excellent."17
But no major-league team came calling for Angley. He returned to Indianapolis's spring-training site in Sarasota, Florida, for a second time in 1932. Angley had enjoyed his time the previous winter and now was a Sarasota resident in the offseason. (He was part of a large contingent of baseball players who wintered in the area.) Angley played in January with a group of them called the Sarasota All-Stars in a mini-barnstorming tour through Florida.18
During the 1932 season, Angley was almost a part of another tragic event. Indianapolis was facing Kansas City when Angley smashed a line drive off rookie pitcher Frank Gabler's skull. The ball hit so hard that it ricocheted back to home plate. Gabler spent three months in the hospital with a fractured skull but eventually returned to baseball and pitched for several seasons in the major leagues.
But despite Angley's offensive fireworks, Indianapolis soon wearied of his defensive play. On June 22 he was released to Terre Haute of the Class B Illinois-Indiana-Iowa (Three-I) League. The Indians said that Angley "failed to come up to expectations this season." But by July 9, he was back playing with Indianapolis. For the season, he batted .311 for the Indians in 95 games and pounded out nine home runs.19
Sometime before wintering in Sarasota, Angley and his wife, Harriet, had divorced. While in Sarasota, Angley met Eloise Lorraine Archibald, the daughter of a prominent businessman, and on January 14, 1933, they were married in Sarasota. Shortly after the wedding, Angley was back in spring training with Indianapolis.  This time, the Indians held onto Angley for the entire season. He batted .303 in 92 games.20
After the season was over, Angley took a job as an assistant football coach for Sarasota High School in the fall and then was the head basketball coach for the Ringling College of Art team in the winter. He would continue in those capacities for the following year as well.21
In March 1934 Angley crossed paths with Joe Sprinz again when they were traded for each other. With the deal, Angley ended up with Columbus, the fourth team he had played for in the American Association. In May, with Columbus having to pare down its roster to meet the 20-player limit, the Red Birds sent Angley to Elmira of the Class A New York-Pennsylvania League. He tore up NYPL pitching, batting .367 in 29 games. On June 25 Columbus recalled Angley. His chief job for the rest of the season with Columbus was pinch-hitting. By season's end, he had batted .338 in 57 games.  Columbus went on to win the American Association title and then beat Toronto of the International League for the Little World Series crown.22
In January 1935 Columbus sold Angley to Houston of the Texas League. As usual, he continued hitting well. The Sporting News wrote in May that Angley "can wear out that nugget but his throwing and fielding have left much to be desired."23 On June 13 Houston left Angley home as it departed for a 16-day road trip, saying that "his catching has not reached expectations."24 In reality, Angley and Houston owner Fred Ankenman were in a salary dispute. Ankenman, unhappy with having to pay Angley the $400 a month that his contract with Columbus called for, tried to cut his salary. When Angley balked at that move, Ankenman threatened to suspend him and then tried to ship him to Jacksonville of the Class C West Dixie League, where the salary limit was $100 per month.
On June 17 Houston announced that Angley had been optioned to Jacksonville. Instead of reporting, though, Angley retired from Organized Baseball and took a position with Sun Oil in Brenham, Texas. His main job with Sun was player-manager for the company baseball team, the Brenham Sun Oilers. It was the start of a long semipro playing career for Angley.25
Angley stayed with Brenham for a couple of seasons then moved on to play for teams in Waco and Conroe, Texas. In 1939 he hooked up with a Houston team called the Grand Prize Brewers. For the next few years, the Brewers were the class of the state of Texas in semipro baseball. In 1940 the Brewers played in the National Baseball Congress Semi-Pro World Series in Wichita, Kansas, finishing in third place. Angley set a record by launching three home runs in consecutive at-bats against Lancaster, South Carolina, during a game in the tournament.26
In 1941 Angley took a job at the Boeing Aircraft plant in Wichita and played for its company team, the Wichita Stearman Trainers, who also played in the prestigious NBC tournament. The following year the team became the Boeing Bombers and with fellow former major leaguers Woody Jensen and Fred Brickell joining Angley on the roster, the Bombers won the NBC tournament. Angley continued to play with the team through the 1946 season. He also took over as the official scorer of the NBC tournament. He eventually left Boeing and became a sporting-goods salesman.  On the side, he refereed sports. He continued to live in Wichita with his wife and three daughters.27
During the summer of 1952, Angley was admitted to St. Francis Hospital in Wichita with kidney problems. The Sporting News reported in August that he was critically ill. Reports said Angley's weight had fallen from 220 pounds to 115. On September 3 the Boeing Bombers played the Fort Myer Colonials in a benefit game for Angley. On October 26, 1952, Angley died in the hospital at the age of 48 of pneumonia brought on by complications from kidney failure. He was survived by his wife and three daughters and was buried in Wichita Park Cemetery and Mausoleum in Wichita.28
In 1970 Angley was inducted into the Georgia Tech Hall of Fame and in 1991 he went into the Kansas Baseball Hall of Fame.29
Acknowledgments
The author would like to thank Karl Green, the chairman of the SABR Collegiate Baseball Research Committee, and Marilyn Somers, director of the Georgia Tech Living History Program. for their time and effort. It was greatly appreciated.
Notes
1 The Sporting News, March 21, 1935.
2 2013 Georgia Tech Media Guide, ramblinwreck.com/sports/m-basebl/13mediaguide.html.
3 Washington Evening Star, December 18, 1899.
4 Brooklyn Daily Eagle, January 15, 1929; The Technique (Georgia Tech school newspaper), December 2, 1926; Macon Telegraph, March 4, 1923.
5 2013 Georgia Tech Media Guide; Hagerstown Morning Herald, April 24, 1926.
6 1926 Georgia Tech Yearbook.
7 Thomasville (Georgia) Times Enterprise, October 26, 1926; The Technique, November 25, 1926; Salamanca (New York) Republican-Press, January 25, 1927; 2013 Georgia Tech Media Guide.
8 Greensboro (North Carolina) Daily News, July 14, 1927; The Sporting News, July 21, 1927; Robert Gorman, Death at the Ballpark (Jefferson, North Carolina: McFarland, 2009), 29.
9 The Sporting News, August 11 and November 10, 1927; Greensboro Daily News, September 16, 1927.
10 Atlanta Constitution, March 16 and 27, 1928.
11 Baton Rouge State-Times, February 23, 1928; Danville (Virginia) Bee, October 5, 1928; Unidentified newspaper article dated October 4, 1928, in Angley's Baseball Hall of Fame player file.
12 Syracuse Herald, February 9, 1929; Alan Levy, Joe McCarthy: Architect of the Yankee Dynasty (Jefferson, North Carolina: McFarland, 2005), 127; Rockford (Illinois) Morning Star, April 16, 1929; Davenport (Iowa) Democrat and Leader, April 24, 1929.
13 Rockford Register-Gazette, April 25, 1929; Appleton (Wisconsin) Post-Crescent, April 29, 1929.
14 Logansport (Indiana) Pharos-Tribune, May 21,1929; Brooklyn Daily Eagle, September 16, 1929; Lebanon (Pennsylvania) Daily News, June 3, 1929; Joplin (Missouri) Globe, June 9, 1929; Centralia (Washington) Daily Chronicle, July 30, 1929; Sheboygan (Wisconsin) Press, December 10, 1929.
15 Milwaukee Sentinel, June 1, 1930.
16 Omaha World-Herald, July 16, 1930; Jorge S. Figueredo, Cuban Baseball: A Statistical History 1878-1961 (Jefferson, North Carolina: McFarland, 2003), 194.
17 The Sporting News, August 6, 1931; Seattle Daily Times, November 21, 1931.
18 Sarasota Herald-Tribune, October 27, 1952; Tampa Morning Tribune, January 18, 1932.
19 The Sporting News, August 27, 1936; Canton Repository, June 22, 1932.
20 Letter from Nancy Angley Armstrong to Lee Allen in Angley's Baseball Hall of Fame player file.
21 Sarasota Herald-Tribune, October 19, 1933, and March 6, 1934.
22 The Sporting News, March 1 and October 18, 1934; Canton (Ohio) Repository, May 11, 1934; Dallas Morning News, June 26, 1934; Toledo News-Bee, July 4, 1934.
23 The Sporting News, May 16, 1935.
24 San Antonio Light, June 13, 1935
25 Canton Repository, January 22, 1935; The Sporting News, May 16, 1935;San Antonio Light, June 13, 1935; Galveston Daily News, June 8, 1939; Dallas Morning News, June 18 and September 2, 1935; Sarasota Herald-Tribune, June 29, 1935.
26 The Sporting News, April 1, 1937; Pampa (Texas) Daily News, July 23, 1937; Baton Rouge Morning Advocate, June 15, June 16, and August 10, 1939; Greensboro Daily News, August 26 and September 2, 1940; Omaha World-Herald, August 26, 1940.
27 Sarasota Herald-Tribune, January 20, 1946; Wichita Morning Eagle, October 27, 1952; Bob Rives, Baseball In Wichita (Mount Pleasant, South Carolina: Arcadia Publishing, 2009), 67.
28 Wichita Morning Eagle, October 27, 1952; The Sporting News, August 20 and November 5, 1952; Arizona Republic (Phoenix), September 4, 1952; Tom Angley's Kansas Certificate of Death.
29 Wichita Eagle, February 1, 1991.
Born
October 2, 1904 at Baltimore, MD (USA)
Died
October 26, 1952 at Wichita, KS (USA)
If you can help us improve this player's biography, contact us.
http://sabr.org/sites/default/files/TomAngley.JPG
600
800
admin
/wp-content/uploads/2020/02/sabr_logo.png
admin
2012-01-04 20:37:56
2020-10-12 11:49:07
Tom Angley