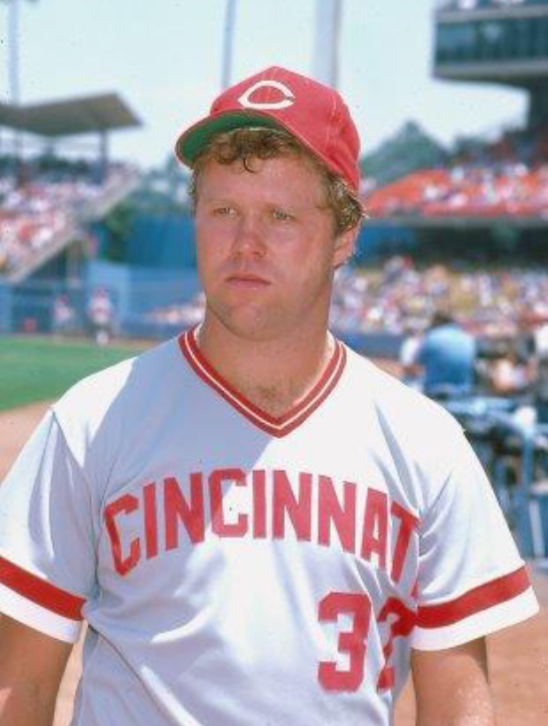 This article was written by
Joe Cox
---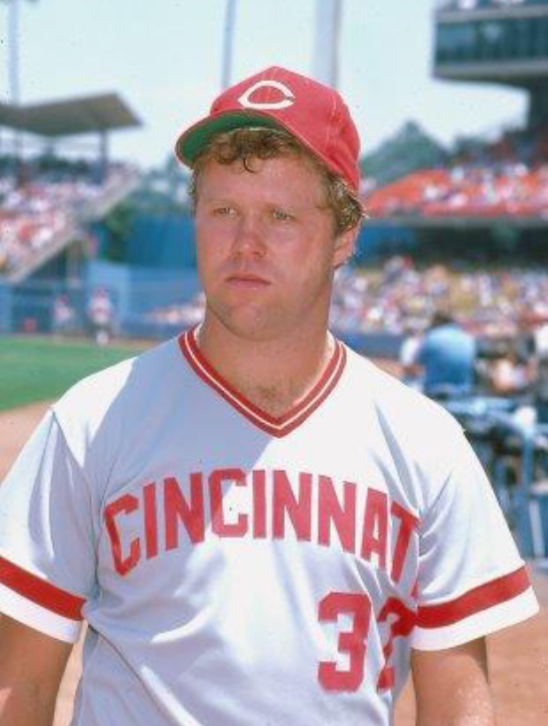 During a seven-year period from 1985 to 1991, Tom Browning was the most durable starting pitcher in major-league baseball. In a career that spanned 12 major-league seasons and just shy of 2,000 innings pitched, Browning was most notable for working the majority of his career as a sturdy, dependable starter who would take the ball every time his turn in the rotation came around. Browning was quite successful in his prime, winning 15 or more games four times, pitching a perfect game in 1988, and contributing to the Reds' World Series title in 1990.
Thomas Leo Browning was born on April 28, 1960, in Casper, Wyoming, one of five children. Browning's parents divorced in his childhood, and his mother later married an electrical worker who was transferred to New York. The Browning family moved to upstate New York, where Tom played locally against future pros like Jim Deshaies and Andy Van Slyke.1
Browning played college baseball at LeMoyne College in nearby Syracuse, New York, and subsequently transferred to Tennessee Wesleyan. Browning was always a gifted player, but never a superior prospect. As he himself wrote in 2006, "I couldn't rely on natural talent — because I didn't have much of it. I wasn't the hardest thrower, the fastest runner, or the most gifted athlete. But I had a solid and durable arm, and I worked hard."2 That hard work paid off, as the Cincinnati Reds made Browning their ninth-round draft choice in the 1982 amateur draft.
Browning pitched 88 innings of rookie-league ball in Billings, Montana, in 1982, going 4-8 with a 3.89 ERA. Significant improvement could be seen the following season, when he was 8-1 with a 1.49 ERA and 101 strikeouts in 78⅔ innings at A-level Tampa. It was at Tampa that Browning learned the screwball from minor-league pitching instructor Harry Dorish.3 For a pitcher who never had dominant stuff, the lesson was a pivotal one for Browning's future. He later wrote that it "revolutionized my ability to get hitters out; and it was a big reason for my eventual success."4 Browning finished 1983 with Double-A Waterbury, where he pitched better than his 4-10 record and 3.53 ERA might indicate.
In 1984 Browning spent almost the entire season at Triple-A Wichita, posting a 12-10 mark and a 3.95 ERA in 189⅓ innings. As a September call-up to Cincinnati, Browning won his first start on September 9, working into the ninth inning and allowing only one run to the Dodgers. He pitched three times, finishing 1-0 with a 1.54 ERA in 23⅓ innings.
The Reds had finished fifth in the division in 1984, after last-place finishes in 1982 and 1983. While the Cincinnati brass, including player-manager Pete Rose, hoped for big things from Browning, there was little reason to expect what lay ahead in 1985. Indeed, early in the season, one national columnist authoritatively noted, "No rookie pitcher will come close to Dwight Gooden's 17-9 record and 276 strikeouts of '84."5 This ended up being only half true.
Rose plugged Browning into the rotation as the Reds' fourth starter, and in the first half of the season, Browning delivered solid results. He reached the All-Star break with a 7-7 record and a 3.73 ERA. The Reds were a solid 44-41. Browning continued to be up and down, and on August 9 he lost a tough 3-1 decision to the Dodgers, dropping him to 9-9 with a 3.77 ERA.
The next eight weeks, however, were something altogether unexpected. In his next 12 starts, Browning amassed 11 wins and no losses, going from a .500 pitcher to a 20-game winner. Twice he pitched shutouts, but he also gritted out ugly 8-5 and 10-6 wins. Still, on September 28, when he beat the Astros, Browning reached a 20-9 mark, making him the first rookie to win 20 games since Bob Grim of the 1954 Yankees.6 Browning's 3.55 ERA and 155 strikeouts both indicated his ability to roll with the punches and gut his way through wins rather than dominate his opponents. One particularly memorable win came on September 11, when Browning and the Reds beat the Padres as Pete Rose broke Ty Cobb's career hits record in the first inning. Milestone accomplishments aside, Cincinnati finished second in the NL West, and Browning ended up sixth in the NL Cy Young Award voting and second in the Rookie of the Year race, losing out to Vince Coleman and his 110 stolen bases. The Sporting News's NL Rookie Pitcher of the Year award served as a consolation prize.
It was probably inevitable that Browning would struggle to repeat his incredible rookie campaign — and that he would have an occasionally difficult relationship with the Reds' penny-pinching owner, Marge Schott. First, Browning angered Schott by filming ads for an auto dealership that competed with Schott's own.7 Then he held out through most of spring training for a new contract, eventually becoming the last Cincinnati player to sign,8 inking a one-year deal that would soon become annual tradition between Browning and the Reds.
Browning began 1986 badly, losing his first four decisions and finishing April with a 6.08 ERA. He gradually improved, and the Reds again finished second in their division, although they were a distant follower of the Houston Astros. Browning started 39 games (leading the NL), and worked 243⅓ innings, finishing the season at 14-13 with a 3.81 ERA.
Still, if 1986 had been a disappointment, 1987 was much worse. Browning again signed a one-year deal during spring training, and then struggled with a sore arm, pitching as if the entire season was spring training. Writing after his career, Browning attributed the injury to a martial-arts workout with pitcher John Denny.9 Manager Rose, who was usually sympathetic to Browning, jumped on his case, questioning Browning's toughness.10 In mid-June Browning, with a 7.76 ERA, was sent down to Double-A Nashville for five starts. He was scarcely better in the minors, accruing a 6.07 ERA. Browning did improve on his return to Cincinnati, eventually winning his last three starts of the season, raising his record to 10-13 and lowering his ERA to 5.02. Again, the Reds ended up in second place, six games behind the Giants.
The 1985 season was Browning's best and 1990 was probably his most fulfilling year from a team standpoint, but 1988 had to be the oddest season of Browning's career. Once again a one-year contract was extended, and Browning signed it. His arm had healed, and his pitching had more or less returned to normal. Few other things had. Early in the season, Rose bumped NL umpire Dave Pallone in an altercation and was suspended for 30 days, one of the most severe punishments for an on-field offense in modern baseball history.
On June 6, 1988, Browning flirted with a no-hitter, reaching one out in the ninth inning before allowing a solitary single to future Hall of Famer Tony Gwynn. Browning won his last six decisions before the All-Star break and reached midseason with an 8-3 record and a 3.38 ERA. In the second half of the season, he continued strong. After opening the season at 2-3, for the remainder of the year, Browning was 16-2, finishing with a 3.41 ERA to accompany his 18-5 mark. On September 16, 1988, Browning pitched a perfect game at home against the LA Dodgers, the first perfect game in the National League in 23 years. The Dodgers went on to win the World Series, as Cincinnati again finished second in the NL West.
Browning was almost as sharp in 1989, although the positive moments of the season have been historically forgotten because the Pete Rose gambling scandal was a black cloud over Cincinnati's season. The Reds finished in fifth place, and late in the year Rose accepted a lifetime ban from baseball in settlement of his case. Against that backdrop, for the third time in four seasons, Browning led the NL in games started. His 249⅔ innings pitched were second in the league, and his 15-12 record was an incomplete picture of Browning's season. His 3.39 ERA was the best mark of his career, and his 3.6 WAR was his second best to date. On July 4 Browning flirted with a second perfect game, setting down 24 straight Phillies before Dickie Thon doubled to lead off the ninth inning. Another highlight was the entire month of August, just when the Rose settlement was finalized. Browning won all six of his starts and posted a 1.70 ERA, thus earning NL Pitcher of the Month honors.
On paper, there was little reason to suspect that 1990 would be a memorable season for the Reds. Cincinnati had an outstanding bullpen and a new manager, Lou Piniella, but few would have expected a championship season with wire-to-wire leadership in the standings. But the Reds won their first nine games and started the year 30-12, en route to the first World Series title in Cincinnati since 1976. Tagged as the Opening Day starter for the second time in his career, Browning was a solid contributor to the team, finishing 15-9 with a 3.80 ERA. He led the team in starts, innings pitched, and wins, and finished second to Jose Rijo in WAR, with a career-best 4.1 mark. In the NLCS, Browning beat Pittsburgh in a crucial series-evening second game, 2-1. He lost Game Five, but after the Reds finished off the Pirates in Game Six, Browning was in for an eventful World Series.
Browning was slated to start Game Three, and was watching Game Two from the dugout at Riverfront Stadium when his wife, Debbie, went into labor. Browning hurried to the hospital, but as Game Two dragged into extra innings, in the pre-cellphone era, the Reds' broadcasting team put out a radio bulletin for Browning to call the clubhouse, because he might be needed back at the ballpark.11 Fortunately for the Reds, Joe Oliver singled home the winning run in the bottom of the 10th inning, and Browning had the rest of the night off. Two days later he pitched six solid innings, winning Game Three at Oakland, 8-3. The following night, the Reds closed out a shocking Series sweep and Browning was a world champion.
Two months into the 1991 season, Browning looked like a Cy Young Award candidate. With a win on June 14, he was 9-4 with a 3.43 ERA. Browning was rewarded with his only career All-Star Game selection. Cincinnati was in second place at the break, but slid to fifth, and Browning stumbled in the second half, finishing 14-14 with a 4.18 ERA. Browning placed much of the blame for his poor second half on a hip injury sustained in a Houston bar fight.12
Browning's poor finish to 1991 was the beginning of the end of his days of effective pitching. A knee injury sustained in a home-plate collision with Houston catcher Scott Servais ended Browning's 1992 season on July 1,13 but even when he was healthy, he had just a 6-5 record and a 5.07 ERA to show for his trouble. The 1993 season included a citation for marijuana possession14 and a finger injury15 as well as a 7-7 record and a 4.74 ERA. If the season was notable at all, it was for an incident on July 7, when Browning sneaked out of the ballpark and caught part of the Cubs-Reds game on a rooftop adjoining Wrigley Field — while still in uniform.16
Browning was pitching better in 1994, with a 3-1 record and a 4.20 ERA in seven starts, but he sustained a horrific injury, breaking his arm while throwing a pitch on May 9 against San Diego. Browning later admitted that he instantly feared that he had been shot, writing, "I thought my arm was blown clear off my body. I couldn't feel it."17
Browning's career with Cincinnati was over. In 1995 he pitched for Kansas City, throwing some good games in the minor leagues, but losing his only two major-league starts as a Royal. He retired in spring training the following year.
Browning's life after baseball has been a varied one. In 2006 he wrote a book, Tom Browning's Tales From the Reds Dugout, with team employee Dann Stupp. In that same year, he was inducted into the Cincinnati Reds Hall of Fame. Browning has also worked as a broadcaster and a pitching coach, most recently for the A-level Dayton Dragons in 2015.
Tom Browning's career totals include a record of 123-90, a 3.94 ERA, and exactly 1,000 career strikeouts in 1,921 innings pitched. He was once an All-Star and once a world champion. As of the beginning of the 2016 season, Browning was ranked 12th in Reds history in wins, innings pitched, and strikeouts. He flirted with no-hitters on several occasions, but is perhaps best remembered for his 1988 perfect game.
Browning died on December 19, 2022 at the age of 62.
Acknowledgments
Baseball-Reference.com is eternally invaluable for factual background.
Notes
1 Michael Coffey, 27 Men Out: Baseball's Perfect Games (New York: Atria Books, 2004), 176-77.
2 Tom Browning and Dann Stupp, Tom Browning's Tales From the Reds Dugout (Champaign, Illinois: Sports Publishing, 2006), 1.
3 Coffey, 178.
4 Browning and Stupp, 23.
5 Bill Conlin, "After '84, Rookie Pickings Seem Slim," The Sporting News, April 15, 1985.
6 Hal McCoy, "Taste of Victory Surprises Browning," The Sporting News, October 14, 1985.
7 Browning and Stupp, 55.
8 Information reported in Cincinnati Reds news within The Sporting News, March 24, 1986.
9 Browning and Stupp, 62.
10 Coffey, 183.
11 Browning and Stupp, 130-131.
12 Browning and Stupp, 144-145.
13 Associated Press, "Browning Sidelined for Rest of Season," Los Angeles Times, July 3, 1992.
14 Associated Press, "Browning Faces Drug Charge," New York Times, July 31, 1993.
15 Browning and Stupp, 171.
16 Browning and Stupp, 167-168.
17 Browning and Stupp, 175.
Born
April 28, 1960 at Casper, WY (USA)
Died
December 19, 2022 at Union, KY (USA)
If you can help us improve this player's biography, contact us.
https://sabr.org/sites/default/files/BrowningTom.png
600
800
admin
/wp-content/uploads/2020/02/sabr_logo.png
admin
2012-01-04 20:50:07
2023-01-19 14:28:32
Tom Browning