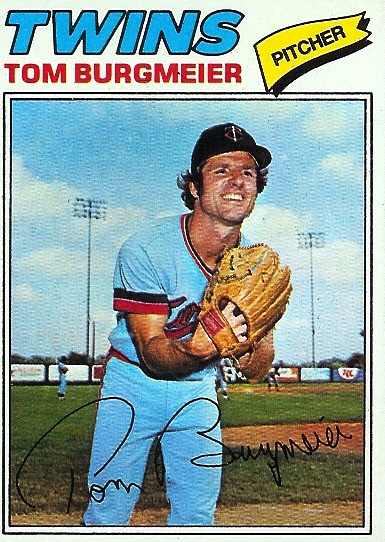 ---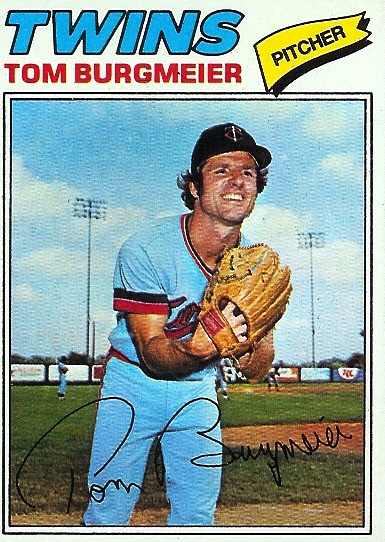 Cut loose by the team that first signed him, Tom Burgmeier was waived by the Houston Colt 45's, but his road to the major leagues went back on course when he was signed by the Los Angeles Angels. It took him four years to make the majors, where he would go on to pitch in 745 games, all but three in relief.

Thomas Henry Burgmeier was born on August 2, 1943, in St. Paul, Minnesota, the fourth of eight children of Lawrence Burgmeier, an electrician, and Rose Marie Burgmeier, of St. Cloud, Minnesota, where Lawrence worked for the Cold Spring Power and Light Company. The Burgmeiers lived in St. Cloud at 52 McKinley Place North.[1]
Burgmeier attended Cathedral High School, a Catholic school in St. Cloud, where he earned letters in baseball, hockey, and wrestling. According to the school yearbook, The Cathedralite, he was also involved in basketball and bowling and was a member of the school's Monogram Club.
On the diamond, he was part of three outstanding teams during his career as a Crusader under head coach George Marsnik. The 1959 team was led by Fred Sexton, Dave Fritz, and Bob Karn, who became Cathedral's head coach in 1971. Bob's brother Jim also played for the Crusaders, graduating with Burgmeier in 1961. Jim returned to Cathedral in 2001 as an assistant coach and served until he died in 2005. In 1959, Burgmeier's sophomore season, Cathedral advanced to the State Catholic Baseball Tournament but lost in the quarterfinals to the eventual state champion, DeLaSalle of Minneapolis.[2]
In 1960, the Crusaders made it back to the tournament and advanced to the championship game. Burgmeier pitched well in the final game, giving up five hits and one walk while striking out 11. But it wasn't enough as Cathedral lost 2-1 to St. Thomas Military Academy (now St. Thomas Academy) of St. Paul.[3]
The Crusaders struck gold in 1961, Burgmeier's senior year. Bolstered by a number of returning lettermen, including fellow pitcher Bob Meyer, catcher Jerry Pfannenstein, and shortstop Jack Staller, the team cruised through the regular season with a 16-0 record, including games that looked like football scores: 21-0, 25-0, and 32-0. Burgmeier accounted for seven of Cathedral's wins and threw three no-hitters as, for the third season in a row, the Crusaders advanced to the state Catholic championship. This time their opponent was Cretin of St. Paul (now Cretin-Derham Hall, and the alma mater of Hall of Famer Paul Molitor and Minnesota Twins catcher Joe Mauer). Burgmeier was on the mound for Cathedral and Mike Hayes for Cretin. It was a rematch of a regular-season game between the two hurlers, a game in which Burgmeier struck out 17.[4] Burgmeier did not disappoint the Crusader fans as he held Cretin to four hits and struck out 14. He was helped offensively by junior Tom Hamm, who went 4-for-5 and drove in five runs as Cathedral beat Cretin 11-2. It was an outstanding way for Burgmeier to close out his high-school career.
After graduating, Burgmeier played American Legion baseball and amateur baseball with Donovan's of the Granite City League, a circuit in the St. Cloud area.4 He attracted attention from major-league teams, including the Cincinnati Reds, Los Angeles Dodgers, and Houston Colts (as the Colt 45's were also known), an expansion team that would begin play in 1962. On September 24, 1961, Burgmeier accepted a $10,000 bonus to sign with the Colt 45's. He was signed by Houston scout John Sturm, a former major-league first baseman.
Burgmeier told St. Cloud Times sportswriter Mike Augustin a couple of weeks later that he was happy he had signed with Houston. "Houston is a club I always sort of had a preference for," Burgmeier said. "It is a new team, and, if I have the ability, I will be able to advance quickly. I can only do my best and hope for some good breaks. There won't be any time wasted. I'll find out right away whether or not I can make it and it will be good to know."
Burgmeier's mother endorsed her son's decision: "It was really a tough decision for Tom to make, but he made it himself and I'm sure he's happy with the choice."[5]
In 1962, Burgmeier began the road to the majors with Modesto in the Class A California League, where he finished with a 12-11 won-lost record, the first of only two professional seasons in which he reached double figures in wins. He had 210 strikeouts. Burgmeier started the 1963 season with San Antonio in the Class AA Texas League before finishing the year back in Class A, with Durham (North Carolina) in the Carolina League. His combined won-lost record was an unimpressive 4-13.
Back in Modesto in 1964, Burgmeier saw his career almost derailed when the Colts released him, along with other players they considered "surplus." But his road to the majors took a fortunate turn. Rocky Bridges, who managed the Los Angeles Angels' California League affiliate in San Jose, had seen him pitch in Modesto and recommended to the Angels that he be picked up. The Angels signed Burgmeier, who finished the season in San Jose with a combined 8-7 record for the season.[6]
Burgmeier moved up to the Angels' Class AAA team in Seattle in the Pacific Coast League (PCL) in 1965 and finished with the same 8-7 record. He began 1966 with Seattle, going 2-5 in 12 games for the eventual PCL champions before being reassigned to El Paso in the Texas League and recording a 4-8 record. But Burgmeier returned to Seattle in 1967, and it turned out to be his best minor-league season as he posted a record of 11-14 and led the PCL in complete games with 15. Even more impressive was his fielding as he handled 75 chances without an error, earning the Rawlings Silver Glove Award at pitcher.[7] Angels pitching coach Bob Lemon called Burgmeier "the best fielding pitcher since Bobby Shantz [who won the Gold Glove at pitcher in each of the first four years that the award was presented]."[8]
In the offseason, Burgmeier played winter ball in Puerto Rico and told writer Ross Newhan of the Los Angeles Times how valuable the experience was: "I learned more than I had in all the seasons in the minors," he said. "I won 11 games and was consistently getting out guys like Orlando Cepeda and Roberto Clemente."[9]
Burgmeier's winter-ball experience paid off in 1968, when, according to archivist Bob Lommel of the Stearns County History Museum (St. Cloud's home county), he became the first major leaguer from central Minnesota since Rip Repulski retired in 1960. He joined an Angels pitching staff that featured six players 25 years old or younger, among them Jim McGlothlin, Andy Messersmith, and Clyde Wright.[10] Burgmeier was the bullpen's left-hander, and the right-hander was Minnie Rojas.
Burgmeier made his major-league debut on April 10, 1968, against the New York Yankees, pitching the eighth inning in relief of George Brunet and retiring Joe Pepitone, Frank Fernandez, and Gene Michael in order. In May, he and the Angels came to Metropolitan Stadium in Bloomington to face the Twins. Jim Rantz, a former minor-league pitcher and in 1968 a front-office employee in the Twins' minor-league department, told the St. Cloud Times on May 16 how impressed he was with Burgmeier. "Burgmeier showed me a fine arm," Rantz said. "He throws hard, has a very fine curveball, and is always ready to pitch. I predict he'll do an excellent job for [Angels manager] Bill Rigney, but I only hope he doesn't do well against the Twins."
Burgmeier did not pitch against the Twins that weekend. He got his first win three weeks later, in relief on June 6 against the Baltimore Orioles. He made two of his three career starts with the Angels, facing Oakland on April 26 and Detroit on August 28. Both starts lasted less than five innings. He finished the 1968 season with a 1-4 record.
It was the only season Burgmeier spent with the Angels. In 1969, baseball expanded by two teams in each league, Kansas City and Seattle joining the American League and Montreal and San Diego becoming part of the National League. On October 15, 1968, an expansion draft was held to stock the new teams, and Burgmeier was selected by the Kansas City Royals. Angels teammate Paul Schaal was also chosen by the Royals. Another teammate, former Twins first-baseman Don Mincher, was the Seattle Pilots' first pick.
Burgmeier pitched one inning in the Royals' inaugural game, on April 6, 1969, against the Twins, relieving Wally Bunker. He picked Tony Oliva off first base and gave up a double to Rich Reese. Burgmeier pitched all or parts of five seasons with the Royals, spending parts of 1970 and 1973 with the team's Class AAA farm club in Omaha. Off the field, in February 1971, Burgmeier married Betsy Smail, a former airline hostess, in Brandon, Florida.14 On the field that season, Burgmeier and submariner Ted Abernathy emerged as the American League's top left-right bullpen duo, with Burgmeier recording 17 saves and Abernathy 23. Burgmeier had 10 more saves over the next two seasons, nine in 1972, and one in 1973.[11]
On October 24, 1973, Burgmeier was dealt to the Twins for minor-league pitcher Ken Gill.[12] After beginning his career in 1962, Burgmeier was coming home to Minnesota a decade later. In 1974, he became part of a left-right bullpen tandem with Bill Campbell. His first appearance at Metropolitan Stadium was a short one. On April 9, he pitched one-third of an inning against the White Sox in relief of Bert Blyleven His first Twins win came in a 13-inning affair against the Red Sox as he pitched six innings in relief of Dave Goltz. The Burgmeier-Campbell tandem stayed intact for three seasons, prompting writer Bob Fowler in the October 9, 1976, issue of The Sporting News to refer to them as the top "Bicentennial Bullpen."
When Campbell left via free agency to go to the Boston Red Sox after the 1976 season, Burgmeier remained a set-up man, this time for the new closer, St. Paul-born Tom Johnson. In 1977, Burgmeier's final season in Minnesota, he went 6-4 with seven saves in 61 games.
After the season, Burgmeier became a free agent, and, on February 17, 1978, he signed with the Red Sox. He was reunited with his bullpen-mate Campbell and was joined by veterans Dick Drago and Andy Hassler along with a 23-year-old closer, Bob Stanley.
In his four years with the Red Sox, Burgmeier started one game, the first game of a twi-night doubleheader on July 24, 1978, against the Twins. He didn't get a decision, leaving with the score tied 3-3 in the fifth. His best major-league season was in 1980, when he got 24 saves, breaking the club record for a left-handed reliever, set by Sparky Lyle in 1970. Burgmeier was named to the American League team in the 1980 All-Star Game but did not pitch. He pitched two more seasons in Boston before signing as a free agent with the Oakland A's after the 1982 season, in which he had posted a 7-0 record.
The Red Sox were his favorite team to play for, Burgmeier told sportswriter Bill Krogman of The Visitor, the St. Cloud Catholic Diocese's newspaper. "One year we won 99 games and tied with the Yankees. The competition and rivalries were always there. I also enjoyed playing in Fenway Park."[13]
Burgmeier was the senior member of the A's pitching staff in 1983, going 6-7 with four saves. The following season, Burgmeier, now 40, was off to a good start with a 1-0 record and a 1.67 earned-run average.[14] However, he injured a muscle behind his left shoulder and went on the disabled list in May. He returned on August 9, pitching against his former team, the Angels. He pitched six more games with the A's before ending his pitching career at the age of 41. In his 17 major-league seasons, he won 79 games, lost 55, and had 102 saves.
After a few years out of baseball, in 1991, Burgmeier signed on with the Royals as the team's video coordinator. From 1992 to 1996, he was a pitching coach in the Kansas City Royals' farm system, with stops in Rockford, Illinois, and Eugene, Oregon.[15] In 1997, he returned to the Royals as a video coordinator and became the team's bullpen coach the following season. He remained with the Royals until 2000, leaving to become the pitching coach for the Orioles' Class AA team in Bowie, Maryland. One pitcher he helped teach, Erik Bedard, went on to lead the American League in strikeouts in 2007.[16]23 Starting in 2003, Burgmeier spent three seasons as the pitching coach in Burlington (Iowa) of the Midwest League, and as of 2008 had spent three seasons in the same capacity in Omaha. Quite a résumé for a former Cathedral Crusader from St. Cloud, Minnesota, who pitched in 745 major-league games, Tom Burgmeier.
Note
A version of this biography appeared in the book Minnesotans in Baseball, edited by Stew Thornley (Nodin, 2009).
Photo Credit
The Topps Company
---
Born
August 2, 1943 at St. Paul, MN (USA)
If you can help us improve this player's biography, contact us.
http://bioproj.sabr.org/bp_ftp/images4/BurgmeierTom.jpg
600
800
admin
/wp-content/uploads/2020/02/sabr_logo.png
admin
2012-01-04 20:41:18
2012-01-04 20:41:18
Tom Burgmeier