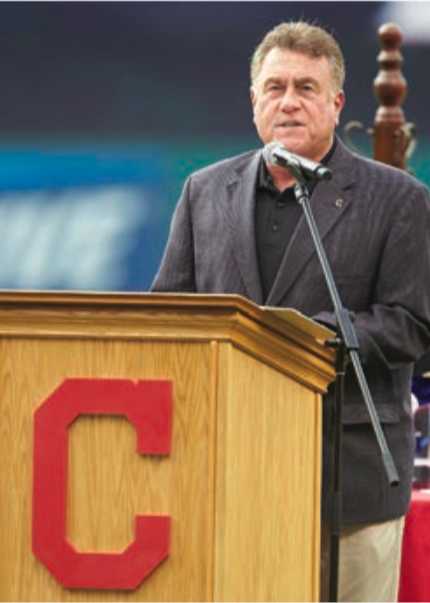 ---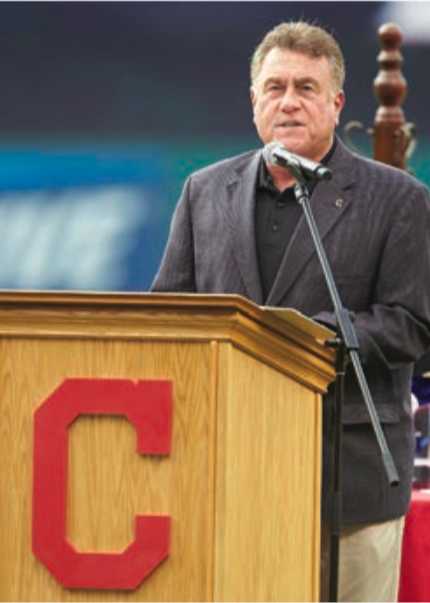 Tom "Hammy" Hamilton was well known as the "Voice of the Tribe," broadcasting games on the radio for the Cleveland Indians since 1990 and serving as the chief radio announcer since 1998. He was well loved for his enthusiasm for baseball; for his ability to help listeners picture exactly what was happening in the game; and for his quirky catchphrases. During his first 28 years with the Indians, Hamilton called all 89 postseason games, including all the 1995, 1997, and 2016 World Series games.1
This includes games throughout the highs and lows of the 2017 season, when the team won a record-breaking 22 consecutive games for a 102-victory season. Entering the postseason with "justifiably high expectations," they lost three in a row in postseason play, including the season-ending Game Five of the American League Division Series.2
Hamilton was scheduled to announce the 2018 season with Jim "Rosie" Rosenhaus, including any postseason play. The games were to be broadcast on WTAM 1100, 100.7 FM WMMS, and ALT 99.1.
Growing Up Years
Hamilton was born on August 19, 1954, with most sources saying he was born in Waterloo, Wisconsin. However, his family didn't move into Waterloo (population 2,000) until he was in the eighth grade. Prior to that, Tom lived on a 150-acre dairy farm in an even more rural location than Waterloo. In Glory Days in Tribe Town: The Cleveland Indians and Jacobs Field 1994-1997, Hamilton recalled being so isolated on the farm that he was frequently talking to himself, milking cows before dawn broke and "half" hating his three brothers and sisters because they were so cooped up together.3
When Hamilton was in the eighth grade, his father, Frank, got a job at the Perry Printing Company, which was a more stable lifestyle than trying to make it at farming. After moving to Waterloo, they were now only half an hour from Madison, Wisconsin, bringing them much closer to what he perceived as civilization.
There, Hamilton listened to Earl Gillespie call Milwaukee Braves games on the radio. He also listened to Chicago Cubs games and, for basketball, the Milwaukee Bucks. He played amateur ball himself and dreamed of becoming a major-league baseball player. When it became clear that this dream was not coming to fruition, he formed a new goal while still in high school – to become a sports announcer. Although broadcasting "seemed so beyond me," he attended Brown College in Minneapolis to learn the trade.
A college professor, Dr. Walker helped him to develop his broadcasting skills and he attended local high-school games and sat by himself, recording how he would call those games. He'd then turn the tape into his professor to receive critiques.4
Early Career
Hamilton began broadcasting in Appleton, Wisconsin, where he read the news, played music, and called sports, including local high-school competitions and Lawrence University games. He also gave a few reports on the Green Bay Packers and called Class-A Appleton Foxes baseball games (25 a year). While he worked at the Appleton station (1977-1981), he put in 10 to 12 hours a day before bartending – and still didn't make $20,000 a year. He also worked in other fairly remote locations – Shell Lake, Wisconsin, and Watertown, Wisconsin – applying for better jobs and hoping for a break in the competitive industry of broadcasting.
Hamilton moved up the ladder when he began calling University of Wisconsin-Madison football games with Earl Gillespie, who was known for hollering "Holy cow!" when someone hit a home run during a Milwaukee Braves game he was calling. During one winter, Hamilton also flew to Colorado to call University of Colorado basketball games. But in 1984, he was laid off from the Madison radio station, a blow to his career plans.
He next did some part-time radio broadcasting and some part-time voiceovers for commercials, hating the latter work. In 1986 a Columbus. Ohio, station where he had interviewed before going to Madison called. They had remembered his tryout and hired him for morning drive sports, plus Ohio State University football pregame, halftime, and postgame reporting. Hamilton offered to relieve Terry Smith, who was calling Triple-A Columbus Clippers baseball games (the Clippers were the New York Yankees' top farm club); because Hamilton offered to do so for free, they took him up on his offer and this is what he did from 1987 to 1989. During the football season, Hamilton was working 80-hour weeks, but he had time to meet his future wife, Wendy, who was reporting morning news.
In 1989 Paul Olden left his job as the radio announcer for the Cleveland Indians games (second to Herb Score), but Hamilton didn't apply, not feeling qualified. When he saw a news story saying the Indians were down to the four final candidates. He thought it was probably too late to apply, but Wendy talked him into making a tape and sending it to the Indians. The Indians offered him the job for $40,000 a year. It was less than he was making, but it was also a dream come true: a major-league broadcasting job.
Hired by Cleveland
Hamilton was hired by the Indians in 1990, the same year his first child was born. "Without question," Hamilton told sportswriter Jim Haynes in 2014, "1990 is the best. It was my first year in the big leagues and it was the impossible dream becoming a reality. Nothing will ever top that."5
During the offseason, Hamilton started broadcasting Big Ten football games on television, mostly for Ohio State University; he did this as a backup in case his baseball job didn't pan out. And, just in case, he and his wife bought a house in nearby Bay Village, choosing it because it had "good resale value." He was well aware that off mike he doesn't have much of a filter about what he says – and it's all too easy for a broadcaster to think he's off air and say something he shouldn't.
In other words, Hamilton didn't really expect this great gig to last.
Hamilton called the Indians games with Herb Score, a man he called an "icon." When he first met Score, he asked if they should do a trial run show, but Score declined – and also shared three rules: Hamilton was not to ask about Score's family on air; he was not to say something like "Isn't that right, Herb?" because Score might not agree; and he needed to have fun. The first game he called was against the Giants and he recalled talking a lot on the two-hour ride from Tucson to Scottsdale because he was so nervous.
The biggest lesson Hamilton learned from Score, he said, is that the game is the most important thing because, for many people, it's a three-hour respite from whatever challenges they may be facing in their lives.
Although Hamilton wasn't sure how long he'd last in this job, he had high hopes for the 1990 Indians, assuming they'd be a playoff team – that is, until Score set him straight. That year, the Indians' record was 77-85. The next year they plunged to a dreadful 57-105, one of the worst in a long and checkered franchise history – and the next two years didn't go well for the team, either. But, from 1994 to 2001, the team boasted eight consecutive winning records with six AL Central titles and two World Series teams.
Catchphrases
Sometime during the 1990s, Hamilton developed his signature home-run call, one that sounds something like this: "Swing and a drive … going back … waaaay back … gone! A home run!"
Hamilton told Haynes he did not recall when he started calling home runs that way, although he didn't remember doing it in the minor leagues. He credited the excitement of the 1990s for the development of his home-run-calling style. "I don't call all the home runs the same," he said, "and I think the worst thing you can do is say to yourself, 'I have this home-run call and I'm going to use it every time' because quite frankly it doesn't sound natural."6
During his tenure with the Cleveland Indians, other fan-favorite catchphrases have included:
And we're underway at the corner of Carnegie and Ontario (at the start of home games; he often tailors this opening to acknowledge something about the location of the other teams at away games).
Swung on and belted!
Three. Called.
How about that?
A mobbing at home plate!
Mmm … mmm … mmm (indicating a mistake).
So long, everybody.
Fans like to collect some of Hamilton's most enthusiastic calls to replay them later.7
More about the 1990s
One of the most painful events of Hamilton's career happened during– in 1993, when Indians pitcher Steve Olin died in a boating accident in Winter Haven, Florida, during spring training. Hamilton and his wife were close friends with Olin and his wife; pitcher Tim Crews was also killed in the accident, and pitcher Bob Ojeda was badly injured. Although Hamilton was clearly shaken up by this tragedy, he continued to broadcast Indians games at a professional level.
And, of course, Hamilton was the voice of the Tribe when Cleveland's baseball franchise went from being a national joke to one where proud Cleveland fans streamed into sold-out ballparks eagerly awaiting an October to remember.
Hamilton said some of his best memories of the Indians championship era include Kenny Lofton's borderline-insane run from second base to home plate on a passed ball in Game Six of the 1995 ALCS. This run, described as a "mad dash" by a sportswriter, seemed to change the momentum in favor of Cleveland, and Hamilton said he could remember Lofton rounding the bases as if it happened just yesterday.
Terry Pluto summed up what that entire era was like and the central role played by Hamilton:
Close your eyes and think back to the middle 1990s. Those weren't baseball seasons, they were yearlong celebrations. It was the end of baseball's darkest decades in Cleveland. It was Jacobs Field packed with fans wearing Wahoo red, white, and blue. It was horns blaring from the cars of East 9th and Ontario Avenue. It was a late-night symphony of toots after yet another Indians victory.
It was Tom Hamilton screaming one word that said so much. BALLGAME!
The Tribe radio voice uttered that word on the final out of every Tribe victory.
BALLGAME!8
Score retired after the 1997 season. (He died in 2008.) In 1998, Hamilton took the lead role in broadcasting the games, initially partnering with Mike Hegan, a man for whom he had great respect.
Post-1990s
Hamilton continued to partner with Hegan through 2011. From In 1998 and 1999, Dave Nelson worked in a three-man setup with Hamilton and Hegan; from 2000 to 2006, Matt Underwood played the third role, until the Indians returned to a two-person team. After Hegan retired, Jim Rosenhaus has teamed up with Hamilton in broadcasting the games.
Although Hamilton brings a high level of enthusiasm to the game, he typically maintains control over what he says and how he says it, but this is perhaps the most notable exception.
In March 2013 Hamilton injured his knee while in Arizona for spring training. He planned to wait until October to address the medical issue but needed to take a couple weeks off from broadcasting during the All-Star break in July to repair a torn meniscus.
On May 27, 2013, the Indians played the Cincinnati Reds. During that game, Aroldis Chapman threw a couple of fastballs at Nick Swisher in the ninth inning, probably intentionally; one went over Swisher's head while the other was near it. The situation became tense and Hamilton's controversial words included: "What you'd love to see Swisher do here is knock it right off the temple of Chapman and see how much fun it is to have a ball coming at your head. That is bush league." Hamilton also predicted retaliation later in the series but when asked about his comments, he said he did not want to be the focus of the story.9
Family
As of 2018 Hamilton resided in Avon Lake, a suburb on the west side of Cleveland, with his wife, Wendy. They have four children: sons Nicholas and Bradley, and daughters Kelsey and Katie.
Nick is a graduate of Kent State University, where he played an important role on the 2012 College World Series Golden Flashes team. In June 2012, he was drafted by the Indians in the 35th round, with his switch-hitting ability being praised. Tom Hamilton was quoted as saying that, when he first learned the good news, it didn't immediately sink in.10
But on March 24, 2014, tears flowed freely. The Indians and Reds were to play a preseason game. The Reds, as the home team, chose to not use the designated hitter, so Nick Swisher – the planned DH – was sent home. Shortly before the first pitch, though, the Reds decided to allow the DH and so manager Terry Francona chose to use Nick Hamilton, an extra in the lineup.
This game was not scheduled for radio broadcast, so Hamilton was free to watch – and to cry happy tears as his son came up to bat, while Jim Rosenhaus provided play-by-play coverage on the team's webcast. "You couldn't script it any better than that," Hamilton said. "We'll never forget Tito and the Indians for making that happen."11
Meanwhile, in 2015, Brad became a freshman catcher for Kent State University.
As of 2018 Hamilton was a seven-time winner of the National Sportscasters and Sportswriters Association Ohio Sportscaster of the Year Award: 1997, 2000, 2001, 2004, 2006, 2013, and 2016.12 In 2008 the Indians honored him with a Tom Hamilton talking bobblehead and, on July 31, 2009, the team celebrated his 20th season with the Tribe with a postgame fireworks show that featured some of his most memorable calls.
In 2009 Hamilton was inducted into the Cleveland Association of Broadcasters Hall of Fame. He celebrated his 25th year with the Indians in 2014, making him the Indians broadcaster with the second longest tenure, next to Herb Score; the Indians honored him in a pregame ceremony.
Hamilton coauthored Glory Days in Tribe Town: The Cleveland Indians and Jacobs Field 1994-1997 with Terry Pluto. In 2015 Hamilton received the 2015 Lifetime Achievement Award from Greater Cleveland Sports Awards.
Notes
1 Cleveland Indians, "Broadcasters." No date. Retrieved from cleveland.indians.mlb.com/team/broadcasters.jsp?c_id=cle.
2 David Waldstein, "What Happened to the Cleveland Indians?" New York Times, October 12, 2017. Retrieved from nytimes.com/2017/10/12/sports/baseball/cleveland-indians-playoffs.html.
3. Terry Pluto and Tom Hamilton, Glory Days in Tribe Town: The Cleveland Indians and Jacobs Field 1994-1997 (Cleveland: Gray and Company, Publishers, 2014), 297.
4 Jim Haynes, "A Big League Voice: Exclusive Interview with Tom Hamilton," New Philadelphia (Ohio) TimesReporter, February 20, 2014. Retrieved from timesreporter.com/article/20140220/Sports/140229952.
5 Ibid.
6 Ibid.
7 JLTRAIN233. "Voice of the Cleveland Indians: Tom Hamilton," YouTube.com, May 7, 2012. Retrieved from youtube.com/watch?v=cmE6P3H5PZ4.
8 Pluto and Hamilton, 13.
9 Craig Calcaterra, "Indians Broadcaster Tom Hamilton Got a Little Too Into the Aroldis Chapman-Nick Swisher Beanball Incident," NBC Hardball Talk. May 28, 2013. Retrieved from hardballtalk.nbcsports.com/2013/05/28/indians-broadcaster-tom-hamilton-got-a-little-too-into-the-aroldis-chapman-nick-swisher-beanball-incident/. Associated Press, "Tom Hamilton: What's Said Is Said," ESPN.com, May 28, 2013. Retrieved from espn.go.com/mlb/story/_/id/9319766/cleveland-indians-broadcaster-tom-hamilton-not-backing-criticism-cincinnati-reds-aroldis-chapman.
10 Paul Hoynes, "Tribe Draft Includes Tom Hamilton's Son; Nick Hamilton of Kent State," Cleveland.com. June 7, 2012. Retrieved from cleveland.com/tribe/index.ssf/2012/06/johnny_damon_knows_he_has_to_g.html.
11 Jordan Bastian, "With Dad Watching, Nick Hamilton Makes Debut." MLB.com, March 24, 2014. Retrieved from mlb.com/news/indians-broadcaster-tom-hamilton-watches-son-debut-vs-reds/c-70053664; Zack Meisel, "For Tom Hamilton, the Voice of the Cleveland Indians, 'the Impossible Dream Came True,'" Cleveland.com, August 1, 2014. Retrieved from cleveland.com/tribe/index.ssf/2014/08/cleveland_indians_tom_hamilton.html.
12 HSMA, "Ohio," No date. Retrieved from nationalsportsmedia.org/awards/state-awards/ohio
This shows the "author" as NSMA for a publication named HSMA. Is that all correct?
Born
August 19, 1954 at Waterloo, WI (US)
If you can help us improve this player's biography, contact us.
https://sabr.org/sites/default/files/HamiltonTom.jpg
600
800
admin
/wp-content/uploads/2020/02/sabr_logo.png
admin
2014-02-08 10:31:50
2014-02-08 10:31:50
Tom Hamilton