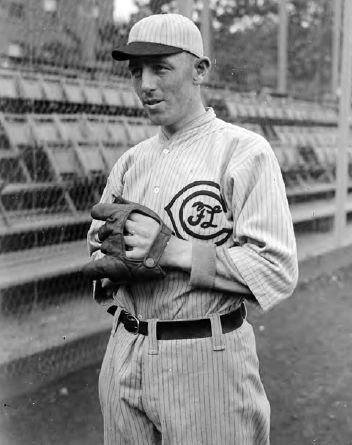 ---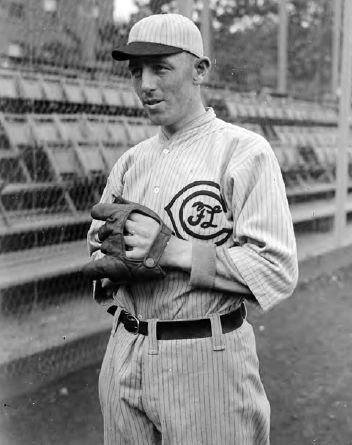 Tom McGuire must have found it odd to be on the mound for the first-place Chicago White Sox on August 9, 1919, at Griffith Stadium in Washington, D.C. The spitballing McGuire had never made an appearance in Organized Baseball. His professional baseball career had been played entirely in independent, "outlaw" leagues like the United States League and the Federal League. He had last thrown a professional pitch in 1914.
Unfortunately for McGuire, there was no Hollywood ending to the story. McGuire was hit hard in his three innings of work that day. He never played another game in the major leagues. The White Sox went on to play in the World Series without him, losing a tainted fall classic against the Cincinnati Reds that culminated in the Black Sox scandal.
Thomas Patrick McGuire was born on February 1, 1892, in Chicago, the first of five children of John and Nora (Cline) McGuire. John and Nora were born in Ireland and had emigrated to the United States in the 1880s. They were married in 1891. John was a Chicago policeman for most of his life.1
Young Tom took to sports and by the time he reached high school, he was a star athlete at Chicago's De La Salle Institute.2 He played for several semipro teams in Chicago before he signed as a pitcher with the Chicago Green Sox of the "outlaw" United States League in 1912.3 The United States League intended to compete with the established major leagues, but folded in mid-June because of lack of capital, rainouts, and poor attendance.4 The right-handed McGuire compiled a 5-4 record in 12 games, and led the league with 38 walks given up. He played in the outfield on occasion, batting .213 with two home runs in 17 games.5
In 1913 McGuire joined another outlaw league team, the Federal League's Chicago Keeleys, nicknamed for manager Burt Keeley. McGuire led the league in most pitching categories, including wins (18), games pitched (36), complete games (27), innings pitched (272), and strikeouts (170). He also led in runs allowed (118), walks (84), and hits allowed (264).6
McGuire pitched so well that he garnered the attention of the St. Louis Cardinals. In mid-June, published reports claimed that McGuire had signed with the Cardinals and that teammate Charlie "Silk" Kavanagh had signed with the Chicago Cubs. After the June 20 game against the Indianapolis Hoosiers, the Indianapolis Star wrote that the game "will probably go on record as (McGuire's) last game in the league."7
But Federal League President John T. Powers fought back. He announced that if McGuire and Kavanagh were signed by the National League teams, the Federal League would go after Roger Bresnahan (then playing for the Chicago Cubs). McGuire and Kavanagh finished the season in the Federal League.8
As the Federal League declared war on the major leagues during the winter of 1913-14, McGuire re-signed with Chicago and headed to Shreveport, Louisiana, for spring training. Manager Joe Tinker — the Federal League's first big-name signing — liked what he saw of McGuire, placing him on the Chi-Feds roster for the regular season. McGuire wasn't the only former Chicago semipro player to make the Chi-Feds squad. Pitchers Erv Lange and Max Fiske also went north with the club. In the first few months of the season, McGuire picked up where he left off in 1913, with a winning record on the mound and a .340 batting average into late July.9
He hit so well that when outfielder Max Flack left the team in early August because of illness in his family, McGuire played left field. His only major-league home run came during this stretch, when he took George Suggs of the Baltimore Terrapins deep on August 6. But by late August McGuire had begun began to struggle. Tinker offered McGuire and two other pitchers to the St. Louis Terriers for star pitcher Mordecai "Three Finger" Brown. Instead, St. Louis sent Brown to Brooklyn. Tinker eventually acquired Brown for the 1915 season and won the Federal League championship with him.10 McGuire finished 5-6 with a 3.70 ERA in 24 games.
Tinker chose not to re-sign McGuire in 1915; Sporting Life reported that "he did not develop as Tinker expected." In February Burt Keeley came to McGuire's rescue and signed him to play on the William Hale Thompson-backed indoor team of the Woodlawn baseball league in Chicago. Cap Anson also played in the league, which used regulation balls and bats but had just five players in the field.11
McGuire's indoor play didn't lead to any offers from professional outdoor teams. There was a rumor that the Newark Pepper of the Federal League were interested in him but nothing came of it. In April conflicting reports came out about his whereabouts. One said he was working at Buck Weaver's billiard room in Chicago; the other claimed he had taken a job as a sportswriter in Prince George, British Columbia.12
While McGuire's exact occupation is unknown, it's clear he wasn't playing in Organized Baseball. In late September 1916, a report in Sporting Life said McGuire was preparing to join the Los Angeles Angels of the Pacific Coast League. If he did, he never played in a game.13
It wasn't until 1918 that McGuire's name started to appear in sports pages again. In the midst of World War I, he joined the US Army and was assigned to Camp Grant in Rockford, Illinois. He was attached to the 86th Infantry Division (known as the Black Hawk Division) as a sergeant major in charge of troop transportation, and pitched on the division's baseball team, which also included former major leaguers Ed "Jeff" Sweeney, William Marriott, Adam DeBus, and Austin Walsh.14
In July McGuire was sent to France with the Black Hawk Division.15 He never saw combat and returned to the United States in January 1919. He began pitching for a Chicago semipro team called the J.P. Sheehans. On April 16, before 1,500 fans, McGuire pitched his team to a victory over the Jimmy Hutton All-Stars.16
Sometime that summer, McGuire's performance caught the eye of White Sox manager Kid Gleason. McGuire worked out for Gleason in late July and, amazingly, was offered a contract in professional baseball, five years after his last go-round in the Federal League.17
On August 9, 1919, McGuire made his first and last appearance in Organized Baseball. Another recently acquired veteran, Erskine Mayer, was tasked to start against the lowly Washington Senators. It didn't go well. Mayer lasted five innings before yielding to McGuire in the sixth. McGuire pitched three innings, allowing five hits, four runs, and three walks, before he was pulled. The White Sox lost, 11-6. Gleason had seen enough.18
Gleason was criticized the next day for his curious choice of pitchers for the first-place White Sox. Hampered all year by a lack of pitching depth, Gleason likely was looking for healthy arms down the stretch. It's unclear how long McGuire stayed on the roster, but he was not on the bench during the World Series and did not receive even a partial share of the championship money.19
McGuire may have continued to play semipro baseball after his stint with the White Sox but he later became a grain broker on the Chicago Board of Trade. He held that job for 37 years.20
In 1923 McGuire married Kathleen J. Freeman. They first lived in Oak Park, Illinois, but eventually settled in nearby River Forest. The couple had three children: daughter Margaret Mary and sons Thomas Patrick Jr. and John Joseph.
On December 8, 1959, at the age of 67, McGuire died at St. Joseph's Hospital in Phoenix, Arizona, while recuperating from surgery. The cause of death was acute renal insufficiency. His kidneys may have failed because of medication following his surgery. He was survived by his wife, Kathleen, and their three children. He was buried in Holy Sepulchre Cemetery in Worth, Illinois.21
Notes
1 1900-1930 United States Censuses.
2 The Sporting News, December 16, 1959.
3 Ibid.; Sporting Life, May 11, 1912. .
4 Rudolf K. Haerle, "The United States Baseball League of 1912: A Case Study of Organizational Failure," North American Society for Sport History, Proceedings and Newsletter, 1976, 36-37.
5 Sporting Life, May 11, 1912. McGuire's obituary in The Sporting News mentioned that he was signed by the 1912 Des Moines Boosters of the Western League. However, there is no evidence that he played for them. Statistics for 1912 were compiled by minor-league historian Ray Nemec.
6 Statistics for 1913 were compiled by minor-league historian Ray Nemec.
7 Sporting Life, June 21, 1913; Indianapolis Star, June 21, 1913.
8 Sporting Life, June 21, 1913.
9 Miami Herald, July 15, 1914; Flint Daily Journal, July 8, 1914; Ann Arbor Daily Times News, July 25, 1914.
10 Sporting Life, August 21 and 29, 1914; Bob McConnell and David Vincent, eds., SABR Presents the Home Run Encyclopedia (New York: Macmillan, 1996), 853.
11 Sporting Life, February 20, 1915; Racine (Wisconsin) Journal-News, February 9, 1915.
12 Racine (Wisconsin) Journal-News, April 19, 1915; La Crosse (Wisconsin) Tribune, April 17, 1915; Sporting Life, April 24, 1915.
13 Sporting Life, September 30, 1916.
14 Grand Rapids (Michigan) Tribune, March 7, 1918; Rockford (Illinois) Morning Star, April 18, 1918.
15 Waterloo (Iowa) Times, May 31, 1918; Rockford (Illinois) Register-Gazette, May 31, 1918, and January 15, 1919; Robert Charles Cottrell, The Best Pitcher in Baseball: The Life of Rube Foster, Negro League Giant (New York: NYU Press, 2004), 114-115.
16 Grand Forks (North Dakota) Herald, January 15, 1919; Columbus (Ohio) Daily Express, August 22, 1919; Englewood (Colorado) Economist, April 16, 1919.
17 Rockford (Illinois) Morning Star, July 24, 1919.
18 Washington Post, August 10, 1919.
19 "Black Sox Scandal (1914-69)," American League records, National Baseball Hall of Fame Library.
20 Bill Lee, The Baseball Necrology (Jefferson, North Carolina: McFarland, 2004), 264.
21 The Sporting News, December 16, 1959; Thomas McGuire, Arizona Certificate of Death from his Baseball Hall of Fame player file; Lee, The Baseball Necrology, 264. Thanks to SABR member Dr. Stephen Boren for help in interpreting McGuire's death certificate.
Born
February 1, 1892 at Chicago, IL (USA)
Died
December 7, 1959 at Phoenix, AZ (USA)
If you can help us improve this player's biography, contact us.
http://sabr.org/sites/default/files/TomMcGuire.JPG
600
800
admin
/wp-content/uploads/2020/02/sabr_logo.png
admin
2012-01-04 20:00:06
2020-10-16 15:47:42
Tom McGuire