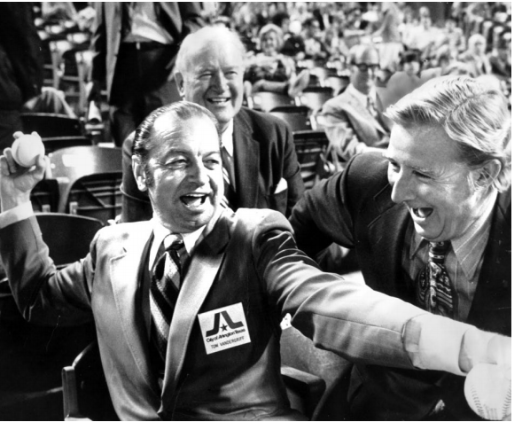 ---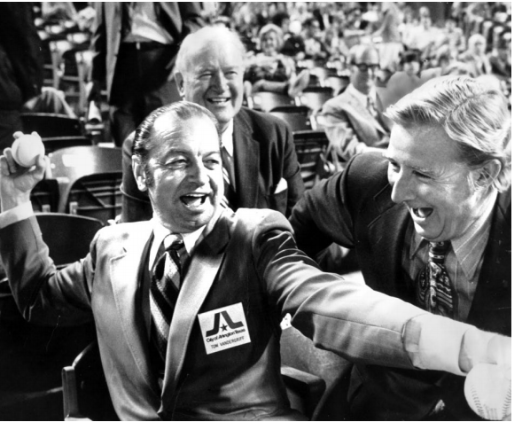 Tom Vandergriff was the central figure in bringing major-league baseball to North Texas, but that was just one of many significant achievements during his 26 years serving as mayor of Arlington. Under his leadership, the city of Arlington grew from a small rural town of about 7,500 people to a large city of 125,000 with a vibrant entertainment district. There are many towns between Dallas and Fort Worth, but Mayor Vandergriff said Arlington would be the hyphen in D-FW.1
The Vandergriff family moved from Carrollton, Texas, to Arlington in 1937 when Tommy, as he was known as a child, was 11 years old. Tommy's grandfather, father, and uncles had been in the auto business since 1912, repairing horseless carriages in the early days, and then opening a Chevrolet dealership in Carrollton in 1920. Tommy's father, W.T. "Hooker" Vandergriff, opened a new dealership in Arlington and a few years later took over all of the family's auto business and opened a furniture store.2
The family business was doing well as Tommy grew up, but selling cars was not his interest. Tommy loved sports and radio. At the age of 16, having a deep, mature voice for his age, he became an announcer for a Fort Worth radio station. After graduating from Arlington High School in 1943, he pursued a degree in speech, first at Northwestern University in Evanston, Illinois, then at Southern Methodist University in Dallas, and then finally at University of Southern California, where he received a degree in broadcast journalism in 1947. He had continued to work in radio during his college years, but after graduating returned home and returned to the family business for a couple of years. Though he grew up around the car business, that was not where Tom's passion or talents lay. He would soon make the decision that would change his life and the future of Arlington.
Vandergriff was president of the Arlington Chamber of Commerce when he learned that General Motors wanted to open an assembly plant in Middle America. Realizing that his current position was insufficient to broker a deal of this magnitude, he decided to run for mayor. At the age of 25, he won his first bid for public office and promptly negotiated a deal to open a General Motors assembly plant in Arlington. He had secured a 250-acre tract with a promise from the state to build a road to the new facility. The plant opened in 1953, just two years after he was elected.
The plant immediately changed economic conditions in Arlington, creating a lot of new jobs. It also brought new demands on infrastructure and the need for water. Mayor Vandergriff's next major success was the creation by means of a dam of Lake Arlington, which would serve as the city's primary water supply for the next couple of decades. Voters approved the bond package to build the dam which was completed in just over a year. It was expected that it would take two years for the lake to fill, but heavy rains filled it in just 26 days.
Mayor Vandergriff led the way on a number of other civic projects during his 26-year tenure as mayor, including raising funds for Arlington Memorial Hospital and lobbying for Arlington State College, a two-year college, to be added to the University of Texas system and expanded into a four-year university. With the Dallas-Fort Worth Turnpike opening in 1957 making travel across the metroplex through Arlington much easier, Vandergriff started working on projects to establish Arlington as a tourist destination.
Mayor Vandergriff visited Disneyland not long after it opened and thoroughly enjoyed it. He encouraged Angus G. Wynne Jr., a developer who was planning to build a large industrial park in Arlington and neighboring Grand Prairie, to visit. Wynne was also impressed, and tried to persuade Walt Disney to build a second park on his land in Arlington. Unable to convince Disney, Wynne, with Vandergriff's support, decided to open his own park. Six Flags Over Texas opened in 1961.
The second major entertainment option Mayor Vandergriff sought was a major-league baseball team. Minor-league baseball had been successful in both Dallas and Fort Worth. With both the National and American Leagues expanding westward, Vandergriff led a coalition of North Texas mayors and leaders in developing a plan for major-league baseball. Arlington offered land beside the new turnpike about halfway between the two cities. The group won approval to sell $9.5 million in bonds to build the first-ever air-conditioned stadium. In the fall of 1960, they made their first pitch to expansion committees of both leagues, but both would choose other cities. Over the summer of 1962, Vandergriff and Charley Finley, the owner of the Kansas City A's, discussed moving that franchise to Arlington, but the league did not approve.
Unable to land a major-league team, Vandergriff initiated construction of a county-owned ballpark on the proposed site. Turnpike Stadium became the home of a Texas League team, the Dallas-Fort Worth Spurs. Its initial capacity was just over 10,000, but it was built with plans to easily expand it to 50,000 seats if a big-league franchise was granted. The ballpark opened in 1965. It was expanded to 20,500 seats in 1970, to 35,700 in 1971, and to about 40,000 seats with the addition of an upper deck in 1978. The stadium was renamed Arlington Stadium. The last game was played there on October 3, 1993, with the opening of The Ballpark in Arlington in the spring of 1994.
The new ballpark was just part of the mayor's continuing efforts to attract major-league baseball. He made another pitch to both leagues in 1968, but was denied again. It seemed doubtful that additional teams would be added in the next several years, so Vandergriff focused on luring a struggling franchise. In 1971 Bob Short, the owner of the Washington Senators, was threatening to move the team from Washington if the rent on RFK Stadium was not reduced. When no deal could be reached, Short and Vandergriff met with the American League owners and received approval to move the team. After 13 years, Tom Vandergriff's dream of major-league baseball in Arlington was fulfilled when the Texas Rangers moved into their new home, Arlington Stadium, in 1972.
As mayor, Vandergriff continued to pursue his passions for broadcasting and sports. He volunteered as the public-address announcer for Arlington High School and University of Texas at Arlington football. From 1975 to 1977, he was the color commentator for the Rangers. He took no pay and even paid his own expenses when traveling with the team.
Vandergriff accomplished much during his 26 years as mayor, but not everything was successful. One of the biggest failures was Seven Seas, an amusement park with a marine theme. It had dolphins, killer whales, and other sea life. The park was not popular and it closed after only three years.
Vandergriff was still extremely popular when he surprised the city council by announcing his resignation at a council meeting in January 1977. He did have detractors over the tax burden from the stadium, Seven Seas, and the Texas Rangers Broadcast Network. People were also critical of Arlington for being one of the largest cities in the country without public transportation, something Vandergriff would admit that he regretted.3
"I don't consider what happened as a 'personal achievement,'" he once said. "… It was an era when, for example, if we needed a hospital we could build it, or if we had to have a lake for our water supply we constructed it. If we wanted our junior college to become a university we had the ability to see that it was done. In other words, a spirit developed that if we as a community wanted something strongly enough, we could reach that goal. … During those years a feeling emerged that anything was within our reach if we wanted to attain it."4
A few years after stepping down as mayor, Vandergriff returned to politics. In 1982 he was elected to the US House of Representatives and served one term. He was well enough regarded, but as a Democrat was overwhelmed by the Republican landslide in the 1984 election. In 1990 he ran for Tarrant County judge and won. During this time, in addition to his responsibilities as county judge, he actively campaigned for taxpayer funding of a new stadium for the Rangers. To a lesser degree, he was also involved in the Dallas Cowboys building a new stadium in Arlington. He finally retired at the end of 2006 at the age of 80. "When asked why he was retiring, Vandergriff said, "Well, I'm 80 years old and I haven't spent much time with my wife these last several years." Vandergriff's wife, Anna Waynette Vandergriff, died in 2009 two weeks after being diagnosed with leukemia."5 They were high-school sweethearts and married in 1949, two years after he graduated from USC. They had four children – daughters Vanessa, Valerie, and Vivica, and son Victor.
Vandergriff continued to support the Texas Rangers in the final years of his life. Despite battling a variety of illnesses, he made his last public appearance at a 2010 ALCS game when the Rangers beat the Yankees to advance to their first World Series. After getting home that night, he fell and fractured his hip. Vandergriff died two months later, on December 30, 2010.
Fort Worth Mayor Mike Moncrief said Vandergriff's death "closes an important and prosperous chapter" in Tarrant County's history. "Although Tom will undoubtedly be remembered for putting Arlington on the map with the GM plant, Six Flags, and the Texas Rangers, it will be those personal experiences working alongside Tom that Rosie and I will never forget," he said. "Tom was a champion for Tarrant County, and he was a respected statesman who lived a full, complete, and meaningful life. It was a life dedicated to making our quality of life the best it could be. He certainly succeeded in that."6
This biography was published in "1972 Texas Rangers: The Team that Couldn't Hit" (SABR, 2019), edited by Steve West and Bill Nowlin.
In addition to the sources cited in the Notes, the author also consulted:
Schrock, Susan, and Gordon Dickson. "Visionary Leader Tom Vandergriff Put Arlington on Map," Fort Worth Star-Telegram, December 30, 2010. (star-telegram.com/living/family/moms/article3827034.html).
"38 Things to Know About Arlington," mediaroom.arlington.org/trivia.
"City of Arlington Hall of Mayors," arlington-tx.gov/history/hall-mayors/tom-j-vandergriff/.
Notes
1 Ray Hutchison, "The Texas Rangers' First Hero," Dallas Morning News, November 26, 2010.
2 Joe Simnacher and Elizabeth Zavala, "Former Arlington Mayor Tom Vandergriff Dies at 84," Dallas Morning News, December 30, 2010.
3 Simnacher and Zavala.
4 Susan Schrock, "Arlington Remembers Tom Vandergriff, the Man Who Built It," Fort Worth Star-Telegram, January 7, 2011.
5 Elvira Sakmari, "Arlington Legend Tom Vandergriff Dead at 84," Fort Worth Star-Telegram, December 30, 2010.
6 Simnacher and Zavala.
Born
January 29, 1926 at Carrollton, TX (US)
Died
December 30, 2010 at Arlington, TX (US)
If you can help us improve this player's biography, contact us.
https://sabr.org/sites/default/files/TomVandergriff.png
600
800
admin
/wp-content/uploads/2020/02/sabr_logo.png
admin
2018-01-13 07:06:44
2020-04-09 14:40:26
Tom Vandergriff