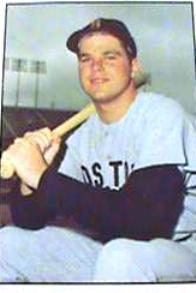 ---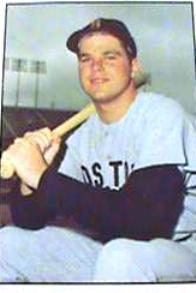 The story of Tony Horton, the young and talented slugger for the Red Sox and the Indians, is ultimately a tragic one from a baseball perspective. Just entering his prime seasons at the age of 25, he was forced to leave the game because of an emotional disorder, and ultimately he never returned. Piecing together this story is not easy, because the person who knows the story best — Tony Horton — is keeping it to himself.
Anthony Darrin (Tony) Horton was born in Santa Monica, California, on December 6, 1944, almost exactly three years to the day after the Japanese attacked Pearl Harbor. He got his athletic prowess from his father, Troy Horton, who played both football and basketball at UCLA.
Horton later said he did not play baseball at all until he was 10 or 11 years old. His friends were playing, so he decided to try to catch up. His father did not play, but he read him books on hitting and fielding and taught his son. Ultimately, Horton was a basketball and baseball star at University High School in Los Angeles, one of the best athletes ever to come out of the city by all accounts; on the hardwood he averaged 27.3 points per game and was named Los Angeles City Player of the Year in 1962. (Other notables who had won this prestigious award were future NBA players Joe Caldwell, Willie Naulls, and Gail Goodrich, as well as Earl Battey, a future All-Star catcher for the Minnesota Twins.) In baseball, Tony was a shortstop, starred in American Legion ball, and played for the championship Culver City team in the 1961 Connie Mack World Series.
The story of his signing with the Red Sox was told around Fenway Park for years. Scout Joe Stephenson strongly recommended him, despite the fact that the 17-year-old Horton had broken his leg his senior year in baseball and played only a few Connie Mack games that summer. Horton was ready to attend the University of Southern California in the fall on a basketball scholarship, so the Red Sox needed to decide before classes started in late September. He and his parents were flown to Fenway Park for a tryout, in front of Red Sox farm director Neil Mahoney and assistants Ed Kenney and Milt Bolling.
Tony Conigliaro, a local 17-year-old slugger who the Red Sox also wanted to sign, was there as well, and the two Tonys pitched to each other. According to Kenney, telling The Sporting News two years later, Horton hit Conigliaro's first pitch into the center-field seats, perhaps 430 feet away. The second pitch was driven to right field over the two bullpens. "To the day of my death, I'll never forget it," said Kenney. Kenney looked at the others, said, "that's enough for me," and walked into the clubhouse.1 The deal they struck was for a reported $138,000, being a combination of bonus money and enough to cover four years of tuition.
Horton enrolled at USC anyway, and began taking one semester of classes every offseason. By 1969, he was just two semesters shy of his degree in business administration.
Horton attended his first spring training with the Red Sox in Scottsdale, Arizona, in 1963, worked a lot with former Red Sox star Ted Williams, but played only sparingly that spring for the big club before being farmed out. After a 1963 season in which he hit .283 with 76 runs, 19 doubles, four triples, 21 home runs, and 88 runs batted in for Waterloo of the Midwest League, he was welcomed back to spring training by the Red Sox the following year. Horton's 88 RBIs for Waterloo tied him for the league lead with Tommie Reynolds, a future major leaguer with the A's, Mets, Angels, and Brewers.
Entering the 1964 season, the Red Sox were excited about their two young teenage sluggers– Horton and Conigliaro. Both were right-handed hitting outfielders with just one year of minor league ball behind them, but both were considered candidates to make the club out of the spring. A rule of the time dictated that only one "first-year" player could be optioned out without being subject to a draft, so it was almost guaranteed that one of the Tonys would make the club.
The two players were not just rivals; they became instant friends, roommates in the spring, and constant companions away from the park. Conigliaro, in his 1970 autobiography, tells of many nights with Horton chasing women (with quite a bit of success, apparently.) In a preseason game on March 28, 1964, both Horton and Conigliaro hit home runs to lead the Red Sox to a 12-10 victory over the Los Angeles Angels. Conigliaro and Horton were presented with trophies as co-rookies of the spring by the Charros Club of Scottsdale. In the end, Conigliaro's edge was that he was considered the better outfielder, an area where the Red Sox needed the most help. Horton was playing first base more and more, and would ultimately be shifted there, as the eventual successor to Dick Stuart. He was optioned to Reading of the Eastern League at the end of the spring camp.
Horton hit well for Reading, and by June he was named to the 1964 Eastern League All-Star team. For the season, he rang up a batting average of .297, with 60 runs, 29 doubles, five triples, seven home runs, and 62 runs batted in. In mid-summer, both Conigliaro and Lee Thomas suffered injuries, and Tony Horton was called to the show in late July to help shore up Boston's outfield. The comparisons with Conigliaro, who had started his career impressively, continued. "Horton is a different type hitter than Conigliaro," manager Johnny Pesky allowed. "Conigliaro pulls nearly everything he hits. Horton will hit the ball to all fields. He has good power to all fields, and goes with the pitch more than Conigliaro does."2 Horton was the prototypical slugger: 6′ 3″, and 210 pounds of muscle.
Horton's major league debut came at Dodger Stadium on July 31, starting in left field against his hometown Los Angeles Angels. Facing Aubrey Gatewood, he grounded out his first time up, but singled in the fourth inning and scored his first major league run moments later on Eddie Bressoud's double. Every run counted; the final was Boston 4, Los Angeles 3.
Horton was the Red Sox starting left-fielder for most of the month of August. At Comiskey Park on August 8, Horton hit his first major-league homer, off Fred Talbot of the Chicago White Sox. The Red Sox lost the game, 9-2. In 126 at-bats, this would be the only homer Horton hit that year. He hit safely in nine of his first 10 games, hitting .395 over that stretch, and was hitting over .280 as late as August 28, but slumped to .222 by the end of the season. He was unsteady in left field, a position he had not played in Reading, but he had gotten his feet wet in major-league ball, and the future looked bright.
On November 29, 1964, the Red Sox traded first baseman Dick Stuart to the Phillies, opening up the first base job for Horton if he could claim it. In the event, new manager Billy Herman chose to give the job to veteran Lee Thomas, and Horton began the season with Toronto in the Triple-A International League.
Horton was hitting .301 for Toronto in early June 1965 when Red Sox left fielder Gary Geiger broke his hand. The Red Sox recalled Horton to play first base temporarily, moving Thomas back to left field. Horton stuck with the team the rest of the season, eventually playing first base against left-handers, and hit a very solid .294 with seven homers in some 60 games. There was one stretch in which he truly made a difference. On August 31, his 10th-inning homer beat the Senators. On September 8, he homered again in the 10th, beating the Indians. And on September 14, in another game against Cleveland, he tied the game in the bottom of the ninth, setting the stage for a walkoff 13th-inning homer by Carl Yastrzemski.
In December 1965, the Red Sox dealt Thomas to the Braves, and Herman announced that Horton would be his first-baseman. Ironically, he ultimately fell victim to the Red Sox successful youth movement. After starting the first four games of the 1966 season, and playing in two others, he was sent back to Toronto after hitting a disappointing .136 (just three singles in 22 at-bats). The reason for the quickly terminated trial was the brilliant hitting and fielding of rookie George Scott, who won the job and ended up making the All-Star team. After being sent down to Toronto, Horton played 133 games and hit .297 — with power, as evidenced by his 26 home runs.
Although Horton was still just 22 entering the 1967 season, he was now playing behind another young player fresh off an All-Star appearance. Nonetheless, new manager Dick Williams, who had managed Horton in Toronto for much of the past two seasons, was high on Horton and kept him on the club to open the 1967 season. In fact, many observers of the team felt Horton might force Scott to switch positions. After two months, Tony was mainly pinch-hitting, but hitting .308.
With the pennant race up for grabs, manager Dick Williams implored GM Dick O'Connell to secure another starting pitcher. On June 4, the Red Sox traded Horton and Don Demeter to Cleveland for Gary Bell. Bell pitched well for Boston, winning 12 games and losing eight with an ERA of 3.16. The Red Sox would go on to win the pennant by one game over the Twins and Tigers and three over the White Sox.
Meanwhile, Horton was given the starting first-base job in Cleveland, and he kept it. In 363 at-bats, he had 35 runs, 10 home runs, and 44 RBIs while batting .281, with an on-base percentage of .321 and a slugging average of .421. For the first time, Horton no longer had to spend the off-season worried about his position on his team, and the 23-year-old slugger could look forward to many years of success.
In 1968, an extremely difficult year for hitters, Tony led the Indians with 14 home runs and 59 RBIs, while hitting .249 in 133 games. He missed three weeks in mid-summer when he injured his knee, but otherwise he was out there almost every day. The following season, 1969, the 24-year-old slugger had his best season, belting 27 home runs and driving in 93 while hitting .278 –all team-leading figures — in 159 games.
Even then, Tony was described as extremely intense, a perfectionist who was never happy with his performance. In a June 29, 1968 story in The Sporting News, Tony admitted he was driven to succeed in anything he did, and he realized it was a problem. Recalling his years in Boston, Tony said, "If you're afraid–actually afraid–of missing a ball or having a bad night, you're going to worry and press, and all you can do is get worse."3
In 1970, the stress of the game grew more difficult for Horton. After a three-homer game against the Yankees on May 24, a game the Indians lost, Horton was visibly down on himself for his failure to deliver in his last time up, angrily calling himself a "blockhead." He did not homer again for three-and-a-half weeks. He did go 4-for-5 with a grand slam on June 21, and hit for the cycle against the Orioles on July 2.
On June 24 against the Yankees' Steve Hamilton, Horton swung and missed on one of Hamilton's famed eephus pitches, so-called "folly floaters," then fouled the second one to the catcher. Returning to the dugout, Horton threw his cap and bat into the air, and crawled the last few steps to the dugout. The crowd roared, and everyone assumed it was a joke. Later, people wondered if it was.
In early August, a briefly slumping Horton began to be booed by the home fans, but he turned the crowd around with a home run. Afterward, Tony admitted being bothered by the booing. He worked himself tirelessly to overcome his hitting drought, and reportedly stopped eating and drinking, before finally suffering what was later believed to have been a nervous breakdown sometime after his last game, which was on August 28. The Los Angeles Times on September 9 reported that Horton was sent home to Santa Monica due to "physical exhaustion." The slump was just a slump, though. By season's end, Tony had hit .269 with 17 home runs in 115 games, numbers very much in line with his fine statistics in 1968 and 1969.
Throughout the offseason, the Indians, and everyone else, believed that Horton was going to a big part of the team again in 1971. It was therefore a surprise when the team announced on January 21, 1971, that Horton would miss spring training and likely the entire season with an emotional disorder. He had been hospitalized since September. His father Troy insisted that he was doing well, and denied any speculation that his career was over. He reported that the doctors thought he needed some time off, but that he would be ready to play again in 1972.
Before the 1972 season, Indians general manager Gabe Paul visited Horton in Santa Monica, and reported that Tony was doing fine, though not yet ready to make a comeback. In July, Horton told The Sporting News that he was 100% recovered, but not really thinking about baseball. He had a job with the stock exchange, played some golf, and read a lot.
For all practical purposes, that would seem to be the last anyone heard from Horton. There have been many theories as to what happened to him, but he has not talked about his career and his ending in the ensuing 35 years.
Author Bill Madden attempted to interview Horton about his breakdown and retirement from baseball in 1997. In an article in Baseball Digest, Madden wrote that Horton was working in telecommunications and living in Pacific Palisades, California, but would not talk about his baseball career. Madden wrote that Horton had tried to commit suicide while with the Indians, as reported by a Cleveland hotel owner where the attempt allegedly took place
Contacted in February 2006, to ask whether Horton could be interviewed for this book on the 1967 Red Sox, Madden replied:
Tony Horton is a tragic story. If you read the piece I did on him, you'll understand that his breakdown was due to the pressure of never living up to his father's expectations. After the suicide attempt, I'm told doctors and psychiatric people told him he had to sever all ties to baseball and that part of his life. That's why his old teammates and managers never heard from him again and why he has become a bit of a recluse. … I thought it was rather strange that Tony was still living with his father at the time of my article.4
In July 2006, the author presented his research on Tony Horton at SABR's annual convention in Seattle. A friend of Tony's was among those in attendance, and after the talk reported that Tony was in fact doing very well in business – but that the two had never discussed baseball. A couple of weeks after the convention, he asked Tony if he would be willing to talk about his time in baseball but Tony was very clear that baseball is in his past, and he has no interest in revisiting that part of his life. We are happy to respect his wishes in this regard.
Horton's baseball career ended at the tender age of 25, just entering the prime of his career and with three productive seasons behind him. His early career performance suggests that he might have been a fine player for many years. We will never know.
Last revised: February 1, 2016
A version of this biography originally appeared in "The 1967 Impossible Dream Red Sox: Pandemonium on the Field" (Rounder Books, 2007), edited by Bill Nowlin and Dan Desrochers.
Notes
Born
December 6, 1944 at Santa Monica, CA (USA)
If you can help us improve this player's biography, contact us.
http://bioproj.sabr.org/bp_ftp/images4/HortonTony.jpg
600
800
admin
/wp-content/uploads/2020/02/sabr_logo.png
admin
2012-01-04 20:45:40
2012-01-04 20:45:40
Tony Horton